Lumen became part of Bumble [Review]-The dating app for over 50s
Lumen became part of Bumble Nov.23rd in 2020.
Lumen is the first ever dating app created specifically for seniors who are above the age of 50. It is an easy to use dating app specifically tailored for people of the older generation.
Lumen-50s is young in the app.
However, dating app users seemed to want more choices than the category of only 50 years old and over. As a result, it was disconnected from the people who were connected by Lumen, and they had to start over beginning with Bumble.
Lumen Verdict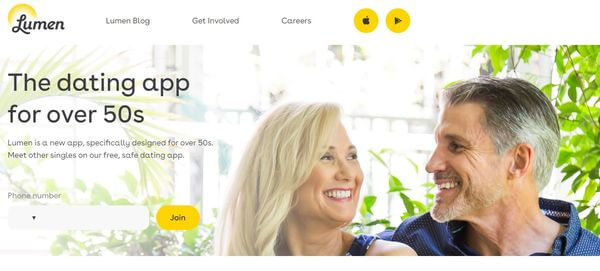 Pros
• Lumen is extremely useful for people who are 50 years old and above and looking for companionship within their age range. Due to the criteria and strict rules that this app is solely for those who are 50 and above. Therefore, there are higher chances of finding the person for you.

• Strict facial verification system in order to prevent catfishing. 3 photos or more will be used to identify the user, by using reverse image search AI. In addition to adding 3 pictures on your profile, a live photo verification by taking a selfie is needed to ensure and verify an account. If photos provided by users are against the user guidelines, the profile will be temporarily unusable.

• Easy user interface. Profile can be easily created and user selection is either passing on someone or messaging them.
Cons
• Users might not be happy with the limitation in regards to the amount of messages you can send to other people

even with a premium account.

This is a feature implemented by the creators in order to stimulate a more meaningful conversation.

• Time limit in regards to replying other users. The 7 day limit may not be helpful for those who are busy with work.

• Limited user selection based on location.

• Lack of location limitation, therefore profiles displayed may be too far.

• Slightly more expensive premium membership.
In conclusion, if you're 50 years old and above, looking for a dating app that is easy to use and specifically towards your generation unlike other major dating apps such as Tinder, definitely download and try your luck with Lumen. Lumen is easy to use and most people know what they're there for. Though, the dating pool might be limited if you live in a less populated area.
How To Use Lumen
Happy International Kissing Day! There's no better time to try out this dating new app specifically designed for over 50's. 😘 #9Today pic.twitter.com/gWj5DkOLeV

— The Today Show (@TheTodayShow) 2019年7月5日
1. Make an account.
2. Edit and complete your profile.
3. Engage conversation with people you are interested in. (Conversation log will be deleted in 7 days.)
4. Talk to each other and meet!
First of all, sign up for a profile easily via Facebook, Phone number or Email.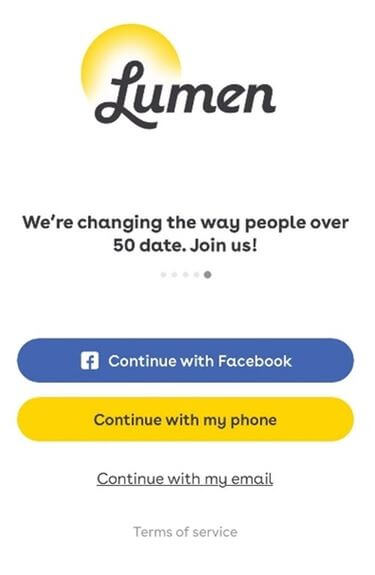 Next, answer basic questions of yourself which can be answered afterwards when you edit your profile.
After that, you can add up to 3 pictures of yourself. Then there will be a photo verification by using the phone camera.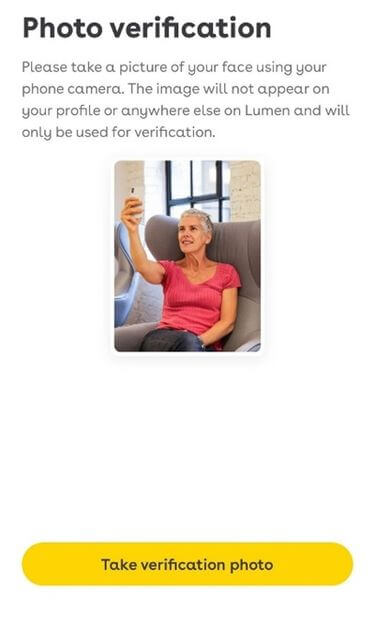 Users are able to fill in information about themselves.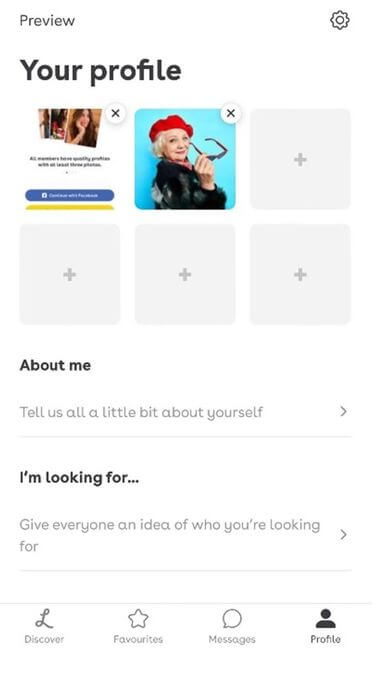 It is reccomended to write as much as possible about yourself in order to show other users that you are not a bot, and to attract conversations.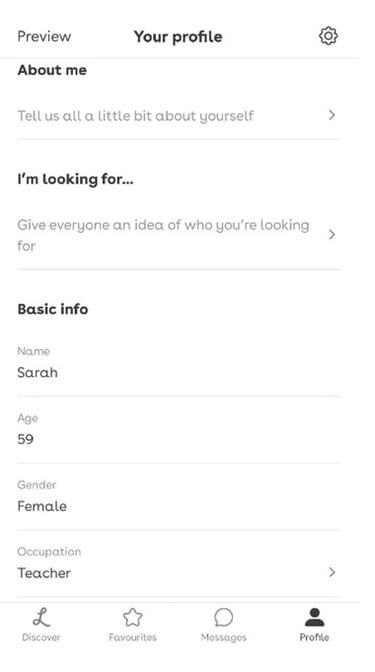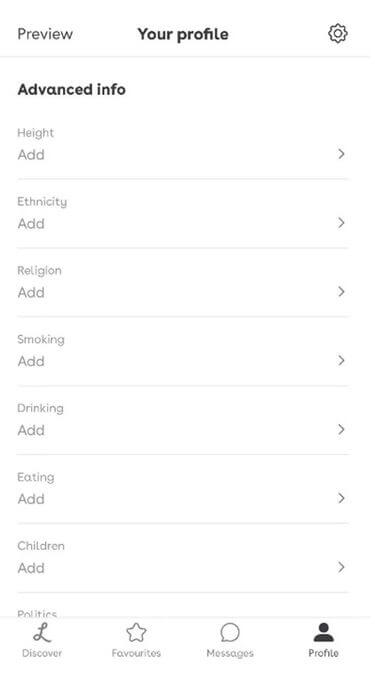 Users can initiate a conversation with people that they are interested in with the Chat button. Scroll down to see the complete profile. The 'Next' button allows users to view a new profile.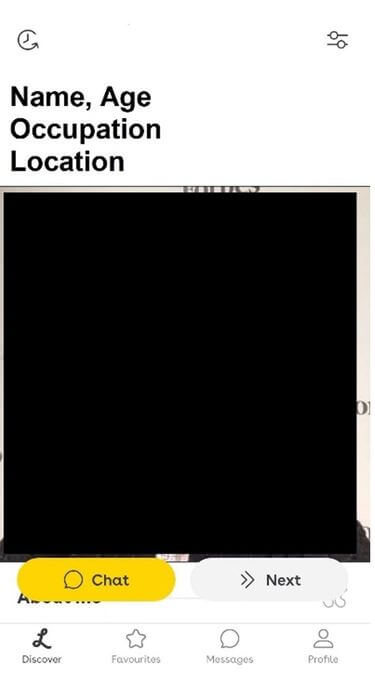 Users are able to view people who they have favourited and check on past messages.
(Note: Premium users can see who has liked their profile.)

Free members are only allowed 6 conversations where as premium members are given 12.

Users are able to see whether their 'Favourite' user's profile is online or not.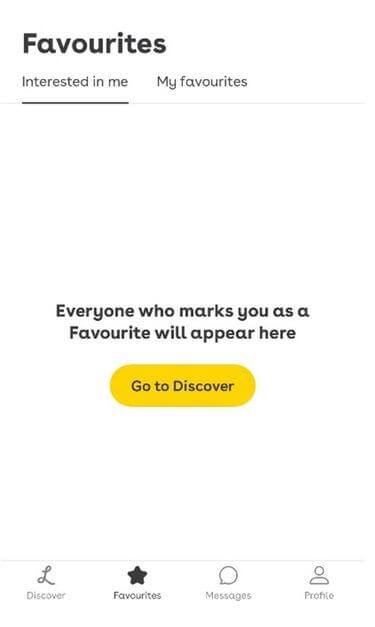 One thing to be aware of is that the app has access to your location when using the app and will update your current location automatically.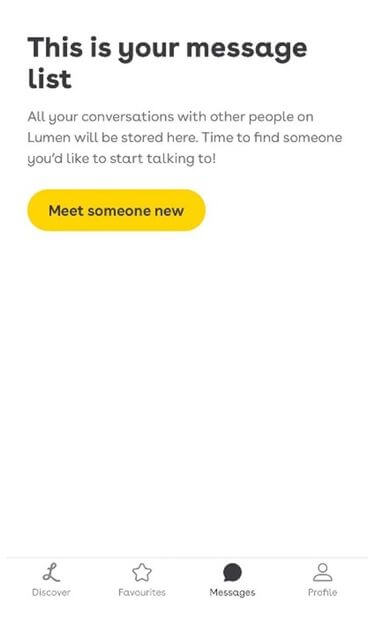 Lumen Fee
Free users have access to basic functions with some exceptions and limitations.
Free Features
• 6 New conversation can be started on Lumen for free. (In addition to existing conversations, message replies and messages directly sent to you.)

• Last 10 profiles that users have skipped by can be rewind.
Premium Features
• Limit of conversations will be doubled.

• Every user has a limit of 7 days to respond to the initial message sent by you. Lumen premium allows users to extend the conversation by 24 hours.

• See your admirers. Premium membership allows you to see who your admirers are.

• Advanced filters. Users can choose two filters to use in the following list to filter profiles. (For example: Height, Ethnicity, Religion, Smoking, Drinking, Eating, Politics and Children.)

• Unlimited profile rewinds. Premium membership allows users to look back at every profile they have passed on.
Price
| Premium Validity | Cost |
| --- | --- |
| 1 Week | $11.99 |
| 1 Month | $35.99 |
| 3 Months | $71.99 |
| 6 Months | $99.99 |
Lumen User
Lumen has around 350,000 users in England after the first 6 months of the app's release. On the other hand, the app has recently launched in Ireland and Australia, claiming to attract 20,000 users for the latter country. (Source: Global Dating Insights)  
Active users are less than 50k traffic by my original survey that entered the app of Lumen. Since Lumen has released 2018, it's a still new app.
【Nov.5.2019】
Gender Ratio
Lumen Review
Pros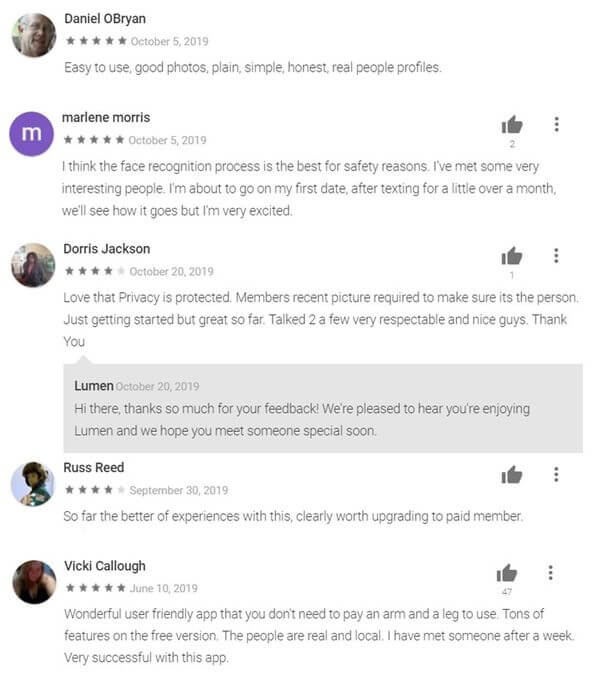 Based on user reviews, profiles displayed on Lumen are usually legitimate as a facial recognition system is used during profile registration. Therefore, there are lower risks of fake profiles or catfishes, allowing users to be in a safe environment.


Users are satisfied with basic features being provided to free users as they do not inhibit the dating process in comparison to other apps. In addition to that, albeit the prices of paid membership being more expensive in comparison to major dating apps, users are satisfied with their upgraded membership and has found the premium option to be relatively useful.
 
Cons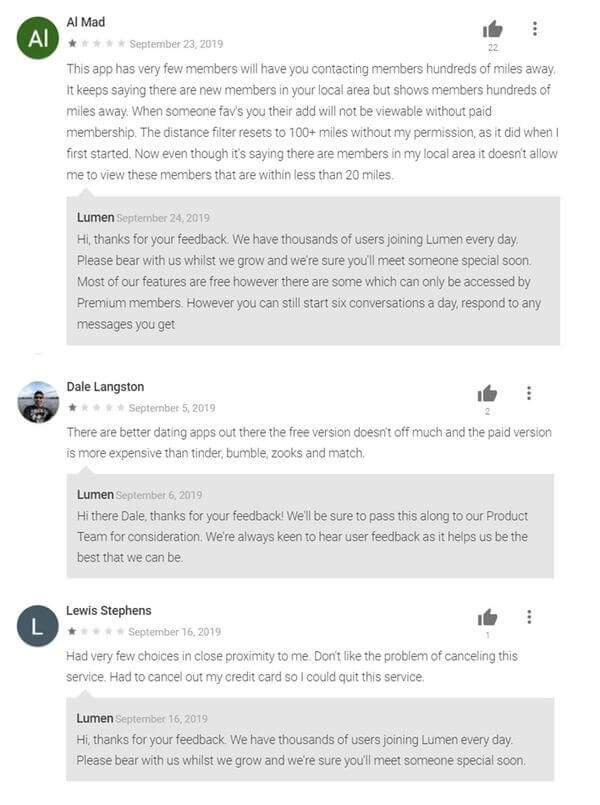 One of the biggest complaint that has been brought up by users is the issue with the location setting. Profiles being displayed on the app may be too long of a distance as there is a lack of limitation settings.


Lumen is dependent on the user's geographical location, there may be less choices and profiles to choose from if the user lives in a less populated area.


One other thing to take note of is the higher pricing when it comes to the prices of premium membership options being offered in comparison to major dating apps such as Tinder, Bumble and et cetera. Besides that, even with premium membership, premium users still have limited privileges such as only having 12 conversations instead on 6 and a 1 day conversation extension advantage.
How to Sign Out Lumen
Signing out is extremely simple with one simple click on the Log Out button. Account > Log Out.

Delete account is very bottom.