Bumble Latest Review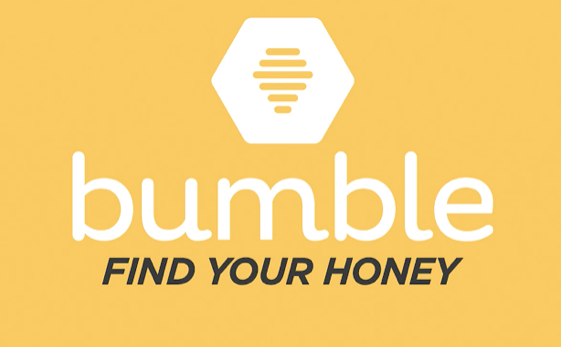 https://bumble.com/
Bumble is gaining its popularity and it is becoming as famous as the well-known dating app Tinder. The reason would be very simple, Bumble was developed by Whitney Wolfe who was a former Tinder employee in 2014.
The biggest selling point of this dating service is "woman takes the first step"
Female members get more privileges on this service to promote online safe dating.
Currently, Bumble is adjusting to this Covid – 19 society to add an additional filter of social distancing dating or virtual dating. (Virtual Dating Badge)
Bumble Verdict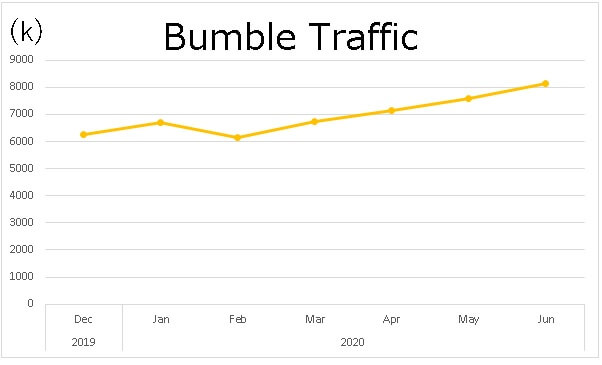 similarweb
Bumble is nearly a free dating app. You do not need to pay anything to make actual contacts. It is very simple to use but of course, it works better for female members. There are some male (and female) members who are spending money to get noticed by others.
First impression (from photos) based matching, easy to operate service and free membership would make Bumble go-to app for a casual online dating platform.
As long as you are cautious and following basic online safety rules, there is nothing to lose by joining this service.
How to join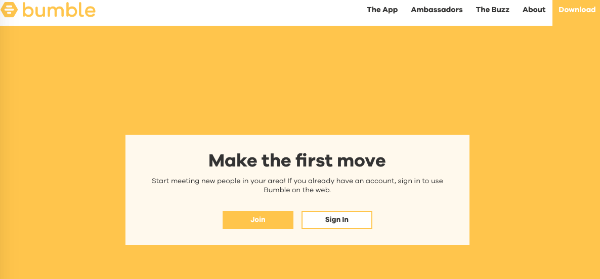 Joining the Bumble is quite easy and straightforward. Visit their webpage; https://bumble.com/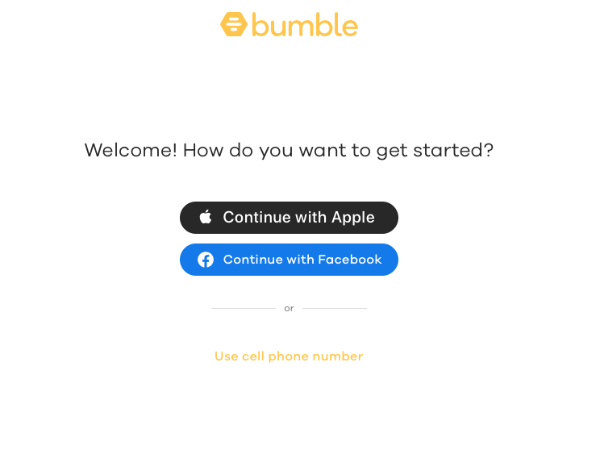 You can create an account using three things: Apple account, Facebook account or mobile/cell phone. You are not able to use your email address!! 
However, this does not mean that a connected FB account is legit or not! Be aware of that!!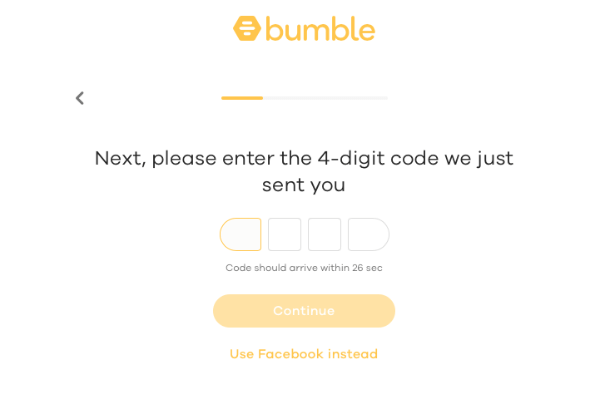 They will send you verification code if you use your mobile/cell photo to sign up.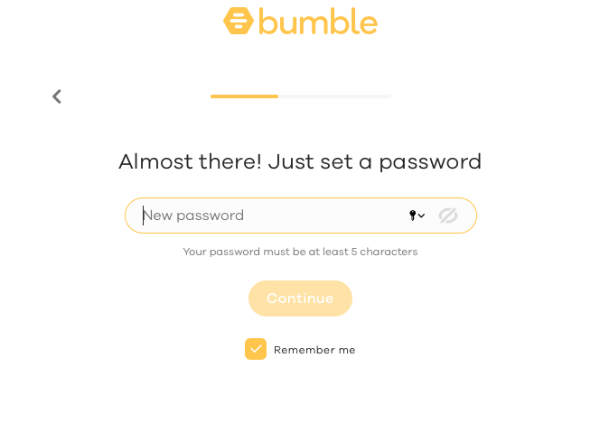 You need to create a password as usual.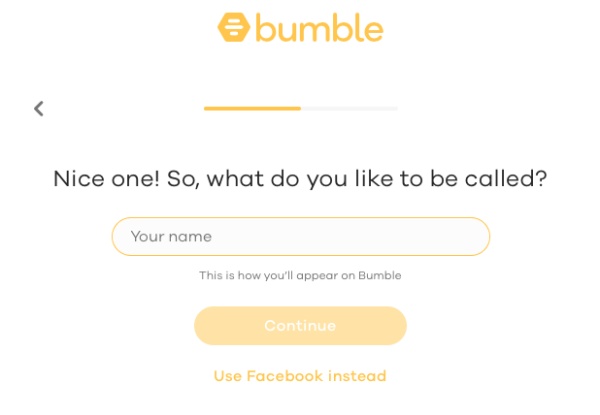 You need to create a nickname for yourself.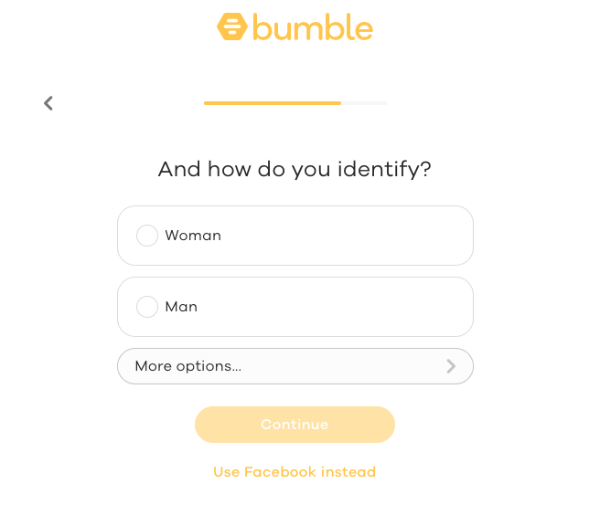 You need to pick your gender…
But they will give you so many options!!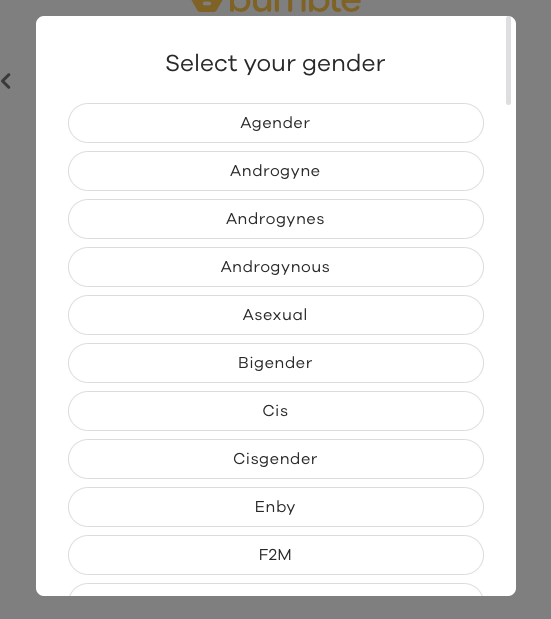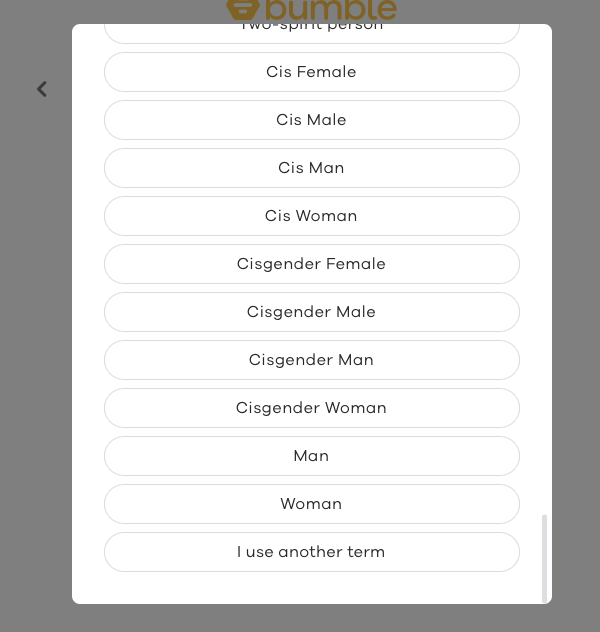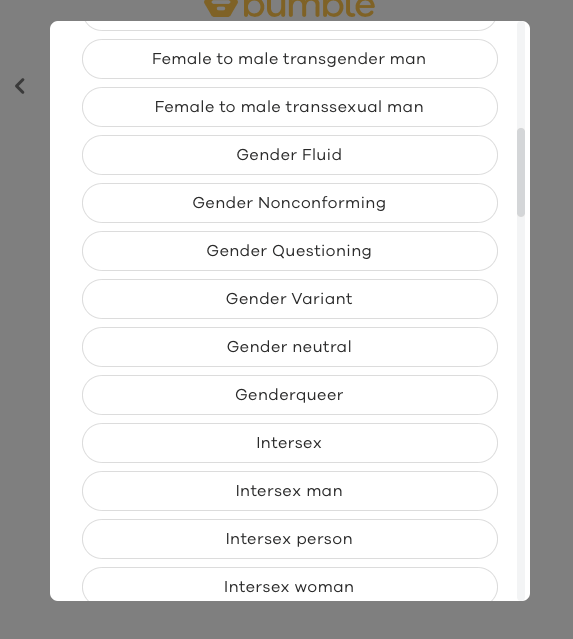 It is a bit overwhelming. there are a lot of choices.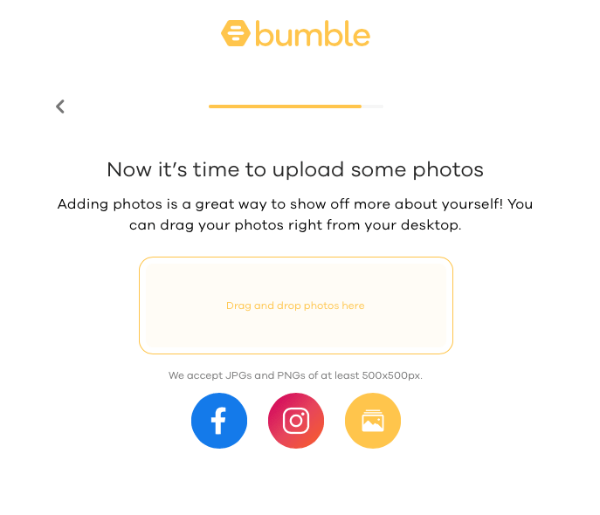 Now here comes the most important part of online dating!
Uploading a photo of yourself.
You need to be very careful about uploading the same photo as one in the social media account! Remember to be very vigilant. 
They do not accept other than a legit photograph it has to be a photo, not drawing or low quality picture. If you do upload one which is not acceptable, they would reject it and you are not able to join in.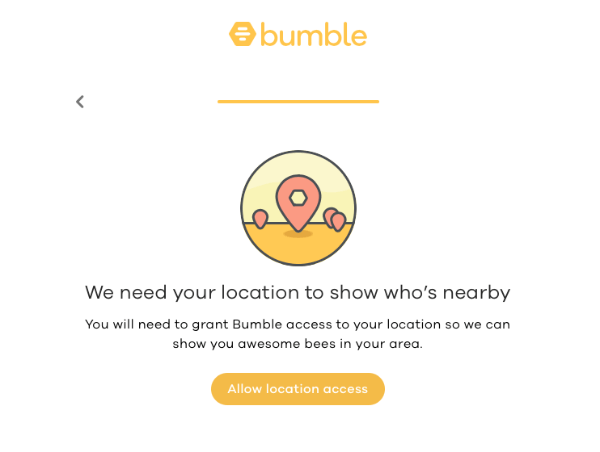 In order to get good matches, you need to share your current location.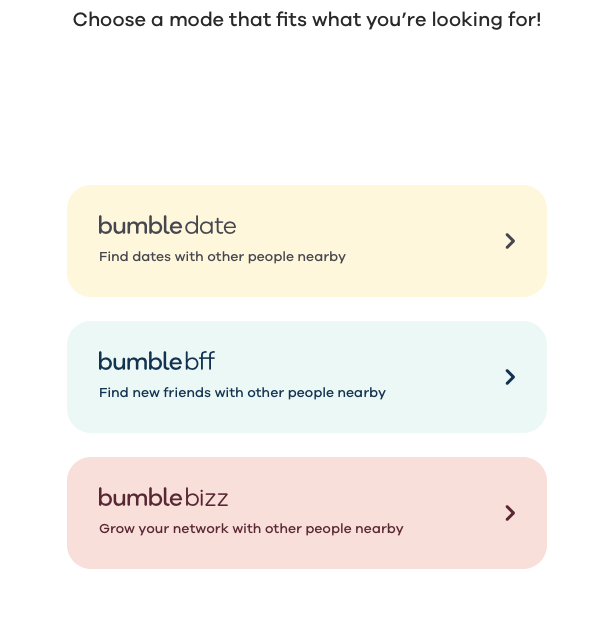 You need to choose which service you are interested in.
Bumbledate is for obvious dating service. 
Bumblebff (best friend forever) is for finding friends. 
Bumblebizz (business) is for networking (for work/jobs).
In this current isolation society, it might be a nice idea to just look for someone to chat with.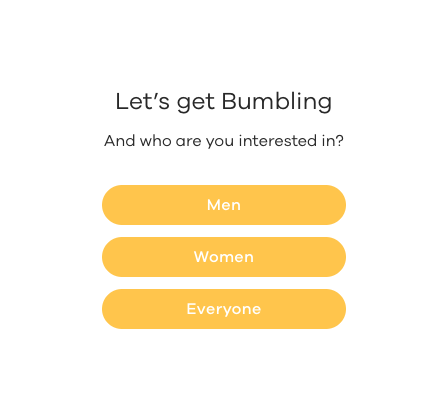 Then you need to pick which gender you are looking for or both!
This service is really updated with gender choices.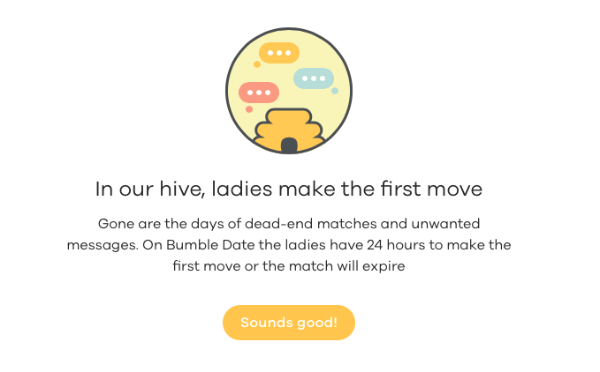 The message about women first!! Since this service is based on people's first impression from a photo, matches would expire within 24 hour.
This would be the one unique part of this service. Instant and quick.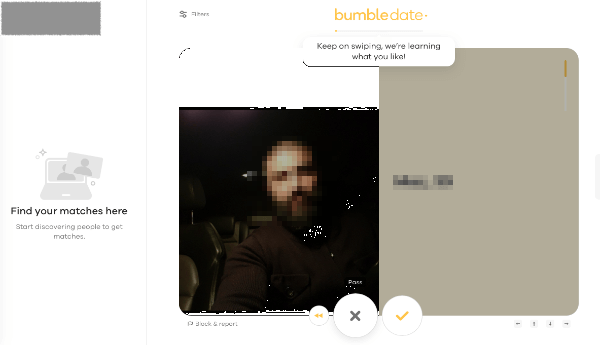 Then you will be shown a series of pictures of your matches, you can click pass or yes! 
This is the ture Bumble experience.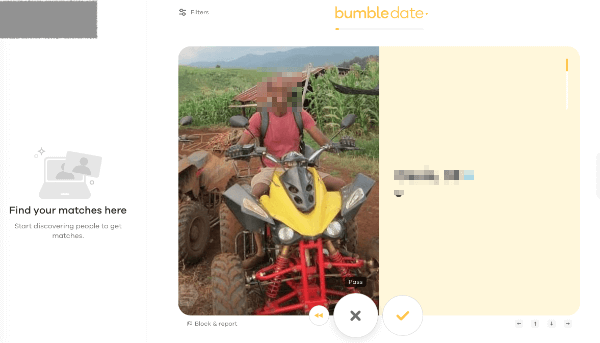 You just keep swiping/clicking.
There are several different suggestions. Up to 50 a day.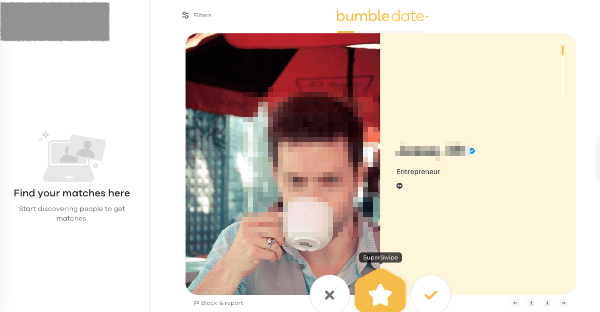 This is a super swipe which means that…this person paid to be noticeable. ( could mean that he is serious about finding a date)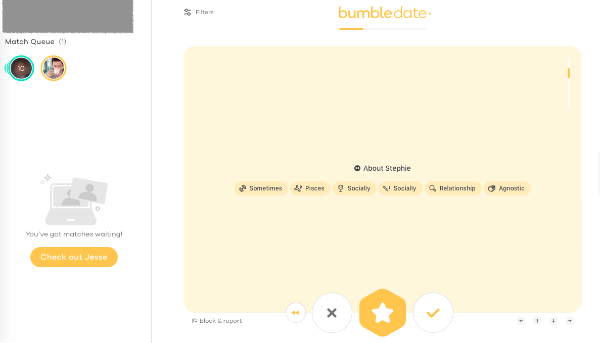 This is the page for your matches.
Only female members can see the matches!
*For same-sex relationships or platonic relationships, any of the 2 parties can message first, which the other party should reply to before the conversation can be continued freely.
Females can manage them within 24 hours after the match was made. This must be done from a female member. Then the opponent will have another 24 hours to either respond to it or not. 
If an initial connection is made, those two people can get in touch anytime without any time limitation.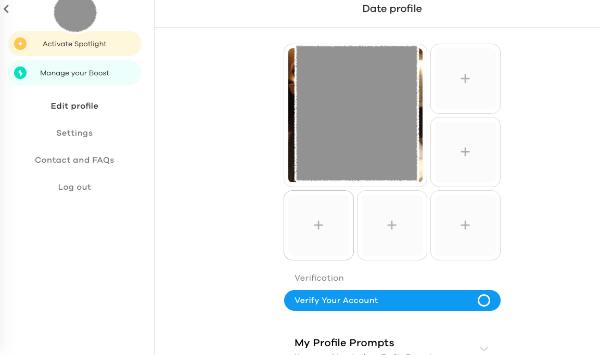 By clicking your profile picture, you can access this menu.
From the menu, people can upgrade to the fee-paying premium service, editing profile, settings, contact and logging out.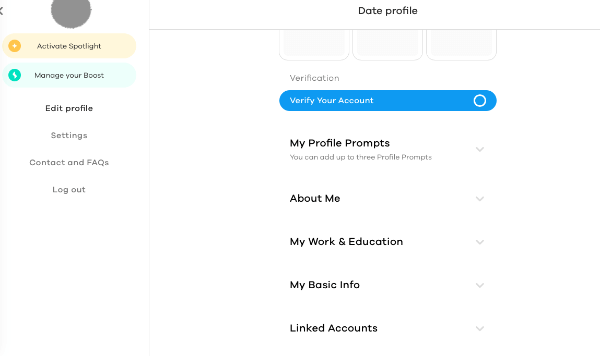 You can add 5 pictures.
You can also put more details such as education, profession and something you would like others to know.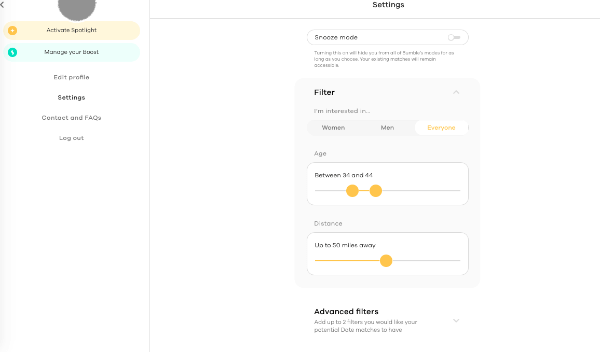 From setting, you can adjust your filters. This is the important part of finding the right matches.
Nowadays, there are more options due to social isolation due to Covid-19. However, this is a good filter to have.
It is a wonderful thing that people can expand their social circle like this because  this service could stop someone from suffering from social isolation during this time.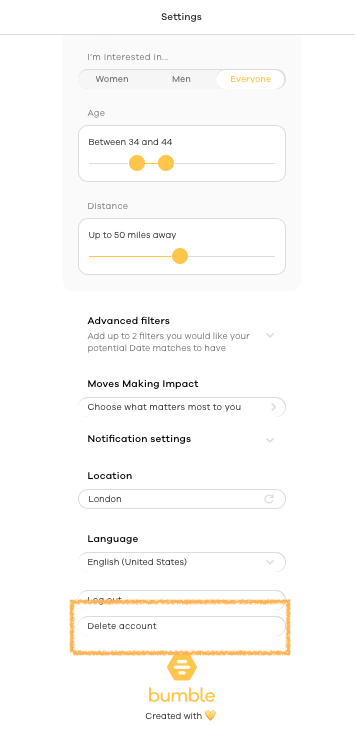 From the bottom of the settings, you can delete an account.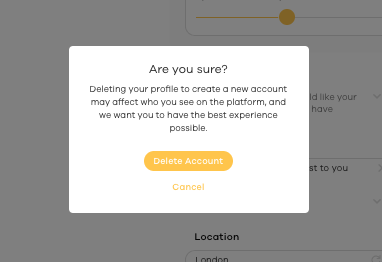 They will ask you if you really want to delete the account.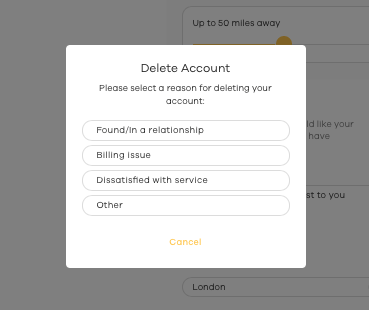 They will ask the reason why?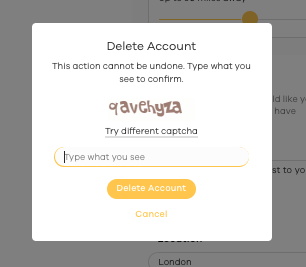 Make sure you are not a robot. Then confirmation of deletion.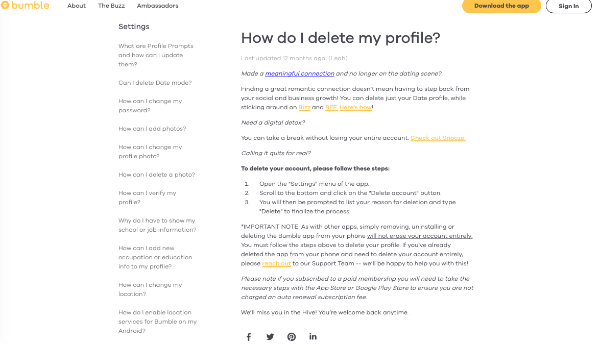 You have to be very careful when you delete your account because if you signed up for the paying membership, the fee will not be refunded. 
Also if you are an app user, deleting Bumble app from a device will not delete an account. 
All members would require to delete an account by following the above steps.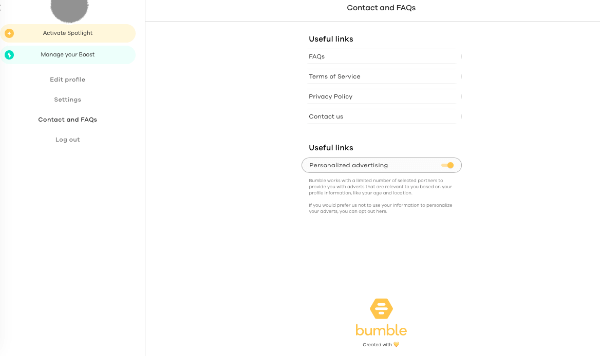 From the Contact and FAQ section, people can find answers to majority of their questions.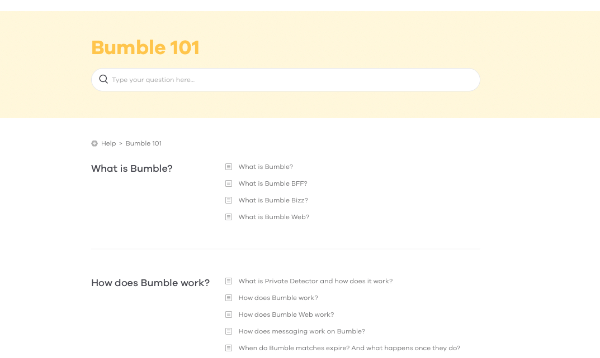 It is especially good to see Bumble 101, this section tells what this service is all about.
This site has a very simple and clear operational system. 
The Buzz
The Buzz is the blogging service of Bumble.
https://bumble.com/the-buzz/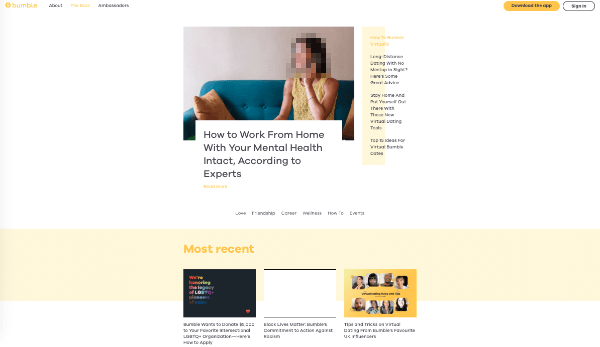 There are many articles on how to be successful using this app. 
Bumble Event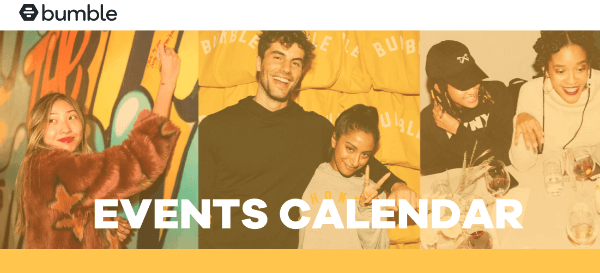 https://bumble.com/the-buzz/events
Bumble regularly organises their social events for its members.
*due to covid -19, their events are postponed until future notice.
Bumble App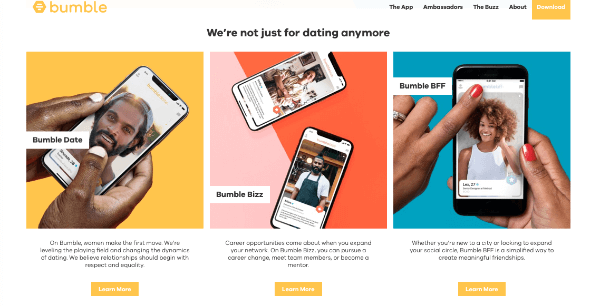 Bumble GooglePlay
Bumble App Store
Bumble app is available to download from Apple and Google app store
User Variety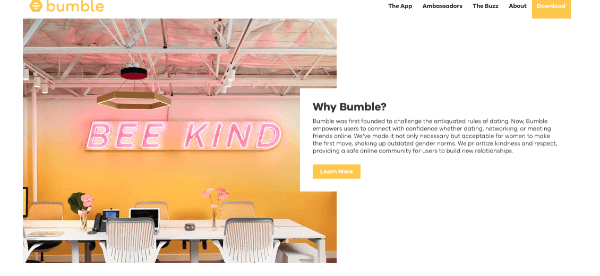 Although Bumble is promoting the female user friendly, there are surprisingly enough male members on this platform. 
There is a great variety of professions on this platform, due to its causality. 
Gender Ratio
According to satista analytics on June 2020, the gender ratio is a much higher for male members.
Male Member's Age
Female Member's Age
Majority of members are between 25- 34 which is typical for a dating site/app.
Traffic by Countries
Similar Web
[July,2020]
Online Review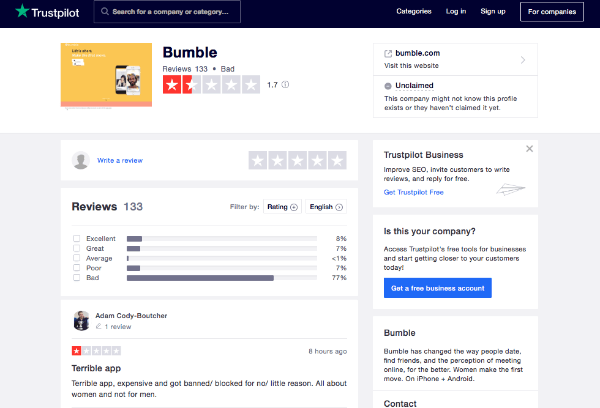 Trustpilot
Trustpilot.com shows the majority of negative reviews. 
Most of them are about really bad customer service and no matches after spending money. 
Premium service: Bumble Boost
The premium service allows customers to have an ultimate filter, unlimited rematches which allow members to able to access to all matches and extra 24 hours to act on matches.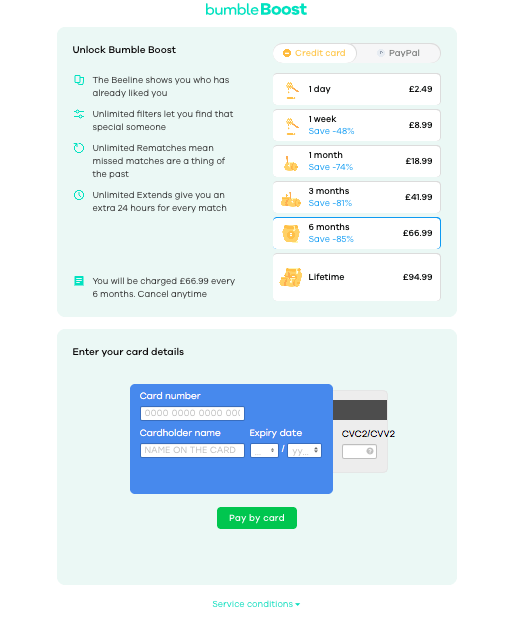 People are able to pay for the bumble boost (the premium service) by credit cards or paypal. The price has a great variety from 1 day for $1.99, $25 a month.
UK ver is from 1 day for £1.49 to life time for £94.99!!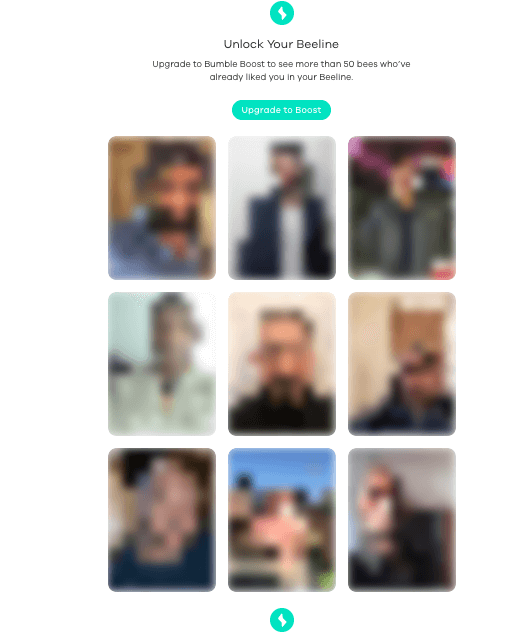 Bumble provides many free functions thus the membership fee is not so expensive and those extra fanfictions seem not too desirable. Especially for female members.
Bumble Social Media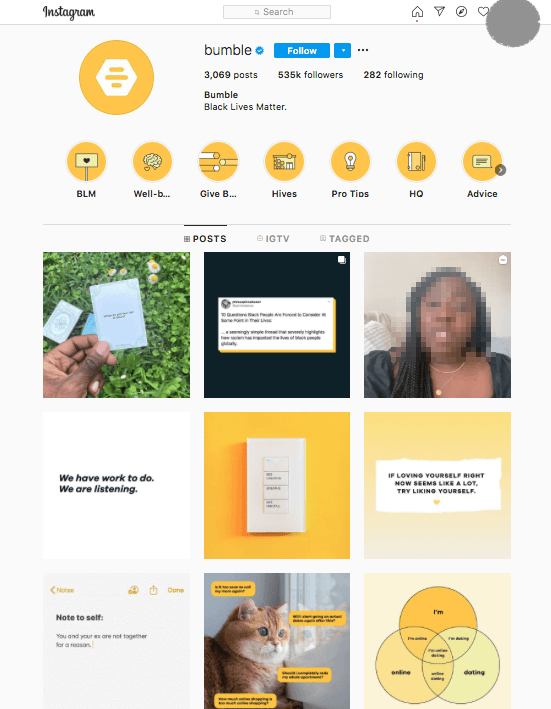 https://www.instagram.com/bumble/
Bumble's Instagram has a bright yellow theme! They seem to reflect current social media trends.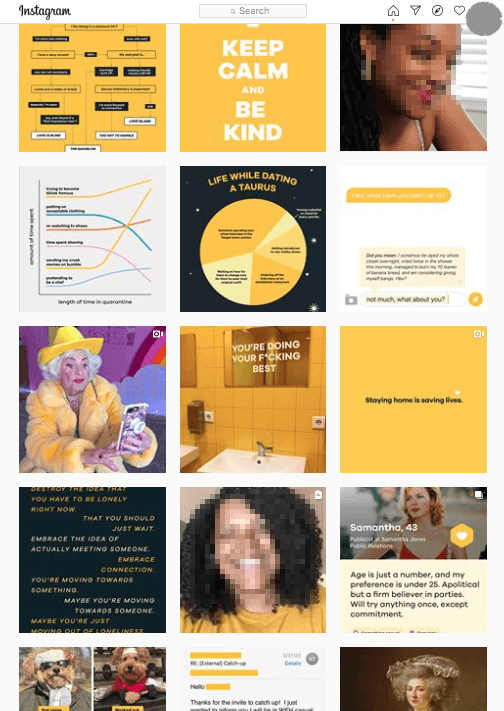 People can also notice here that they promote woman first branding.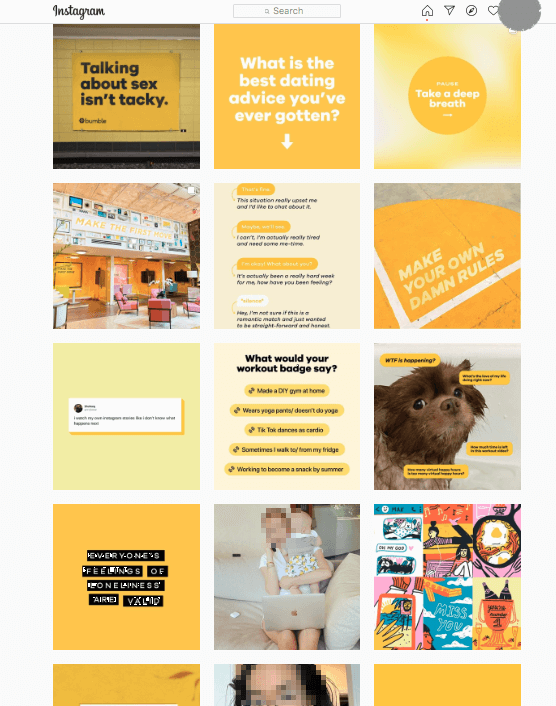 There are a lot of quotes from various sources.  They have 35K followers.
Bumble is regularly posting on Instagram.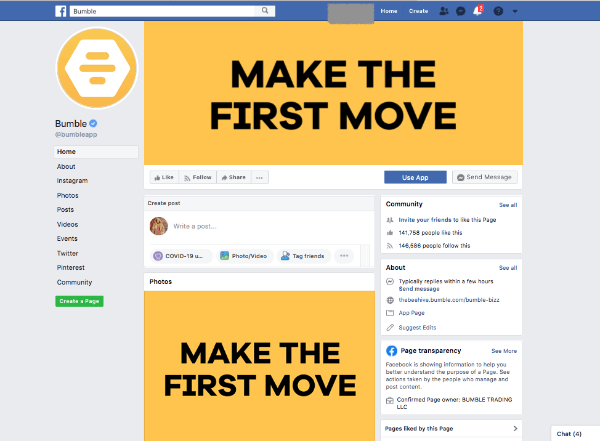 https://www.facebook.com/bumbleapp/
Bumble has the most followers (likes) on Facebook, since the majority of its members would be more facebook generations than instagram.
They update their page regularly but it is a different post from other two social media platforms.
They often post slogans rather than photos and memes.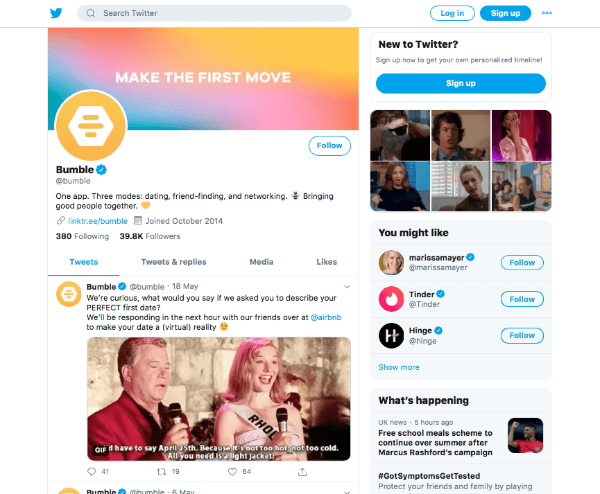 Bumble has different strategies for each mejor social media platform.
Their twitter is full of memes and they have different branding.
They have the least followers on Twitter.
However, they are active on Twitter the same as other two platforms.