Tinder Review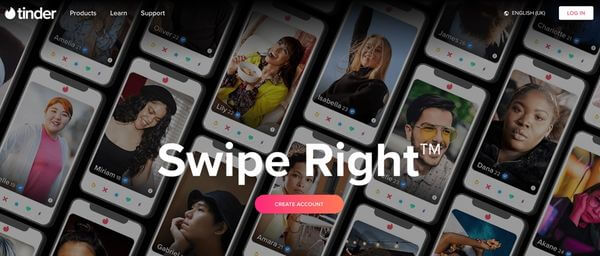 https://tinder.com/
Tinder is a part of Match group which is currently owned by IAC which is a holding company.
Tinder was originally developed by a group of people, including Sean Rad and Joe Munoz.
Tinder was launched initially on 12th of September 2012 in the USA. The service got famous quickly amongst university students.
After a few years of the launch, the service expanded rapidly to other countries. Tinder is a geosocial social networking service, operates a freemium model.
In 2014, their well known swiping system was introduced. Tinder kept evolving by adding and stopping different functions and services.
Now Tinder is reported to be used in 196 different nations all over the world.
Tinder Verdict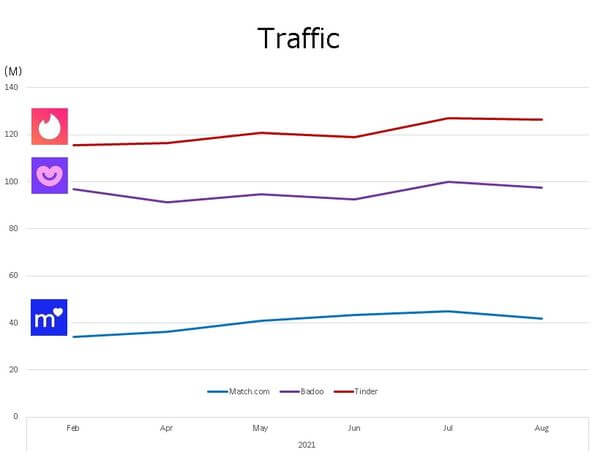 Tinder is a very well known service and it is a surviving service. They have been through many scandals and lawsuits, changing its service and evolving to fit into the new society.
Tinder is updated to the world by offering a wider range of video functions.
This can be getting more popular due to tight connection with TikTok. TikTok generations are moving to this service.
They are very keen to have connections with reality dating shows old and new, promoting fashionable dating. This video function keeps its users current and it is hard to fake their profile.
On the other side, they are caring for senior citizens as well by offering a very simple operation system.
They are also keen on inclusive dating, there are many choices for gender preferences and who to look for.
With their unique memberships, users are able to get in touch with people around the world. Tinder users' popularity are often making it to the head line of major newspapers.
If you are above two generations, Tinder is a fun, current and interesting app to use in this new pandemic global online dating world.
Tinder users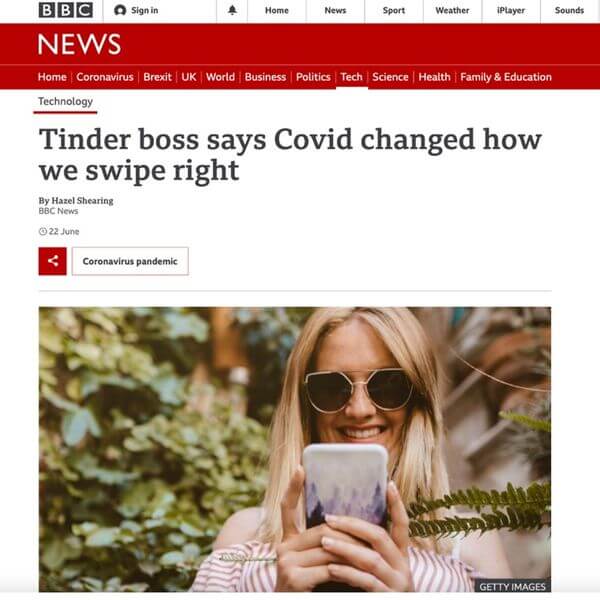 BBC
According to this BBC article, "evident among Gen Z users in their late teens and early 20s – who now make up more than half of the app's users." Thus, more than half of Tinder users are now people aged between late teen and early twenties.
Their social media campaign is hugely targeted to this generation as well.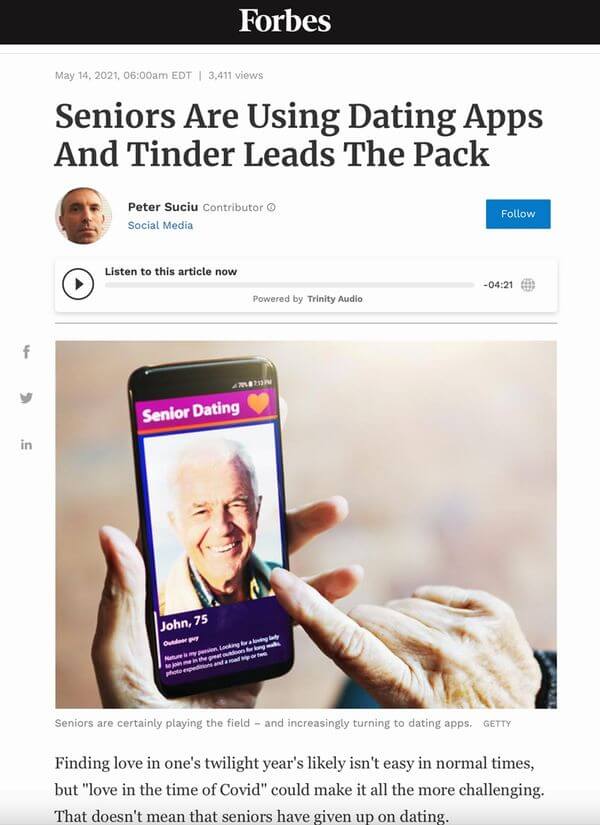 Forbes
According to this Forbes article, senior members are also active on Tinder.
"Not surprisingly seniors reported that the top dating app was Tinder, with 35 percent of respondents saying that they were dating someone they met on the platform."
Tinder generation is definitely shifting from time to time.
How to Join Tinder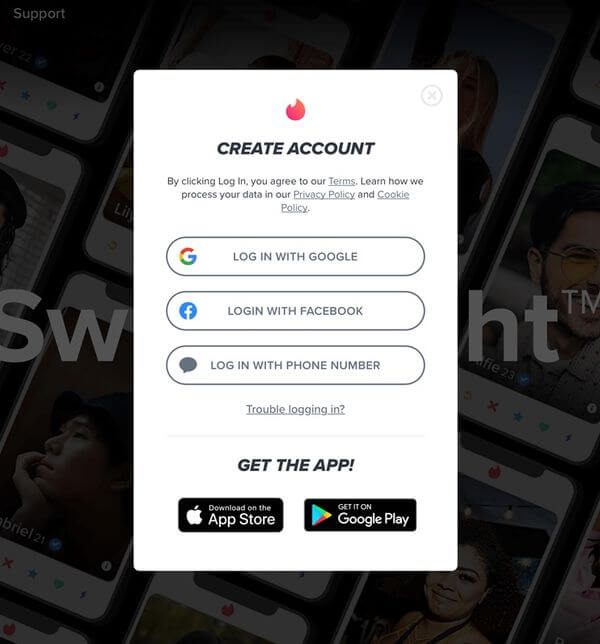 Joining Tinder is extremely easy and quick, with Google or Facebook accounts.
People also need a valid mobile/cell phone number.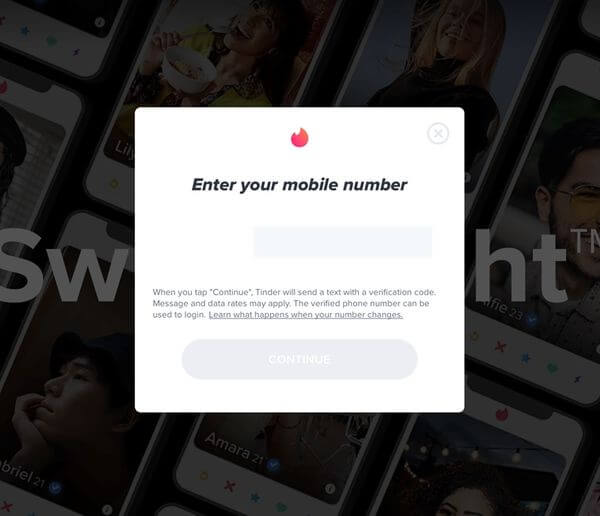 This is because they would send a code to a mobile device to open a Tinder account.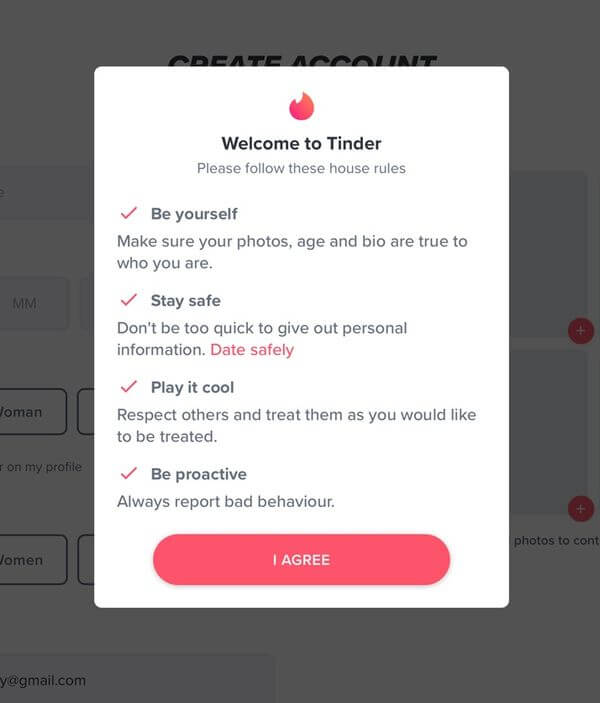 Then people need to agree with their very simple and clear T&C.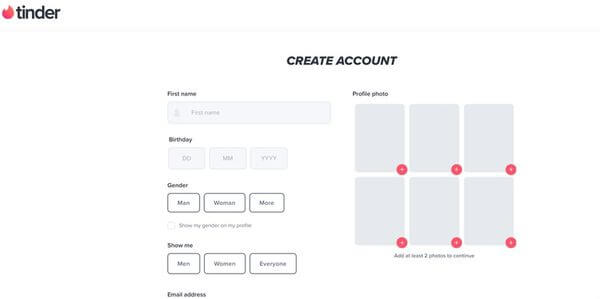 That is all.
Now, people need at least 2 photos to create a profile.
People can pick their own usernames.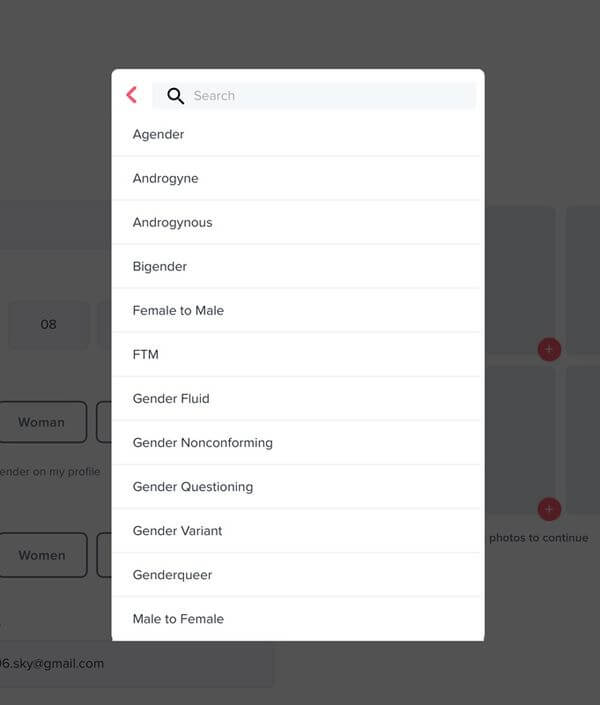 There are plenty of choices for gender preferences.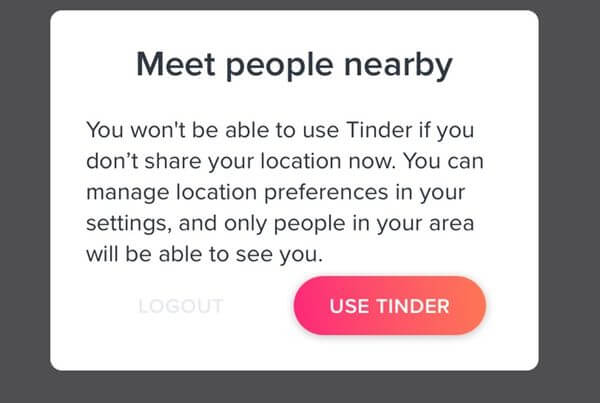 More importantly, users must allow their location service to be used. Without this, people are not able to use this service.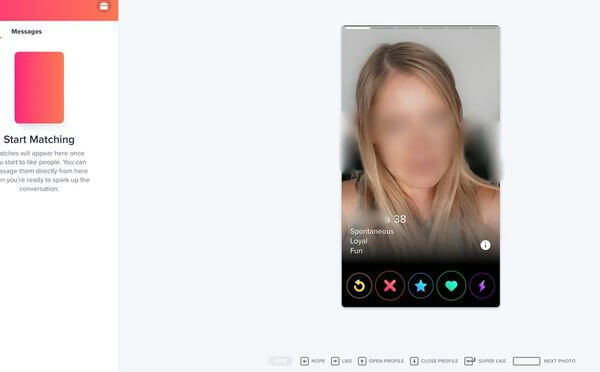 Now, people can use their swipe/click to find matches.
It would take only a few minutes to do this process.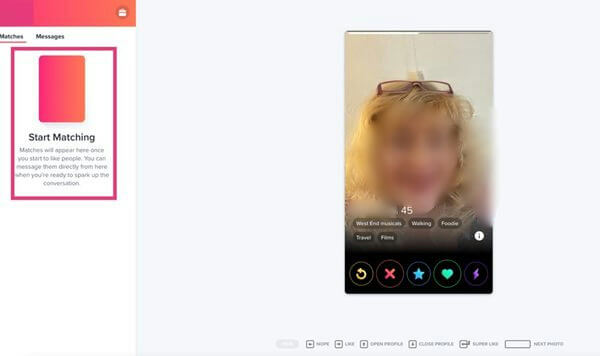 Once you start to like someone, those who matched would appear and start making contacts.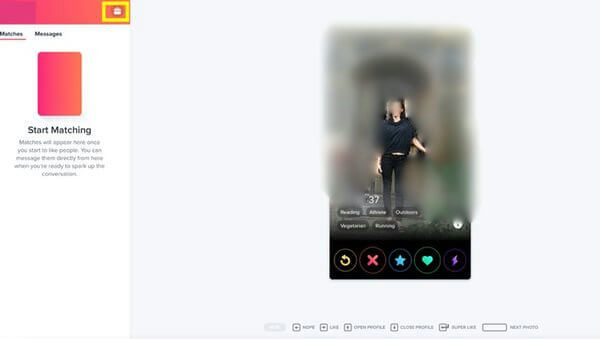 This business bag icon is for camouflage.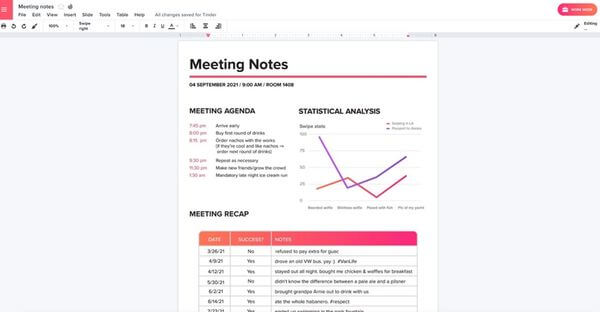 You can click this icon to hide the main page, when you are using Tinder at work place at an illegitimate time such as working time…to hide your Tinder activities in one click.
Tinder Premium membership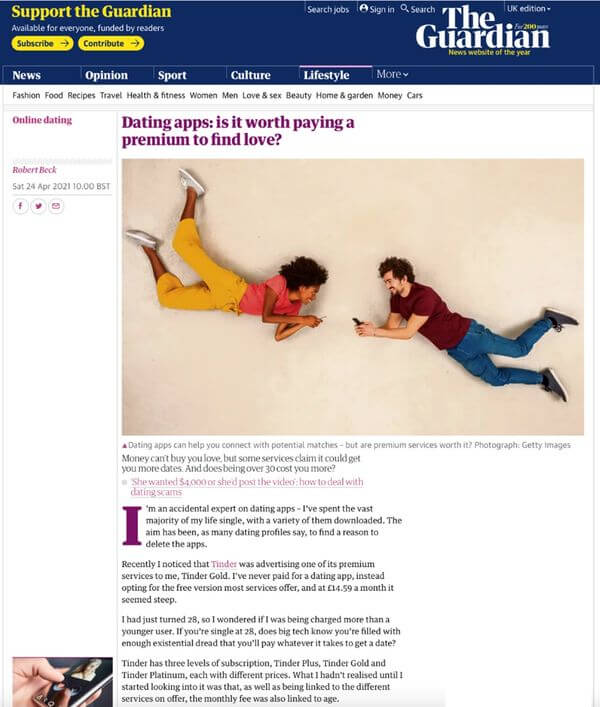 The Guardian
 
Tinder offers 3 different memberships: Plus, Gold and Platinum. According to this guardian article, those membership fees are depending on location and age.
Tinder was once sued and settled with $17.3m in California, USA regarding age differentiated rates. Thus, in California, a flat rate for all ages.
However, in the UK, age differentiated fees are legal according to the article "the Equality Act which allows businesses to give 'concession in respect of a service to persons of a particular age group"
FEE / a Month
Tinder Plus
Tinder Gold
Tinder Platinum
USD
$9.99
$14.99
$17.99
(under 30yo users)

$39.99
(over 30yo users)
GBP
£4.99 to £19.94
£13.99 to £29.49
£18.14 to £36.49
Tinder Plus membership
Tinder Plus membership fee is in a range of £4.99 to £19.94 a month. This membership allows users to access unlimited likes, five super likes a day. It also allows users to use "passport to any location" which means that users can change their location. Moreover, there would be no more annoying advertisement pop ups.
Tinder Gold membership
Tinder Gold membership fee is in a range of £13.99 to £29.49 a month. The membership comes with the same access as Plus membership plus users can see who likes you and new top picks every day.
Tinder Platinum membership
Tinder Platinum membership fee is in a range of £18.14 to £36.49 a month. This ultimatum membership gives users messaging service before matching, their likes to be prioritized. Furthermore, users can have 7 days of records of their likes which they have sent.
Users should read and understand their T&C before purchasing any memberships and do some research online. There are some reports regarding paying accounts being banned for no clear reasons.
How to delete account on Tinder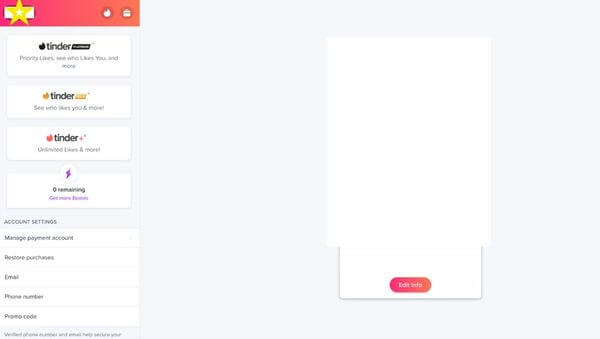 By clicking the profile picture icon on the top life hand corner, users can access their settings.
At the bottom of this left side menu, users can find a "delete account" sign which is very clear to see.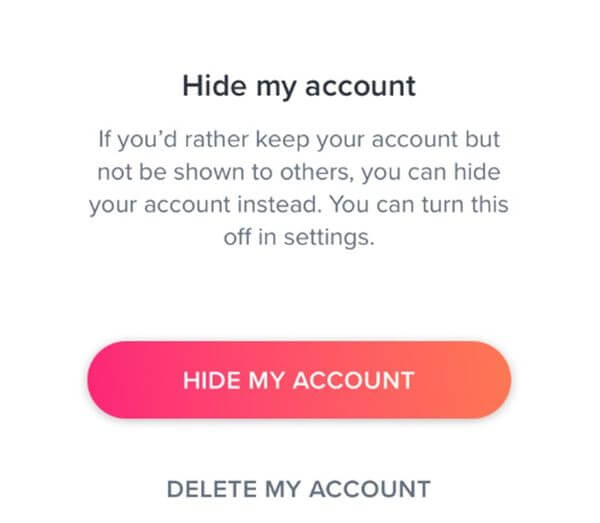 Then this pop up would appear.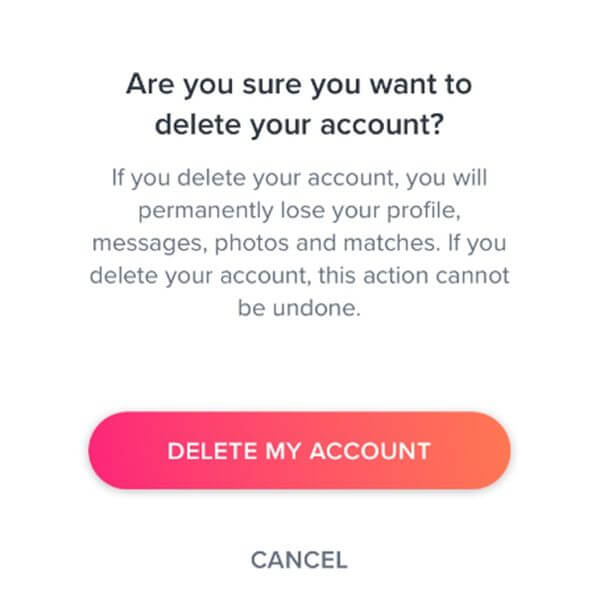 Next, this popup would appear.
By clicking the Delete my account, an account would be deleted straight away.
This process is also very easy and simple.
Tinder Apps
Tinder has two apps: iOS and google/android. Both of them can be easily found from their app stories.
Tinder iOS App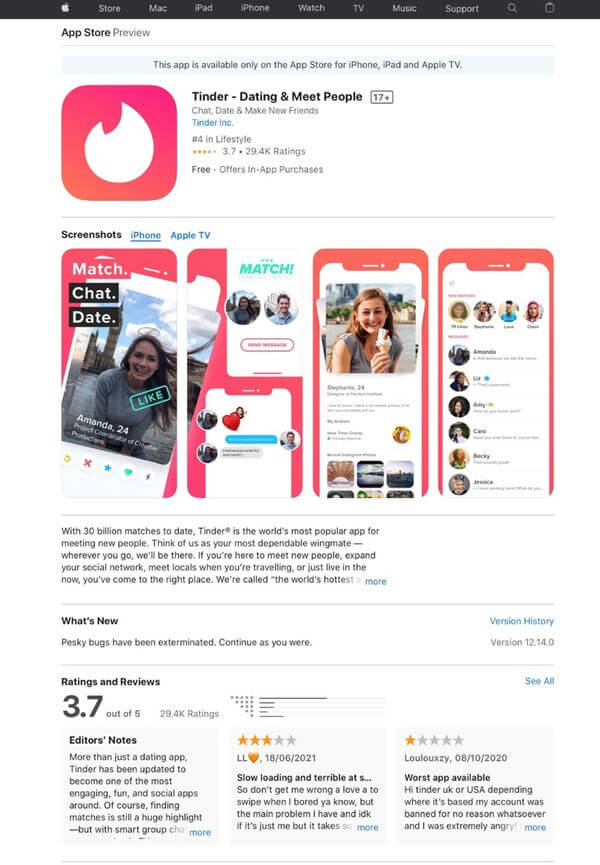 Tinder is ranked 4th in the lifestyle category. It's a 17+ app. It has mixed reviews. Being an established service, the app is looked after very well; it is regularly updated.
Tinder Android App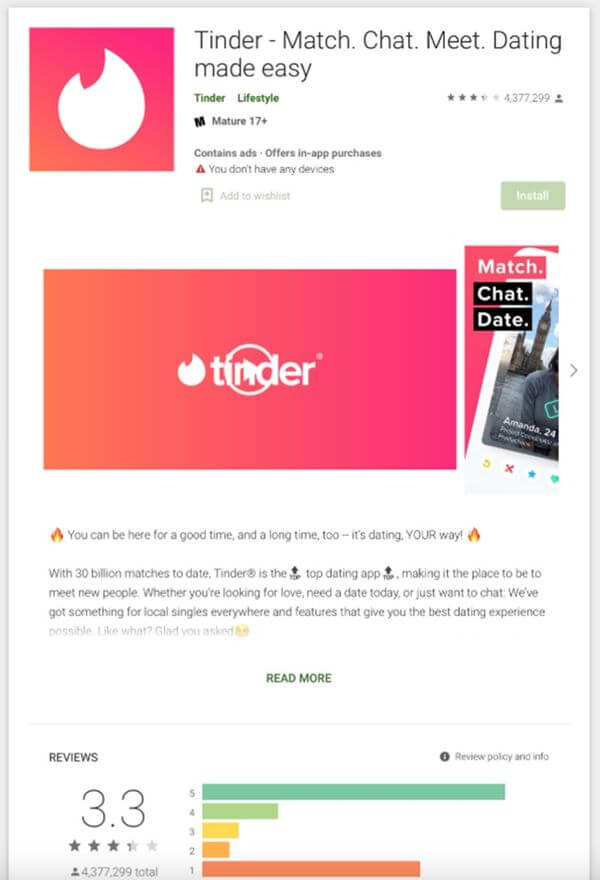 Tinder android app is also regularly updated. It also has mixed reviews.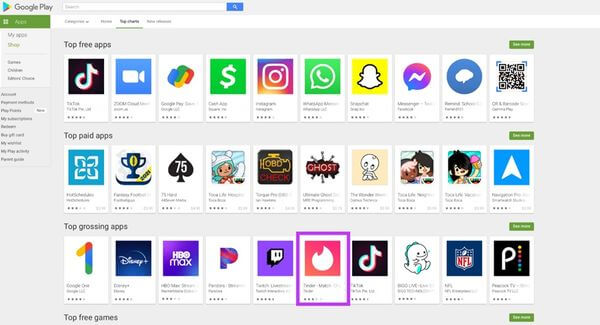 However, it is one of the top grossing apps.
Tinder Social Media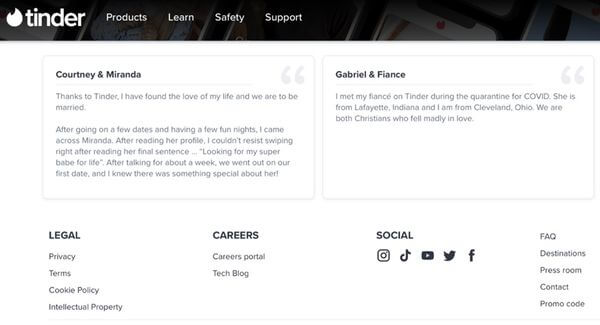 Tinder has all the usual social media accounts. They can be found from the bottom of their web site. They also have a Tech blog, where people can read about the service update.
Tinder Facebook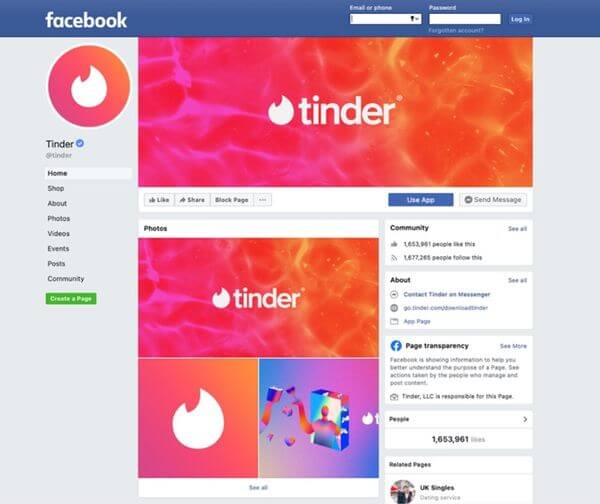 https://www.facebook.com/tinder/
Tinder is one of the first dating services which was linked to Facebook, thus there are over 1.5 million followers.
However, their last post was over a year ago. They have not posted anything since then. It is very strange why.
Their past posts have a lot of likes and comments, which shows active users.
Tinder Twitter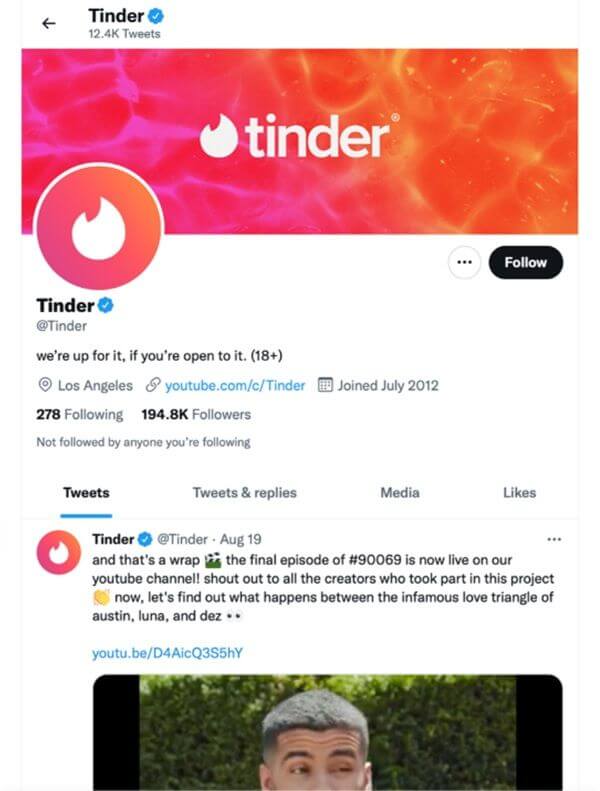 Unlike their Facebook account, their Twitter account is regularly updated. Their posts are mainly about their YouTube channel as well as retweets.
and that's a wrap 🎬 the final episode of #90069 is now live on our youtube channel! shout out to all the creators who took part in this project 👏 now, let's find out what happens between the infamous love triangle of austin, luna, and dez 👀 https://t.co/8OjIVU1dSt pic.twitter.com/yMImdp8sdk

— Tinder (@Tinder) August 19, 2021
They have a good number of followers, their posts would get a fair number of comments and likes.
Tinder YouTube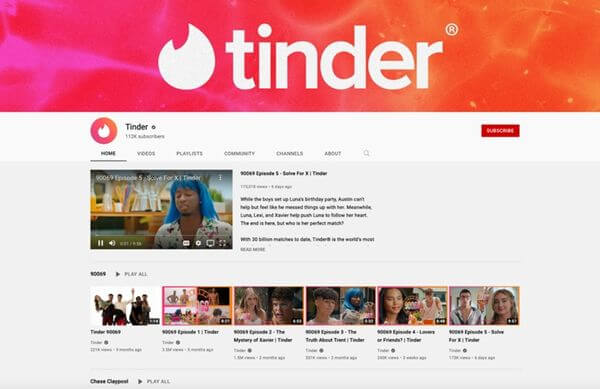 Tinder is very active on YouTube, they are making a mini series called 90069. This is hugely advertised and promoted on Instagram and TikTok.
Tinder TikTok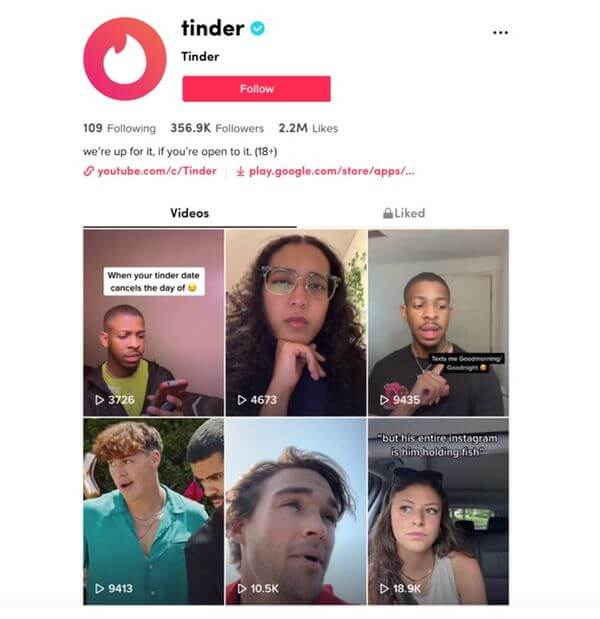 They are very active on TikTok, they promote their YouTube content and they have their own ambassadors who post different things.
Tinder and TikTok have a stronger tie now than ever. No wonder why their Facebook is out of date because now their main promotions are shifting towards TikTok.
Tinder Instagram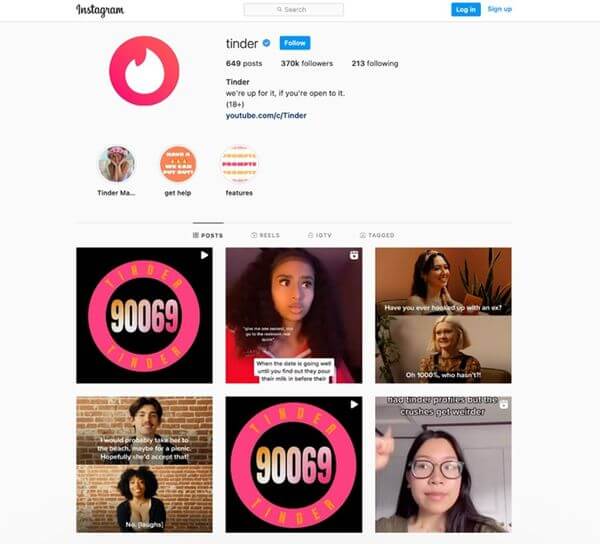 Tinder has multiple Instagram accounts. Their main account is hugely linked to their YouTube campaign as well as TikTok.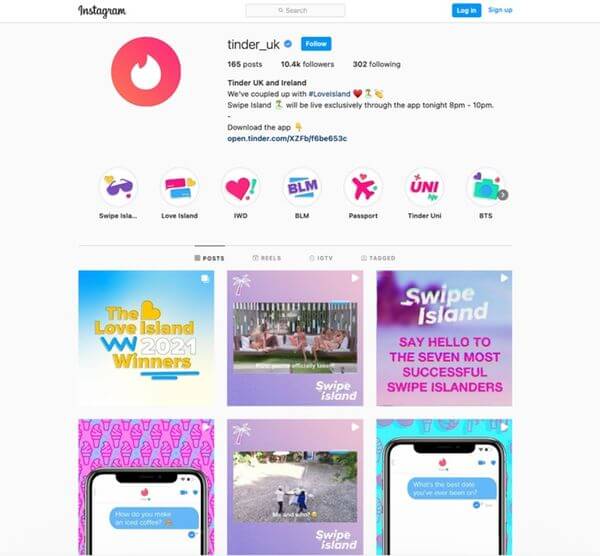 On the other hand, the UK account was linked to the reality dating TV show "Love Island", Tinder members could audition to be on this TV series through their Tinder app.