Miss Travel Review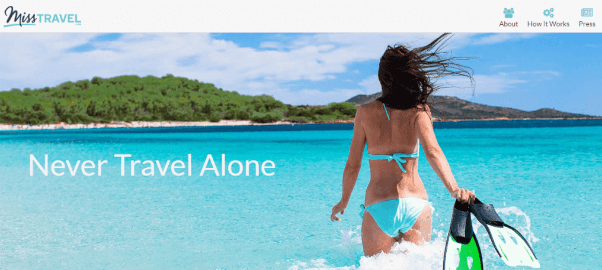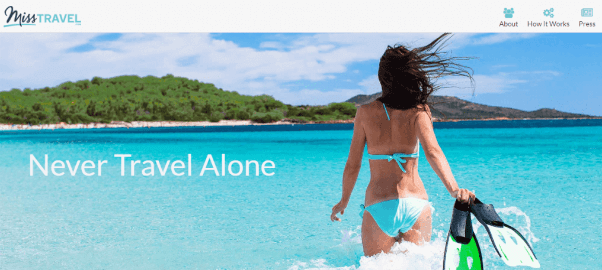 https://www.misstravel.com/
An online dating(sugar daddy) entrepreneur Brandon Wade is the founder CEO of the company that runs the travellers' dating site Miss Travel. He is also behind other dating sites: Seeking.com, WhatsYourPrice.com as well as OpenMinded.com. Miss travel started its service in 2012, although it has been criticized as "sugar daddy" site, (due to its initial branding?) it has managed to grow the number of people who sign up for the membership over the years.
Miss Travel is a suitable site for attractive looking females in their 20s -30s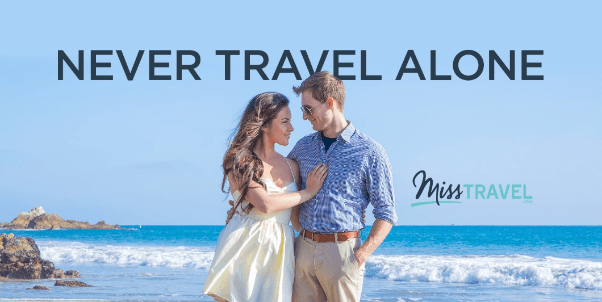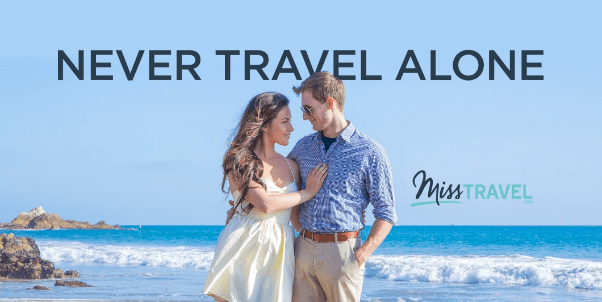 There are many profile pictures of females in their 20s-30s, they are often in their swimming costumes. This was my personal first impression of the site. They are often putting travel plans for someone to pay for them. Most of them are putting up very eye catchy photos to attract someone to pay for their trip. Since it is still an operational service after 7 years of business; it must be working for them. 
However, there are some middle aged (and chubby)  female members with children, asking for someone to pay for their trips, so maybe everybody has a chance?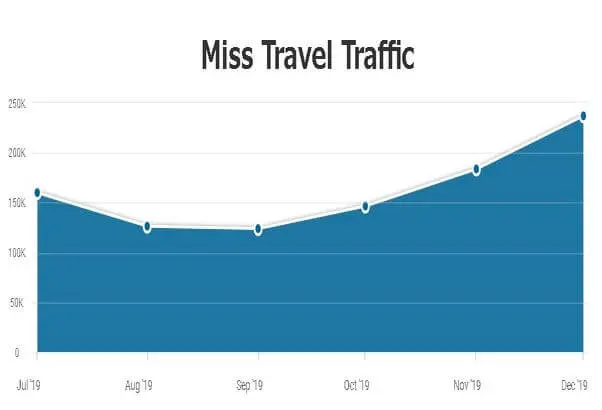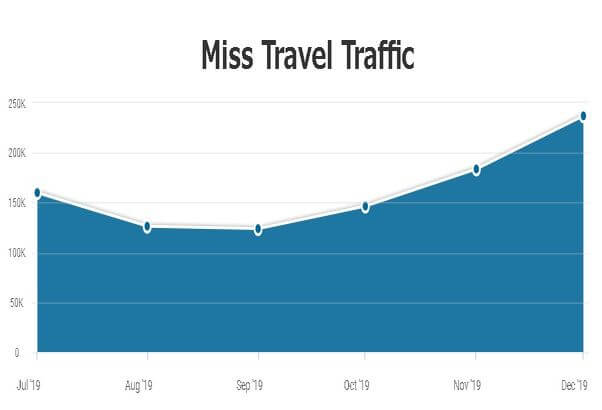 similar web(Jul-Dec 2019)
Membership Fee
Premium Membership is vital for male users due to its limitation without it, male users are not able to do DM without the membership.


This fee is considered as cheap, amongst other dating sites.
Once you paid, you can set up a schedule and a date for a trip!
Miss travel Users' variety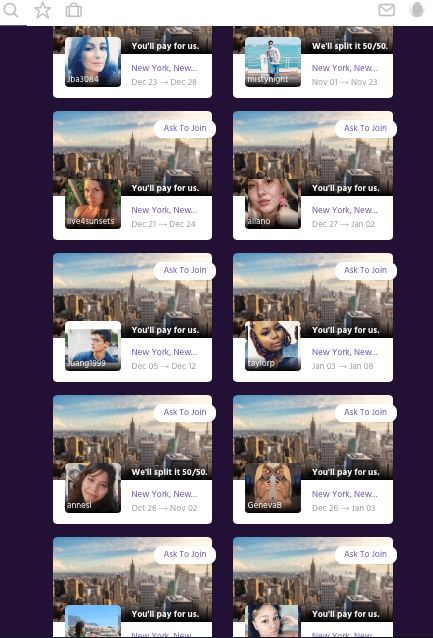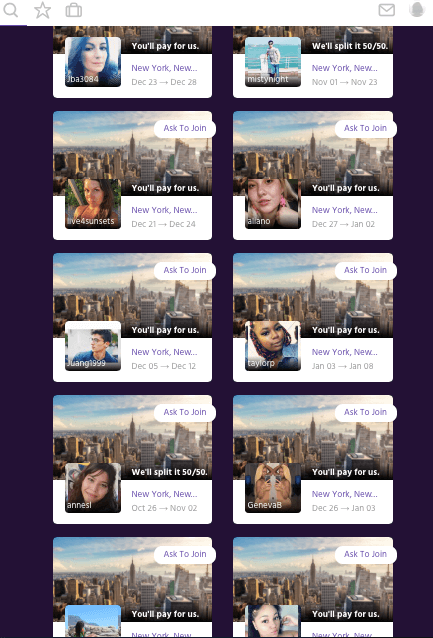 Most females are in their 20s and male are in their 30s+. A Very low ratio for people aged 50+.

【Dec.16.2019】
Gender Ratio
There are a lot of activities almost users, there are a lot of blog updates from users expressing their experiences, meeting blind dates in abroad. (This could be for an affiliate propose) Also, some people are admitting to have sexual encounters and keep travelling together.

【Dec.16.2019】
Women Users Age
Male Users Age
Users are varied, from; high school graduates from master degree holders: religions from all over the world: young and beautiful girls to middle aged men.
【Dec.16.2019】
Traffic by Countries
Some members are looking for accompany during travel as "I'm in Hawaii. May I invite you for dinner? " Find accompany in local is also a good idea.
How to use Miss Travel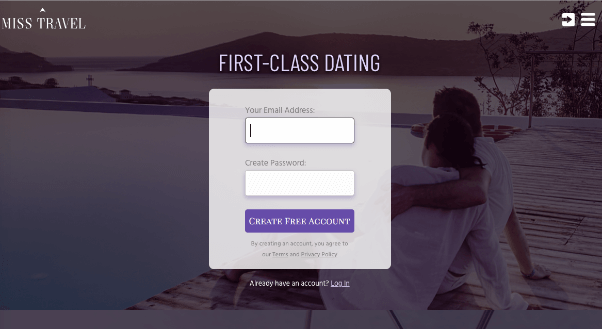 Miss Travel is very easy to use and sign up. One downside is that they currently do not offer an app; however, their mobile site is good enough to use.
The way to join this dating site, a person needs an email address and a username.
Then you need to fill in a very simple form asking very basic things.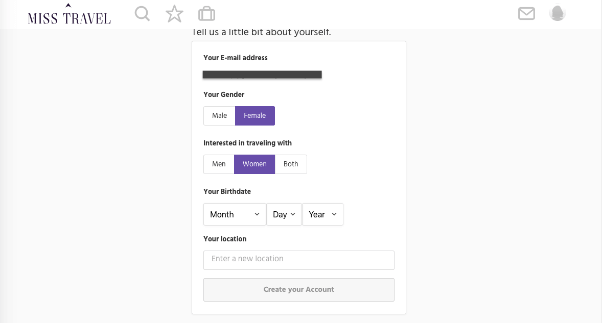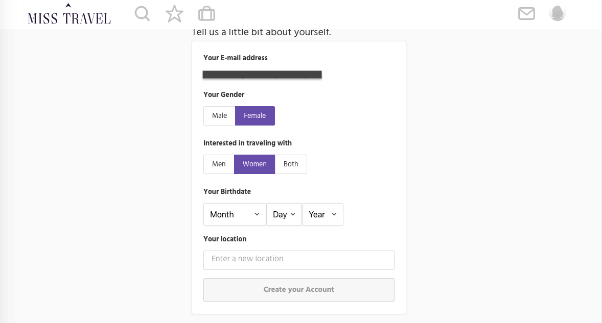 You can write about how you are enthusiastic towards travelling. What you are looking for in a partner and personal preferences like beliefs, smoking and drinking.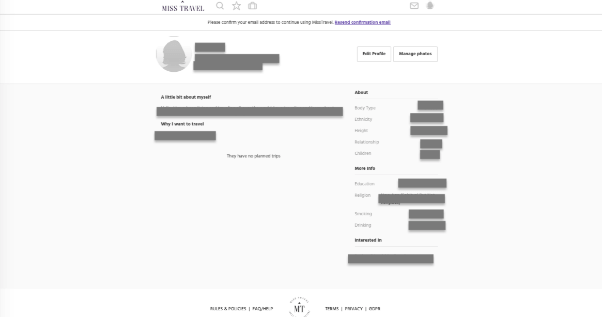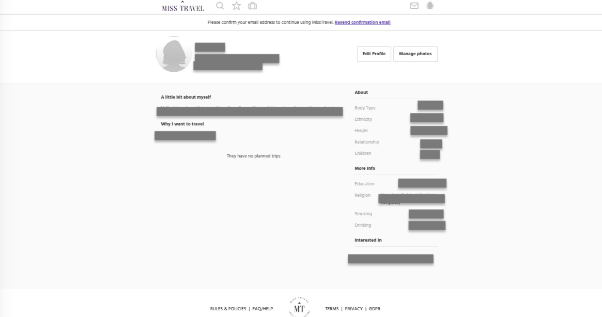 Then you need to confirm your email address.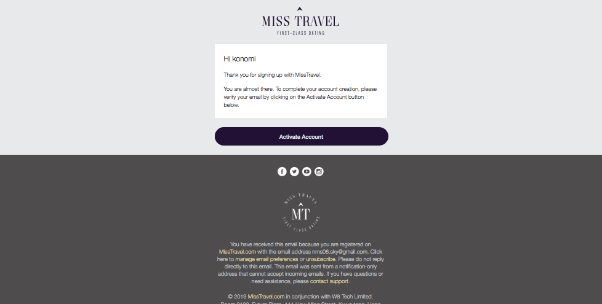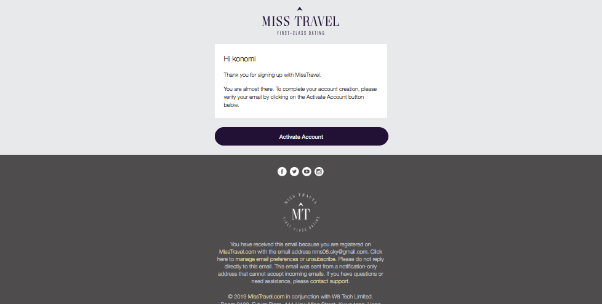 Once you do this, you can upload as many photos as you want!
Most of users are uploading some sort of photos. Some are questionable and some are very genuent. But you can choose how much of your photos to be public.
You need to put your location, so you will be shown people who are near your location as suggestion.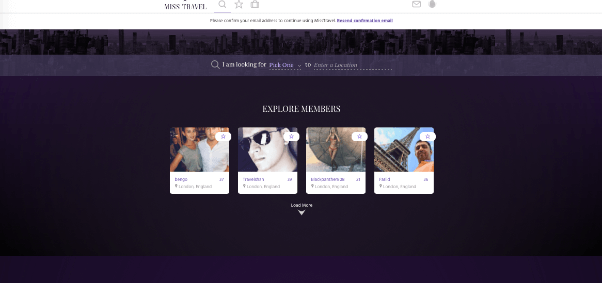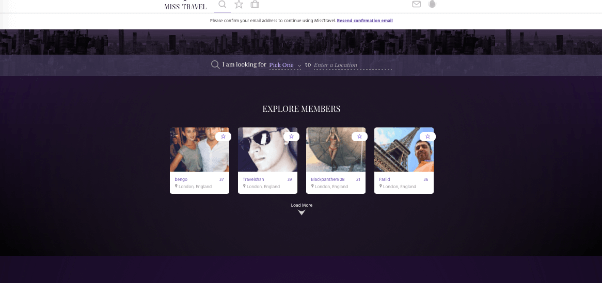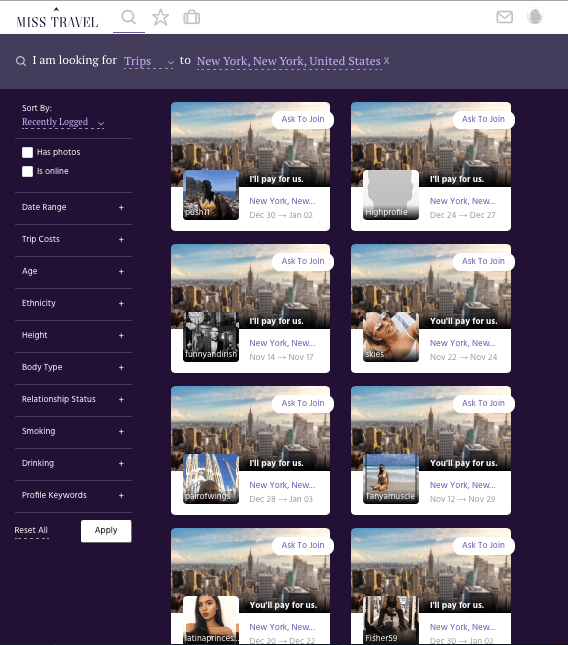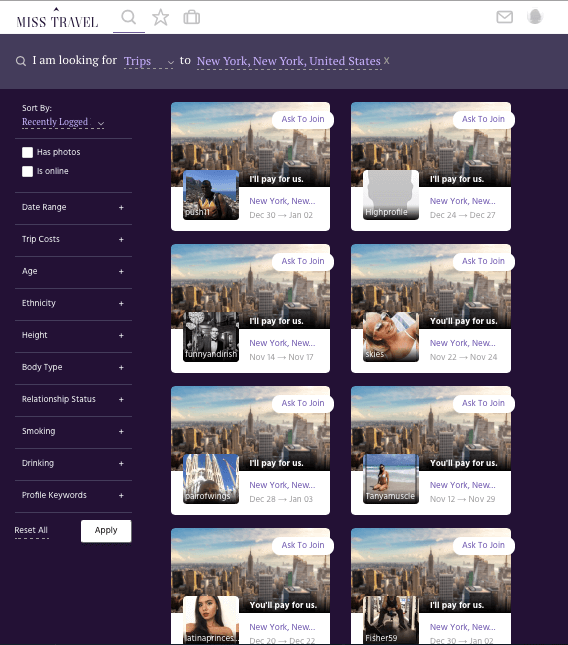 Also, you will see the list of trips that other users are planning and asking to join in, either it's paid, paying, or splitting the cost.
Be careful once you click to ask to join, you can not cancel your request!
Also, you will see the list of trips that other users are planning and asking to join in, either its paid, paying, or splitting the cost.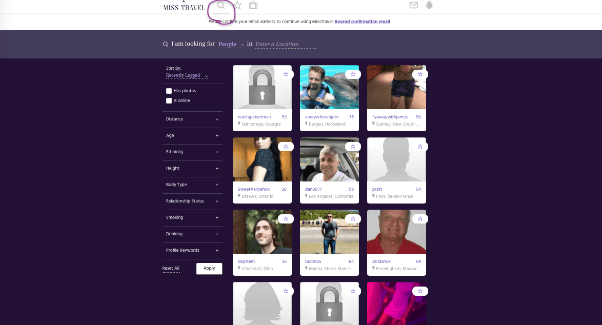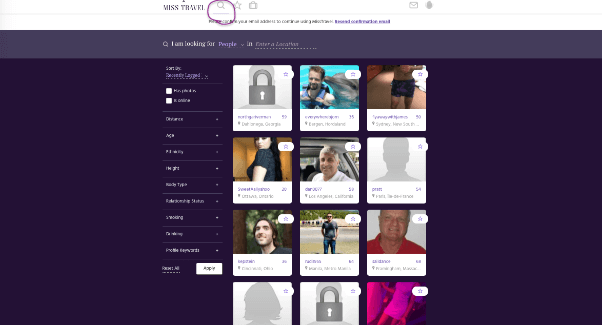 You can search partners using the search on the top left hand side.
You can change your search by changing the preferences on the list on the left side.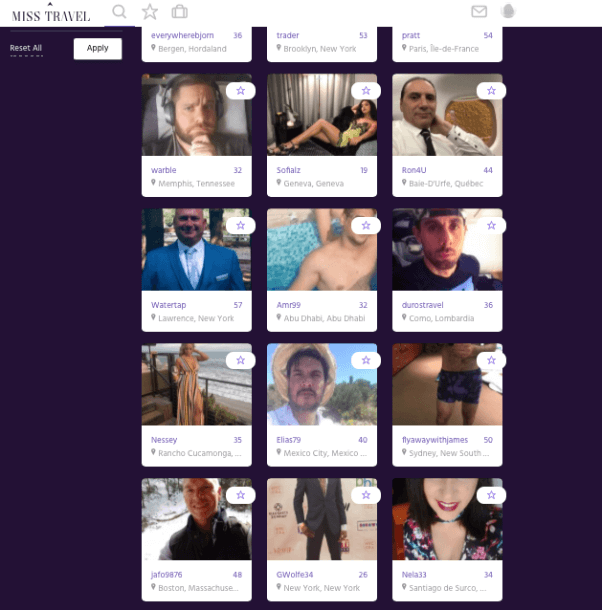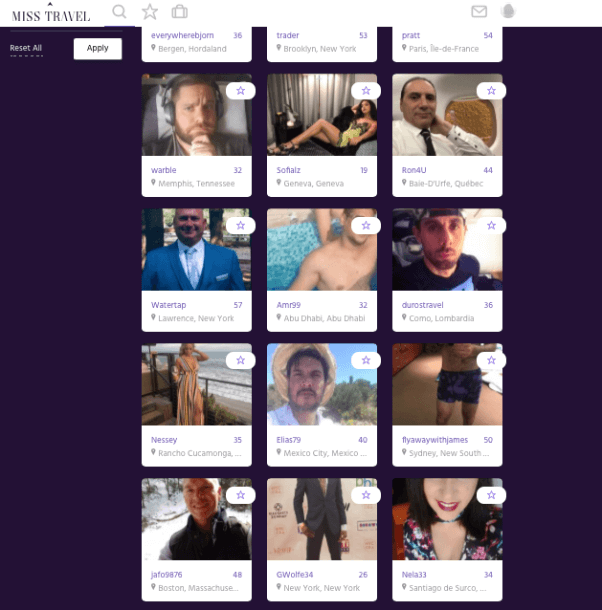 You can keep your favorite by clicking the star!
The most unique part of this dating site is this part!!  You can create a trip you want to either you want to invite someone or you can ask someone to take you on a trip. Or you can split the cost.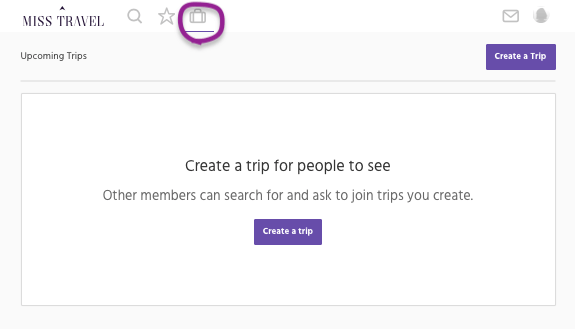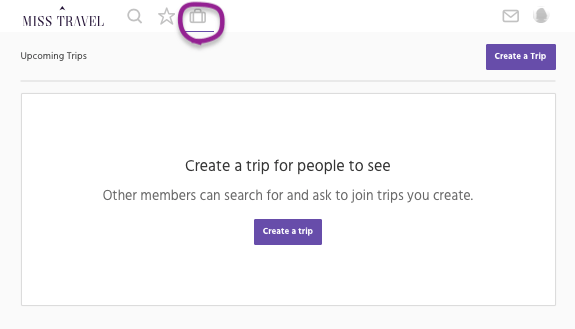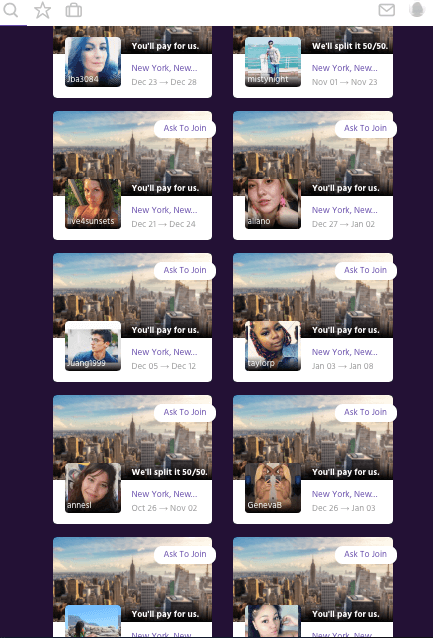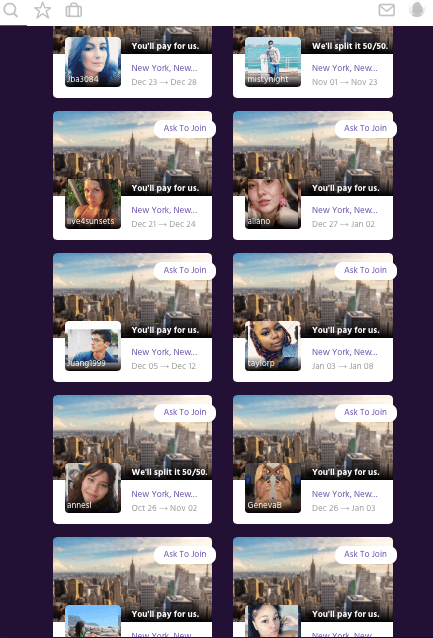 Female users tend to be asking for someone to pay for their trips and male users tend to ask for someone to join their trips.
You can click the person who is asking for a partner and read about their profiles.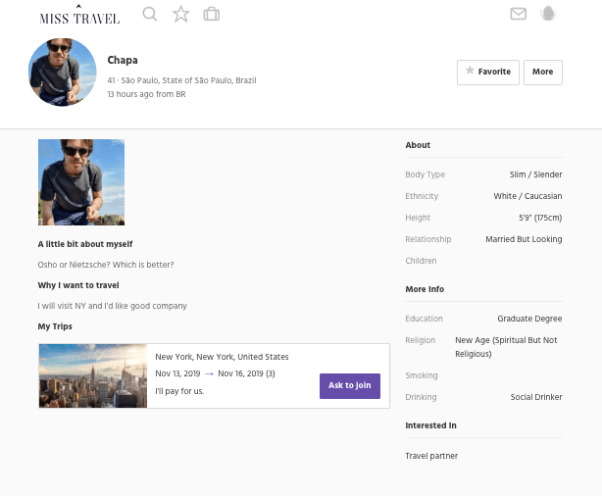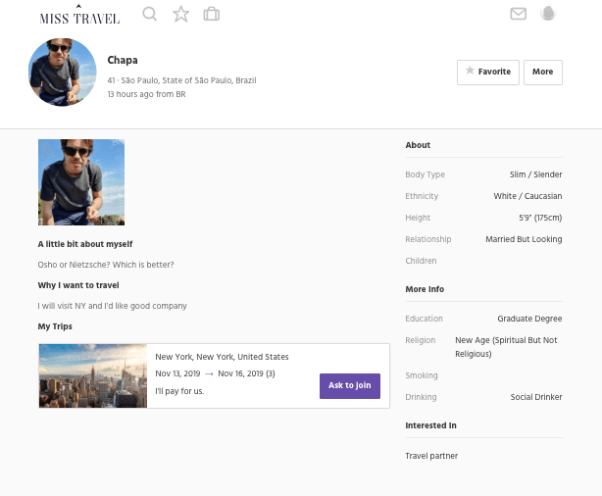 Messaging service takes a while to be activated. Once you receive this email  message.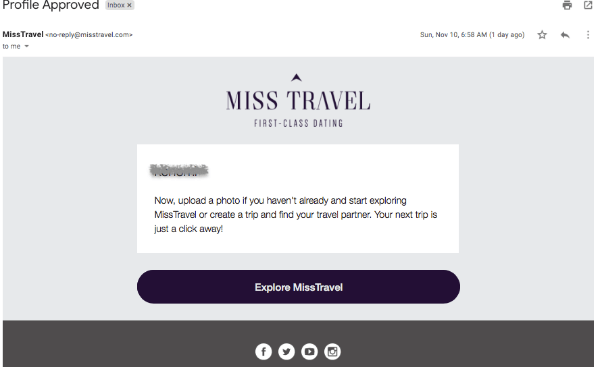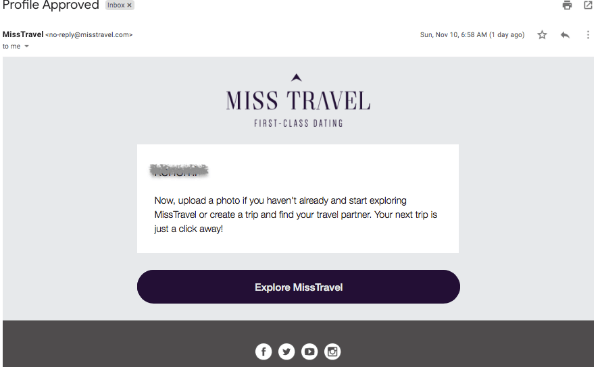 You can start to receive and send a message (if you are a female member)
You will get a notification email as well, once you get a personal message.
When you want to log out, simply click your profile on the top right corner and you will find "Log out".
When you want to deactivate/ delete your account, it was not clear, so I had to get in touch with them.
If you want to find out exactly how, please go to help support section of this below article
Miss Travel Reviews
Datingscout.com gave it 4 and a half star review…its simple yet organized site, reasonable price and interesting focus. They are also warning that Miss Travel does not have very strict rules such as mandatory profile photos; thus there are possibilities of scammers roaming around the site.  I am a bit confused that they are rating app for ⅗ because there is no app!!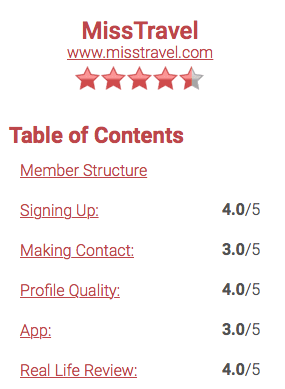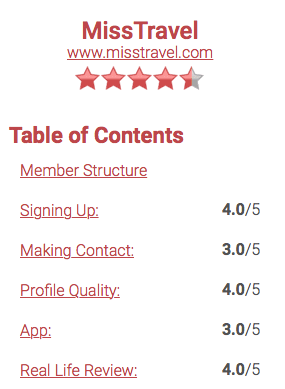 DatingScout
The two most current reviews are the opposite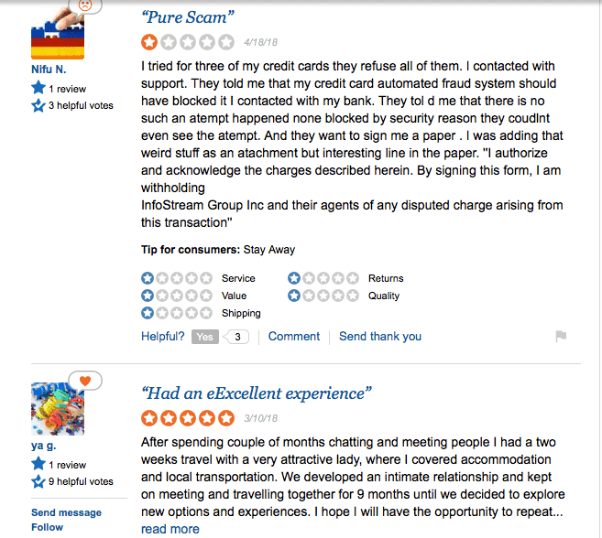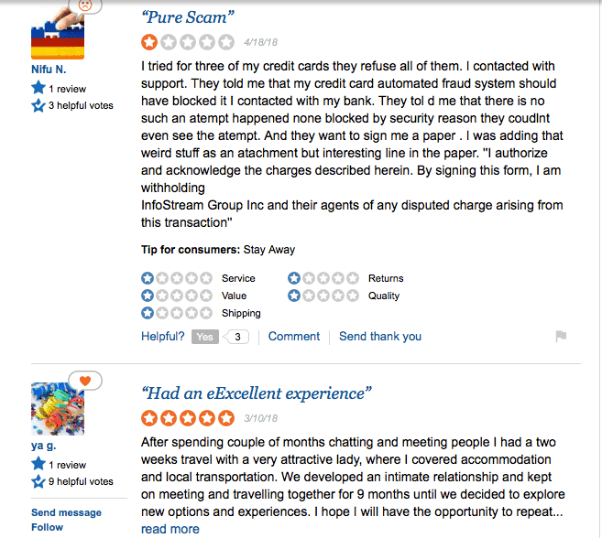 sitejabber
One is expressing a concern about its membership payment and one is raving about the experience. Obviously, the site is able to write positive reviews for themselves. Thus, you shall be always diligence when you use any dating or matching apps/sites.
One shared experience stating that she was left alone in an unknown place  by her partner because she refused to be touch. Therefore, personally you shall not go to places where you are not able to communicate well with local people. Perhaps, it is wise to choose a place where your language ability is accepted and safe. It's tempted to join in a trip to visit a exotic place; but it's better to stay somewhere well known, so at least you can have an option to evaluate when things do not work out between you and your partner.
But meeting up abroad could be a great option to hide your personal life, a sugar daddy or not, if you pick carefully, have a plan to abandon if things go wrong, this site would be a golden gateway.