Miss Travel Scammer Analytics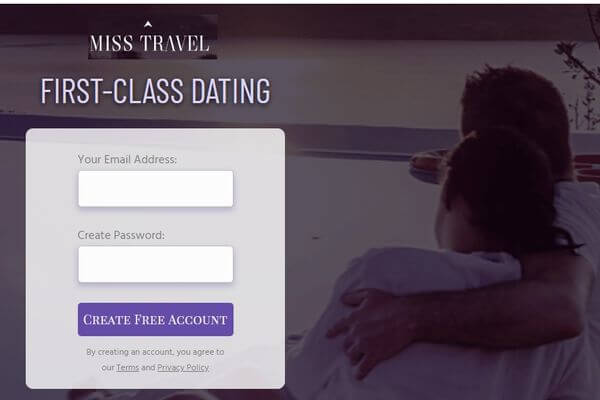 https://www.misstravel.com/
Miss Travel which has its headquarters in Las Vegas USA, has a mixed reviews online. It started its service in 2012, was created by an Aisan American entrepreneur who has already made his name in the online dating business by successfully launching a sugar daddy and an 'Sugar Dating' sites: SeekingArrangement.com and WhatsYourPrice.com.
Does Miss Travel works?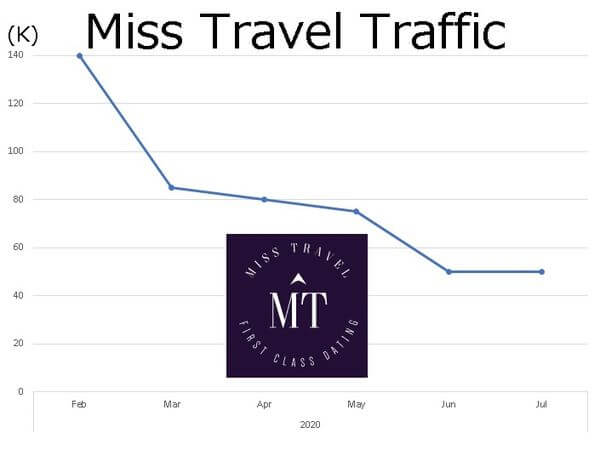 Since travelers are decreasing in the pandemic, people who looking for travel companions is also decreasing.
Let's think about this way, it's an opportunity to spend time exchanging messages and getting to know the other person without seeing them immediately. It's a great time to find future travel friends and partners.
Some users seek to find disposable affairs, Using Miss Travel isn't the right time.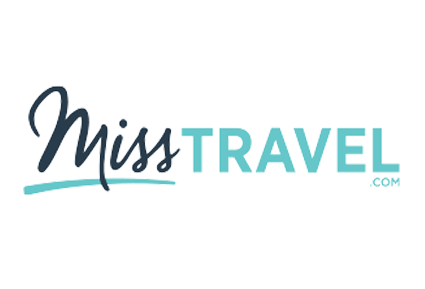 Only 6% of the members were male just after its launch in 2012, according to Forbes.
(Forbes)
It criticized as an escort site, that was quite understandable reputation due to the owner's history of running similar sites and its campaign like below.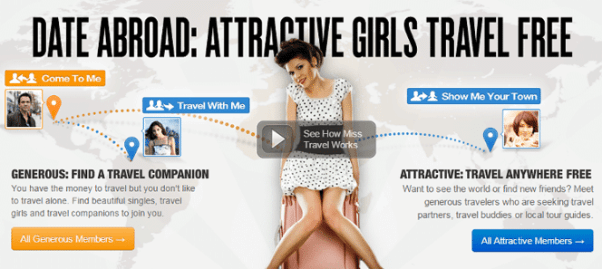 In 2020, their site is still running with a minimalist style purple webpage without an app! But they are still considered an escort site and rated lower than SeekingArrangement.com and WhatsYourPrice.com according to reddit.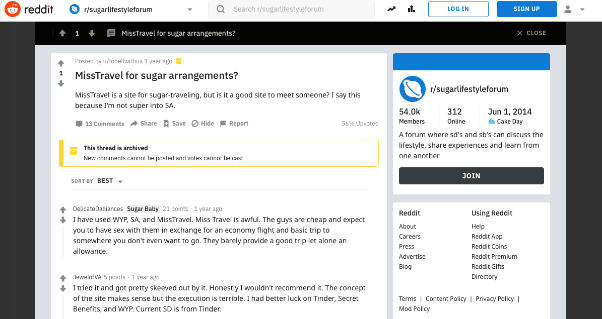 However, other sugar daddy review sites gave a pretty good review!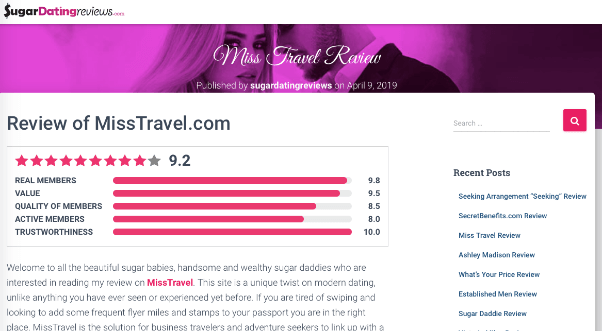 (http://sugardatingreviews.com/miss-travel-review/)
Why people use Miss Travel?
Each dating and matching app/site has its own unique niche to survive in the competitive business. This site has a good one! Sugar daddy or not, people who like to travel, now have a site to find a partner. Young females are looking for a free travel, and mature males are offering free trips to oppsite of sex. This is the truth. Amongst them, there are some members who are looking for a partner who world split the cost 50/50.
Can you trust Miss Travel?
Sadly, this site does not offer a standard social media (facebook) signed in /register option. It is very hard to find out legitimacies of other members without social media accounts. Thus there are some reviews expressing fake profiles on Miss Travel.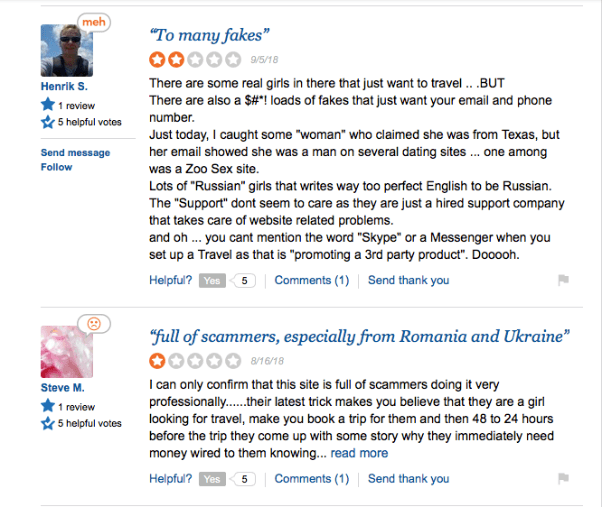 (sitejabber)
It was a typical catfishing,,a male pretends to be a female. There are a lot of reviews stating that there are a lot of English (linguistic ability )perfect Russian / Eastern Europian females scamming males in this site.
Miss Travel Personal Information Concern
Due to less strict rules on its site, it is easier for scammers to create profiles; however, their site security seems to be legit. There are no reports of leakage of personal information from Miss Travel. If a user to be diligence on site by not sharing too much personal details on profile, one's personal information would be safe on this site.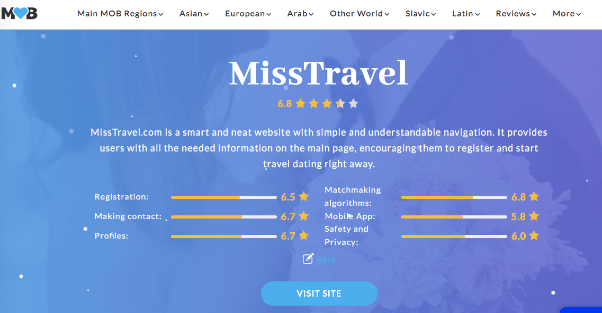 (https://mail-order-bride.com/review/misstravel-review)
Miss Travel Community
There are all sorts of people on Miss Travel. It's reported that their male and female ratio is 50 / 50 in 2020.
【Aug.2020】
Gender Ratio
There are lots of young female members with attractive and beautiful profile photos, who are asking for free trips. There are middle-aged males who are offering free trips.
Surprisingly, there are a few people offering splitting cost trips. If you are a female in 20s-30s, without a profile photo, you would still receive some kind of interests from males.
All men need to pay for their subscription to use their DM service.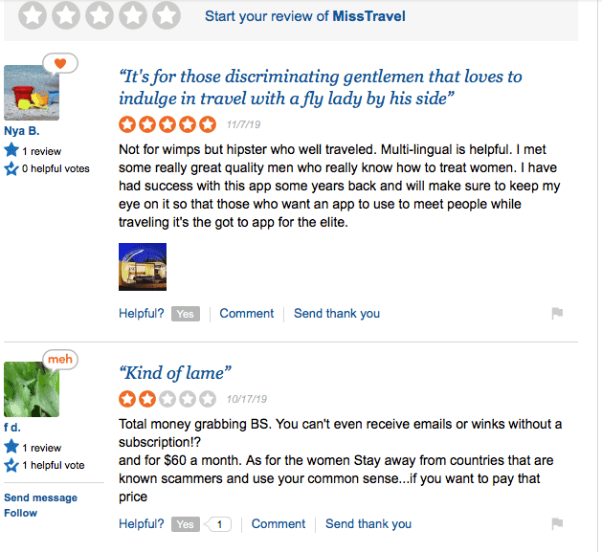 Some are looking for blind dates, travel partners, and sugar daddies. There are also people who are sharing their intimacy stories; some are present, some are disgusting.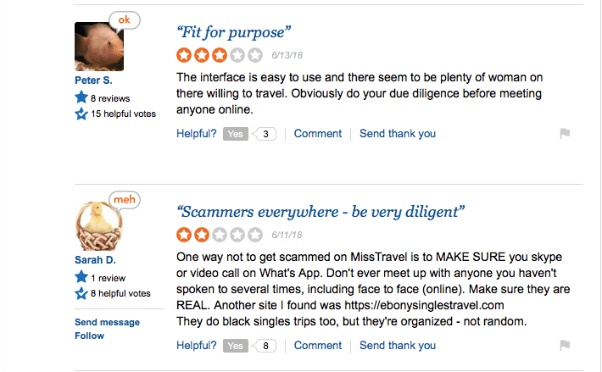 Traffic by Countries
【Aug 2020】
Countries
The majority of Miss Travel members live in the United States, but there are registrants all over the world. If you're traveling, try searching for your destination.
Point to remember before you make an actual contact
Miss travel offer two kinds of actual contacts. One would be obvious, two people travel to a destination; however, their departure points can differ. Two people would travel together and spend their time, possibly more.
The other contact would be one is travelling to the other one's location. They would meet and spend some time together but it is not necessary for them to stay together.
In both cases, it is recommended to be extra careful, since the site is reviewed to be that the site does not care much of its customers' safety.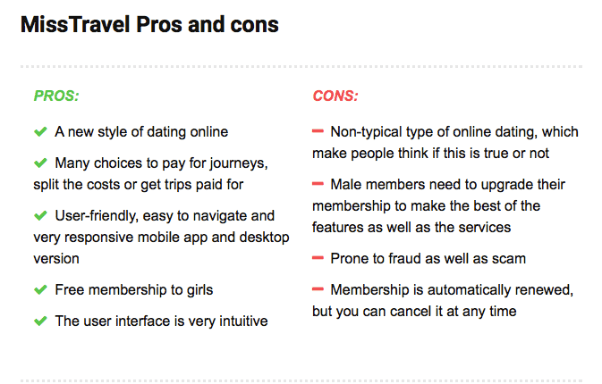 Advice for the users of Miss Travel
・ If you are joining a trip that paid by a partner, it is strongly advisable to carry your own money as well in case of an emergency!
・ It is better to have a few " face to face" contacts before your first meet/ trip unless, you are planning to have a blind date at a destination of your choice.
・ There are scammers amongst users; so be cautious all the time!
Miss Travel is worth it?

There are so many different information about Miss Travel online; their male and female ratio, membership fees are so different depending on different sources. The biggest difference would be that male ratio; it changed from 6% to 70% in 7 years??!! I believe that most of those review sites are written by affiliators' who are making money by advertise this service.
Personally I got messages with just having a profile without a photo, this made me think that I wonder how desperate male members?! or they are totally scammers? I am not sure.
It is a wonderful idea to get a free travel, if you are into sugar daddy business, this site is good for you! Especially, if you are an attractive female in your 20s to 30s.
Also, if you are looking for some sort of intimacy adventure, this site might be good for you!
If you are female, looking for a caural meet/free meals with a foreigner in your local city, this site is for you!
If you are a male with money, this site is for you to find an escort / travel companion.
All you need to be is be diligent! Know that there are scammers amongst members!
That's from me, enjoy online dating with an extra care! Hope you find a wonderful partner and have some great time!