3 LGBT Dating Apps Review 2021
UPDATED: April, 14th, 2021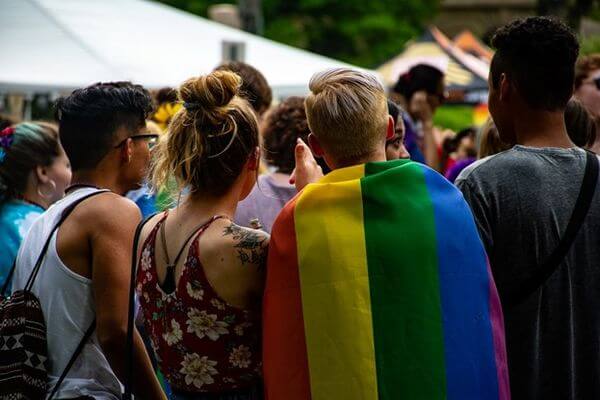 Three unique LGBTQ dating apps are available. It's a trend these days to be part of a community, so apps like these were made for these groups.
These 3 LGBT apps were released recently. These apps have way less users than the more famous dating apps like Tinder, OkCupid and Grindr, so they do not get noticed as much.
Finding someone on those apps are less choices, less competitive.
Taimi – Gay Dating,Chat,Social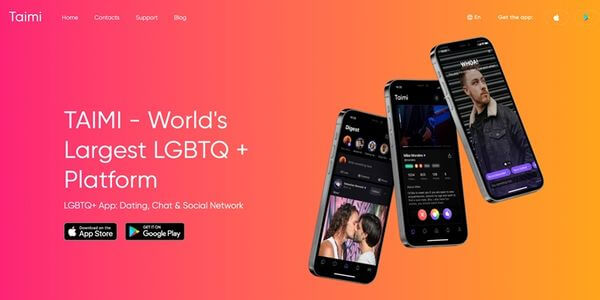 https://taimi.com
Worldwide Release Date: 10/05/2018
Taimi functions as a both a gay dating and social network. It's good it is this way, it makes looking for both friends and partners more convenient. Hit two birds with one stone, friendship can develop into something more serious or just find people to hang out with or go on a date with. It is an ingenious idea this app has made into a reality, its multi function gives you a lot of options.
Get connected fast and easy when you register on Taimi dating app. Features include video calls, 24/7 live support and security. Taimi has more features than the average dating app.
Taimi Fees
$14.99 for 7 days
$41.99 for 1 month
$53.99 for 3 months
$71.99 for 1 year
Taimi Verdict
Taimi – GayDating, Chat, Social has been running their service on full swing.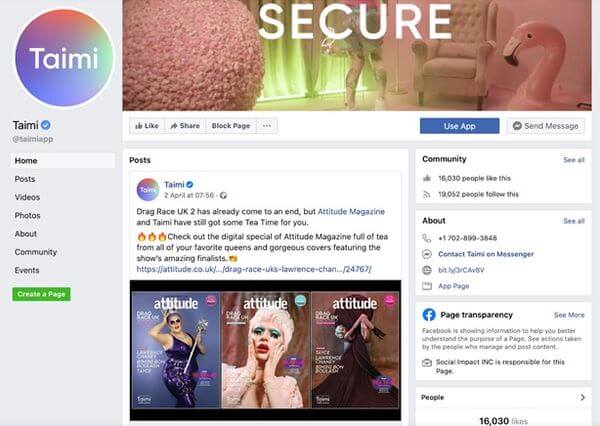 Facebook
They are active on all major social networking services.
They post regularly and they have the rainbow theme for all of their account pages.
💜 For #TDOV, our guests Lex Horwitz (they/them) and Xaria James (she/her) will discuss transitioning and different ways it can go as well as how to be an effective trans ally on the official Taimi profile on the Clubhouse. Join Now🌈

— TAIMI – World's Largest LGBTQ+ Platform (@taimiapp) March 31, 2021
They are most active on Instagram, they have over 56K followers. Their posts are color coordinated and well designed.
Taimi Reviews
Taimi is ranked No91st on the Social Networking category on Apple App store.
However, the majority of recent reviews are sadly negative. Some are saying that some of their updates and changes of algorithm, changed the service negatively.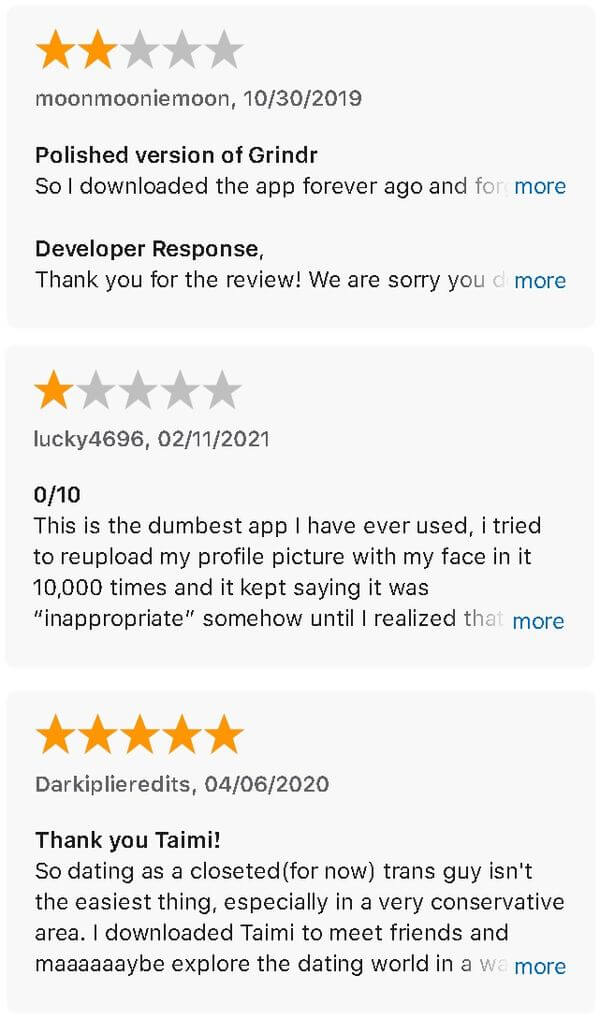 Taimi is also popular on Google app store. It has a healthy number of reviews and the app is updated regularly.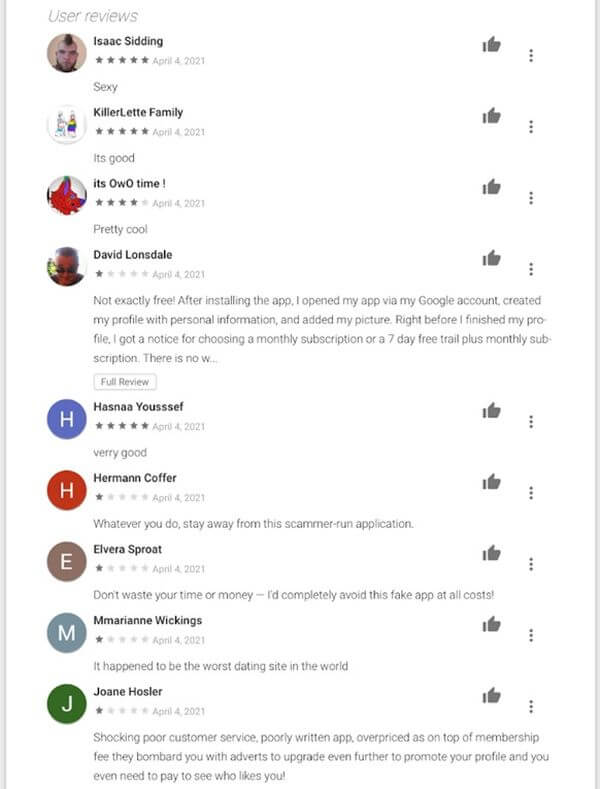 The most recent reviews are very mixed.
Taimi – GayDating, Chat, Social also known as Taimi – World's Largest LGBTQ+ platform is operating with style.
Her – Lesbian Dating App

https://weareher.com/
Her is a social network & dating app for gay, bisexual women. The app has many users, there are many profiles to view, reviews for the app are on the positive side and the app is quite popular with the LGBT community.
Here are some of the features of the app:
-Simple design, meet friends on Her's social network
-Get updates, read news, find out about events, meet new people
-Attend events promoted or related to Her
-Be part of a worldwide community
-Verified accounts and same features as other social networking sites and apps
Her Fees
100% free, no ads, no charges.
Her Verdict
Her – Lesbian Dating App is now rebranded to an app for lesbian, bisexual and queer people.
Their Facebook is regularly updated, it has a healthy number of likes and followers.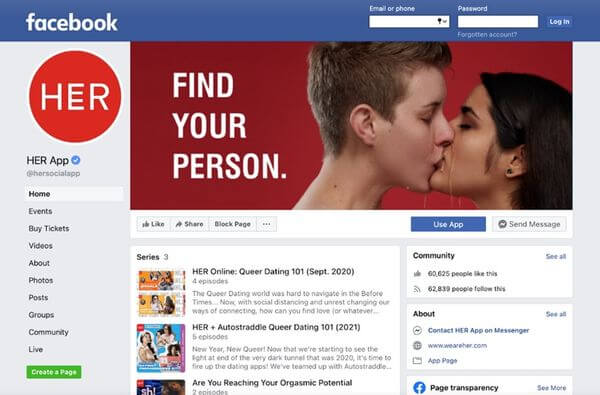 Facebook
Their Twitter account has 18K followers, this is a very good number for a dating app.
Anti-trans legislation is an epidemic 🚫https://t.co/Pz1S3iq8bx

— Her App (@HerSocialApp) April 13, 2021
Her clearly has a team who would look after their social media. Their posts are nicely designed and neatly themed.
Her Reviews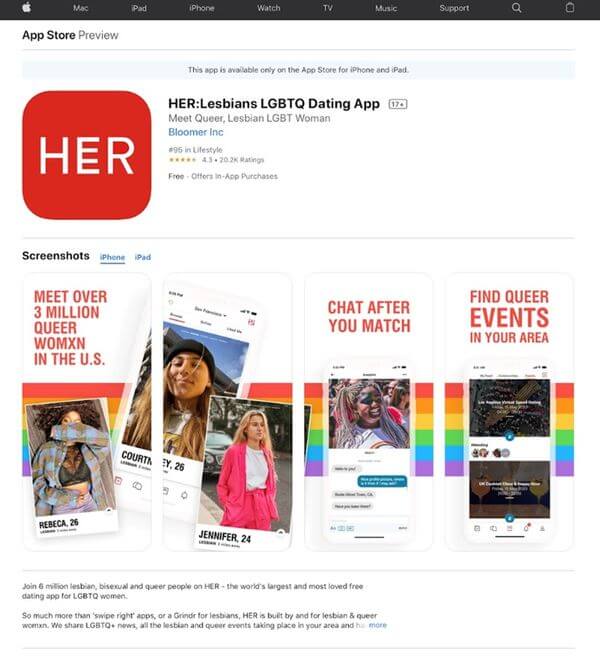 App Store
Her is ranked 95th in the Lifestyle category on Apple app store. The app is maintained well. The recent reviews are mixed.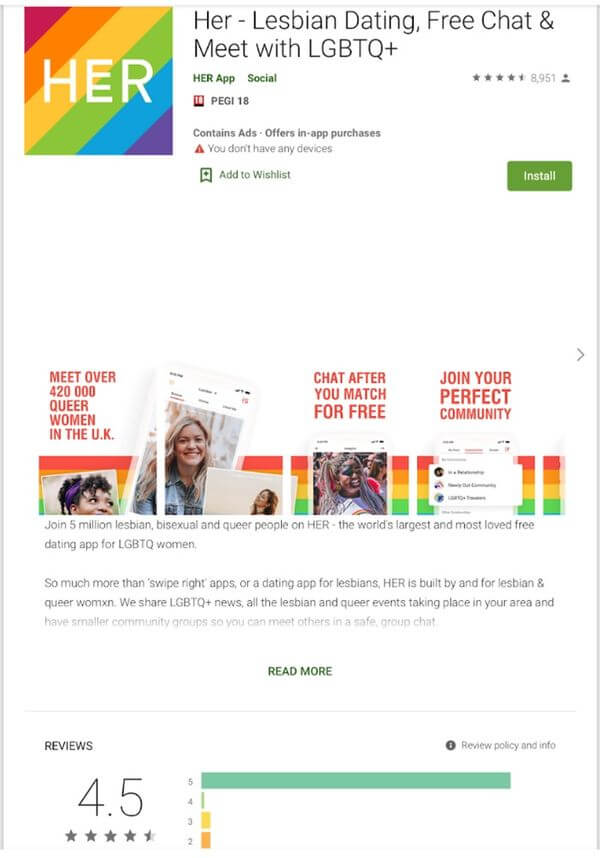 Google Play
On Google store, Her has mostly positive reviews. The app is regularly updated.
Since its launch in 2019, Her is growing its number of users, targeting a wider range of female users.
Swagy [no longer available]

https://www.swagyapp.com/
Release Date: 02/14/2019
Swagy was a gay dating app. However, it seems like it is no longer in operation. Their last posts on Facebook and Twitter page were dated in 2019.
There is no hit on the Apple Store/Google Play.
Swagy uses a very young and "sexy" approach to dating. The app was promoted to young adults in the 18 – 29 age group.
It's the "Gay Man Chat, Meet & Hookup" app. Features of this dating app include fast dating that allows you to see two profiles at once. Compliment someone by liking their profile.
It was similar to other dating apps so nothing groundbreaking here.
Swagy Fees
$9.99 for 1 month
$20.99 for 3 months
$29.99 for 1 year
Swagy Reviews
How to become a fashion gay from a man. 💅🏻 pic.twitter.com/mz91kTtvl2

— swagy (@swagyapp) September 2, 2019
It didn't grow popularity with the LGBTQ community.
The Best Countries to USE Gay Apps in Europe
The data collected company, Satista says the best countries to be gay in Europe as below.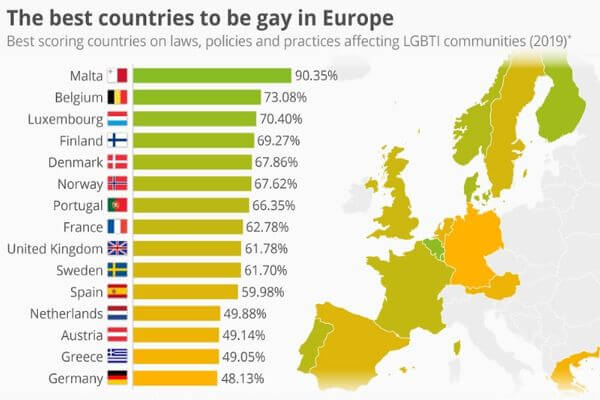 statista
"The best countries to be gay" means comfortable for gay people as more numbers, more communities, more understandable.