Wink – Friends & More App Review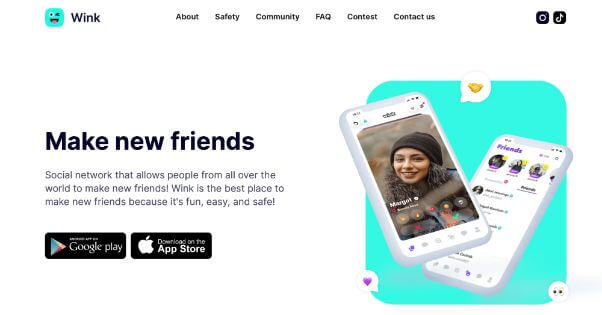 https://www.getwinkapp.com/
The Wink app, developed by 9 Count, Inc., founded by Alex Hofmann and Joe Viola. Initially it was an app for Snapchat to find a new friend. Now, they are a separate service.
9count adopts a unique approach of simultaneously creating and refining multiple consumer products. This strategy, inspired by successful Asian tech companies, involves iterative development based on data and user feedback, with cross-promotion within their portfolio.
Despite the challenges of the consumer social app landscape, 9count's strategy has attracted investors. Alongside Wink, the company introduced apps like Summer, Juju, Everland, and more.
Alex Hofmann, a 9count co-founder, brings a rich background from his role as President at Musical.ly, precursor to TikTok. His experience in the social media sector, particularly among young users, shaped 9count's approach. After Musical.ly's acquisition, Hofmann co-founded 9count with Joe Viola.
Wink – Friends & More App Verdict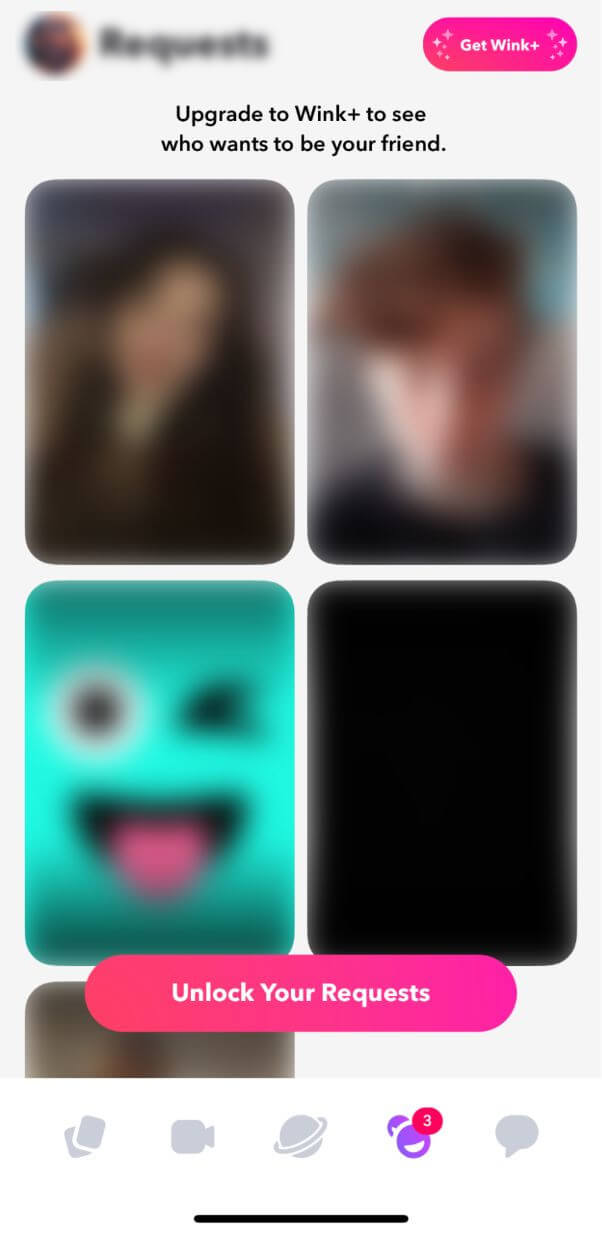 Wink remains a popular app; however, despite its innovative strategy, the app has faced criticism due to safety concerns, this is because the app has a past association with snap chat, which attracted younger users. Although the current recommended user age of 18 and above is suggested, the absence of strict age restrictions could potentially expose younger users to risks as personal information is openly shared. The app's open nature has raised worries about explicit content sharing and potential exploitation. Furthermore, there is no mandatory verification for users, allowing them to use any photos they choose.
Moreover, the app's functionality is restricted without a membership payment. While this approach can encourage more serious interactions, it may also limit access for some users.
In conclusion, the Wink app's innovative development strategy, such as AI friends, is well reported ; however, safety concerns, the lack of stringent age restrictions, and constraints on basic functionality raise inquiries about its overall attractiveness and suitability for a wider user base. It would be suitable for those over 18 who have some finance to find friends.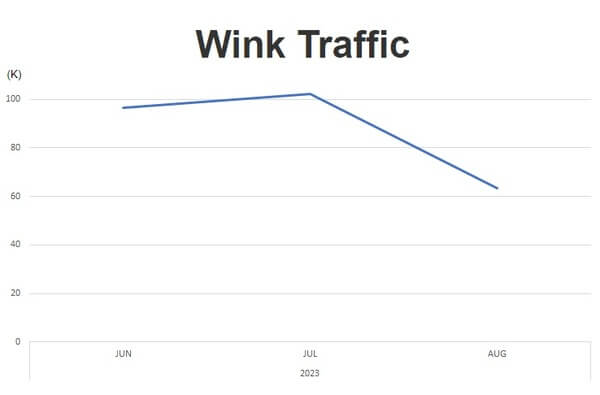 User traffic is low for social media. Although it is possible to find someone to chat with, using Wink for dating purposes is not efficient.
How to join Wink – friends & more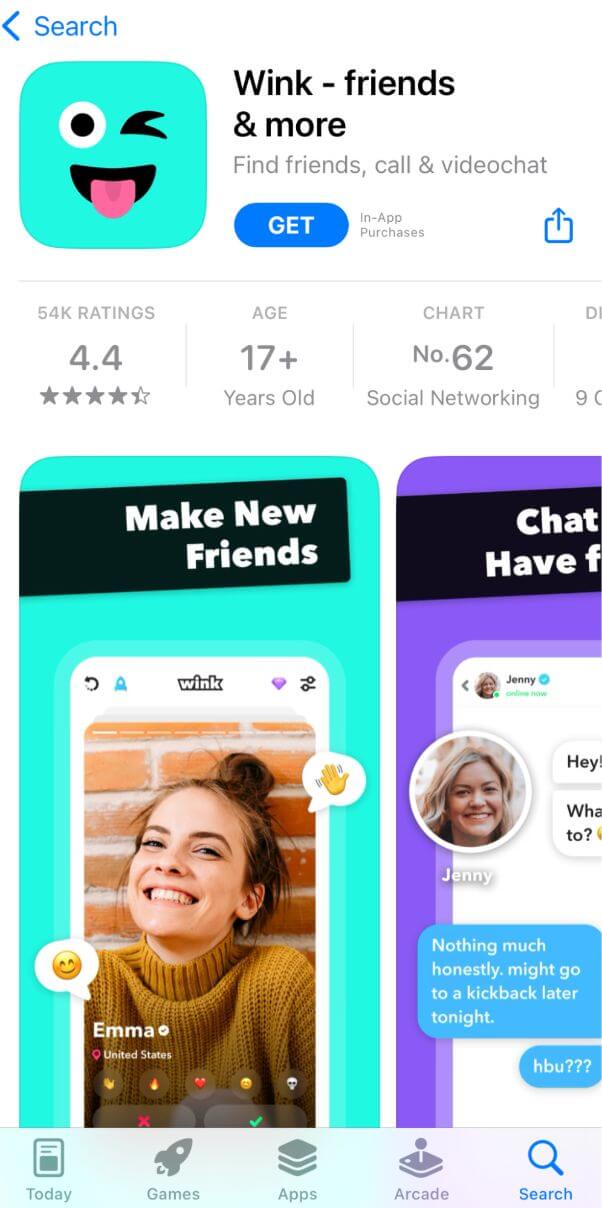 First, people need to go to the app store to find the app and download it.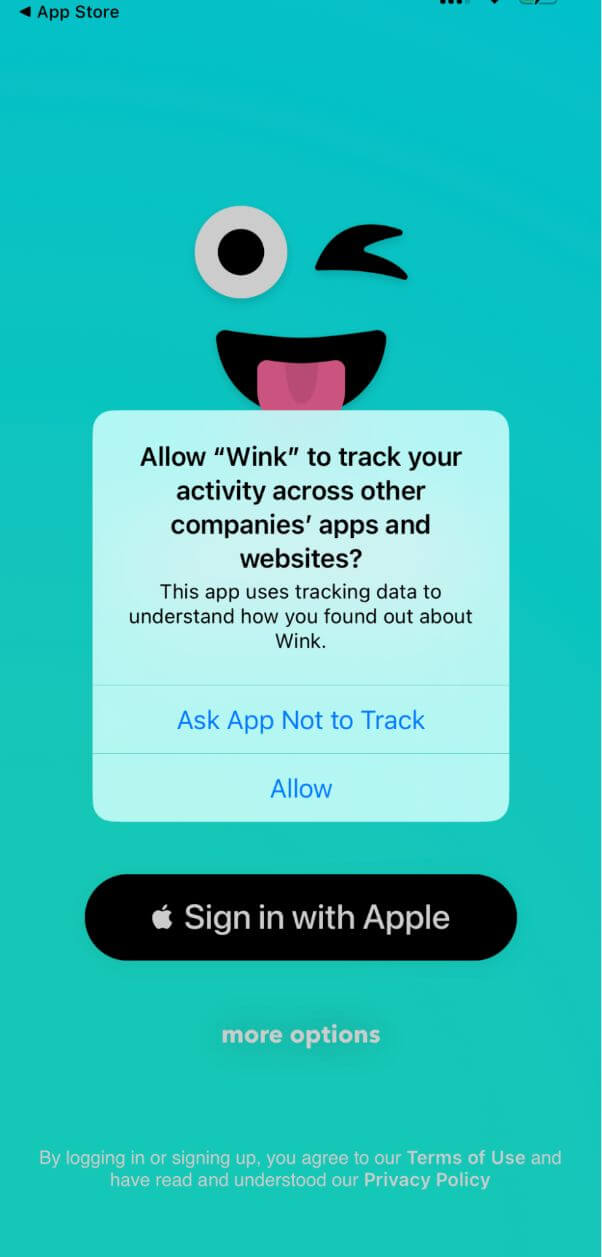 And people need to open the icon.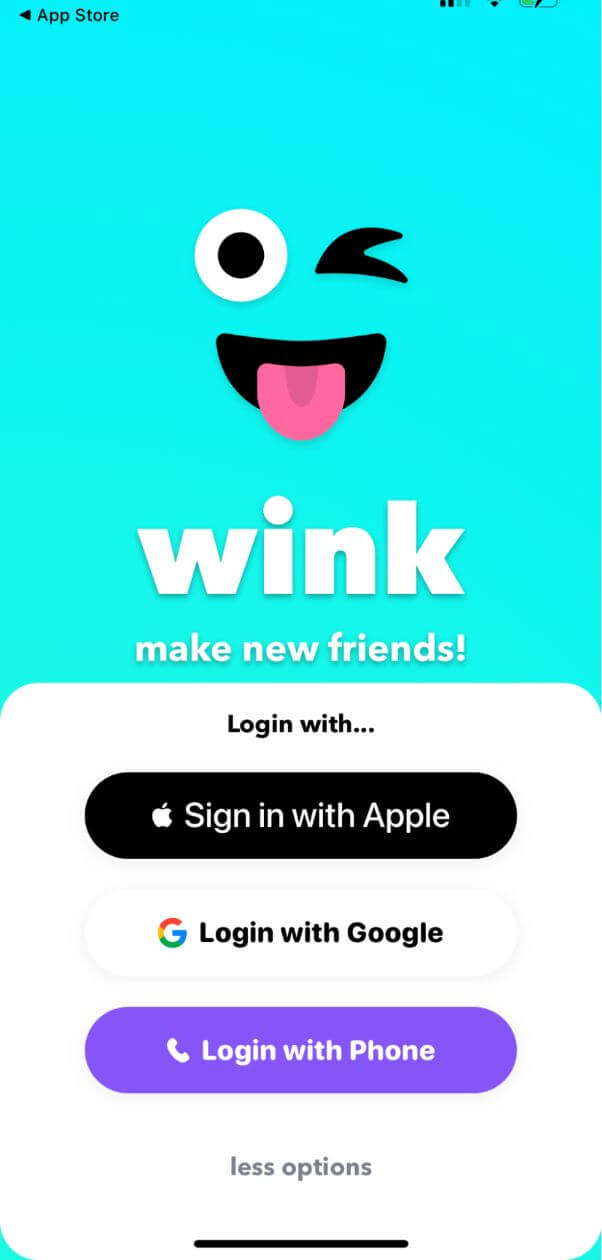 There are three ways to log in for ios users.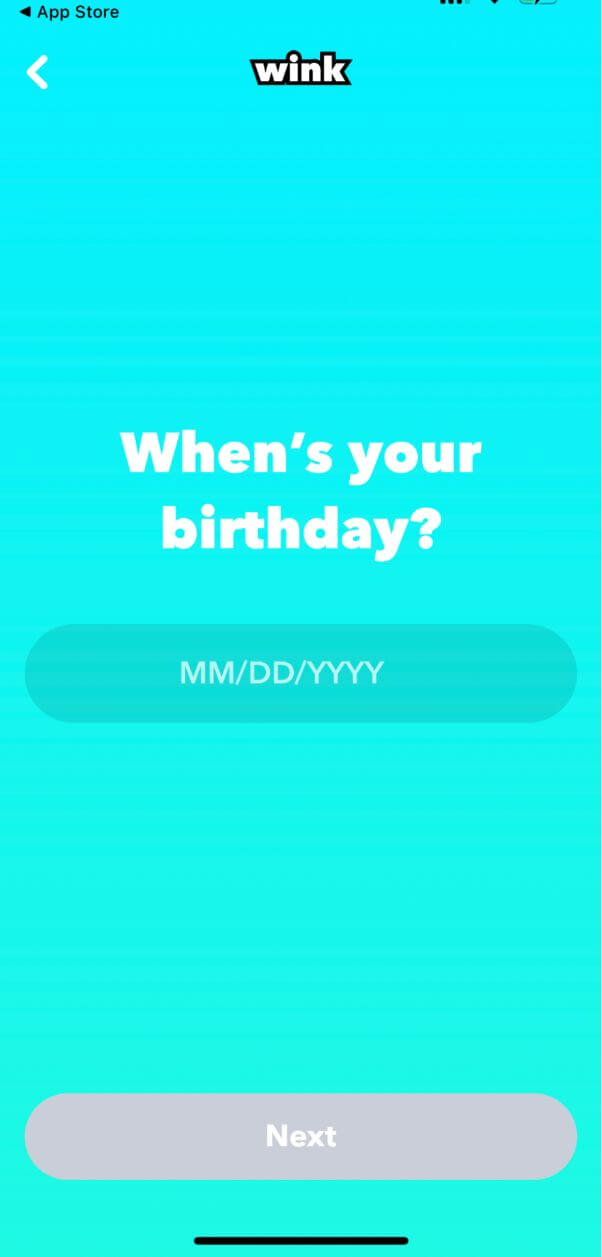 Once people are logged in, they need to put in some basic information such as birthday, age, and name and location.
Then people need to add two photos.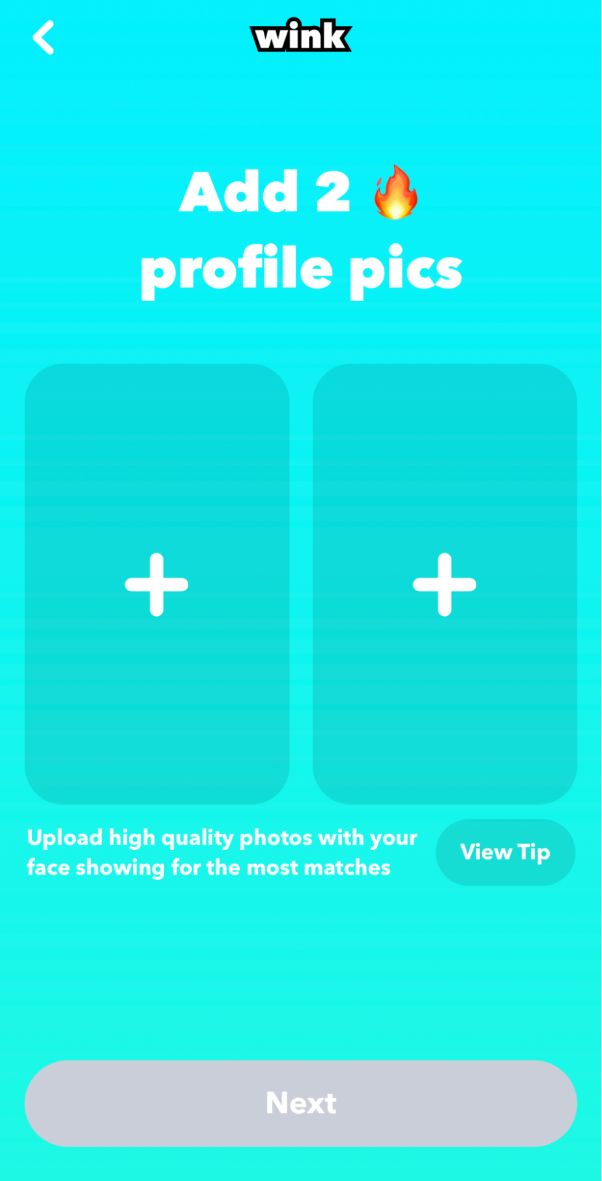 People are allowed to add any photos.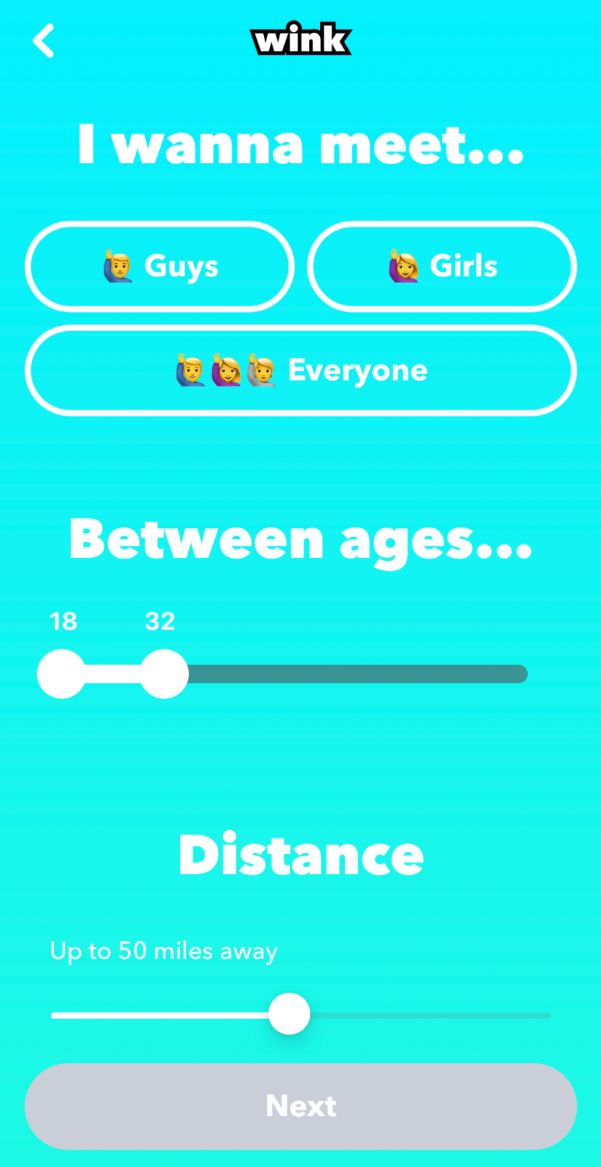 Finally, people need to select some basic preferences.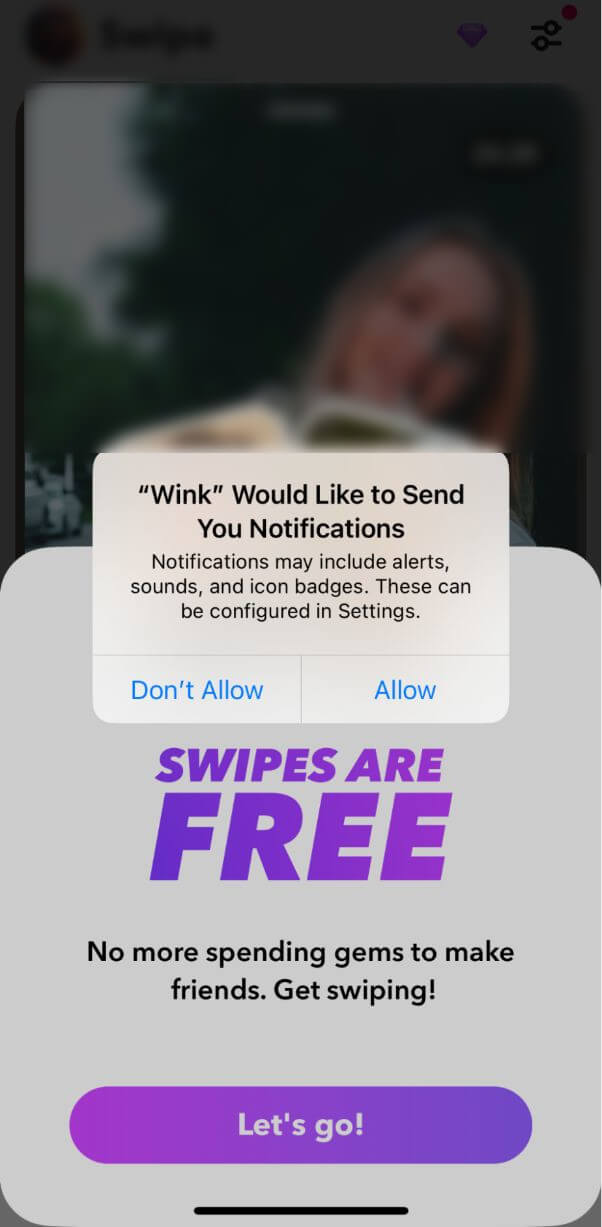 Now, people are able to access the profiles.
It is very simple and easy.
How to use Wink – Friends & More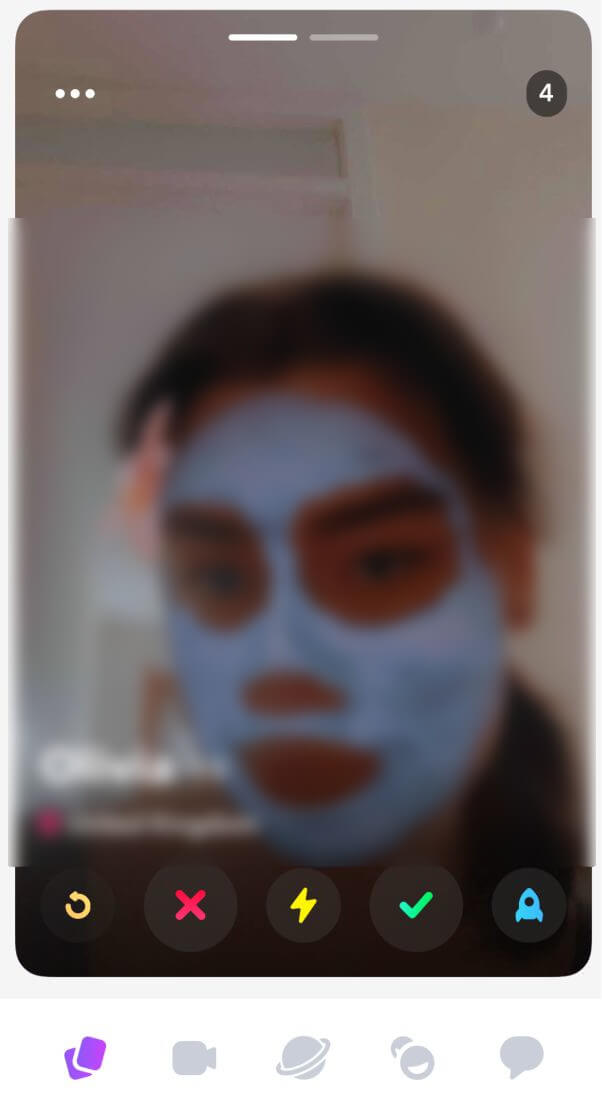 People need to swipe photos to the left and right to like their preference.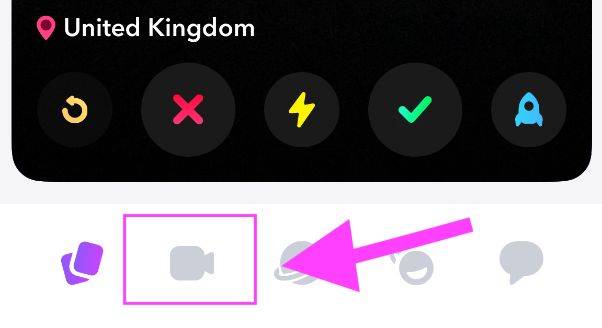 This video icon would take people to a different app.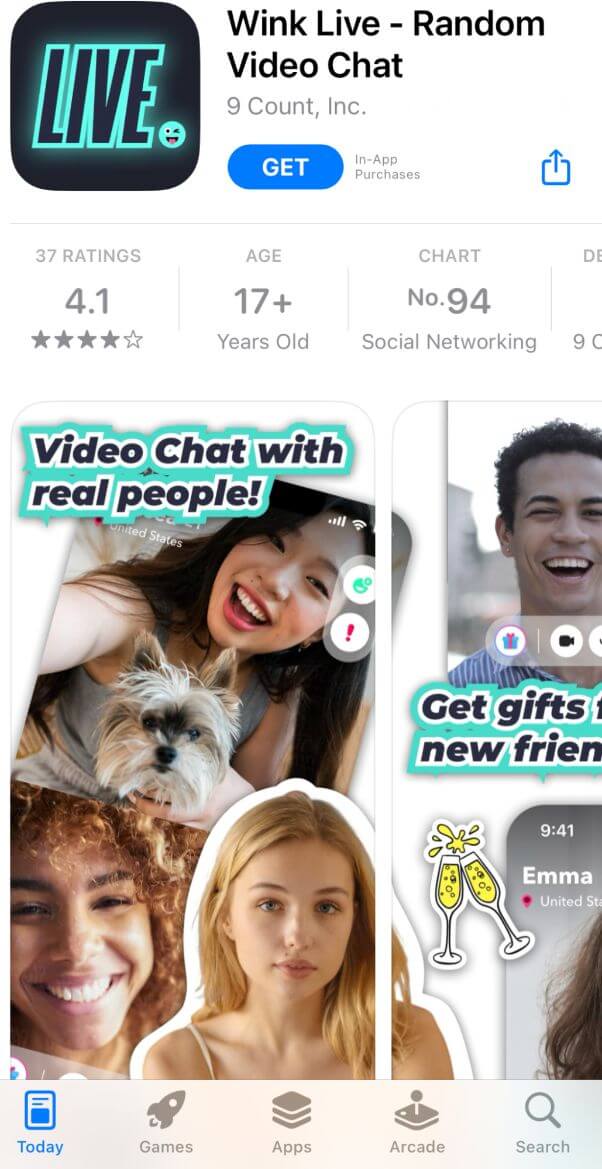 This app would enable people to do video communication.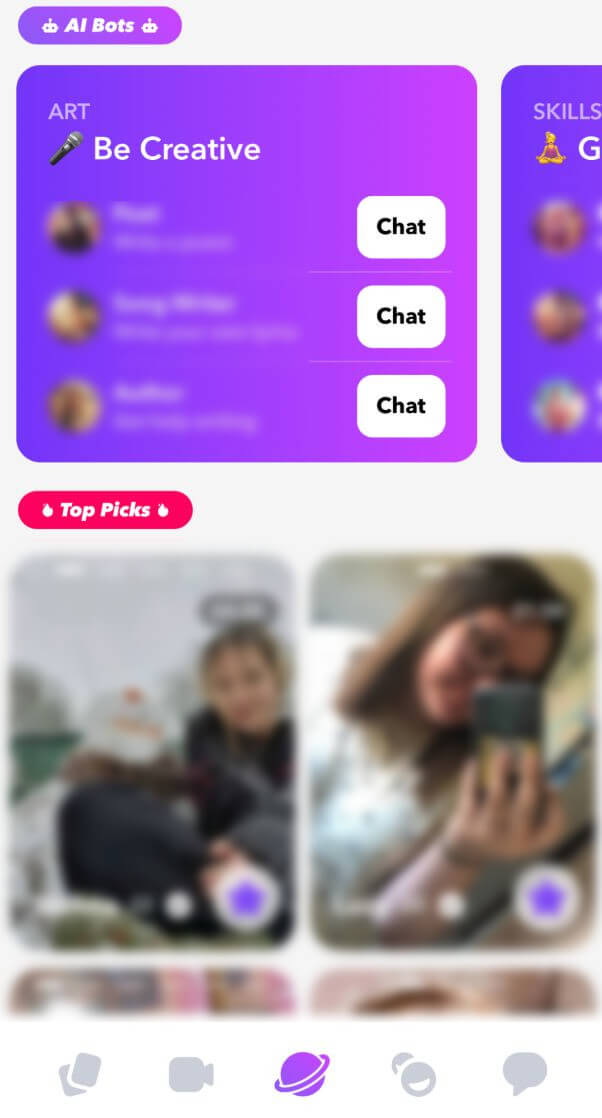 The middle planet icon would take people to AI friends and real users. People can find AI friends who would chat with users 24/7.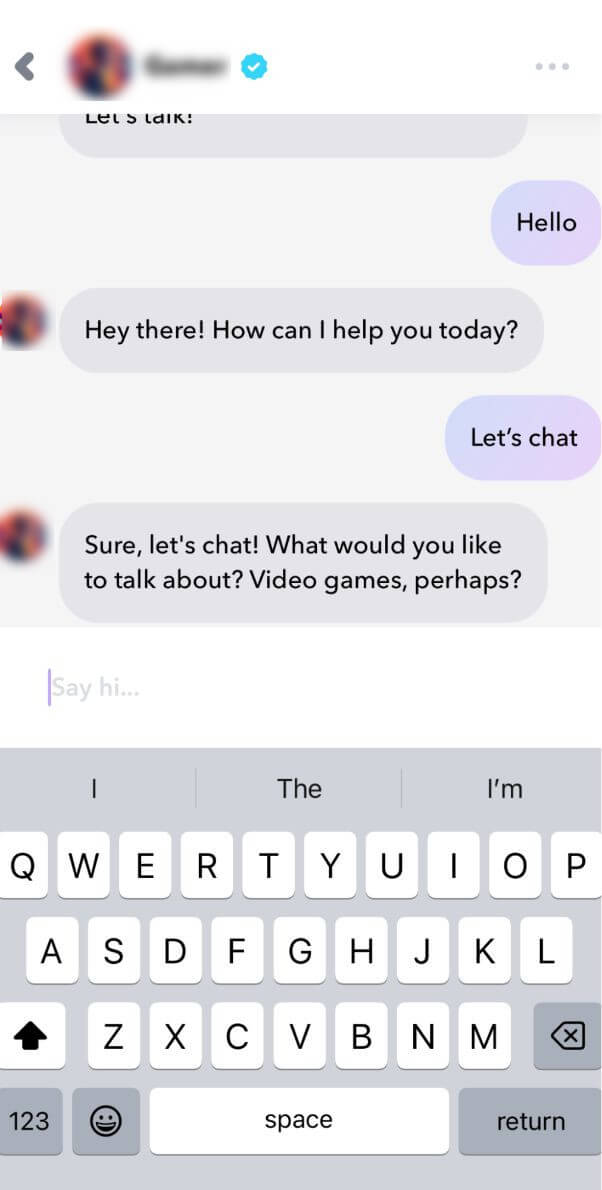 There are a wide variety of AI Bot to chat with.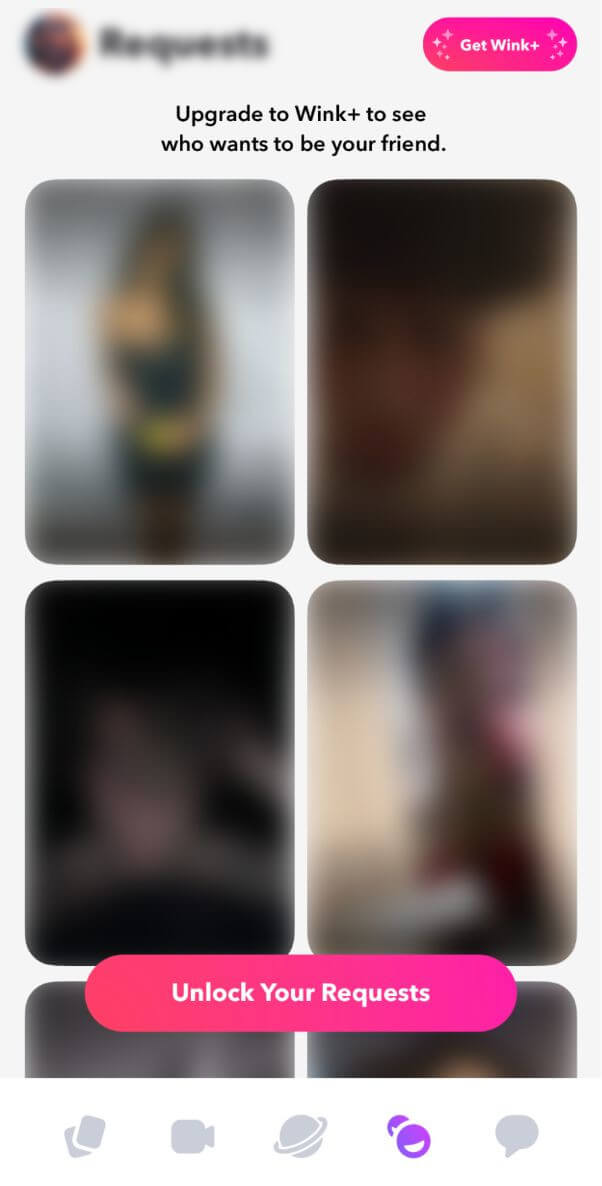 The smile icon would be the request, people can see who sent "friend request." However, people need to pay to see who they really are and start to communicate with them.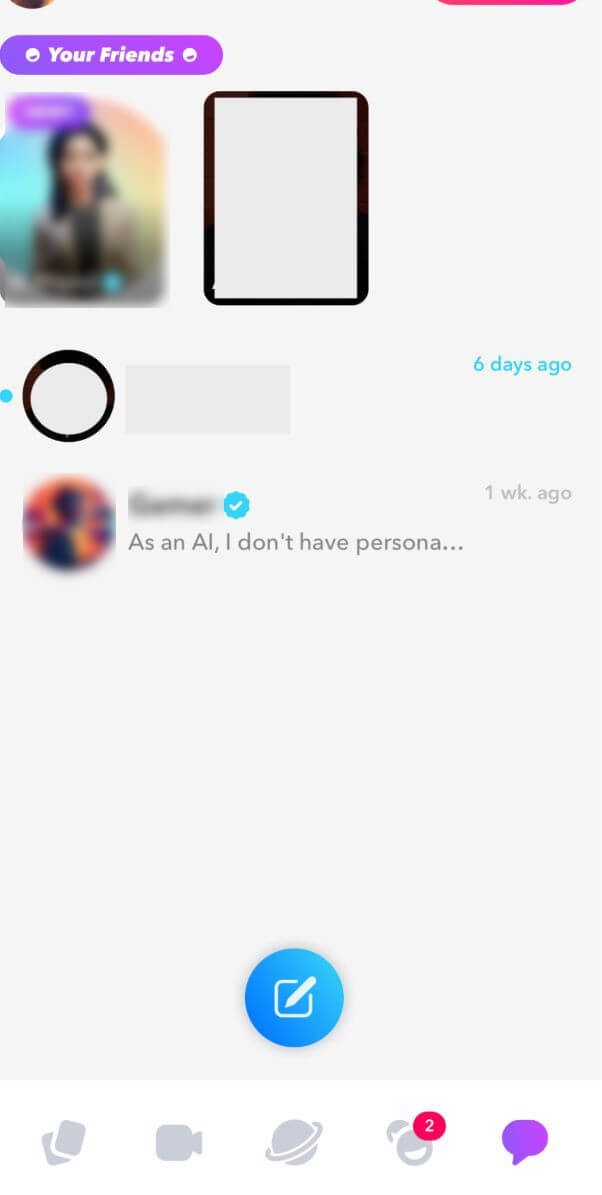 The chat function would work as a normal chat /message function. Free members can chat with people who swipe "like" mutually.
Wink – Friends & More Premium service
Wink presents two distinct paid membership options to cater to varying preferences: Wink PLUS and Wink ULTRA.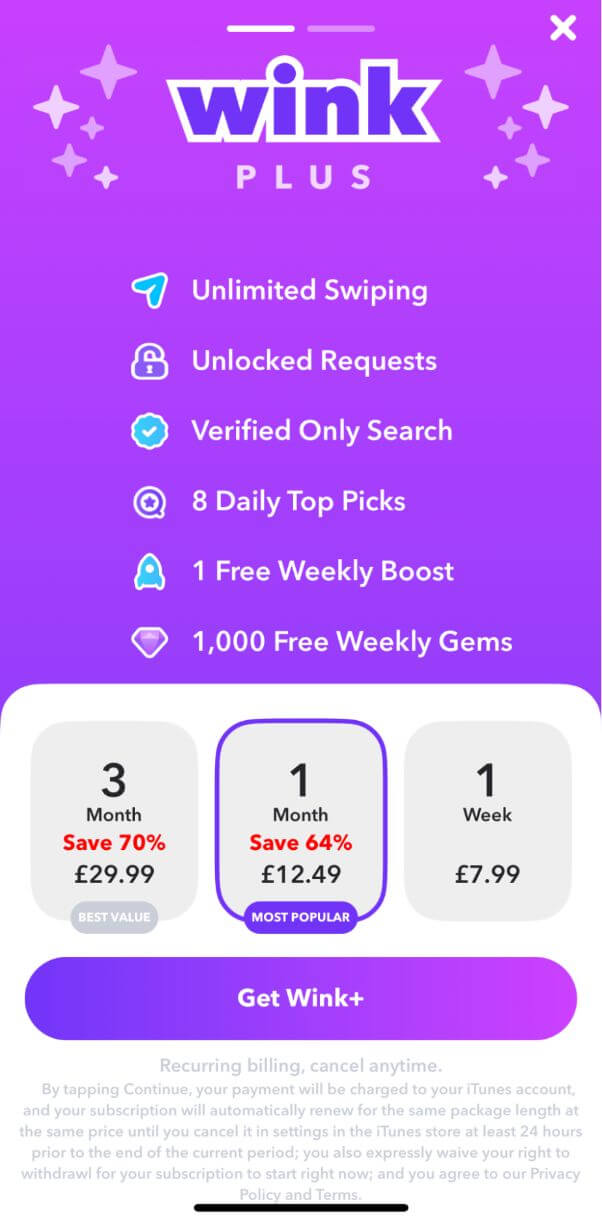 For approximately $15 per month, Wink PLUS bestows a suite of compelling features. Members enjoy the luxury of unlimited swiping, unlocking requests, and harnessing the power of verified-only searches. With the added advantage of receiving eight daily top picks, a weekly boost, and a generous allowance of 1,000 free weekly gems, Wink PLUS is advertising that it ensures a rich and enhanced experience.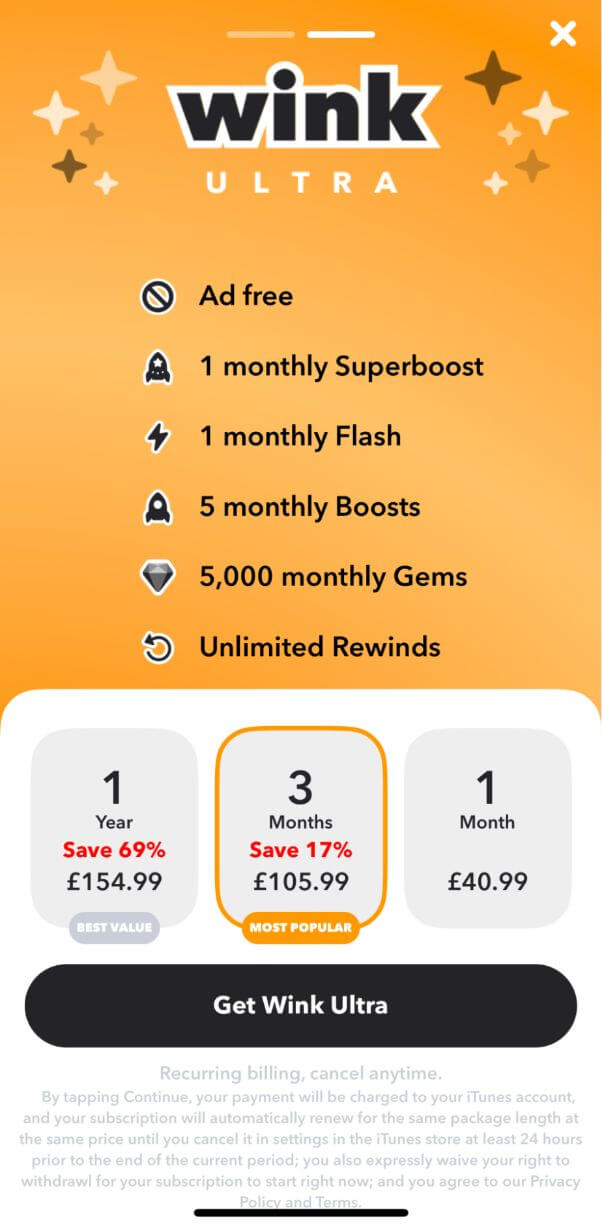 On the other end, Wink ULTRA, priced at around $50 per month, takes the premium experience to an even higher level. This membership offers an ad-free environment, freeing users from distractions. A monthly Superboost and four Flash features provide unparalleled visibility, while five monthly boosts and a substantial allocation of 5,000 monthly gems provide an abundance of interaction opportunities. Additionally, Wink ULTRA grants unlimited rewinds, enabling users to revisit profiles at their leisure.
With these membership tiers, Wink is stating that it caters to a range of preferences, allowing users to select the level of engagement and premium features that align with their desires and expectations.
People can get free gems by many activities they suggest.
They are stating that these valuable gems can be utilized to send friend requests to new people or even backtrack if you've inadvertently missed someone. Additionally, you have the option to invest gems in acquiring fresh and appealing backgrounds for your profile! However, gems are not so beneficial for free membership users.
Wink – Friends & More ios App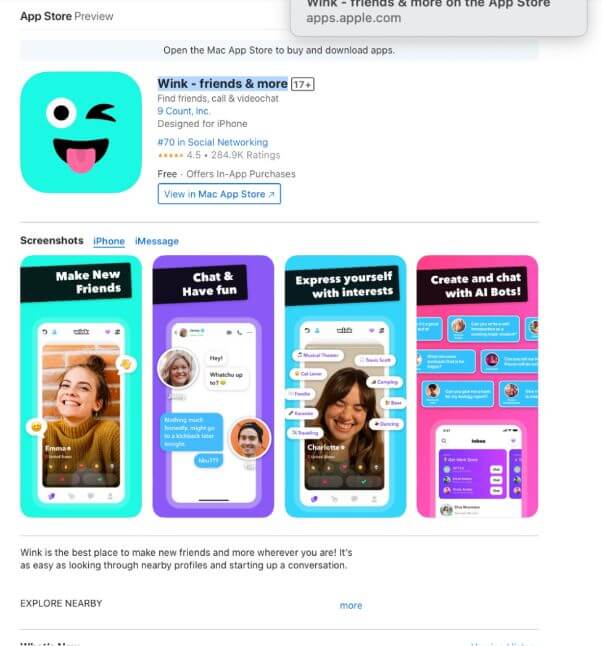 App Store
Wink – Friends & More for iPhone app ranks at #46 in Social Networking and boasts a solid 4.5 rating from a vast user base of 285.4K.
Wink – Friends & More Android App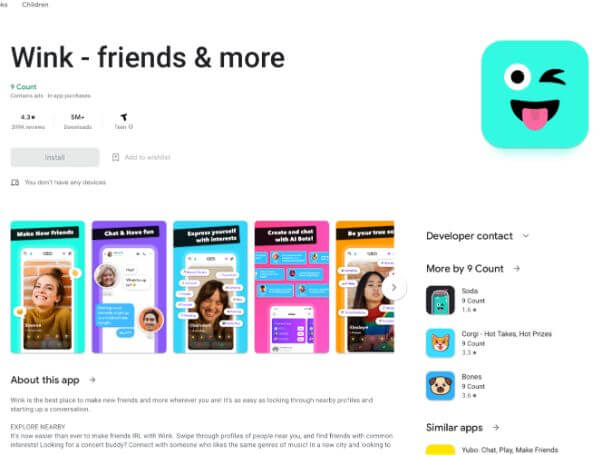 Google Play
Wink – Friends & More app on Google App Store offers both in-app purchases and contains ads which is the same as the iOS version, while maintaining a solid 4.3-star rating based on 400K reviews with over 5 million downloads.
How to delete an account on Wink – friends & more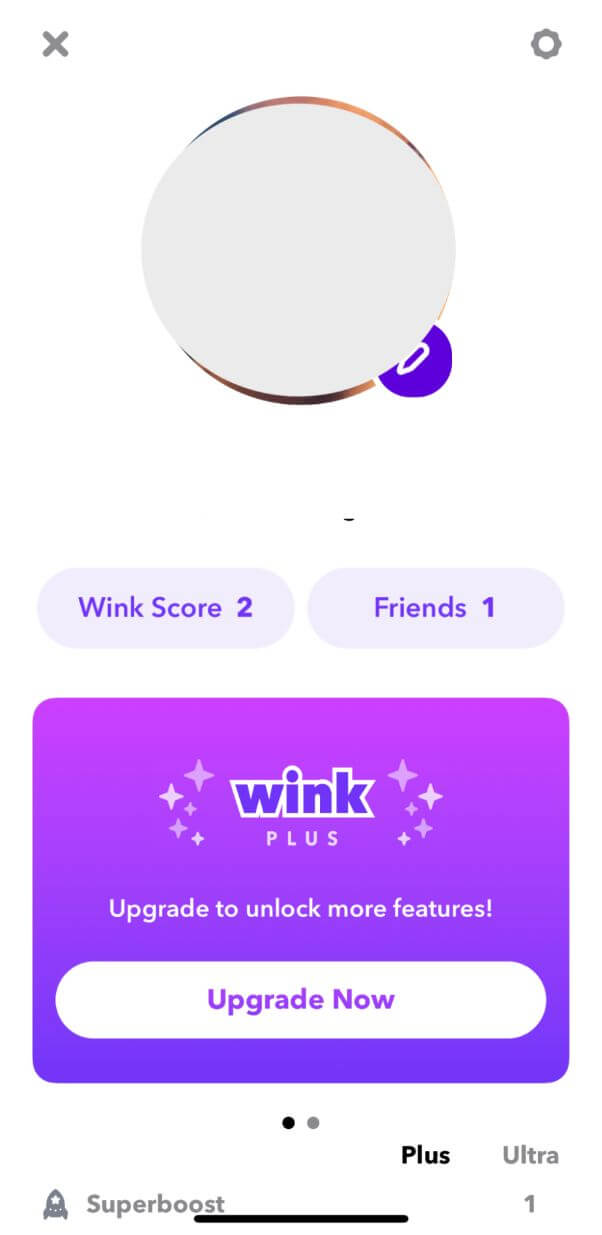 To delete an account, people need to go to the photo icon which opens the profile.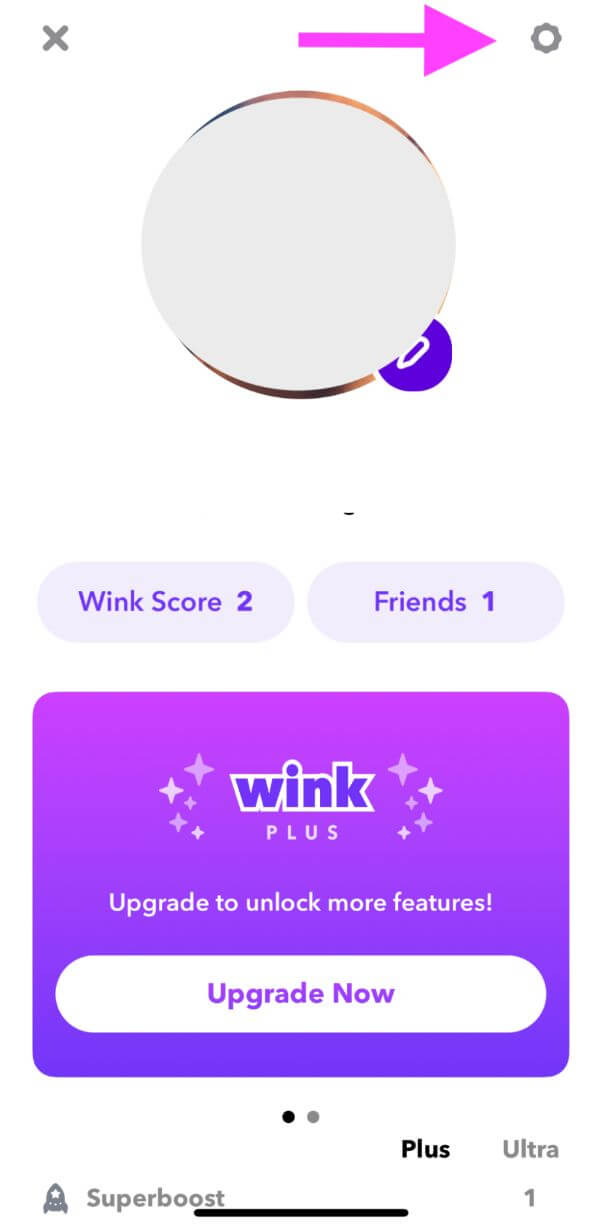 At the right top corner, there is an icon which takes users to the setting.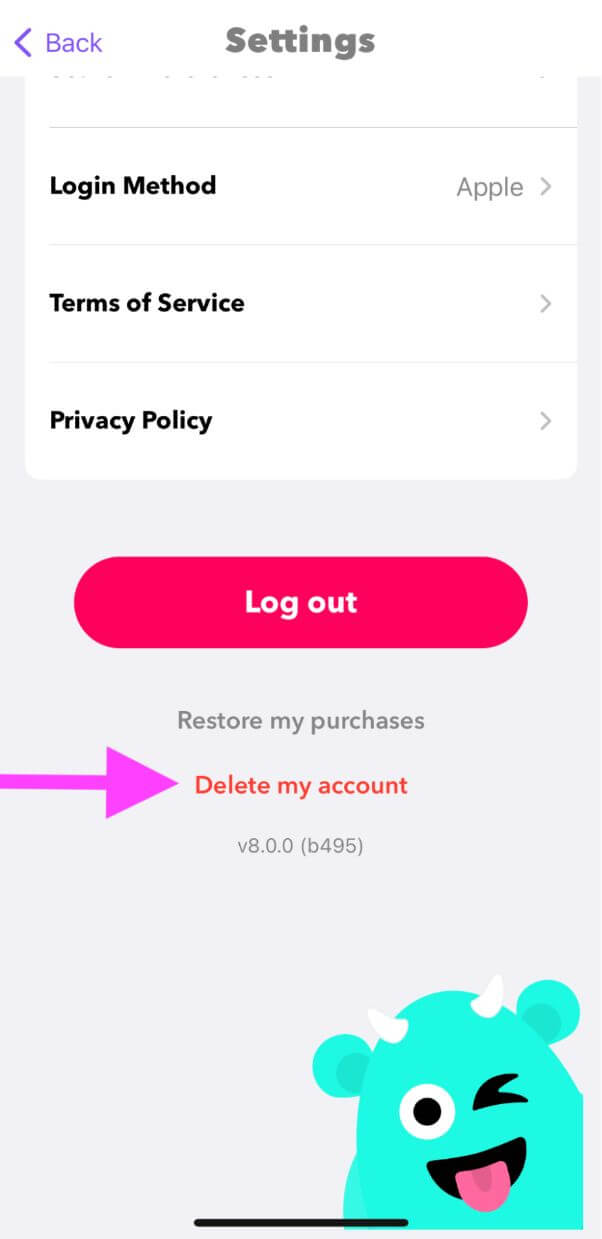 At the bottom of the Settings page, people can see the "delete" sign.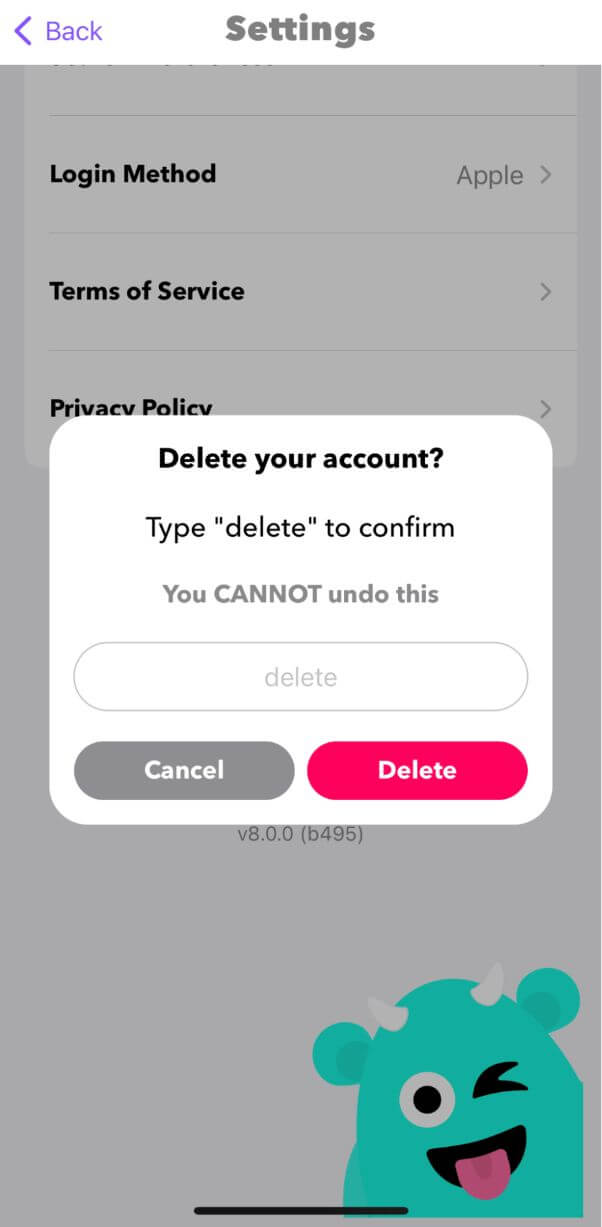 By typing :delete" people can delete the account.
Wink – Friends & More App running company 9count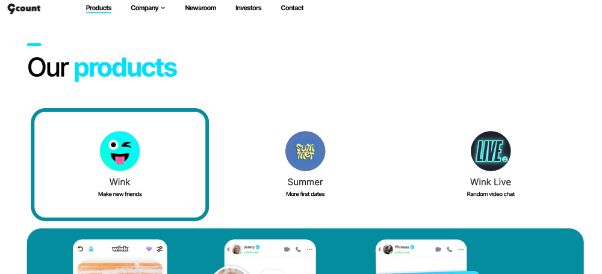 https://www.9count.co/#products
9count, a mobile app company founded in 2018, aims to foster meaningful connections among people. Helmed by Alex Hofmann, formerly the CEO of musical.ly, and Joe Viola, the company has developed a range of apps that facilitate communication, live video interactions, games, and more, all geared towards helping individuals connect with one another.
Among their notable releases is Wink, 9count's flagship app, which has reported to gain popularity as the #1 U.S. friend-making app. With an impressive track record, Wink is also reported to be responsible for fostering over 50 million friendships per month, showcasing its effectiveness in bringing people together and creating lasting bonds.
Wink – Friends & More App Social Media
Surprisingly, Wink has only two official NSN accounts: Instagram and Tik Tok.
Instagram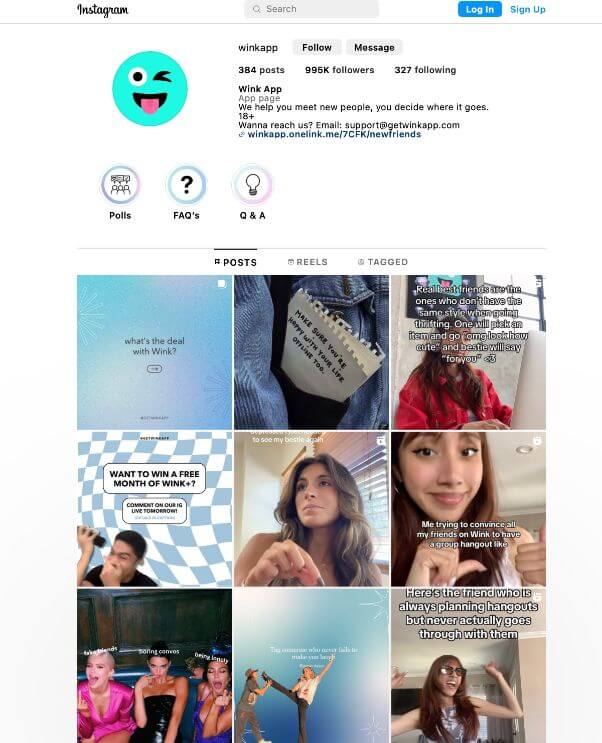 Instagram
On instagram, Wink App! with 393 posts, has attracted 987K followers while following 328 accounts. It shows that the app is designed for those 18 and older.
Tik Tok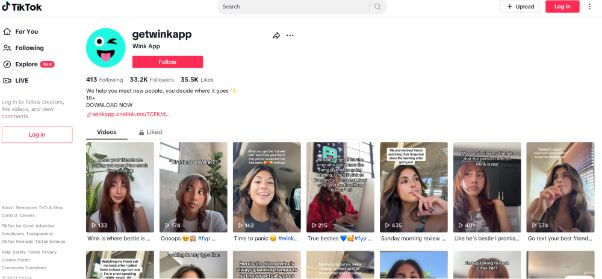 tiktok
Their official TikTok account, showcasing 414 followers, a follower count of 33.2K, and 38.1K likes.
Linkedin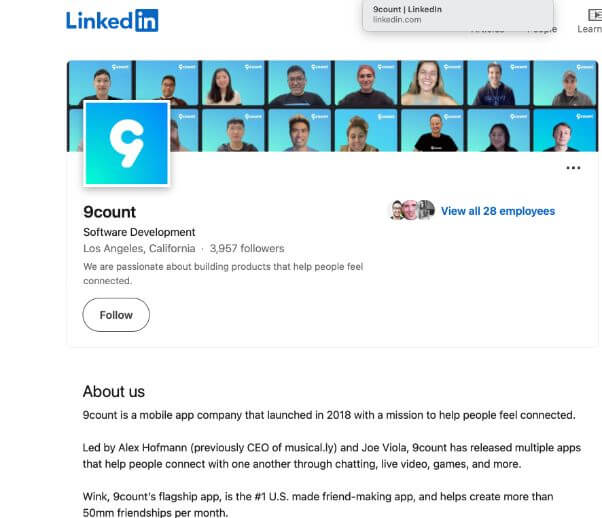 LinkedIn.com
Wink – Friends & More App /9count, their LinkedIn page shows that 9count is a software development company driven by a team of 28, the account has 3,961 followers. They state that they are committed to creating products that enhance human connection.
Wink – Friends & More App Main Media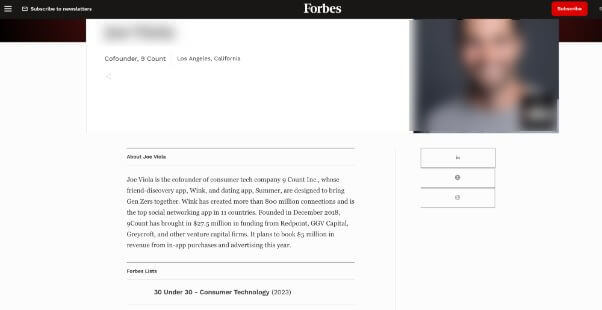 Forbes
Joe Viola, recognized in the "30 Under 30 – Consumer Technology (2023)" list, co-founds the consumer tech firm 9 Count Inc. This innovative company's flagship apps, Wink and Summer, are tailored to unite Generation Z by facilitating friend discovery and dating. Wink has remarkably generated over 800 million connections and has risen to become the leading social networking app in 11 countries. Established in December 2018, 9Count has secured a substantial $27.5 million in funding from esteemed investors such as Redpoint, GGV Capital, and Greycroft. The company has ambitious plans, anticipating $5 million in revenue from both in-app purchases and advertising for the current year.