What's Your Price Scammer Research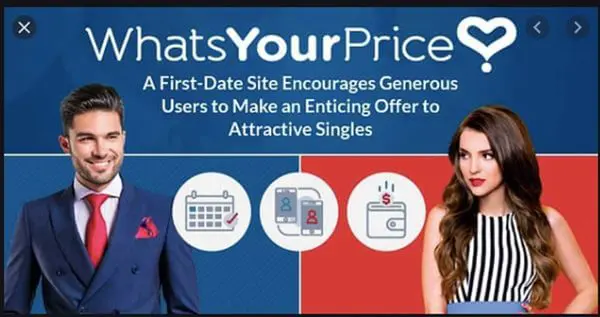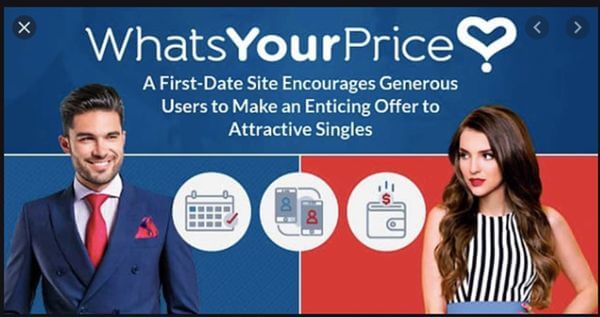 https://www.whatsyourprice.com/
What's Your Price is a free to join site for sugar babies to be bit for the first date.
According to official What's Your Price website, the average offer for a first date is $125. Sugar Babies reviews say that the average offers were $30-$50 plus transportation fee.
What's Your Price has been operating for nearly 10 years and it reported to have 5 million users around the world. The USA, Europe and Hong Kong are the most active.
What's Your Price User
Traffic by Countries
[Oct/17/2020]

Countries
MonthlyMonthly Average Traffic
[Apr-Sep,2020]
US
1,311,614
UK
158,077
CANADA
60,630
New Zealand
7,990
Ireland
3,604
Hong Kong, and Others
24,753
It is expected that a free to join and use sites such as What's Your Price would attract many scammers.
There are a lot of questionable profiles amongst users.
User 1)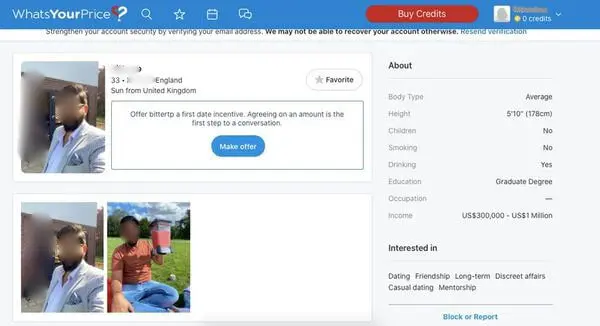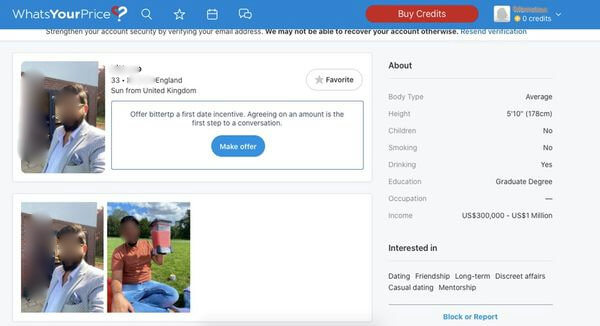 This profile is registered as a sugar boy, having a master degree and nearly a million income, is he a sugar boy?
This user is the one of only few users whose earnings are above average to be able to afford to be a proper sugar daddy.
User 2)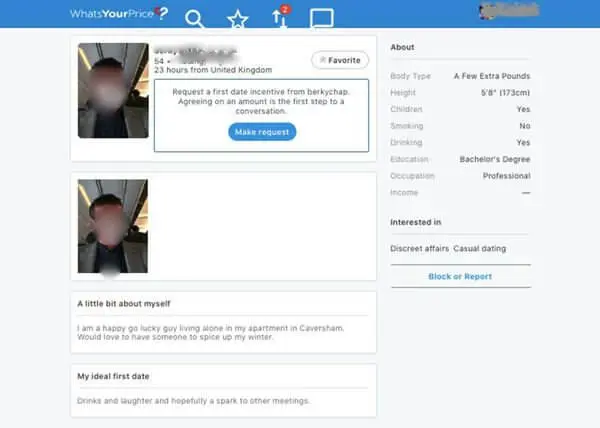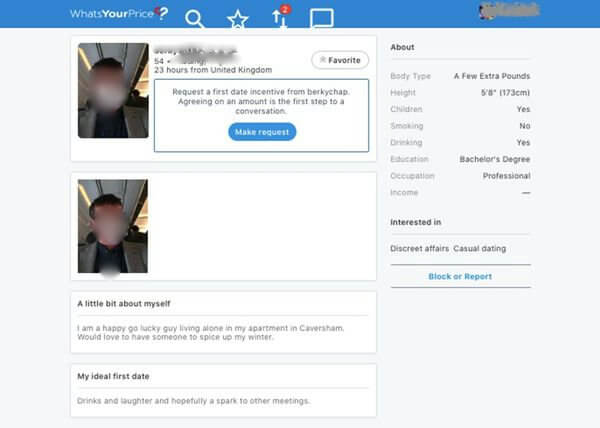 This user presents himself…unique, however, his age and looks is very strange to be a sugar daddy. He does not share his earnings.
User 3)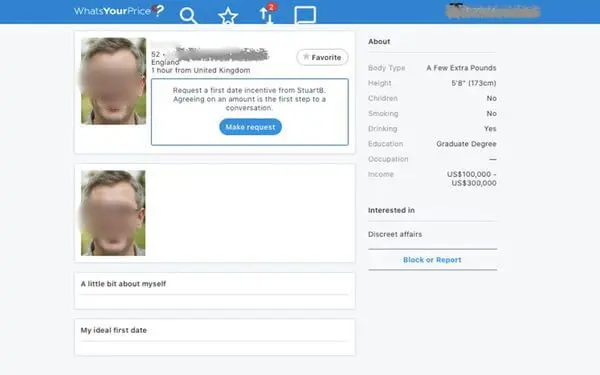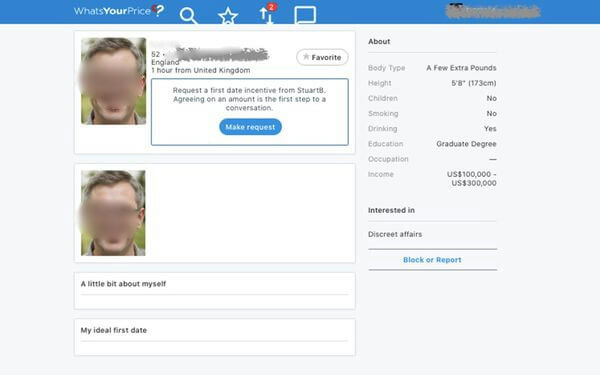 Another interesting profile, his photo looks very good after google image search, this photo is a light profile photo. This is not a stock photo.
User 4)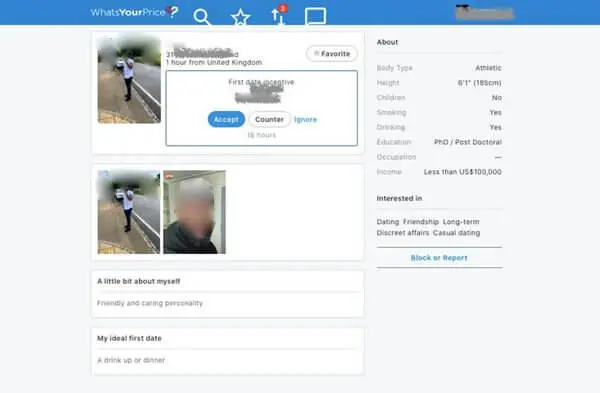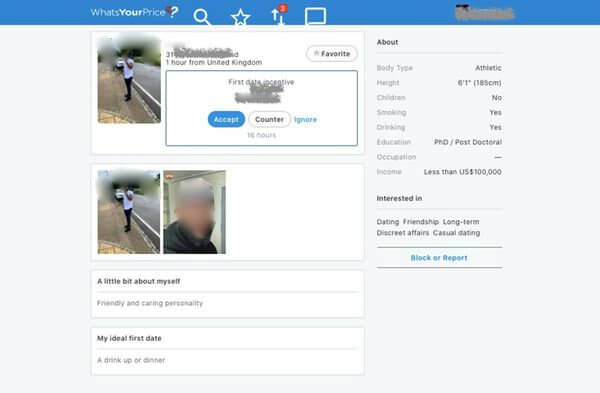 Again, this is an interesting profile. His earning is not as high as sugar daddies on other sites where users need to provide earning certification.
User 5)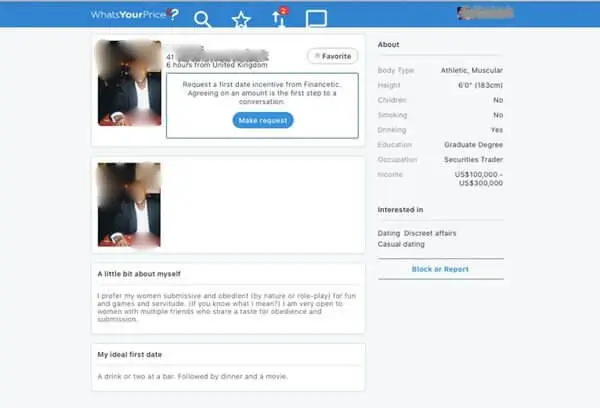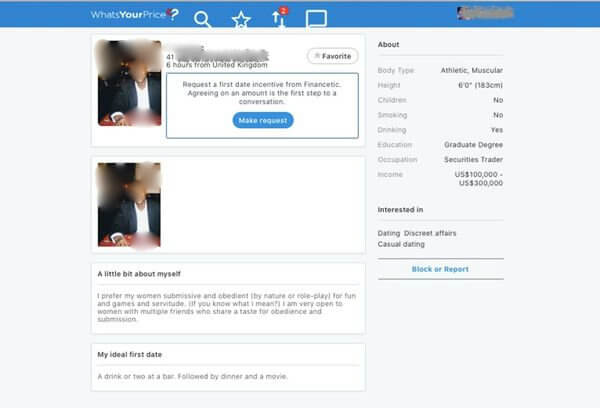 His comment about the woman is very interesting,
"I prefer my women submissive and obedient (by nature or role-play) for fun and games and servitude. (If you know what I mean?) I am very open to women with multiple friends who share a taste for obedience and submission."
This is a bad example of profile comment. He only wrote what he wants without introduce himself. Women are not going to reply those kind of profile.
User 6)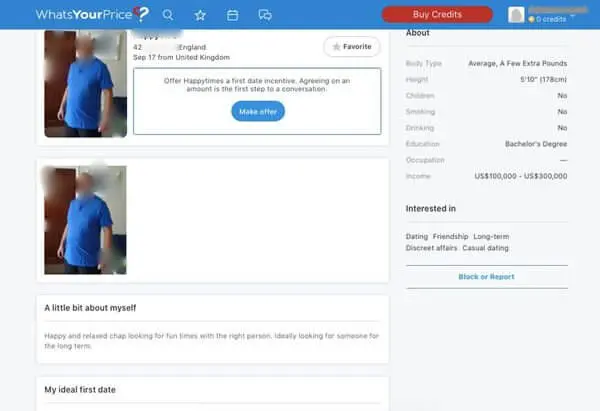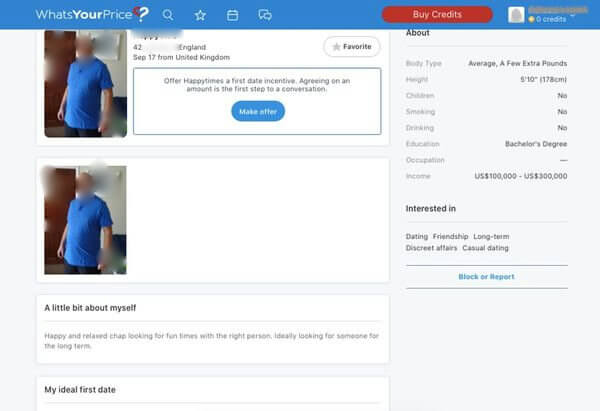 This profile is the right age and right earning for sugar dating. However, this is again the profile for being a sugar boy.
Clearly, he is making a mistake!!
User 7)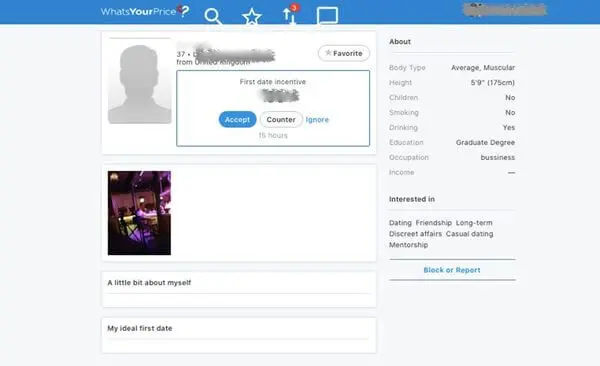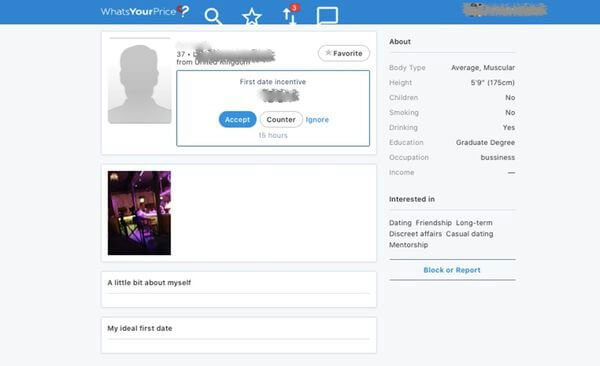 Again, a profile with a very unclear photo, which the admin told me personally that they do not allow! But here it is again.
User 8)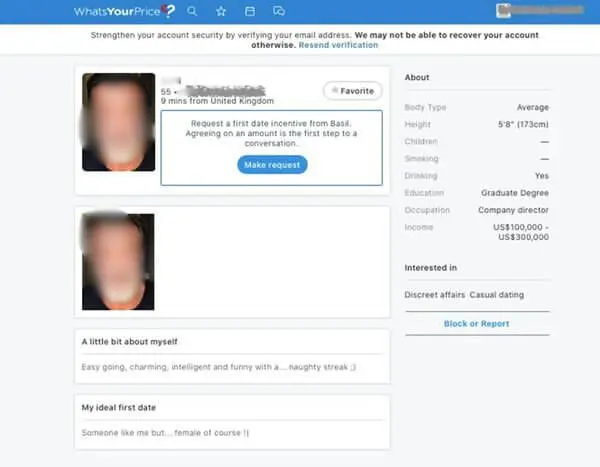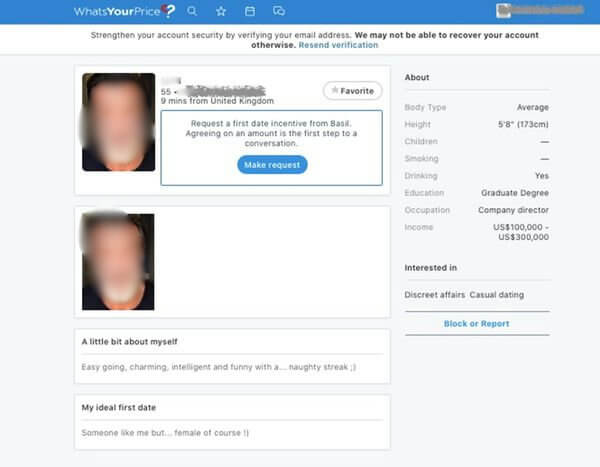 After google image search, this photo was proven to be genuent. It was linked to his real linkedin account.
It is very important to not use the same photo as your social media account for sugar dating sites to protect your identity and personal information.
User 9)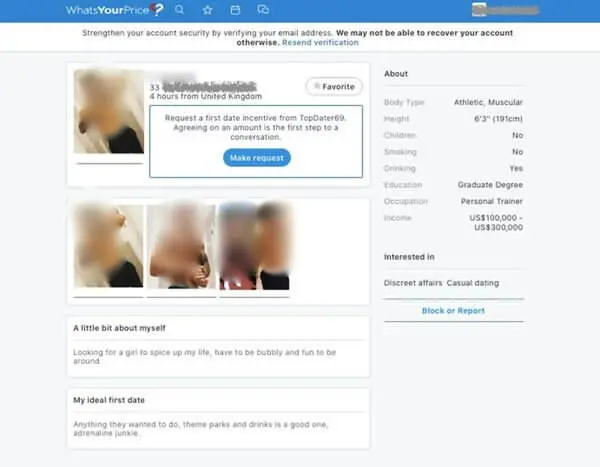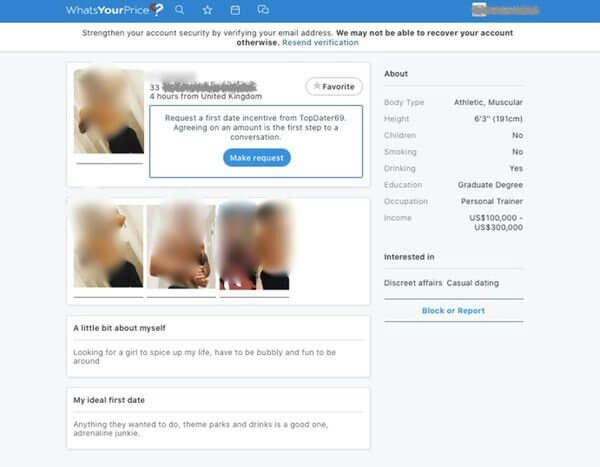 This is a very flashy profile. I am sure he is very proud of his beautiful body. 33 years old with this physicality, what is the reason for him to be a sugar daddy? It is difficult to imagine he would have a difficult time finding a date.
User 10)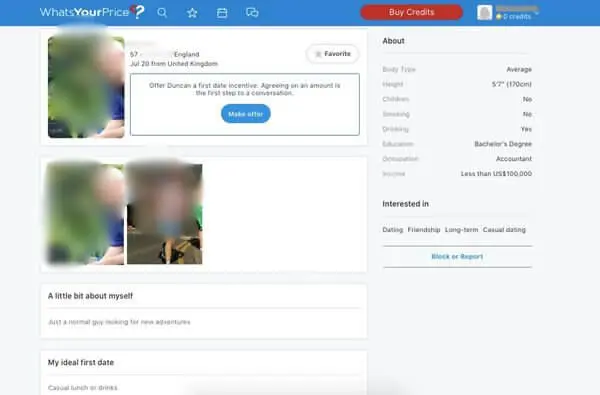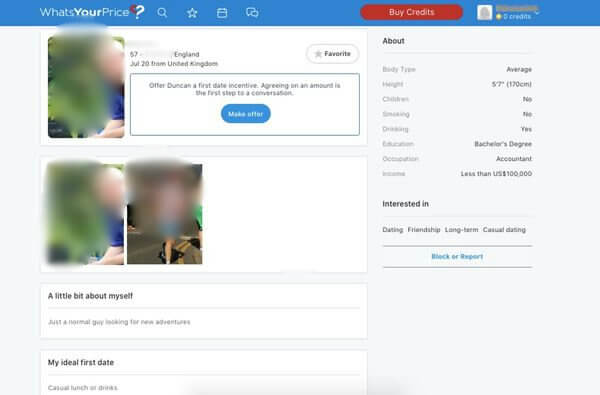 He is also registered as a sugar boy….I am positive, he made a mistake as well.
What's Your Price Online Scammer Review online post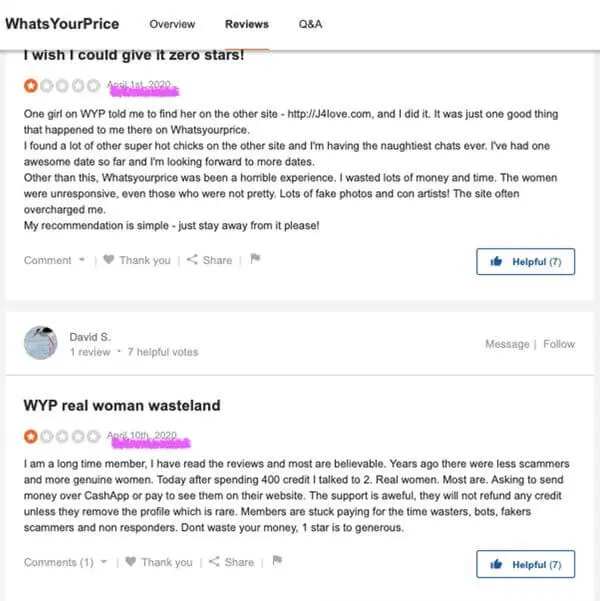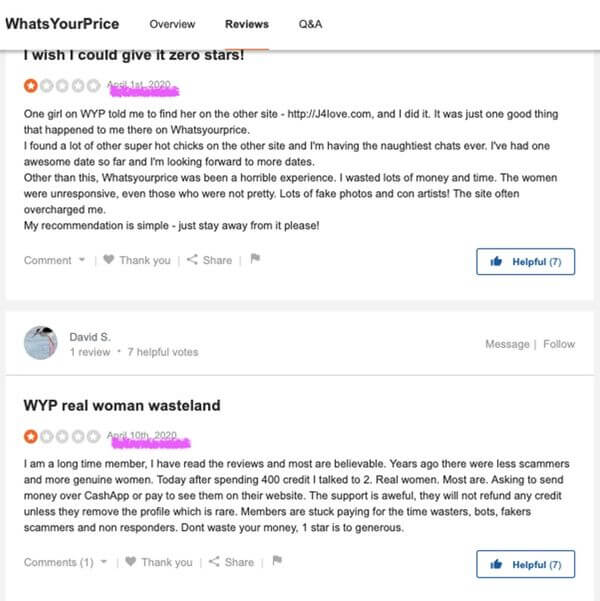 sitejabber
There are some reviews expressing that there are a lot of scammers who are sugar babies.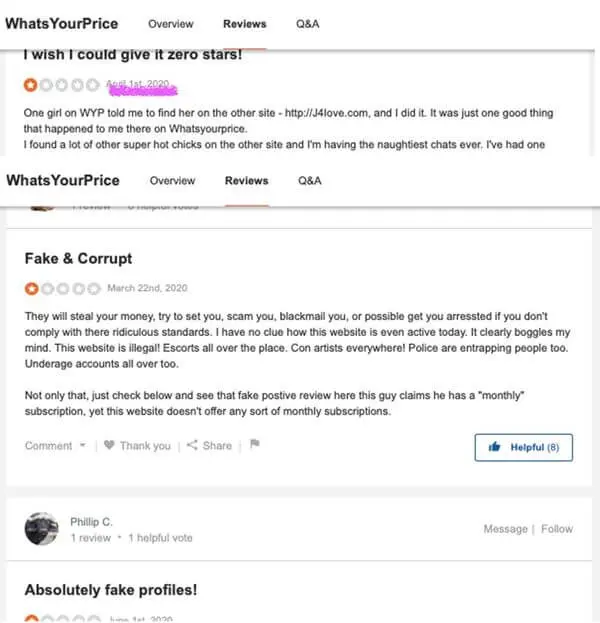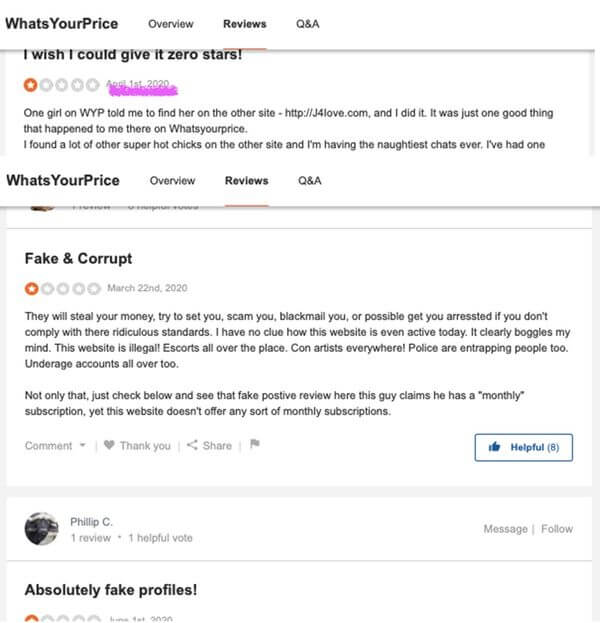 More posts are about fake profiles of sugar babies. Some believe that the site is operating fake sugar babies' accounts to sugar daddies to make them pay to read messages.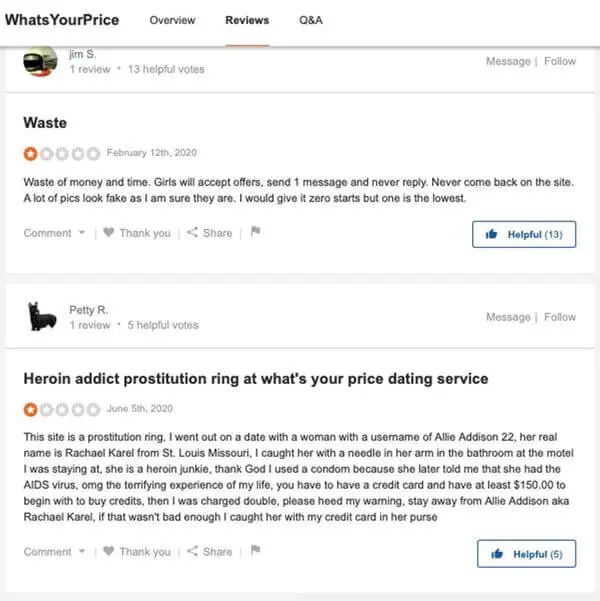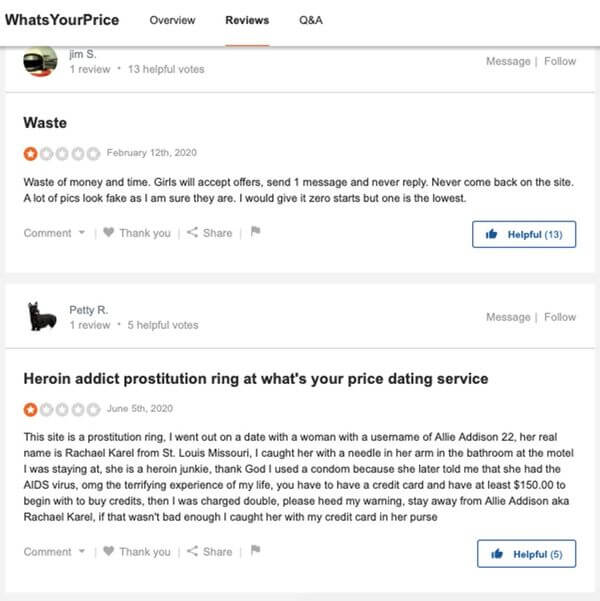 Again, some are reporting that a lot of escorts and prostitutes are operating on this site. Obviously, if it is free to get customers, it would be impossible to not attract those people.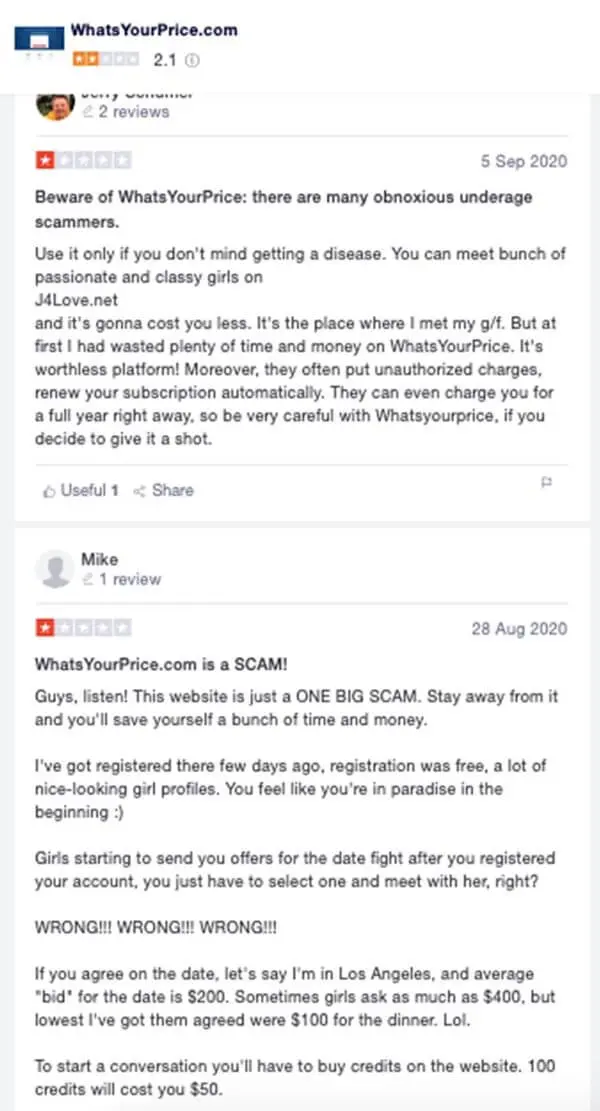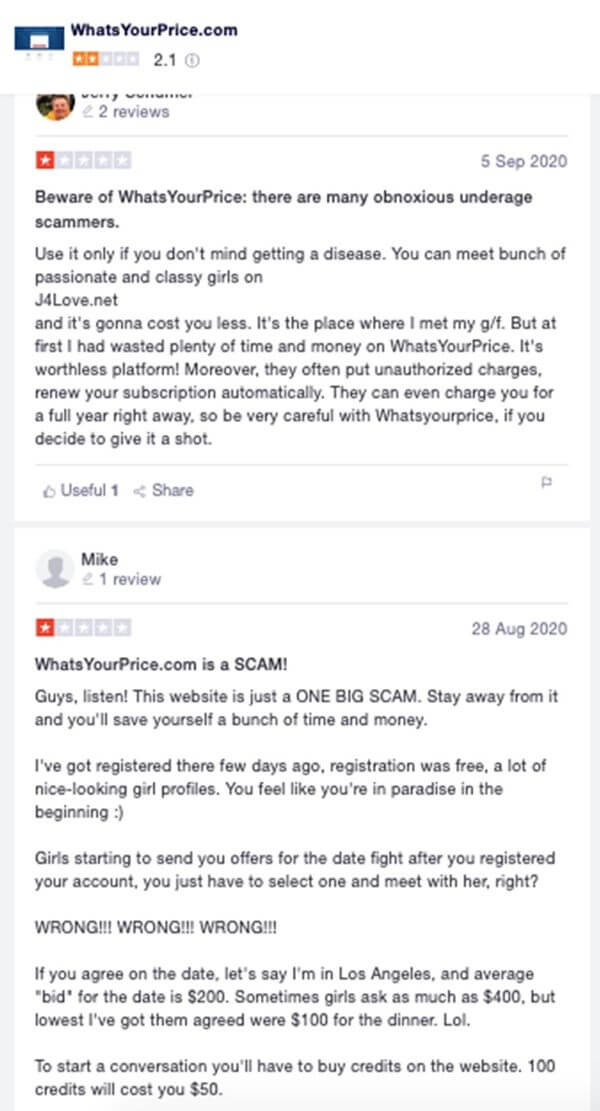 Trustpilot
On this review site, Trustpilot, there are only a few reviews but again, there are reports of scammers who are sugar babies.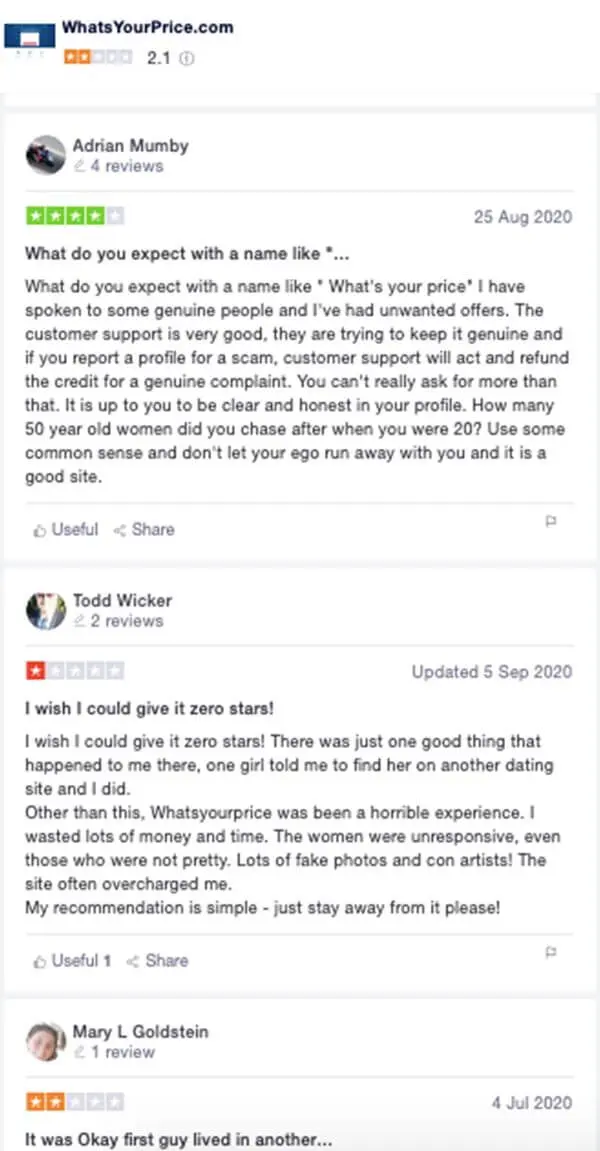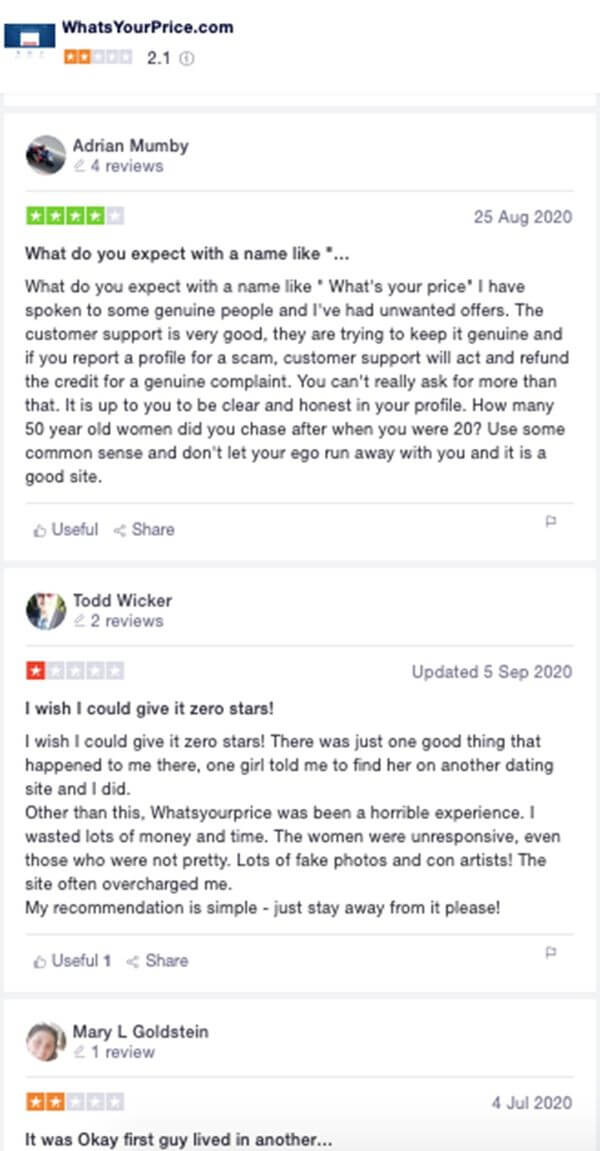 A lot of sugar daddies are expressing that they spent a lot of money on the site to read messages but most of the time, they could not have the actual date in the end.
What's Your Price YouTube Review
According to this YouTuber Ziva, she is getting a lot of dates using What's Your Price . She is saying that she often meets people from this site, but in public spaces, so it is safe.
She is making a lot of money, she gets at least £100 for each date, plus her meals have been paid.
She posts videos regularly. She has about 2.2K followers and her channel is about sugar dating. She might get sponsorship from some dating service. But she seems to be creditable.
What's Your Price Scammer Verdict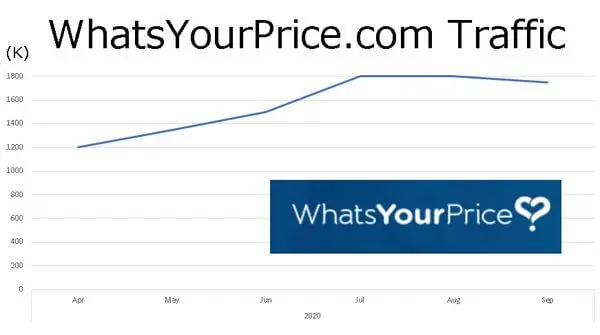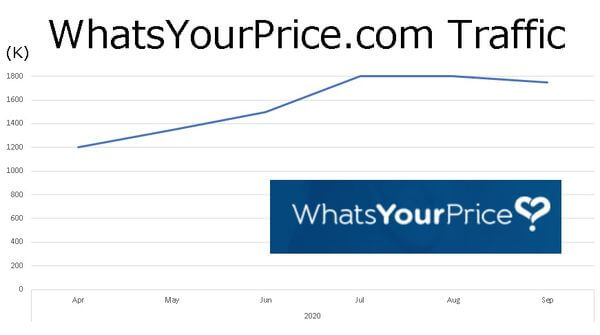 Yes, this site might be full of scammers for potential sugar daddies. They need to be very visutant and watch out who you are spending money to make contacts.
However, for sugar babies, there are no financial burdens to have a go and try this service.
There is no report of dangerous encounters from this service on the media, as long as sugar babies users keep all the constion rules, they will be able to make money out of this site.
Since the fee is already agreed upon making a contract, there is no need for negotiating a fee.
For (sugar daddies) scammers, it is hard to operate since they have to spend money to scam others.
Even though this site prohibits sexcial activities, there are reports of prostitutions through this service.
All and all, after 10 years of operation, this site is still running and some making money.
Sugar dating always comes with risks.
What's Your Price is an acceptable site for sugar dating especially for sugar babies.