What's Your Price Review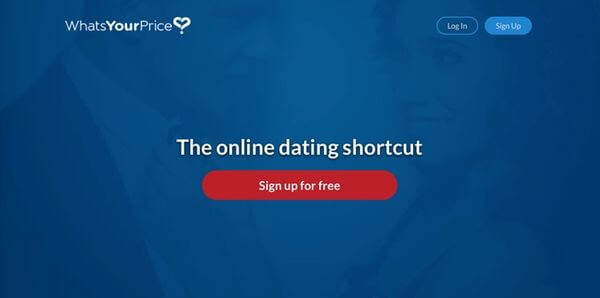 https://www.whatsyourprice.com/
WhatsYourPrice.com was launched in 2010 by Brandon Wade who is also the founder of another sugar daddy dating site Seeking Arrangement.
WhatsYourPrice.com is a bidding site where people can place a bid for a date offered by a person.
The operation is based on something similar to Seeking Arrangement, a lot of young females are there to offer dates in order to pay their school fee or everyday life. Wealthy individuals are placing bets to purchase those dating offers.
WhatsYourPrice.com is a sugar dating bidding site.
What's Your Price Verdict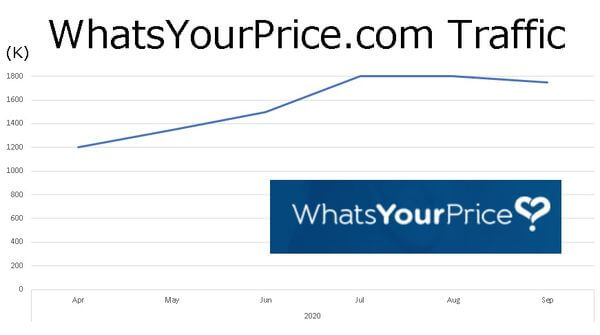 WhatsYourPrice.com is a huge site with an average monthly traffic of over 1.5 million.
The site is a legit service which is operated by an well known online dating operator.
There is no scandalous article about this site.
Sugar babies do not need to spend any money in order to get a first date.
The unique point of this service is that the first date price is set. This might save time for both sides.
Thus, taking all precautions of sugar dating, some young sugar babies are able to make money out of this service, as people can read in the recent Daily Mail article.
User Variety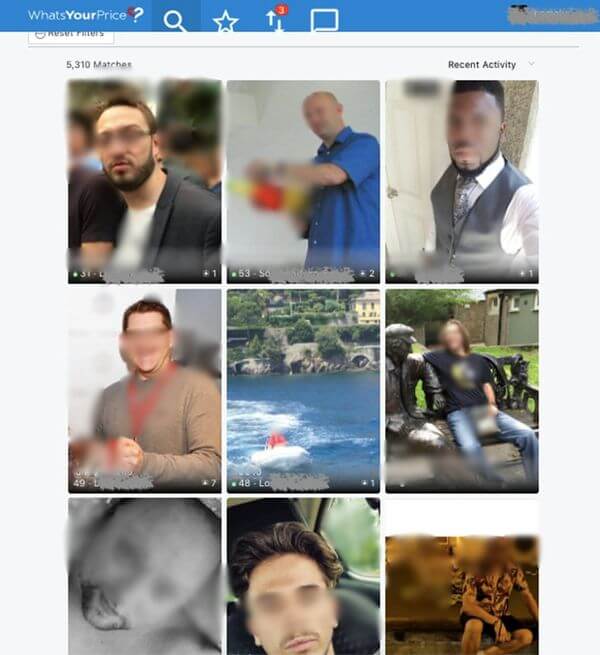 What's Your Price has a very wide range of users from in their 20s to 60s and various professions, race and shape diversity. This could be depending on the location.
In a large city, users are able to have a wide range of diversity.
The professions are varied as well, from students to professionals. However, there are not a lot of high earners compared to other sugar dating sites, such as Seeking Arrangement and Sugar Daddy Meet.
Some as you can see, they put some random photos as profile photos which the office said it is not approved. But here they are.
Traffic by Countries
[Oct/17/2020]

There are active users in Hong Kong, but not many users in other Asian countries.
Countries
MonthlyMonthly Average Traffic
[Apr-Sep,2020]
US
1,311,614
UK
158,077
CANADA
60,630
New Zealand
7,990
Ireland
3,604
Others
24,753
Fee and Premium Membership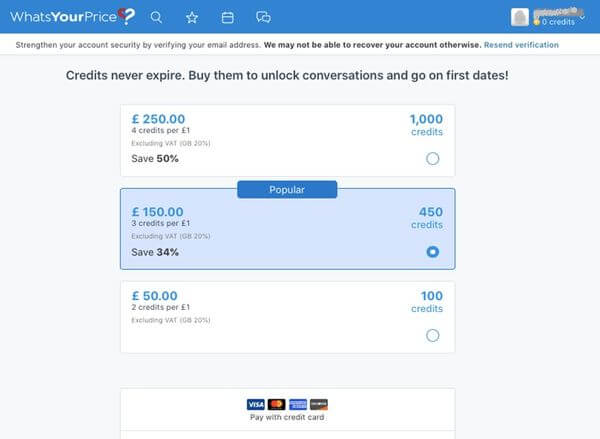 There is no premium membership for What's Your Price.
Sugar babies do not need to spend money. Those coins are for sugar daddies and mammas to read messages.
They also have to pay the bidding price and date expenses one they agree to a date.
But the bidding price is paid at the date in person, this service does not guarantee the price.
Thus it is very important to be careful and use common sense to arrange new dates, especially when you're meeting for a person for the first time.
How to join What's Your Price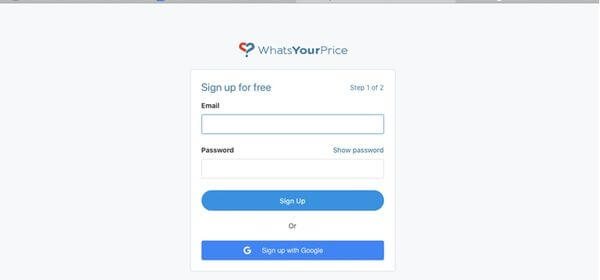 It is very easy and simple to join What's Your Price, people only need an email address.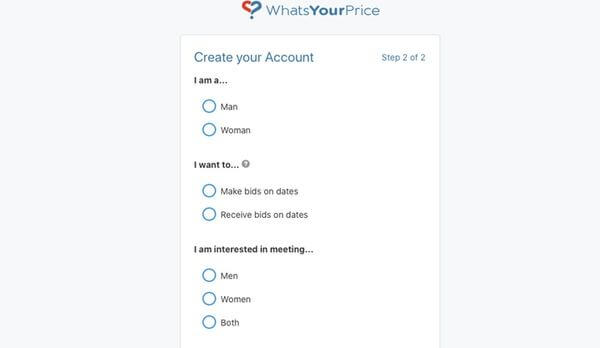 You need to select who you are and who you are looking for. To be sugar babies, make sure to select the right dot "receive bids on dates" you can not change this later!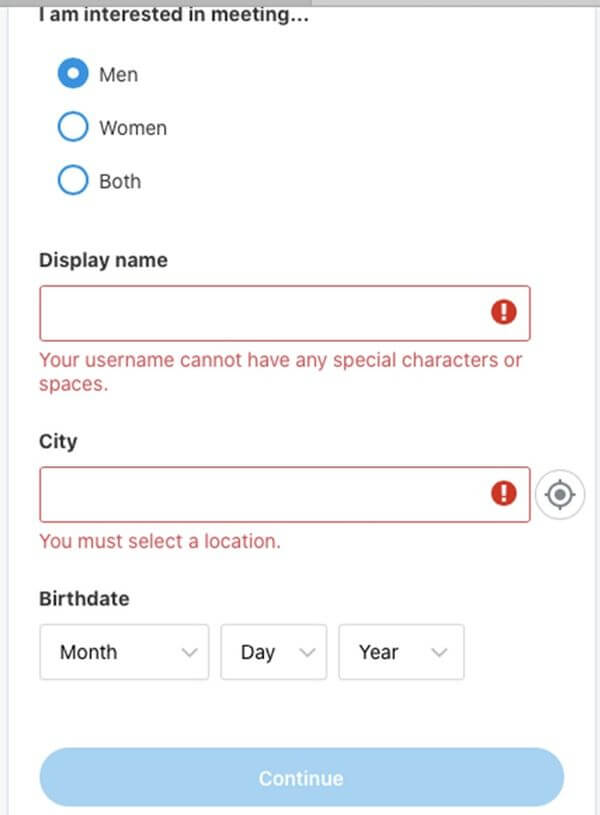 People need to put a location which is the most important because the feed would be based on the location.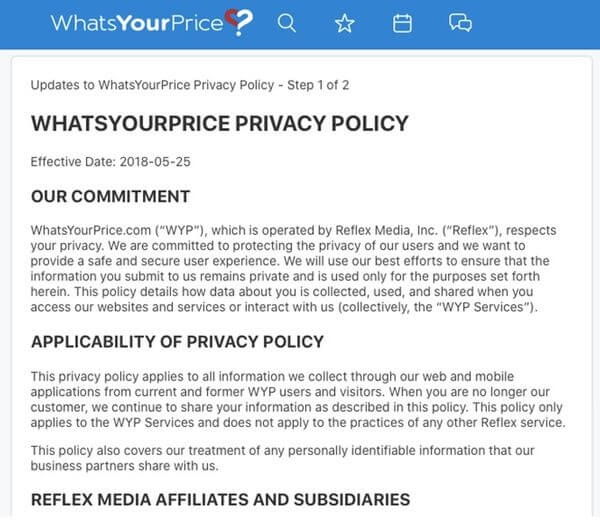 That is all, you need to read and agree with this long policy.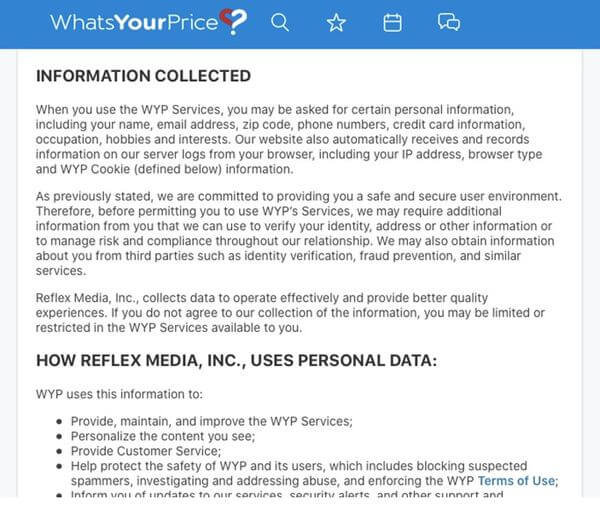 There are a lot of clauses about private information being shared with third parties.
Escorting (sexual conduct for a fee) prostitution are prohibited.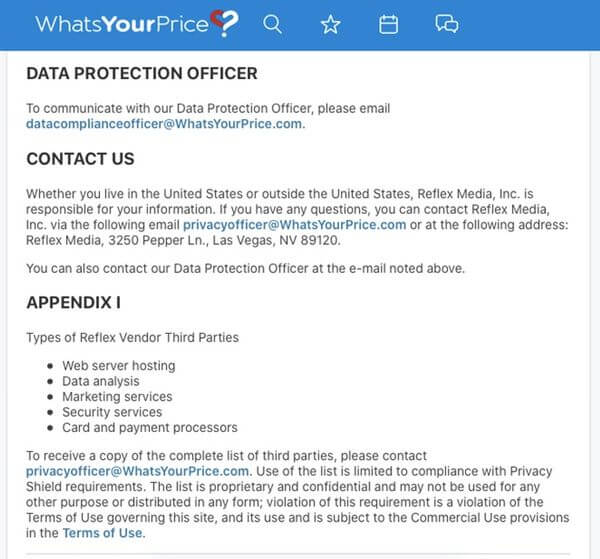 People can ask about who are the third parties by contacting their customer service.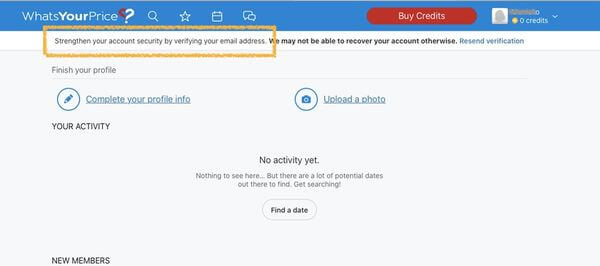 In order to get full access to the free service, a user needs to verify her email address.
People can fill their profile later. This verification process can take up to a few days.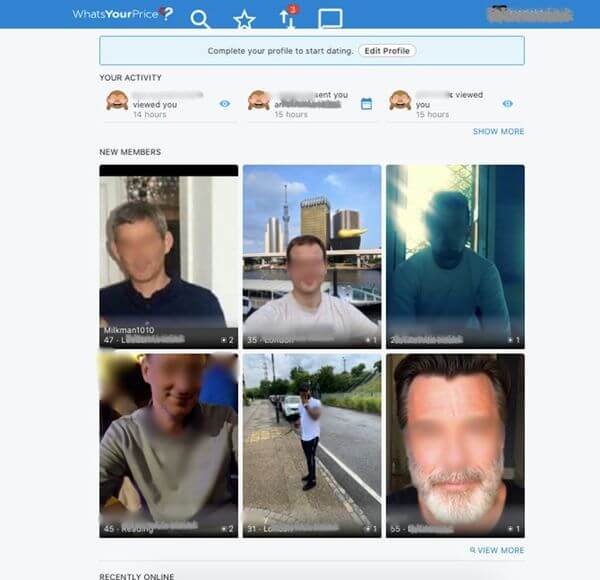 The feeds are based on the mixture of location and how frequent those users log in to this site.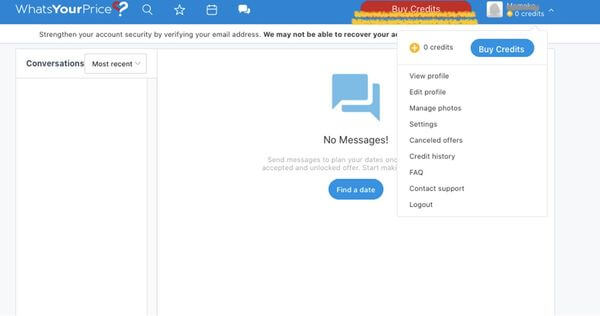 If you are having this" Buy Credits" on the top, this means that you are registered as a sugar daddies or mammas. It could be very difficult to find out which side you are registered with because the page does not show it clearly.
This is because the initial selection part is not so clear, a lot of people could make mistakes who you are /who you are looking for and you are either registered as sugar babies or sugar daddies/mammas.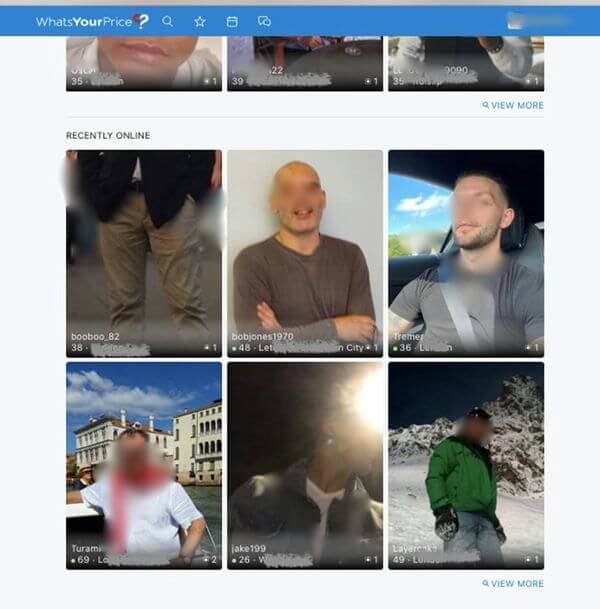 From the top right corner users can access to edit their profiles, change settings, and many basic things. But you can not change the 'bidders and offers' sides. In order to do so, people need to delete an account and re-register.
How to make contact on What's Your Price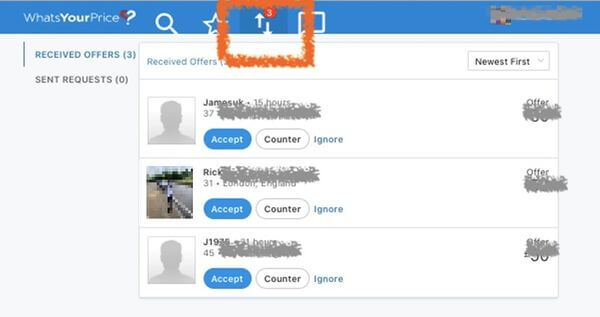 In order to make contact, users have to upload a photo and fill in the profile page.
It takes up to a few days to an account to be approved and many more days if a user does not have the right information.
Then hopefully, a user gets some notifications about who viewed its profile and it is possible to visit those profiles, you can give a request to them to bid for you from the "Make Request" button.
Or if you are lucky, you would get some offers. People can see their offers from the arrow sign on the top bar.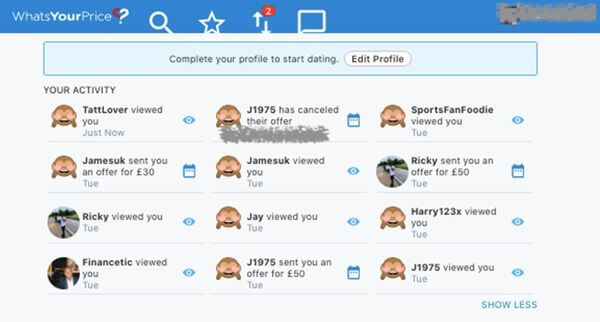 They can withdraw their offers, thus if you see the offer you like, better to respond as fast as you can!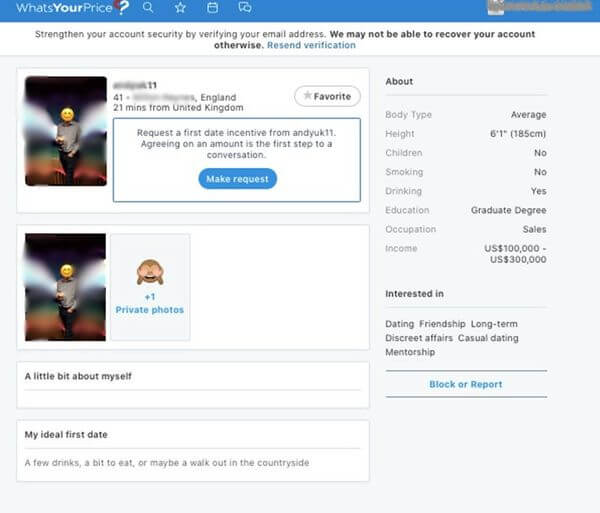 (my first photo was rejected due to not showing my identity clearly, but I found this photo has been approved. It is very strange. )
Sugar baby's free membership allows users to send requests and get messages. In order to reply to a message, a user has to accept an offer. ( bitters have to pay to use messaging service)
Or counter offer your desirable fee.
Due to the nature of this style, female sugar babies need an eye catchy photo to attract sugar daddies/ mammas.
A counter bid (from the both sides) is also common on this platform.
Both sides can use " favorite" to make up their favorite list which users can keep under the star mark on the top menu.
Deleting account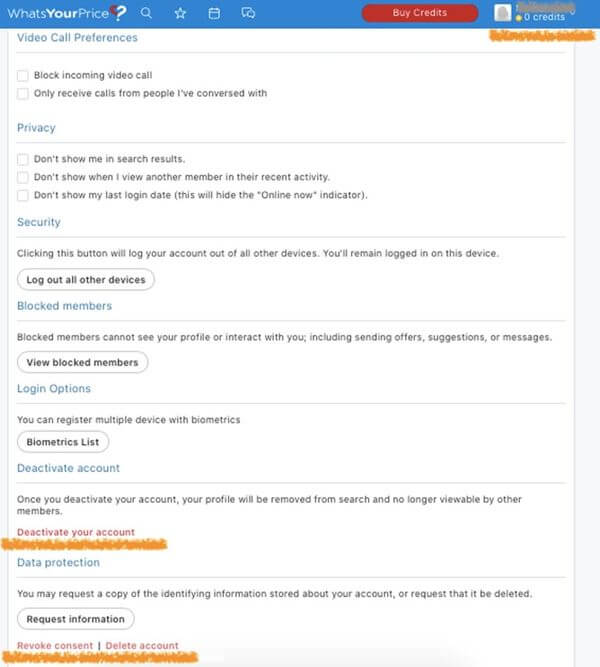 From the top right corner, users can access the account setting.
From the tap, users can find deactivate your account ( not leave this platform) and delete account ( you are leaving this service for good)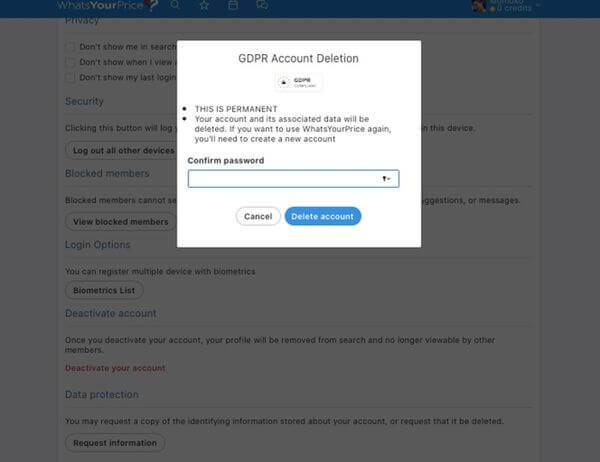 You need to put your password for the last time.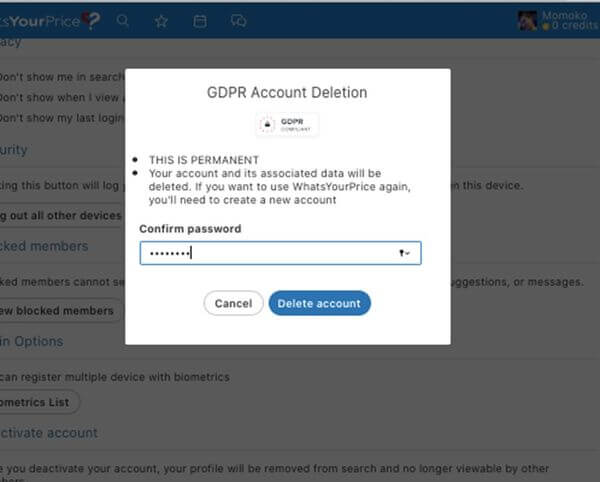 After this, your account would be deleted for good.
Social Media

What's Your Price has very healthy social media activities. They have Facebook, Twitter and Instagram accounts.
They are updated regularly even though their posts are nearly the same.
What's Your Price Facebook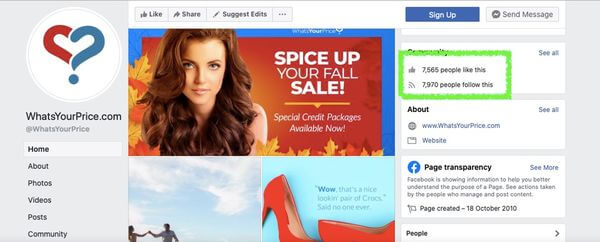 https://www.facebook.com/WhatsYourPrice/
They have nearly 8000 followers on Facebook, although What's Your Price reported to have 5 million users.
What's Your Price Twitter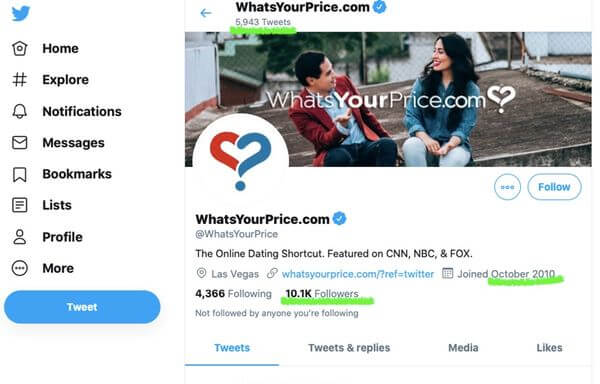 What's Your Price has 10K followers on Twitter, they have been active on this account about 10 years and they have about 6000 tweets!
Cuffing season is here earlier than ever so there's no better time than now to find that special someone! More than 30,000 women and 10,000 men joined WhatsYourPrice in September, so you'll have plenty of options to choose from! Sign up or sign in now: https://t.co/lvEHwOwt3s pic.twitter.com/rPtAUBNrjK

— WhatsYourPrice.com (@WhatsYourPrice) October 12, 2020
What's Your Price Instagram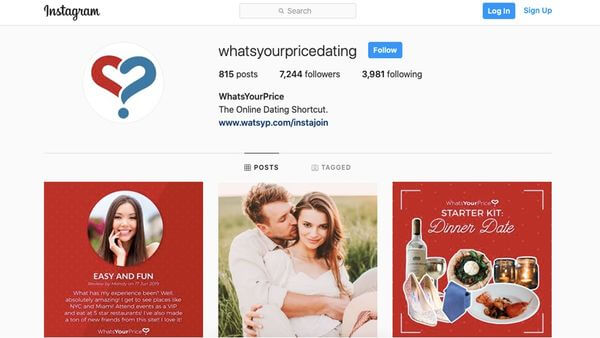 https://www.instagram.com/whatsyourpricedating/
What's Your Price has about 7000 followers on Instagram, it is not such a big number for a popular dating service platform. They only have ad posts, there are many posts featuring models and stock photos.
Major Newspaper featured articles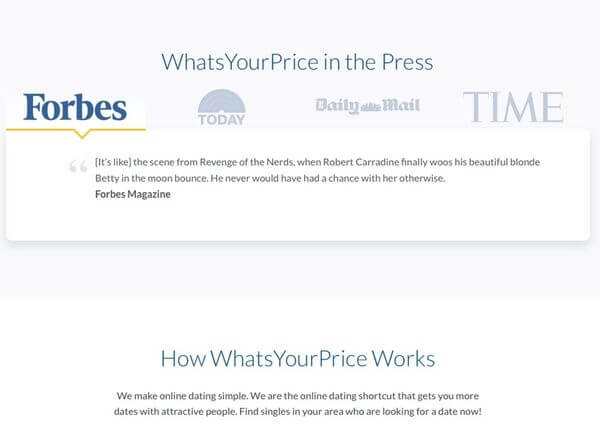 What's Your Price is advertising that they get some review mentions from the main newspapers.
Forbes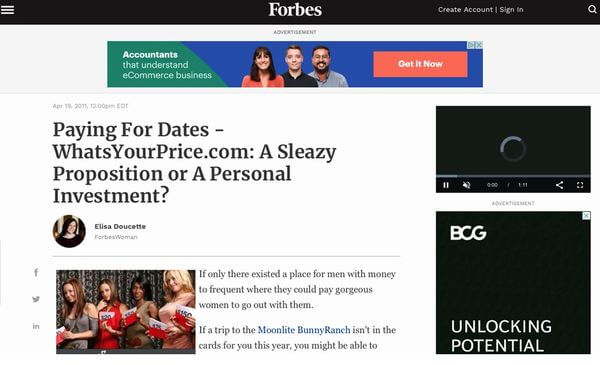 Forbes
This Forbes article is nearly 10 years old. There is no current article about What's Your Price on Forbes.
Time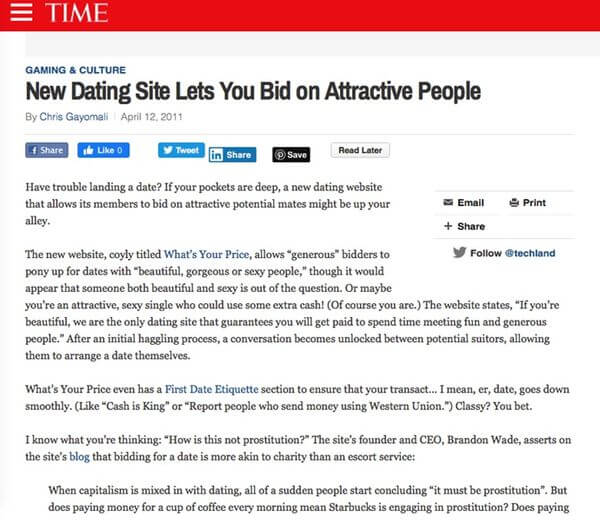 TIME
This TIME article is also very old. There is no recent or current article about this service. However, this service made it to the main media. Thus, the service is a legitimate one.
Daily Mail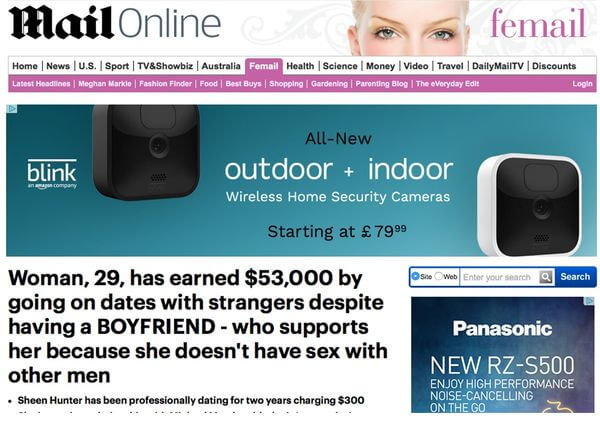 Daily Mail
This is the most recent article about What's Your Price; it was about 2 years ago, published in 2018. According to this article, this lady was using this service and she stated that "I have earned around $53,000 (£40,000) in total as I have enjoyed over 100 dates" (a year)
What's Your Price App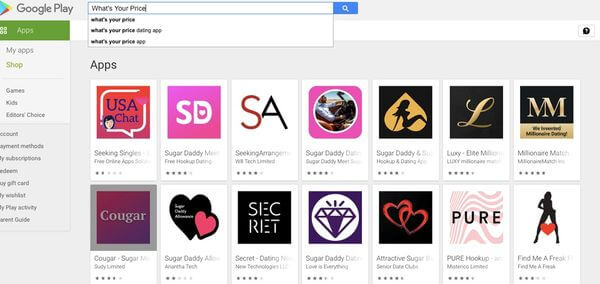 Despite popular search words, What's Your Price does not offer app service.
Online Review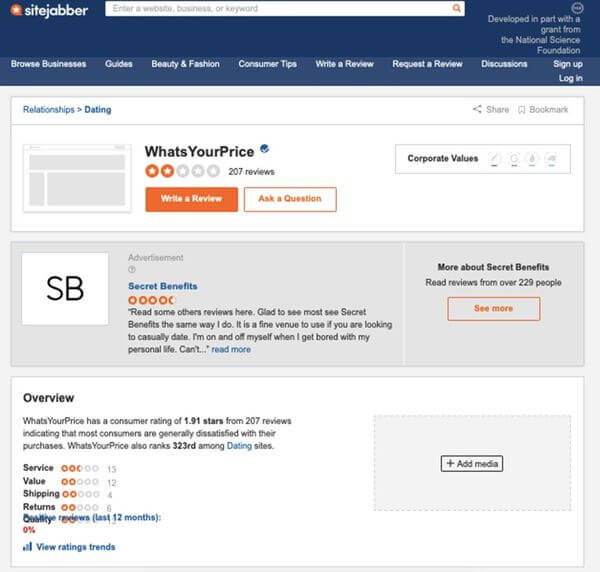 sitejabber
What's Your Price has 207 reviews on online review site Sitejabber.
Sadly, most of the reviews are negative.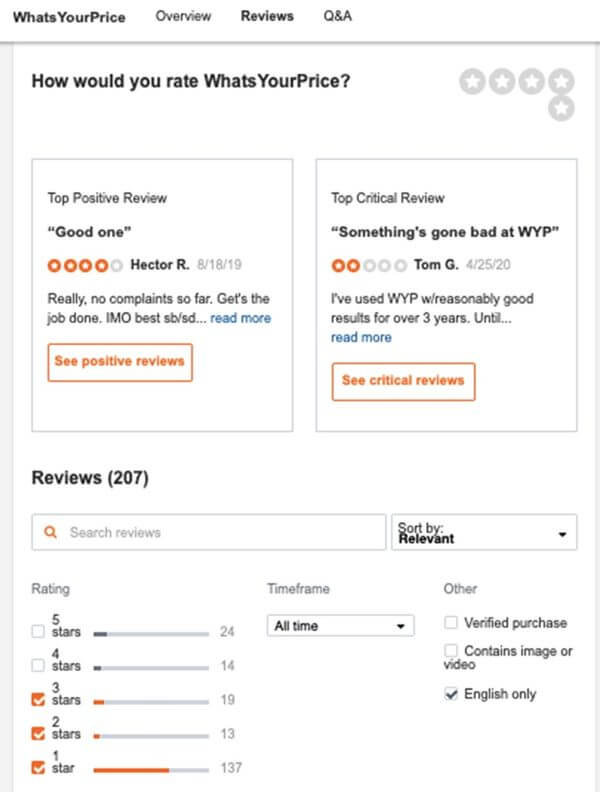 This is because What's Your Price is a free to join, the system would allow people to create fake accounts easily. They do not ask users to provide any ID or proof of anything.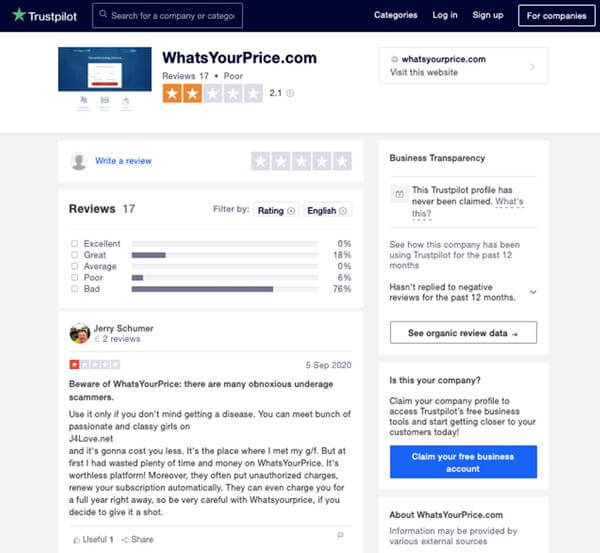 Trustpilot
Another online review site trustpilot has only 17 reviews.
They are very current; however, most users are expressing complaints about scammers. This is mainly coming from sugar daddies.