Slowly.app Review
SLOWLY is a geosocial networking app originally developed by Kevin Wong Ho-yin and JoJo Chan Sau-wun, where you can send messages, but there's a twist. Users can only send a message/ letter one other time, the service is aiming to give its users a traditional penpal feeling. The time it takes for your message to get to the other person depends on how far away they are. It was first created for iOS in 2017 and then launched on Android in 2018.
This app got some serious street buzz, getting named "App of the Day" in more than 30 places on the App Store worldwide. Google Play even gave it the title of "Best Breakthrough App" in 2019. By January 2019, it had already attracted a million users.
By mid-September 2019, SLOWLY expanded its service by launching a web version in version 5.0. Then, in 2020, they added some slick features like Dark Mode, letting you swap audio notes, and allowing you to pass a letter without making any mess of your sent/received stats in version 6.0.
SLOWLY offers a premium feature called SLOWLY PLUS. With that, you can double up on how many friends you can have, exclude certain topics and regions, and even share photos with other SLOWLY users.
SLOWLY Verdict

SLOWLY is somewhat a popular app, its penpal idea has been attracting a certain group of people. With the advancement of AI, the authenticity of writers has been questioned. However, letter writing is coming back on this service and some people are welcoming the idea and embracing it. Stamp collection function also, unique and attracting users.
Some users would connect to others and it could lead to romantic relationships, however, users are simply enjoying penpal experience here which would take longer time to evolve to a romantic connection compared to a dating platform.
It is interesting that they are still asking for donations using the buy me coffee fundraising site, also, once an email address is registered on this service, junk mails might increase, this might mean that they are selling personal information..sadly.
This is an app with a nostalgic idea. Users would take the time to write a letter and receive one from others. It is the opposite of speed swiping pictures left to right. People would be able to enjoy slow social media interaction, as well as writing "a letter" to others which we have not done for a while.
How to join SLOWLY
Joining SLOWLY is simple and easy.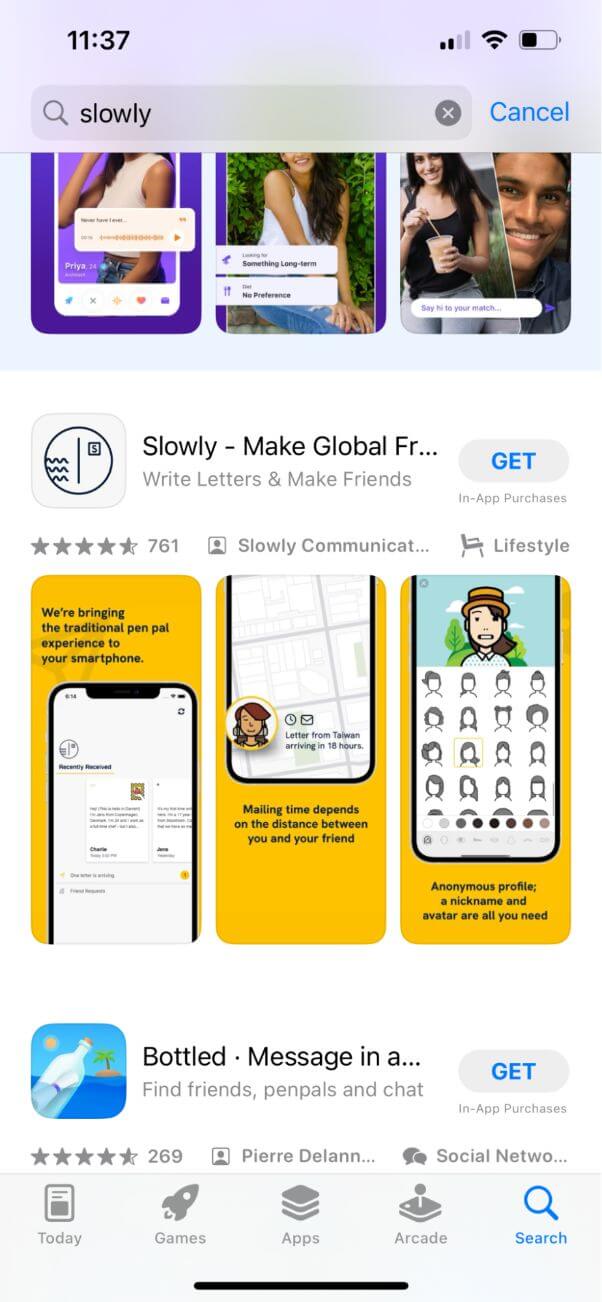 People can only join SLOWLY from their app.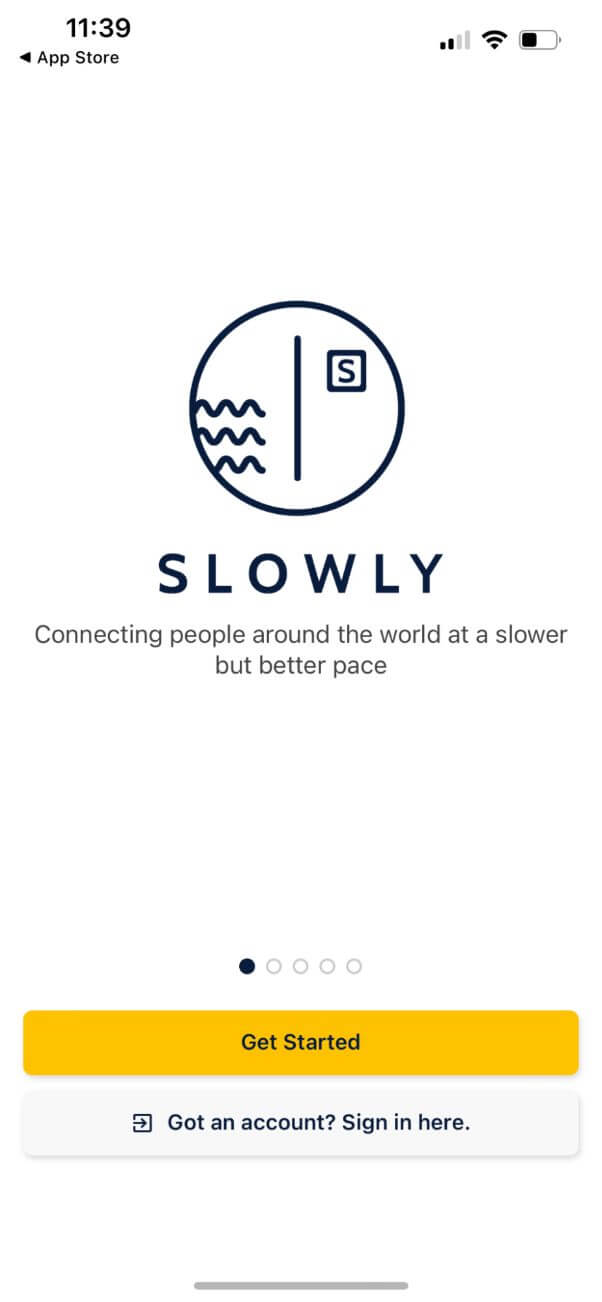 So people need to download the app first.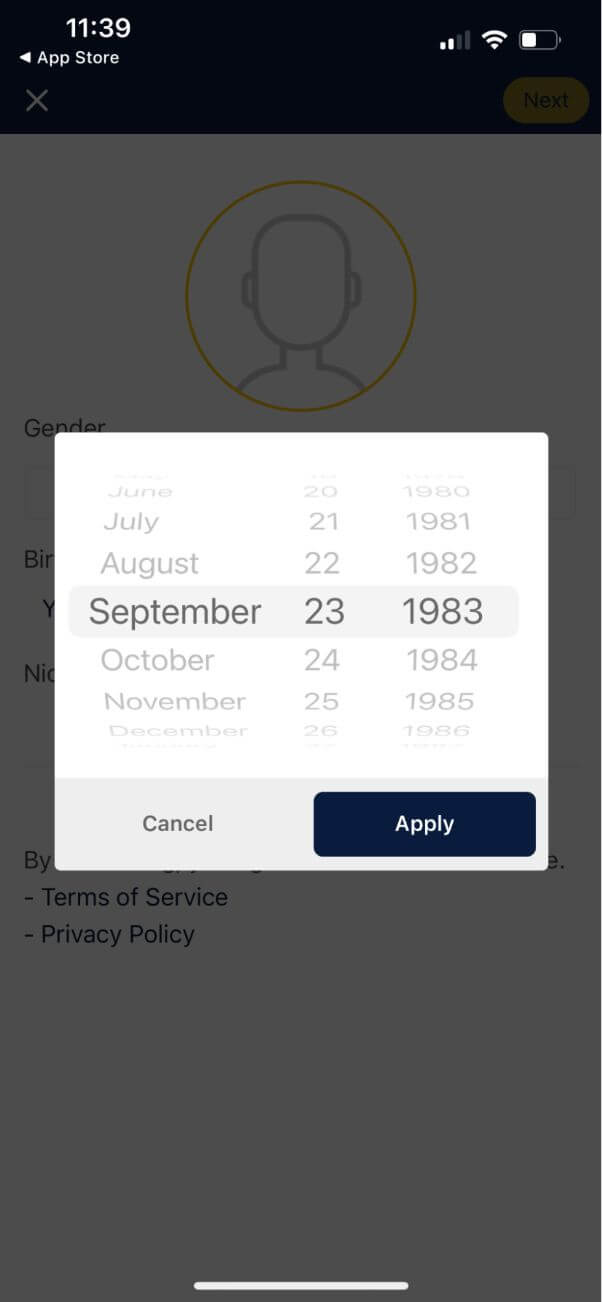 The first thing to do would be create a profile.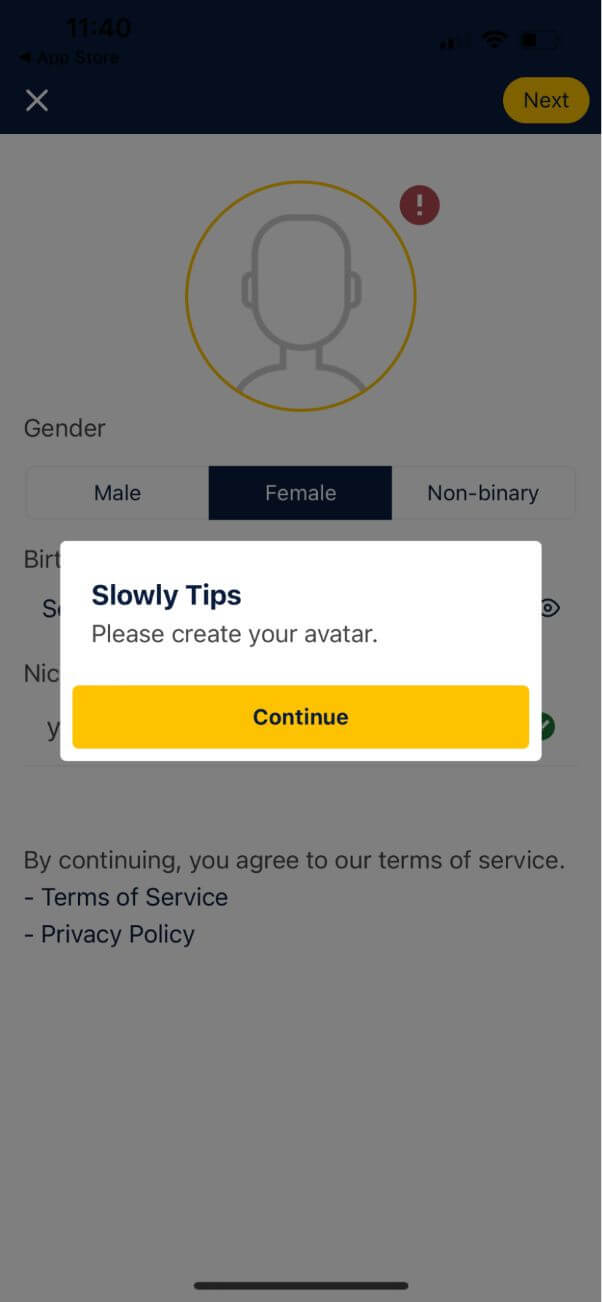 People also need to create their avatars.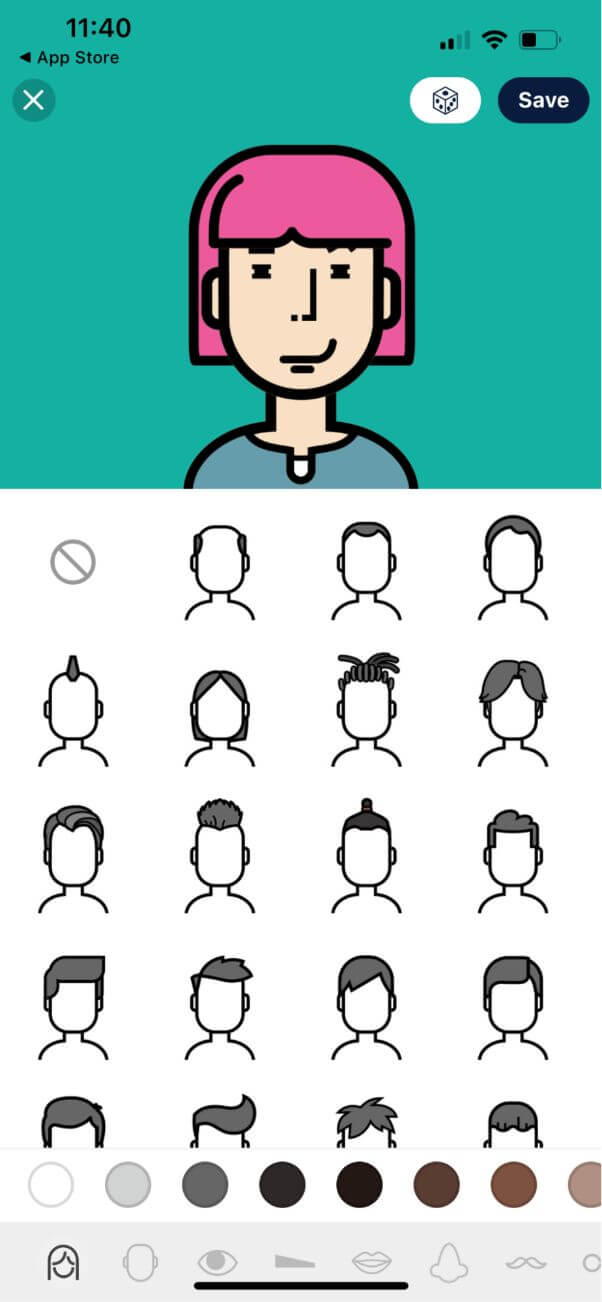 The basic items are free.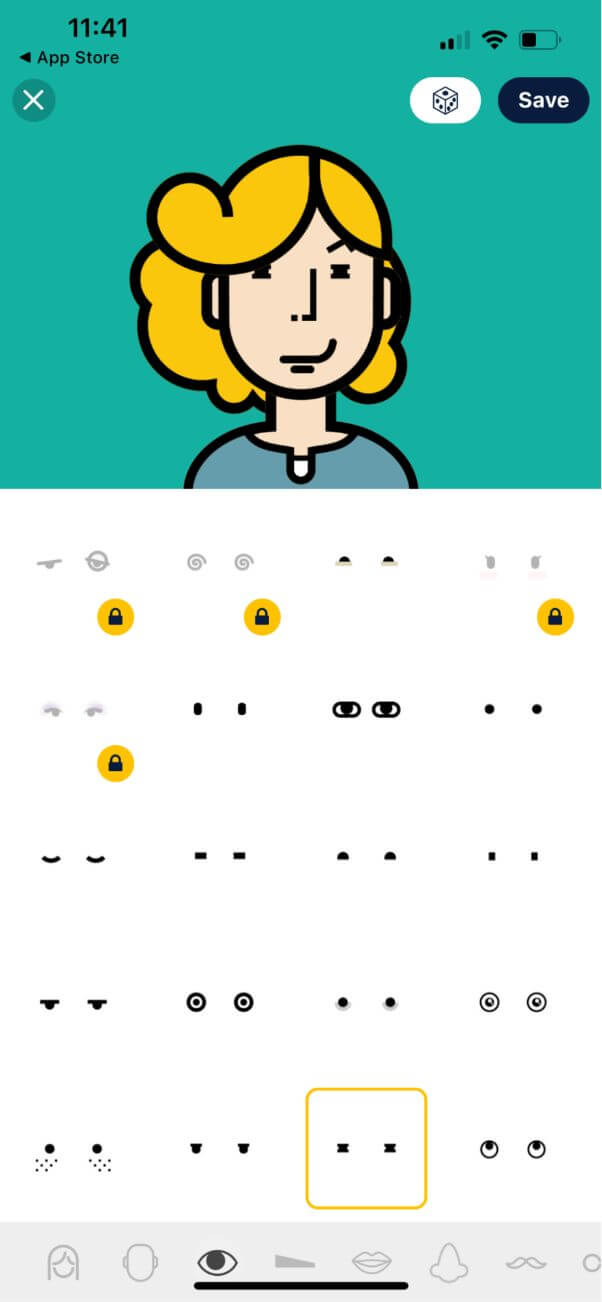 There are some free and paying items here.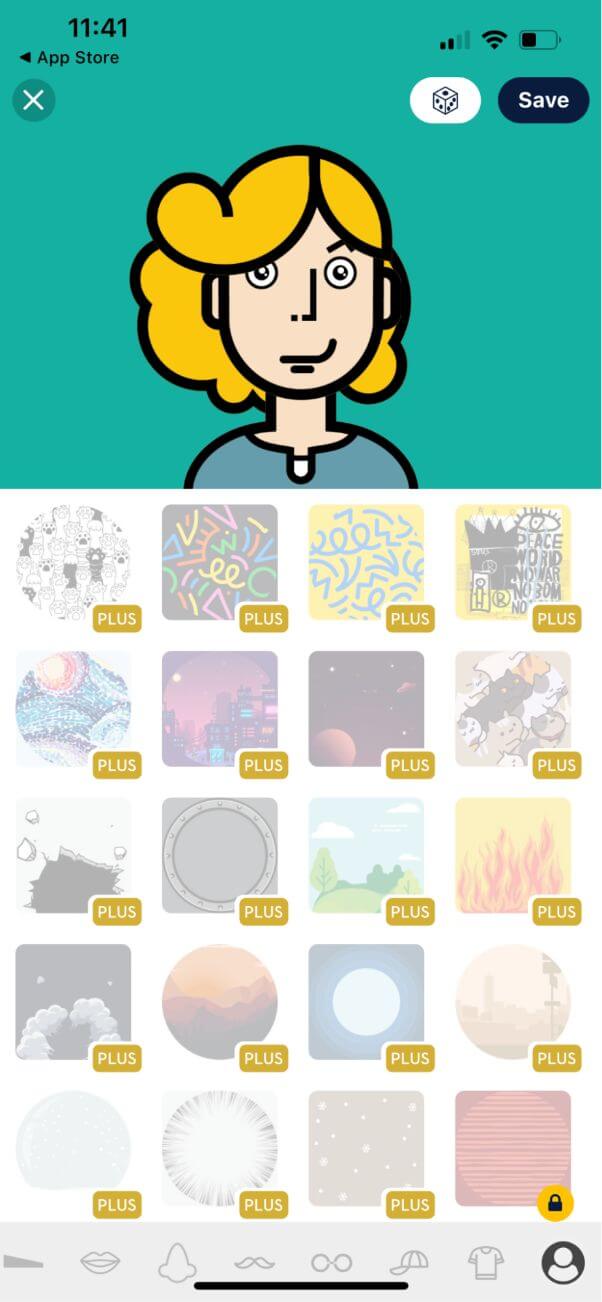 The fancy backgrounds are expensive!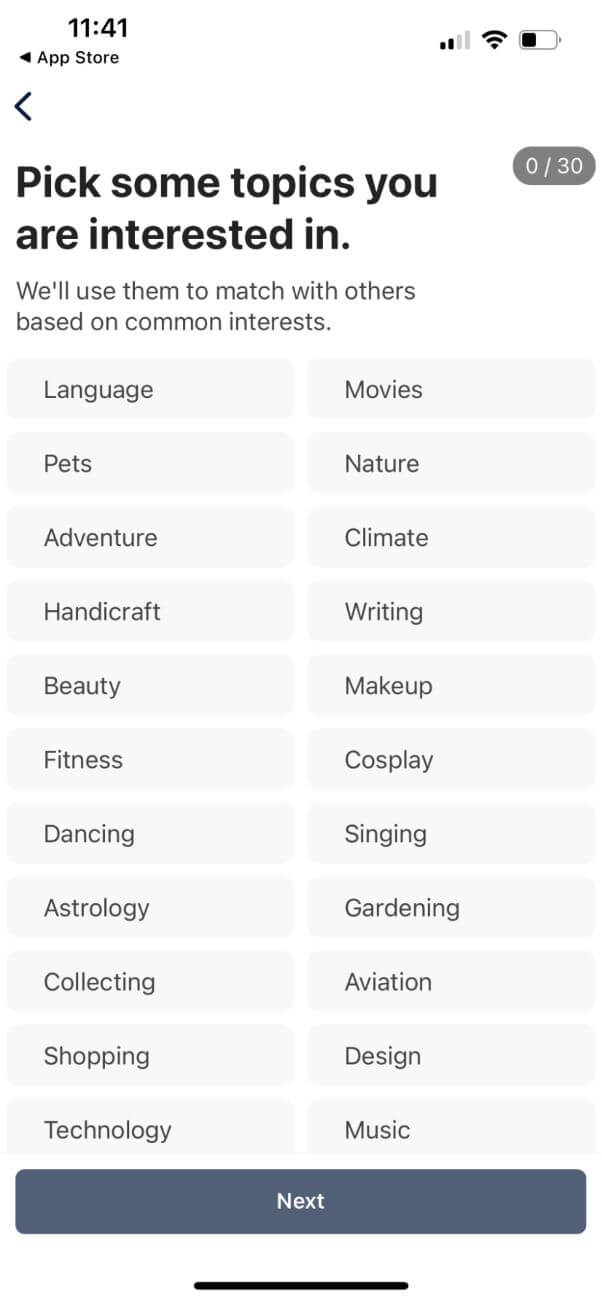 The next part is important. People need to pick their interests, this would be used by the algorithm to auto match people.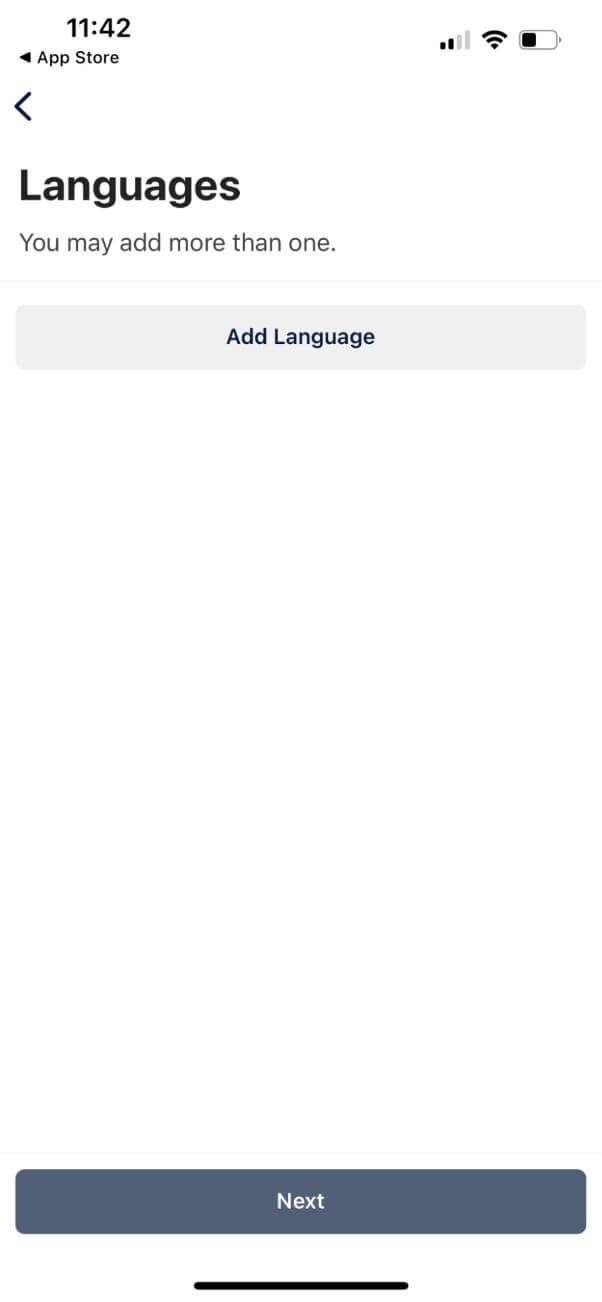 Now users have to pick languages. This could be more than one.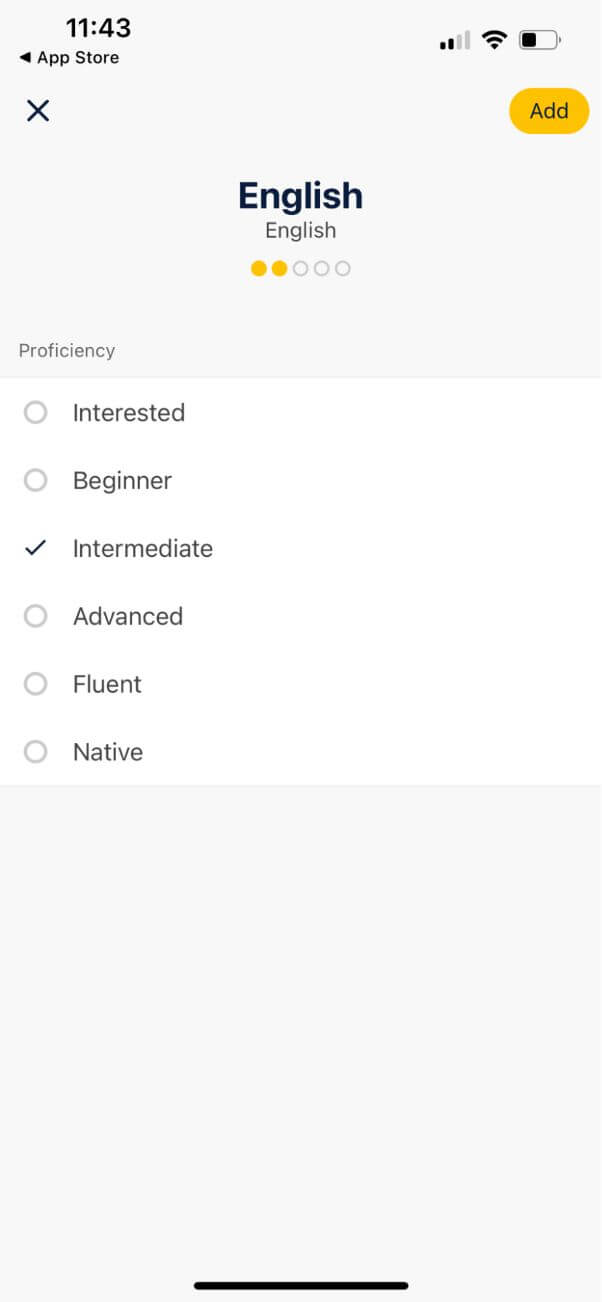 People need to pick their level.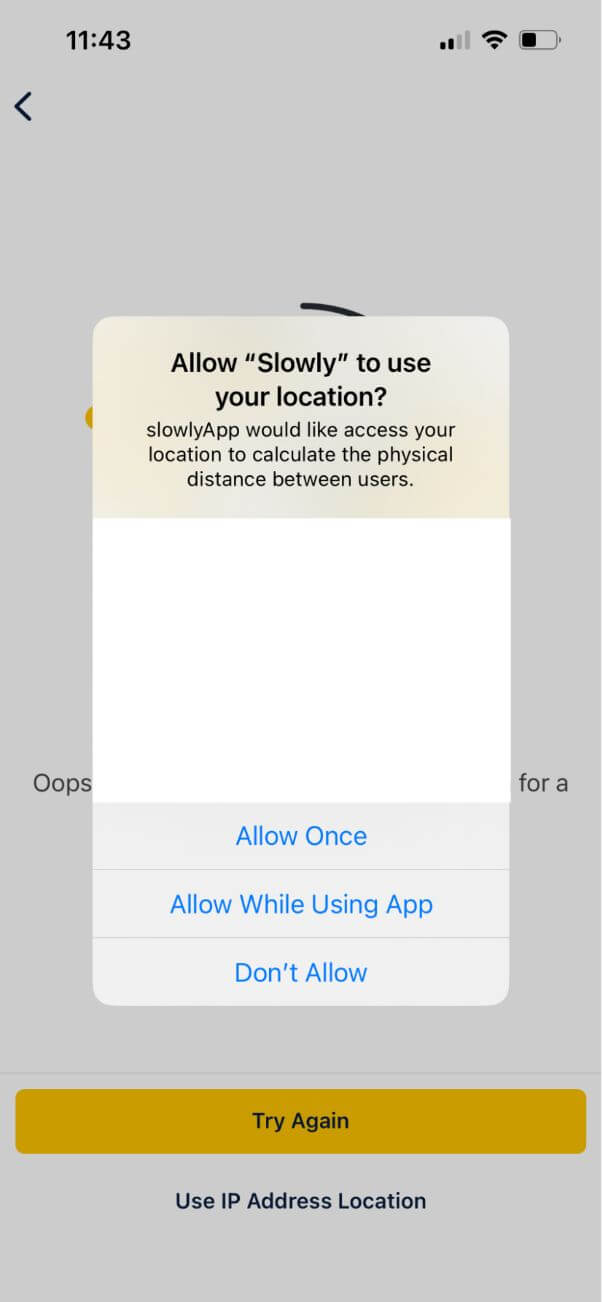 Now, they ask your location. Without allowing this, people can not use this app.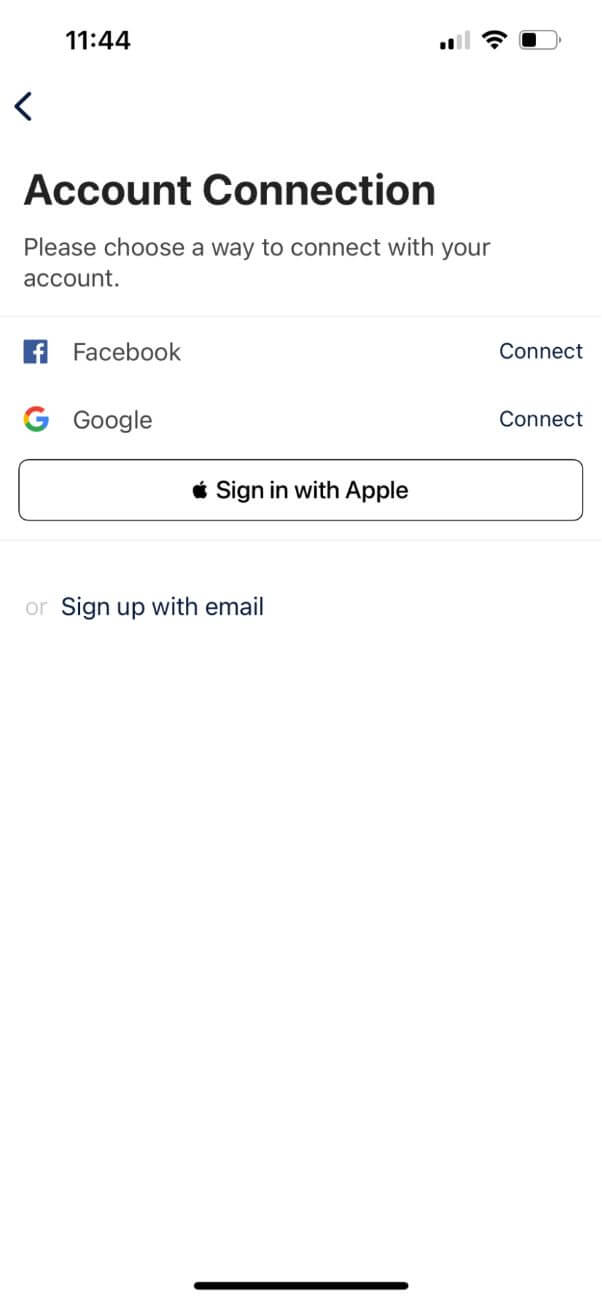 Now, people need to sign in. There are various ways to do this.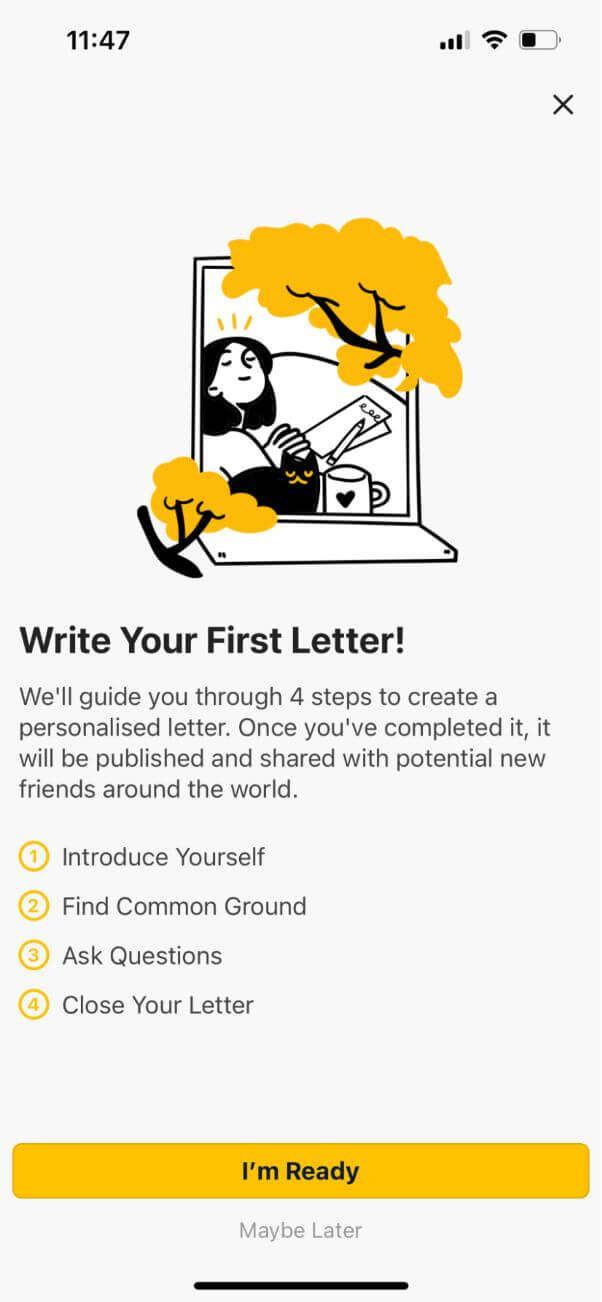 Now, they would help people to write the first letter.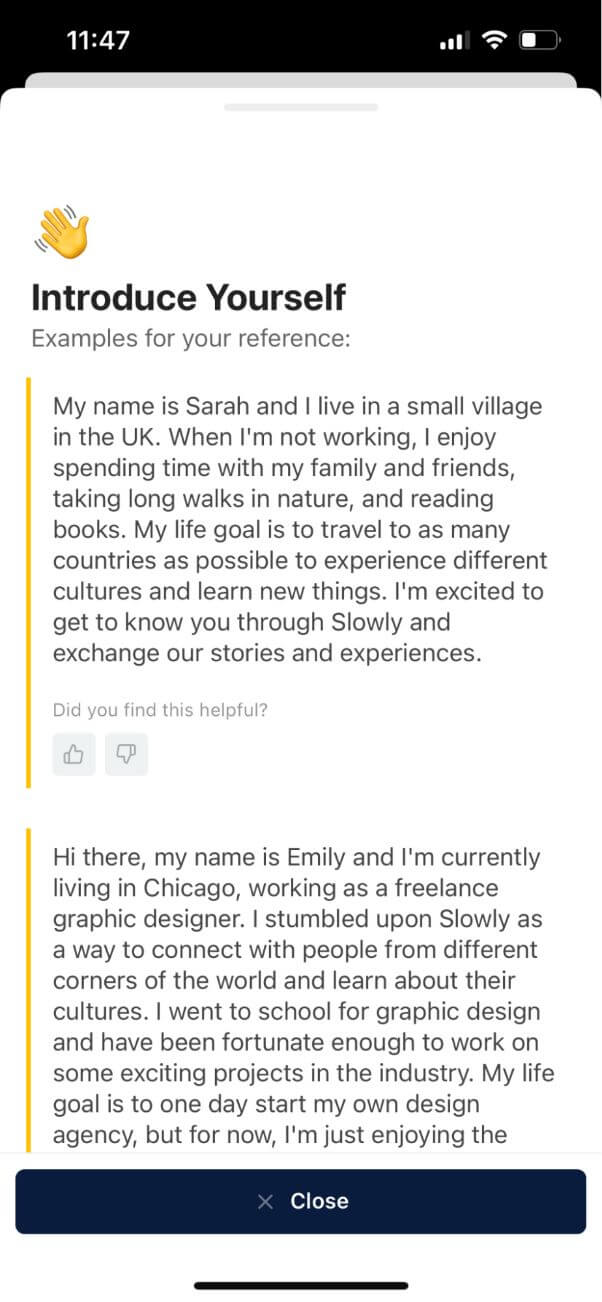 They would share some examples to help.
Now your letter is published as an open letter. This means that people can read this. If they like it, they will reply to it. That is how this app connects people. This process takes some effort and time.
And you wait until you get a reply.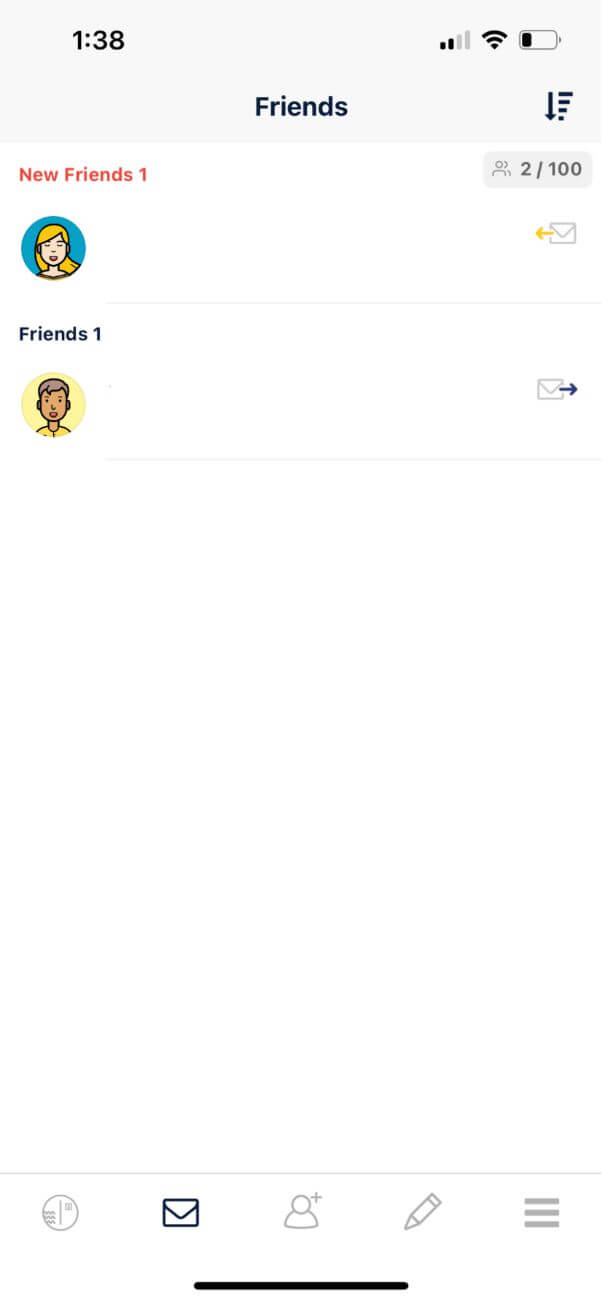 Some replies would take a while to get to you, and your letter would take time to be delivered. That is the whole point of this service.
How to use SLOWLY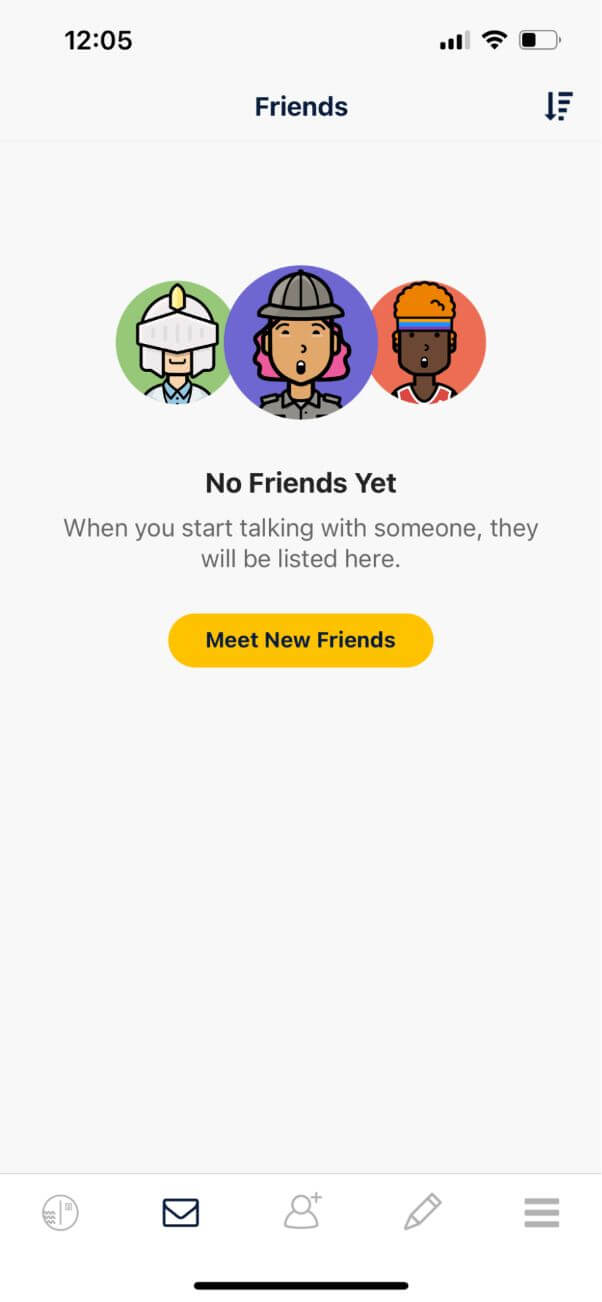 The bottom menu would show the dashboard, friends, discover, drafts and your own profile.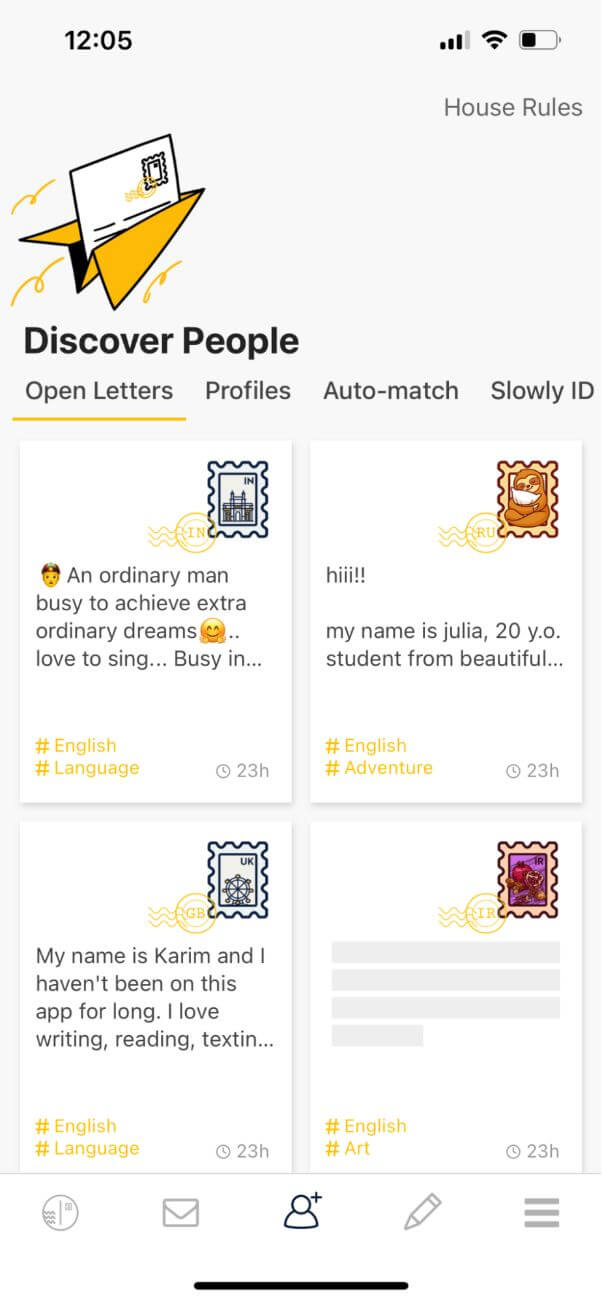 People can read others' open letters to find friends, again this process takes time.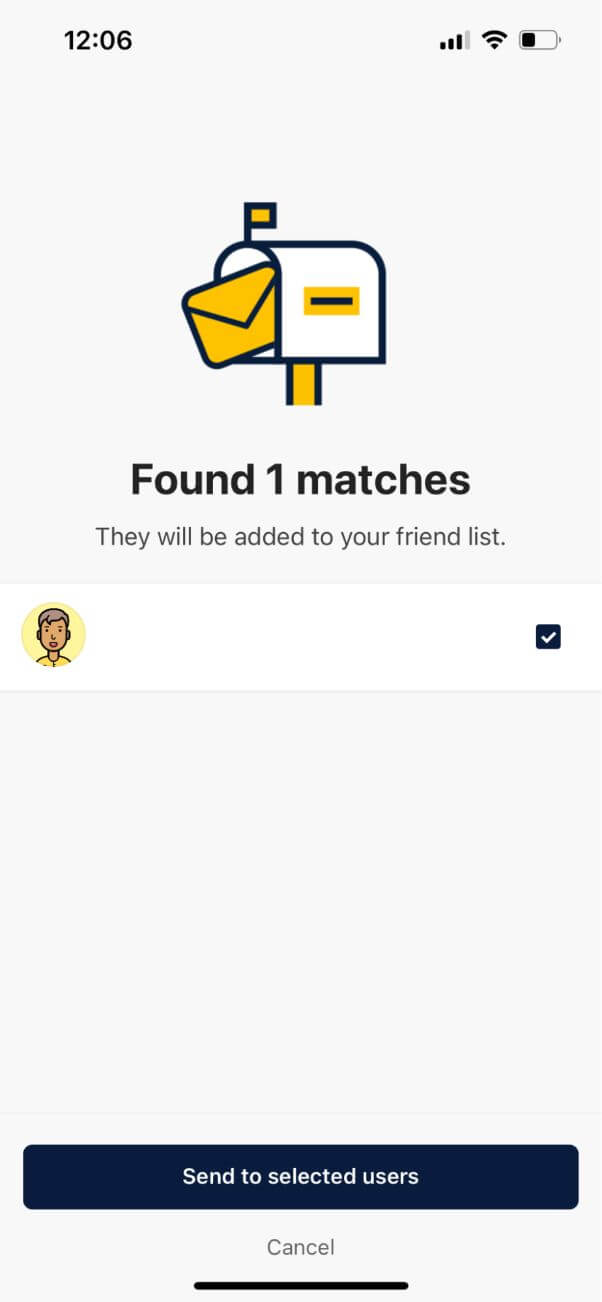 You can send your letter to the auto matched users. This auto match can be used once a day for free users.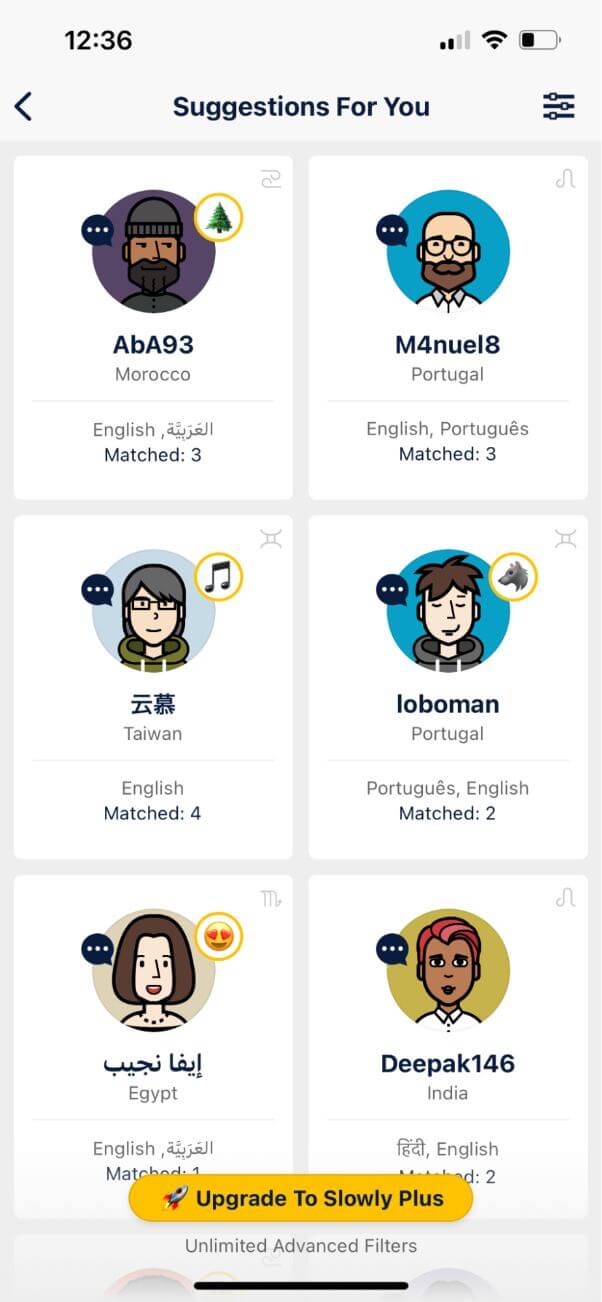 Or browse some suggestions.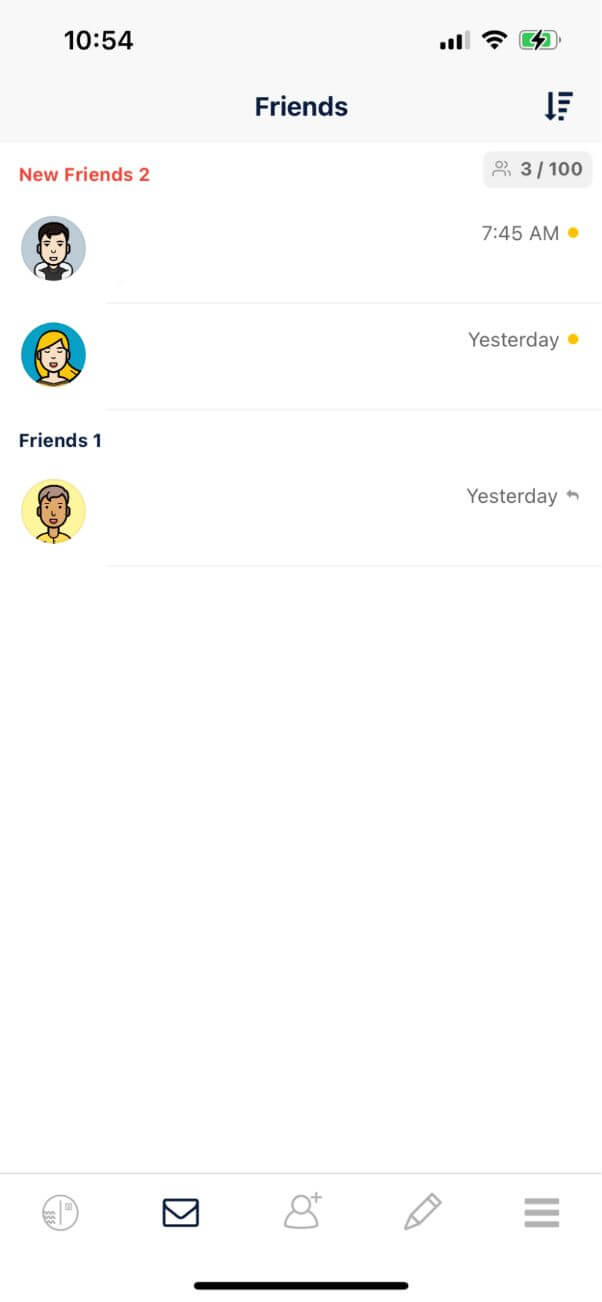 People's replies would be shown here.
SLOWLY prime service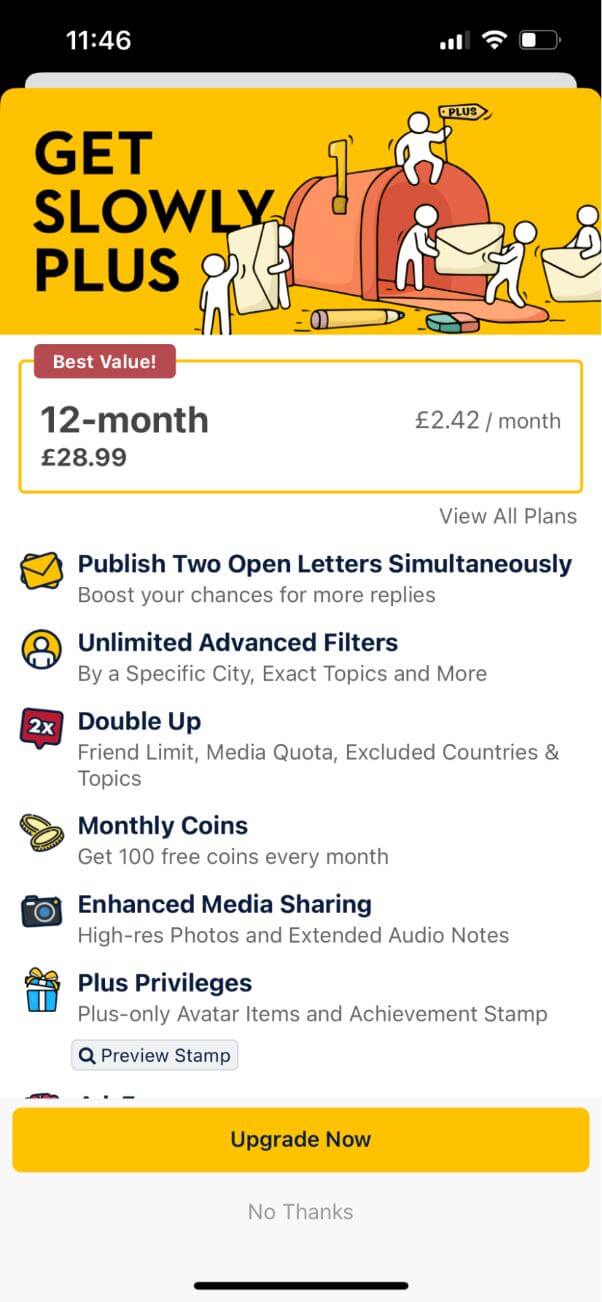 They offer SLOWLY plus membership. This would come with more letters to be published, more filter options, free coins to buy stamps, items to make the avatar interesting which would attract other users and many more.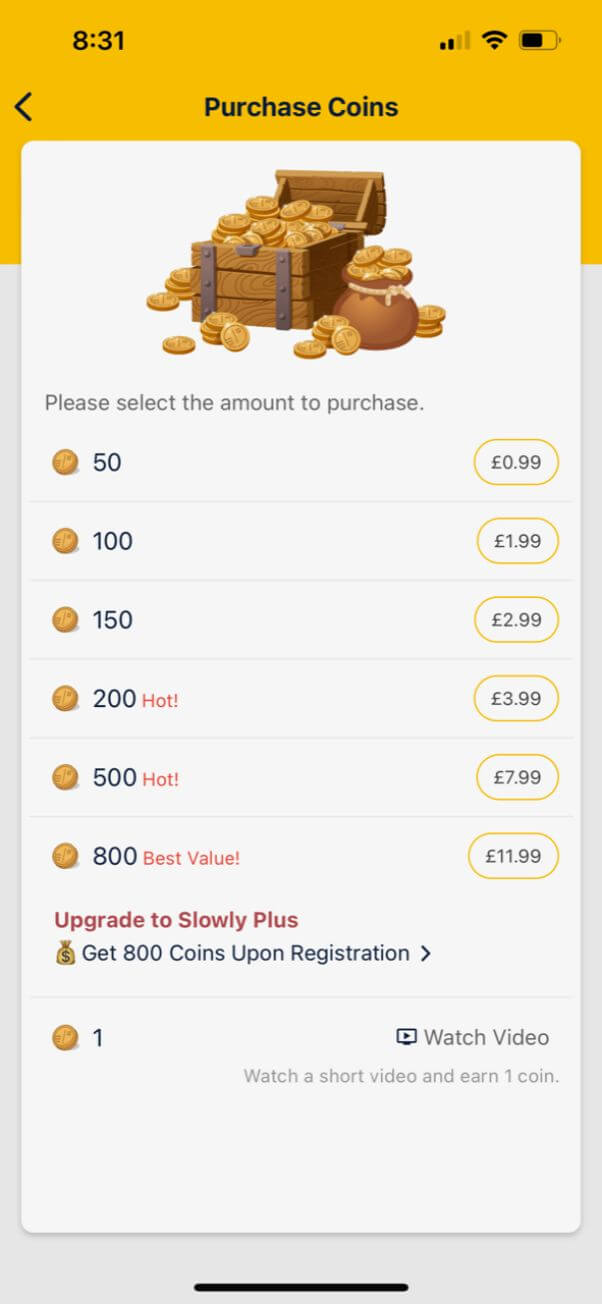 Users can also purchase coins to buy stamps.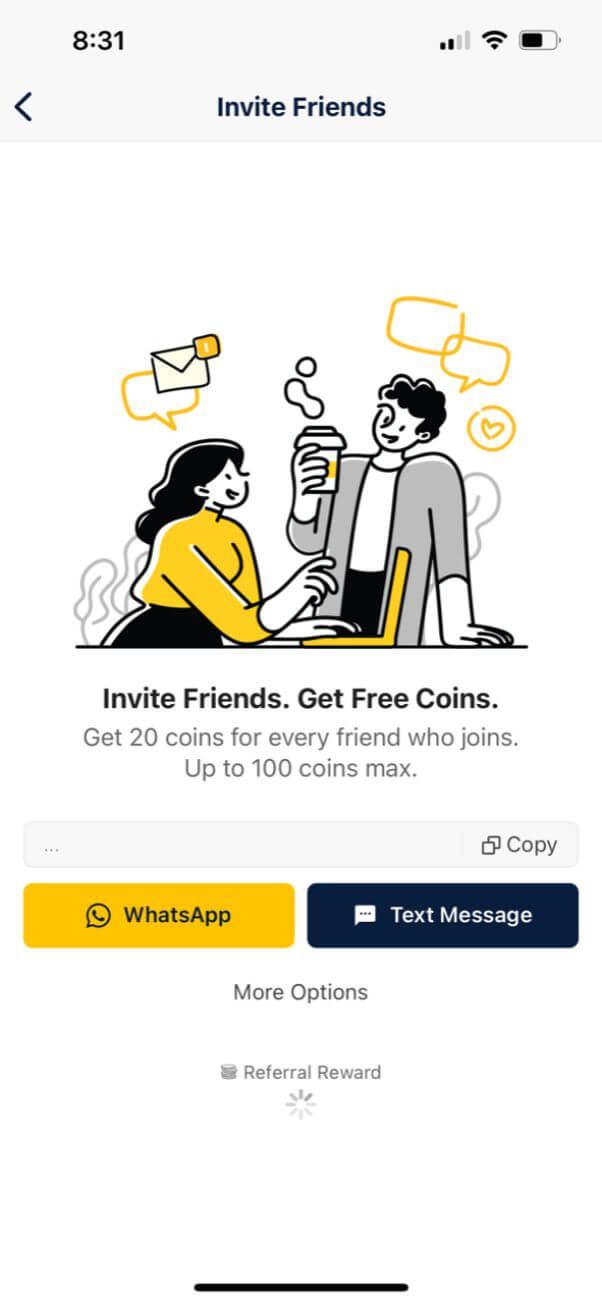 Also, when people introduce their friends to this service, they get free coins.
SLOWLY Apps
SLOWLY has both ios and android apps.
SLOWLY ios app
SLOWLY ios app has an age limit of 17. The app is introduced as follows, it fosters connections across the globe, encouraging a more deliberate pace in communication—one letter at a time. It revives the classic pen pal experience as advertised, where the time it takes for your letter to reach its recipient varies with the geographical distance, spanning from hours to days. The app's key features include distance-dependent mailing times, an anonymous profile with just a nickname and avatar, friend discovery based on shared interests and languages, the collection of stamps from diverse countries and cultures, and the option for unlimited free letters with additional paid features.
SLOWLY android app
On the other hand, SLOWLY android app has PG age guidance which is different from ios. The app is introduced as follows, this android app is the winner of the Google Play Awards 2019 for Best Breakthrough App, redefines modern communication. It is a haven for those who crave deeper, more meaningful conversations often missing in the age of instant messaging. Slowly brings a classic pen pal experience to your mobile device, where the mailing time is beautifully dependent on the geographical distance between you and your friend, ranging from mere hours to a few days. It encourages you to take your time, crafting letters worth the anticipation. Whether you're eager to share your passions, immerse yourself in new cultures and languages, or simply connect with people worldwide, Slowly offers a unique platform. Key features include distance-sensitive mailing times, an anonymous profile requiring just a nickname and avatar, friend discovery based on shared interests and languages, the fun of collecting stamps from different countries and cultures, and, best of all, the option for unlimited free letters with additional paid features. Slowly champions the art of thoughtful communication, one letter at a time.
How to delete an account on SLOWLY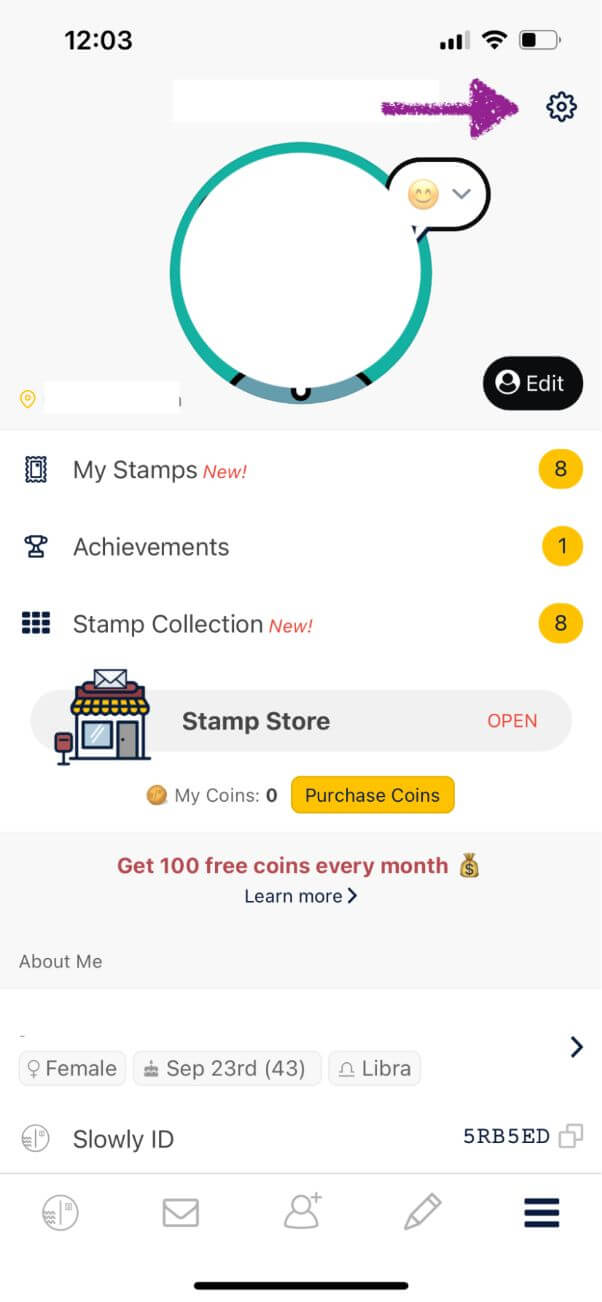 From the profile, people can access the setting.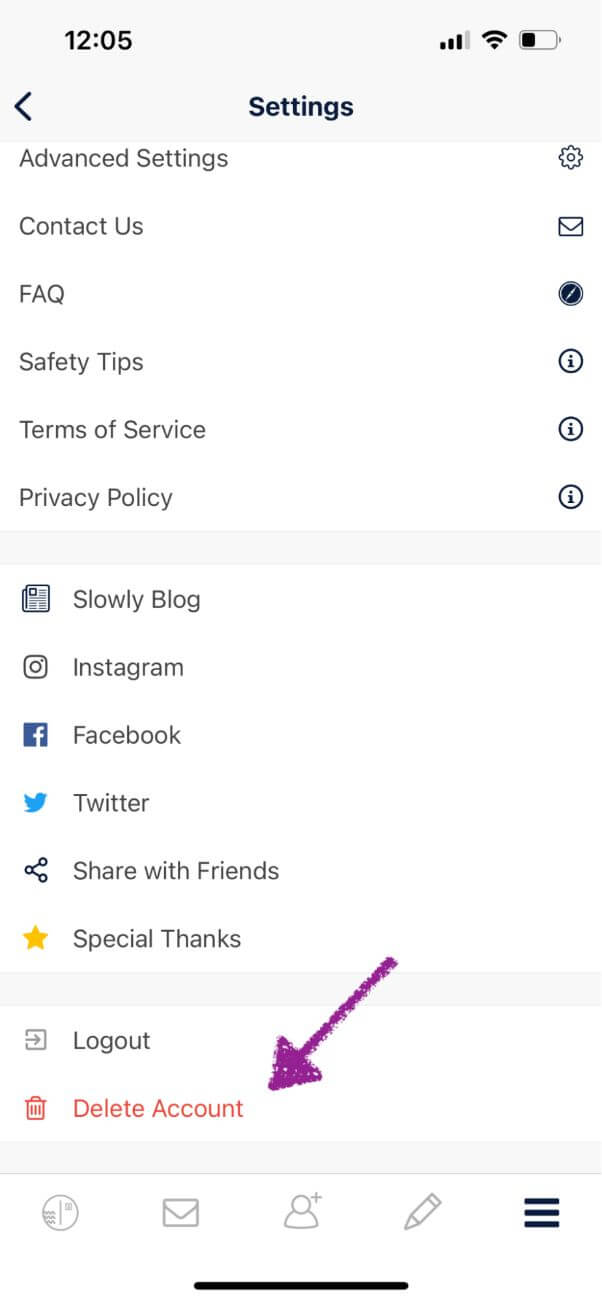 At the very bottom, there is a sign for deleting an account.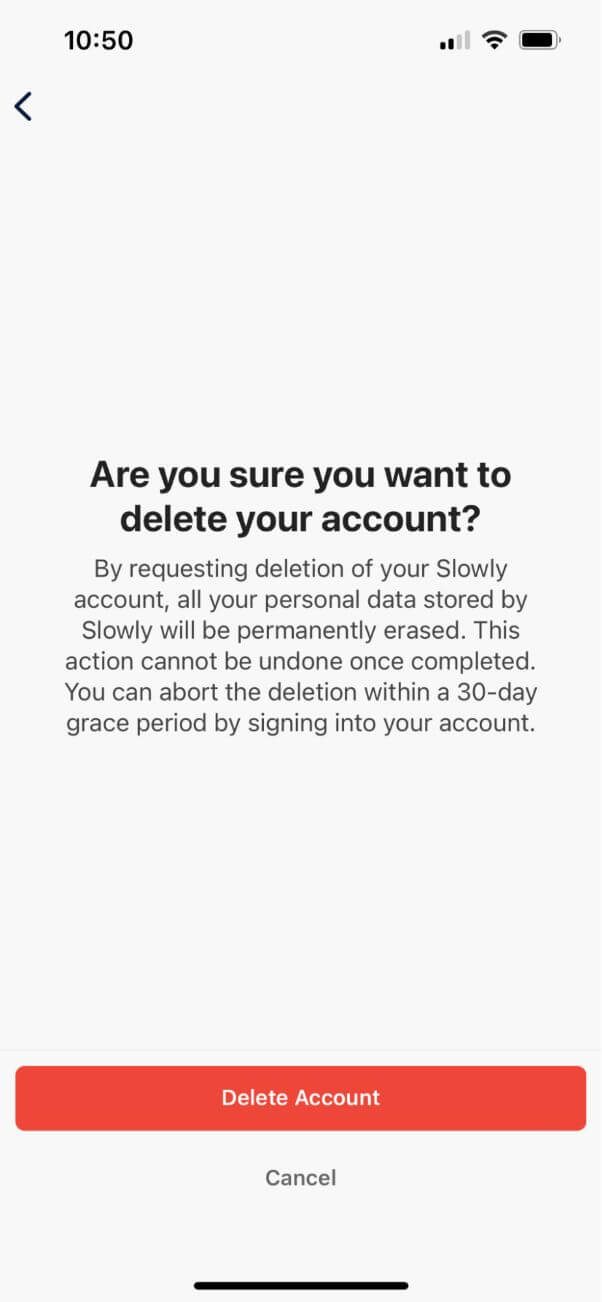 Now they offer people a grace period of 30 days to get their account back before complete deletion.
SLOWLY Main Media
This article reported that the service had " 1.4 million users " in 2019.
SLOWLY Social Media
SLOWLY maintains official accounts on major social media platforms.
SLOWLY Facebook
SLOWLY has about 9K followers on Facebook. They do not post much on this platform. There are some positive comments that people found a good set of pen pals here and they are still using the service to exchange messages.
Instagram
SLOWLY is not active on Instagram, they post here occasionally, their last post was a few months ago.
X(Twitter)
SLOWLY has only 5 followers on X, they do still post here every few months.
SLOWLY blog
SLOWLY has a blog page; however, it has not been updated so regularly.
SLOWLY Medium
SLOWLY has a Medium account which they post stories. However, this page has not been updated for a few years.
SLOWLY Buy me coffee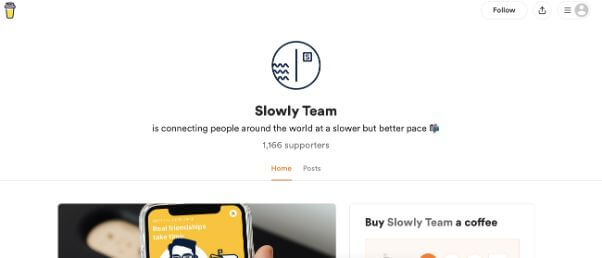 https://www.buymeacoffee.com/slowly
SLOWLY has a Buy me coffee page, they have 1,166 supporters, they post here once a year.
Linkedin
The SLOWLY Linkedin page shows that they only have a few staff and they are based in London.
SLOWLY Online Review
On Trustpilot, SLOWLY only has two reviews, one very positive one and one negative.
There is a lot of information about this app on Reddit. There are a lot of active members regularly posting. People are asking questions and getting a lot of replies as well as sharing information about stamps.