Seeking Arrangement Customer Support and Service Review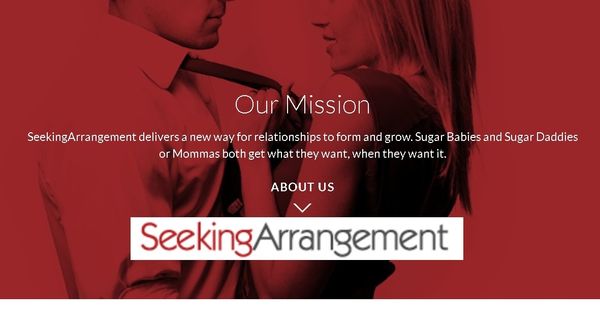 Methods of Contacting Seeking Arrangement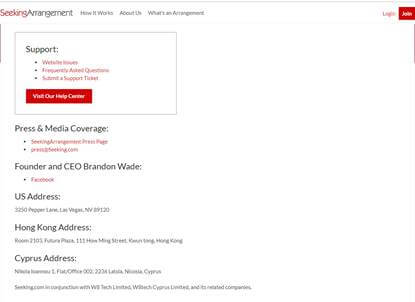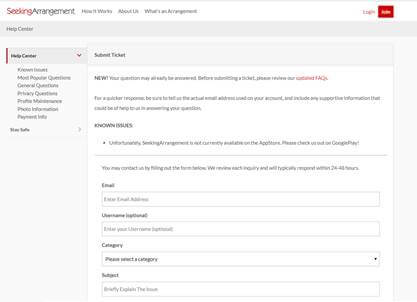 (Customer Service Ticket: https://www.seeking.com/help/ticket)
Customer Service Email: [email protected]

Seeking Arrangement's customer support has no fixed hours written on their FAQ but customer support will usually reply within 24-48 hours.

There is also no customer hotline provided.

Customer Support is also active on sites like Facebook and PissedConsumer, asking unsatisfied consumers to reach out and send an email.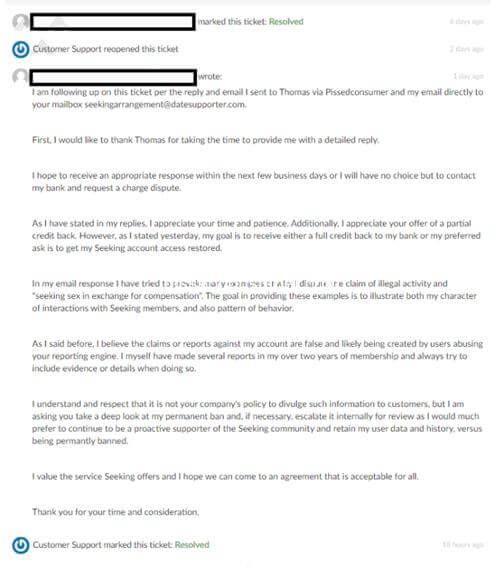 Pissed Consumer
This is a case of poor customer service as seen on PissedConsumer.
Seeking Arrangement Policy
To give some insight, Seeking Arrangement does not allow escort/prostitutes to join their dating site and any involvement or reports of prostitutions will result in a permanent ban. If a user if being banned as a premium member, the membership fees will not be returned.
Most of the account/user filtering is done with bots, therefore resulting in a high number of users getting banned directly after they sign up for a premium account. Often times these bans are not lifted even after submitting a complaint ticket to customer service.

The sender of the email in the attachment above has been banned by Seeking Arrangement and has a premium account. The said premium user has been using Seeking Arrangement for over 2 years and believes that they may have been reported falsely by another user.
This user hopes for a full refund or to have their account reactivated.
First of all, the complaint ticket was opened and marked as resolved even though the complaint was not replied and addressed to.

The user has been given a false accusation of being soliciting sex in exchange for compensation. The customer support team has offered a partial refund for days that the account has been inactive on. Keep in mind that Seeking Arrangement has a NO REFUND policy, which a partial refund may sound fair. But, the user's account was being banned with no proof.

At the end, the user was not given a satisfied solution and resulted in asking for a Charge Back process in order to get her full membership fee back.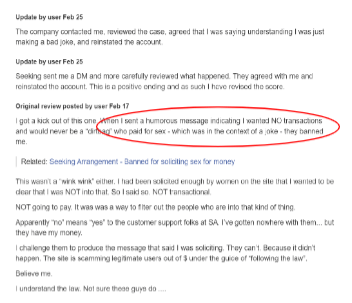 (Pissed Consumer)
On another hand, there is a user who managed to get his account reinstated. But it is quite troublesome as his account was banned due to the customer service/system's carelessness.
The user had sent a message that he did not want a transactional relationship for sexual favours in a humorous manner. Yet, his account was still banned.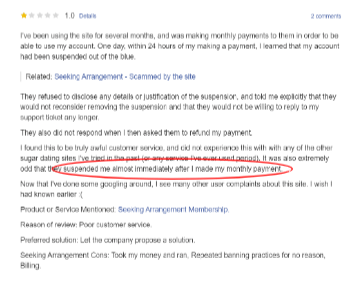 Here is another complaint by a user, stating that he was being banned for no reason. On top of that, the timing of the ban was sketchy as it was soon after he paid for his membership.

Below the post, Seeking Arrangement's customer support had reached out to the user asking them to email them instead. It was a slap to the face to know that the customer support had not replied them back and was slow to action.
All and all, Seeking Arrangement has an issue with banning users for no particular reason or evidence, and not refunding them back. Users have reported Seeking Arrangement to have bad customer service.
Seeking Arrangement Customer Service Review
One of the main complaints that users have voiced out about it being banned permanently by the customer service. Usually, the ban being implemented on is permanent and as said by many users, made without any proof. It is even worse that decisions being made are usually final.
Many of the customers being banned have not been given a refund on their premium membership.
Usually the ban is being implemented due to being reported as an escort/prostitute on site or exchanging sexual favours for money.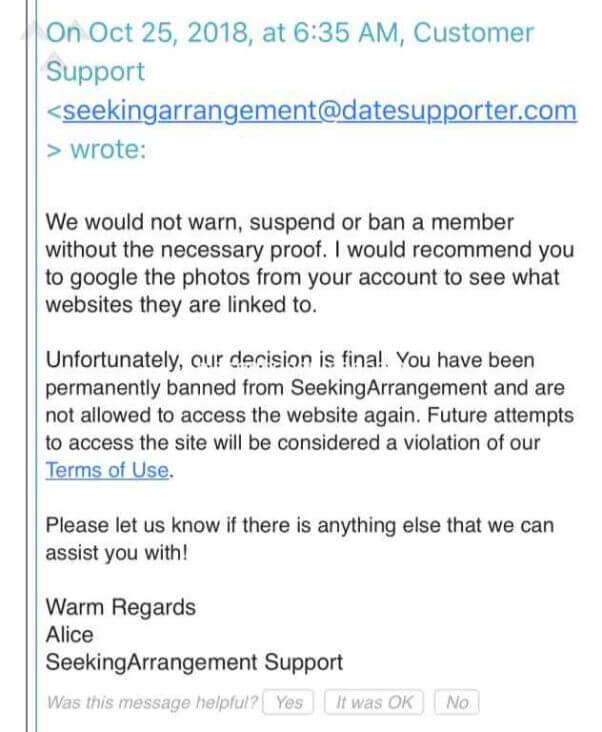 (Mail Online)

(Pissed Consumer)
Another user has complained about the same issues with three points in mind. First of all, Seeking Arrangement has poor customer service. Said user's complaint ticket was not replied or given any follow ups from the representatives.
Next, the user has complained that the app is a rip off as she was offered a partial refund for her time of deactivation instead of a full refund.

Lastly, the user was not satisfied as her account was suspended without no reason. Even after giving proof of not doing any misconduct, her account was not reactivated.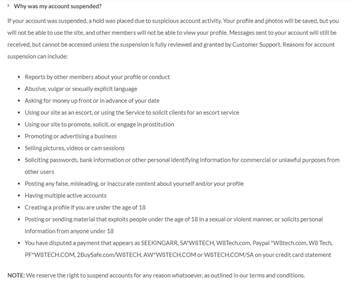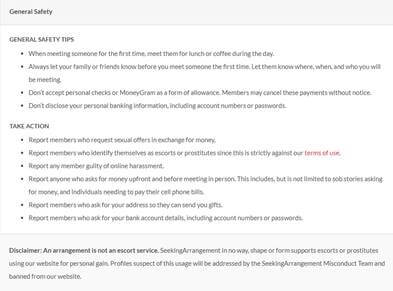 First of all, the customer support has the right to terminate an account for any reason whatsoever as outlined by their Terms and Conditions.

It is written in their FAQ that mentions of prostitution or exchange of money for sexual favours is not acceptable. Which is the main reason a lot of users complain about their accounts being deactivated. But, the users have complained that these actions have been conducted without thorough investigation and proof. The worst part is that, customer support is reluctant to reactivate the account or give a full refund.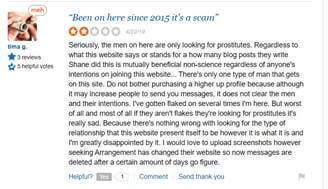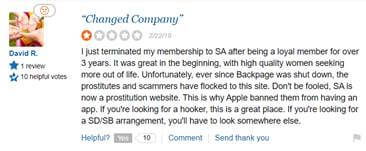 (sitejabber)
Ironically, even with rampage banning sprees being conducted on the site, there has been user reviews stating that Seeking Arrangement is being infested by prostitutes and scammers.
Therefore, there is the need to be cautious when using this site, or simply to use another better alternative.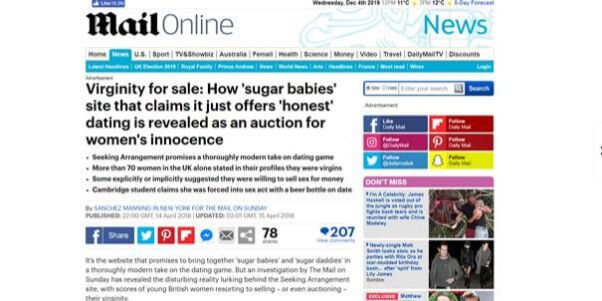 (Mail Online)
In order to build a safer environment for both Sugar Daddies and Sugar Babies to be on, Seeking Arrangement has tightened their regulations and policies in order to avoid conflict and tainting the site's reputation. Yet, it can be clearly seen that the suspensions of account has gone too far and is unregulated.
There is need for improvement in Customer Service in order to increase the speed of profile verifications, more resourceful and accurate way of determining fake accounts/prostitutions and weeding it out.