How to Use Seeking Arrangement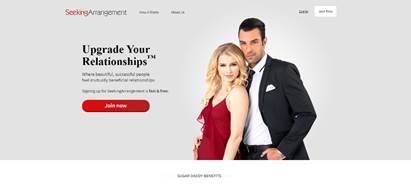 Seeking Arrangement (also known as Seeking) is one of the original Sugar Daddy/Sugar Baby meeting websites created in 2006. The site is currently available in 139 countries with translations in 10 languages.

Seeking Arrangement Verdict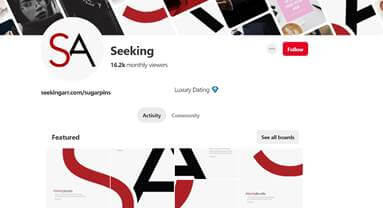 Aspects
Characteristics
Pros

•Sign up process is easy. This can be done via email verification or Facebook.

•For Sugar Babies, free upgrade to premium is available when signing up using a .edu or student email address.
(This is to help sugar babies who are on this website to resolve their college student debt. This feature is available to sugar babies studying in America and several parts of Europe.)
(Reference: https://www.seeking.com/sugar-baby-university)

•Verification process available to check legitimacy of accounts. (Social Network, Criminal Record etc.)

•Mutual intent and purposes are clearly displayed and written in bio.

•Worldwide membership, which is great for busy people travelling everywhere.

•Prostitution et cetera are not allowed.

Cons

•Seeking Arrangement is available on PC and on Android. It has been removed from the iTunes App Store.

•Sugar Daddies and Sugar Mommies can send 10 messages for free, and then they have to subscribe for a monthly membership plan. Sugar Babies will have to receive approval for their account.

•

Membership cost is high

and prices differ towards targeting audience.

•Long verification process.
In conclusion, if you are a Sugar Daddy/Sugar Mommy who is willing to pay the hefty premium membership, or if you are a Sugar Baby who does not mind waiting for verification and sifting through profiles, I recommend this app.

Seeking Arrangement is worldwide allowing access to people all around the world. On top of that, people on the website have a clear motive in mind which makes conversations and negotiations easier.

Although there are some improvements that need to be made to the Android app and also the issue with being banned for no reason.
How To Use Seeking Arrangement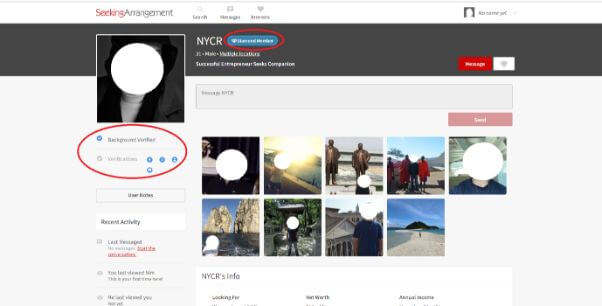 Make an account by filling in personal information and adding photos of yourself.
Wait for account verification and screening which will take around 24-48 hours
or more.

Find someone who you are interested in and try to make meaningful
conversation and also strike balance on what kind of relationship/compensation
you are looking for.

Meet and go out on a first date!
Fill in basic information such as gender, sexuality, what kind of relationship that you are looking for. (These can be changed afterwards.)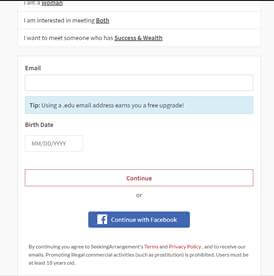 Once you've filled out basic information about yourself, upload a public photo. This can be done via social media or manually.
A public photo must be uploaded and reviewed to be verified for a free account.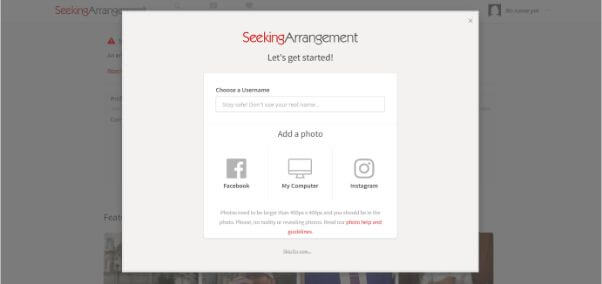 Next, fill personal information regarding to your personal appearance (height, ethnicity), background (relationship status, education background) and the lifestyle/type of relationship that you are seeking from this website.


The last step is to write your profile. It is recommended to make it as eye-catching as possible, and to have your motives and goals clear.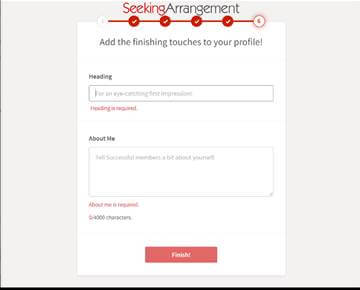 Once you have completed these steps, you will have to wait until your account is approved, which will take approximately 24-48 hours or even longer. This is to ensure user safety and to reduce the number of bots/scams.
In order to make the website a more user friendly and safe space, there are different methods of verifying the legitimacy of a user's account. For example, background checks or social media networks.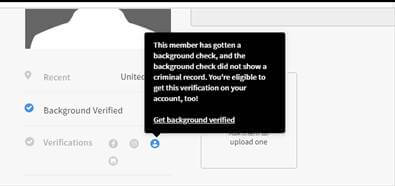 Once you are done with the verification process and finally ready to meet someone new, there is the option to filter based on your personal preferences.

As most of the users are frequent travellers, most of the locations are based on their current location. There is the option to search out of your current location for free.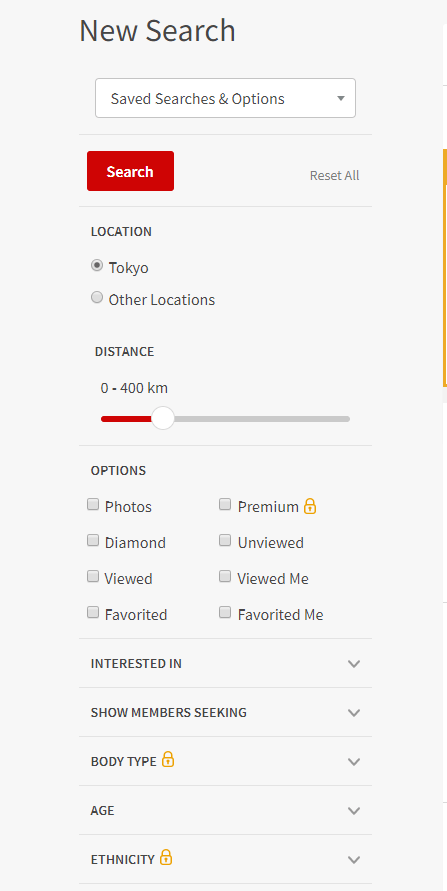 The general layout of a profile is as shown, with more details after you click into their profile.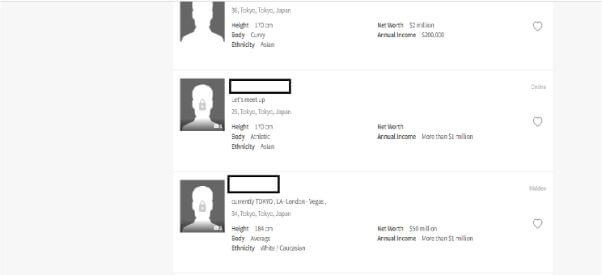 Profile Types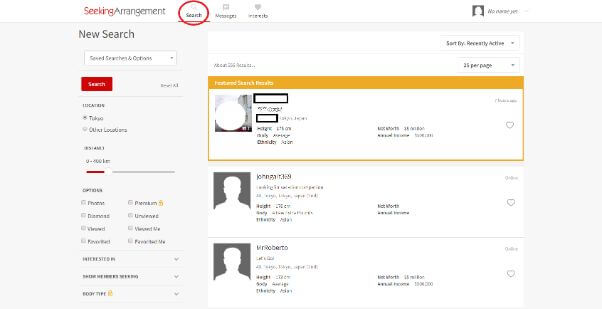 When almost completing your profile, users are able to browse through the selection of profiles available by clicking the Search button. Featured profiles will be displayed at the top.

There are many types of profile on this site, and one of those are businessmen/people who are trying to find a non-serious relationship, also known as No Strings Attached (NSA).

There are also frequently users who are trying to find companionship during their business trips or legitimate long-term relationships. Some relationships may be short and direct, others will require intellectual stimulation.
One thing that they do have in common is the need for a companion.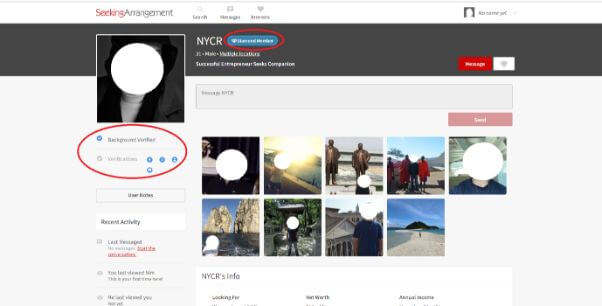 This is a perfect sample model of what a user profile should be like. On the left users can check if the profile is background verified and types of verification that they have.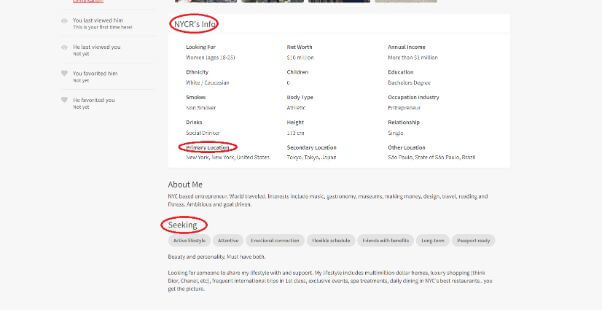 Below are basic information about the user and types of relationship that they are seeking for.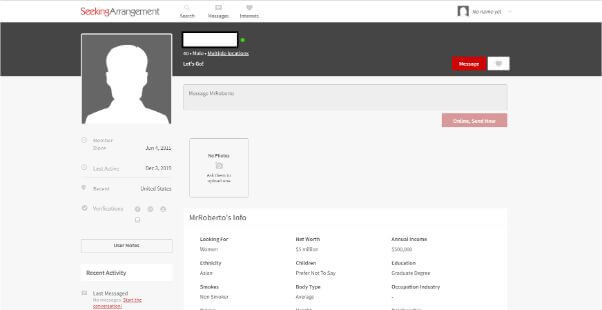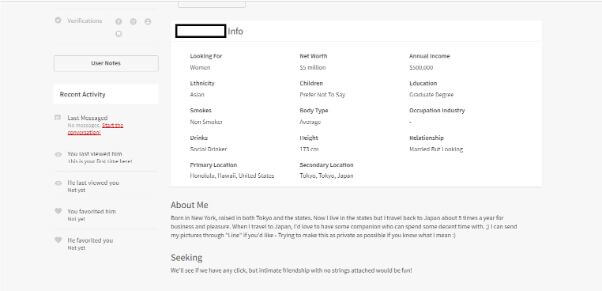 This is a type of profile that is relatively common on Seeking Arrangement. That is a user trying to find a NSA relationship or seeking companionship when travelling abroad.

Benefits and allowances differ from people as some may be more inclined to pay for vacations or education experiences in comparison to new handbags. Though it is banned to mention sex in exchange for money or seeking sexual needs on profile/in chat as it is against the rules and regulations.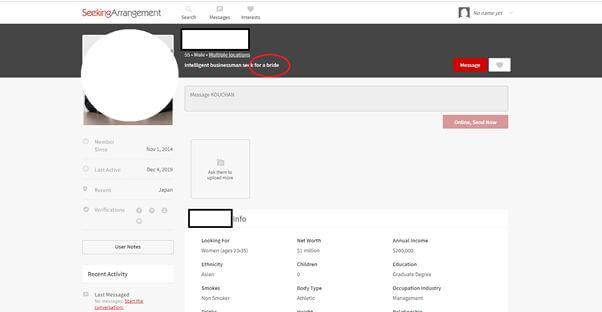 In comparison to the first profile who was looking to find a short-fling, this user has his mind set on being in a long-term relationship.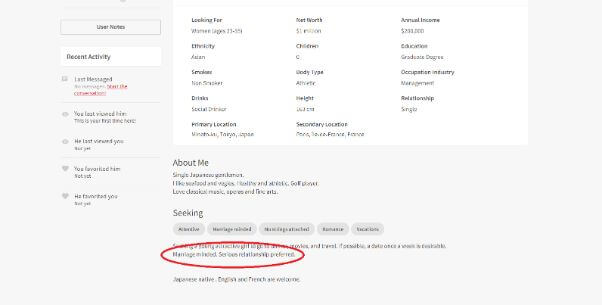 There is a selective few users who have stated directly that they are looking for a long-term relationship or that are marriage minded. Some who do not want a No-Strings Attached relationship may want to start off platonically before developing into a romantic relationship.  

To further display the variety on Seeking Arrangement, I will be showing two different types of profiles here.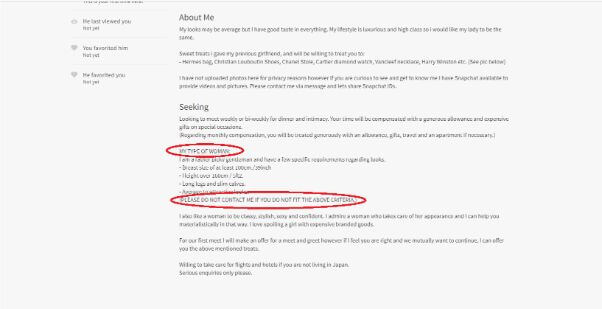 The first profile is of a user who is picky with his taste in woman, but is willing to buy materialistic goods or is accepting of the allowance system.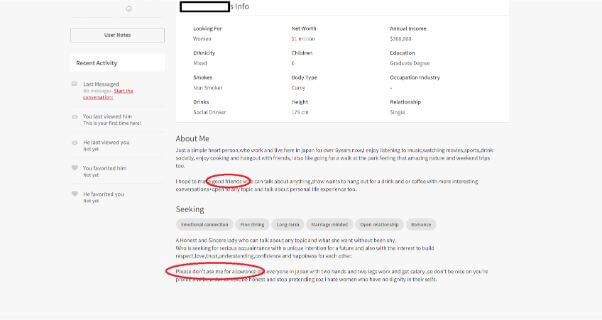 The second profile shown here is the type who is not inclined to give allowances and is more appealed by making friends and having emotional connections.

The variety and number of profiles on Seeking Arrangement allows sugar babies to find their perfect match, be it finding companionship or receiving allowances and materialistic goods.

In general, it is recommended to have a goal in mind when being on this website and to initiate in intellectual conversations, or simply to utilize your beauty.
Seeking Arrangement Fee
Basic functions on the app are free to use by Sugar Babies as long as their account has been verified. On the other hand, Sugar Daddies/Sugar Mommies have a limit to 10 messages for free and will have to sign up for a premium account.

There are more functions available for premium users who treasure their privacy on the website and do not wish to expose themselves.
Fee for Premium
Prices for Sugar Babies
30 Days = $19.95 USD
90 Days = $44.85 USD


Prices for Sugar Daddy/Sugar Mommy
30 Days = $89.95 USD
90 Days = $79.95 USD/Month
180 Days = $69.95 USD/Month




No refunds

will be made.
Membership will be

automatically renewed.

Premium User Benefits

●Advanced Privacy: Online Status, Last Login, Join Date and Country will be hidden. This also applies to the time you viewed someone's profile or favourited them. Allowing users to have more privacy.
●Advanced Search Filters: More access to search filters to find the perfect profile.
●Inbox Filters: Filter messages that are allowed to enter your inbox.
●Saved Member Notes: Keep an eye for successful members.
●Read Message Receipt: Being able to see if your message has been read.
●Ad-Free
●Being able to start messaging without a public photo.
User (Male to Female Ratio)
Gender Ratio
Male Age
Female Age
Traffic by Countries
By 2018, Seeking Arrangement has hit the milestone of having 3 million registered users on it's site. There has been a 33% increase in Sugar Daddy membership and a 54% increase in Sugar Baby users since 2015.
(Source:
BUSINESS INSIDER
)
Seeking Arrangement Review
Pros



One of the things that users love the most about the app is the internationality of it and that there are large number of users on the site. On the bright side, there are more profiles and people to meet with from all around the globe. On the down side, like any other dating sites, there are bound to be scammers. Therefore, there is the need for precaution.

Overall success rate on the app is quite high as people on the site already have what they want in mind. For example, be it a long term relationship or with no strings attached. It helps for easier communication and mutual understanding.  
Cons




(Source: sitejabber)
Ultimately, one of the biggest gripes that users have is the cost of the premium membership is said to be expensive. The cost for premium membership is higher in comparison to other dating apps, and prices differs according to status.

Next, another issue is the duration and time taken for accounts to be verified. Sugar Baby accounts need to be verified in order to message someone. The Seeking app's customer support has mentioned that the standard amount of time taken is around 24-48 hours, but due to the large amount of profiles, users have reported that it takes around a week or two.

Many users have reported on online forums that their accounts were suspended for no reason and proof.

Besides that, another point that should be mentioned is that Seeking Arrangement is not available on iTunes Store. Which may come to be a hassle for Apple users.
How to Sign Out Seeking Arrangement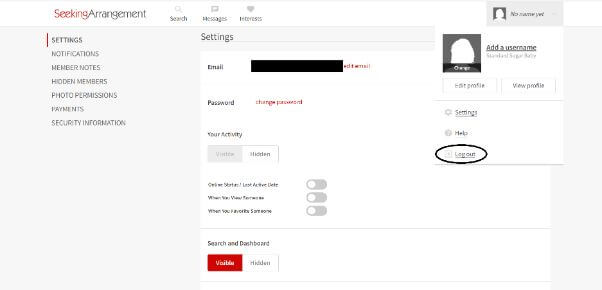 The sign out process is extremely easy, by clicking on the upper right corner and to toggle a log out button.

Users can also choose to deactivate/delete their account. By deleting your account, premium membership will not be refunded.