RichMeetBeautiful Scammer Analytics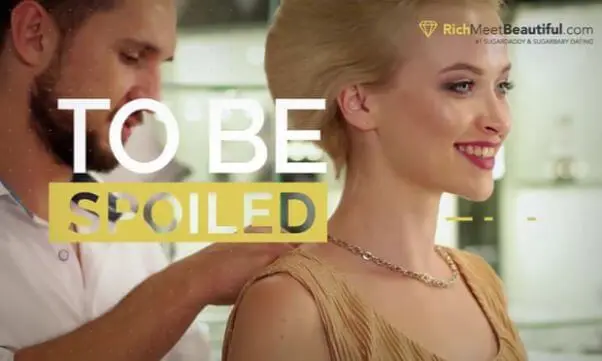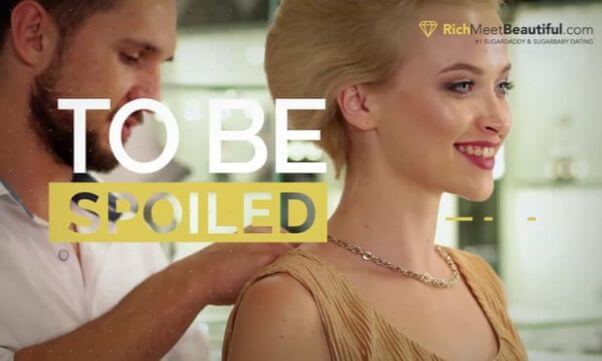 European Sugar babies/Toy boys site RichMeetBeautiful started its business in 2017.
It attracts active members from Scandinavian countries as well as mainland European Countries and United state; but their global service is operating all over the world.
They seem to be using their scandals as theirpublicity!
RichMeetBeautiful was fined by Belgian Court and the site was banned
According to the BBC, in 2109, Belgian court fined  €24,000 to the Norwegian investor of RichMeetBeautiful, Sigurd Vedal and €240,000 to the company because the site was promoting  
(BBC)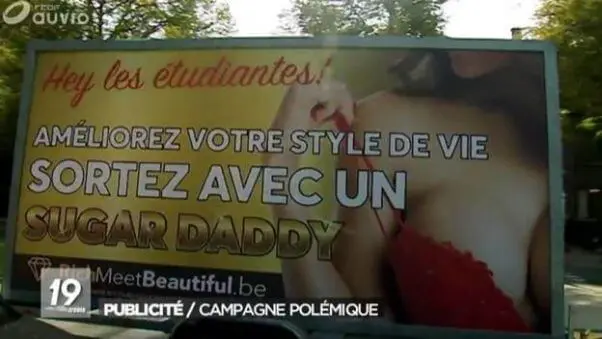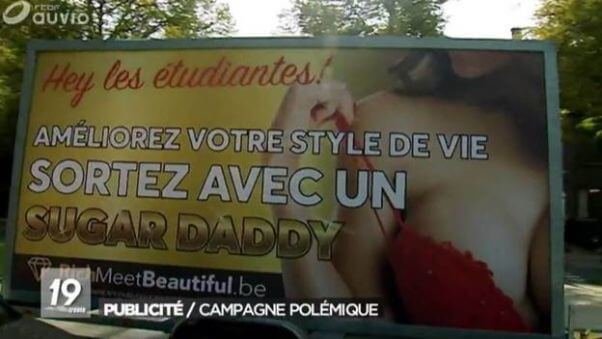 UK was targeted by the same campaign in 2017
According to the Sun, exactly the same campaign which was fined by Belgian Court, targeted the UK university students who were known to suffer from huge university debts. However, there has been no lawsuit against Mr. Vedal who were targeting 18-26 years old Britons to get sugar daddies or mummies.
(The Sun)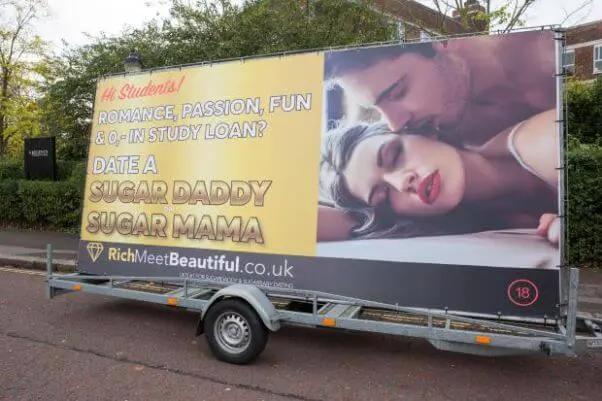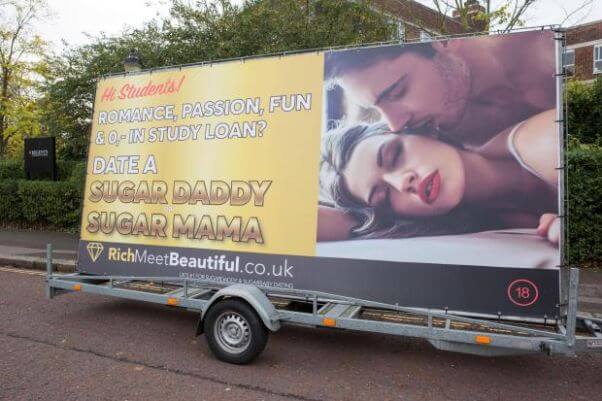 Crime in France
In Paris, the man who was driving the same campaign billboard was arrested.
According to the Independent, the man was arrested by French police due to promoting prostitution in 2017.
The French student union started their criminal complaint and petition against the site. However, the lawsuit is not ruled yet in 2019; the site is still active in France.
Mover over, after two years in 2019, the current top access county to the site is France!
(INDEPENDENT)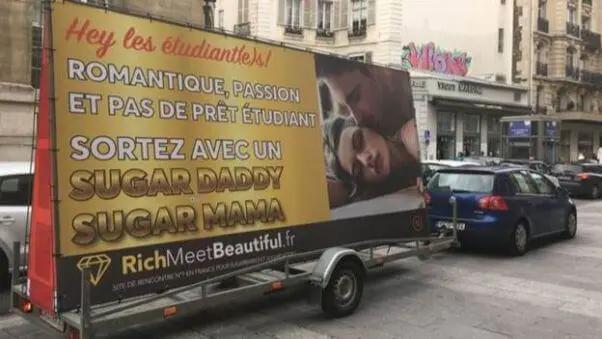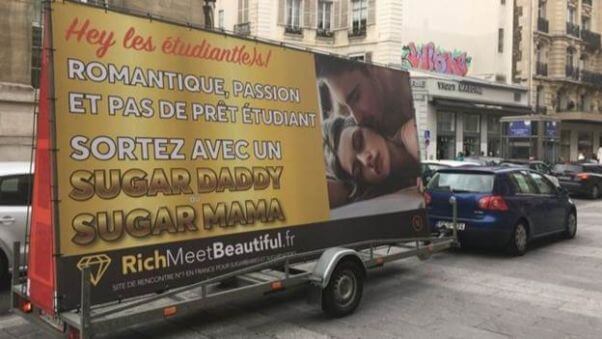 RichMeetBeautiful Access Analytics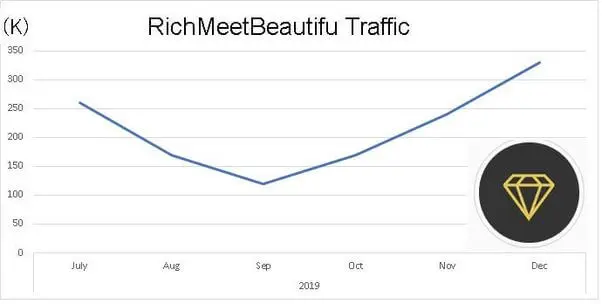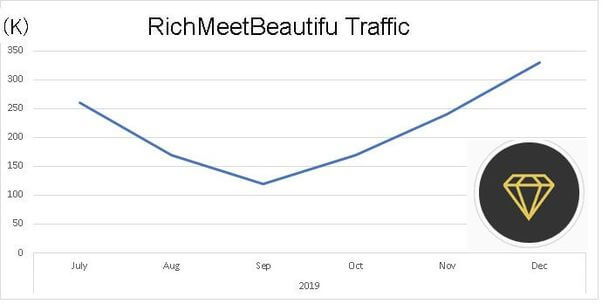 RichMeetBeautiful is obviously a service for over 18 only. The site is somehow category under "adult" site instead of social like other dating/matching sties.
Their access account is going down but they attract 174K access last 6 months. This is not a bad figure for a dating/matching/adult site.
The most traffic comes from their sister site Victoriamilan. The site matches people who are looking for an affair; also RichMeetBeautiful users visit their site as well. 
RichMeetBeautiful Social Media
RichMeetBeautiful has own social media accounts; however, their traffic from those accounts are not so high. 
Instagram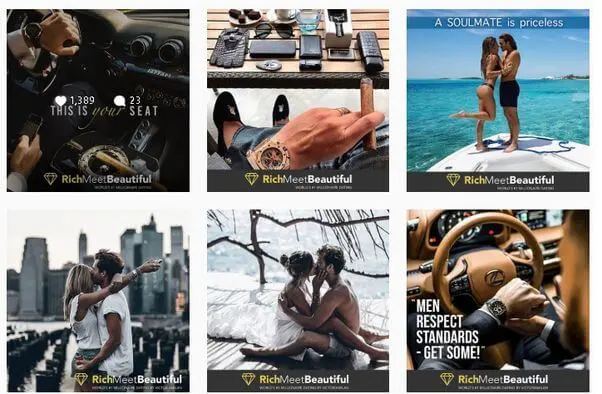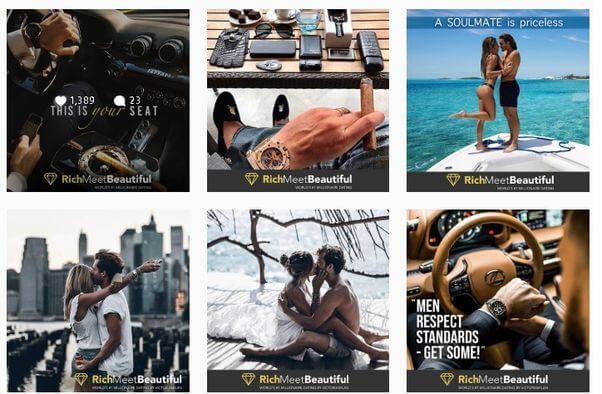 https://www.instagram.com/richmeetbeautiful.official/
Their Instagram account is so gorge! (so fake) It is very well sugar coated. It is an advertising account with professional photos to promote the service. Instagram is for younger generation and they may be spending money to attract more sugar babies to sign up.
Facebook



https://www.facebook.com/richmeetbeautiful/
Their Facebook page is almost the same as their Instagram account. The same photos to promote their service to older generation. There are some traffic going to facebook from the site; thus it might be possible to register using facebook
account as it was stated.
Twitter
With the world of MILLIONAIRE DATING, you can get the MOST out of LIFE!

There are MANY people out there who can't WAIT to share their LUXURY lifestyles with YOU! Meet them on @richmeetbeautiful.com! 😘

#luxury #money #millionaire #success #motivation #entrepreneur pic.twitter.com/REldx4X20s

— RichMeetBeautiful.Official (@RichMeetBeauti2) July 23, 2019

https://twitter.com/RichMeetBeauti2
Their Twitter account has been very quiet; thus the update has been stopped for a while. They only have two digits followers; which is not great at all, as a professional  service that charges its subscribers decent amount of
fees.
Misleading Advertisement of RichMeetBeautiful front page


In 2017, RichMeetBeautiful was promoting "sugar dating" as you can see photos above; however, now they are saying that they are NOT a sugar dating site??!! Instead, their motto is "World's #1 Millionaire Dating". They are also advertising "scientific matching" However, they do not match people but suggest people.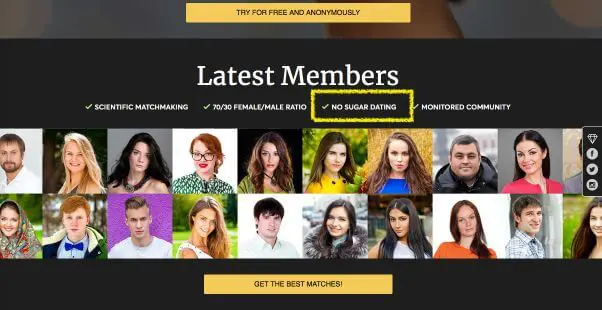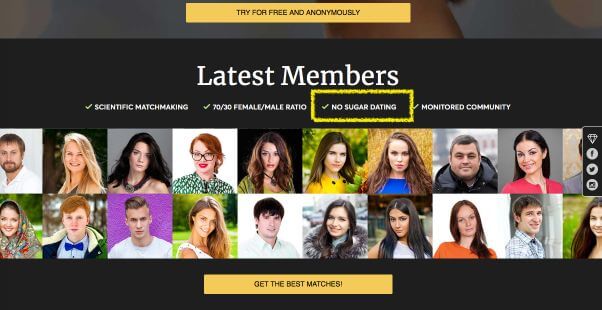 They also seemed to be advertising the female/male ratio differently from some
other sites. 
It may be typical to use professional photos to advertise their front page of a business. However, is it legit to use stock photo models as "latest members"? 
Let's image search on Google from the young gentleman from the left.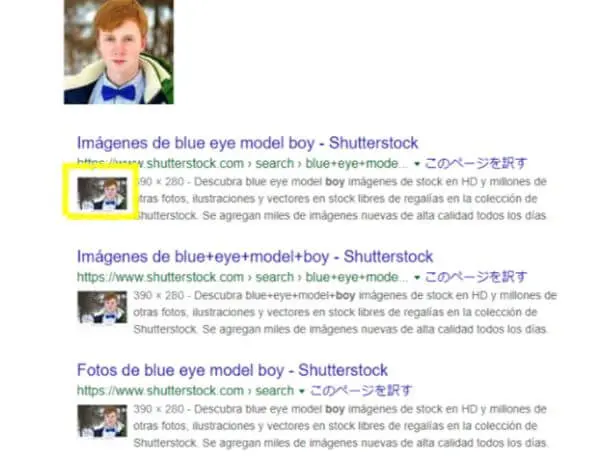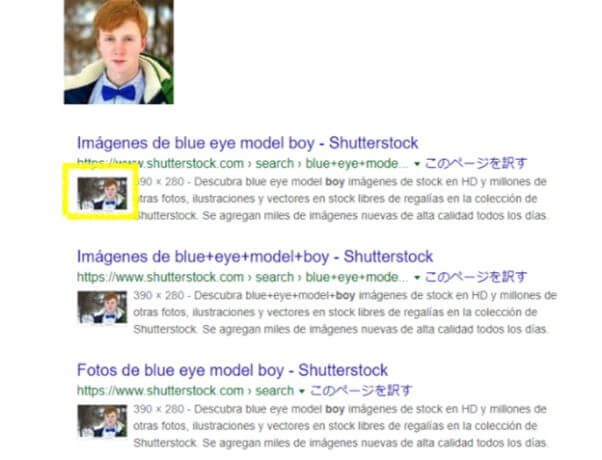 As you can see he is a model. Let's see the dark haired lady who is just above the gentleman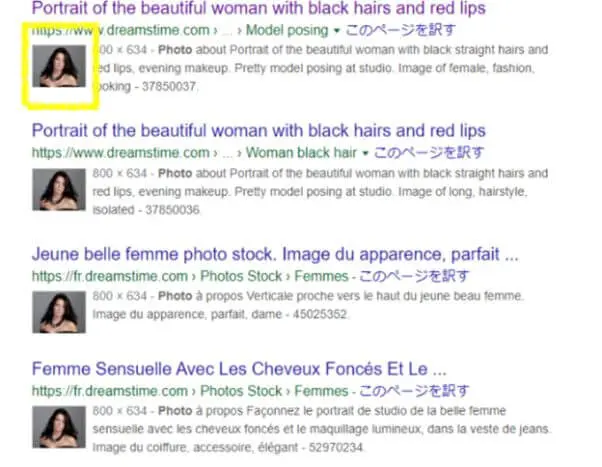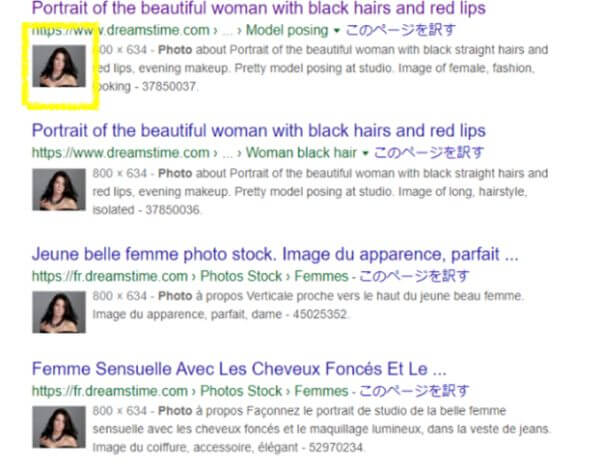 She is also a model. How about the older gentleman on the top right.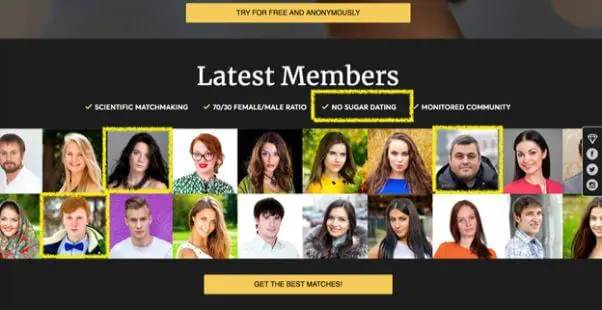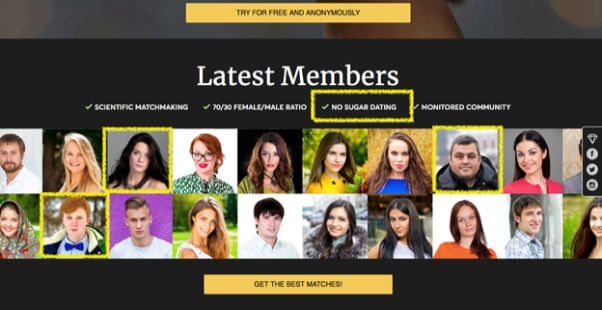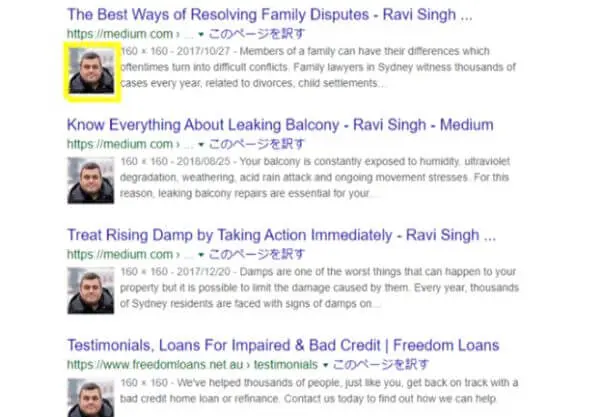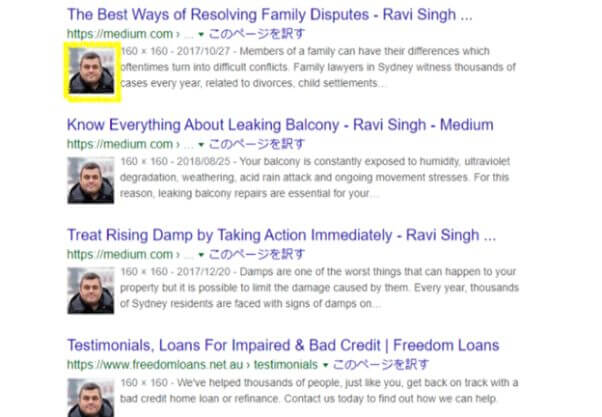 He is also a model. (or this is a stock photo) 
It is proven that they are not "latest" members of this service but they are some sorts of models. 
There are so many low quality photos on their "real" latest members page.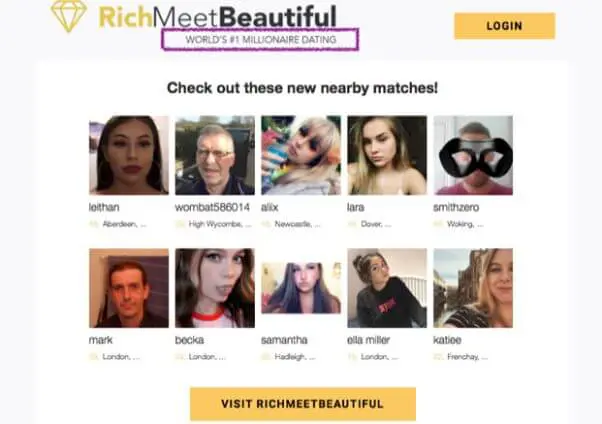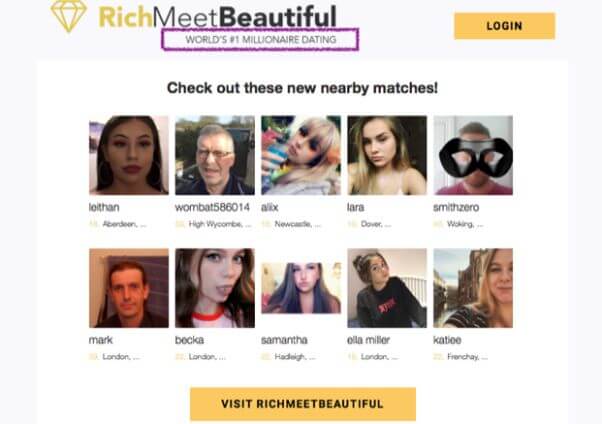 Those photos are real people, they would not be considered as "professional" photos.  As it was stated it before, Caucasian people seem to dominate the majority.
RichMeetBeautiful Scammer Reports
There are a few detailed scammer reviews of RichMeetBeautiful in the Trustpilot.com. 
There are a few sites already warning about scam accounts amongst RichMeetBeautiful users. This seems a quite well known fact. But some people are openly praised about the site despite of scamming reports that RichMeetBeautiful is a great site for finding sugar babies all over the world.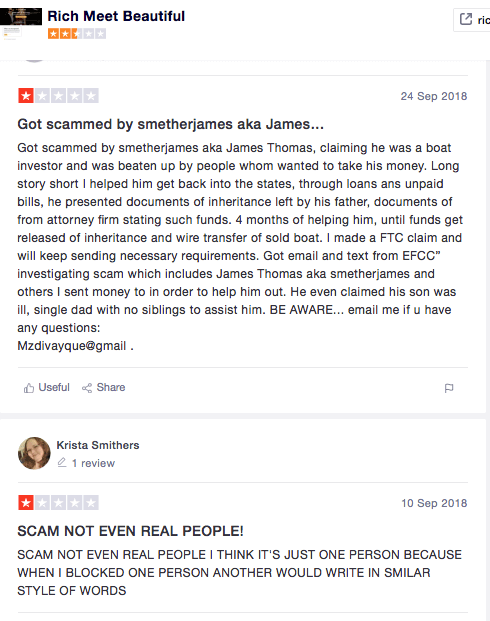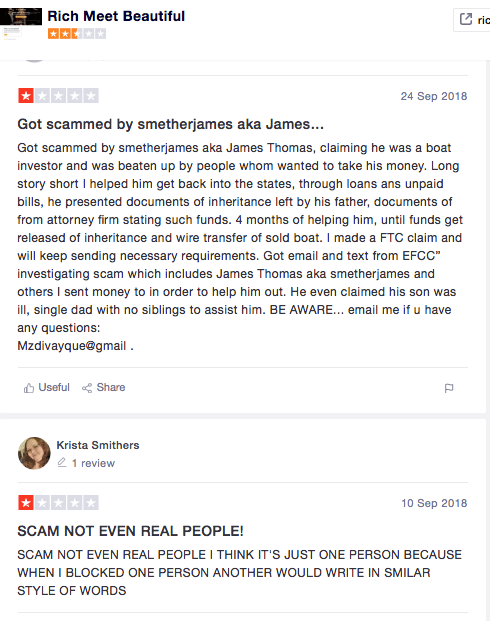 (Trustpilot)
Scammers
From some web reviews, there are many accounts which send bot -type, auto-generated messages to others. This is maybe they are still trying to recruit members, despite the controversy that they were creating around Europe, by targeting university students openly in front of their campus.
On the other hand, there are generally fewer reviews online for this site over all. Currently, there are many matching/dating services online, some sites have a lot of reviews posted on
different review sites either positive or negative ones. This might mean that this site is genuinely working for everyone? Or they do not have actual "active" members who are using the service.
Customer Private Information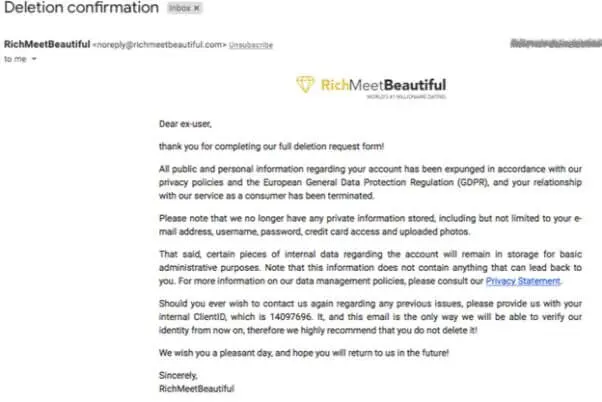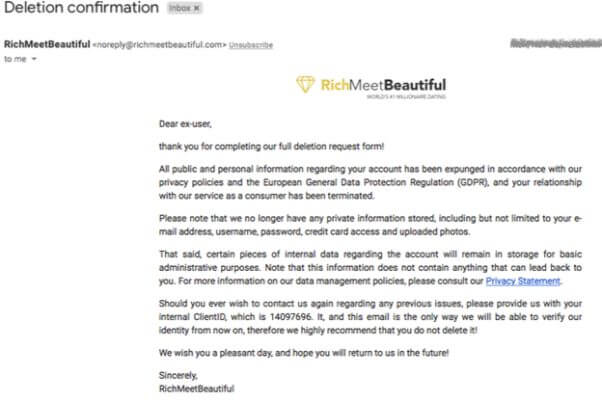 RichMeetBeautiful is straightforward with customer private information. The site follows European Data Protection rule (GDPR). I do not see any reports of private information leakages from its site. 
To sum up, there are scammers in RichMeetBeautiful as a lot of sites are stating. However, due to the nature of the service (sugar dating) scammers are expected.
Since the site is still operating after scandals and illegitimate campaigns in the past, there are still enough people who are interested in this site and signing up.
Thus if you are looking for sugar dating of any kind, this site might work for you. Of course, users are strongly recommended to use this site with extra caution.