RichMeetBeautiful Review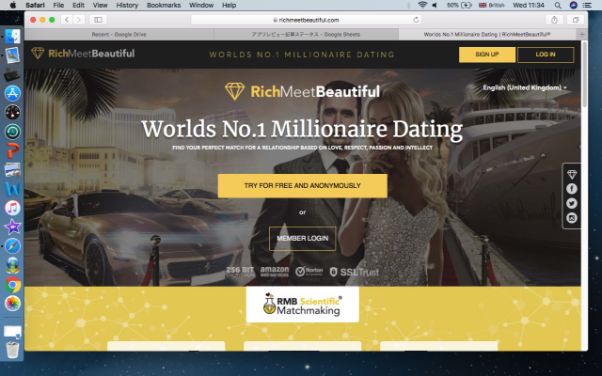 The dating site RichMeetBeautiful was launched in 2017 and quickly gain its popularity. As it states on its name, this site connects a wealthy individual to a beautiful individual.
This Europian site is widely available all over the world.
RichMeetBeautiful Verdict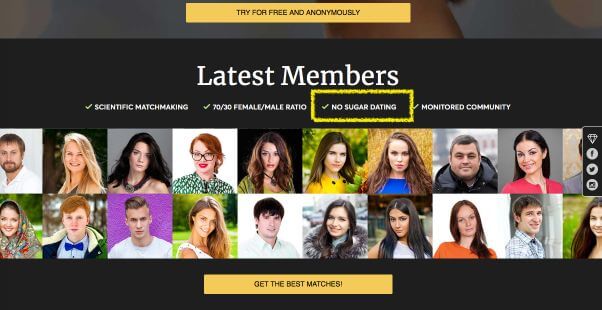 RichMeetBeautiful is the site for people who are looking for sugar daddies/mommies and sugar babies/toy boys.
This site has a large volume of male members over the age of 25; especially the aged between 35-44.
The female members are extremely few compared to males; which makes this site's authenticity very questionable. Moreover, there are a lot of female profiles with no photos.
However, this site offers choice to look for a oppsite of sex as well as the same sex partner thus this site may also offer serivces for males to look for male partners.
Sadly, the first impression of this site would be 'where is "beautiful" people?'
RichMeetBeautiful Users
Gender Ratio
Male Age
Female Age
Traffic by Countries
Users' Variety
RichMeetBeautiful has active users in US and Europe; since the service was launched in Europe. However, the site offers global service.
There are various people on this site; however, there are a lot of middle aged Caucasian males. Females' profiles are also tend to be Caucasian dominated.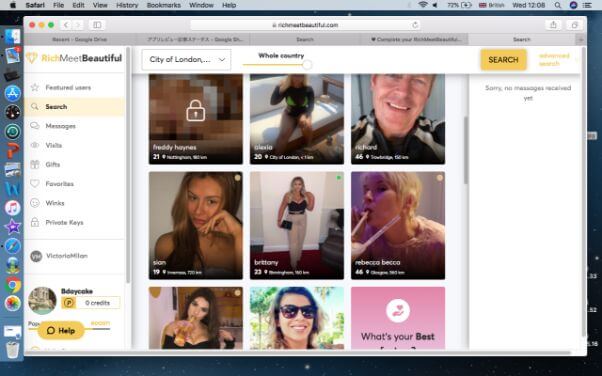 Some photos are not appealing at all……. For example, some people use black box over their eyes like criminals on old newspapers or cheap gossip magazines.
There are also some very low pixel photos; they might want to show that they do not have money? possibly.
There are enough female photos with "prostitute" vibe coming out. But due to the nature of this site, those profiles are expected.
How to join RichMeetBeautiful
It is very simple and easy to join RichMeetBeautiful. People need to type in very basic information and preferences.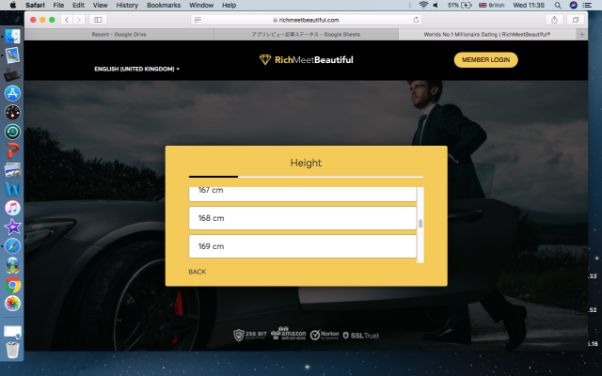 People can choose to look for males or females or even both!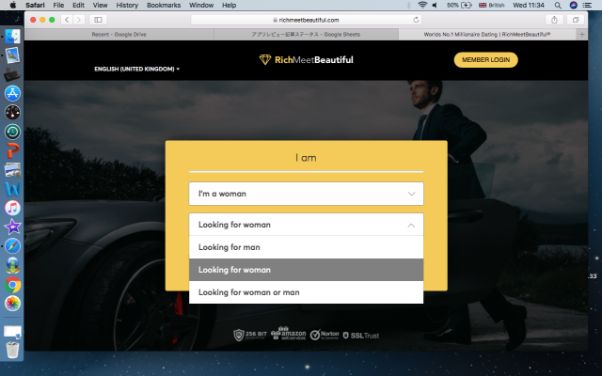 Also, they would ask your location.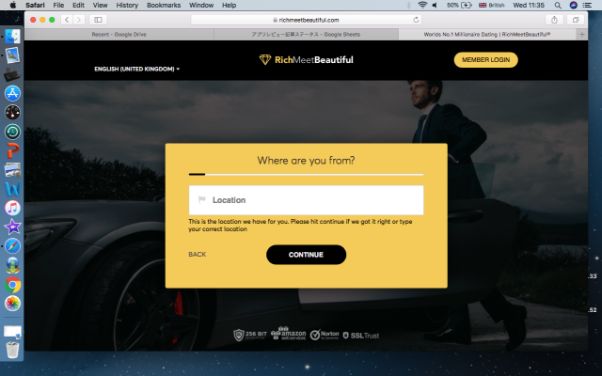 This is important since they would "suggest" (not match) you with your partners depending on this information.
All users need username, DOB, email address and of course, your earnings. This figure would be used to determine that you are a sugar daddy/mommy or a sugar baby/toy boy.
Then you need to confirm your email address to verify your account.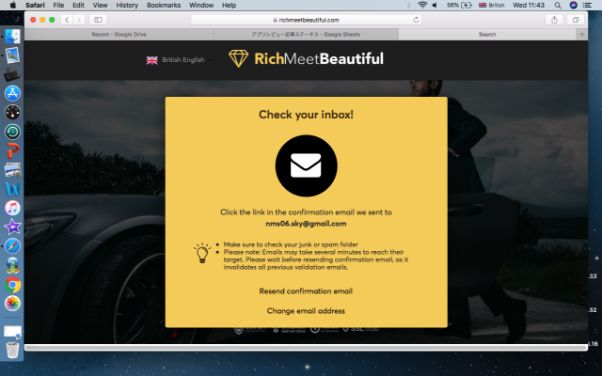 You will get this message from them. So simply, you need to click the link to jump back to their site.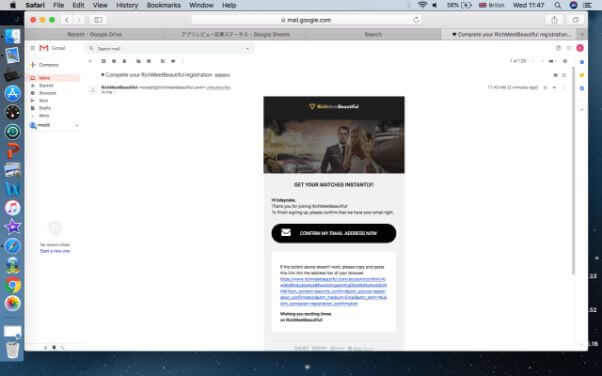 Once you do this, you can view the site! You are also able to upload photos from your PC as well as add some more information to your profile. You can choose your photo to be blurry or even private. (obviously, by doing so, it would be hard to get more contact / interests from others)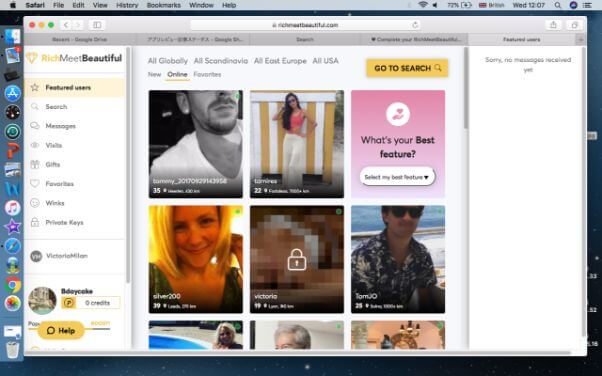 This RichMeetBeautiful service does not give your typical matches like some other sites but "suggest" you with people near you who are active members.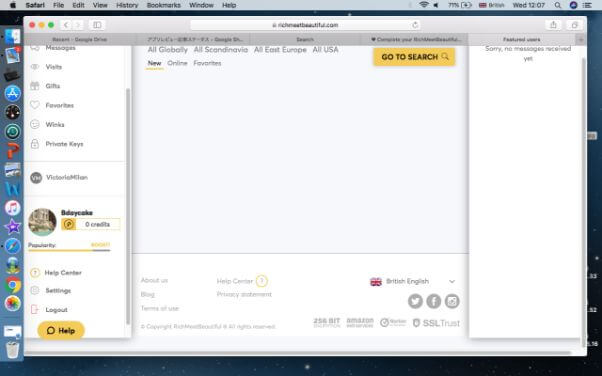 So how do you find your matches?
You need to find them by yourself by putting your preference in the search engine. This is for both sugar daddies/mommies and sugar babies/toy boys.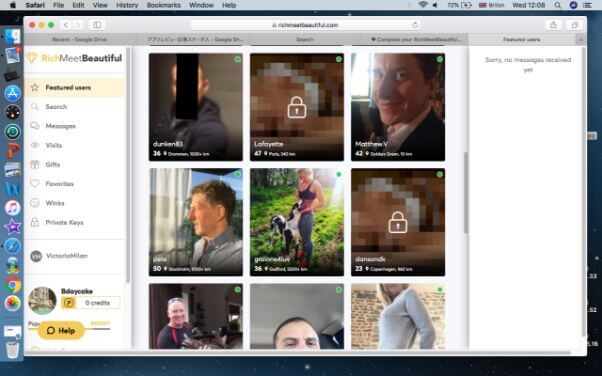 Be aware! How "Rich" (Meet) "Beautiful" is totally self-assessed on this site! Users self select themselves that they are attractive (beautiful) or rich. There are no assessment for it.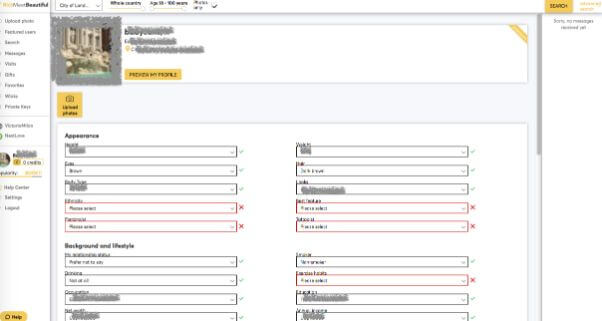 You can customize your profile. There are many things you can fill in and write about yourself to appeal to other members.
RichMeetBeautiful has an app. It's available to download. It seemed to be updated regularly.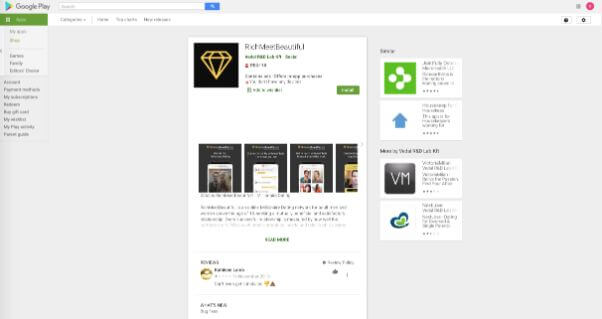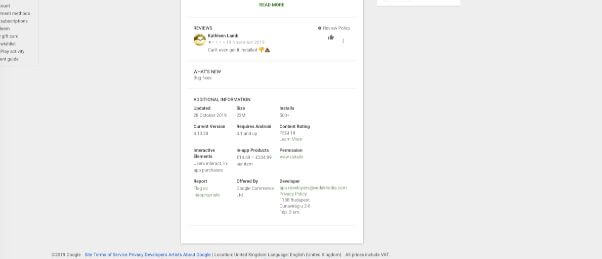 Logout is also simple, just click the sign.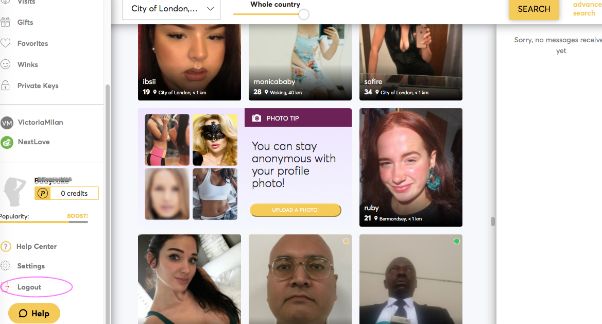 Premium membership Fee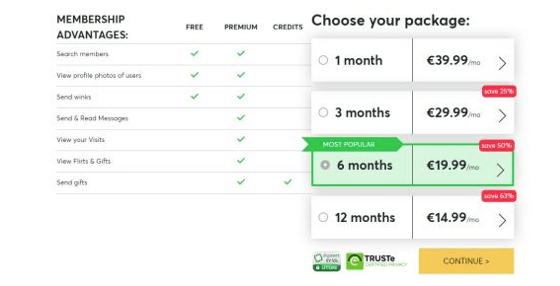 Their subscription fee starts from €14.99. (if you sign up for 12months)

The free service would include, profile, view others' profiles, searching and send winks. (typical free messaging service for "sugar babies" members)
The premium membership allow users to access to unlimited messaging service, view your profile visitors, keep your favorites and send gifts to others (exclusive for 6-12 months subscribers)
Private Keys feature is for sugar daddies and mommies to request sugar babies and toy boys. This service is only for premium members.
They are discreet about their name appearing on your bills which means that "RichmeetBeautiful" won't be appearing on your bill, instead, they put their company name.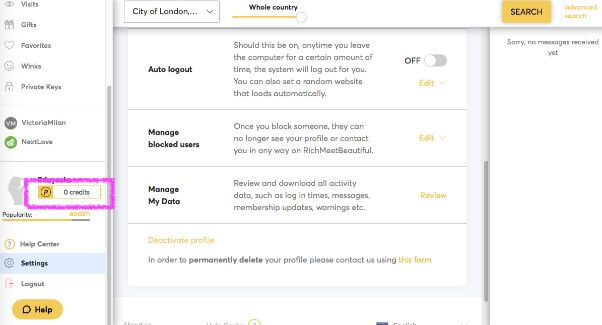 You can subscribe for their premium service by clicking the credits sign.
Their subscription is automatically renewed unless you give them notice and cancel it. If you deactivate your account before your renewal date, you do NOT get a refund.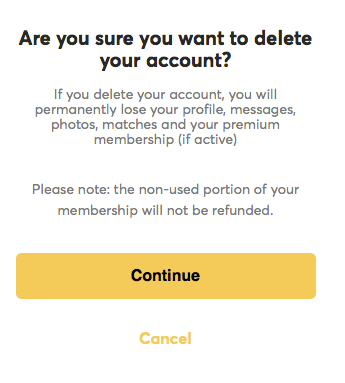 Leaving RichMeetBeautiful
You can deactivate your account by going to setting and click the form.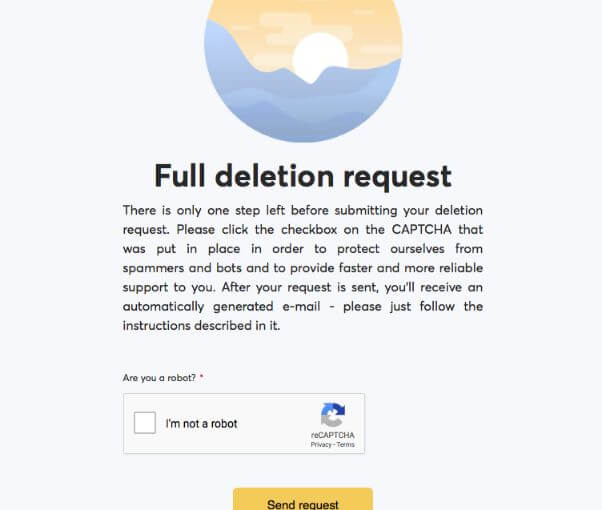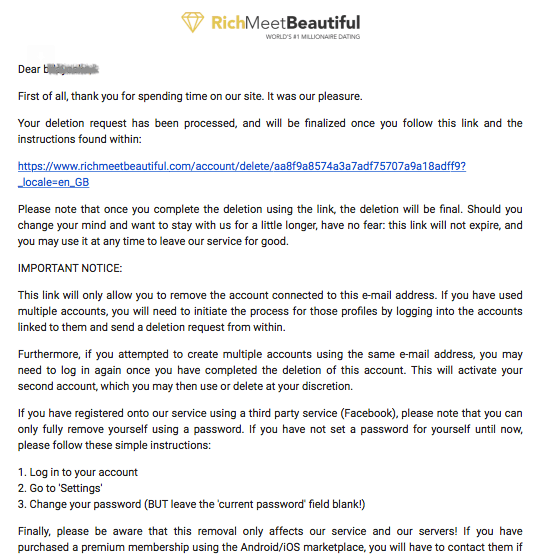 Then you will receive this message and follow the link.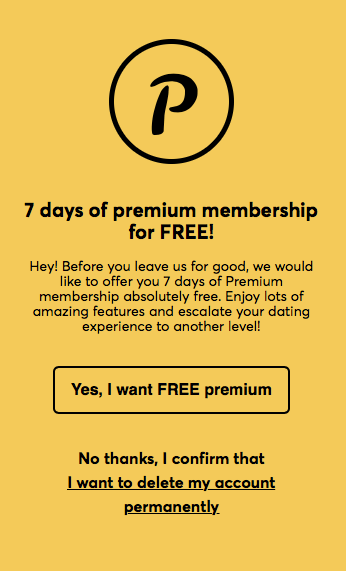 Then they may stop you leaving by offering a free premium membership for 7 days!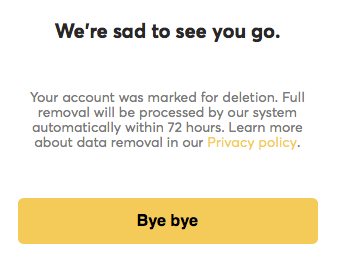 Then it will ask you to give them 72 hours to complete the deactivation.
Connecting dating/Matching Services

They also run those two sites: VictoriaMilan and NextLove.
VictoriaMilan is for people who are looking for an affair or affairs!
NextLove is for people who are divorced and /or single parents.
When you click those sites, you will get welcome emails as well as promotional emails from them! How strange!! So you have to be careful about that!
RichMeetBeautiful Online Reviews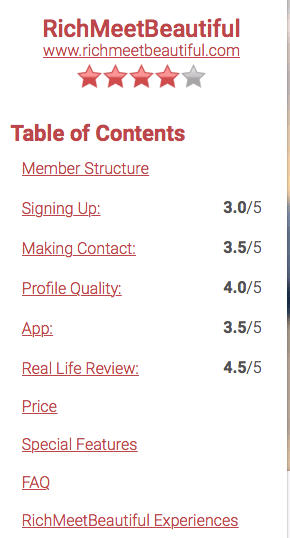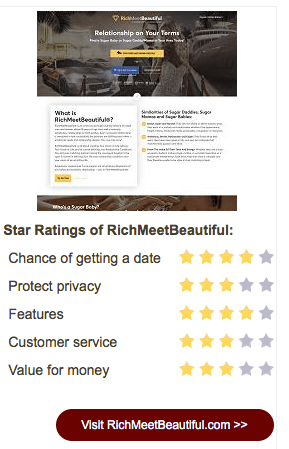 DatingScout
Some dating/matching affiliate sites are giving average reviews. Datingscout.com is saying that RichMeetBeautiful is offering Facebook registration, however, there is no easy sign of Facebook registration. Thus, that is questionable.
Also according to Datingscout.com, the ratio of females and males is 13% and 87% in 2019. That is very unbalanced; remember, RichMeetBeautiful offers extra free service for sugar babies, but they are still short of females. This would make the legitimacy of RichMeetBeautiful suspicious.
To sum up, RichMeetBeautiful is definitely the go to site for caucasian middle age men in their late 30 onwards to find sugar babies, possibly toy boys. Personal impression of the site did not give out "rich" or "beautiful" vibe at all sadly.
Their site is easy and simple to operate, all the necessary information was visible and ready to use.
This is not a site for finding a legit partner or dating experiences.
None of the blogs were helpful: https://www.richmeetbeautiful.com/blog/