Plenty of Fish Review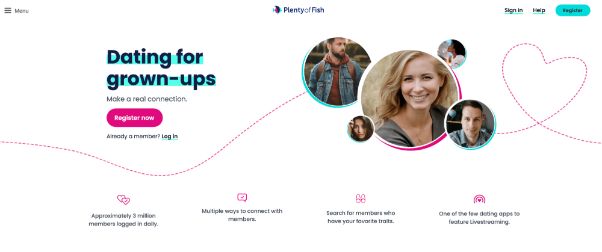 Plenty of Fish was originally developed by Canadian developer Markus Frind in 2004. Since 2015, it has been a part of Match Group who also operates Match.com, OkCupid Tinder and many more.
Plenty of Fish grew and expanded its service globally, now available in 9 different languages.
It offers both ios and android app services as well as the website, majority of its users are accessing this service from mobile devices.
Plenty of Fish got the world's attention due to strong promotion tactics with Lady Gaga.
Plenty of Fish has been through some scandals such as hacking and lawsuits, but it has been reported to have matched over million couples all over the world.
Plenty of Fish Verdict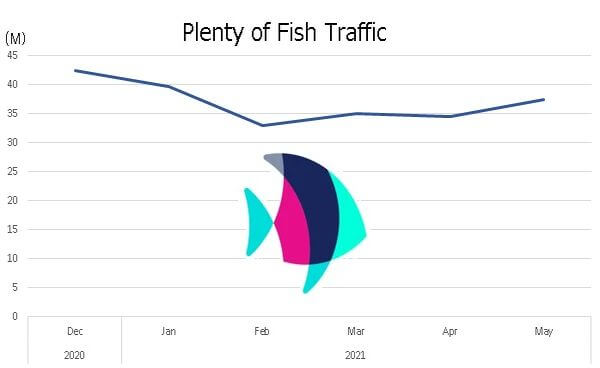 Plenty of Fish has more Traffic than Match.com, OkCupid, and Zoosk.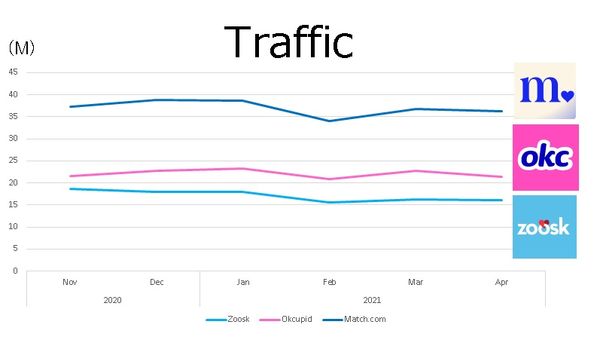 Plenty of Fish is a legitimate online dating service. It has all necessary tools and more, such as the video streaming function, YouTube channel and social media activities. Also, it is free to make contact with other users.
Owner of Plenty of Fish, Match Group is trying to accommodate pandemic by introducing a lot of different features, focusing on new virtual interactive activities.
Through their history, this service has been linked to many criminal cases such as raping and scamming. Thus, it is very important to keep in mind safety rules of online dating when you use this service or any online dating services.
An initial expression seemed to be that there are plenty of genuine users. This would depend on a location. A larger city would have more users. With patience, you would be able to make some contacts with real users without paying extra.
There is enough information on their social media about how to use this service effectively.
Users can enjoy a free and up-to-date online dating experience with caution on Plenty of Fish.
Traffic by Countries
[June, 14th, 2021]

Monthly Average Traffic by Countries
[Dec.2020-May.2021]
| | |
| --- | --- |
| US | 22,815,390 |
| Canada | 4,579,380 |
| UK | 4412655 |
| Australia | 1,441,245 |
| Brasil | 1,337,505 |
| Others | 2,463,825 |
Users Variety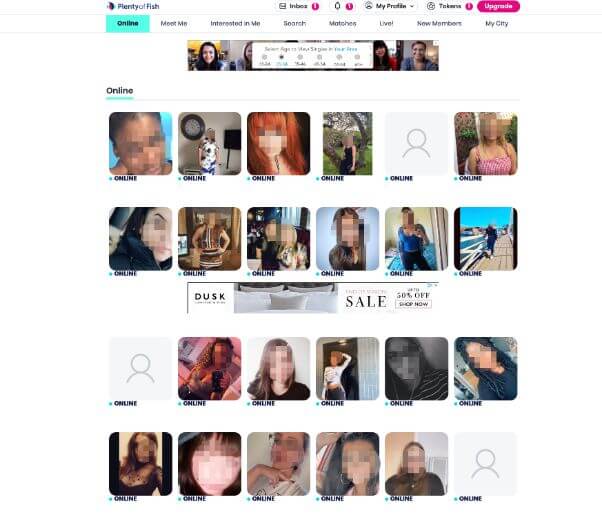 In a large city, Plenty of Fish would offer a wide variety of users and great racial diversity.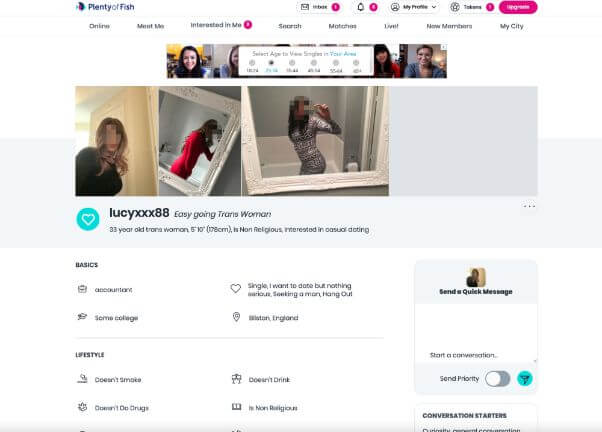 Although, there was not a clear choice of gender of your interest apart from male or female, there are users with various genders.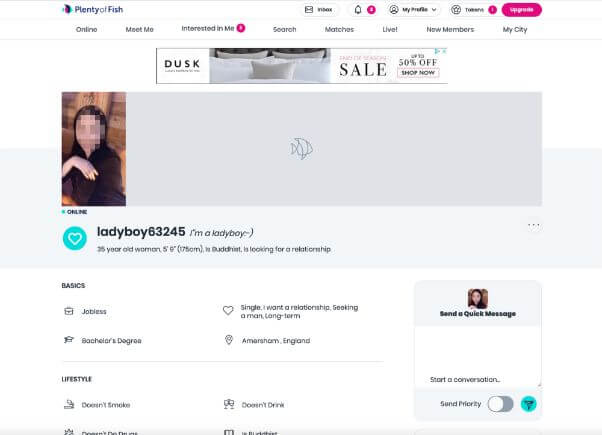 A profile like this is very confusing. She identifies herself as a woman, but her catchphrase is a ladyboy. Thus, Plenty of Fish needs to update their gender section.
Plenty of Fish Premium Membership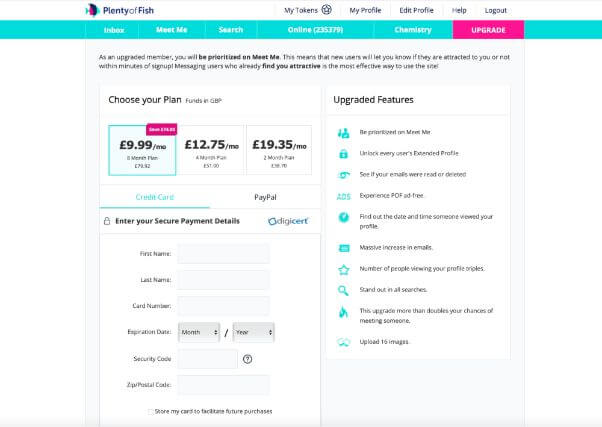 Plenty of Fish subscribers can access many additional features and services. Basically, subscribers' profiles would be widely shared so they would get more notifications from others.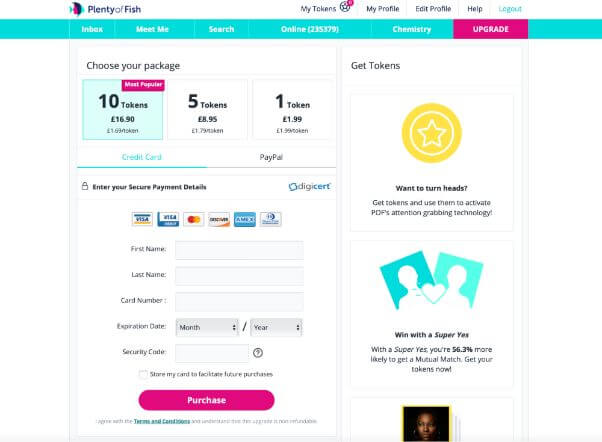 They also offer Token services. Users can use Tokens to get attractions from other users by sending virtual gifts.
Both of those paying services can be purchased by using credit cards and PayPal accounts.
How to join Plenty of Fish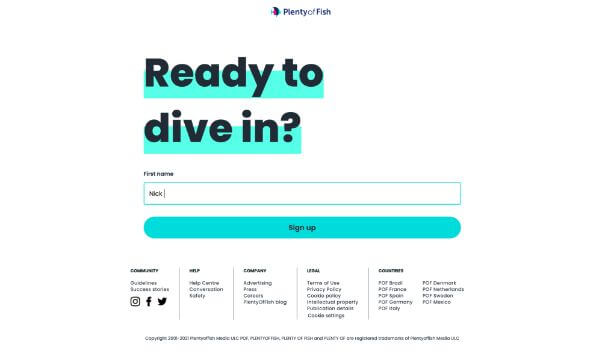 Joining Plenty of Fish is very simple and easy. It is a very standard process. You need an email or social media account such as Facebook.
You need to pick a username, and create a password.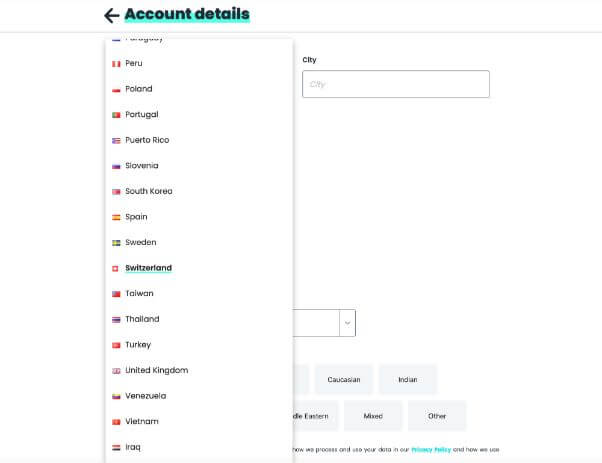 You need to enter your location since their algorithm is going to match others by this information.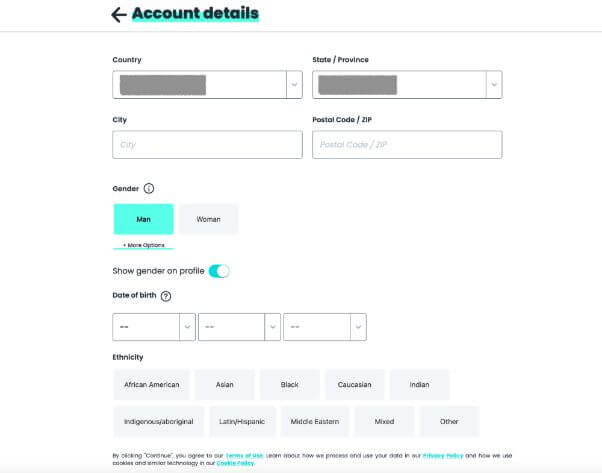 More basic information is needed.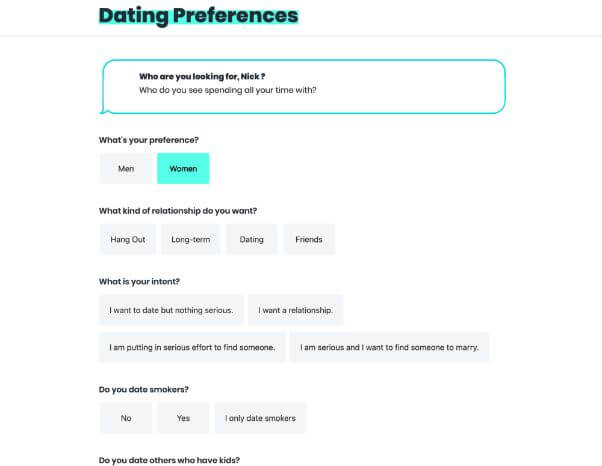 Users have to put information regarding their matches. Although there are only two choices for the preferred gender, there are a lot of different types of genders on Plenty of Fish.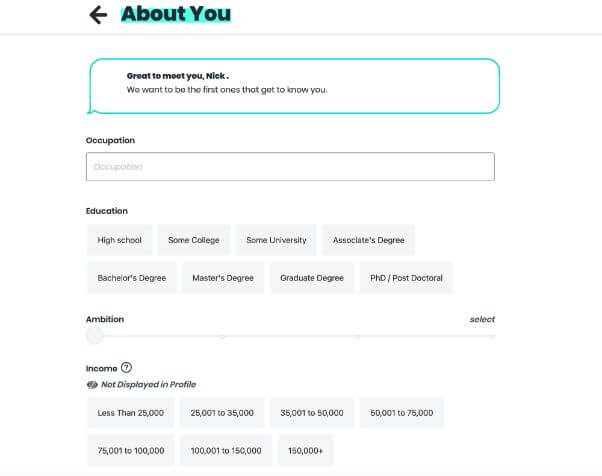 More information to share with other users.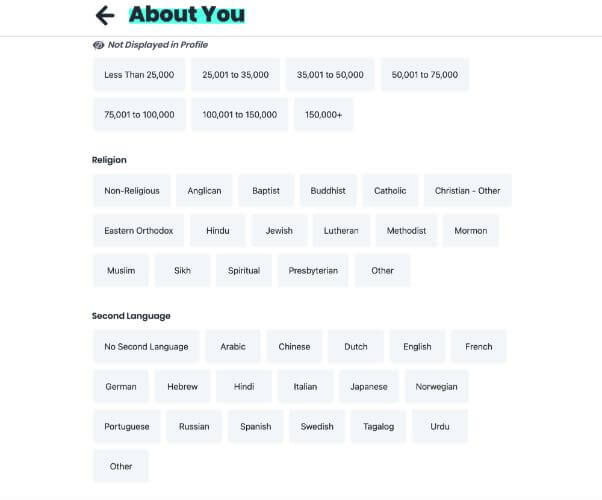 It is very easy to do this process, Plenty of Fish has a nice and easy web design.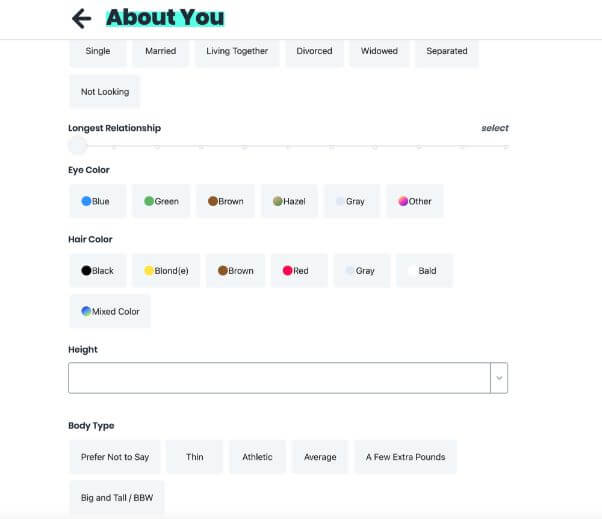 All sections are mandatory to fill in and users can not move forward if they have missing sections.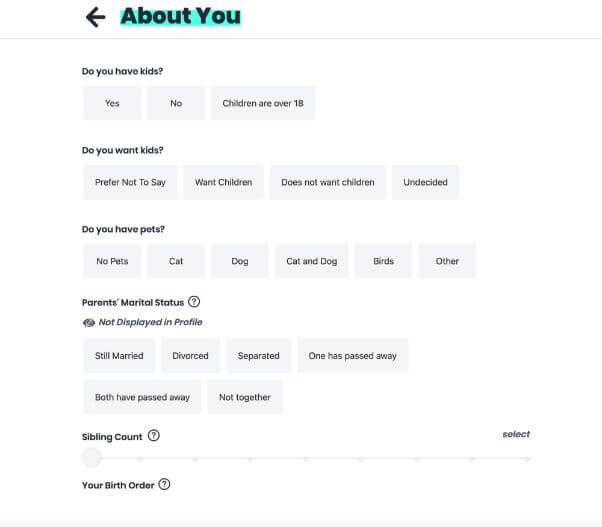 There are some very personal questions.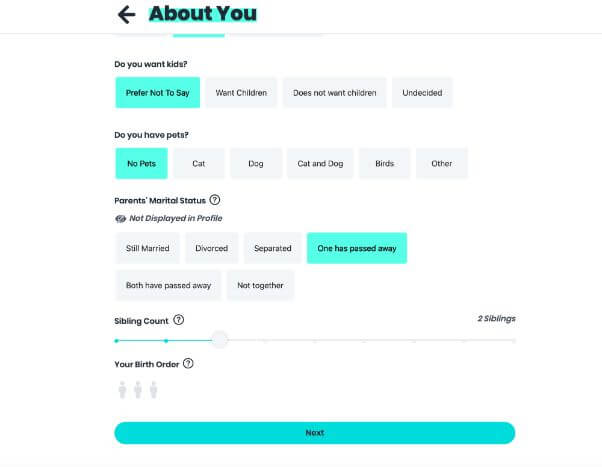 Also, there are very private questions regarding family history.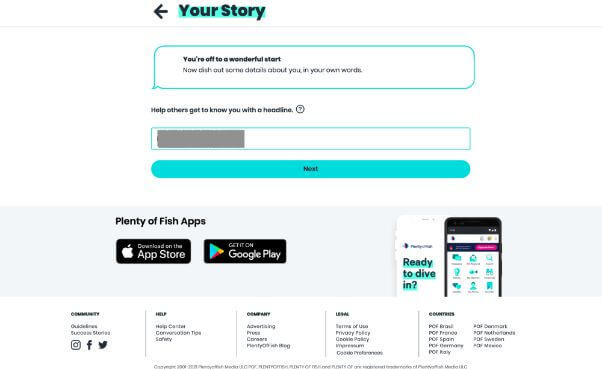 Then, there are 3 sections people need to type in about themselves.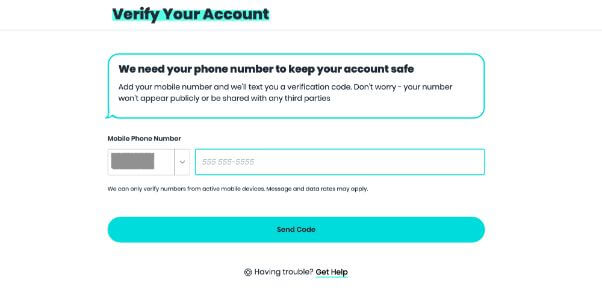 You need a cell phone number to get verified.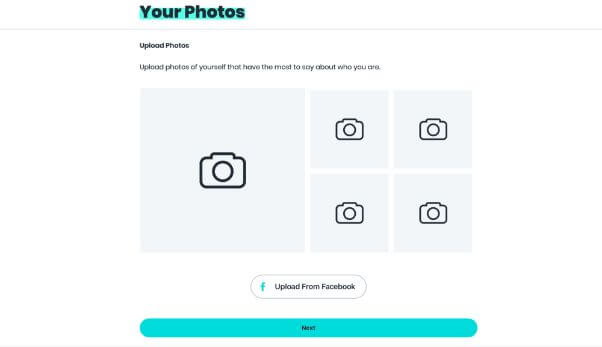 People need to add some photos.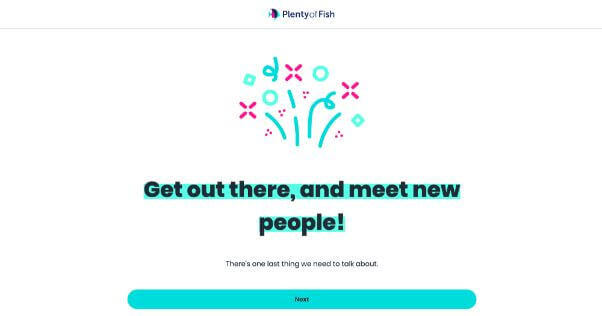 And it is done!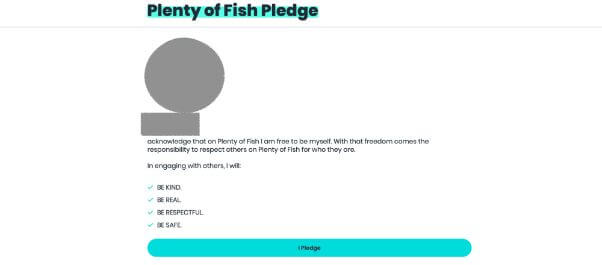 You need to pledge to be nice to others.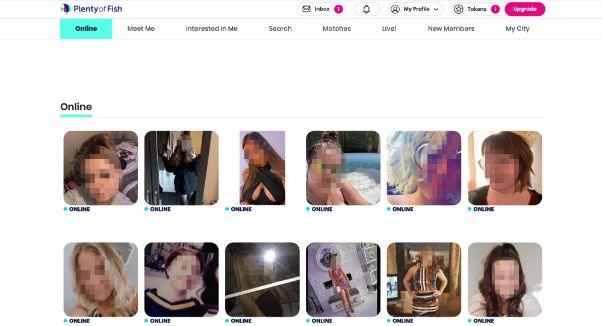 This is the first page!
How to use Plenty of Fish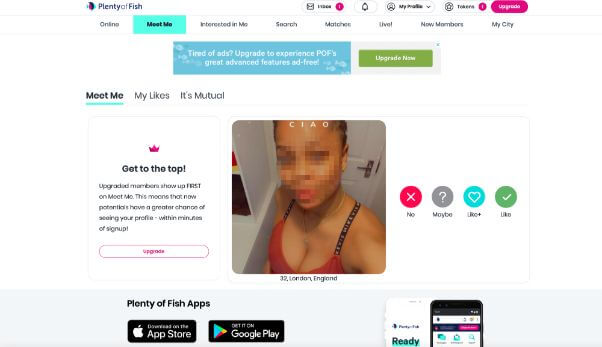 To operate Plenty of Fish is also very easy and simple.
This Meet Me section is like some other dating service. Users can click one of four options. However, Like+ is only for premium members.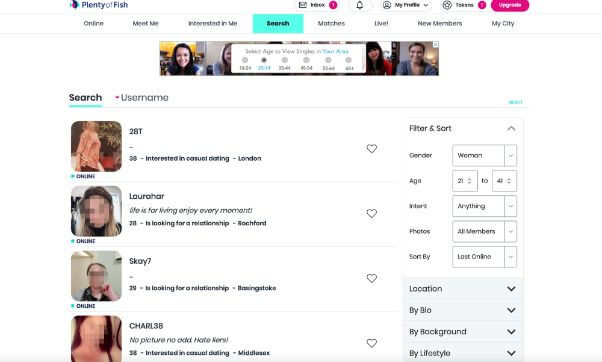 This search section is also very straight forward. Users can filter other users by various preferences.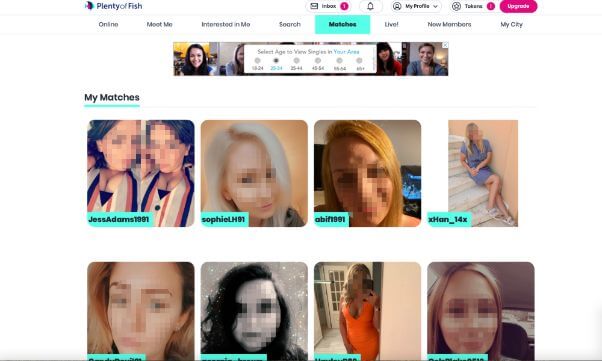 Matches section would show other users. This feed would be based on their algorithm.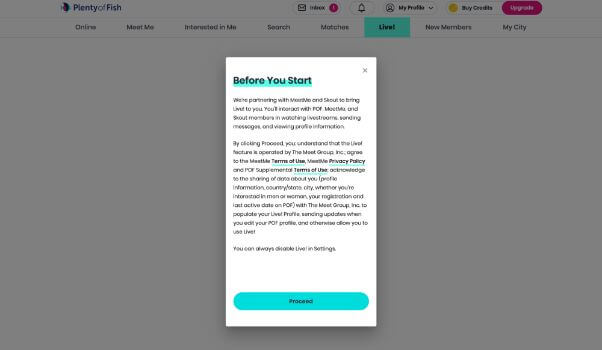 Live! Section is a place users can watch live stream contents and interact with live-streamers by leaving comments and sending gifts just like YouTube live.
But users can also participate in their original online virtual speed dating game. More details on YouTube, "PlentyOfFish (POF) Dating Advice Series for Men – How-to Write the Perfect Online Dating Profile"
People can also do their own livestream;
According to this official YouTube video, users are recommended to livestream 1hour a day! (really?)
This is a brand new feature on Match Group. This service is shared with some other service thus users need to read the T&C.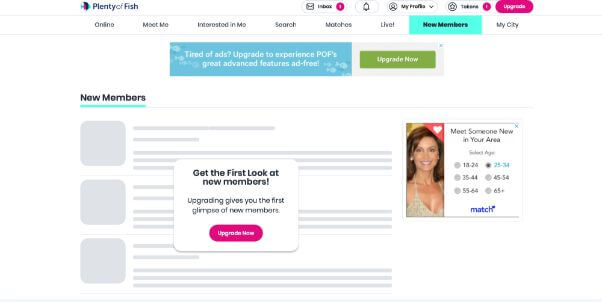 New Members feature is only for premium members.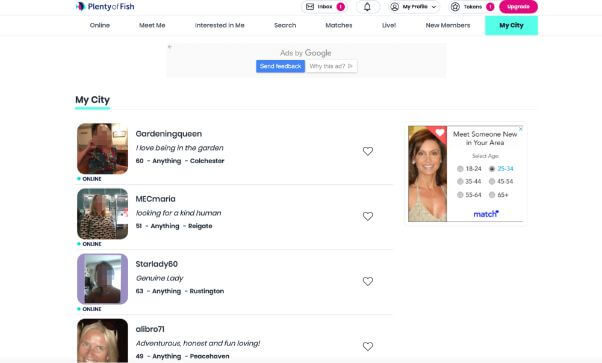 The My City feature shows people near you.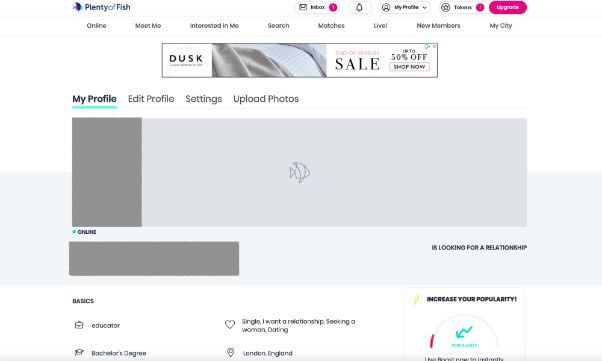 The profile page is very simple and basic. Some people have more or others have less information.
How to Make Contact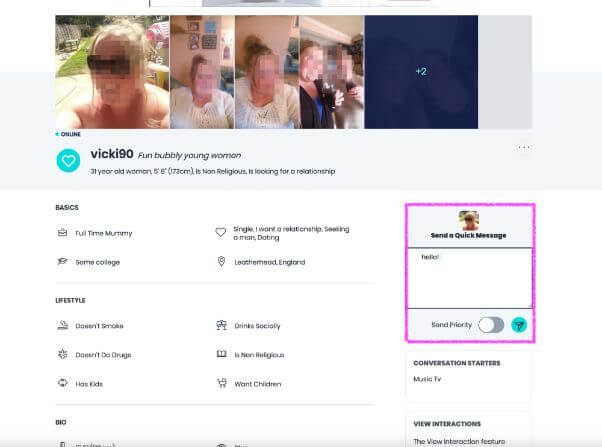 Making contacts with others on Plenty of Fish is free and simple. On every profile page, there is a message section.
You can just drop a line.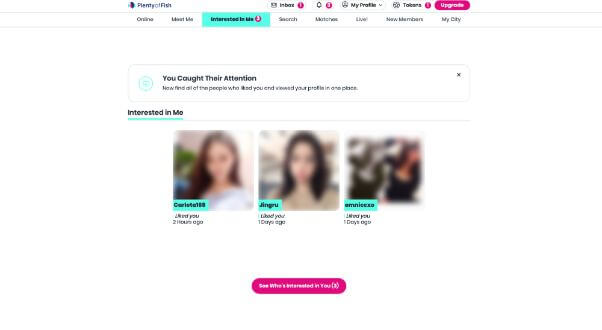 Although, free members can not see who "like " their profiles, they will show up in the Meet Me section, (it is easy to figure out this part) and you can contact them by going to their profiles.
How to leave Plenty of Fish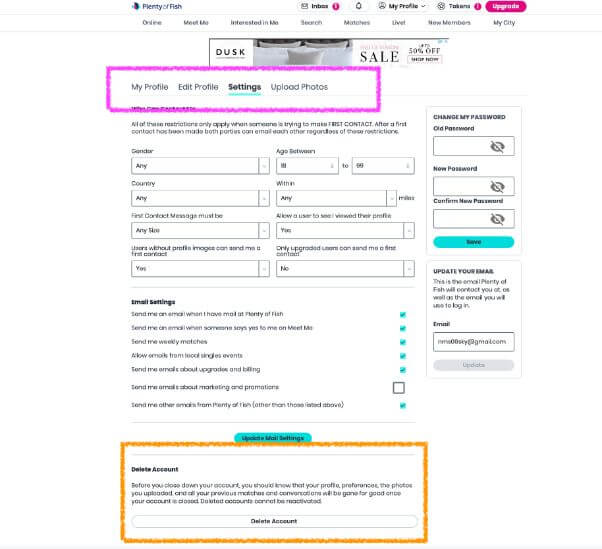 Deleting an account is also very easy and simple on Plenty of Fish. Go to My Profile, and from the top menu bar, people can find Settings. Go to the bottom of the page, you would see the sign.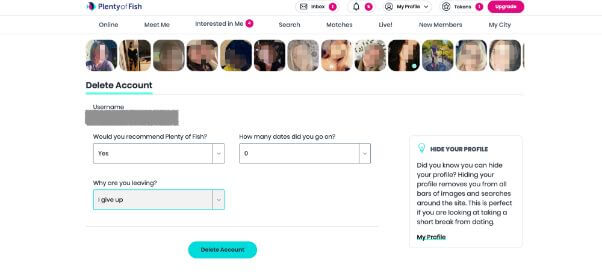 There are final 3 questions,
And all users need to do is click the Delete Account.
Social Media Activities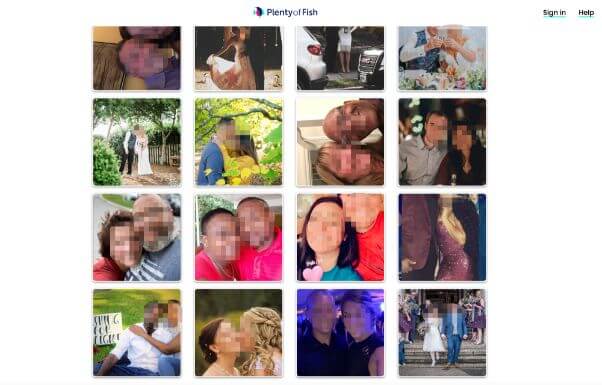 Plenty of Fish has very healthy social media activities. They have official accounts on all major social networking services: Facebook, Twitter and Instagram.
Facebook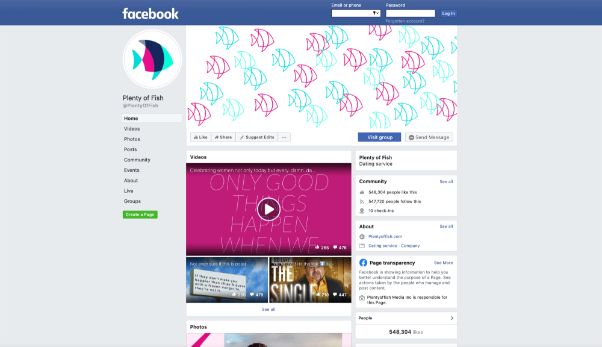 Facebook
Plenty of Fish has more than a half a million "like" and followers on Facebook. They post regularly and users are commenting and leaving "like". They follow social trends and create posts accordingly.
They also share their successful stories with legit photos and their personal story lines.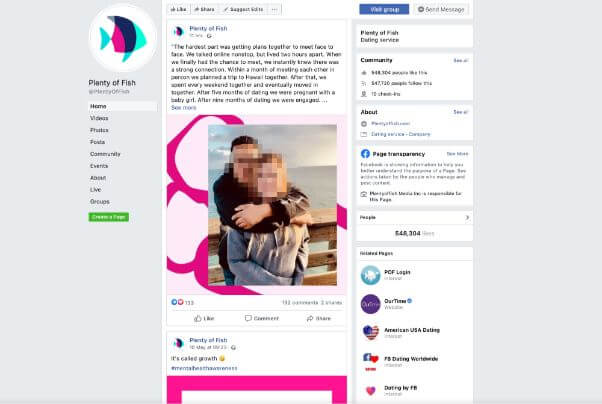 Twitter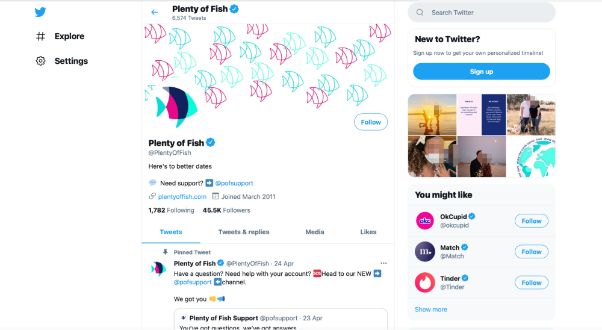 Plenty of Fish has 45K followers on Twitter. This is a very healthy number for an online dating service. They mainly share their blog links where they again share their real access stories.
"Christian's first message was a whole paragraph written to try to get to know me and not just, "Hey, girl, what's up?" and the rest is history 👏✨." #PlentyOfFishSuccess pic.twitter.com/Ge1amWqHaQ

— Plenty of Fish (@PlentyOfFish) May 26, 2021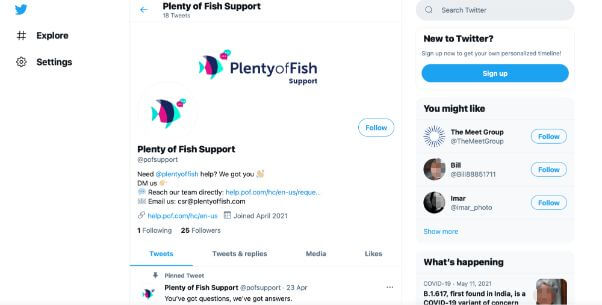 Moreover, they have recently opened a new support account; however, this has not many followers.
There's a dedicated @pofsupport team ready to help in any way they can, and we just added live support chat! Hours are from 10 am to 3:00 (PST)👉 click Support in the lower right-hand corner in our Help Center. pic.twitter.com/z6qs1QcDjd

— Plenty of Fish Support (@pofsupport) May 26, 2021
Instagram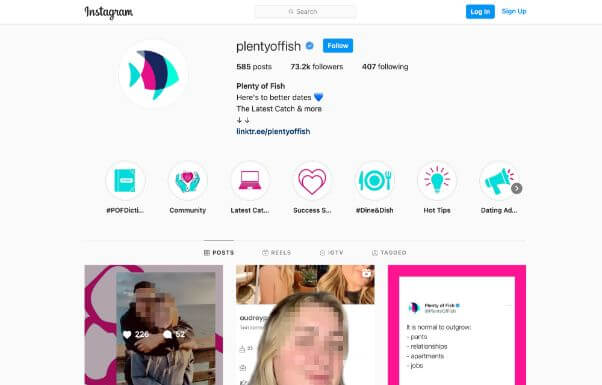 Plenty of Fish has more than 73K followers on Instagram. Their posts are similar to their other social media accounts. There are some originals.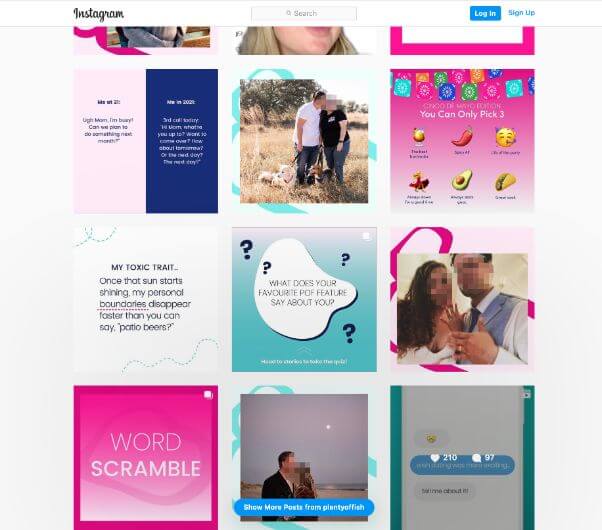 From comparing all 3 accounts, it is clear that Plenty of Fish's major users are the generation of Facebook rather than Instagram.
It is also clear that they have a team which looks after social media activities.
YouTube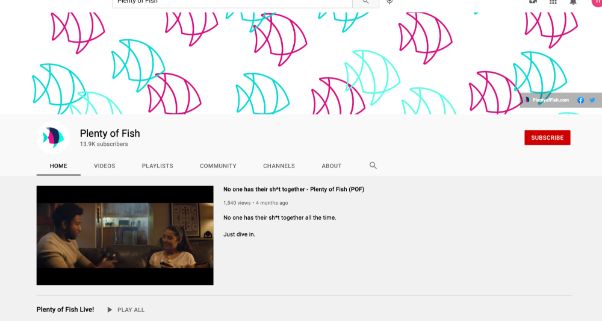 Plenty of Fish has an official YouTube channel. It has more than 13K subscribers. They regularly post content.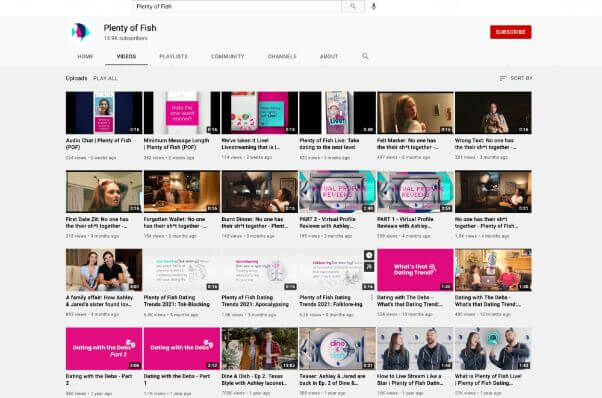 YouTube
They introduce new functions here, as well as some interviews and vlog uploads from real couples.
This channel is the must for people who are thinking about joining Plenty of Fish as a premium member.
Plenty of Fish Apps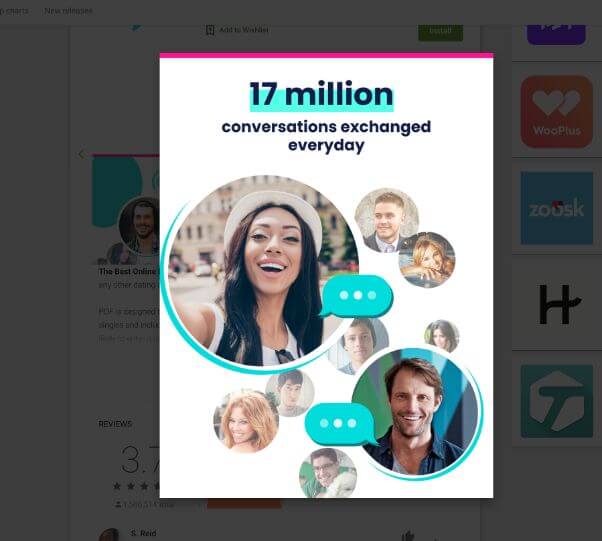 Plenty of Fish offers both android and iOS apps.
Android App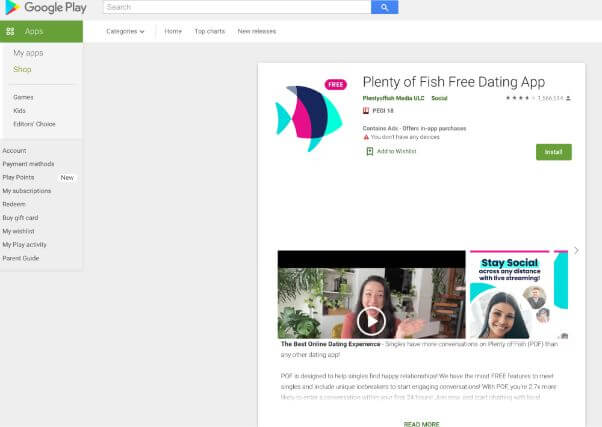 GooglePlay
Plenty of Fish Android App has the age restriction for over 18 years. It is regularly updated and maintained well. This would be expected since the service is run by a big company.
It is under the category of social rather than online dating. It has a lot of reviews.
iOS App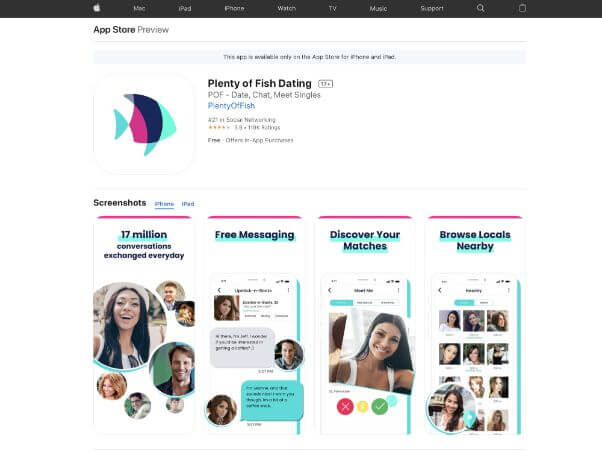 App Store
Plenty of Fish iOS App has the age restriction of over 17 years old. It is ranked 21st in the social networking category.
It has plenty of reviews and the app is well maintenanced with regular updates.