OurTime Review; Online Dating Over 50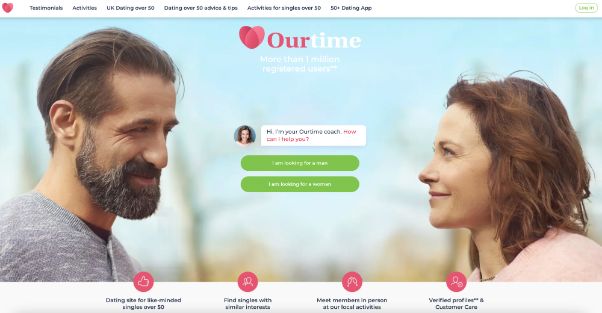 https://ourtime.com
OurTime is an online dating service targeting people who are over 50 years old. They are supporting serious relationships rather than casual ones or flings.
OurTime is operated by Meetic group which is a French online dating service provider; they also operate Match.com, LoveScout24, lexa, DisonsDemain, Zweisam, neu.de, affiney, match affinity, and lexamore.nl.
Meetic Group is a part of the Match Group since 2013, they are known for operating 45 global dating companies such as Tinder, OkCupid and Hinge. The Match Group is owned by IAC: an American holding company.
OurTime Verdict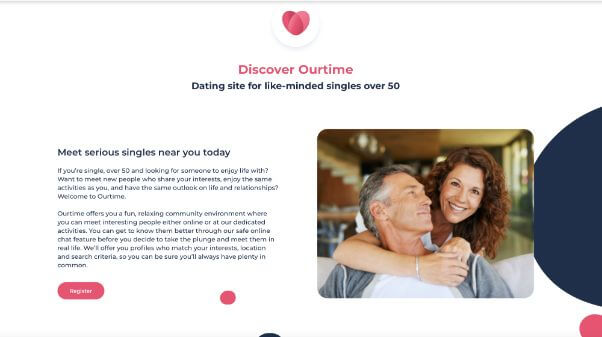 OurTime UK is definitely getting a lot of attention in the UK. They are well advertised and their market strategy is very clearly targeted over 50s.
OurTime UK is easy to operate and users can make instant connections with other users using the Live Chat function.
For those who like to keep the old way to meet people, OurTime also organizes meetups.
With extra fees, people can use their ordonairy online dating functions such as likes and sending messages.
OurTime is a geo location dating service thus OutTime UK can only be accessed from a UK IP address. Each OurTime national site seems to have their own operation base.
This operation service would be a great choice for over 50s who are looking for long term relationships. It is more ideal for them to look for someone who lives locally because it would be easier to start a new relationship with people who live nearby rather than people who live miles away.
Traffic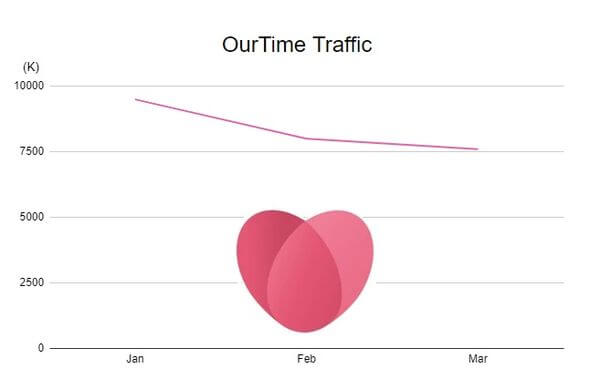 Traffic by Countries
[Apr,22,2022]

[Monthly Ave. Traffic Jan-Mar,2022]
| | |
| --- | --- |
| US | 7,210,393 |
| Italy | 559,730 |
| Canada | 539,650 |
| UK | 16,733 |
| Sweden | 15,896 |
| Others | 24,263 |
User Variety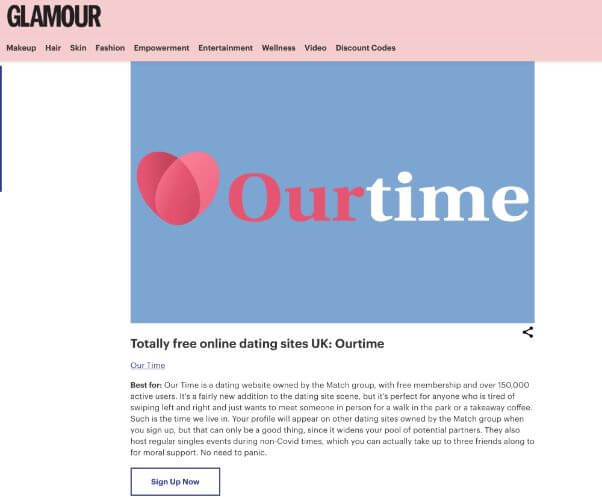 According to Glamour Magazine, OurTime UK has about 150.000 active users. They are, of course, over 50s; however, people can easily change their age to join the service. There is no age verification process.
OurTime Premium Service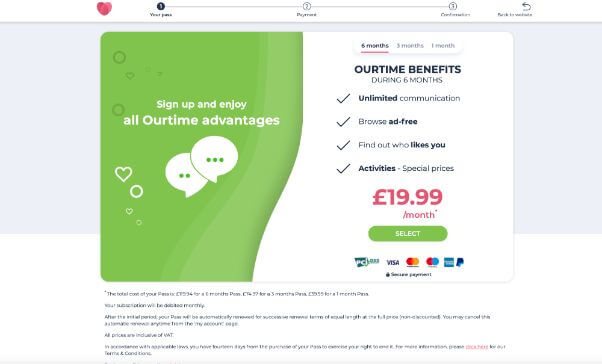 Ourtime offers memberships, an anonymous browsing option (Incognito) and boots.
The premium memberships allow users to exchange messages and a full access to who Likes and who visited the profile. Only paid members can exchange messages.
Obviously, longer membership would lead to cheaper monthly fees:
| | |
| --- | --- |
| 6 months | £119.94 |
| 3 months | £74.97 |
| 1 month | £39.99 |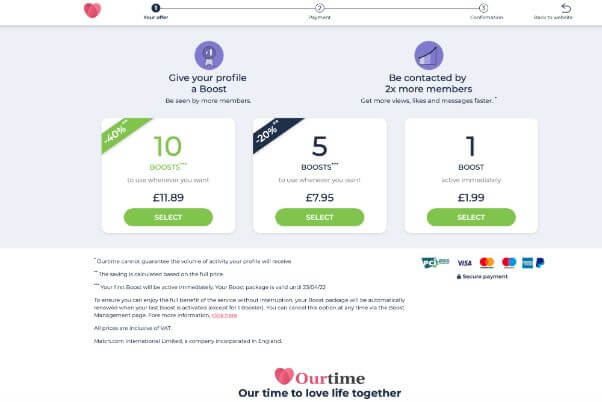 OutTime also offers boots, they would help to be seen by other members. Users need to be aware of the auto renew system.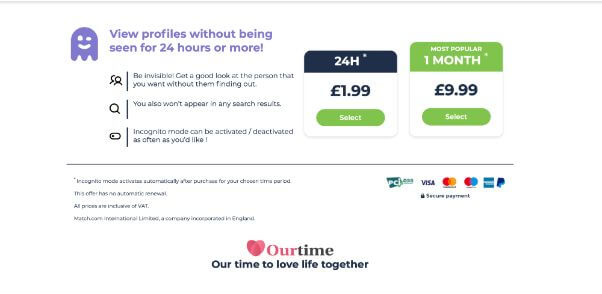 They also offer the Incognito service. This allows users to be invisible. They can browse others anonymously.
How to join OurTime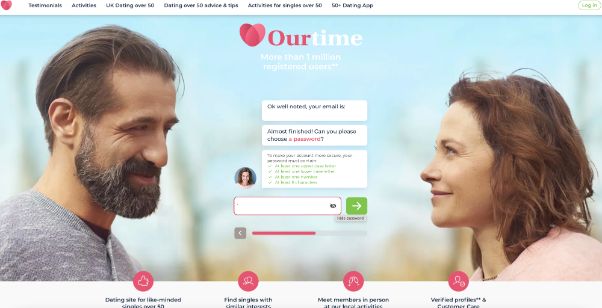 To join OurTime is very simple and straightforward. People need an email address and create a password.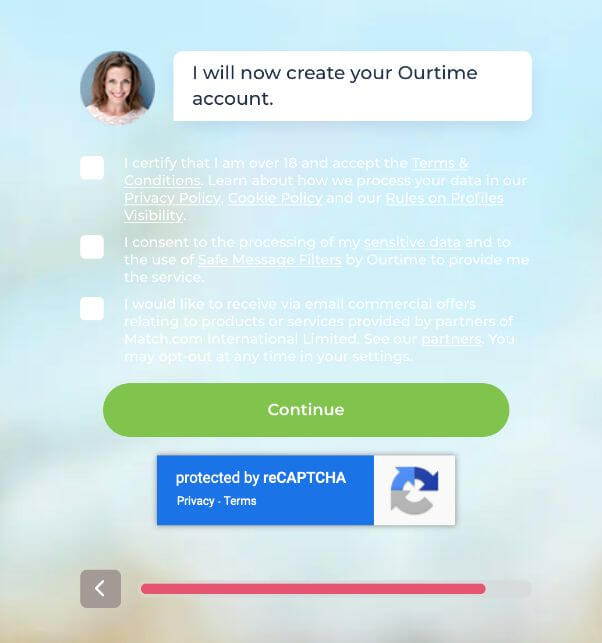 You need to agree to their T&C.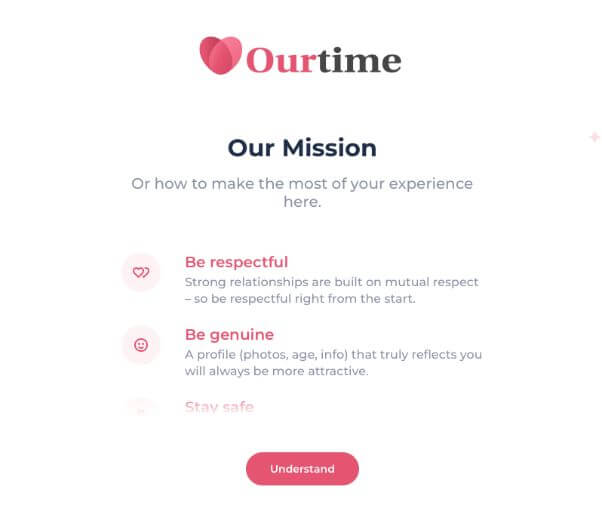 There is some advice for the users.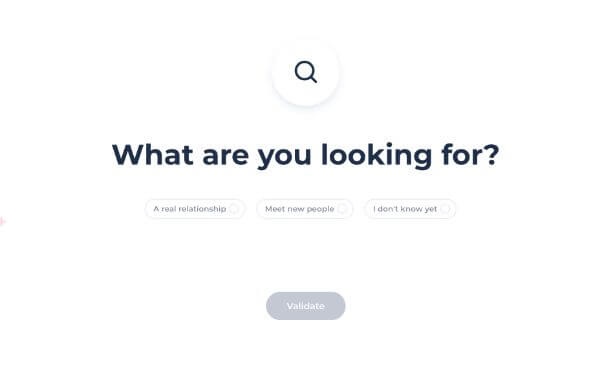 Now, there are a series of questions to answer. Those would be used to find matches.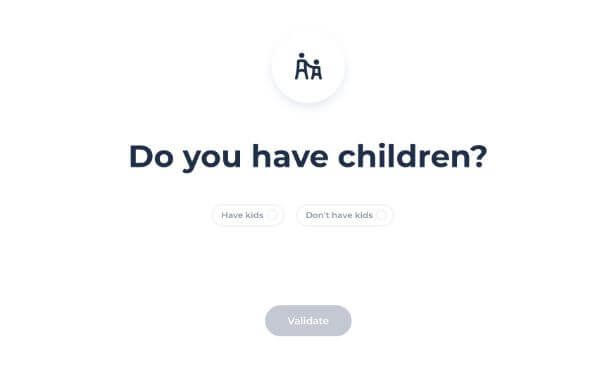 They would start with some basic ones.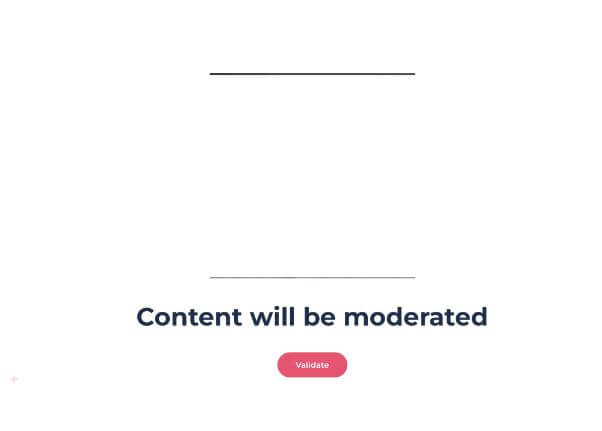 Then people need to upload a profile photo. The verification would take a few days.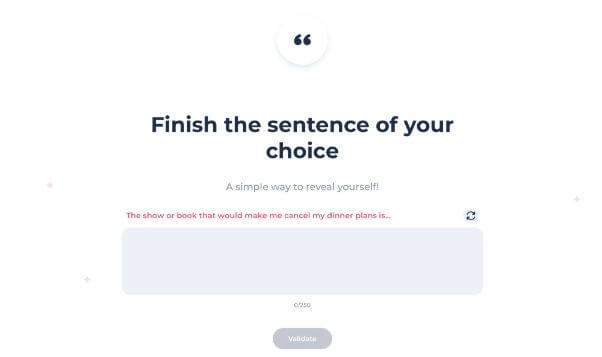 Now, there are more things to fill.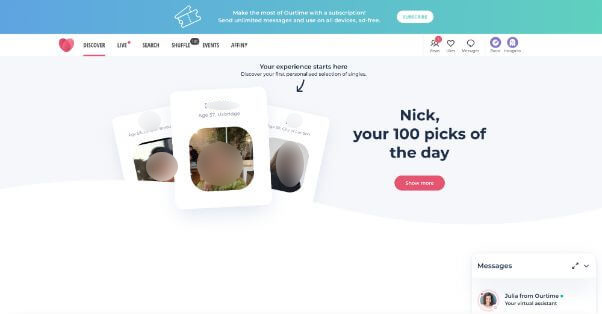 After answering some more questions, this is the main service page. It is simple and very easy to navigate.
How to use OurTime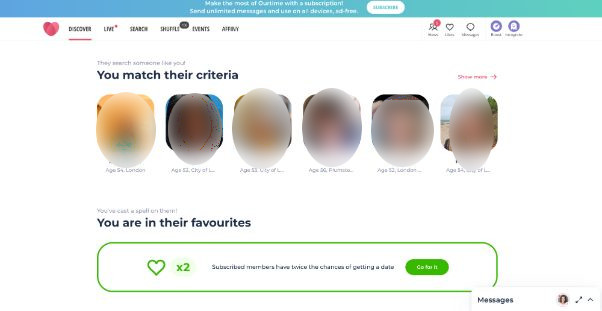 The discovery would show your matches from the questionnaire from the initial joining process.
Some are looking very good for their age.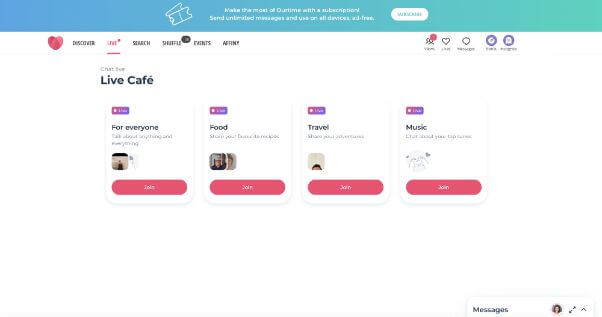 From the top menu bar, users can find Live, this is a live chat function.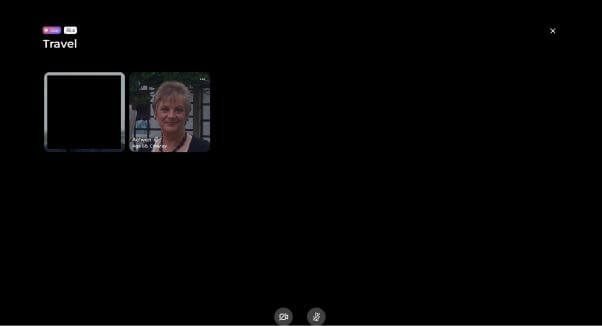 When you click to join, this black blank page appears!
Do not panic, your camera and mic are off to start with.
Users can start chatting with others online, almost starlight away!
This is very simple, yet intimidating. However, this is a very direct service and users can meet people almost immediately after joining.
There are some common topics to choose from.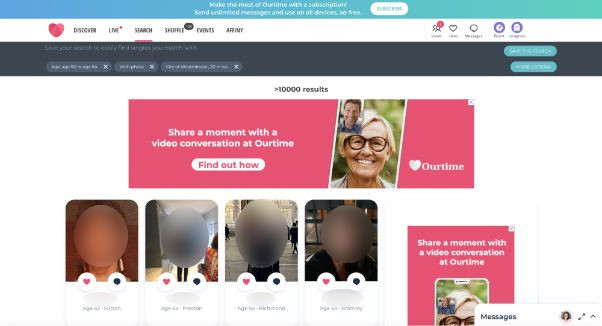 From the "Search" function, users can search people using search engines. This is a basic function..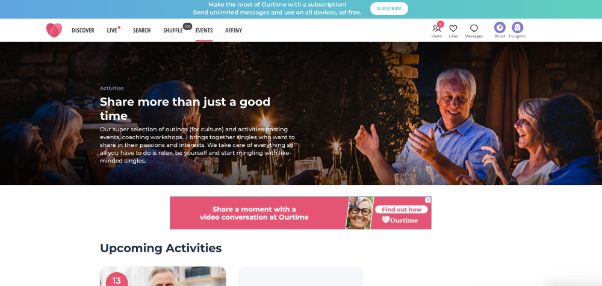 OutTime's uniqueness would come from these organized events. They organize local events so people can actually meet other users face to face. Participants need to pay to join them; the subscribers/premium members can get a discount.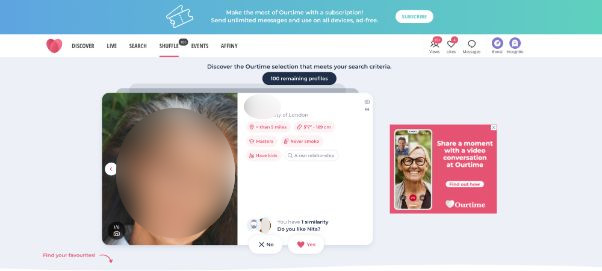 The Shuffle works like other major dating services, users slick yes or no. All Likes would be sent to those users.
Only paid members are able to see who "Likes" them.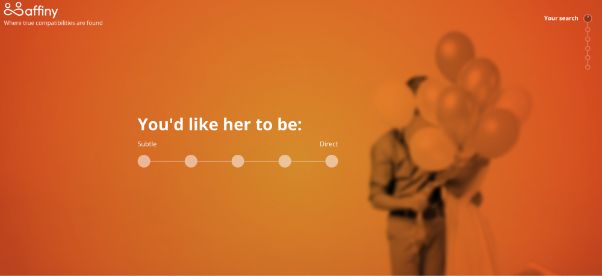 Affinity is another dating service run by the same company.
How to delete an account on OurTime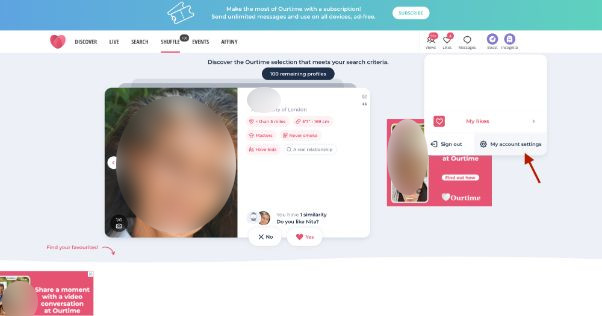 From the profile picture at the right hand corner, users can access Settings.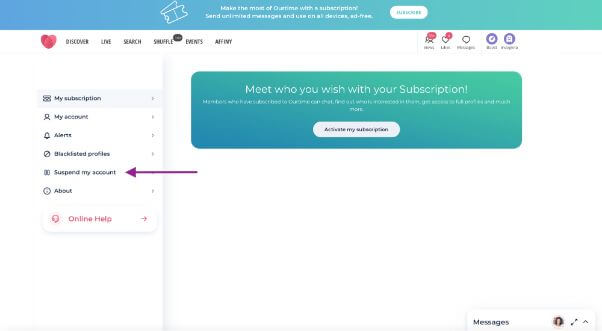 From the new menu page, users can see Suspend my account.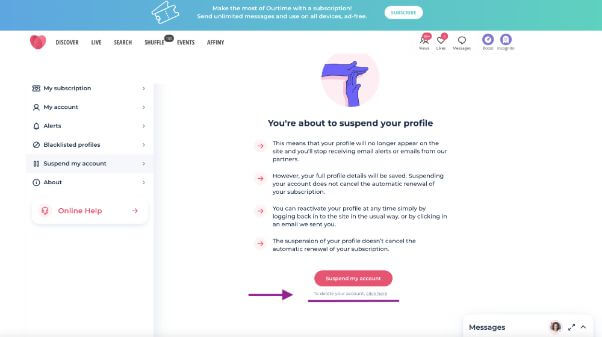 At the bottom of the page, there is a sign "delete account" in faded print.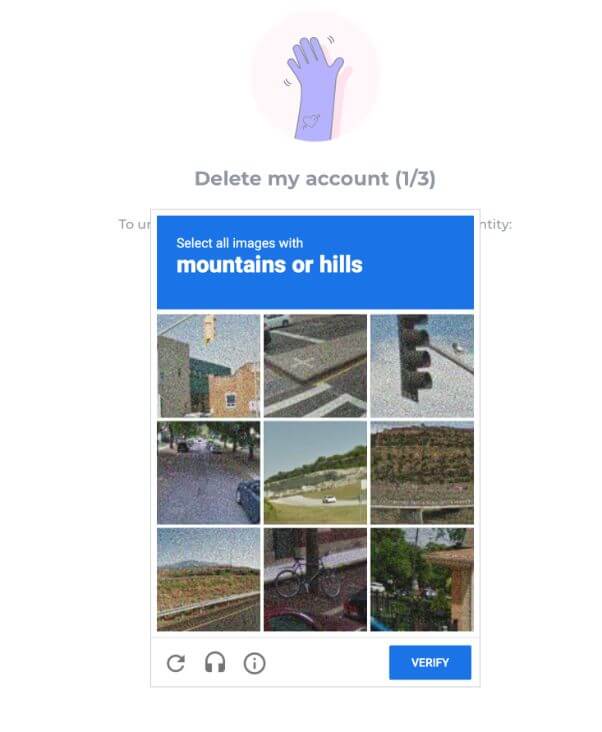 There would be some warning messages to follow.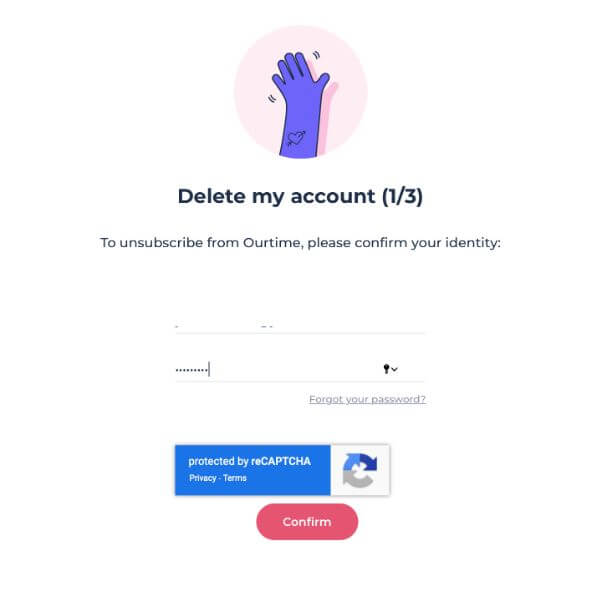 Lastly, the user needs to put the password for the last time.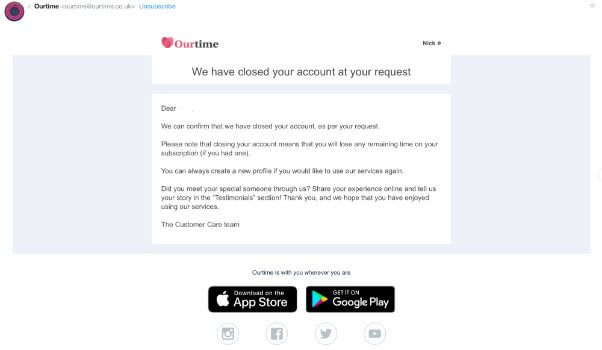 You would get this confirmation email as well for closing the account soon afterwards.
Apps
OurTime Apps now offers app service. They were stating that their users are accessing the service via apps rather than the website nowadays.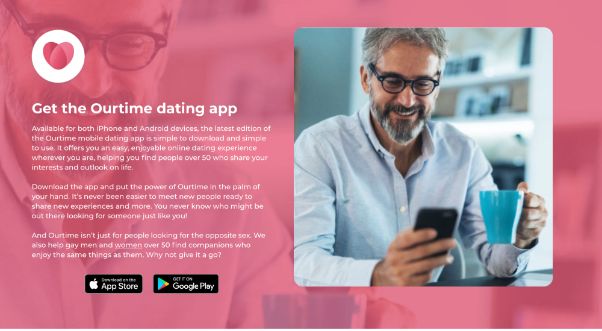 OurTime iOS App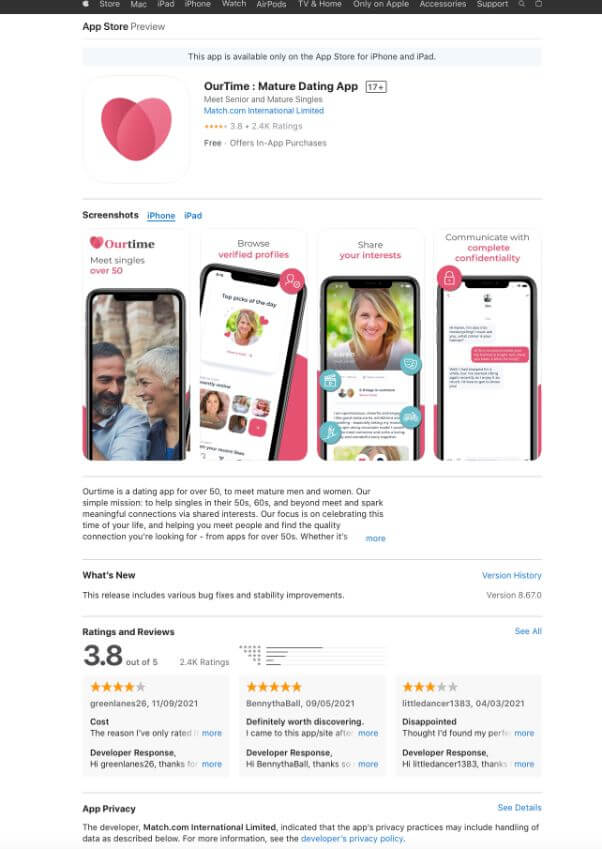 App Store
OurTime iOS app has the age limitation of 17+. The app is regularly updated for maintenance and fixing bugs. It has about 2.4K reviews and currently has a 3.8 rating which is mostly positive.
OurTime Android App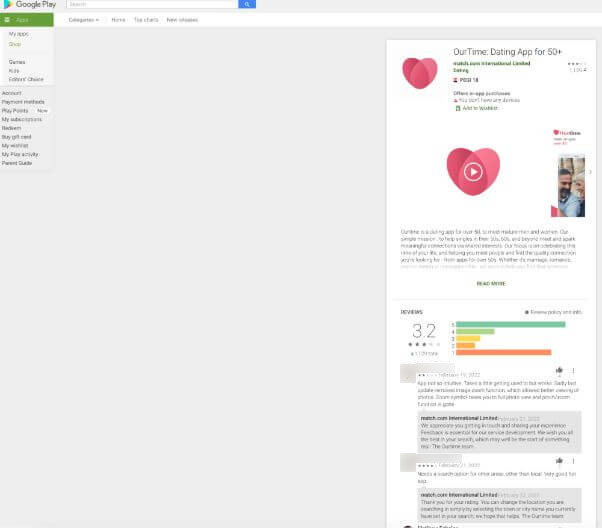 Google Play
OurTime Android app has an 18+ age restriction. They have about 1.1K reviews which is less than iOS reviews. They have mixed reviews which differ from the iOS page as well.
Social Media
Ourtime has usual social media accounts: Facebook, Twitter, and Youtube. From those accounts, it is clear that their marketing strategy has been changed.
Facebook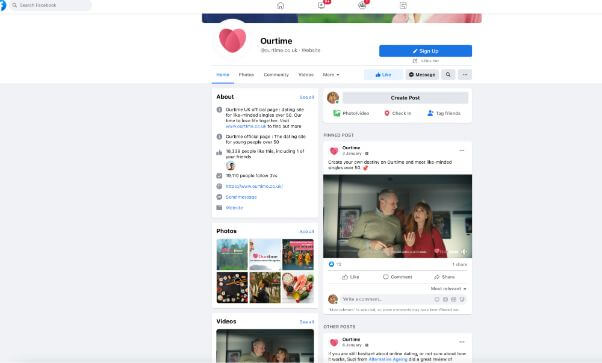 FACEBOOK
This account is OurTimeUK site, they have nearly 20K followers.
Twitter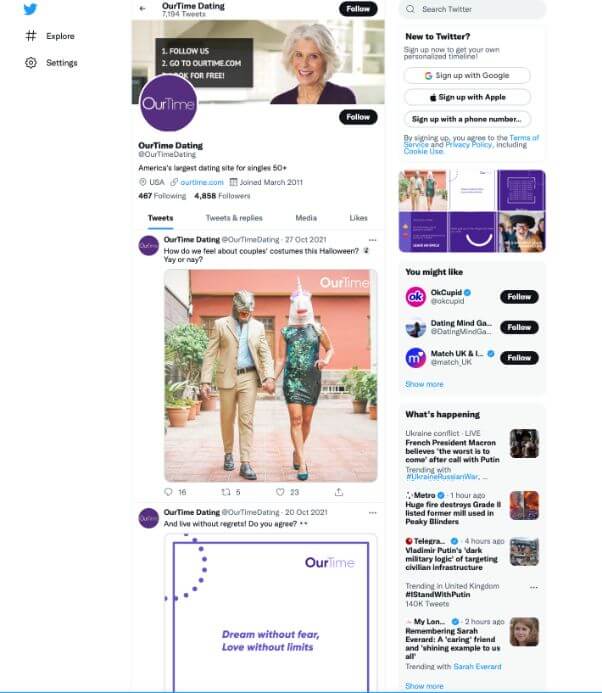 This is OurTime US account's Twitter, they have different logo and marketing style.
That feeling when you FINALLY connect with someone on a deep level. ❤️
.
.
.
.
.
.
.
.#seniordating #dating #datingtips #ourtime #ourtimedating #relationshipgoals #datingadvice #relationshipadvice #companionship #love #happy #happiness #life #partnership pic.twitter.com/XpZ142Za5N

— OurTime Dating (@OurTimeDating) April 10, 2022
YouTube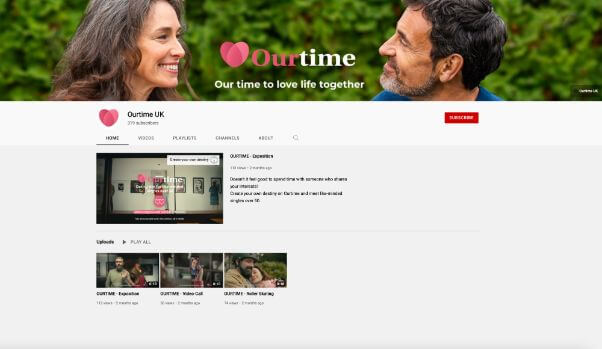 This is OurTime UK account channel. They only have 319 subscribers. However, this account is fairly new, the first post was about 2 months ago.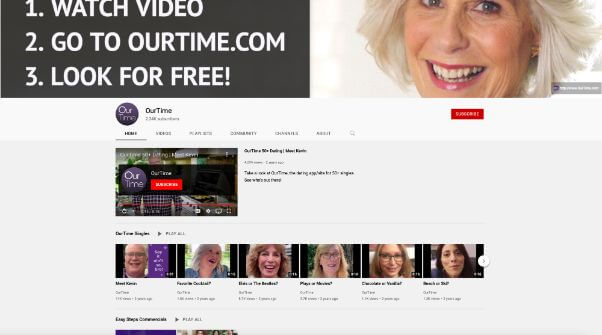 This is OurTimeAmerican account channel. They have more than 2K subscribers but the channel has not been updated for a while.
OurTime Main Media

OurTime has a lot of main media mentions. This could be that OurTime is owned by Match Group and they have a lot of financial backup to be exposed on mainstream media.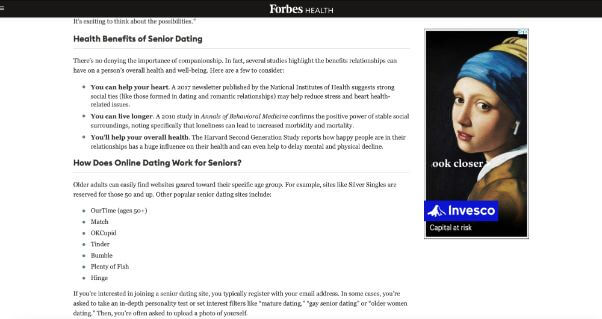 In this Forbes article, "Guide To The Best Senior Dating Sites Of 2022" published in December 2012, OurTime is on the top of the list of popular senior dating sites.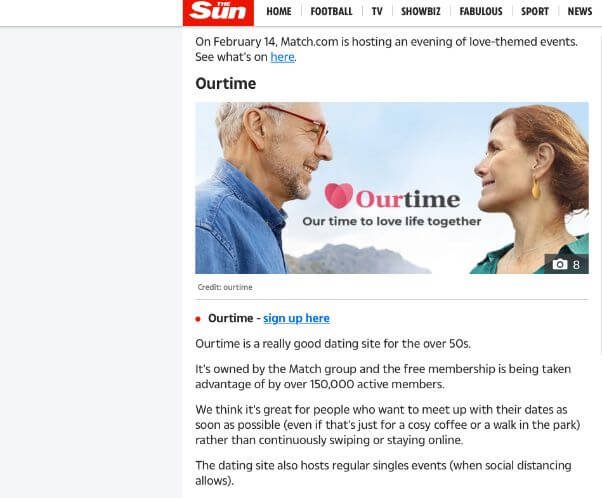 This Sun article "LOVE AT FIRST SITE 8 Best dating sites and apps to find a Valentine's Day match" published in February 2022, OurTime is listed on the second.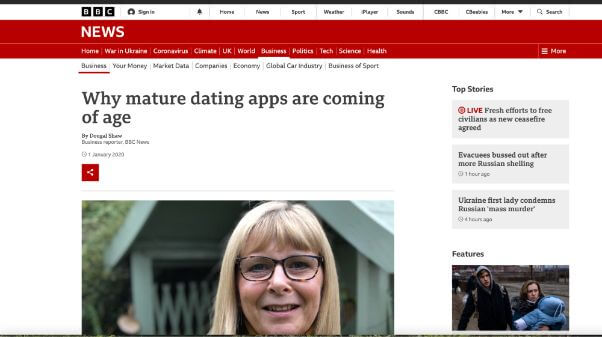 This BBC article states that "More established companies also cater for mature daters, like OurTime and Silver Singles. They began as website platforms but have now developed apps. OurTime says it has seen a 146% increase in active users in the past two years, with 63% of joiners registering by mobile."
This article shows that OurTime UK has been getting popular.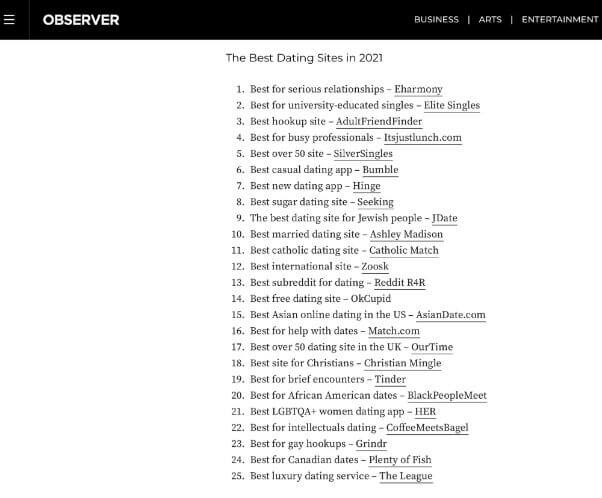 On Observer, OurTime is ranked 17th of 2021 best dating sites; it was named as "Best over 50 dating sites in the UK.
Those media mentions are about UK service. It is clear that OurTimeUK is well advertised and gaining popularity.
In order to attract users who are over 50s, the main media is very useful.
Online Review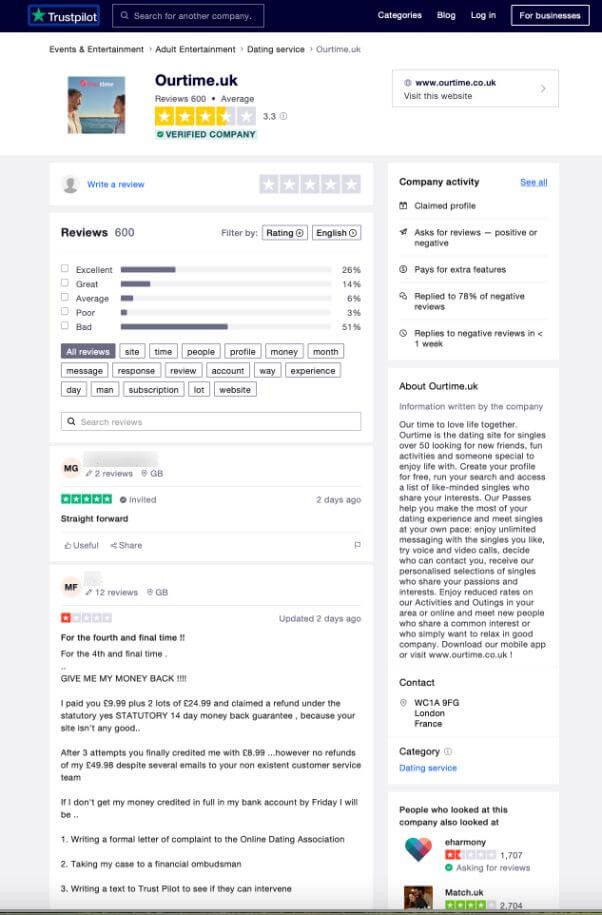 OurTime UK has mixed reviews. A lot of negative reviews are about payment issues.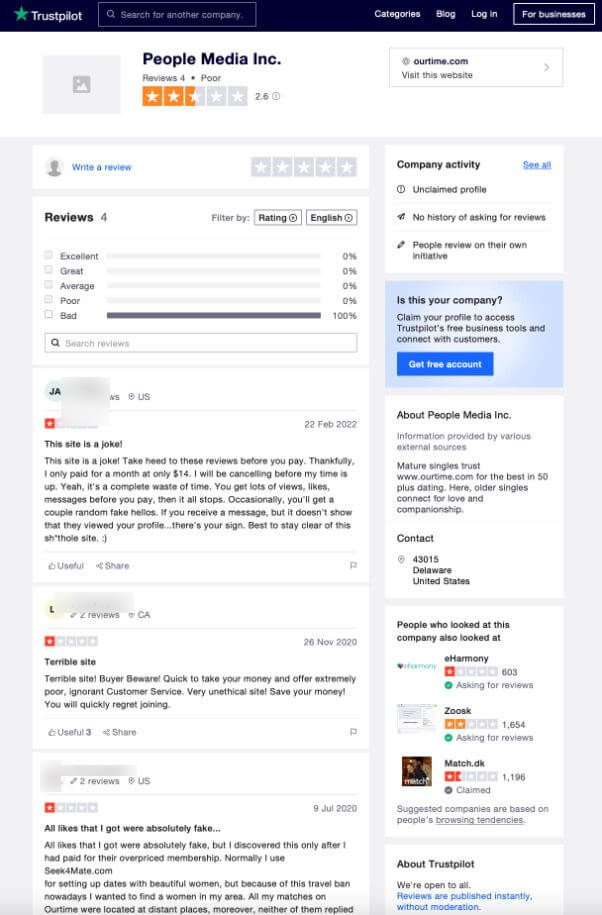 However, their US site has only 4 negative reviews.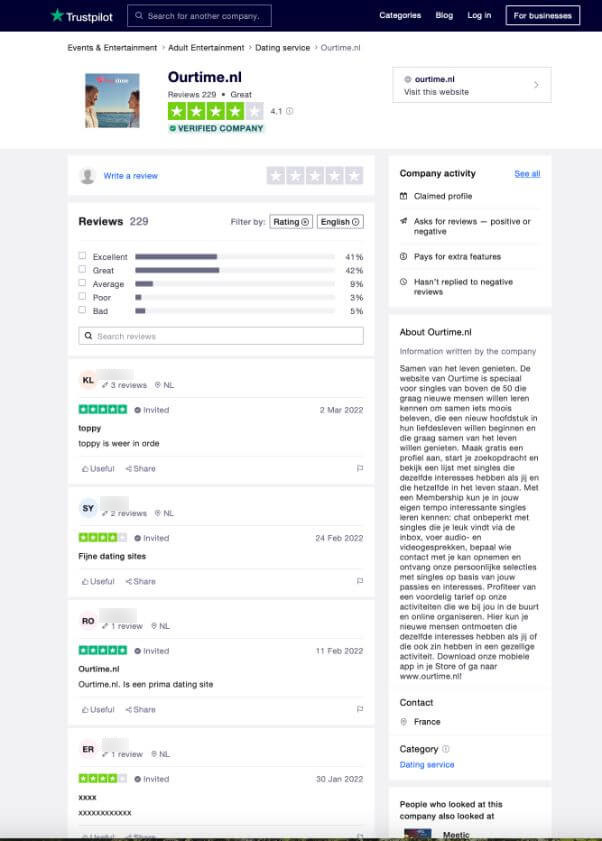 https://uk.trustpilot.com/review/ourtime.nl?languages=all
Their Dutch service has mostly positive reviews.