OurTime Scammer Review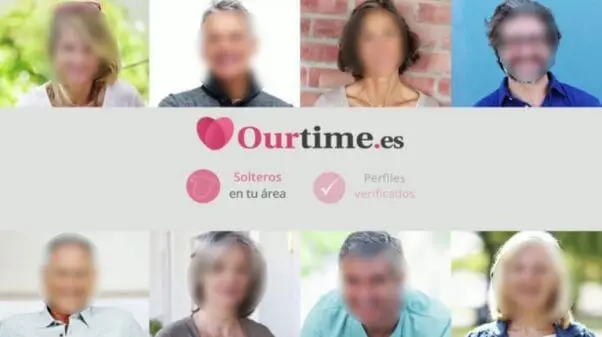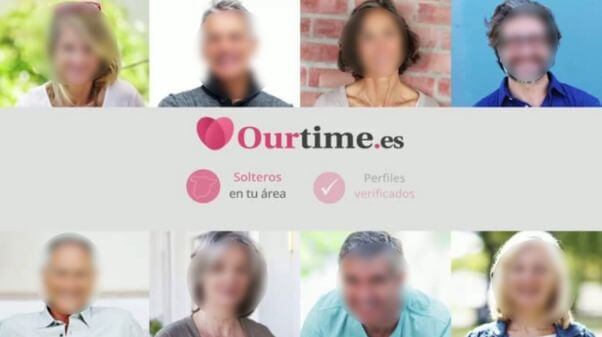 https://ourtime.com
OurTime (UK) is a niche geolocation dating service for people who are over 50 years old. It was developed by Match Group and launched in 2017.
OurTime (US/worldwide) has been in operation since 2001.
Currently, OurTime has multiple sites operating in different areas of the world.
OurTime attracts its users by offering their unique Live Chat function and face to face meetups. OutTime supports its users to find stable and long term relationships.
Traffic by Countries
[Apr,22,2022]

[Monthly Ave. Traffic Jan-Mar,2022]
| | |
| --- | --- |
| US | 7,210,393 |
| Italy | 559,730 |
| Canada | 539,650 |
| UK | 16,733 |
| Sweden | 15,896 |
| Others | 24,263 |
OurTime Scammer Review Verdict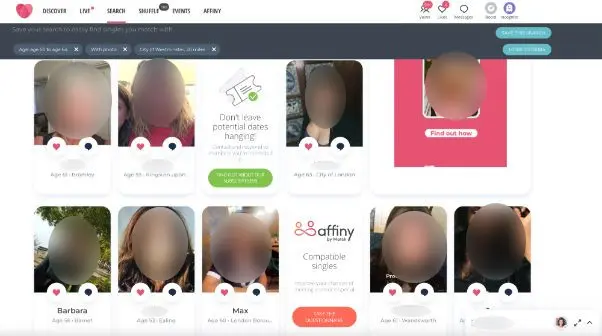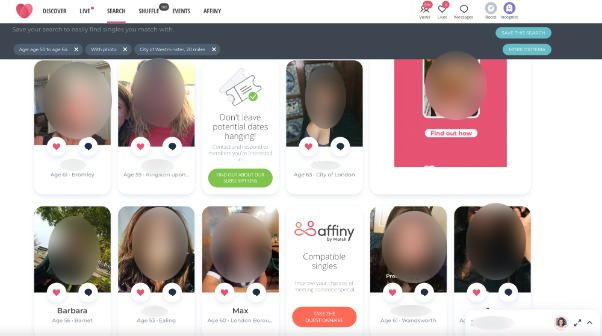 OurTime has scammer problems, however, all other dating sites have the same problems. It is impossible to avoid them.
OurTime is especially vulnerable because a lot of users are much older and some are very new to online dating. Some also may be emotionally vulnerable due to losing their partners.
On this service, there are much more female victims than male ones.
The criminals are professional con men who know exactly what they are doing. Thus, OurTime is offering to meet others face to face online and offline using the chat function and organized events. For those who are new to online dating, it is safer to meet other members offline to begin with.
OurTime is operated by the major online operator Match Group, thus, there are far less impressions of fake accounts and any bot operation.
OurTime User Variety and Scammer Research
OurTime's profile page is very easy to see. It is very simple and the need to see information is very clear to read.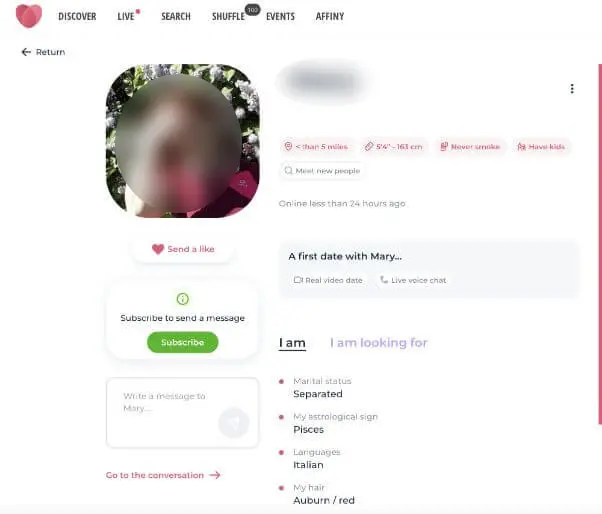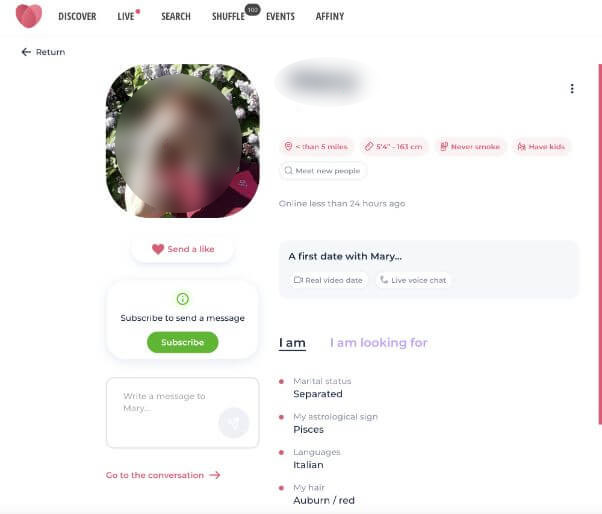 There is a great variety of people on OurTime. Obviously, a big and populated area would give a better pool of people.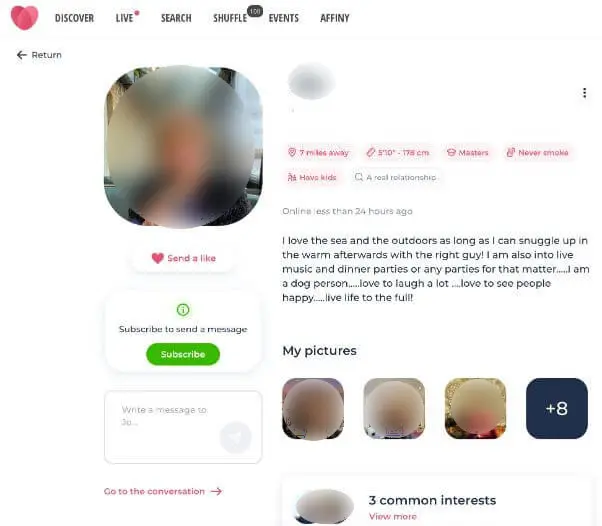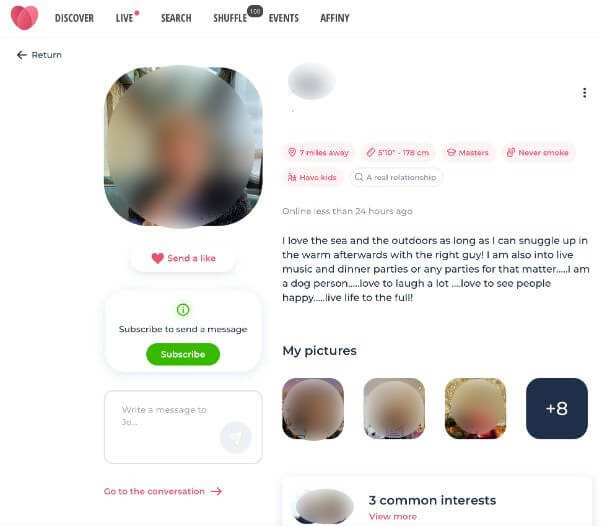 A lot of members are taking time to fill their profiles. This shows that they are looking for someone seriously.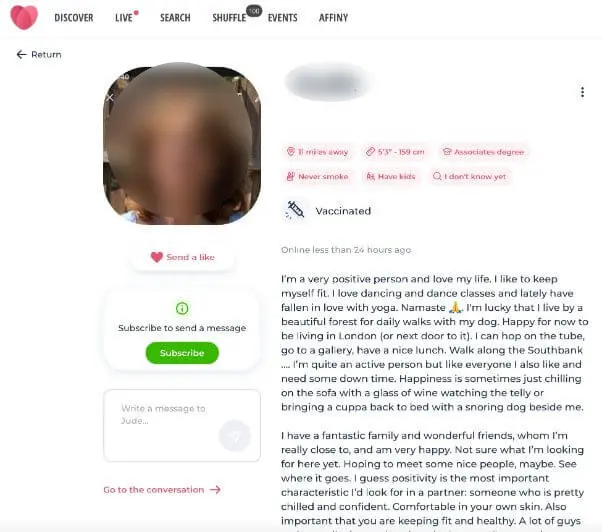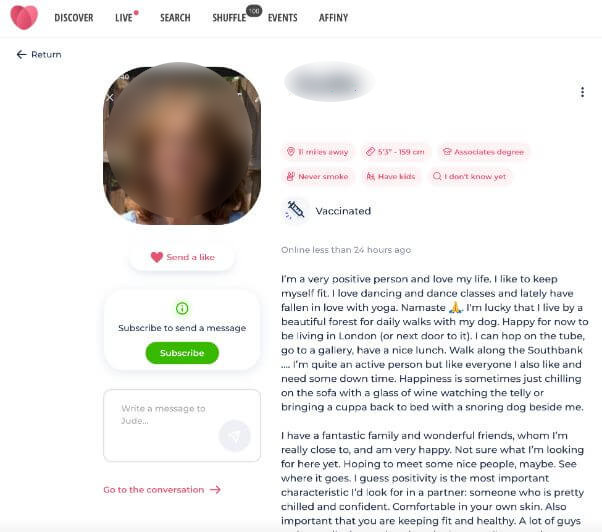 She has a full page profile. They also offer vaccination status.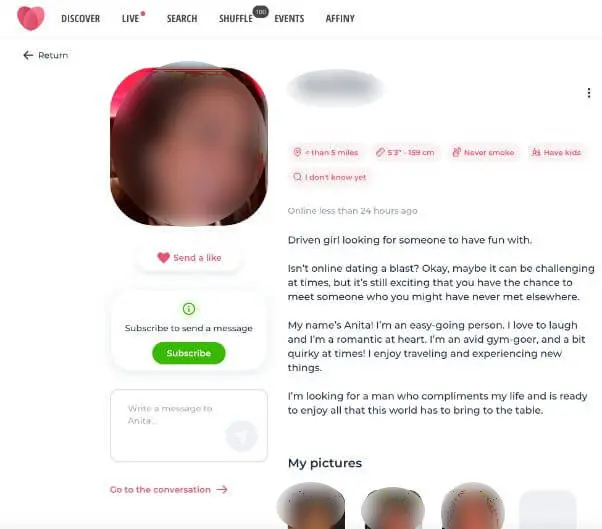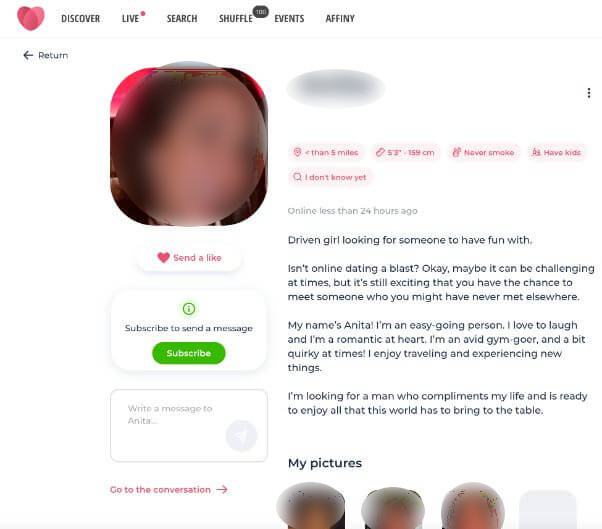 Those profiles seem very genuine. A lot of members have kids.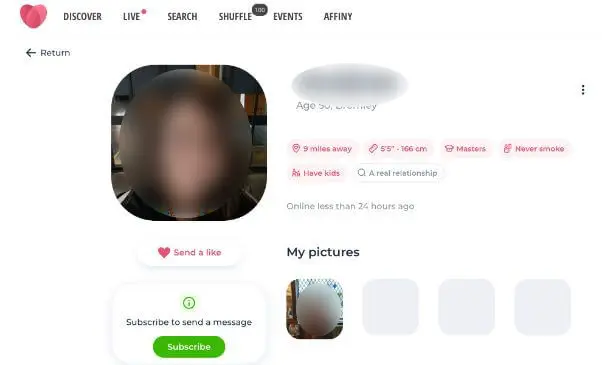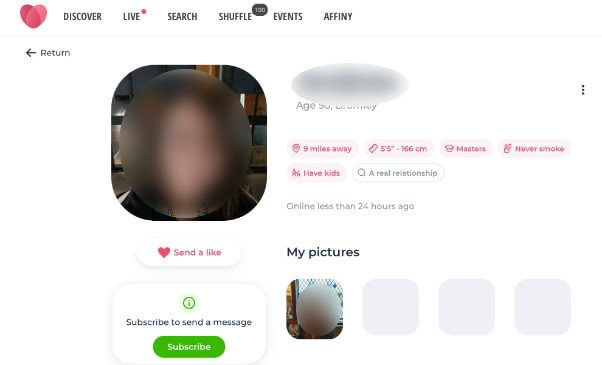 She has an empty profile. Empty profiles are not common on this site.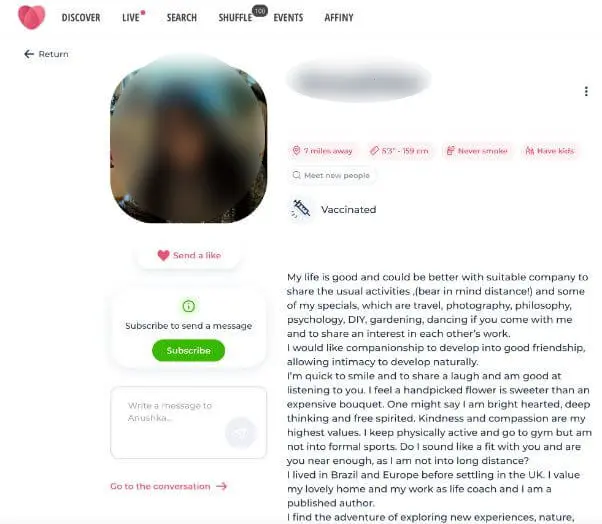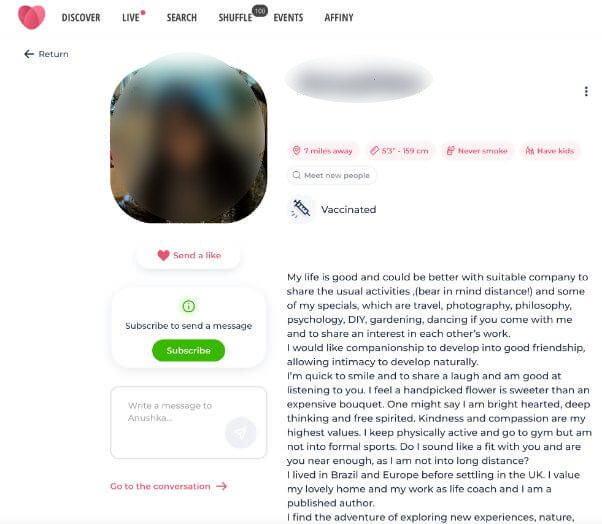 She also has a full profile.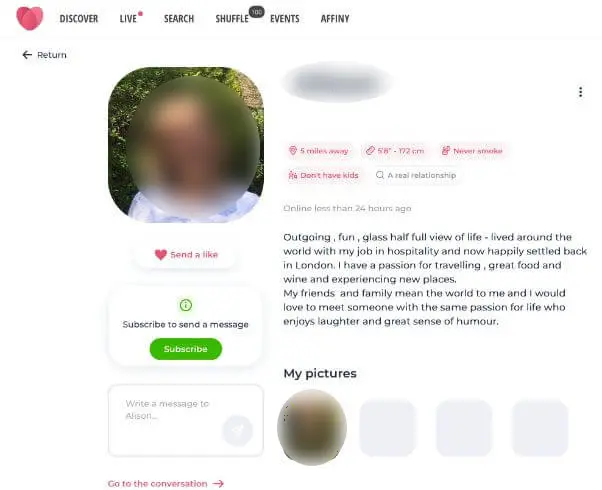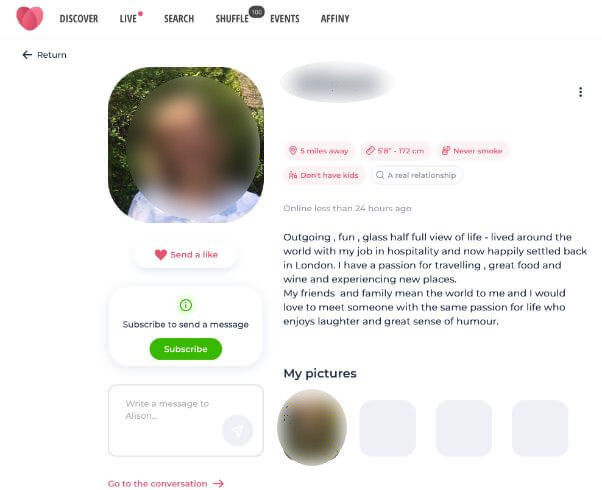 A lot of profiles here seem legit. They are very individual and authentic.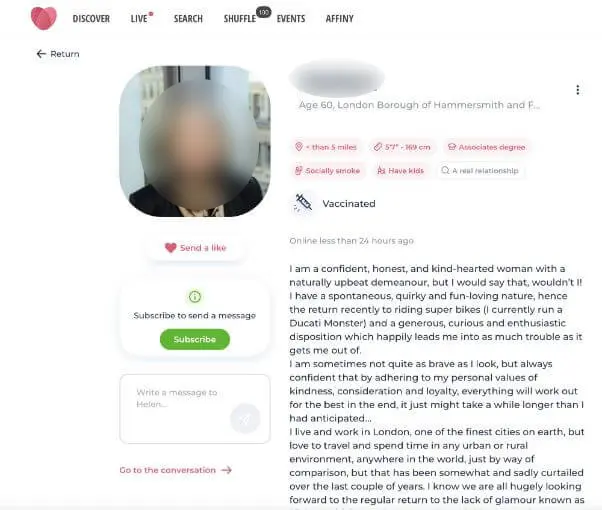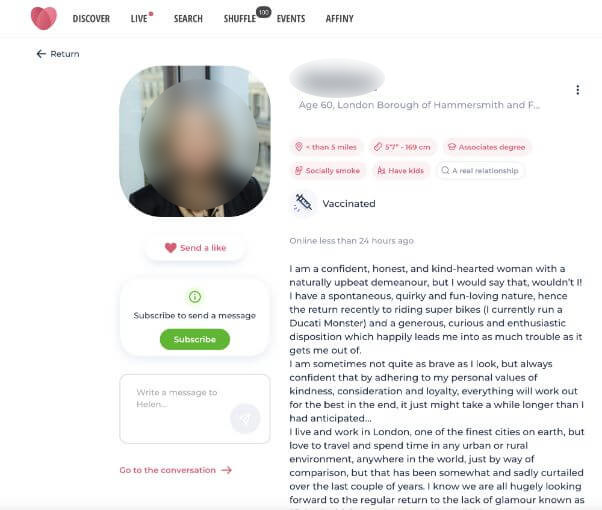 She has a very presentable photo.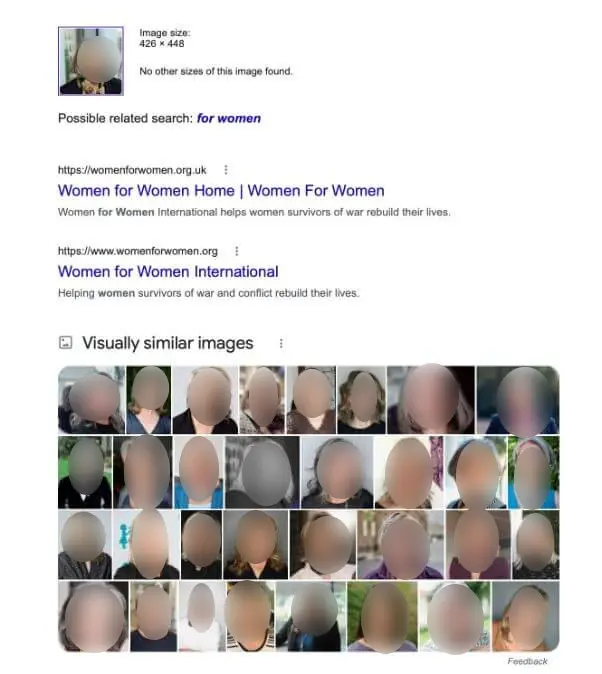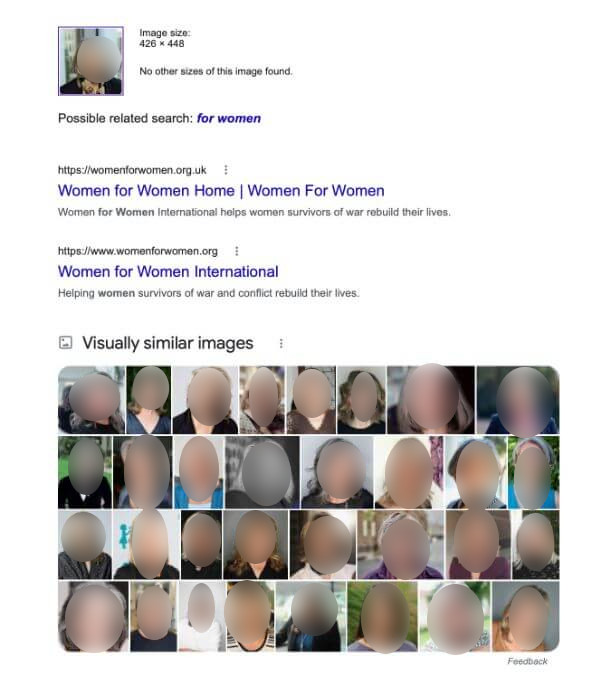 However, her photo did not hit any results on Google image search.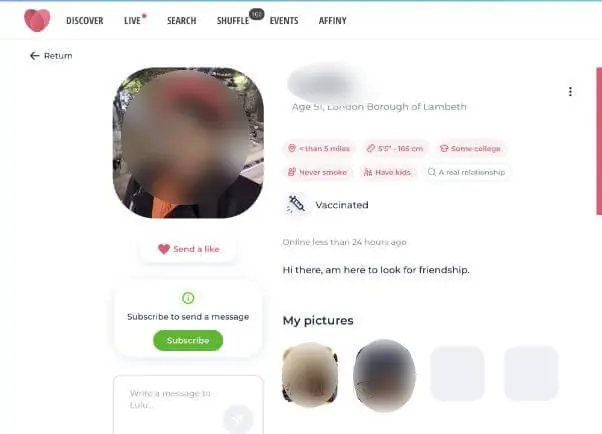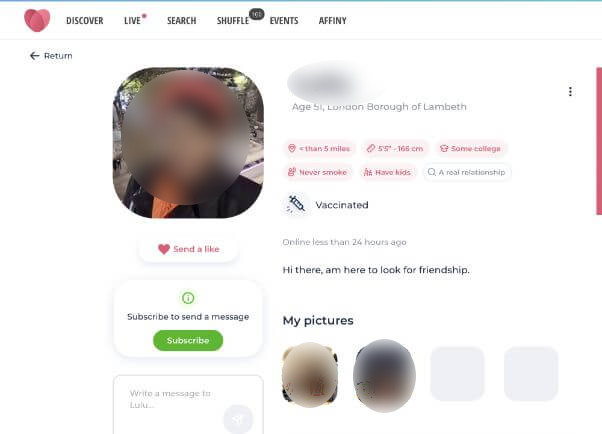 All photos on this service look very authentic and they do not give out any fake vibes.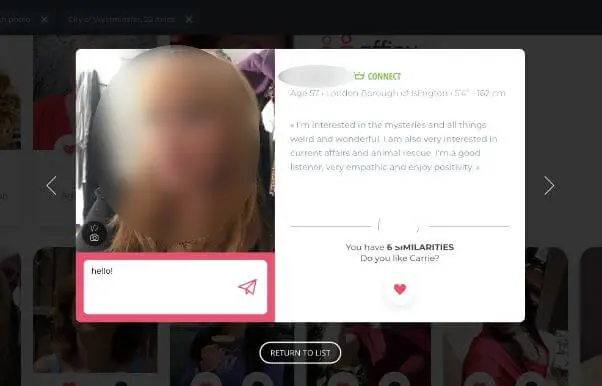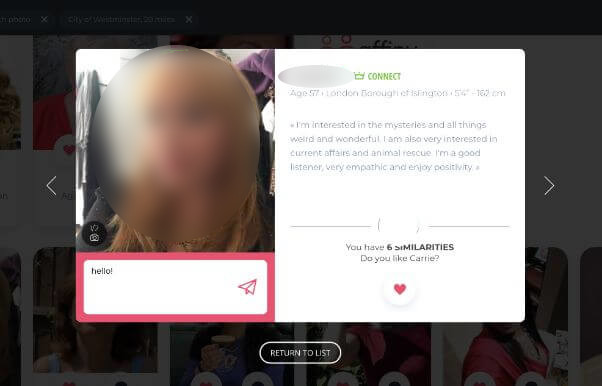 Free members can not send any messages.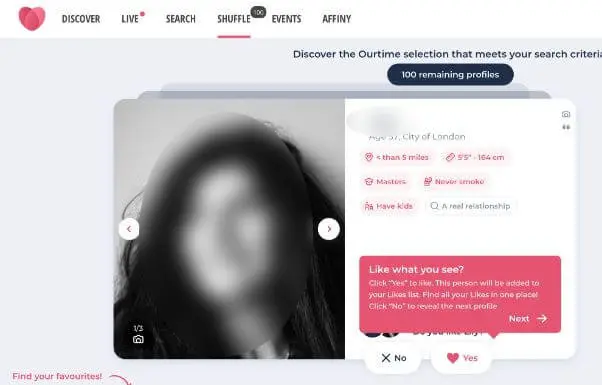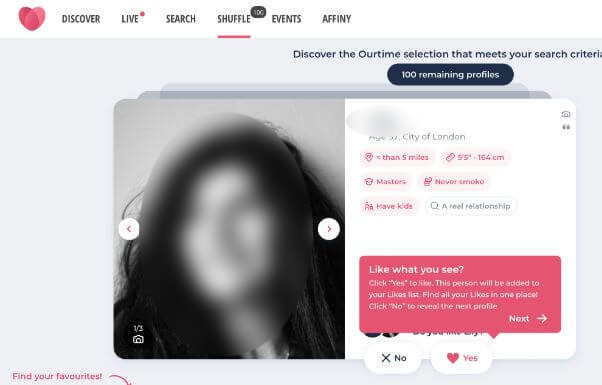 She has an artistic photo.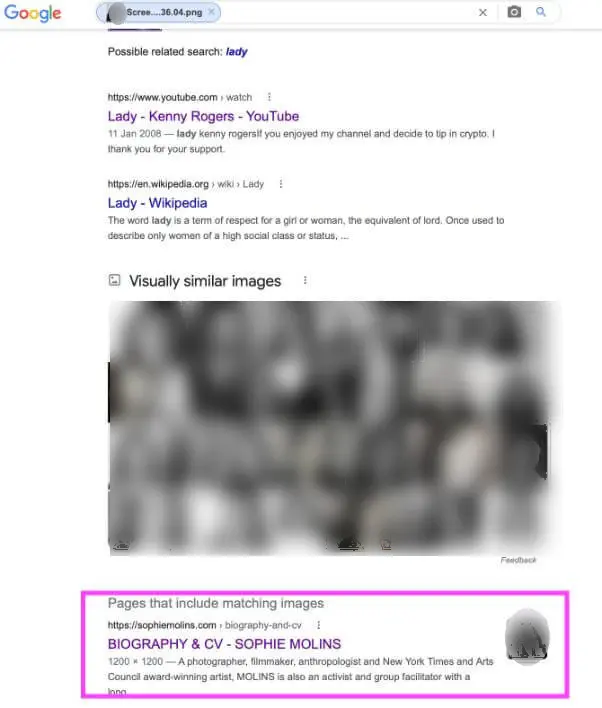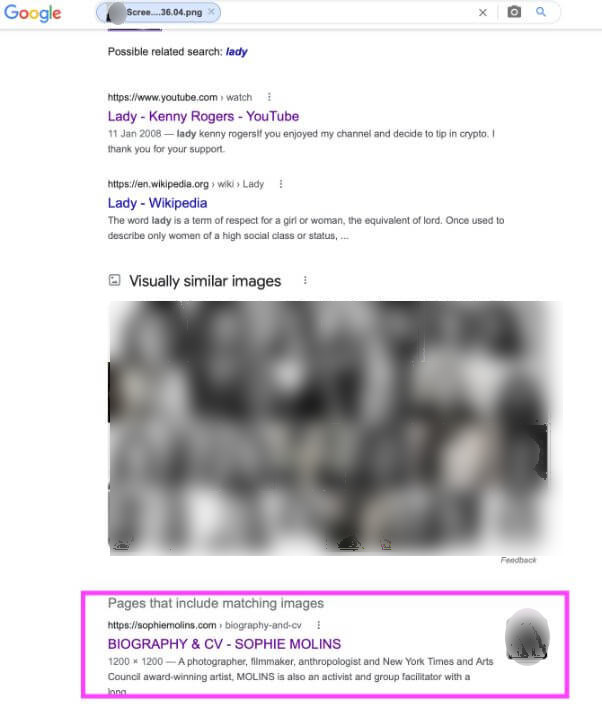 Her photo came back with a positive hit. It is safer to use a private photo on online dating. This is because it is so easy to find people's true identities like this.
It is unclear that someone is using this photo for a fake profile or this is really her looking for someone.
OurTime Scammer Report on Main Media
There are some main media articles about catfishing and romance scamming activities on OurTime.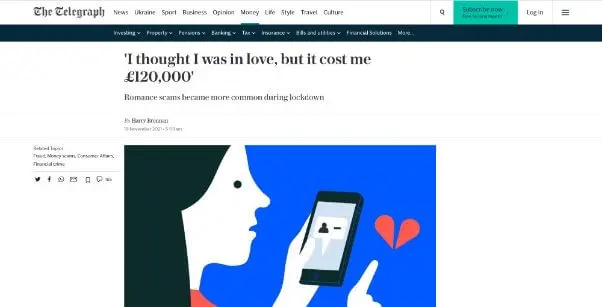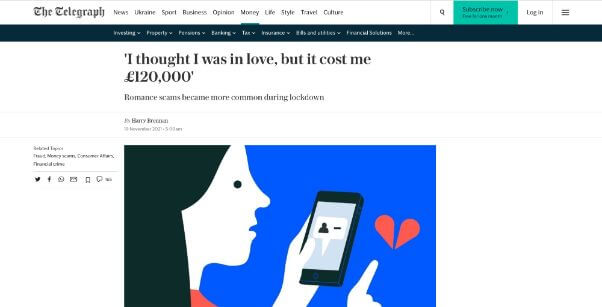 According to this Telegraph article which was published in November 2021, a British widow was scammed £124.000 on OurTime(UK). She was the first time user of an online dating site, she was a true victim of romance scamming.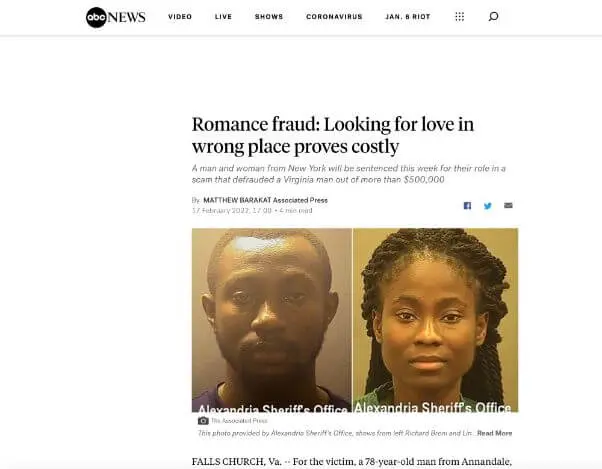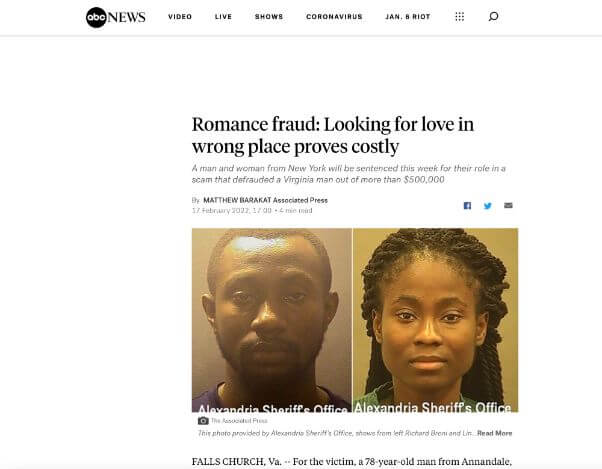 According to this ABC news article in February 2022,
"Richard Dorpe, a Ghanaian national, portrayed himself as a balding 57-year-old white man from Virginia Beach named "Jerry Linus" on the "OurTime" senior dating website. He conned a 68-year-old widow from Chesapeake out of more than $300,000, as well as items including clothes, a computer and jewelry. When she ran out of cash, she took out a home equity loan."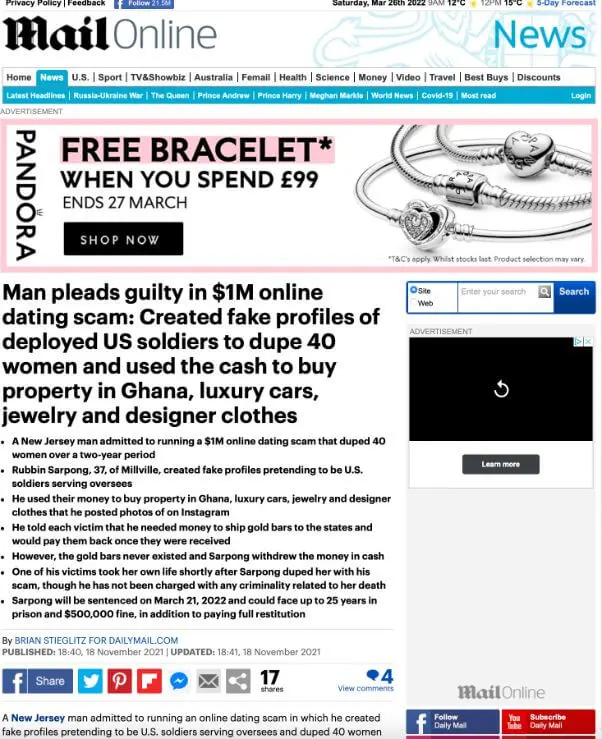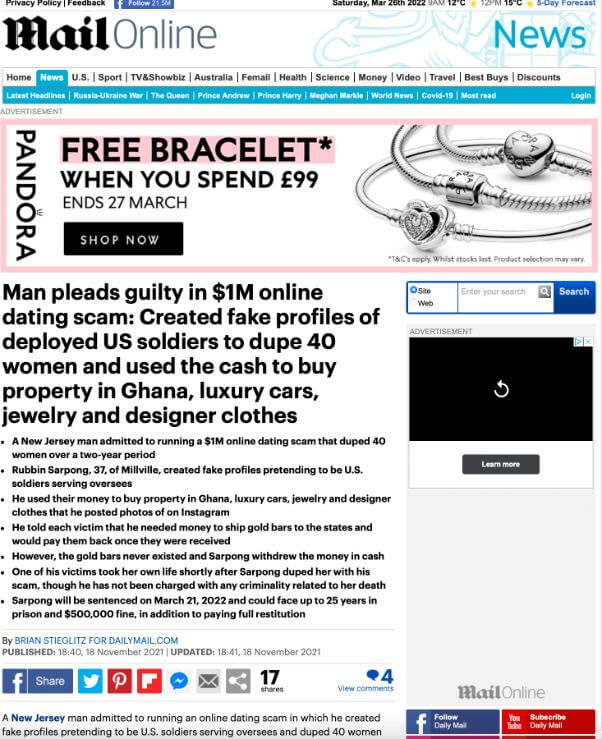 "FBI agents said Sarpong and his co-conspirators used fake or stolen identities and contacted their victims through dating websites including Plenty of Fish, OurTime.com and Match.com, posing as U.S. military members stationed overseas in at least some instances."
In this British article published in November 2021, some scammers are often pretending to be soldiers who are in distress positions.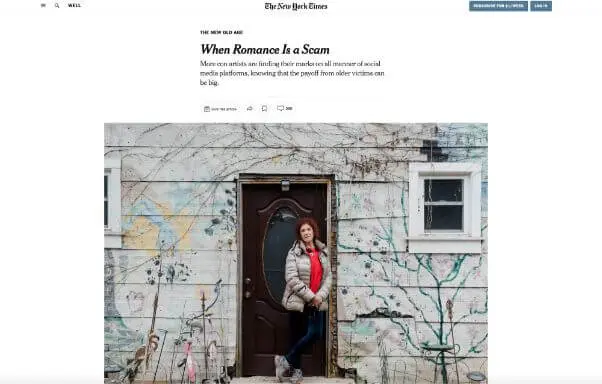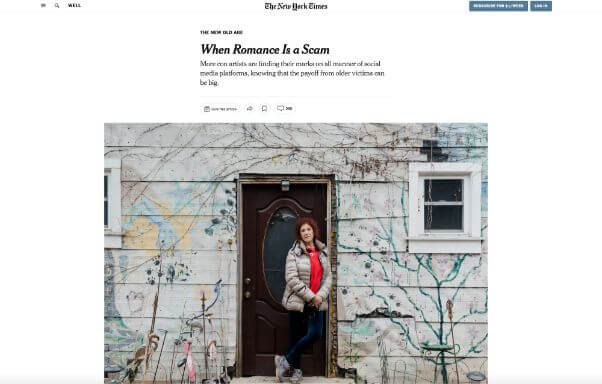 "Often, though, victims feel too humiliated to talk about what happened. A 68-year-old social worker in the Bay Area, for instance, asked not to be named because she still hasn't told her family about a grifter she encountered on Our Time, a dating site for singles over 50."
According to this New York Times article, older women are more likely to fall victims of romance scamming.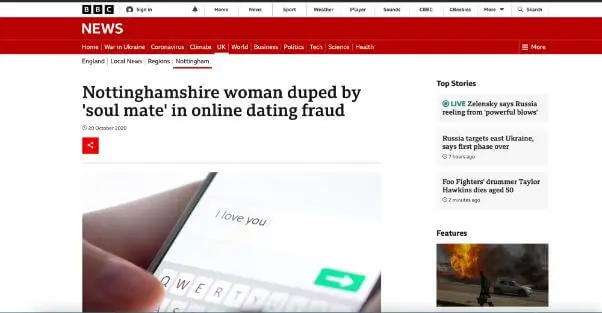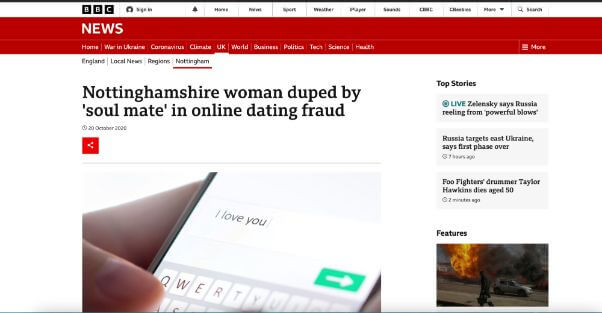 "The scam began last year when the woman, from Nottinghamshire, set up an online dating profile on Our Time, a site for people over 50, and started speaking to "Adam"."
This vicam went through a difficult devoice so she was emotionally vulnerable.