MeetMe Scammer Review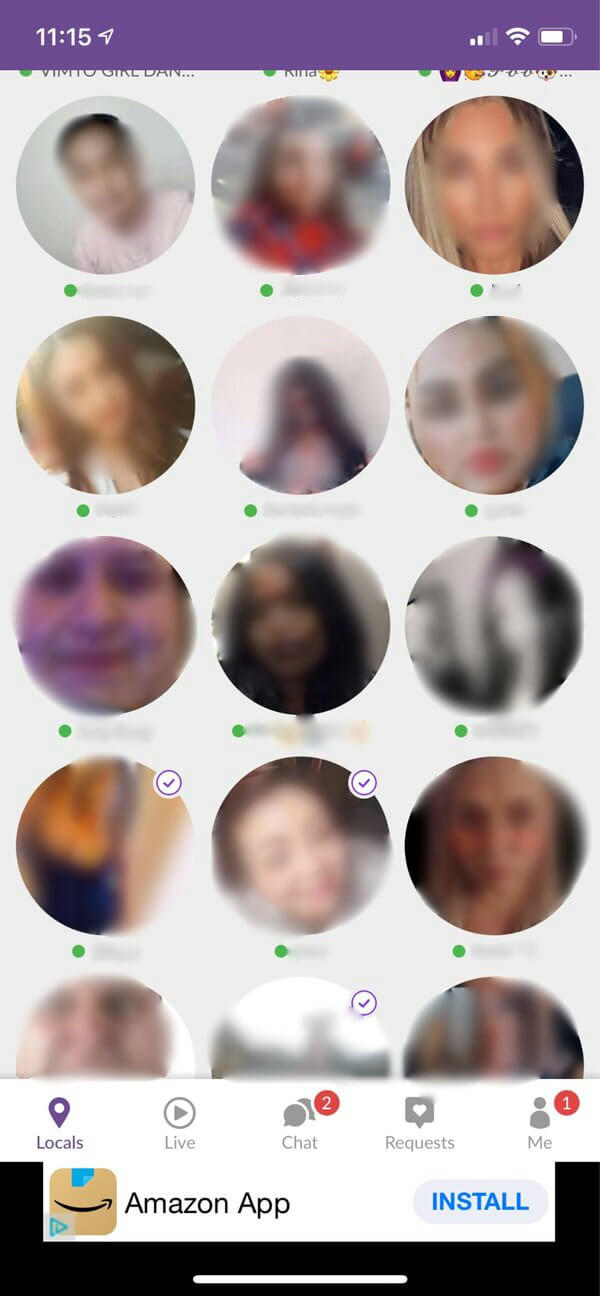 https://www.meetme.com/
MeetMe is trying to evolve to a new streaming online dating service by offering a link to the famous social media TikTok.
Users can also meet others by an ordinary way of swiping their feeds to like and dislike.
But their main focus is shifting towards their live streaming service. Users are encouraged to go live and interact with other users, some on live.
This is a very unique move from their original concept of connecting old classmates using their old name myYearbook, before 2012.
Now MeetMe is a part of a large online dating group ParshipMeet Group, whose main stockholder is German Media company ProSiebenSat.1 Media SE.
MeetMe Scammer verdict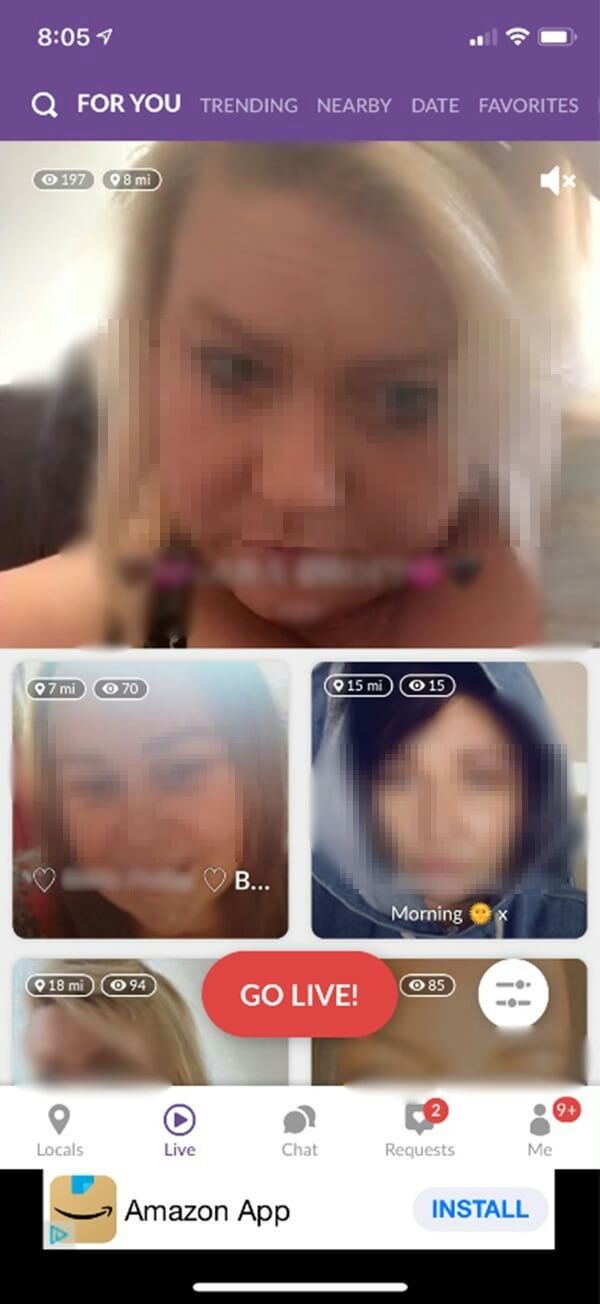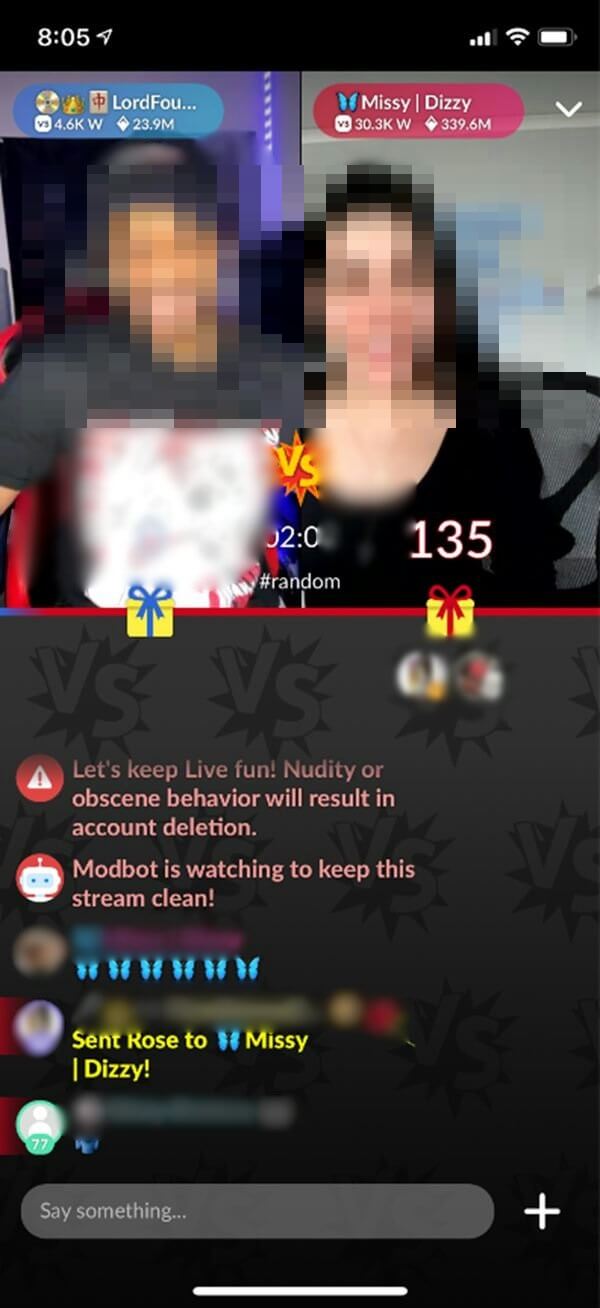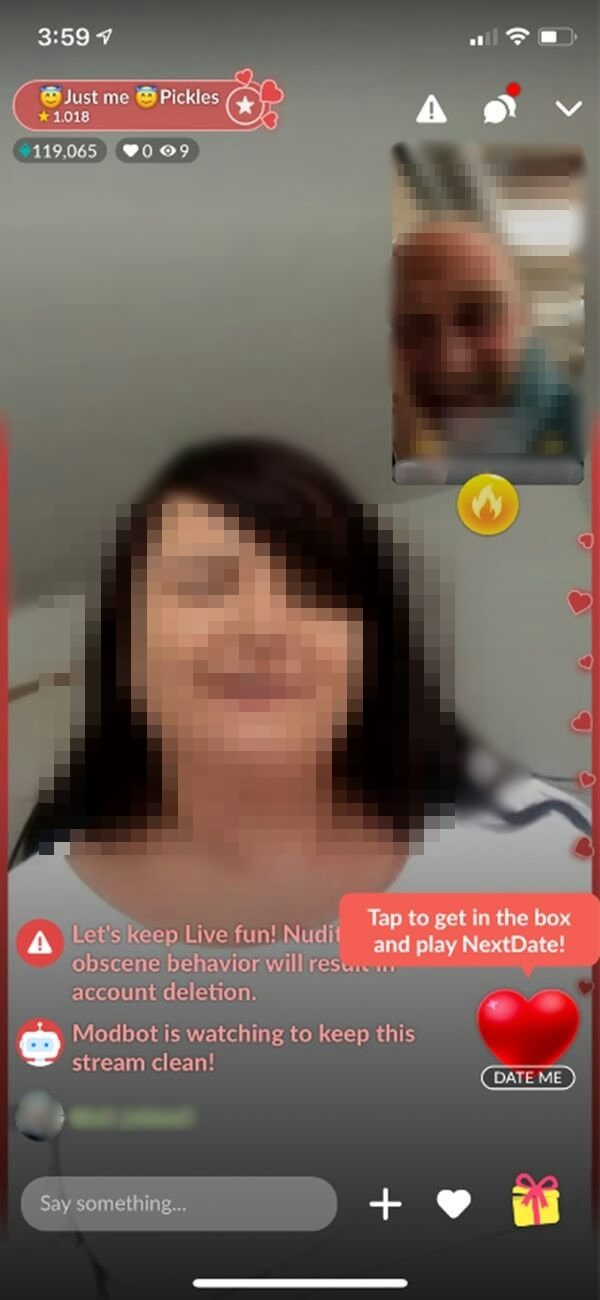 MeetMe is without doubt, not a safe service to use. With common sense, people can feel the illegitimacy of this service.
This service itself could be a scam, especially for young people who do not have any idea about the truth side of this service.
There are some legit users who are trying this service, hoping that this service will become the next popular service like Youtube or TikTok. Some seem like making some money out of this service.
User Variety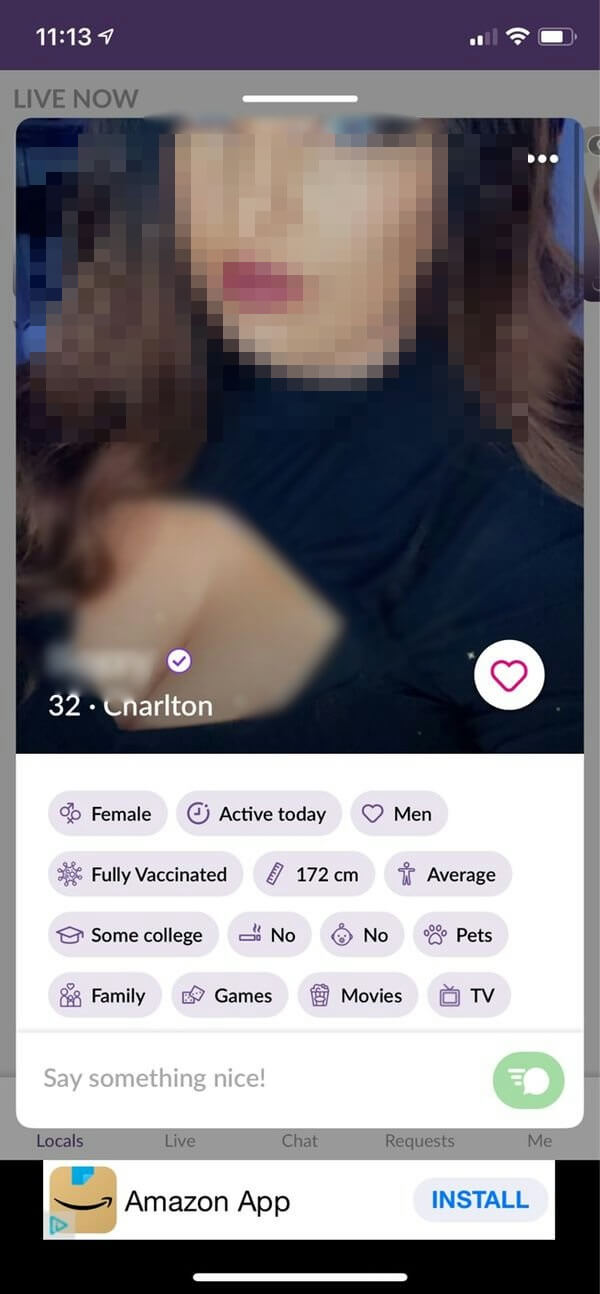 There is a wide variety.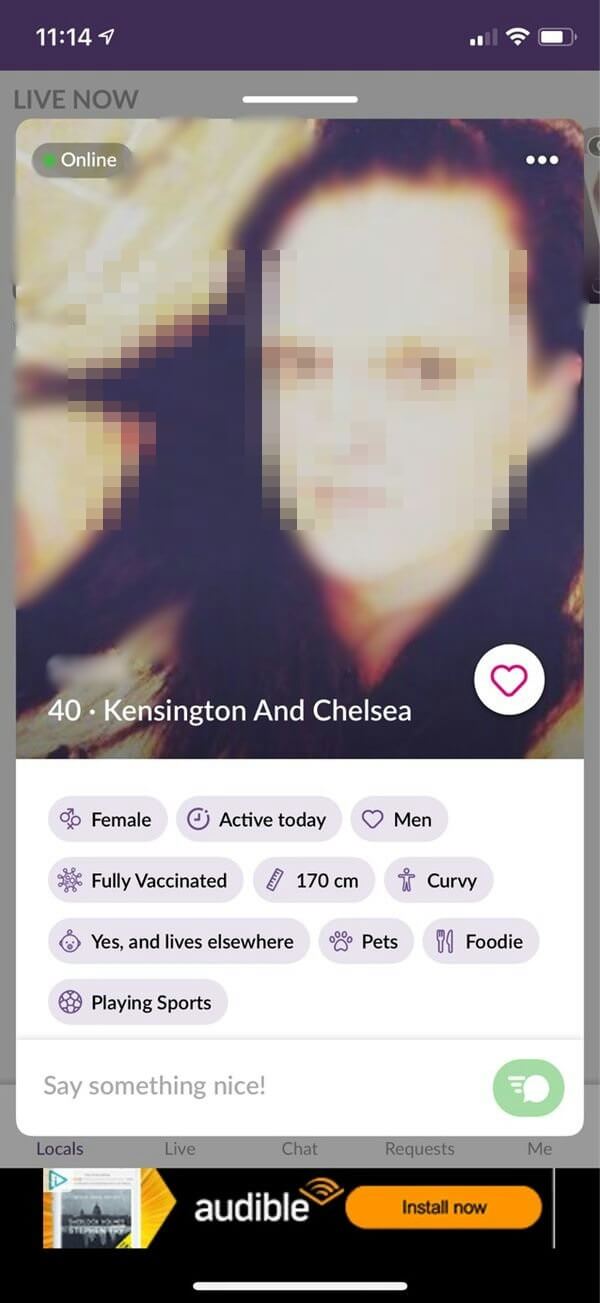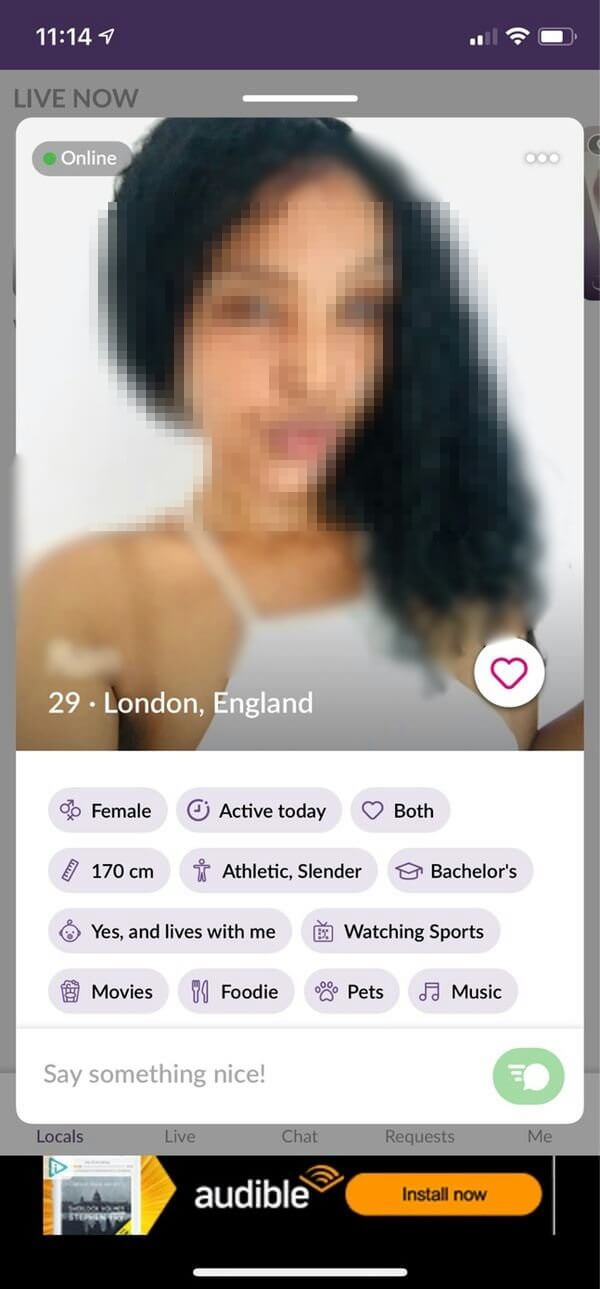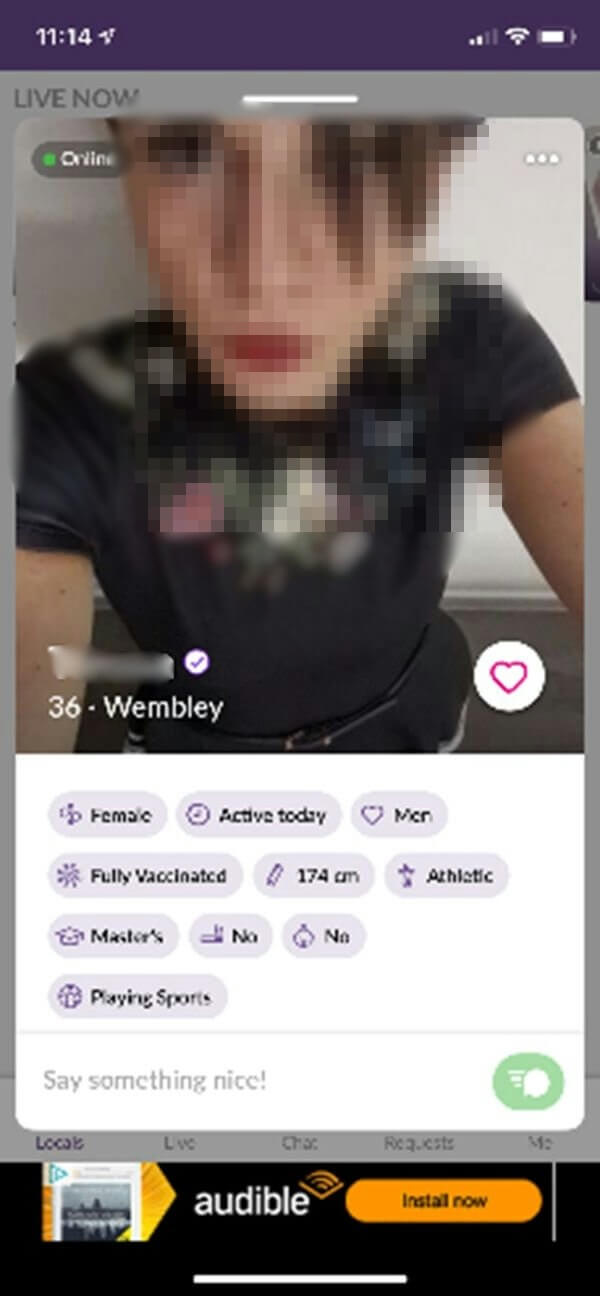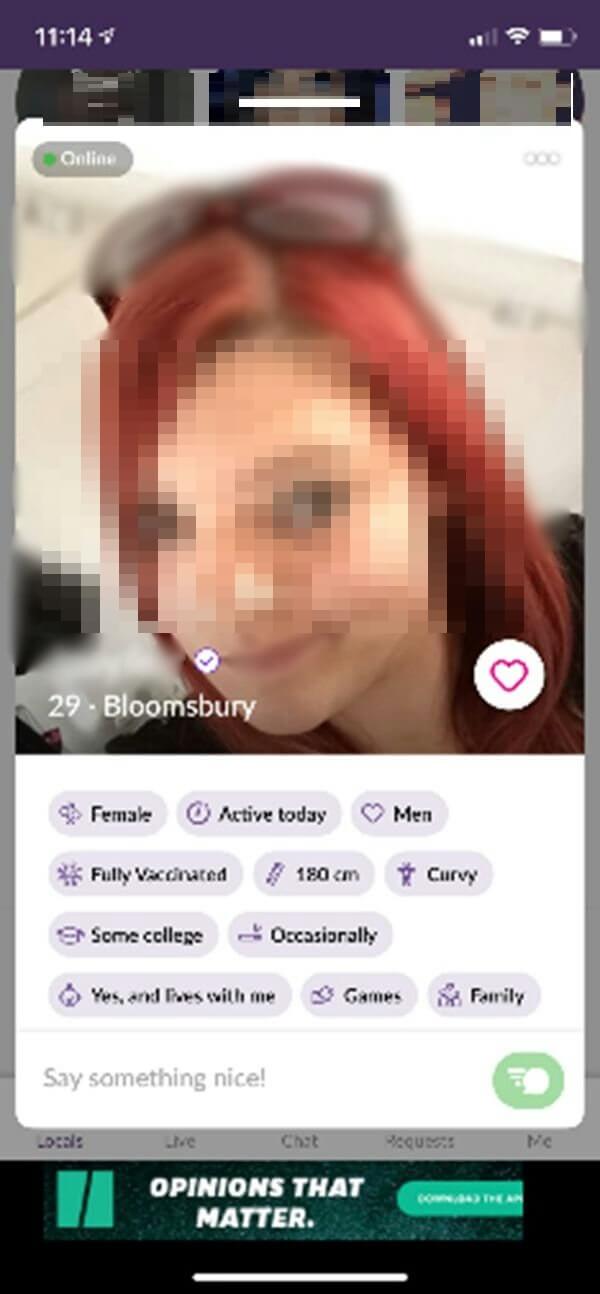 Those profile photos give off different vibes compared to other dating services.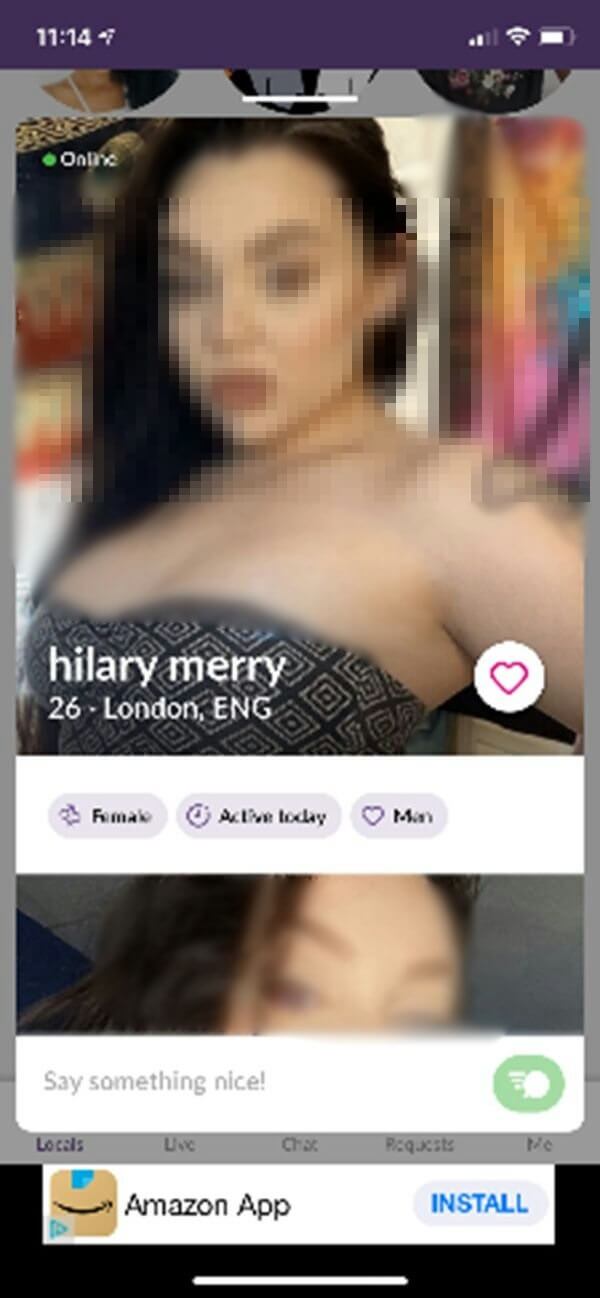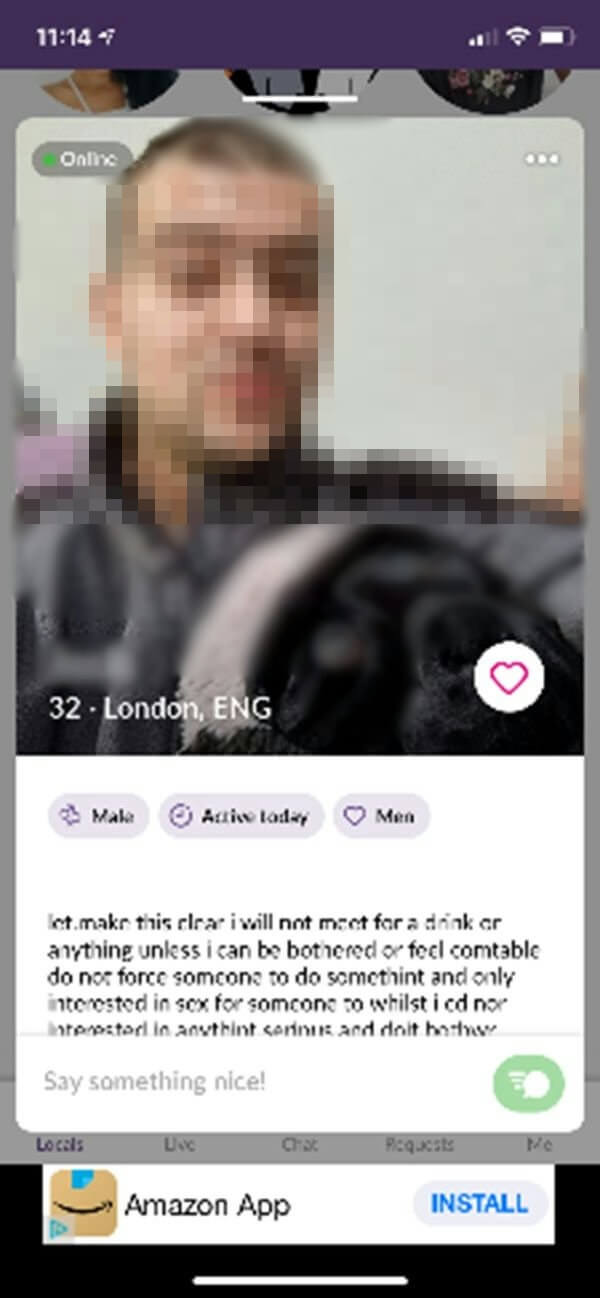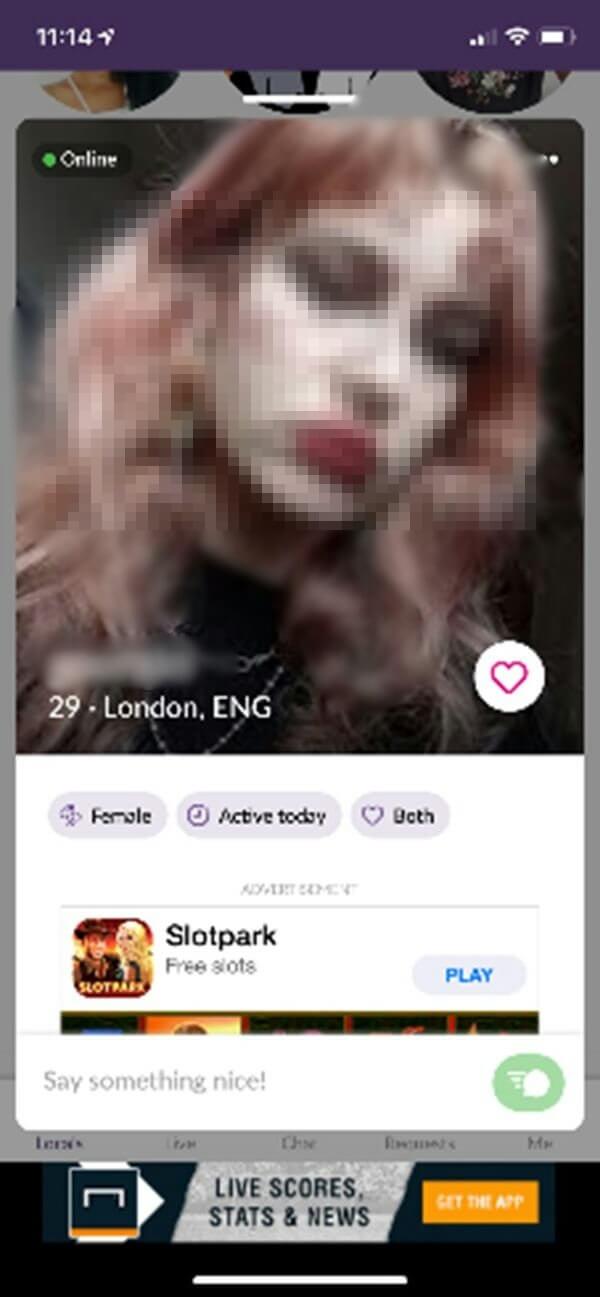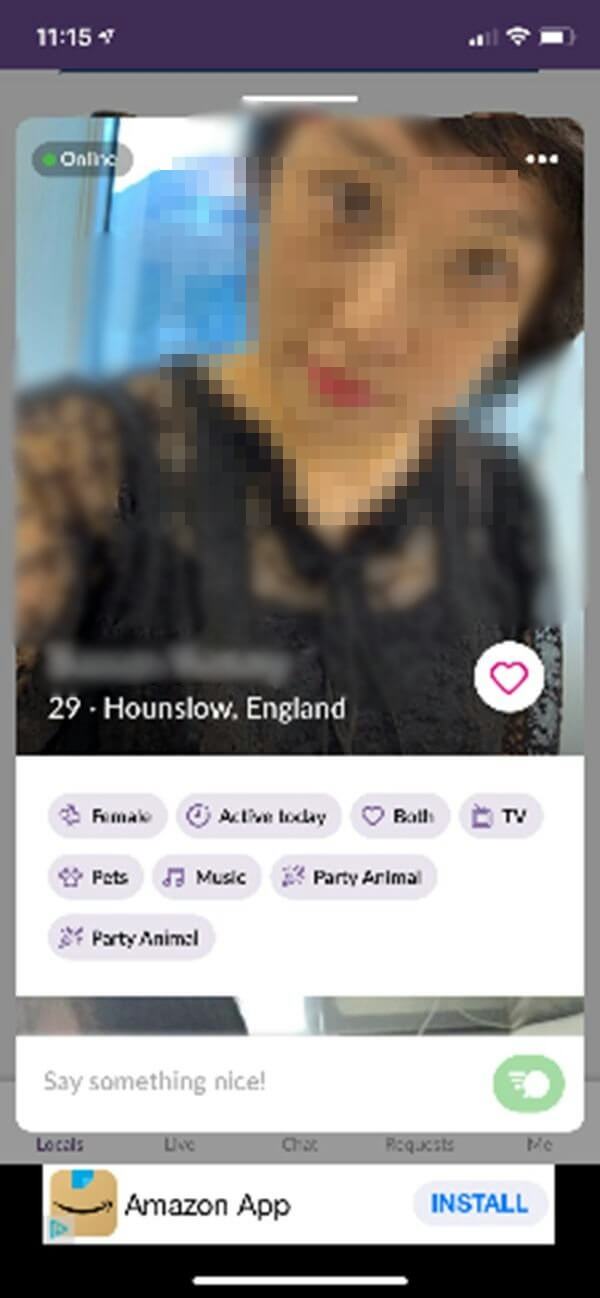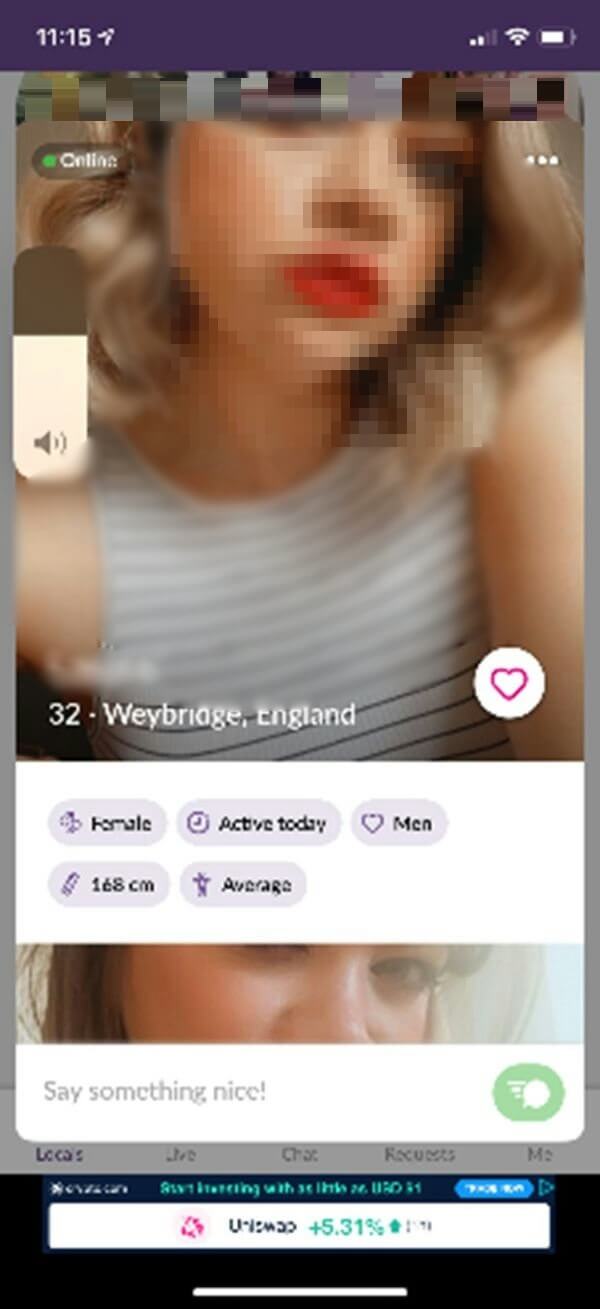 Often profile photos are more mixed. Some would definitely have photos that are not selfies; however, most of the photos on MeetMe are selfies.
A lot of photos are provocative in a similar way. Of course, there are some exceptions.
Traffic by Countries
[Oct, 11th, 2021]

*Monthly Ave. Traffic Mar.-Oct.2021
| | |
| --- | --- |
| US | 3,068,198 |
| CANADA | 205,100 |
| UK | 196,310 |
| Bangladesh | 138,198 |
| Peru | 136.733 |
| Others | 1,138,793 |
Live Streamers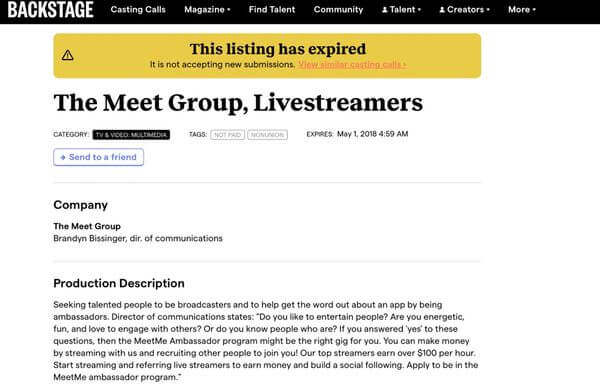 BACKSTAGE
MeetMe used to advertise on Backstage which is a well known entertainment recruiting newspaper that by being their live stream ambassadors, people can earn $100 per hour.
(Reportedly, in order to earn a minimum withdrawal amount of $200, a person needs to get 80.000 diamonds/credits. )
This is about a 3-year-old post, but this whole service could be a scam. This style of system would surely lead to having people who do anything to earn money.
This live steamer Holly, had 1.2 M likes, 5900 views and made 430million diamonds. She could have made around$10.000. She was reportedly live streaming everyday.
MeetMe On Main Media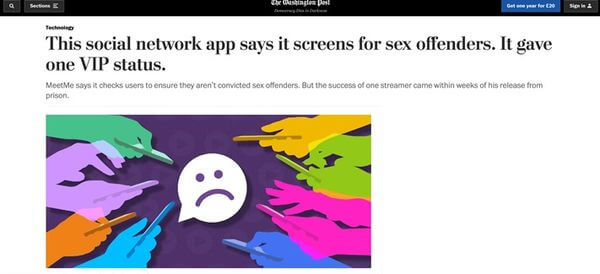 Washington Post
"Some of Meet Group's safety measures came after a 2014 lawsuit brought by San Francisco City Attorney Dennis Herrera, who alleged MeetMe had been used by predators to target minors, violating the rights of minors under California law.
MeetMe also agreed to pay $200,000 in damages and attorneys' fees "
According to this article, MeetMe was ordered to offer better security measures after a 2014 lawsuit.
As some report that the minimum age to join this service is 13, MeetMe does appeal to the younger generation. However, both Apple and Google categorised MeetMe as an adult app, only age 17+ cam join.
MeetMe is on their path to become a live steam platform where people date virtually. This could make this platform a safer place because it is harder to hide a true identity on a live camera.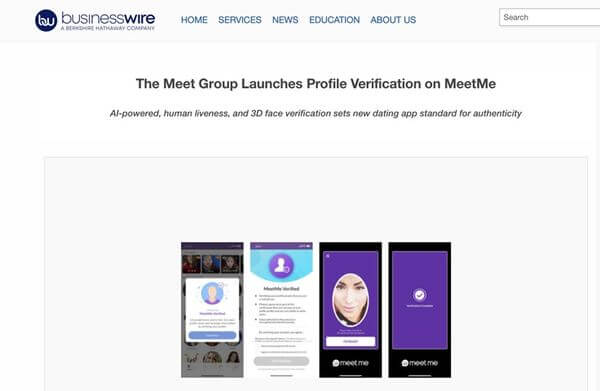 businesswire
According to this article, MeetMe introduced this AI verification software to fight against scammers and criminals.
This could be the result of the above lawsuit.
However, this system is also creating a lot of issues currently. A lot of users were not recognized by this system, thus some were banned from the service or asked to go through this process multiple times.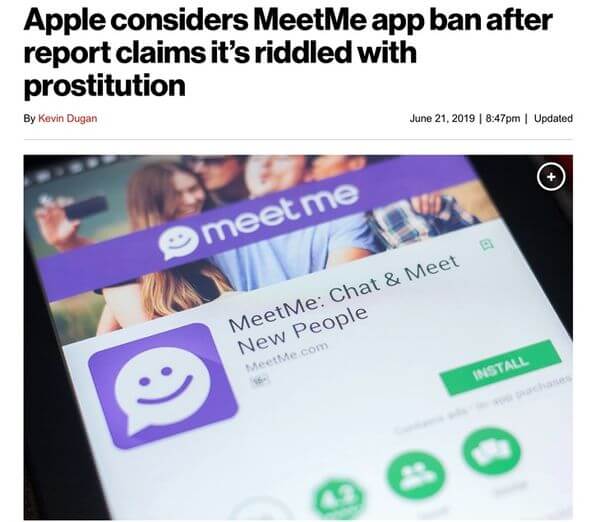 New York Post
This shocking article reports below
"The exchange between the investigator and the Apple worker follows reporting Friday about a 22-year-old man in Missouri who used the app to find an 11-year-old girl and rape her."
"The investor, who did not want to be named, also provided an undated picture to The Post, which the investor said was taken by a MeetMe user, showing two young girls, one wearing braces, watching a man take off his clothes."
"one man masturbating and exposing his penis. In another, a woman bared her breasts at the encouragement of a viewer."
It is very clear that people need to avoid this service.
"MeetMe introduced live video in 2017 and expects to make $82 million in revenue this year, according to regulatory documents….The company and the recipient user each get 35%, while Apple and Google's app stores get a 30% cut."
This is a 2019 article. After 2 years since this article was out, Apple is still allowing MeetMe to operate on their service platform. It is clear that their revenue is too high to let it go.