Jolly.me Review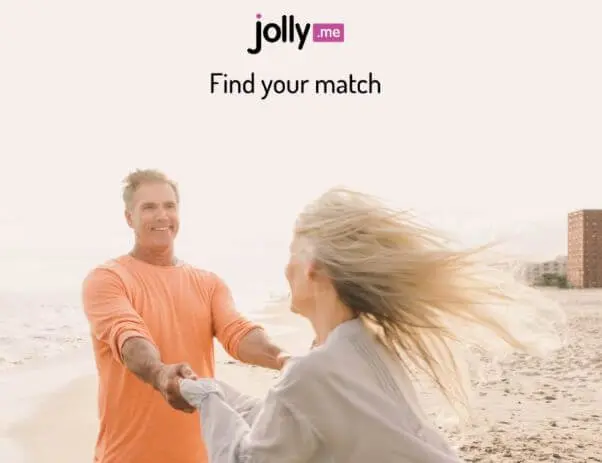 https://jolly.me
Jolly has very limited information online. There is no information about their operation. There is also no information of development. After doing some online research, it came to that this service started about 4 years ago. Their Goggle app service was launched in February 2020, it was developed by Денис Грянка, a Bulgarina app developer.
Jolly also has some connection to the British Virgin Island. The location often appears on their website such as their contract.
Also, they have a connection to Russian Social Media site Odnoklassniki, people can register using their social media account reportedly.
Jolly has provided an international service but there is no clear information about where and how much.
Jolly.me Verdict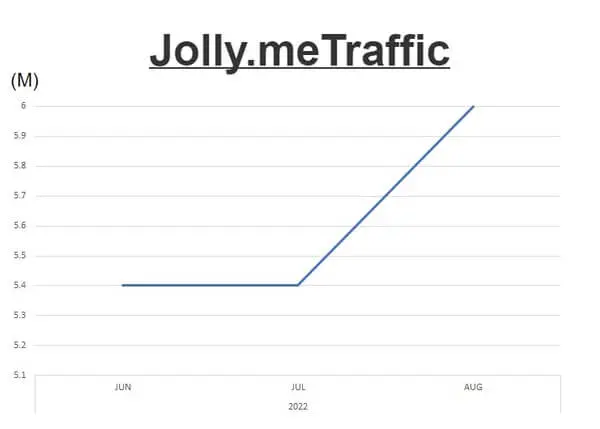 Jolly.me is a dating service which has nearly zero online presence. The legitimacy of the service is very questionable. It is wise to not to pay for this service, thus it's the best to use their free promotional subscription to start with.
They also gave up promoting the service. They do not spend any effort to get more people. They seem to be moving on to a new service, Kismia, which resembles Jolly.me, they even have the same page layout.
Their operation address seems to be in the British Virgin Island in the Caribbean. However, there is no way to find out who they really are.
Traffic by Countries
[Sep, 14th, 2022]

It seems that there are not many users in English-speaking countries.
Average Monthly Traffic by Countries
[Monthly Ave. of Jun-Aug, 2022]
| | |
| --- | --- |
| Ukraine | 1,581,440 |
| Peru | 332,640 |
| Argentina | 271,600 |
| Poland | 242,480 |
| Ecuador | 236,880 |
| Others | 2,934,960 |
Although there are many users worldwide, the number of users in each country is small.
User Variety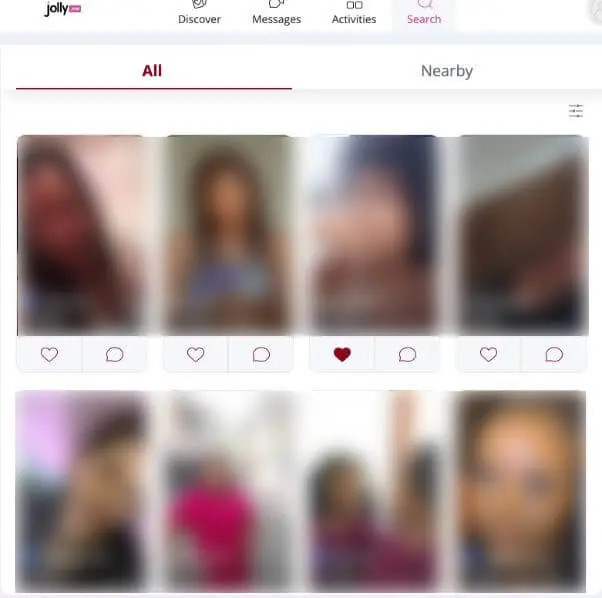 Jolly.me has a wide range of users all over the world. However, the legitimity is questionable since free members can not contact them.
Limited Time Promotion

By contacting [email protected], people might be able to get hold of this promotion. By posting a positive review about Jolly on trustpilot, people would be able to get 3 days free premium service subscription.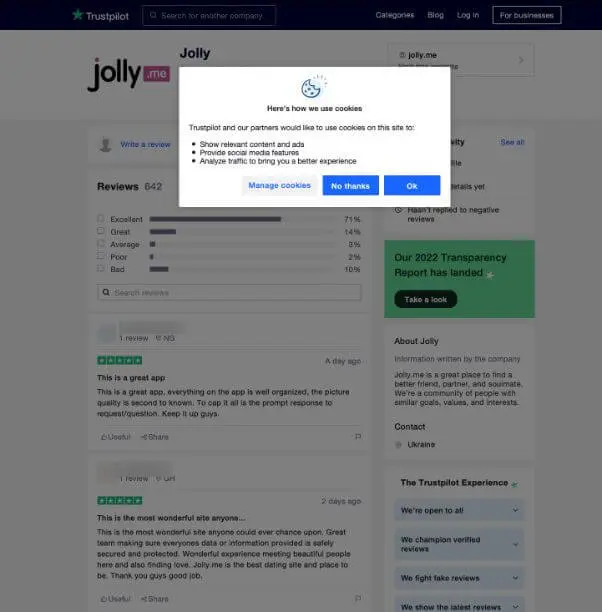 As you can see, there are a lot of positive reviews on their trustpilot page!
Jolly.me paying services
Jolly.me offers different paying services.
Jolly.me VIP membership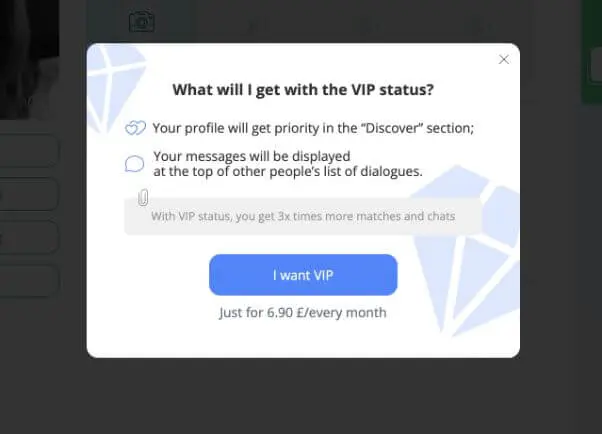 Jolly.me VIP membership would cost about £6.90 ($8.40) per month. This membership allows a user to get more exposure and some priority within the service. This also allows users to use messaging services which is the most important aspect to find a date.
Premium Service Membership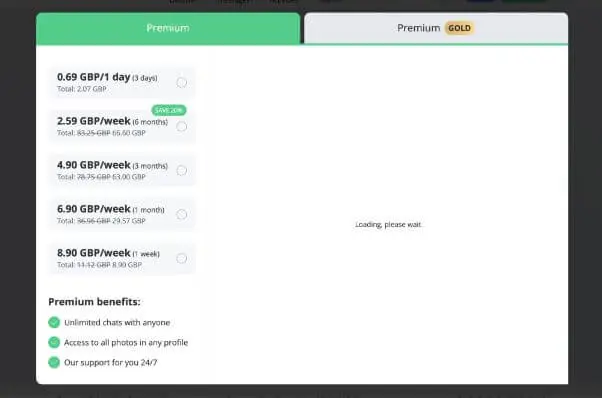 Jolly.me Premium Service membership allows users to chat with other members and access others' profiles. Without this membership, people can not really use Jolly.me service.
Jolly.me Premium Service membership is depending on the length of subscription, people can try it out for as short as 1 day.
Premium Gold Service Membership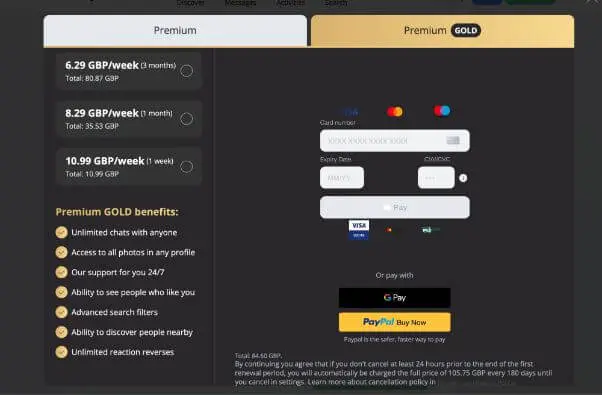 Jolly.me Premium Gold Service membership offers the same service as Jolly.me Premium Service membership and more. The membership includes things such as the advanced search and the access to discover people nearby.
Jolly.me Premium Gold Service membership currently offers the following payment plans.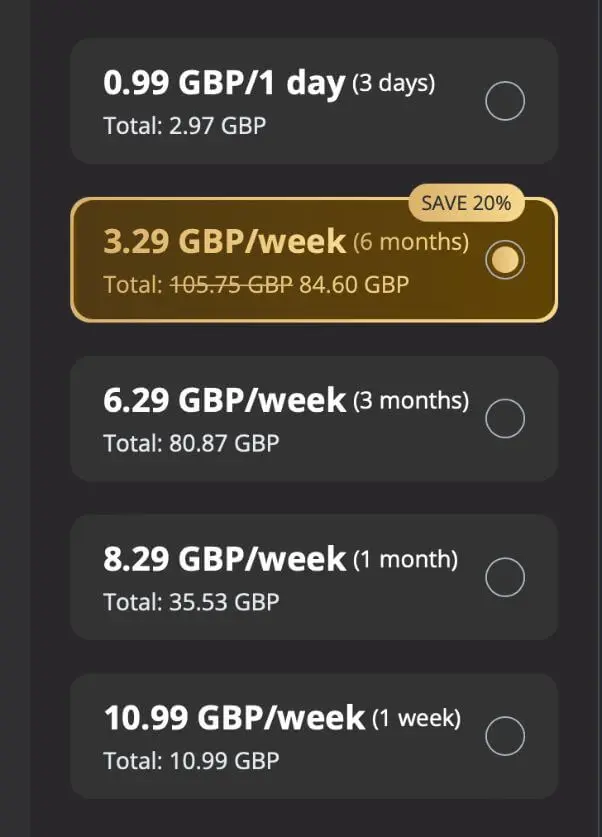 Coin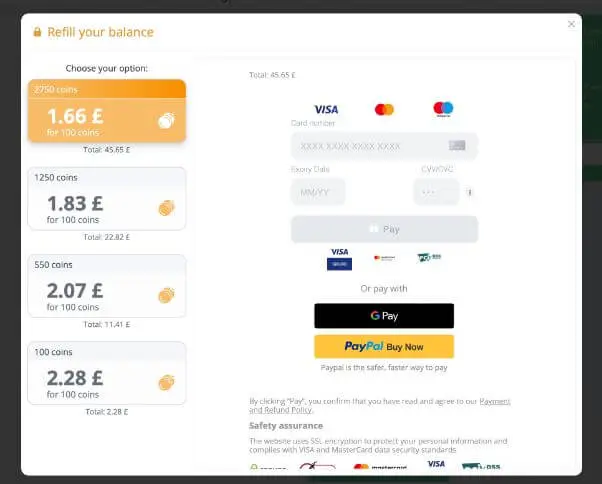 Users can buy coins. Those coins can be used to send some emoji like items to other members.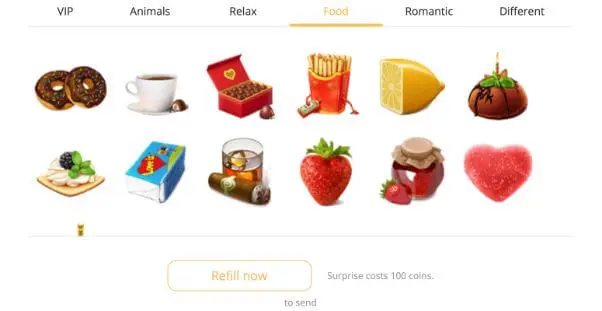 One item would cost about £2.28!($2.68) It is very expensive.
Receivers do not get any incentives, which is different from some other dating sites such as MIVU or Sugarbook where receivers can get financial incentives by receiving those virtual gifts.
According to the customer support, sending those gifts will increase the chance to get replies from others.

Once again, this is just getting a possible reply.
How to Join Jolly.me
Joining Jolly.me is extremely easy and quick.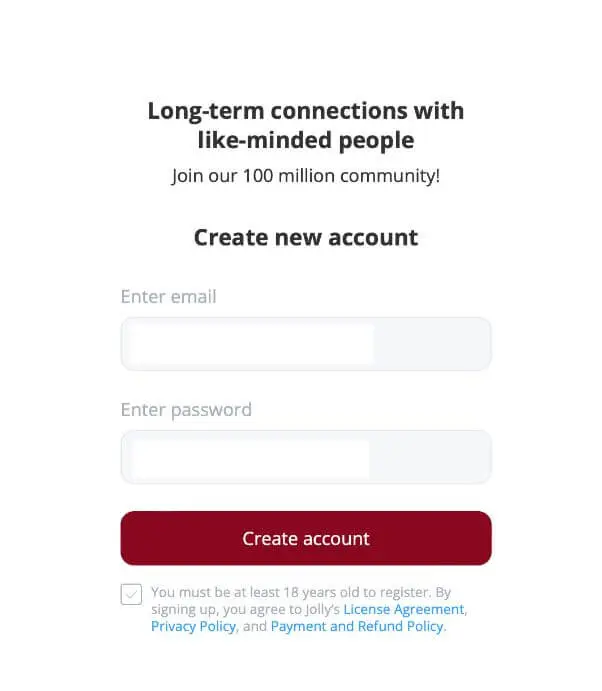 People would just need to have an email address.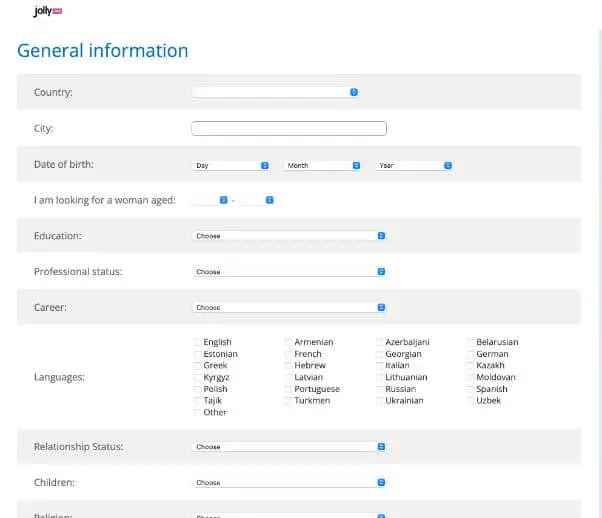 Then people need to put in some information. They are very basic and straightforward.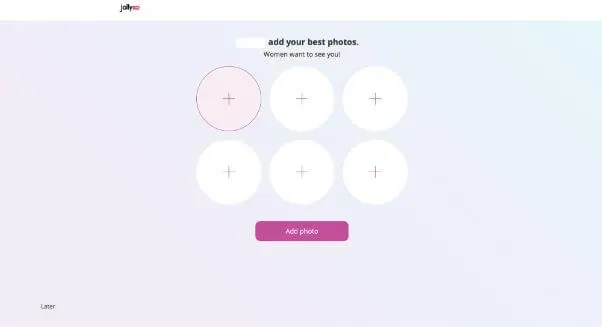 Now, it is time to add photos. However, this step can be skipped.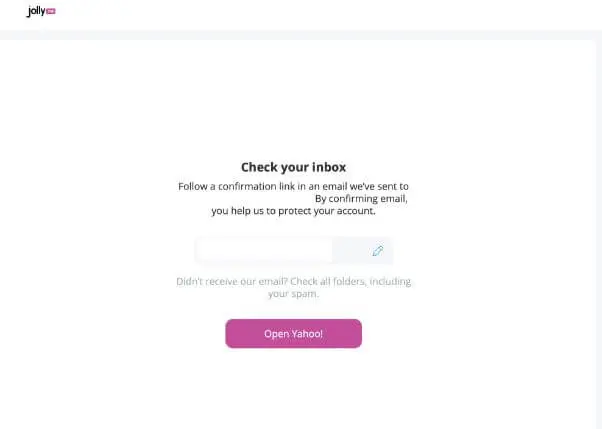 Now, it is time to verify the email address.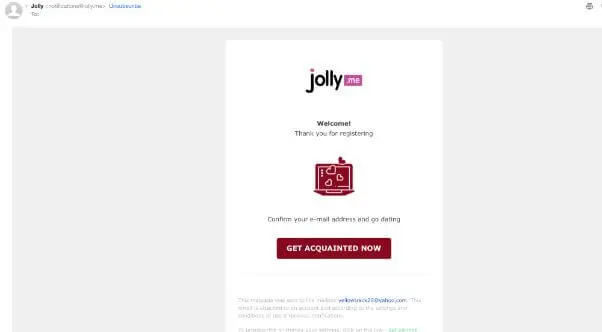 This is the email from Jolly, and by clicking the red link, the email would be verified.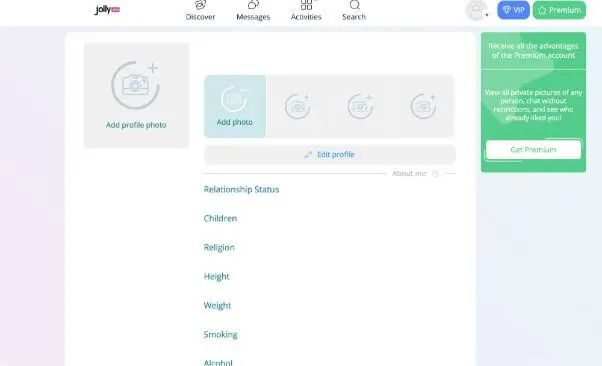 Now, this is the first page, which would be a user's own profile page. This whole process would only take a few minutes.
How to use Jolly.me
As a free member, there are not a lot of things the member can do.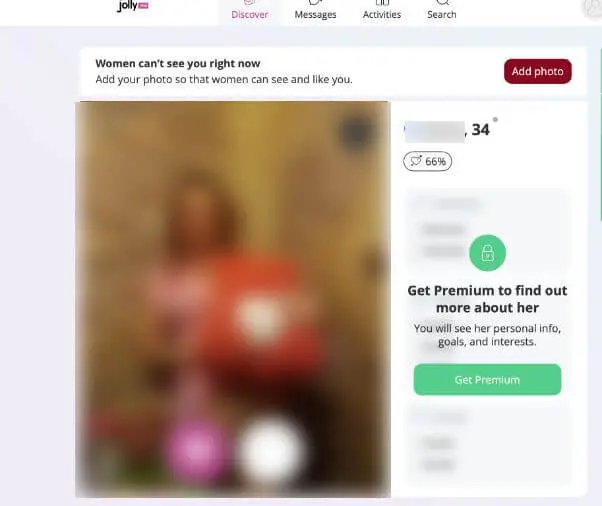 The free member can like and not like profiles just like some other popular dating services.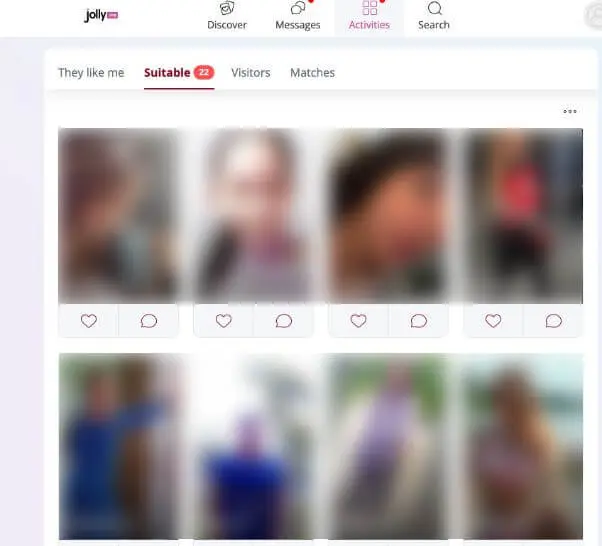 Free members can go to activities and browse others' main pictures. Although the free members can click the speech bubble sign to make contacts, messages won't be sent.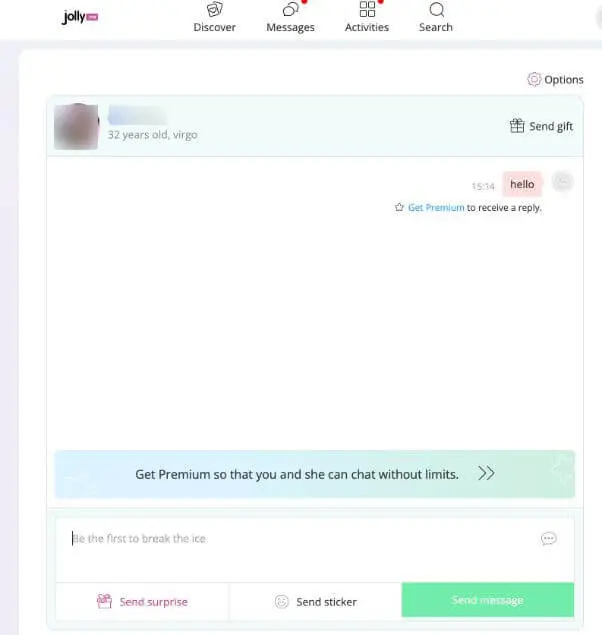 This page would appear and the free user can be tricked to send a message. This could be a part of their marketing strategies.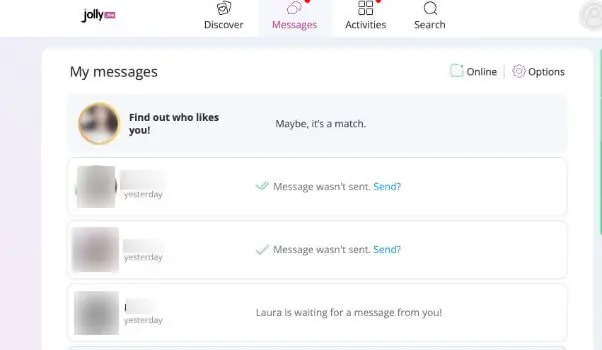 As you can see, later on, those sent messages would be appear as "wasn't sent"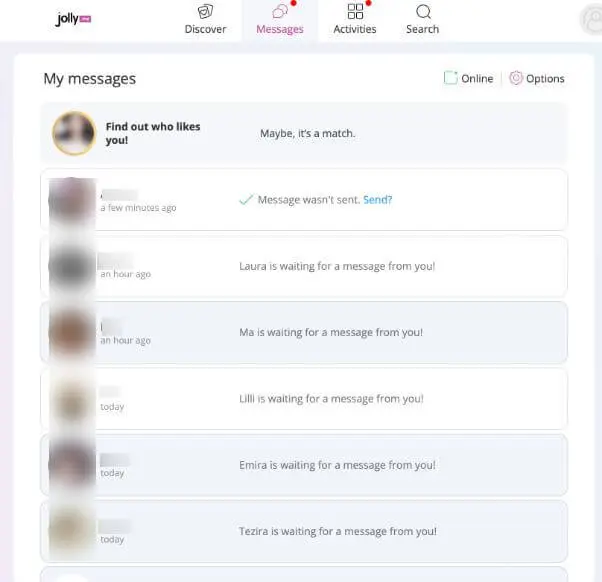 The message function works the same. The free members can not use it. Although, this page would make users as if some others would be showing their interest.
Basically, with a free membership, a user can only browse main profile photos and like them.
App Service
Jolly.me only offers Android apps. However it was last updated about 2 years ago thus it has not been looked after very well. It shows 500K downloads and has a 17+ age limitation.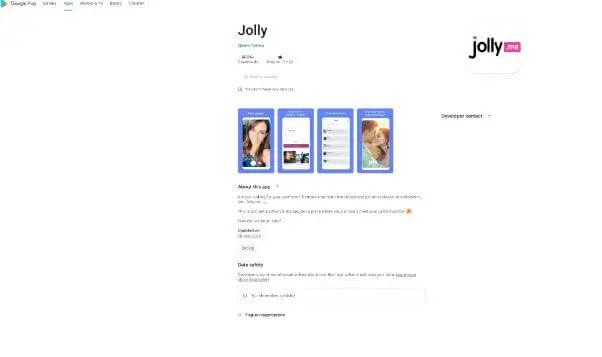 Also, there is no information about the app which is very strange for a dating app.

On their webpage, there is a mention of an iOS app.

However, there is no app under the name Jolly as a dating app on the Apple app store.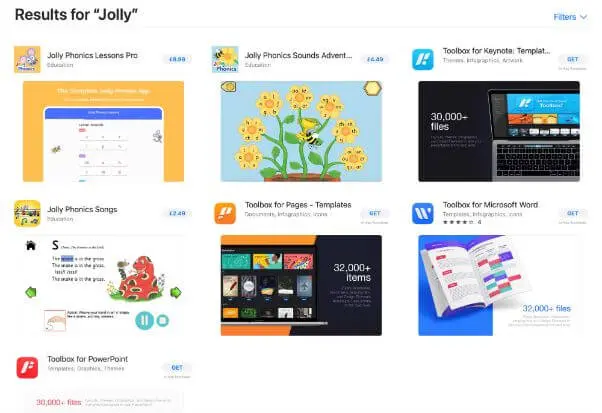 They are the result of putting Jolly in the search engine. Also, there is no result of Jolly.me in the Apple App store.
Social Media Accounts
Jolly.me has very limited social media activities which is very unusual for a dating service. Normally, a dating service would promote its service heavily online thus Jolly.me's service's legitimacy is questionable.
Instagram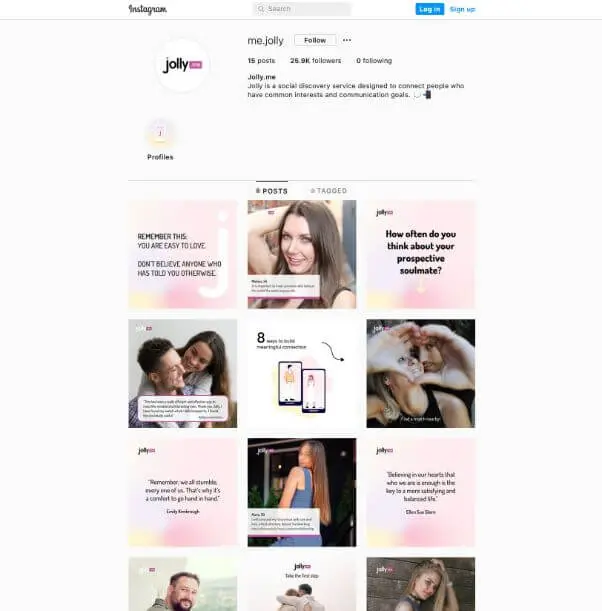 https://www.instagram.com/me.jolly/
Jolly.me has 25.9 K followers on Instagram, they posted multiple pictures in October 2021, they were their last. Before the massive post, they did not post anything for 8 months. How come they can get 25K followers?
Facebook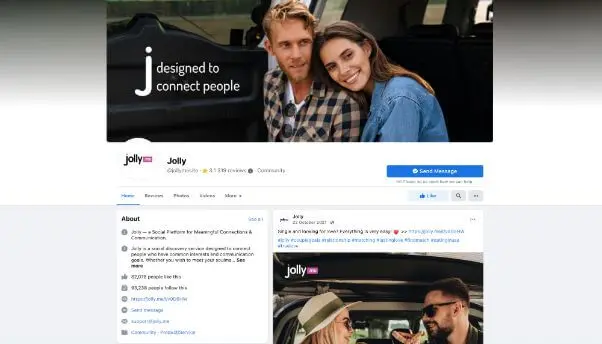 https://www.facebook.com/jollymesite/
Jolly.me has about 93K followers on Facebook. Their last post here is also dated October 2021. They also promote another dating service https://kismia.com.

This page is so similar to their service. It is almost the same.
tumblr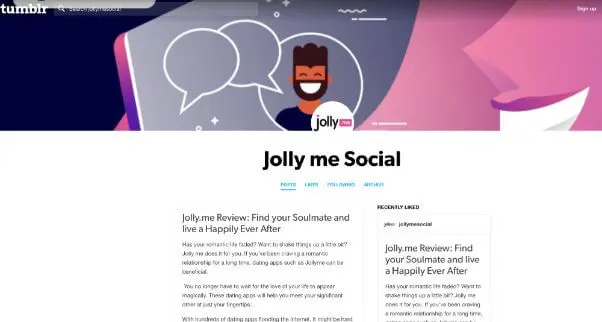 https://jollymesocial.tumblr.com
Jolly.me has tried to build up its Tumblr page. However, there are only two posts here. Tumblr itself has lost its momentum in the social networking service induetory.
Jolly.me Youtube

There is only one post about Jolly on youtube in Russian, its title "Jolly Me Dating Site Review – Real Reviews of Jolly Me Site"
This is also a good sign that Jolly.me is not a successful dating service. They are not even well known online, they do not have much online presence.
Online Presence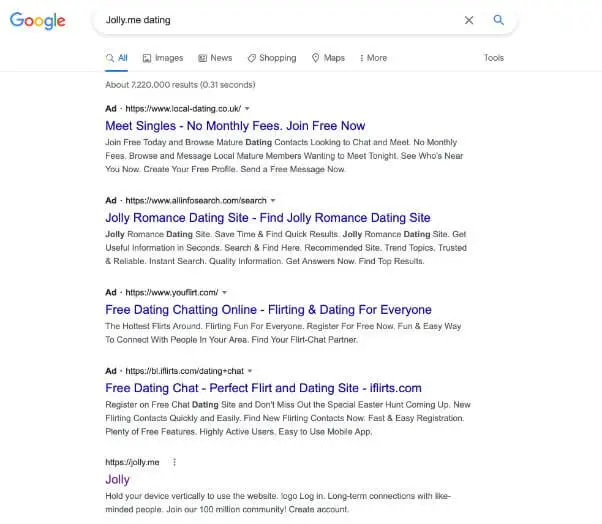 Jolly.me does not have any media presence online. They do not even come up on the top of Google search.
They have zero news articles or even major online dating review sites do not review them.

According to this page, Jolly.me is popular in Ukraine? Also it has been in operation since 17th of October 2010. The register location was shown as Florida USA.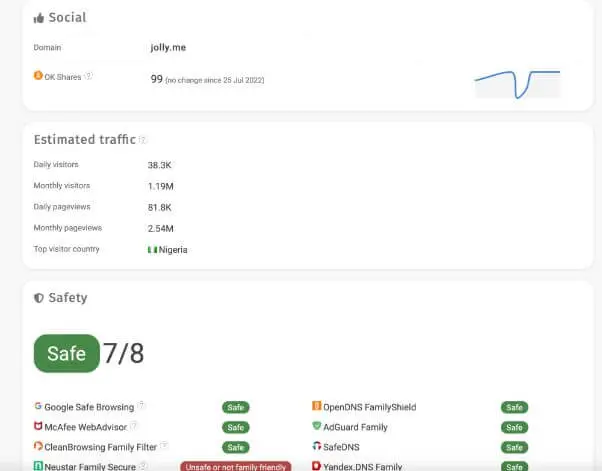 This webpage is estimated that about 38.3K visitors would come to the Jolly site. Somehow, their top visitor country is Nigeria.
how to delete an account on Jolly.me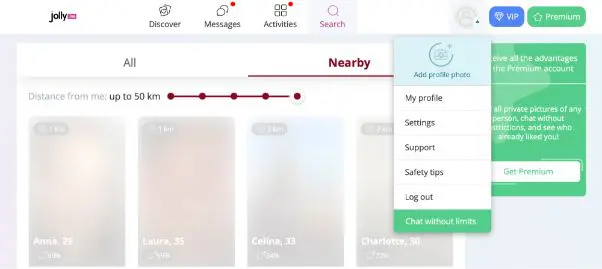 From the profile icon, users can see the settings.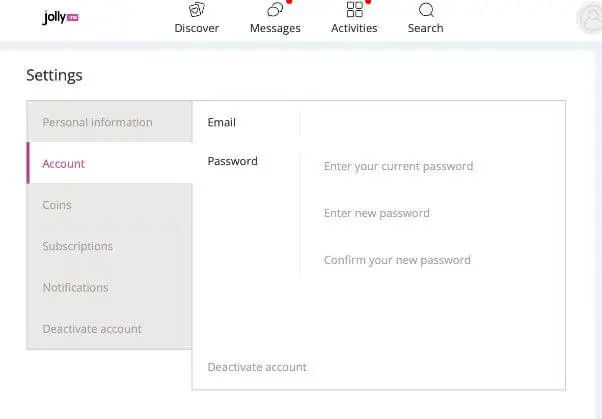 From the settings, users can find Account. The corner of the pop up, there is a sign of "Deactivate account".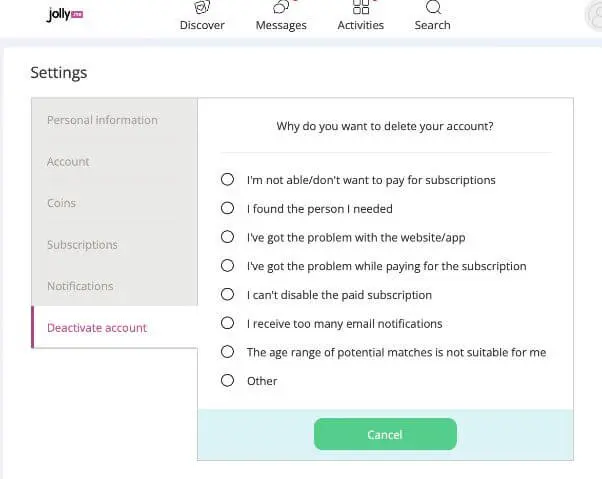 Now, this is the important part. It is better to choose the second reason " I found the person I need" as the reason for the departure. Otherwise, they would give you options to stay on.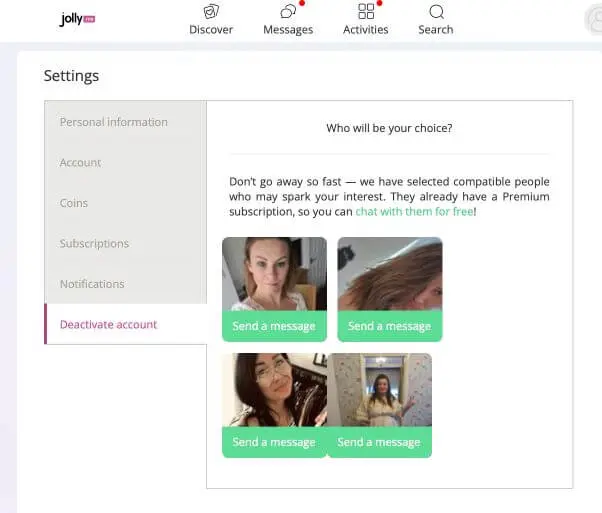 This is one of the options that they offer free chat opportunities.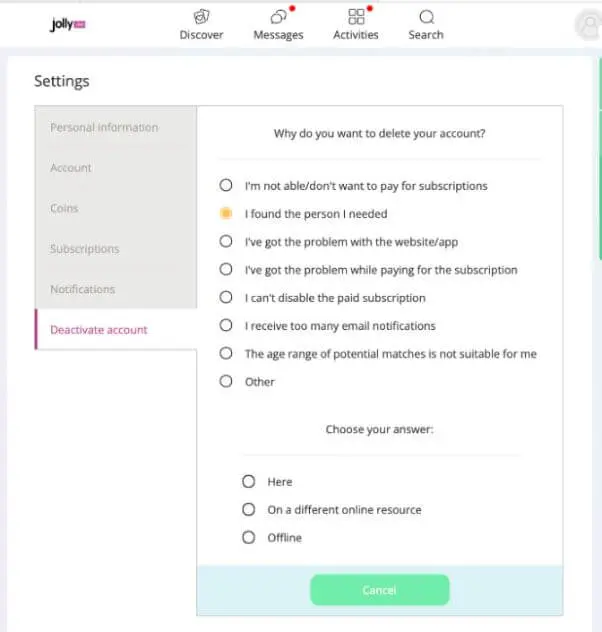 Then the second option would appear.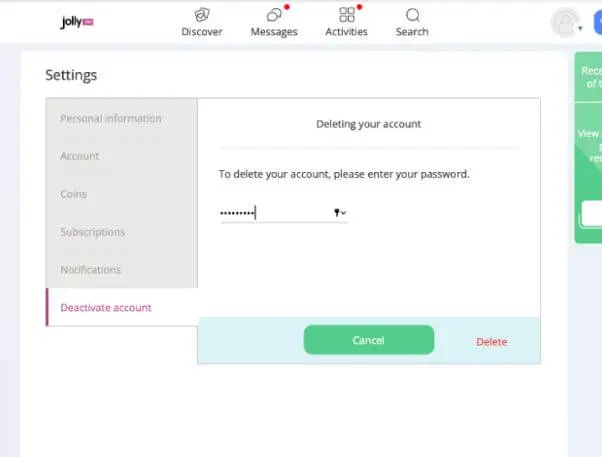 Users need their registered email and password to finish this process.