Jeevansathi.com Review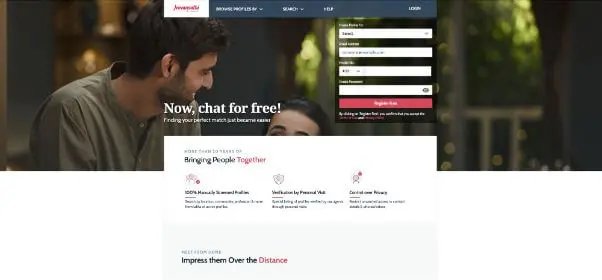 https://www.jeevansathi.com/
Jeevansathi.com is an Indian matrimony service which was founded in 1998. They have been helping people to find a right partner successfully by providing even in person private consultations. "Jeevan" means life and sathi means friend or partner, hence, "Jeevansathi" means "life partner". By wiki.
Jeevansathi.com is not a dating site, thus people need to be serious to find a partner to get married. Those who are seeking casual dating might be asked to leave the service.
Jeevansathi.com is one of the three most famous matrimonial services in India after Shaadi and Bharat Matrimony.
The service was developed by Anil Lall and owned by an Indian businessman Sanjeev Bikhchandani, he is also the founder of the operating company, Info Edge (India) Limited. The headquarters is in New Okhla Industrial Development Authority, Uttar Pradesh.
Info Edge Ltd also operates various other online platforms:a job portal Naukri.com, a real estate platform 99Acres.com, a job seeking platform AmbitionBox.com and an educational service Shiksha.com.
Jeevansathi.com Verdict
[May-Jul, 2022]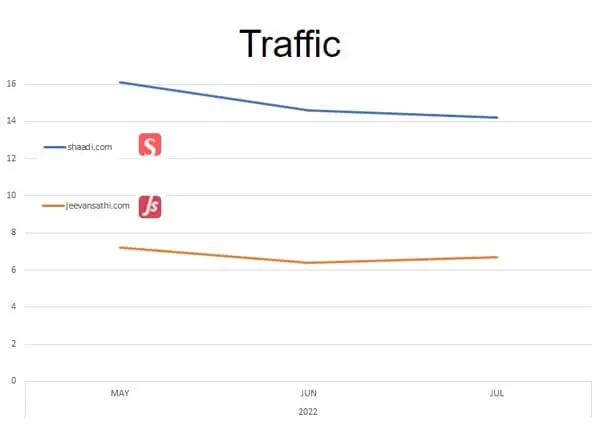 (Traffic:M)
Jeevansathi.com is a growing Indian matrimony service, offering an online service and a face to face service. Uniquely, they offer an ultimate membership or a single payment which is quite reasonable. The owner company infoEdge is growing according to online articles.
People can join and use it for free. Moreover, people can browse others' profiles without putting a lot of information about themselves. Once users go through their automatic screening, free members can access a lot of features such as exchanging messages.
By reading social media posts and online reviews, there are a lot of reports about fake accounts amongst users. This is because people are able to set up an account without photos and family members can set up an account on behalf of other family members.
Once again, this service is for finding a partner for life and getting married within the Indian community. Although the service runs internationally, connection to mainland India is necessary to complete the registration.
Jeevansathi.com user variety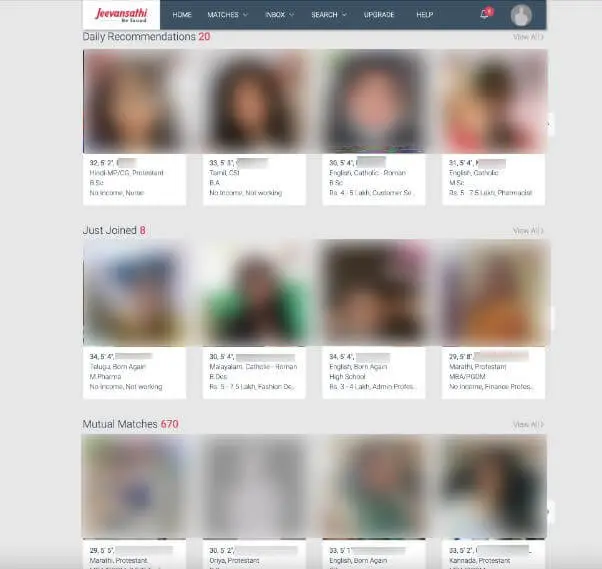 Jeevansathi.com obviously has members with a solo Indian racial background.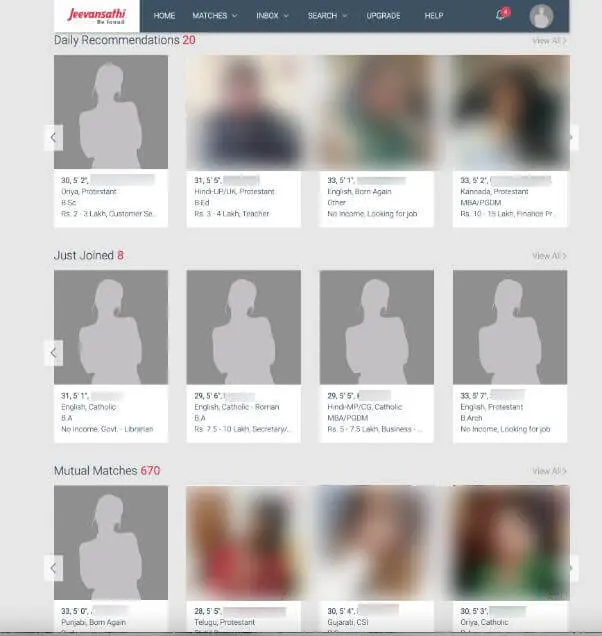 By scrolling down, people would see a lot of profiles without photos.
Traffic by Countries
[Aug, 12th, 2021]

Mainly Indian users.
Monthly Traffic Average by Countries
[Monthly Ave. of May-Jul, 2022]
| | |
| --- | --- |
| India | 4,006,503 |
| US | 1,690,296 |
| UK | 299,083 |
| Canada | 284,197 |
| UAE | 133,978 |
| Others | 352,539 |
How to Join Jeevansathi.com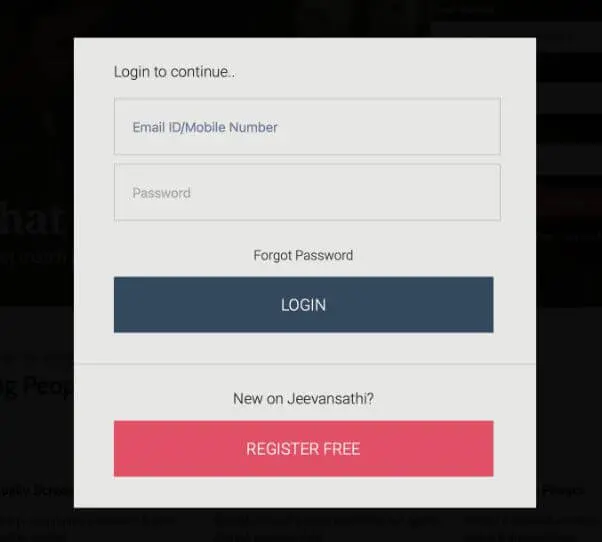 In order to join Jeevansathi.com, people need to register.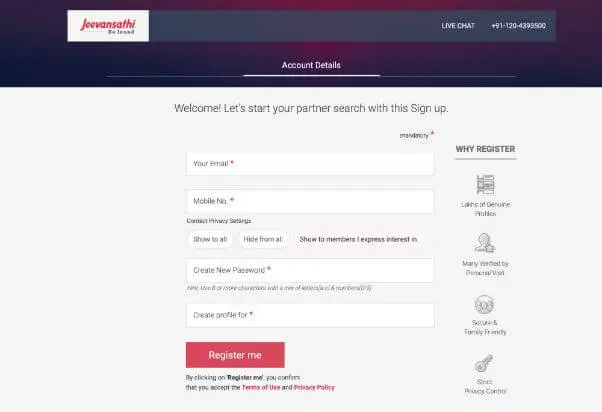 People need to have an email and a mobile number. There are some options to choose from.

People are allowed to create an account on behalf of others.
Then people need to choose a gender.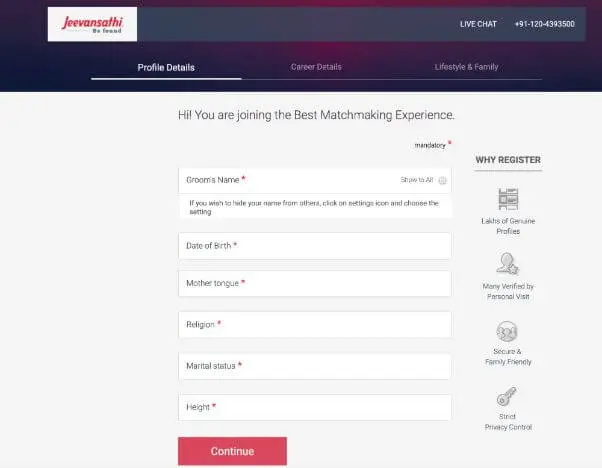 Then people need to choose a name, a language, religion, and marital status and height for the account holder.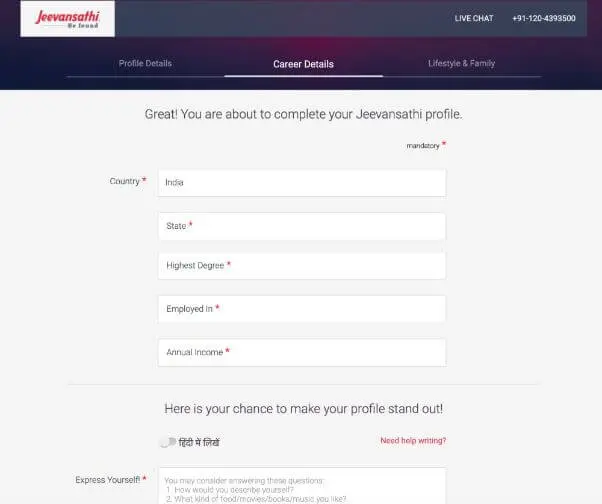 Then more information would be needed such as occupation and educational backgrounds.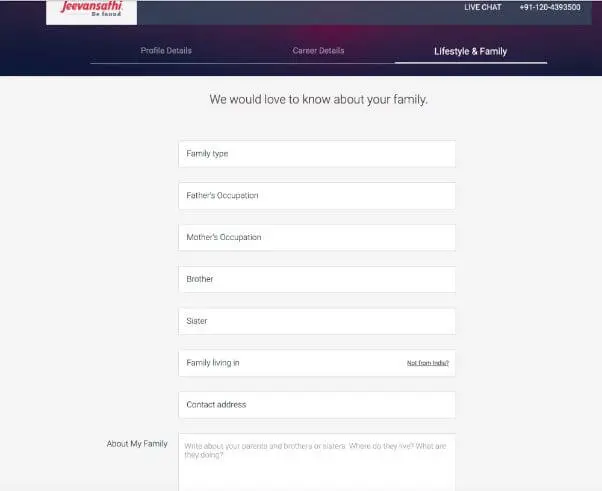 Finally, people need to put some family details, this is a very unique part. People can also skip this part.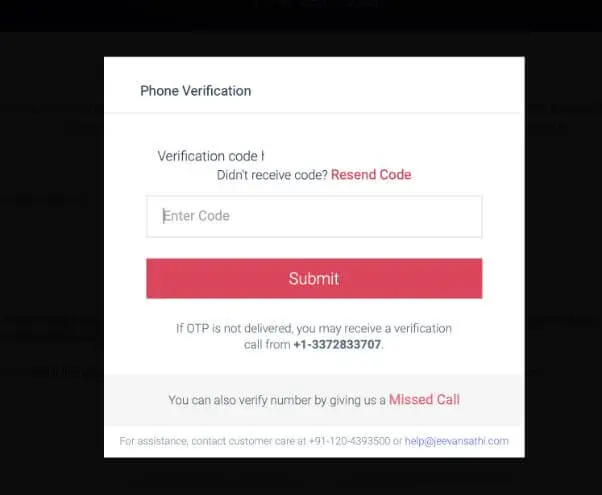 Then you would get a verification pop up where people need to use their phones.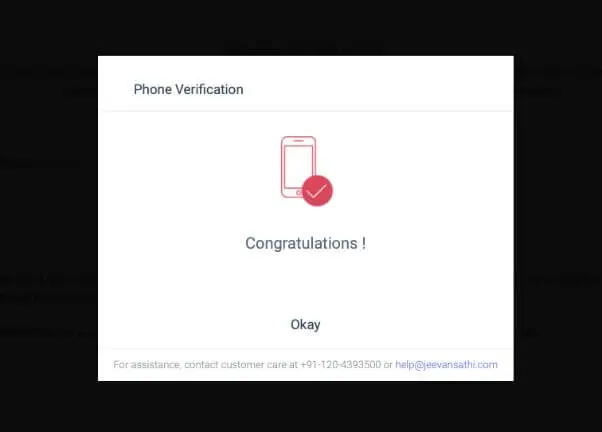 Once people follow those steps, they would get this message.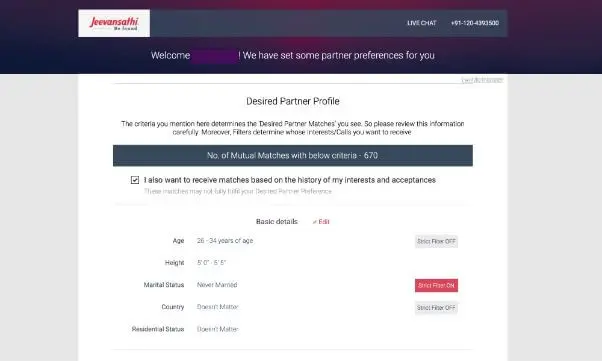 Now, people need to choose some preference for a partner. Some information would be filled by the site so people can edit this part.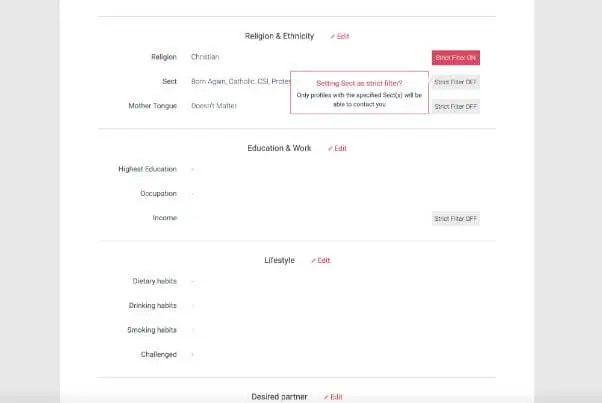 People can change some settings as well.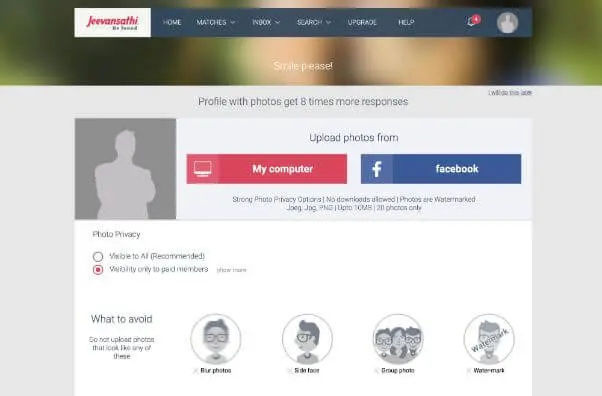 Now is the time to add photos. However, people can skip this part as well. Thus there are profiles which do not have photos on this site.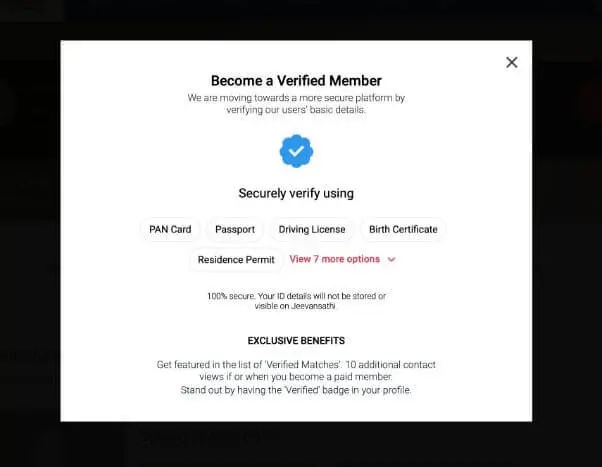 This pop up would come out next. But this can be skipped as well.
People can submit IDs in order to be verified and have the official icon on their profiles.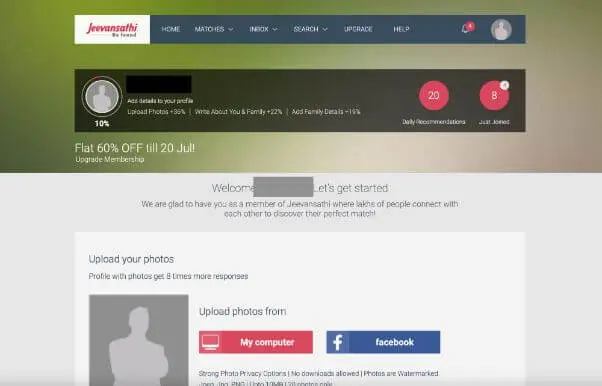 This is the first page of Jeevansathi.com. As people can see, people are able to join this service with minimal information, even without photos.
How to use Jeevansathi.com.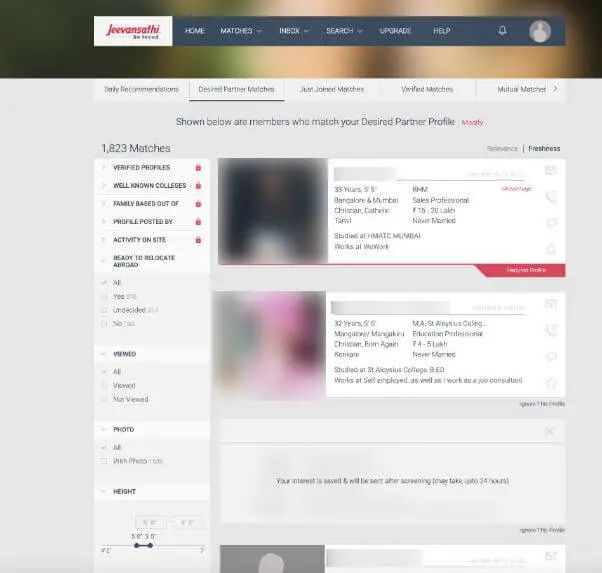 Users can use filters to find matches, also there are different profile suggestions by clicking different matches on the sub top bar.
As free members, they can leave "Like" by clicking the star mark and hoping they would get noticed.
The message tool is limited until a profile would be through some sort of screening. This can take a few hours to a day.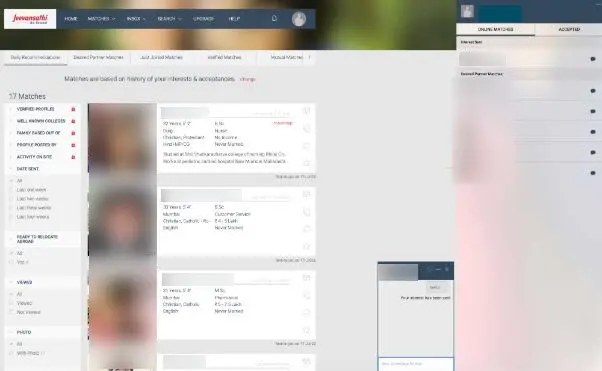 Once an account goes through the screening, people can send messages.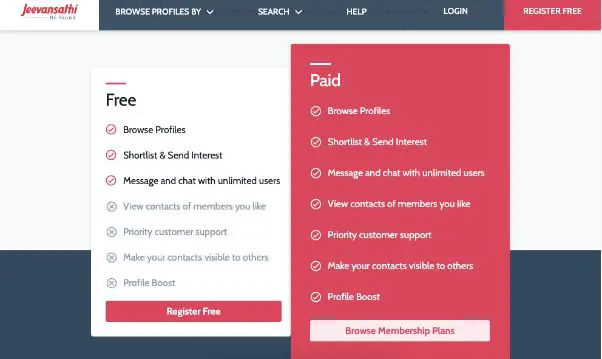 Jeevansathi.com offers different kinds of premium services.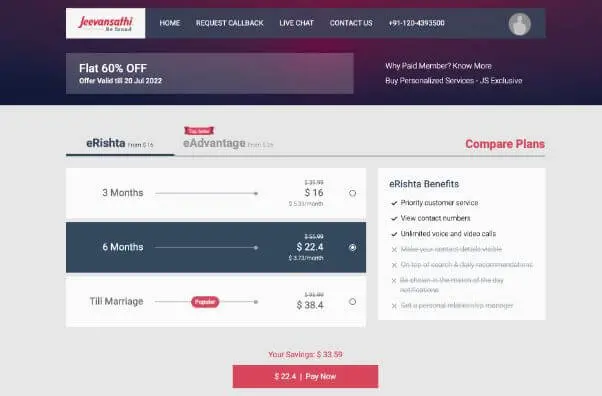 eRishta is a basic membership. They offer unlimited membership for $38 which is also very unique.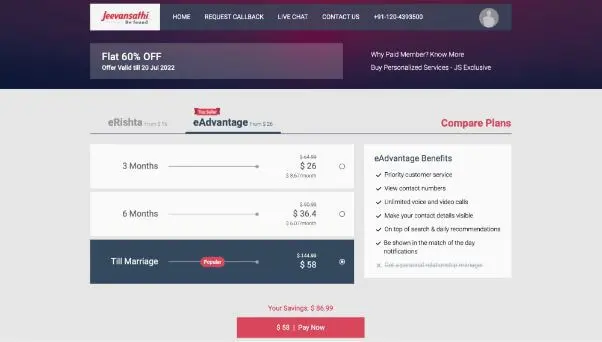 eAdvantage is a full membership which comes with personal profile promotional tools. This option also has an unlimited life membership for $58.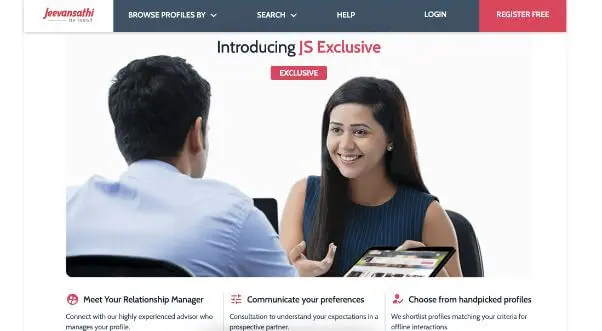 They also offer a face to face advisory service in their branches in India as other similar services also offer.
Jeevansathi.com App service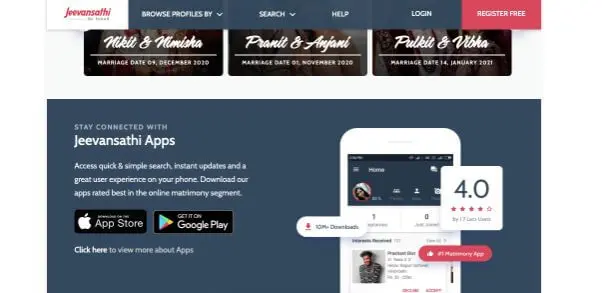 Jeevansathi.com offers two app versions: iOS and android.
Jeevansathi.com android app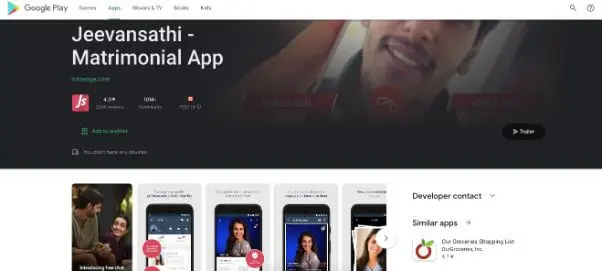 This Google play page shows that Jeevansathi.com app got 10M + downloads and 243K review posts. Those are very high numbers for a matching service. Thus Jeevansathi.com is a popular service in India.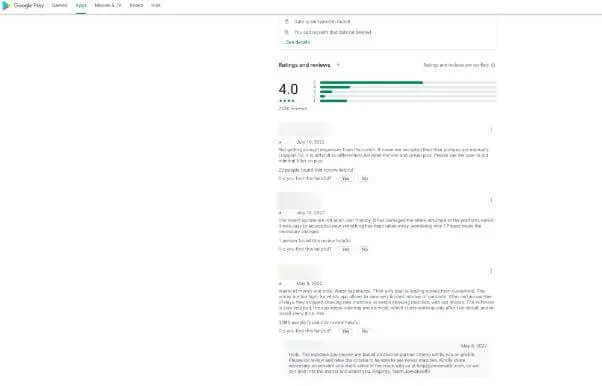 Although recent reviews are poor, the average is 4.0. They regularly update their app to improve their service.
Jeevansathi.com iOS app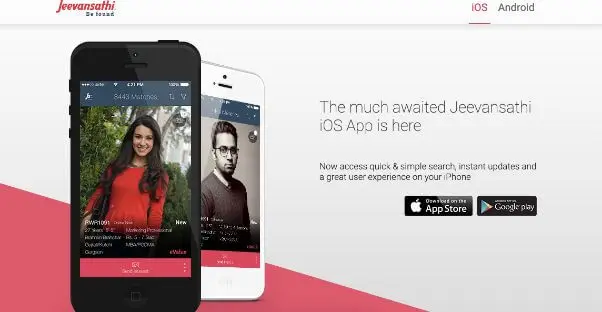 Jeevansathi.com also offers an iOS app; however, this app does not appear by the apple search.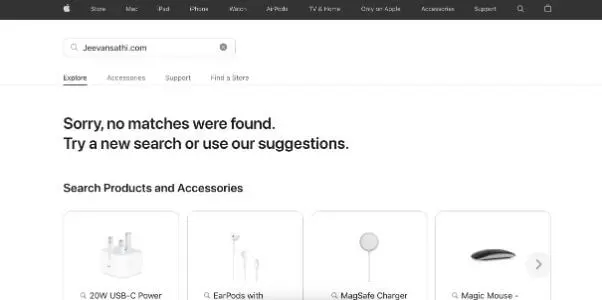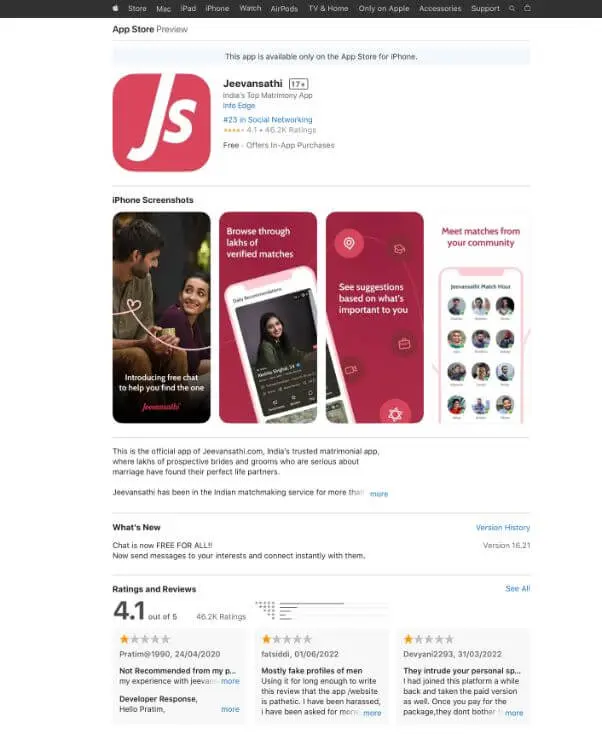 They would appear by doing a Google search which is very strange. It is ranking 23rd on the social networking category with more than 43K reviews. Those reviews are mainly positive.
The owner company of Jeevansathi.com; infoEdge updates regularly to provide better app service.
How to delete an account on Jeevansathi.com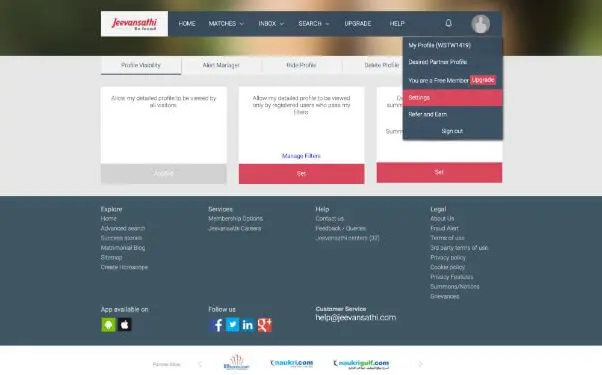 From the profile icon, users can access the setting.

Users can see the "Delete Profile" icon.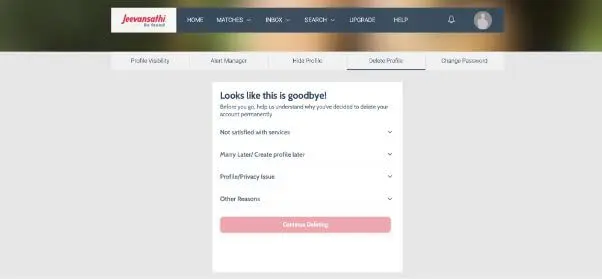 Now it is time to choose the reason for the departure.
Jeevansathi.com Social Media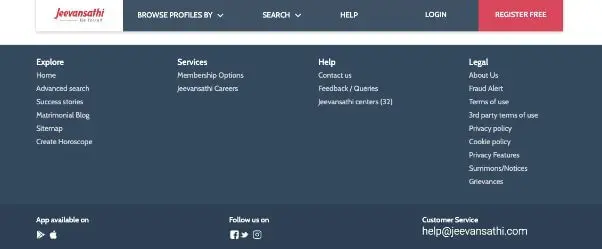 Jeevansathi.com has major social network icons on their site.
Jeevansathi.com Facebook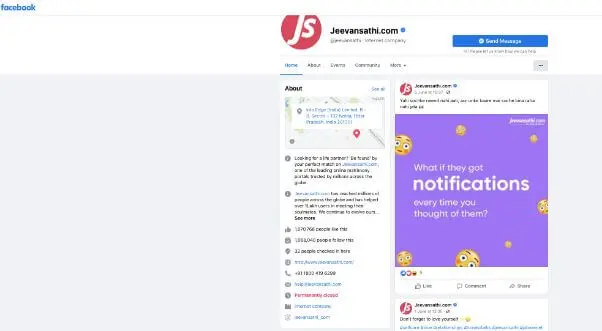 Jeevansathi.com has more than 1 million followers on Facebook, they regularly update and post on their page.
However, there are not a lot of interactions on this page. There are some comments from users who are complaining about fake accounts.
Jeevansathi.com Twitter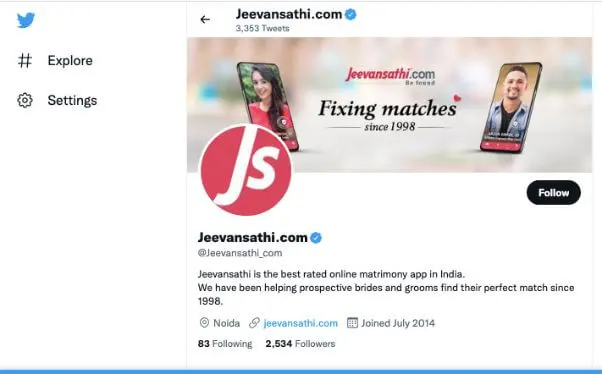 Surprisingly, Jeevansathi.com has only 2534 followers on Twitter, although they are very active on this platform by posting very frequently.
Jeevansathi.com Instagram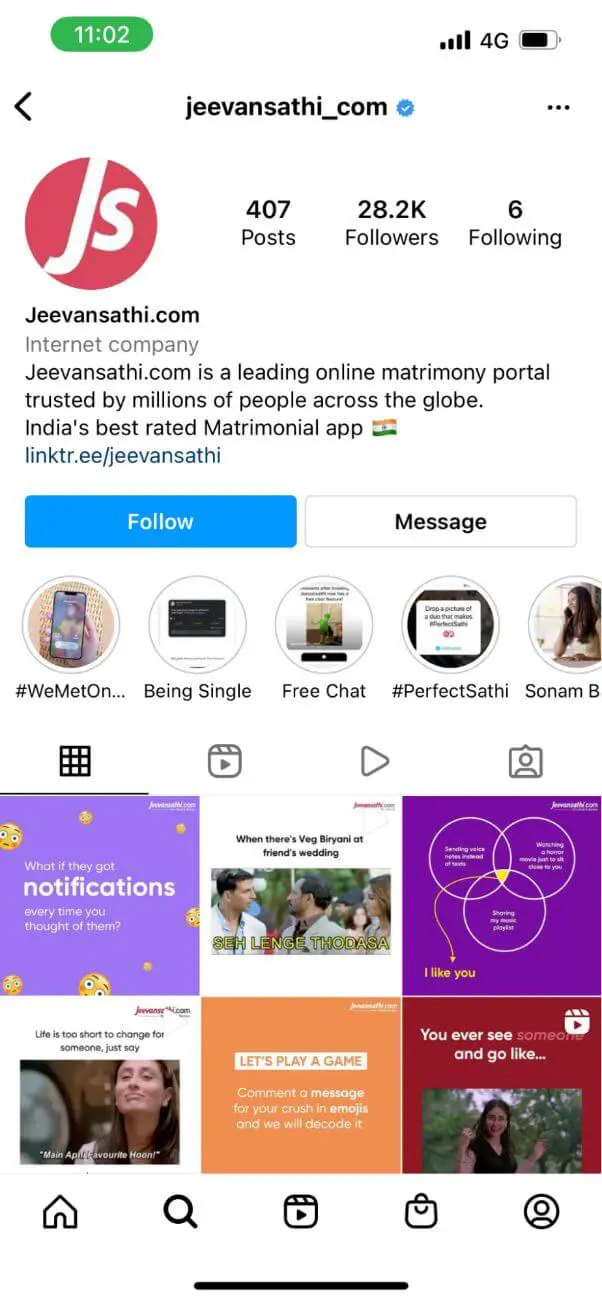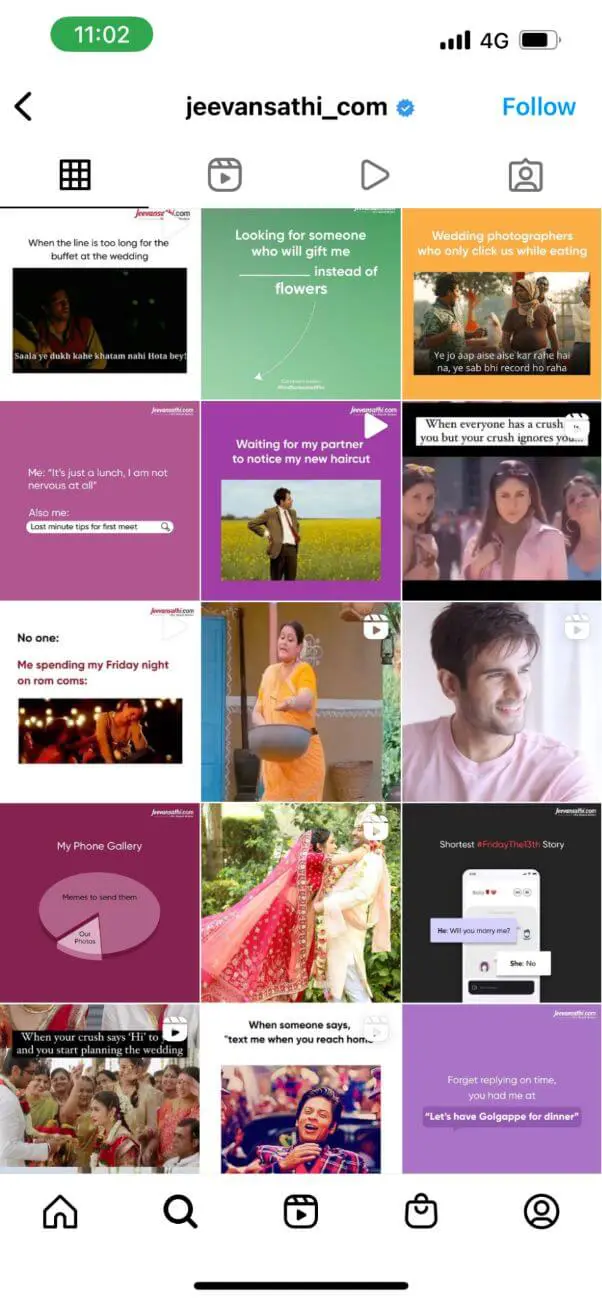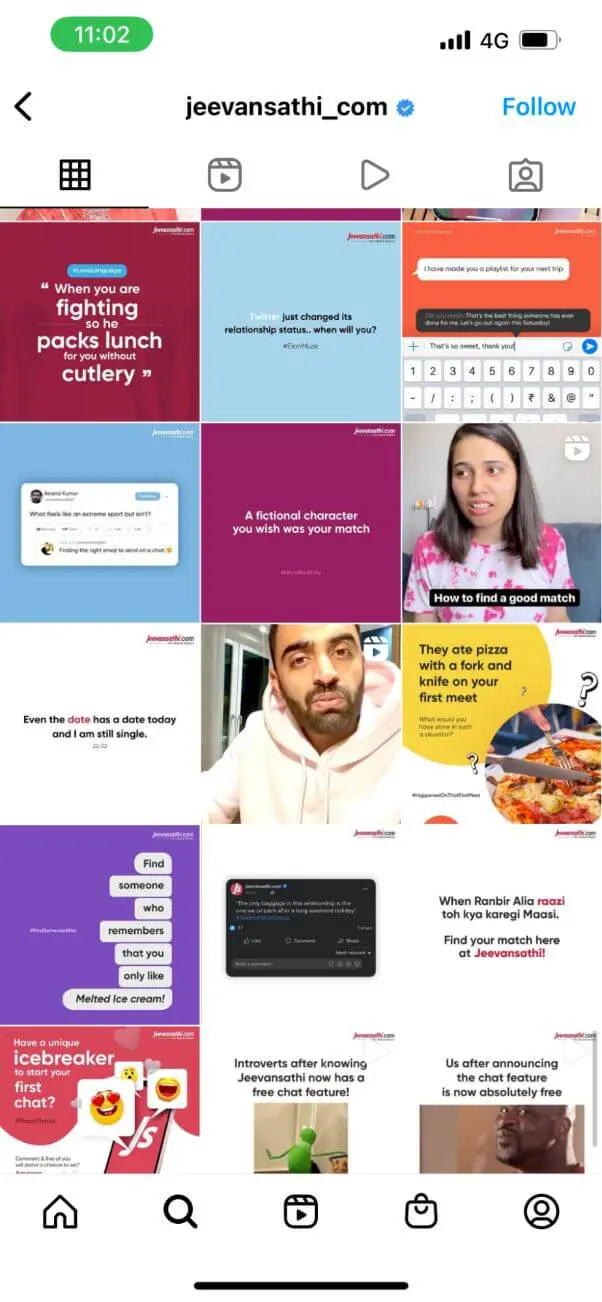 Jeevansathi.com has a reasonable number of followers on Instagram. They post similar posts here compared to the other two accounts.
Jeevansathi.com Youtube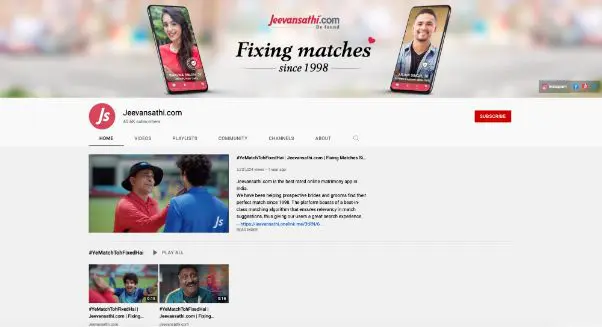 Jeevansathi.com has their own Youtube channel which has about 40K subscribers. They upload content regularly. Some of the videos have more than 1M views;the majority of content are mainly their adverts.
They also have their own programs but they do not have much viewer count.
Jeevansathi.com Linkedin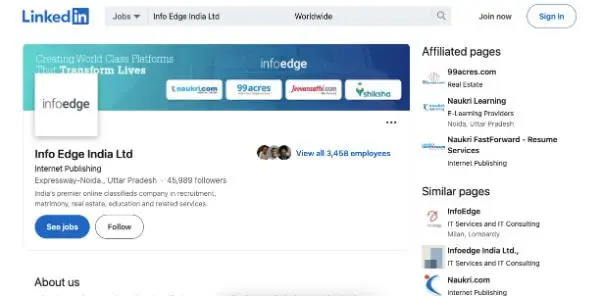 The operating company Info Edge has 45K followers on Linkedin.
Jeevansathi.com their own social media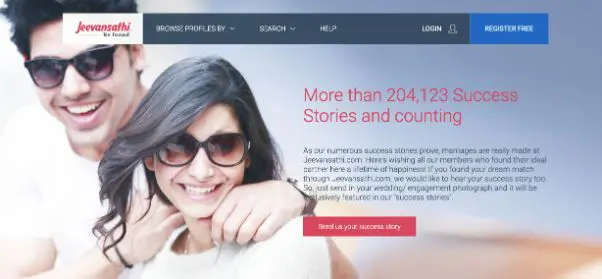 Jeevansathi.com also has a page where they post about their successful stories.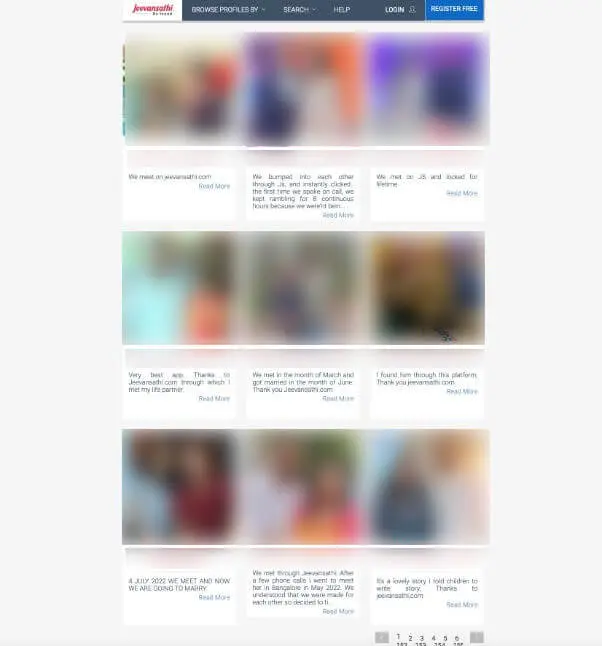 The legitimacy of those stories are not clear but there are a lot of stories here.
Jeevansathi.com on Main Media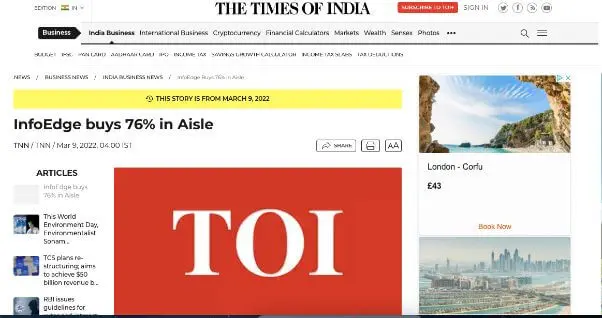 According to The Times of IndiaI in March 2022, the operation company InfoEdge recently acquired another Indian dating service called Aisle.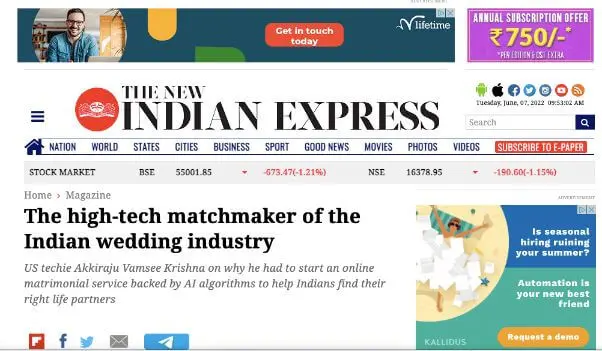 This article reports that " Jeevansathi billings grew by 13 percent in Q1 2020 and by 23 percent in August 2020,"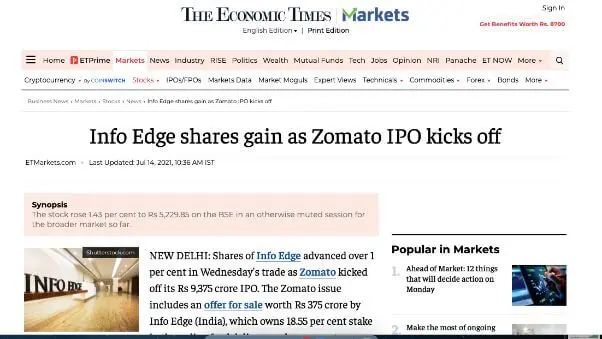 This article also reports that their share rose in 2021, showing strong growth of this service.