How to use Aisekiya(相席屋) App? Complete Guide
There is a Japanese chain of "izakaya" style of restaurants, named Aisekiya.
*"izakaya"(居酒屋) is a type of casual Japanese restaurant/pub.

Aisekiya gives customers a chance to meet and flirt with strangers who are sitting across from them.


There is an app called Aisekiya app.
Just by downloading the app, you
get a free coupon
(JPY1000 discount for 60 mins plan) for
male users
.
For female users, Aisekiya gives out free points you can use in the Aisekiya or Aisekiya app.
Why App? Why should we use it?
"It's convenient to be able to check the vacant seat.
Depending on the day of the week, vacancies are different.
It's little discount by using points."
"Please input my invitation ID[21206237]!
You get points."

The benefit is not only users get a free coupon from downloading app, but there are more features you can use in this app. Like a lot of guys trying to exchange their phone numbers or social media accounts at the nightclub or bar, you may want contact information from the girl you met at Aisekiya.

Some girls get a little bit skeptical to share their phone number or social media accounts since they are meeting strangers at Aisekiya. The Aisekiya app opens girl's mind to share their contact information. There is a free message chat in the Aisekiya app.

Interestingly, this is a completely opposite system of other dating apps such as Tinder and Match.com.

You meet someone after you started talking in the app, but you chat someone after you met someone at Aisekiya. Because they are not sharing real contact information, guys may be able to convince the girl to exchange a contact number through Aisekiya app.
A complete guide for Aisekiya app
Step 1: Create your account.
First, you need to download the app on Google Store (Android) or App Store (iPhone). Once you download the app, you can either create your account through your Facebook account or your email.

If your friends are inviting you to download this app, make sure to type the number in 招待ID(invitation ID). You both will get a free JPY1000 coupon from Aisekiya as a referral bonus.

Step 2: Notification Setting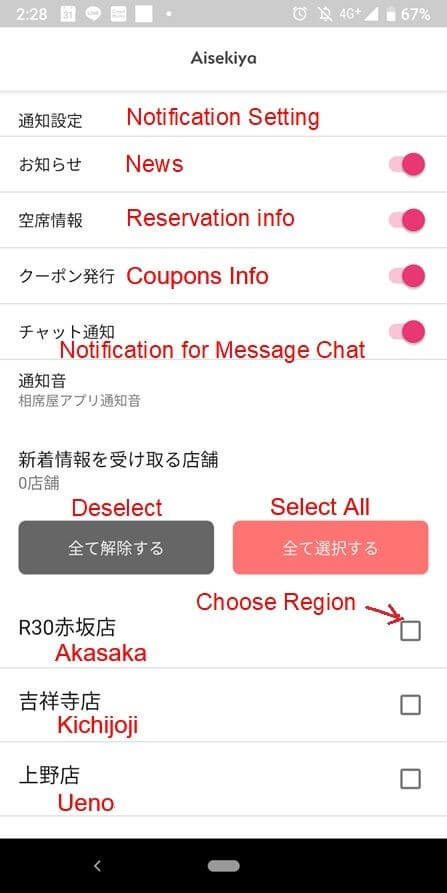 This is a list of translation for you.

| | |
| --- | --- |
| 通知設定 | Notification Setting |
| お知らせ | News |
| 空席情報 | Reservation info |
| クーポン発行 | Info about coupons |
| チャット通知 | Notification for Message Chat |
| 新着情報を受け取る店舗 | Stores you want to get notifications from |
| 全て解除する | Deselect everything |
| 全て選択する | Select everything |
| ユーザー登録完了 | Complete Registration |

I bet most of you just want to get a notification for Message Chat.

If you do not want any notification, just deselect everything on the top and also tap "全て解除する". You will no longer get notifications from Aisekiya.

Scroll all the way down, and tap "ユーザー登録完了" to complete the registration.
Step 3: Make a reservation
Tap "Home" button, you will see more information about coupon, and news at Aisekiya.

Tap shop, you can find the nearest location for Aisekiya. And you can also find other locations below. Tap "予約・店舗情報" to view the restaurant information or make a reservation.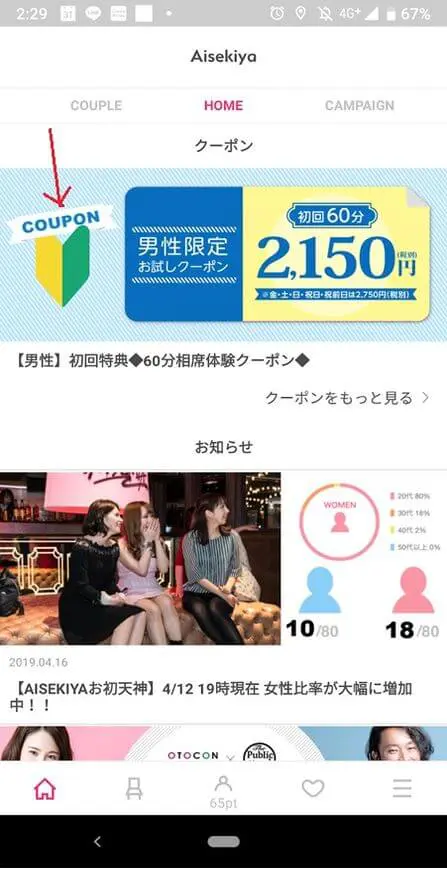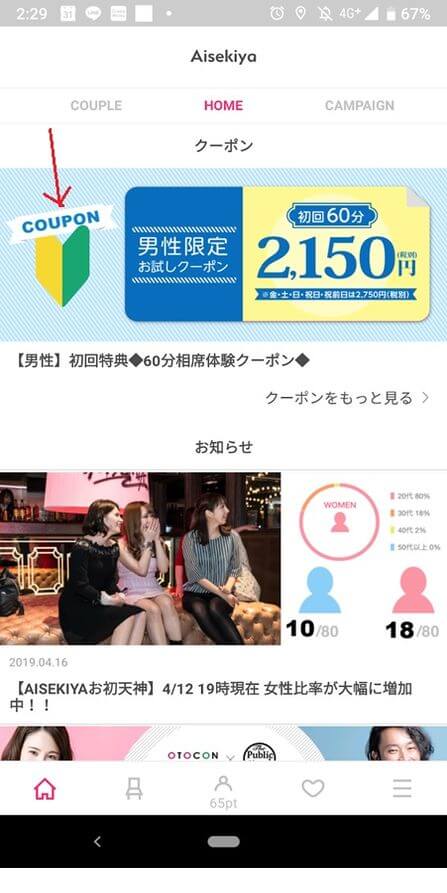 混雑状況 means the crowd ratio. The blue part is for how many male users are there. The pink part is for how many female users are there.

As you see the picture, there is no one at Aisekiya now (it's because I'm writing this at 2 pm.)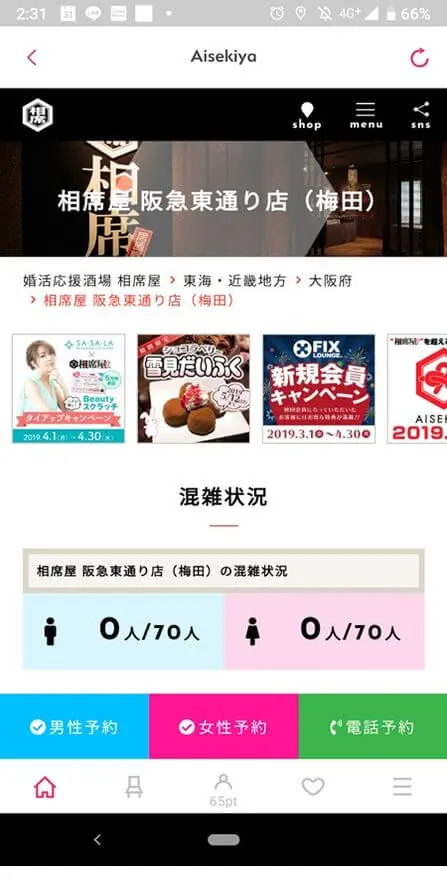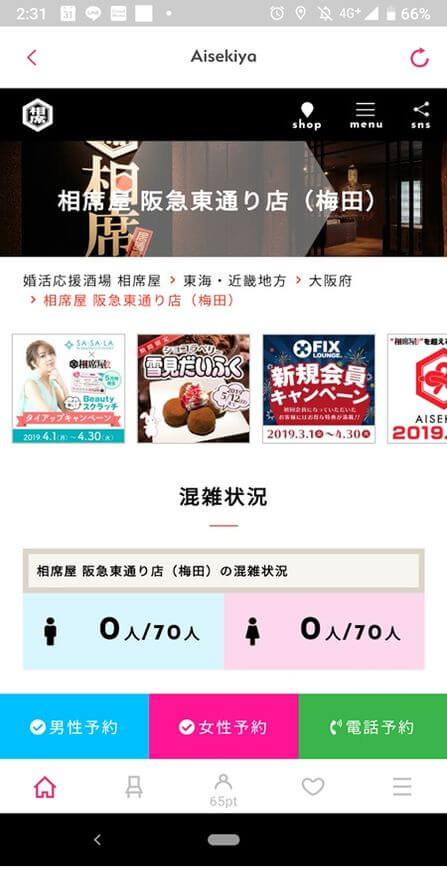 If you are a male user, tap the blue button "男性予約" on the bottom to make a reservation.
If you are a female user, tap the pink button "女性予約" on the bottom to make a reservation.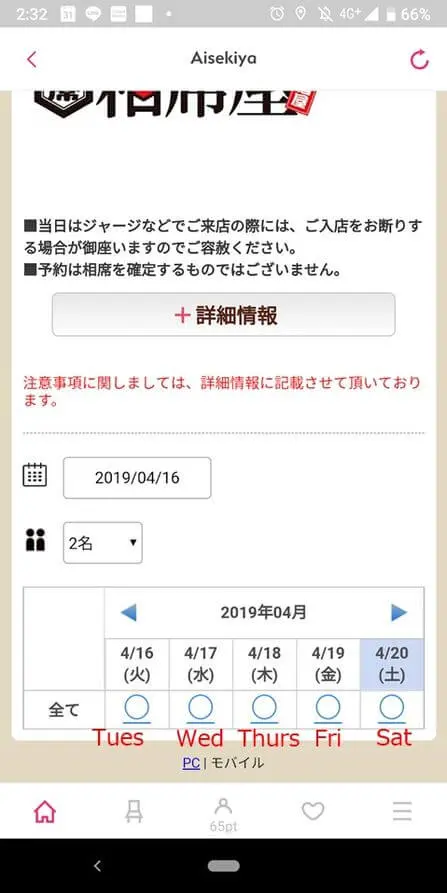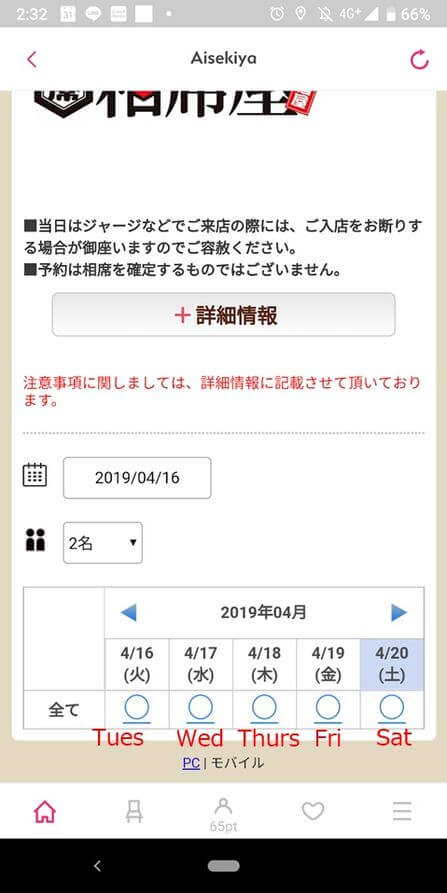 Scroll down, then you will see the date.
*月=Mon, 火= Tues, 水=Wed, 木=Thurs, 金=Fri, 土=Sat, 日=Sun

Click the date you want to make a reservation. And then, you need to specify the time you want to go.
Just deduct the number by 12 (17:00 – 12 = 5 pm).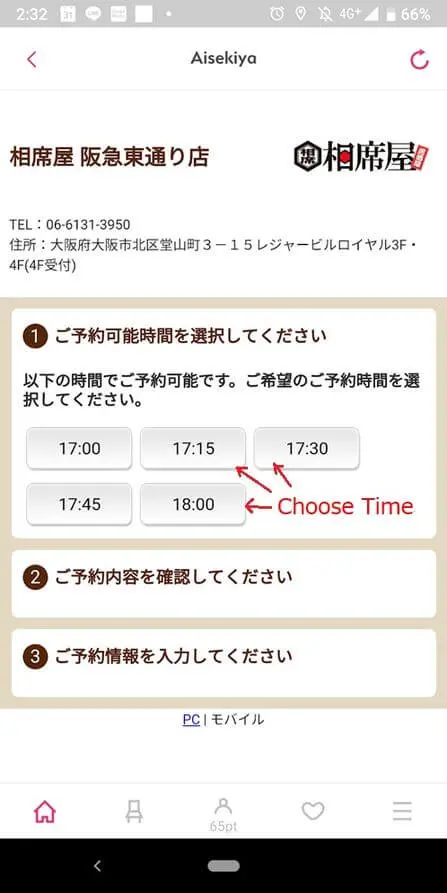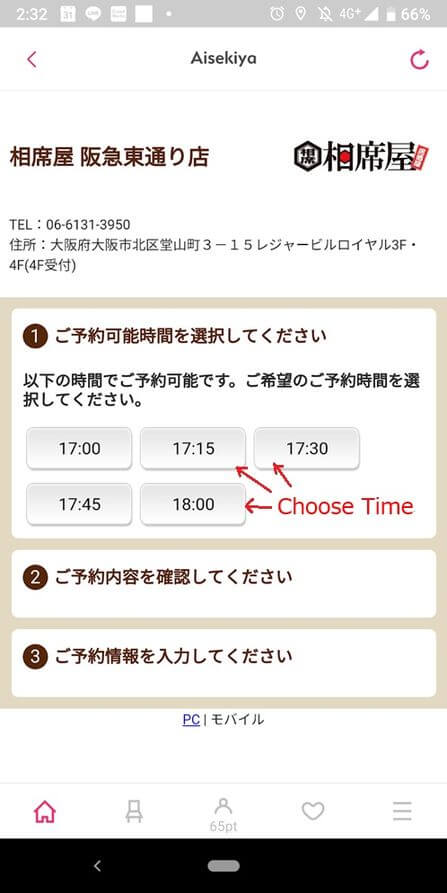 After that, you write down;
Name (お名前) in katakana
Phone number (電話番号)
Email address (メールアドレス)
Tap "確認する"
Tap "予約する"

Reservation is Done!

Get Coupon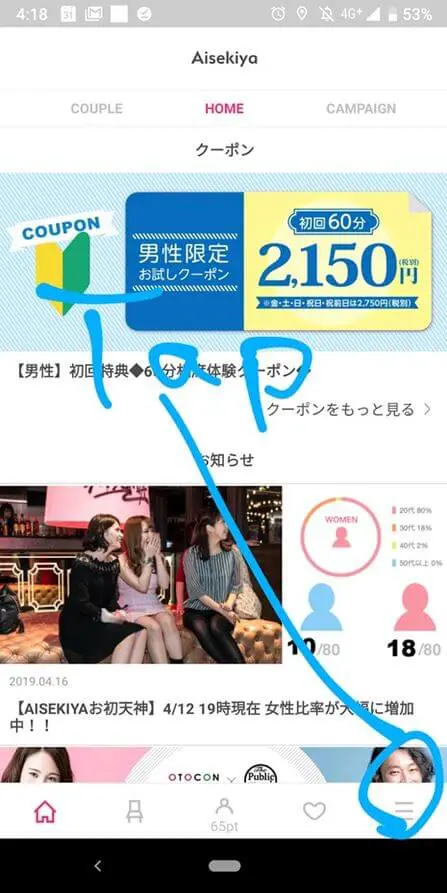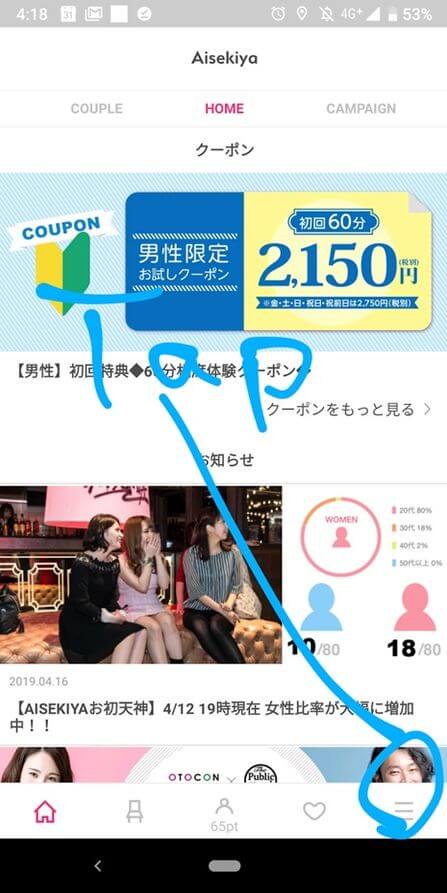 Step 4: Message Chat
If you are on the home screen. Tap the button right below then you will see the message "メッセージ".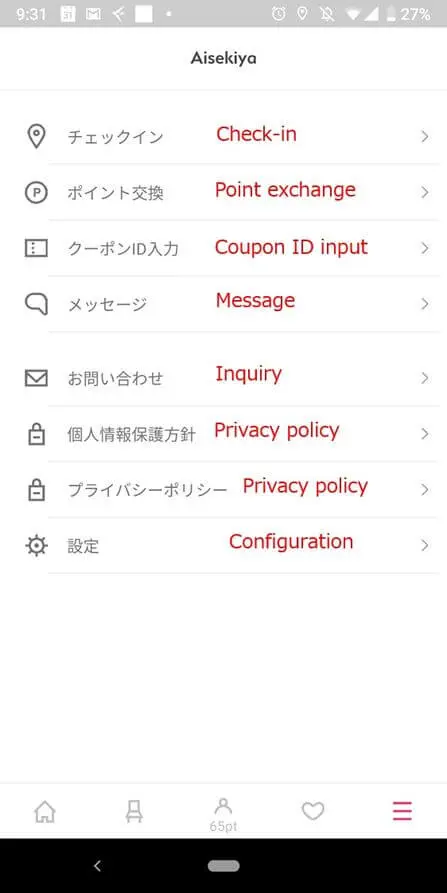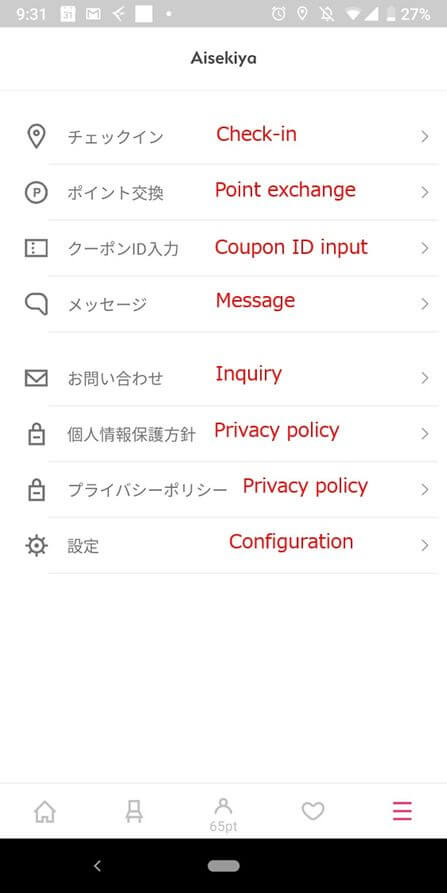 You can free chat with girls as much as you want. After you've known the person for a while,you could exchange your social media accounts or phone numer etc…
Conclusion
I introduced Aisekiya app today. If you are planning to go, I strongly recommend you to download the app. Everything is completely free.

This may be hard for non-Japanese speaker. You can still go to Aisekiya without reservation.
Just walk in, and enjoy your time with your friends.