AISEKI IZAKAYA: A new style of finding a partner in Japan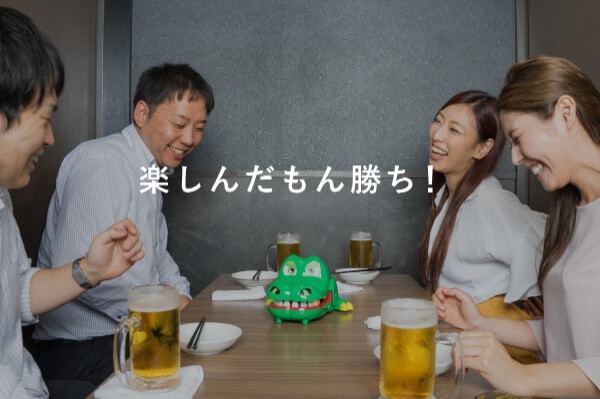 Aisekiya
What is AISEKI IZAKAYA?
Aiseki, a Japanese dining tradition of sharing communal tables, is a practice that has been used in Japan as a way of minimizing wait times in restaurants.

There is a Japanese franchise chain of Izakaya style of casual restaurants, named Aisekiya, that puts a new twist on "aiseki seating", giving customers a chance to meet and flirt with strangers who are sitting across from them.

"相席屋富山店 メディア情報"

富山「チューリップテレビ」で相席屋富山店の放送がありました!

相席屋の内容や貴重な相席風景のモニタリングなどが放送されています😌#相席屋 #富山 #チューリップテレビ #テレビhttps://t.co/dV6de7Adur pic.twitter.com/JMjIYQEE0U

— 相席屋 (@aisekiya) 2017年3月21日
@aisekiya

Aisekiya opened year 2016 and is becoming huge. Aisekiya offers customers opportunities to meet members of the opposite sex while enjoying food and drinks.

You can find Aiseki izakayas many places in Tokyo. Aisekiya kabukicho and Aisekiya ebisu are two of the most popular locations in Tokyo. You get to meet Japanese girls, possibly foreigners as well. You may have a better chance of finding a girl there rather than going to a nightclub.
How to use an Aisekiya?
There are probably a bunch of questions you want to ask. Before getting into the price, I am going to tell you the rules of Aisekiya.

Three rules you must follow are :
-"Do not dress too casually."
-"Do not come the place alone."
-"Download the Aisekiya's app" (You will be able to chat a girl/boy on this app after the party.)
Basic Manners of Aisekiya
※Legal Alcohol Age in Japan is 20 years old.

In Aisekiya, there are 10 rules you need to follow to have the best experience at there.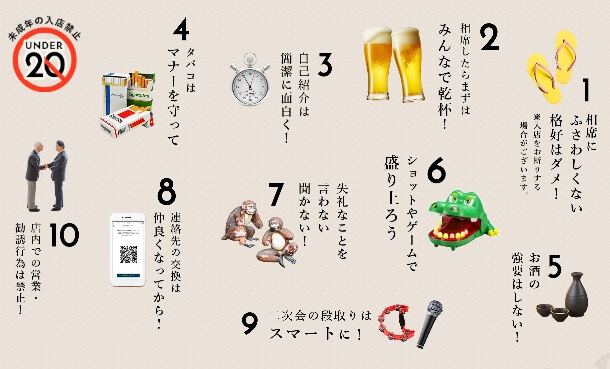 Aisekiya
1Don't dress too casually. (You do not have to be too formal like wearing suits or tuxedo, but not allowed to wear flip-flops or pjs.)
Everyone needs to make a toast once you take your seat.
Make a quick and good self-introduction.
Watch your smoking behavior if you smoke. Be respect to others!
Never force others to drink alcohol.
Warm up with shots and games.
Do not say or ask anything rude.
Exchange contacts if you get along each other.
Be smart at setting up an after-party
No sales or soliciting allowed.
The price of Aisekiya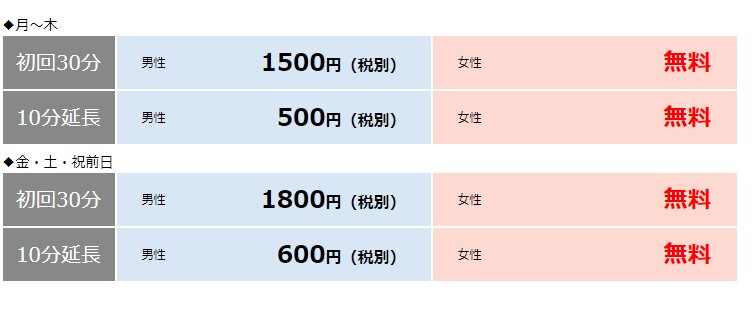 | Mon-Thurs | Men | Women |
| --- | --- | --- |
| 30min | JPY1500(Tax Exclusive) | Free |
| every 10min extended | JPY500(Tax Exclusive ) | Free |
| Fri Sat/Holiday Eve | Men | Women |
| 30min | JPY1800(Tax Exclusive) | Free |
| every 10min extended | JPY600(Tax Exclusive ) | Free |
For girls, drinking and eating is completely free, as well as admission. (Guys will always pay.)

For male customers, it's JPY1500 (about 12-13 US dollars) per 30 mins only on Sun~Thurs when sitting with other girls. If there are no girls at the table, it'll be free for the male customers as well.

For Sun ~ Thurs price, it's JPY500(rouhly USD5.5-) every 10 mins you extend the time.
For Fri and Sat price, it's a little bit more expensive but not too much. For the first 30 mins, males customers pay JPY1800, and if they want to extend the time, it costs JPY600 for every 10 mins.

It might be a little bit expensive since just going to an Izakaya restaurant costs about JPY3000 – 4000 (depends on where you go) for 2 hours and for all you can drink and eat.
The good part about Aiseki Izakaya
Male customers can get a half-price discount by downloading the app, they can enjoy a meal with women at a cheaper price.

If you eat and drink at night clubs or hostess bars, it would cost more than JPY6,000(rouhly USD66-) for the night, but if you eat and drink for two hours, it is only JPY5,000 for Aisekiya.

It will be somewhat expensive compared to a regular drinking party, but maybe it may be that some of the women who you hang out will be your partner in the future.

If you are a girl traveling Japan at low budget, it's an option to drink for free and meet local Japanese guys.
I wanted to meet new people, went with two friends. It was many people, waiting long time to get in.
The restaurant served for women free drink while waiting!
We asked to change seats(wanted change the male companies) three times.
I often use this restaurant when I'm business trips. I like it!
I had fun with nice guys. We've exchanged email-add, and kept in touch.
Food & drink were delicious!

This restaurant put free game, and event. It was easy to talk with strangers through those fun.

The bad part?
This is also a cost aspect, Aisekiya has a slightly lower cost performance in terms of cost compared to other dating apps.

Other dating apps are unlimited if you pay a monthly fee and you want to exchange messages and make a video-phone call with the opposite sex.

Furthermore, women are all-you-can-eat and drink free, but men also unequally need to pay for the meal. (It is common in the dating market)
Many male customers are looking for one night stand, not serious relationship.
Many girls come for free meal.
I go often, but never met pretty girls. BtW, my friend got married with the girl who met here.
Women have to stay at least 30min
in the restaurant.
3 Popular Aiseki Izakaya in Tokyo
Aisekiya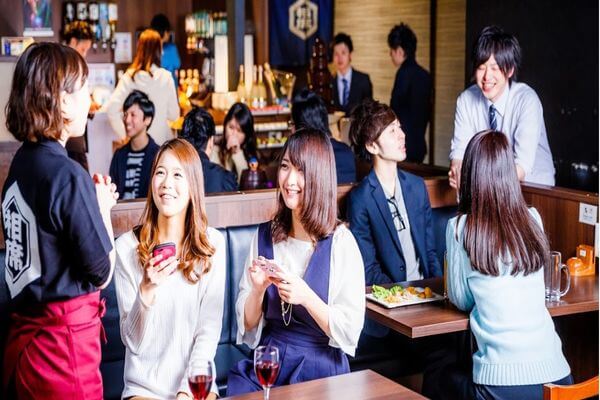 Shibuya
HOME PAGE: https://aiseki-ya.com/shop/area_kanto/tokyo/shibuya2/
【Address】
Japan, Tokyo, Shibuya City, Jinnan, 1 Chome−22−10 皆川ビル5F 〒150-0041
Google Map
【Hours of operation】
Monday to Sunday 5:00 p.m. to 5:00 a.m.
【TEL】
+81 3-6416-0850
Very central location in the middle of Shibuya with a younger crowd. You will have more chances to meet girls at this bar.

Shinjuku Higashiguchi
HOME PAGE: Google Map
【Hours of operation】
Monday to Sunday 5:00 p.m. to 5:00 a.m.
【TEL】
81 3-5362-3394
This location is near love hotels and many after-party bars. You can enjoy a bar or hotel with the girl you got along with.
Ikebukuro Nishiguchi
HOME PAGE: https://aiseki-ya.com/shop/area_kanto/tokyo/ikebukuronishiguchi/
【Address】
Japan, Sakai 171-0021 Nishi-Ikebukuro 1-chome Toshima Ward Tokyo 38-3 b-toss Ikebukuro 4F
Google Map
【Hours of operation】
Monday to Sunday 5:00 p.m. to 5:00 a.m.
【TEL】
+81 3-6416-0850
This is also located in a popular area for young adults in Tokyo.
Ikebukuro is one of Tokyo's multiple city centers, found around the northwestern corner of the Yamanote loop line.

You could go to another area to set up after-party really easy or stay in Ikebukuro to drink with your partner.