Elite Singles Review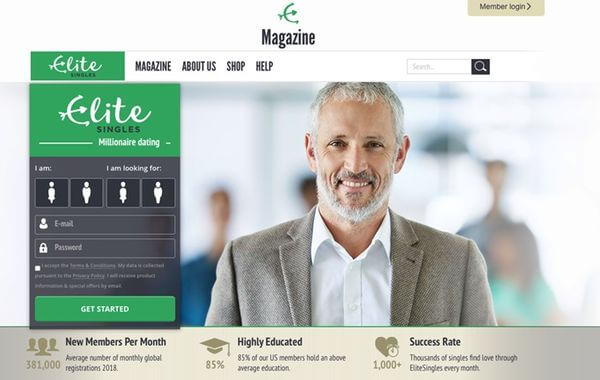 https://www.elitesingles.com/
Elite Singles is operated by Spark Networks which is now the 2nd largest online dating operating company in North America. However, their headquarters moved to Germany. Spark Networks runs various dating services such as Zoosk, SilverSingles, Jdate, Christian Mingle, eDarling, and JSwipe.
Spark Networks was funded by Israeli entrepreneur Joe Shapira, who originally started his business with religious based dating services.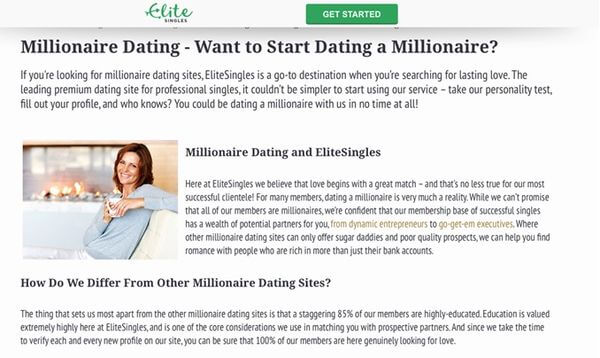 Elite Singles was launched in 2013, they are targeting singles in their 30s who are educated professionals.
Now after 7 years from the launch, Elite Singles is operating around the world and gaining moderate users.
Elite Singles Verdict
Elite Singles is not for casual online dating experience, this is the site for people who are looking for a long time relationship.
Majority of Elite Singles users directly come to the site. Beside that, there are also many users who found Elite Singles by searching keyword for "romance goals".
People who are looking for serious relationship come to Elite Singles.
Although they are targeting highly educated professionals, there is no requirement to provide the proof.
There are enough social media activities, thus, with proper online research, people might be able to find out either this site for them to look for a partner with a subscription fee.
Elite Singles Traffic
[Mar-Sep, 2020]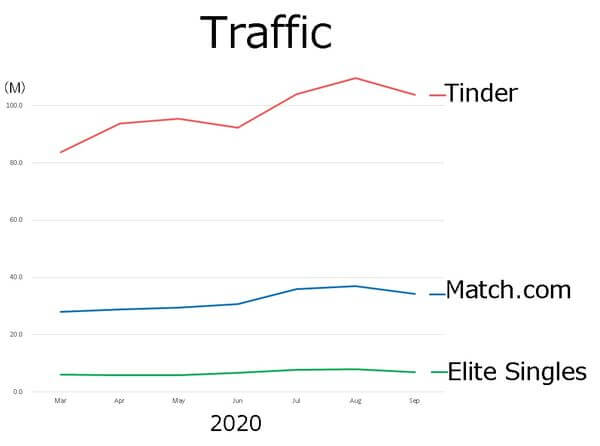 Tinder and Match.com, which have a global presence, have more users. Elite Singles is also popular enough to have MILLIONS of monthly traffic.
Tinder is possible to meet people completely free, users are looking for casual dating. Users of Match.com and Elite Singles are looking for serious dating. Match.com and Elite Singles need to pay subscription to exchange messages.
How to join Elite Singles
Watch Out! If you answered wrongly by their register questions, you can't register the site. For example, you are smoker, low income, no job…etc. They judge 'not suitable' as a Elite Singles ideal member.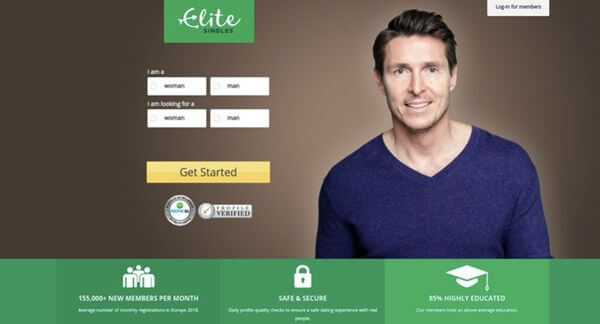 Joining Elite Singles takes a bit of time to complete lengthy questions so people need to have allocated time to do so.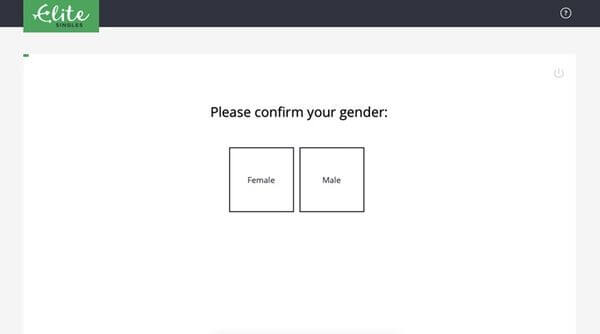 First few questions are very standard and simple.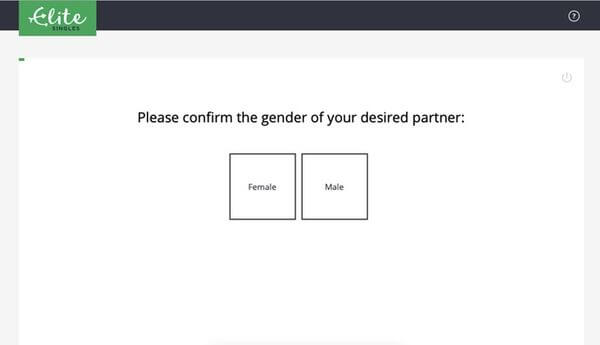 From those questions, Elite Singles is not suitable for multi sexual dating.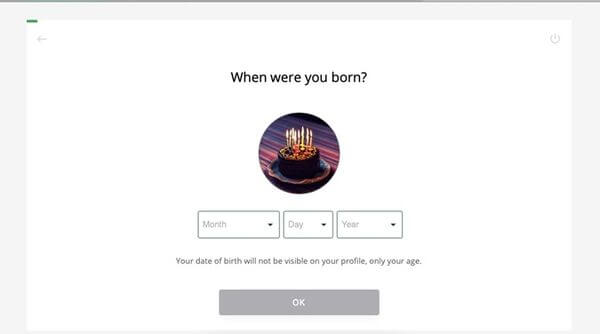 The date of birth is not going to be shown on profiles.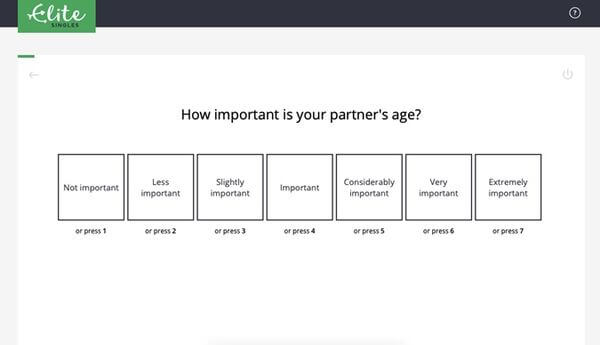 This is the start of a lot of questions.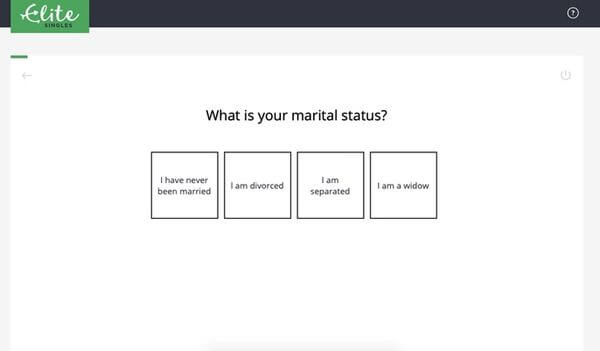 They start with the basic personal questions.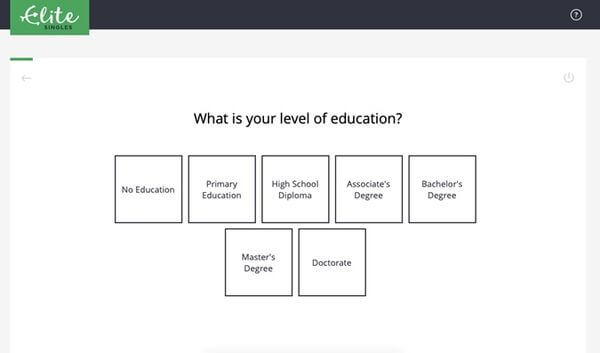 Since this site is for "elite" people. The educational background is very important. However, they do not ask users to provide any evidence.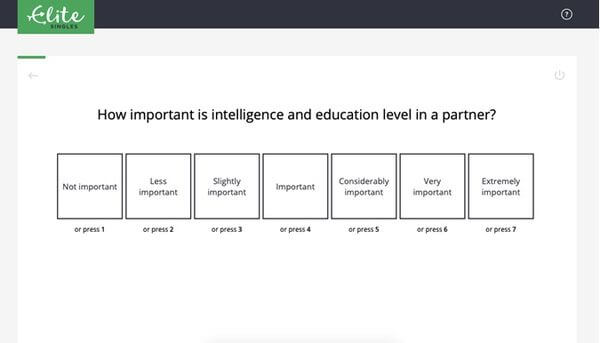 This goes the same for both sides.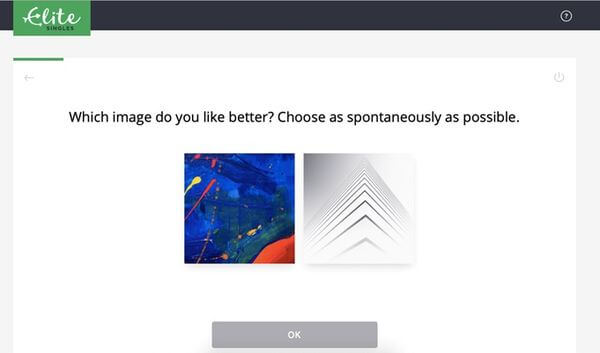 They would ask some interesting visual questions as well.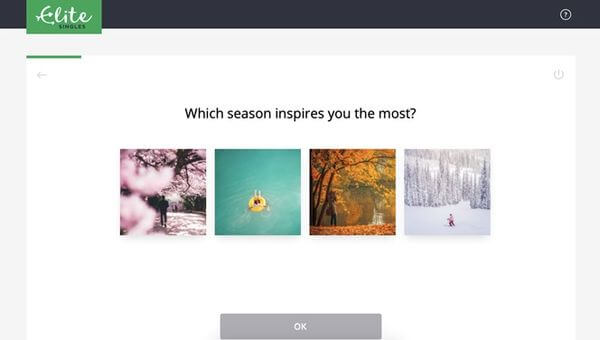 Some questions are doubtful for necessity, however, more information users would give, the algorithm would calculate more accurate matches for users.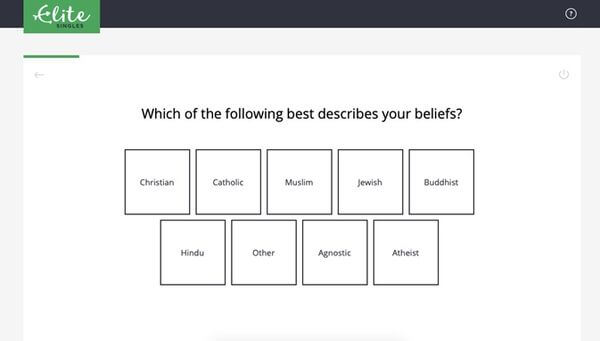 Certainly, religious belief is important for a serious relationship which this service is targeting to offer rather than casual dating.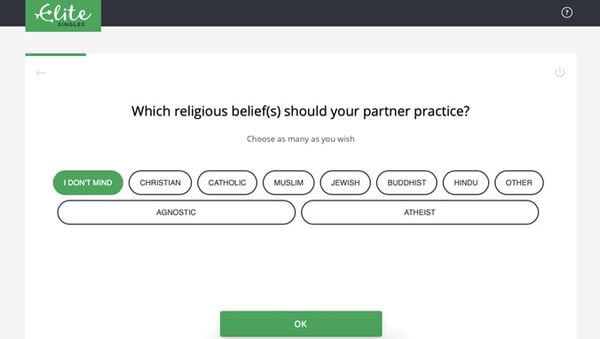 Also, this goes both ways.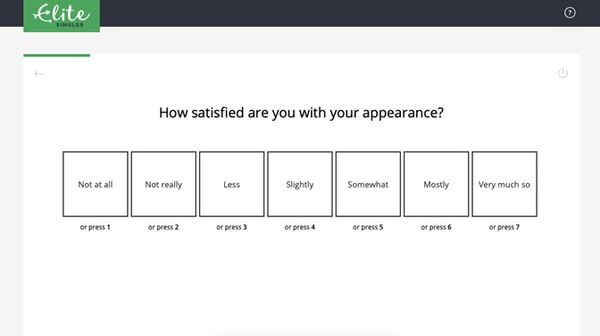 They go back to some more personal questions.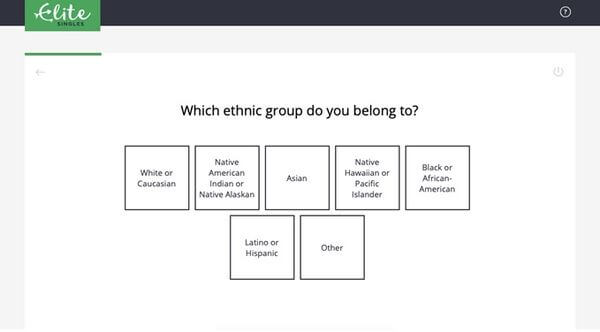 The racial background is the hot topic at this moment of our society. Thus this question does have more meaning.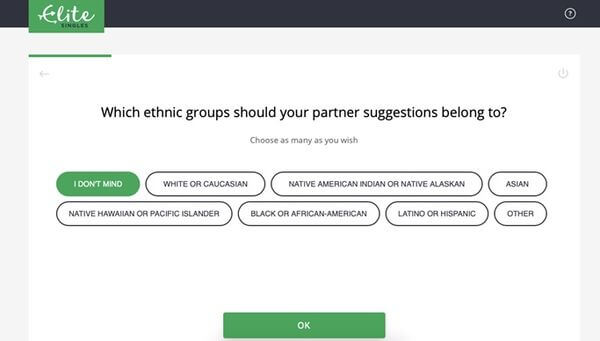 This also goes to the partner preference.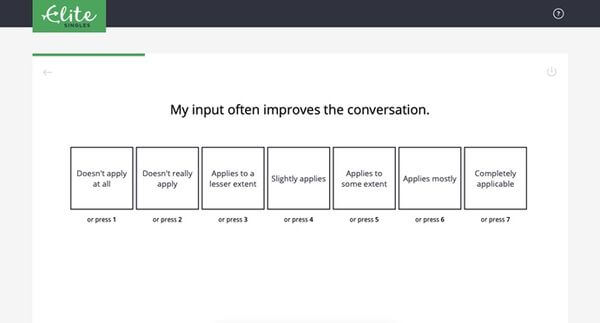 Now they move on to social skills check up.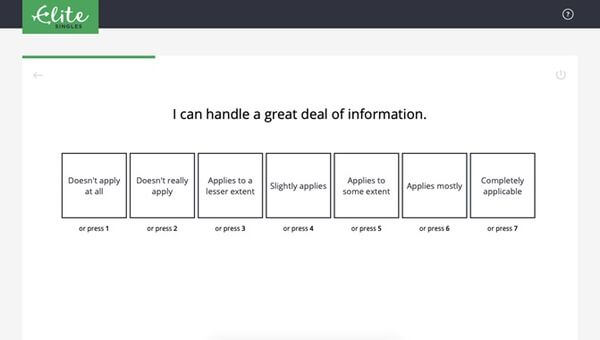 This question might be related to the intellectual ability which this site values.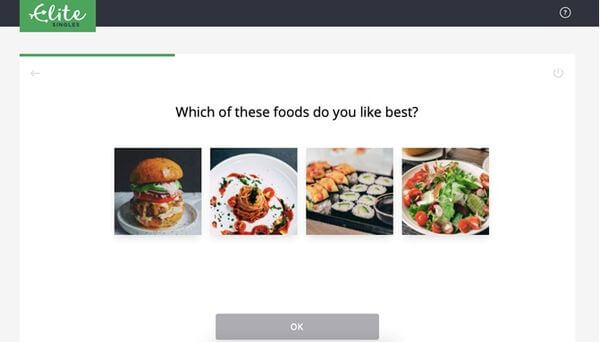 Some more visual questions are back.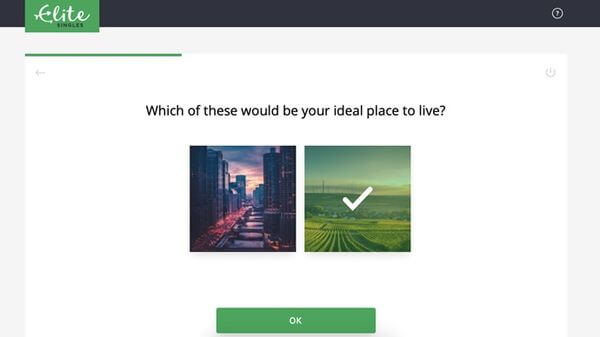 This is how they keep people to answering those questions!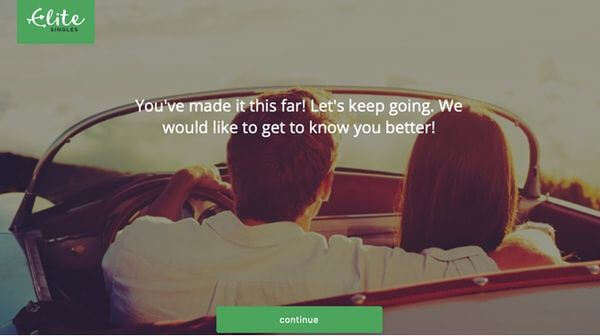 This is because it would not be hard to imagine that some people would stop answering those questions and quit to become a member.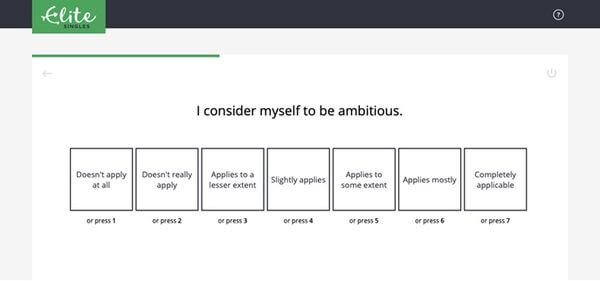 At this point, some people would feel overwhelmed by the amount of questions.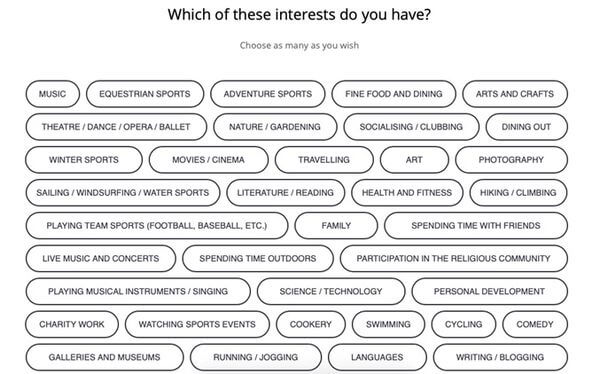 Some questions seem to be repeated, which make it harder to complete those seriously.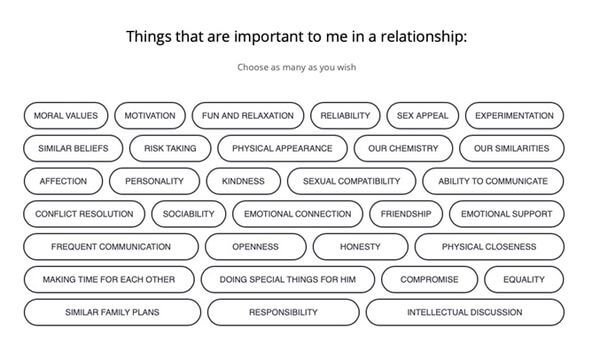 Choices would gradually gain in numbers.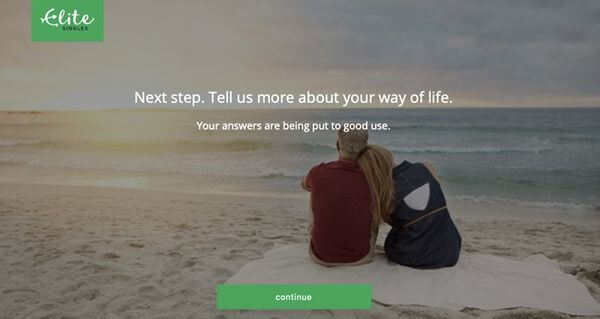 They offer some eye resting points. But this is not the end!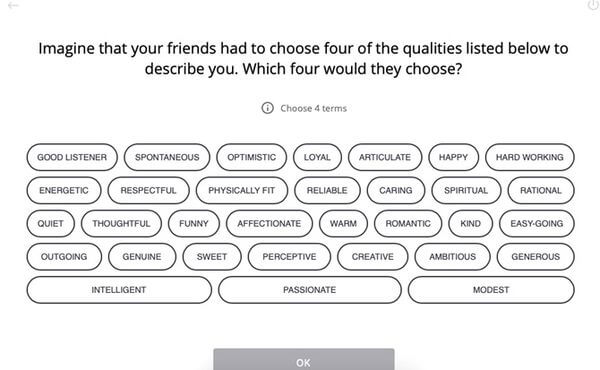 They keep asking the random questions which are repeated.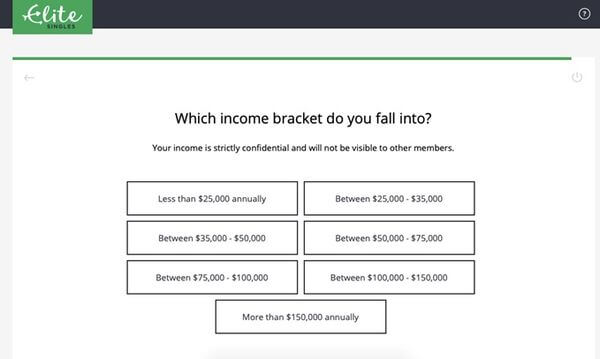 Finally the income question to answer.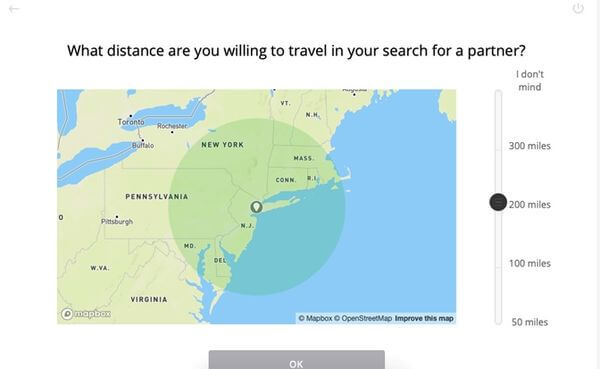 There are some questions about how far people are willing to travel.
However, in 2020, we are not encouraged to travel. Thus please think and act sensibly to keep everyone safe.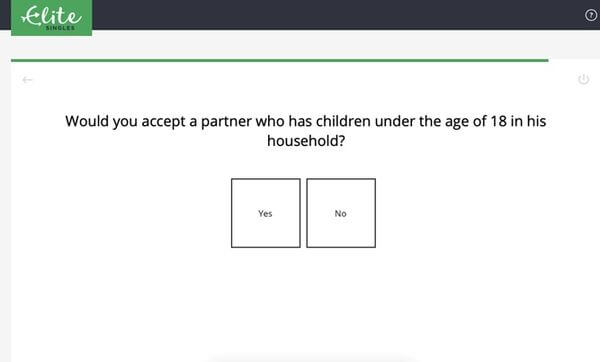 There are some questions about family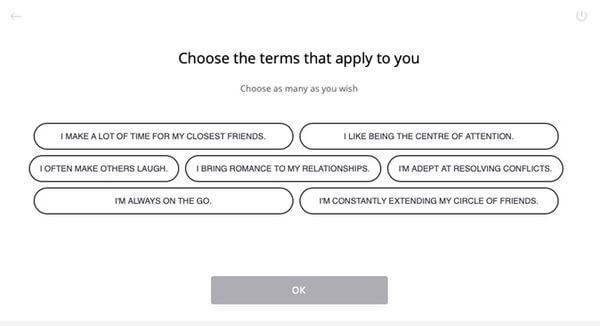 There are final random questions.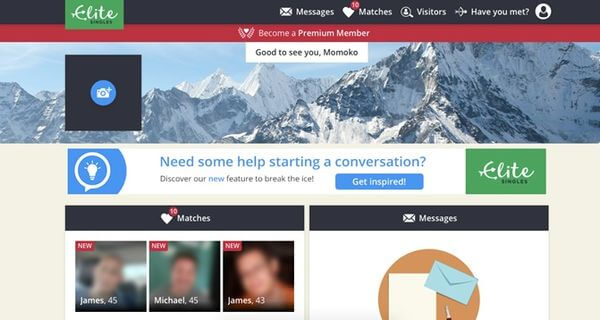 Then finally people are able to see the main page.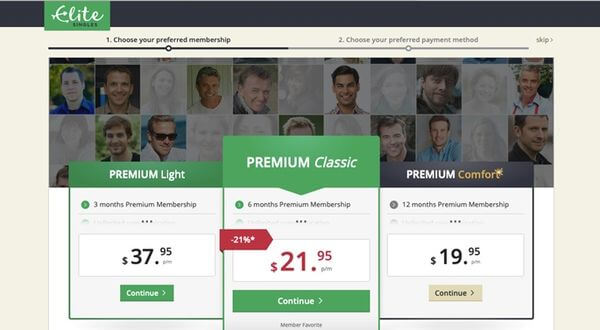 Users would get this pop-up about the premium membership.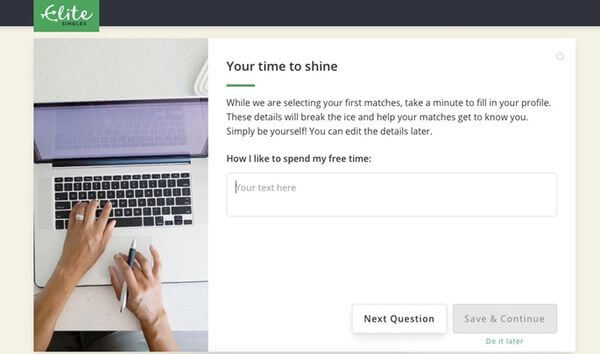 Moreover, users need to write about themselves to promote their profiles. You can skip this also, and many users would do the same.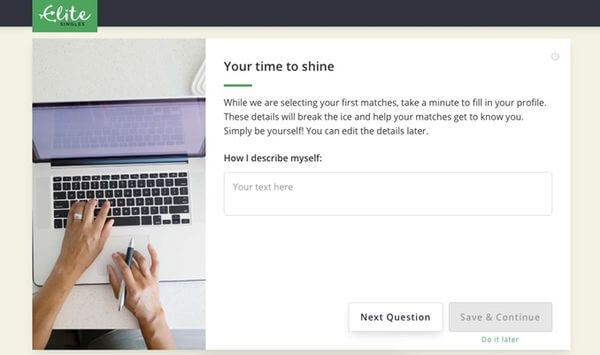 More writing section, nonetheless, there are a lot of profiles without any writings.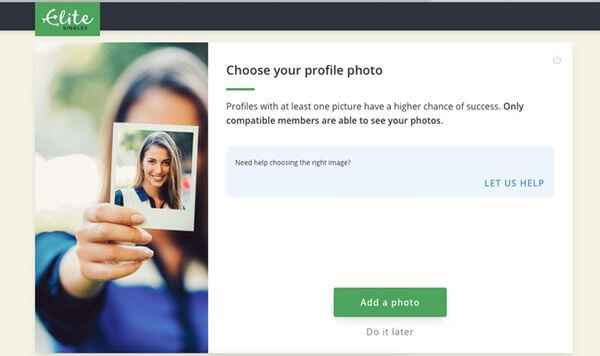 You can join Elite Singles without photo, unfortunately, there are a lot of profiles without photos.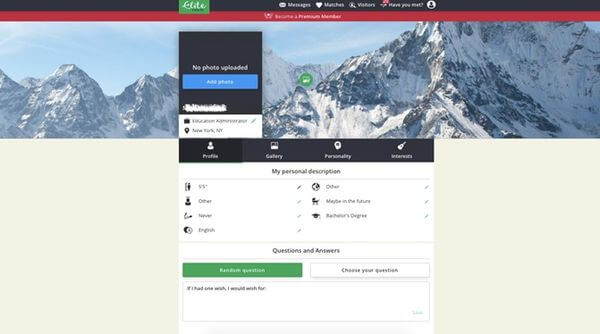 This is a basic profile without a photo. The background is randomly chosen by the site. It is a very basic layout and easy to see who they are. However, this is too empty after answering all those questions.
How to Use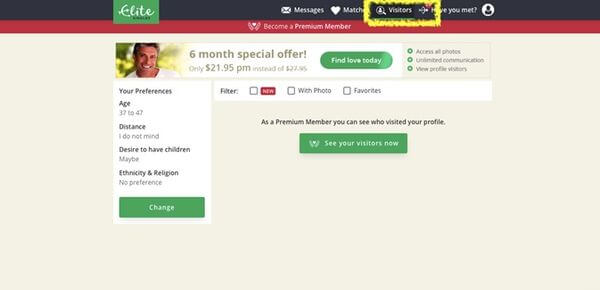 You can find out who visited your profile from the visitor section on the top menu bar.
Basically, free membership is just for browsing only. You can not see anything but photos and writing on the profile pages.
You can receive messages, not be able to reply unless you pay the membership fee.
You can send likes/winks to other members based on their writings on their profiles.
Elite Singles function [Have you met]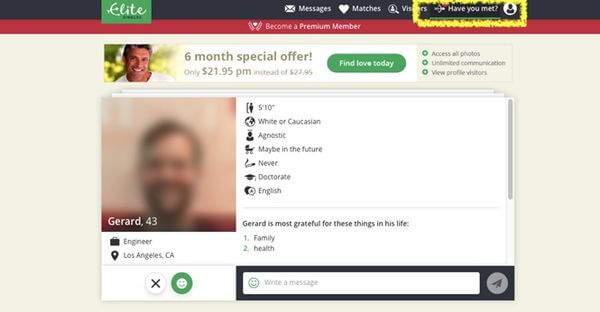 Have you met is on the top menu bar, ….This is the section where members are able to see site generated profiles which did not show in the individual matches.
Members can just click like or not, which is similar with other dating apps. However! The basic membership does not offer to view photos!
How to leave/ delete an account on Elite Singles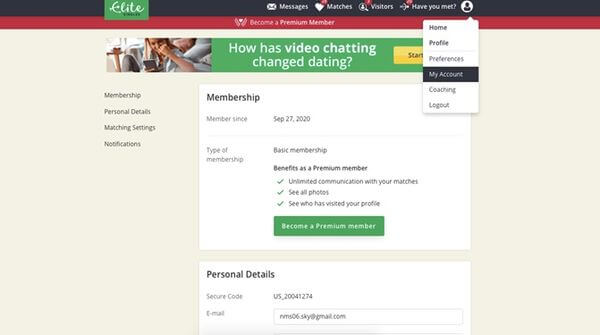 People need to go to ''Account" section from the icon on the top right.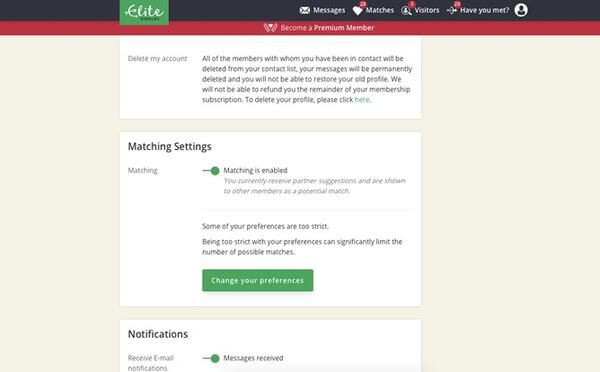 Scroll down to the middle of the page, there is the "Delete my account" sign and you need to click the green small "here".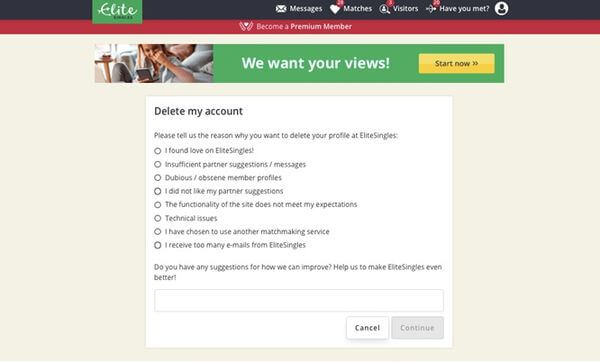 This pop up would show up to select a reason for the departure.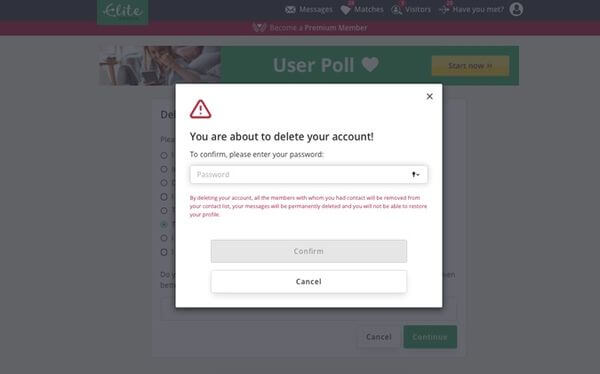 You need your password for the last time.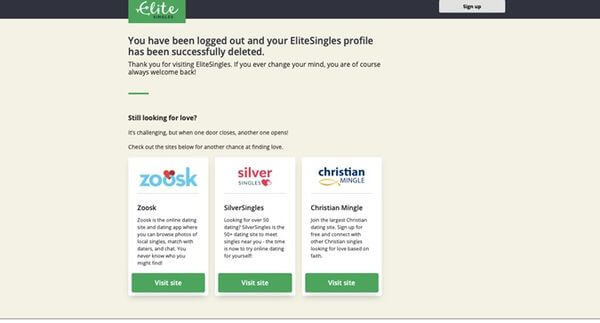 Then you would get this confirmation of deleting.
Premium Membership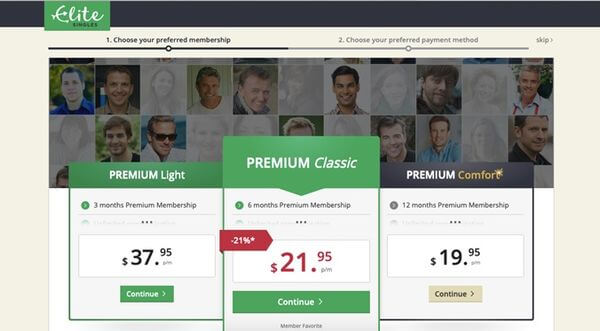 It is almost vital to buy Premium membership to use the service of Elite Singles. This is because without it, users are not able to do anything on this platform.
Even trying for the shortest time of 3 months, it would cost $37.95 x 3 = $ 113.85.
This is a very risky price to pay. Also, their price went up recently.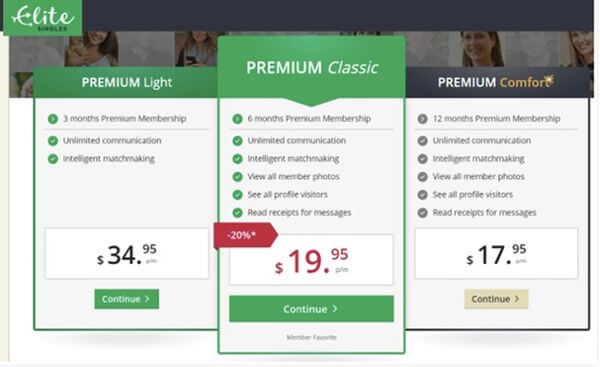 It used to be just under $20.
They do not offer any virtual dating service, thus it is very important to think about joining this service. People must read their T&C before purchasing this pricey and risky premium membership.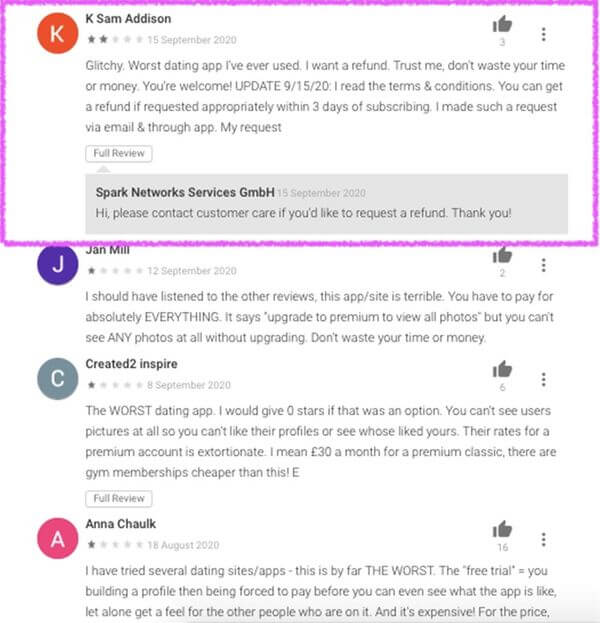 According to this post , users are entitled to get a refund after 3 days of purchasing by contacting them via message. This was confirmed by their customer service according to this post.
User Variety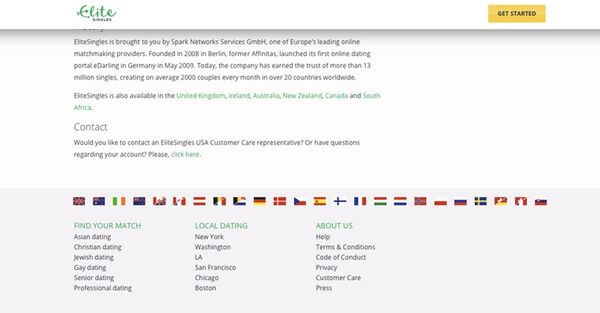 Elite Singles operates mainly in English Speaking countries and European countries. They are shown above.
They are targeting educated professionals thus naturally members are individuals with a good education background and working professionally.
Their real successful stories come with a variety of people.
However, I am not able to ignore the fact that there are more caucasian background users on their social media posts who are promoting their real life stories about their experiences finding partners using this service.
Also, I did not see much racial diversity of their promotion as well as social media posts.
Elite Singles App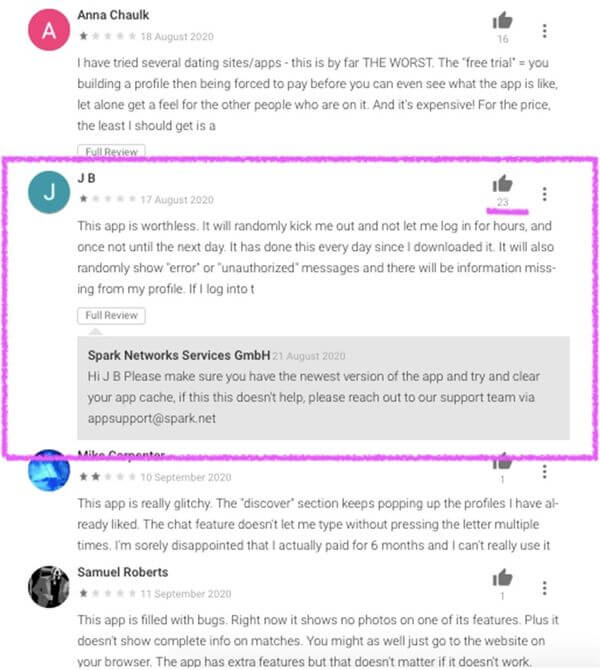 They offer an app for both iOS and android users, however, this app is reported to be very unreliable. Often there are reports of glitch, log in issues and not available for some users.
Social Media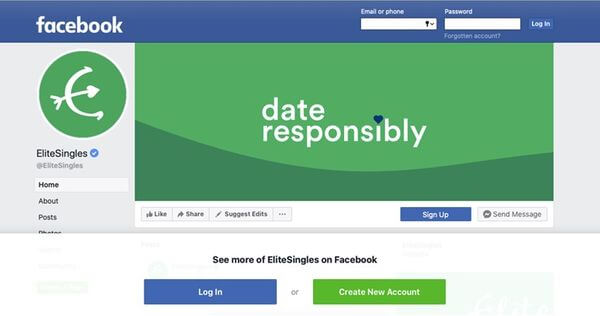 Elite Singles has only two social media accounts: Facebook and Twitter. They are very active on those sites and users are also very active.
Facebook

Elite Singles have a lot of followers on Facebook, 175.353 followers!
They are often leaving comments on posts and sharing some stories. This is very interesting. It might be a good idea to read some posts before deciding to buy the premium membership.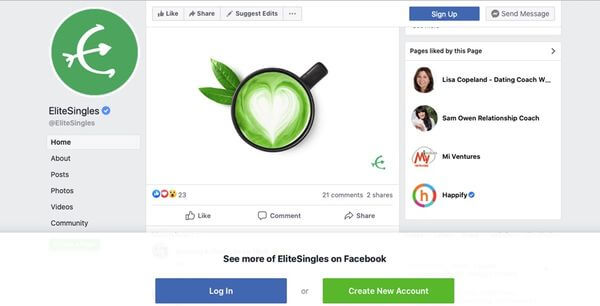 People are able to feel what kind of users are on this platform and maybe ask some real questions.
This simple post has 21 comments. This shows that people are regularly checking on Elite Singles' feeds.
Twitter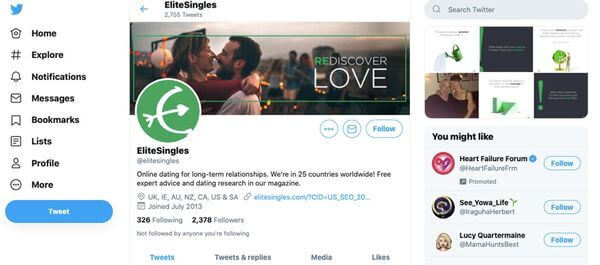 They have currently 2378 followers on Twitter.
This is a very healthy number for a dating platform. Some dating services have some kinds of ghost twitter accounts which do not have enough activities and number of followers.
This lovely story just goes to show that patience is key to finding #truelove 💖

"Give yourself a chance to know someone before dismissing them. We were lucky to find each other this time, but if Ali hadn't been prepared to keep looking it may not have happened for us." pic.twitter.com/gPHbKiMiLV

— EliteSingles (@elitesingles) August 9, 2020
They even share the real stories on social media.
Lisa and Susan highlight the importance of vulnerability when it comes to dating 💚

"Stay positive, be true to yourself. Even if it's not your best quality, be open and honest about it. Being vulnerable brings a level of closeness." pic.twitter.com/OfxymiSeAW

— EliteSingles (@elitesingles) August 22, 2020
It is not clear this post is suggesting the same sex couple dating on Elite Singles. However, people are able to pick gender preference at the joining thus, it is possible.
However, people are not able to look for both sexes. So bisexual dating is not supported on this service.
Online Review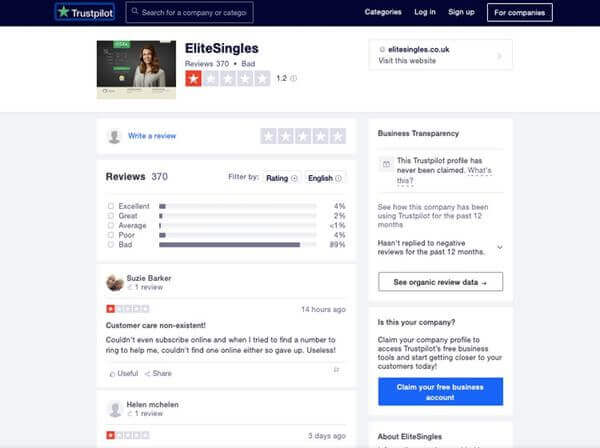 Trustpilot
Sadly, Elite Singles has 370 reviews and mostly negative reviews on trustpilot.com.