Elite Singles Overviews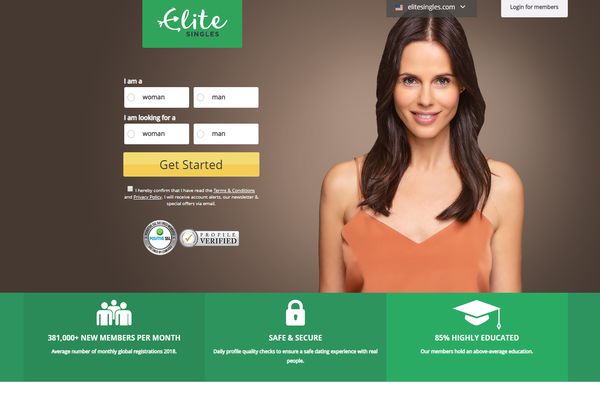 https://www.elitesingles.com/
Elite Singles Overviews
If you or anyone you know has found love on EliteSingles, we want to hear all about it! ❤️

Submit your story here > https://t.co/wgELEfLHum

— EliteSingles (@elitesingles) March 16, 2018
Members
Over 13 million worldwide 【Oct, 2020】
Active Users
Almost 90%
Fee Structure
Monthly Payment System
Feature
Elite Singles is the dating site for people who are looking for a long time relationship.
They are targeting highly educated professionals.

The registration process takes time to answer many basic questions.

How to Resist & Review Elite Singles detail below:


BTW, I was rejected to register EliteSingles as the below message.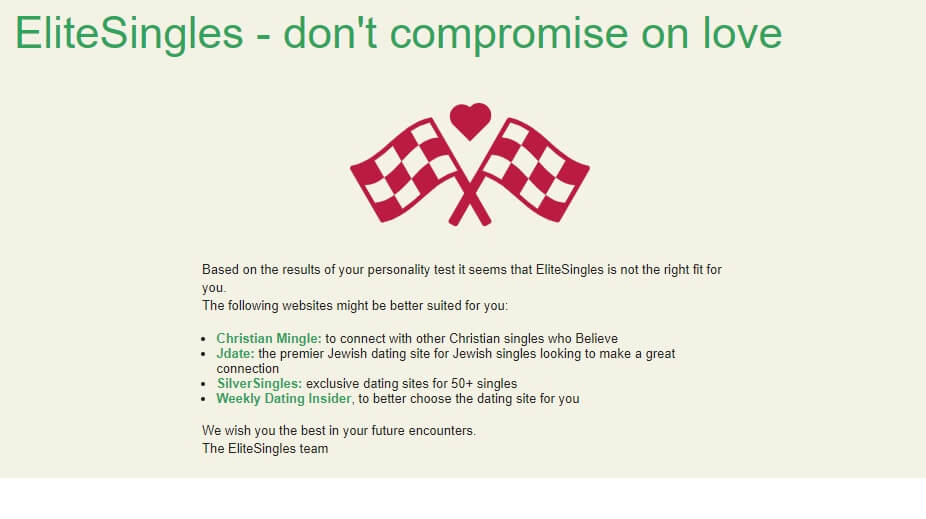 Based on the results of your personality test it seems that EliteSingles is not the right fit for you.
The following websites might be better suited for you:
・Christian Mingle: to connect with other Christian singles who Believe
・Jdate:the premier Jewish dating site for Jewish singles looking to make a great connection
・Silver Singles: eclusive dating sites for 50+ singles
・Weekly Dating Insider, to better choose the dating site for you
We with you the best in you future encounters.
The EliteSingles team

If you resist "WRONG ANSWERS" on your profile of EliteSingles, you're going to be rejected to be the member.
It should be "150k plus income"
You shouldn't be "Smoke everyday"
Elite Singles is one of the newer and lesser know dating app. It can be used on both desktop and mobile.
This dating app supposedly caters to a more mature and educated dating app user. What that means is it's for single men and women who have a college degree or higher and between the ages 30-50.
Company Information
Spark Networks
https://www.spark.net/
Contact by Your Resion
US
[email protected]
Headquarters
Kohlfurter Str. 41/43
10999 Berlin
Germany
US Office
Lehi (UT), USA
3300 N. Ashton Blvd, Suite 240
Lehi, UT 84043
Fee
The prices to become a member of Elite Singles:
Premium Light
3 months for $37.95 per month
Total $113.85
Premium Classic
6 months for $27.95 per month
Total $131.70
Premium Comfort
1 year for $19.95 per month
Total $239.40
Prices are in US$ and amount may differ based on location, time of purchase and devised used.
・Monthly Paied system
・Free Resistration
・Users can view for free
・Message sending is for paid members only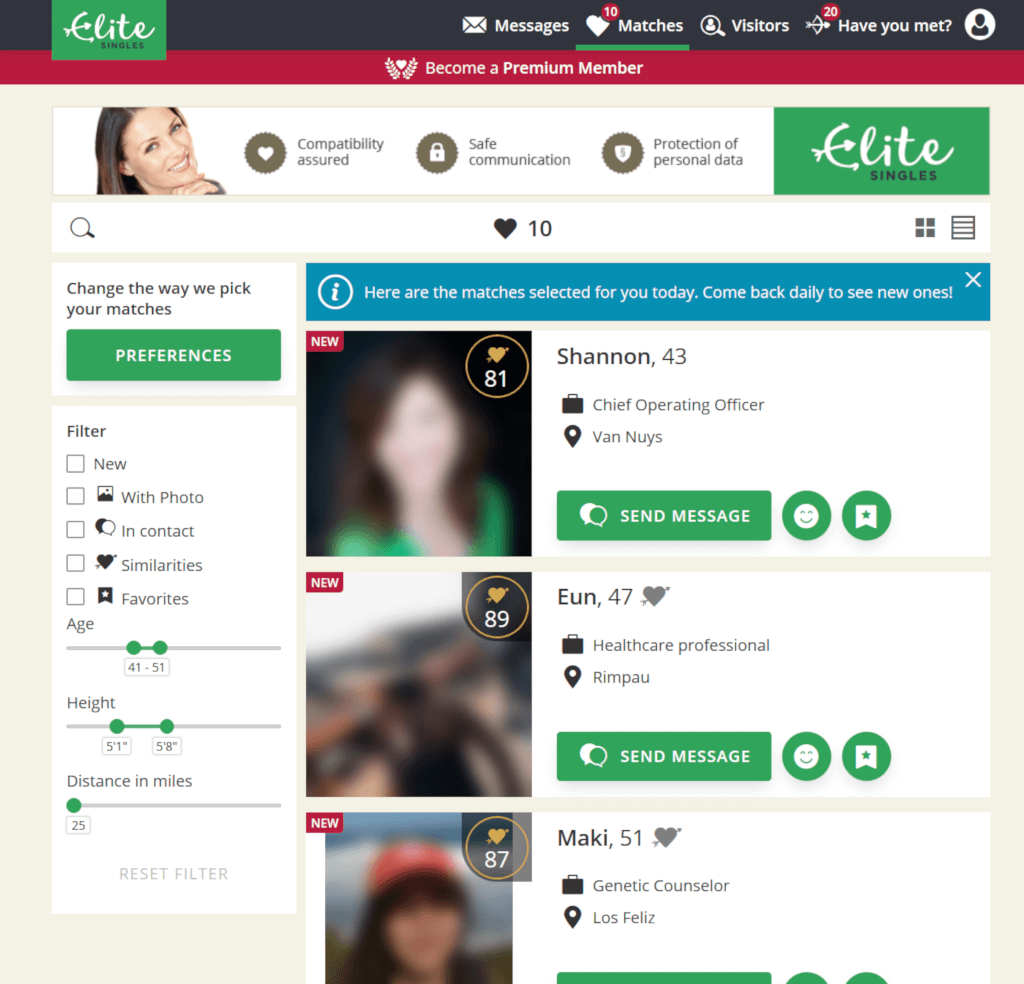 【Oct 5st 2020】
Male Users by Age
Femaile Users by Age
■Elite Singles Women Members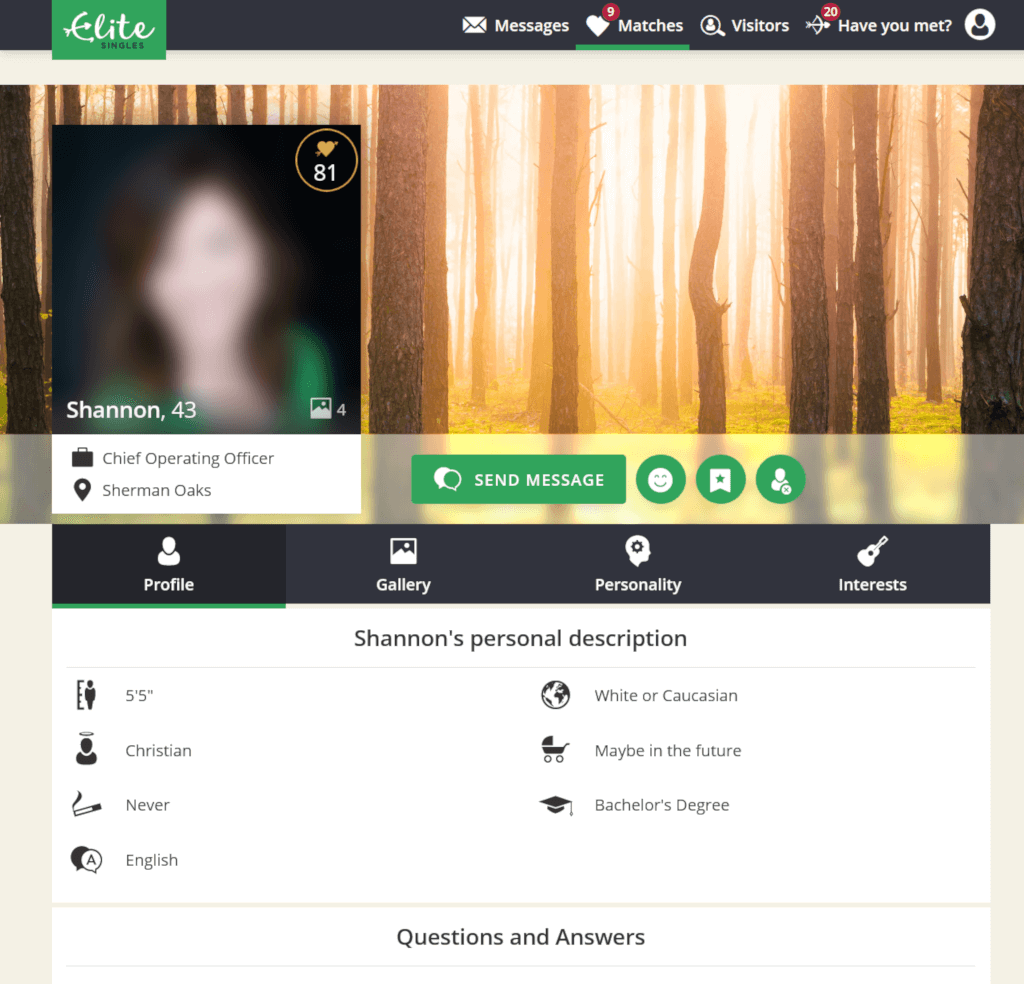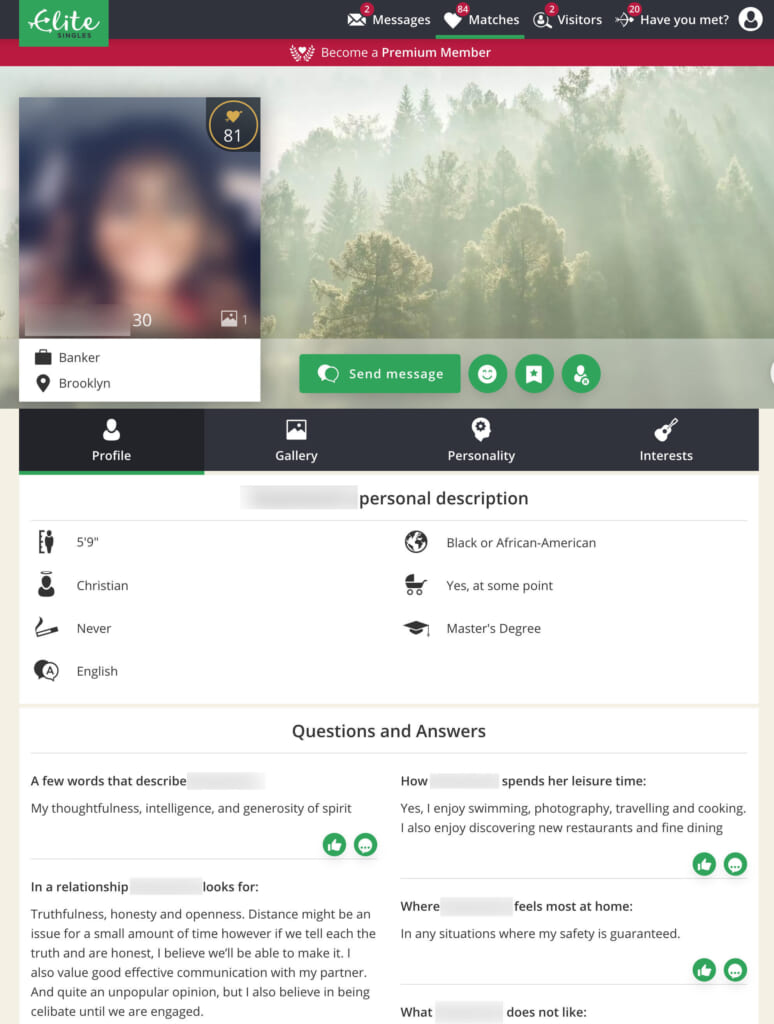 Anyone can fake their identify online and highly exaggerate their credentials. It is more difficult online to find out about what someone is really like until you start messaging each other and eventually meet up.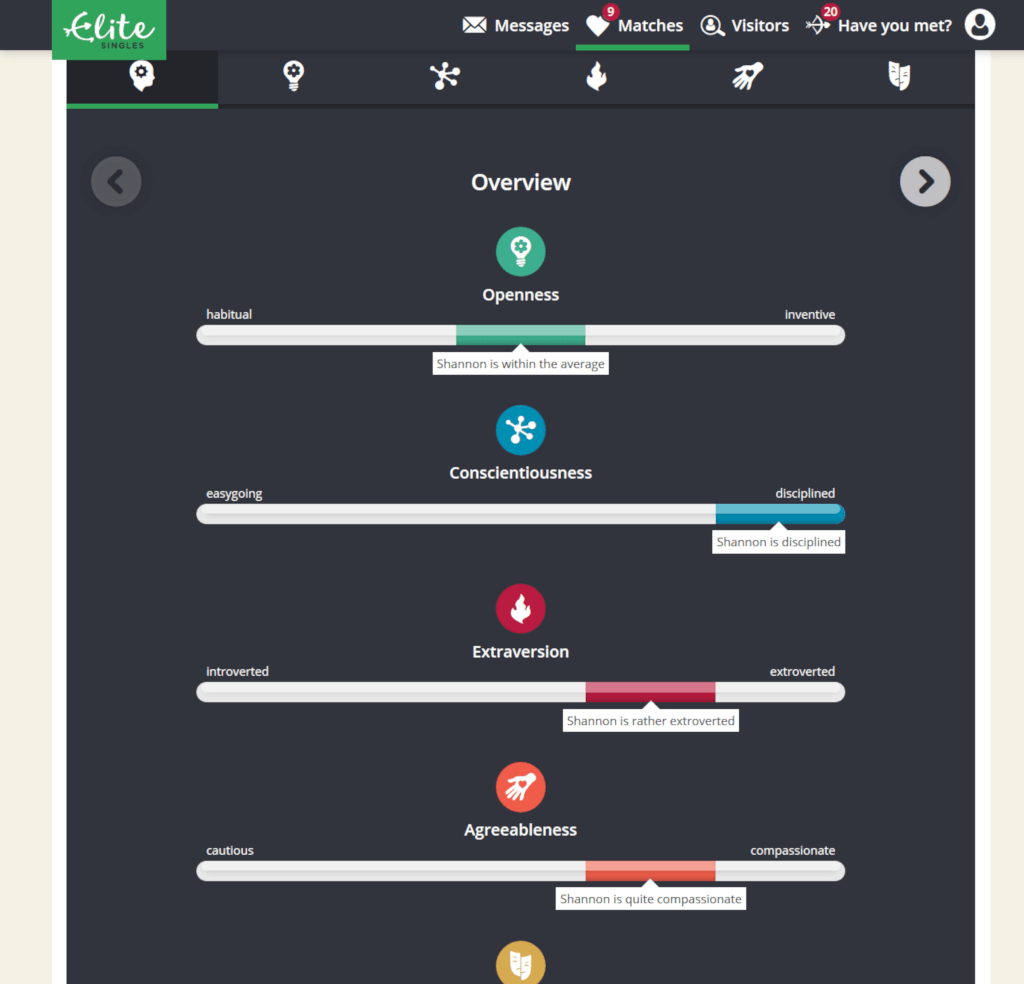 Elite Singles app is easy to use and install on your mobile but setting up your profile will take some time.
To set up your profile you will be answering many questions about your personality. It is much lengthier than the other dating apps' personality Q&A. I don't find this a difference maker. Too much information can keep you from wanting to meet someone. This way you get lesser matches when it's time to see who you match with.
Overall Elite Singles is just another option for online dating. It's not one of the best ones out there so I cannot recommend it.
One reason it is not as popular as Tinder is because you need a paid subscription to use the basic functions like viewing photos, getting matched and be able to send messages to other subscribers of this Elite Singles dating app.
Elite Singles Reviews
Elite Singles Pros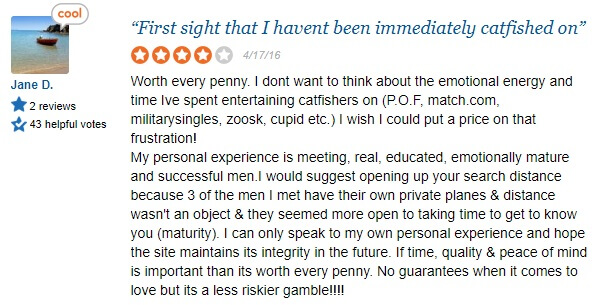 sitejabber
Monitoring of operational support is good for not to prevent malicious users from getting in.
Not everyone can be member is also trustful.
Comment
Paid membership means less scammers and more real profiles.
In depth questionnaire when creating a personal profile will help users know more about other users, who they may potentially date, without asking much.
Paid membership gives you full access. Since it is not free and restricted to members only, this makes it more secure and lets you know that your personal information and pictures is not as public as other dating websites and apps.
You can post as much photos as you like. Other dating apps and websites usually allow a limited number or space for this.
Elite Singles Cons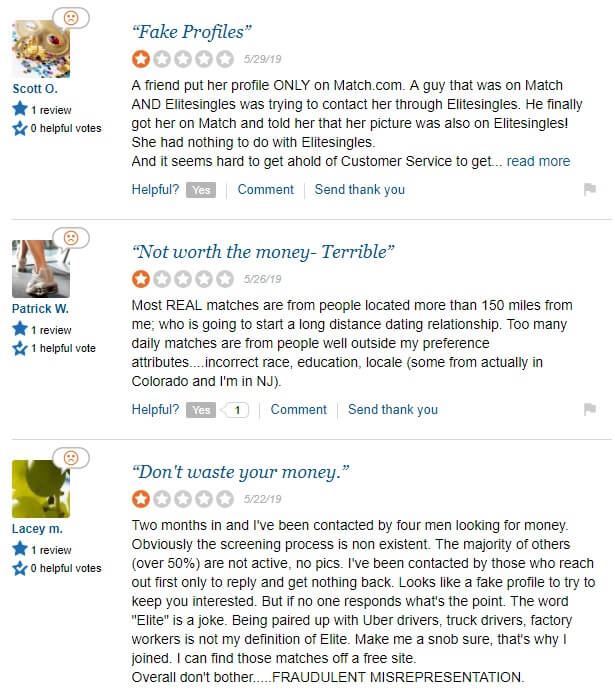 sitejabber
There are many unhappy reviews.
"Not all members are elite."
"Elite male members are short number."
"Never met anyone."
Comment
Elite Singles has low ratings in reviews. There are many complaints from users and many discontinue using it.
It is not as popular as Plenty of Fish and Tinder. If you are below the age 30 and are seeking to find someone in the same age category, you will be dissapointed to find out that users of this dating site and app is more mature. Users are between the ages 30 – 50.
It's niche market is for mature college or higher educated working professionals. This can be a very narrowing field and this can mean that you will be looking for someone who is similar to you in work, income and lifestyle.
It can almost feel like you are seeking for someone in the same circle but in a different location. If you are looking for someone unique or different from you, there will not be much variety to be found here.
A number of fake and exaggerated profiles and pictures is expected in dating websites. Elite Singles is no exception to this.
Meeting someone different from the profile you contact can happen.
Communicating with a user who disguises themselves as someone else can also happen.
Elite Singles Worldwide
Elite Singles has separated sites in worldwide, mainly English Speaking countries and European countries.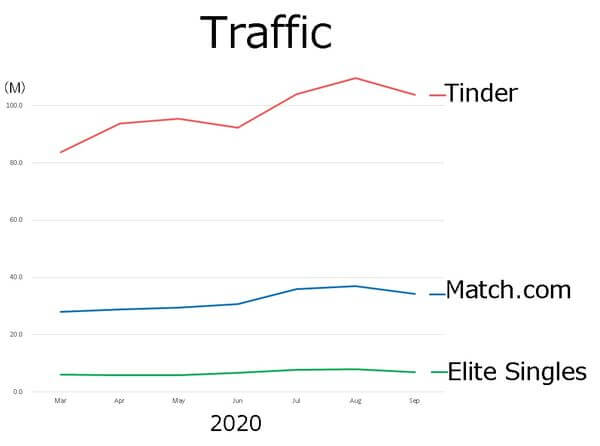 [Mar-Sep, 2020]
Combine Elite Singles' worldwide traffic, it has millions monthly average! Although less than Match.com, Elite Singles is one of the big popular site in dating apps.