Clover.co Review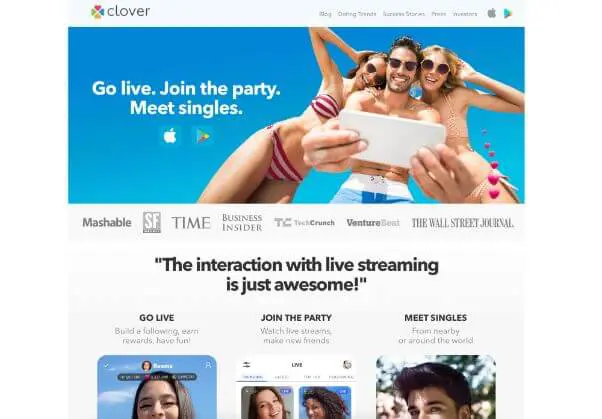 https://www.clover.co/
Clover was launched on the Apple iTunes store on March 17, 2014 by founder and CEO
Isaac Raichyk, offering geolocation dating services, mainly in Canada and the USA.
In 2022, FoxWayne Enterprises Acquisition Corp and Clover came to a business agreement and they will be named "Clover Media Inc" in 2023. The operation would be still led by Isaac Raichyk.
This new company would offer subscription base dating services and live streaming services.
Clover.co Verdict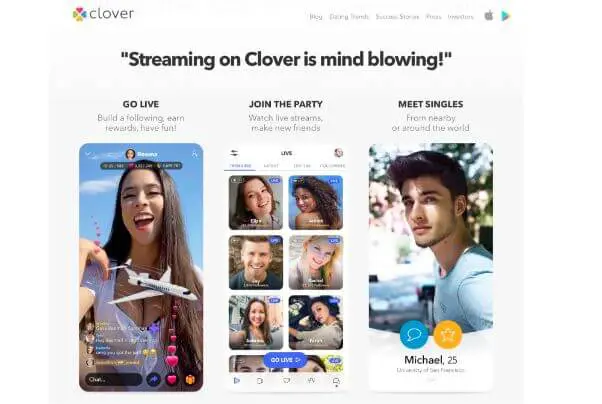 Clover.co is surely designed for younger users who are in their teens and 20s but it may not be a safe place for some, despite having some main media exposure. This is because there are some users who would post their body parts which could be offensive. Some would share pictures of minors such as children. This is illegal and inappropriate.
Moreover, there are some articles that there are scammers operating on this service.
Livestem is a new way to meet people or get famous, however, liver steamers here are not really showing their strong commitment. Their average viewers' counts are very low. People can start their own live stream, it might be hard to get viewers but people can meet and instruct.
There are a lot of negative reviews of premium membership payments, thus it is important to use an app account to sign up and unsubscribe the service to cancel it before deleting the app.
Clover.co Traffic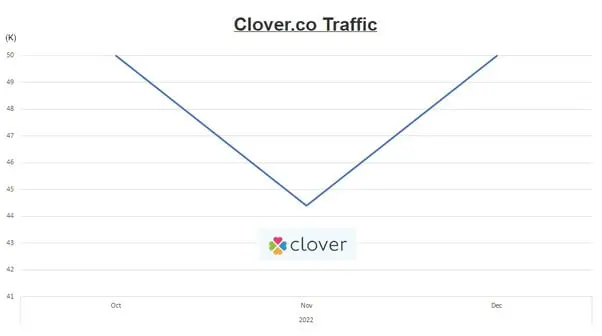 Mainly US users. Users from other countries would looking for Americans.
Traffic by Countries
[Jan, 15th, 2023]

Average Monthly Traffic by Countries
[Oct-Dec, 2023]
| | |
| --- | --- |
| US | 33,737 |
| Ethiopia | 2,934 |
| India | 2,693 |
| Canada | 2,222 |
| Australia | 1,837 |
| Others | 4,675 |
As a dating app, it doesn't have many users. It would be difficult to meet up.
How to join Clover.co
People can only join Clover.co using the app. Thus, the first step would be to go to either Apple app store or Google app store to download the app.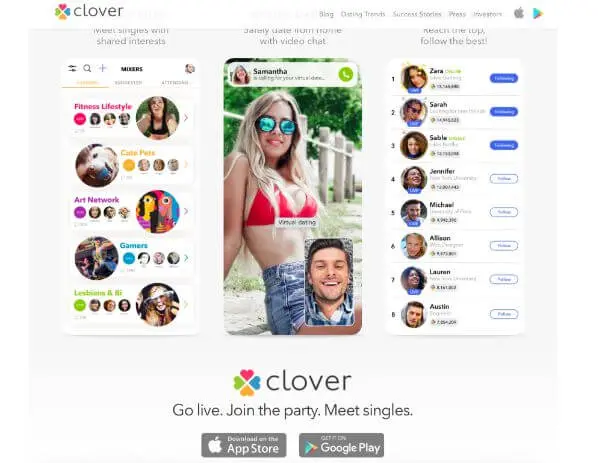 Clover.co iOS Apps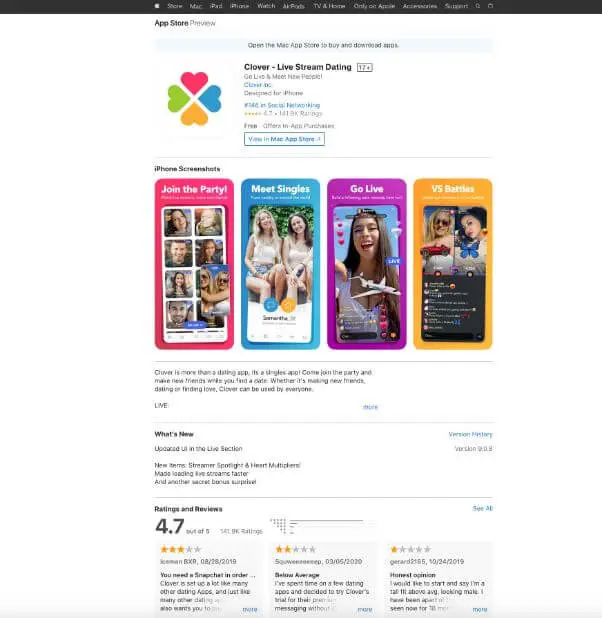 People are able to download their app from here.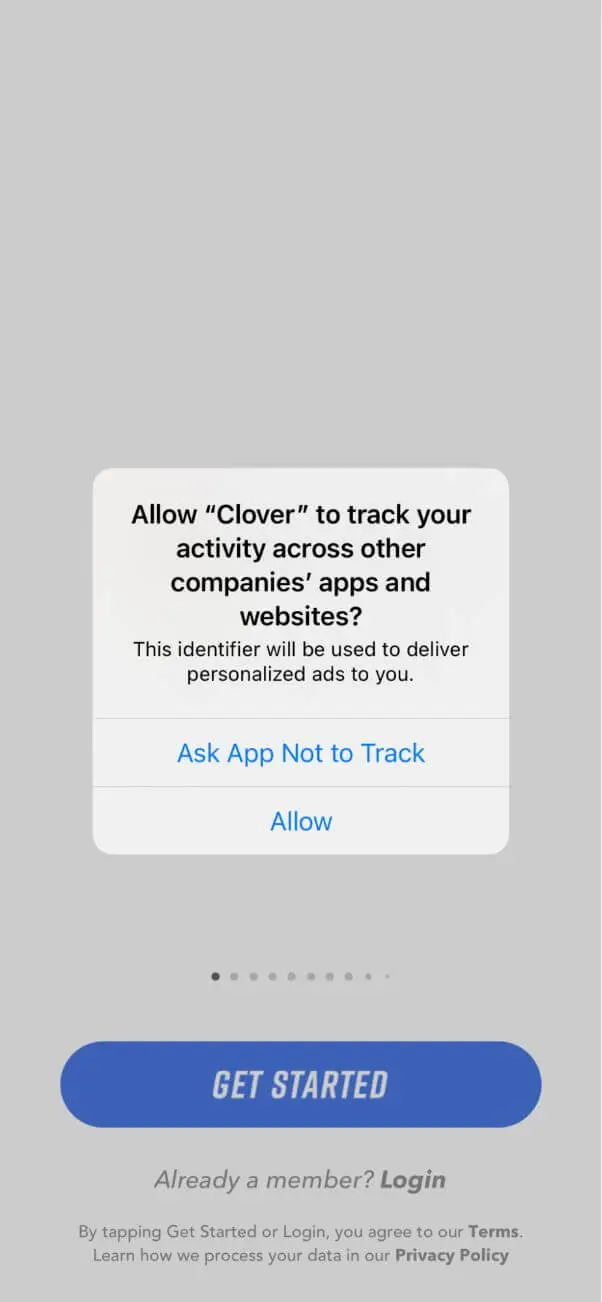 The first pop up would be this. It would be up to users to decide what to do.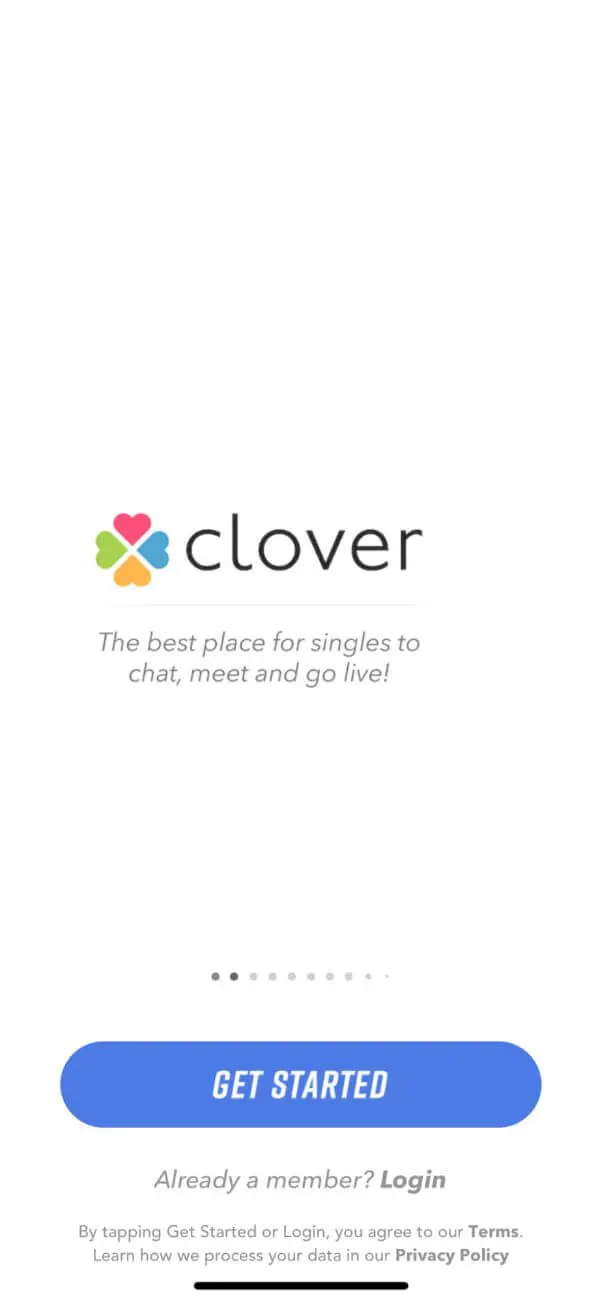 This is the first page of the app. To join Clover, just simply tap the blue icon "get started".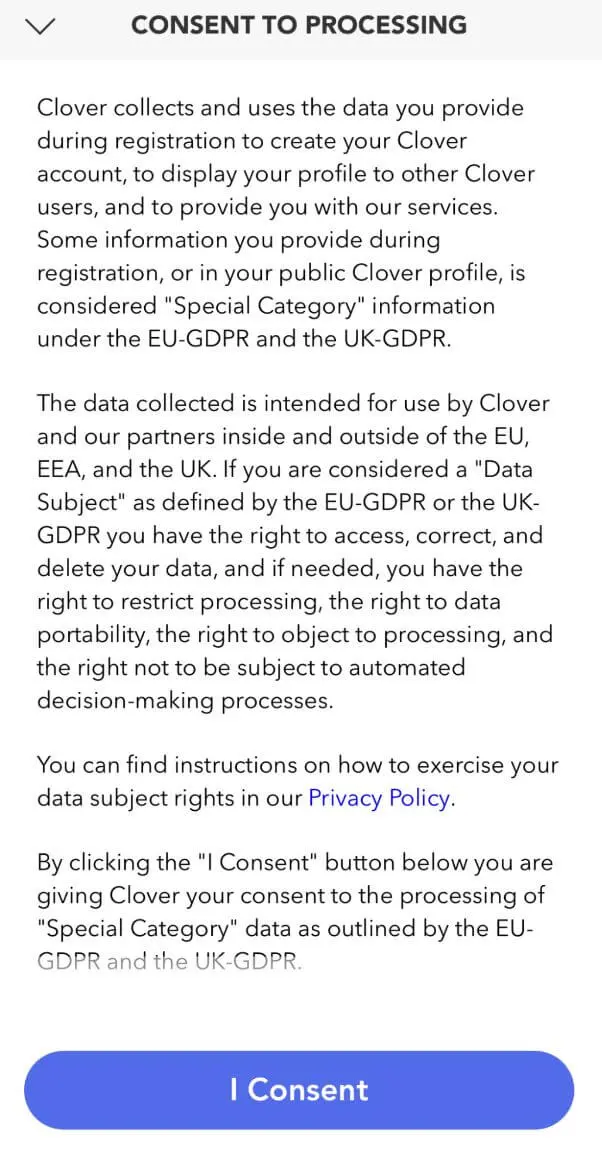 Then people need to agree with the consent.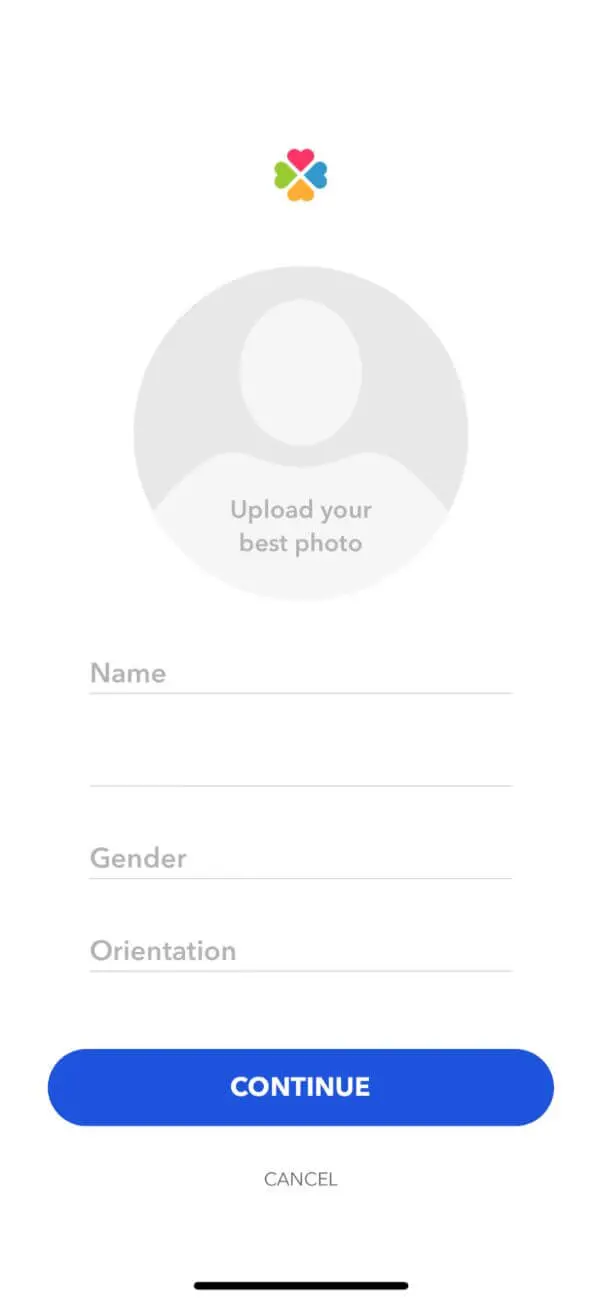 This is the profile page. It is very simple.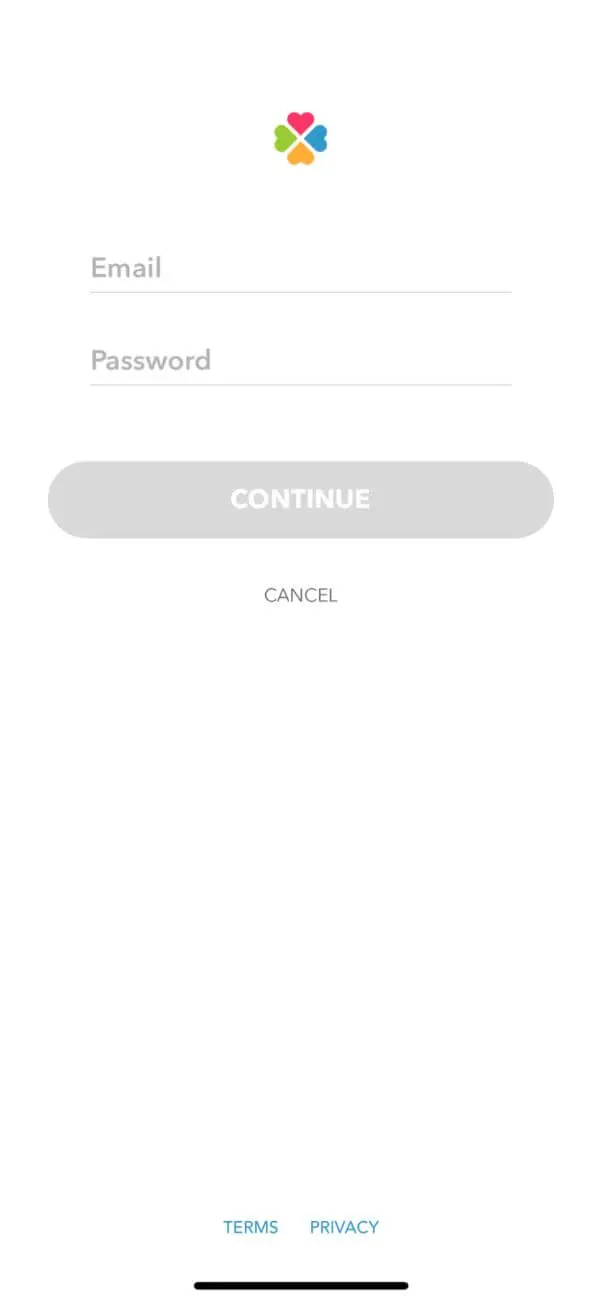 Then people need to give them an email and set a password.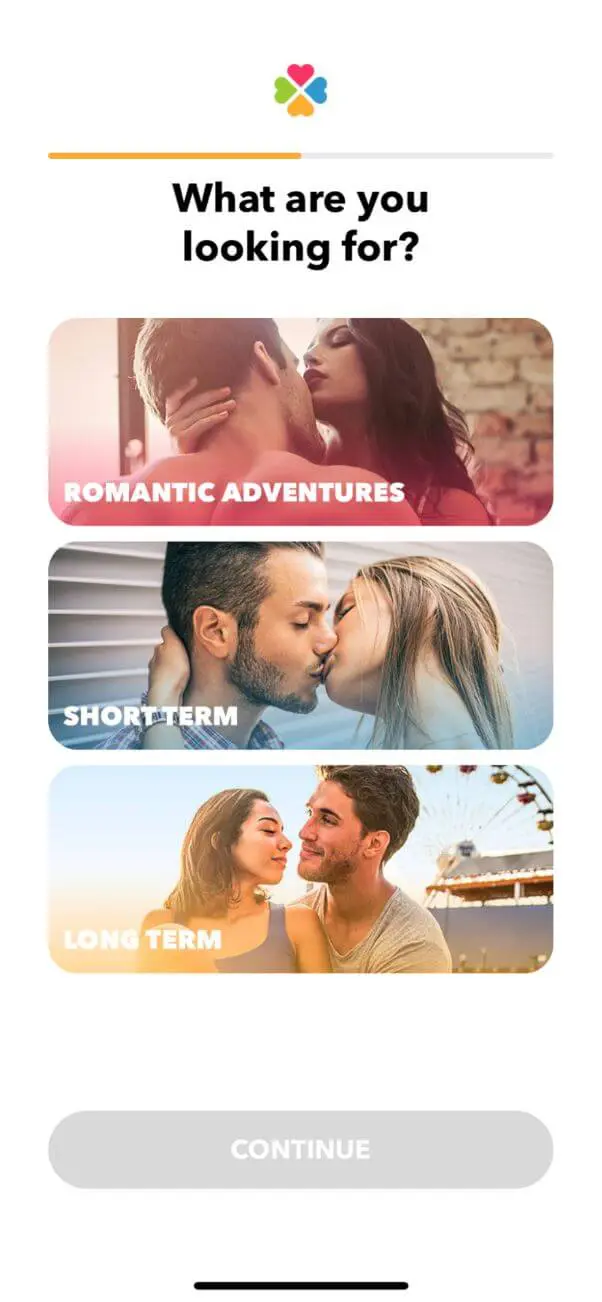 Then there would be several simple basic questions to follow. This would be used by their algorithm to match and suggest users.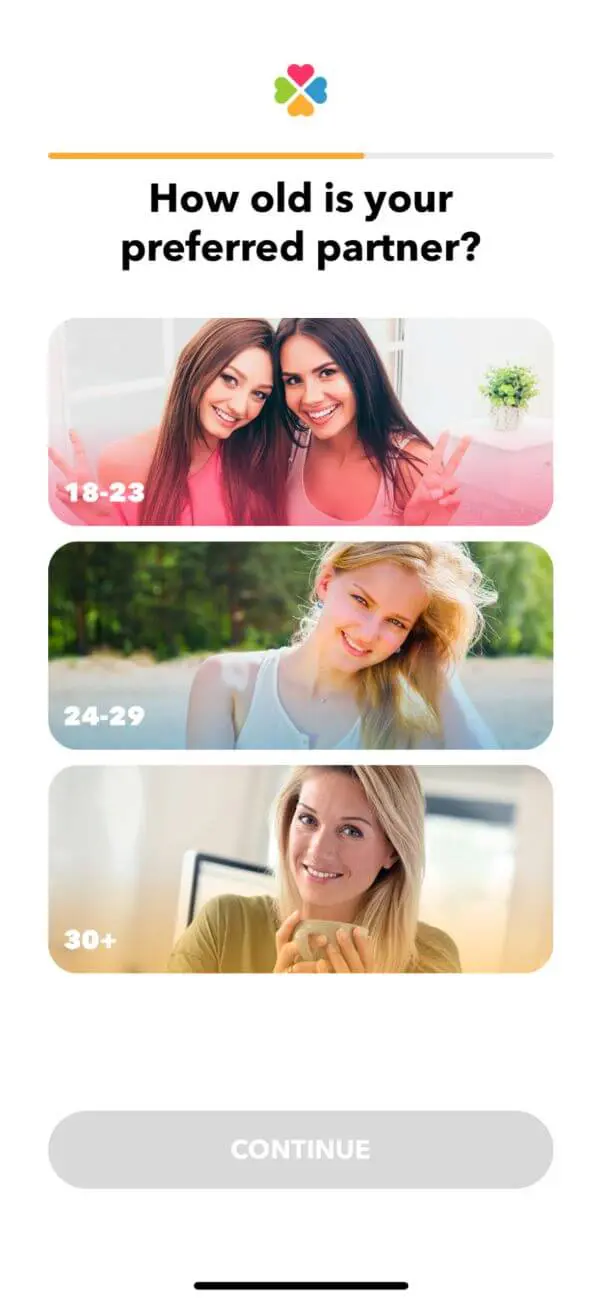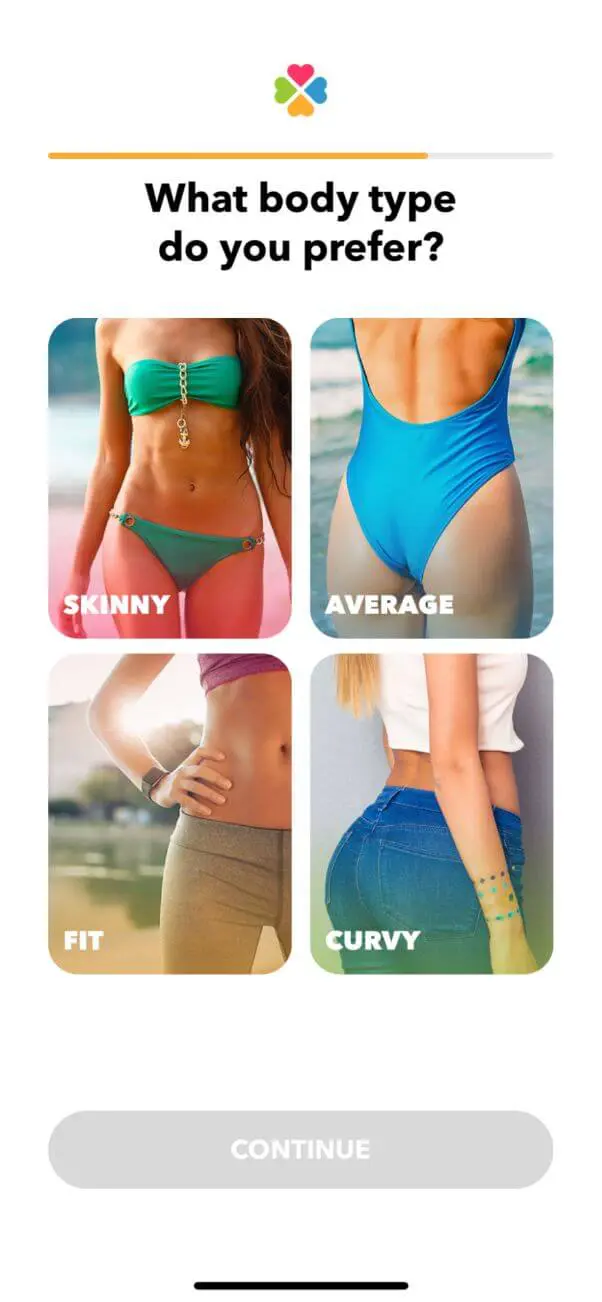 Clover seems to target the younger generation, their age choices are up to 30+ only.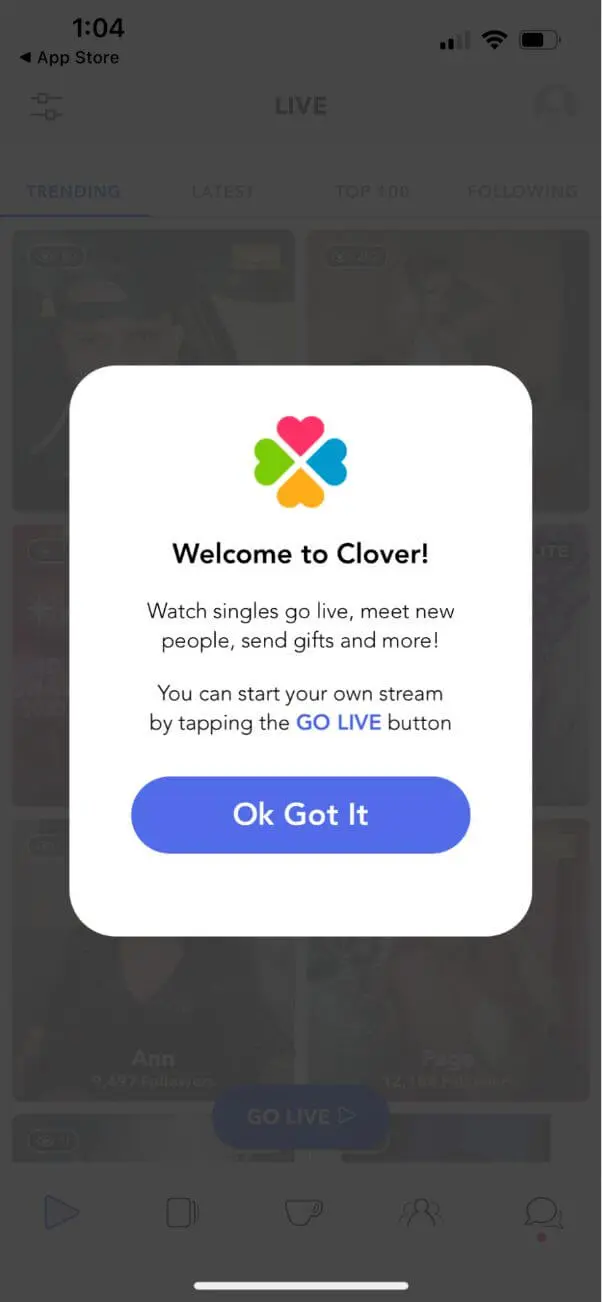 This would be it. Now, people can use the service.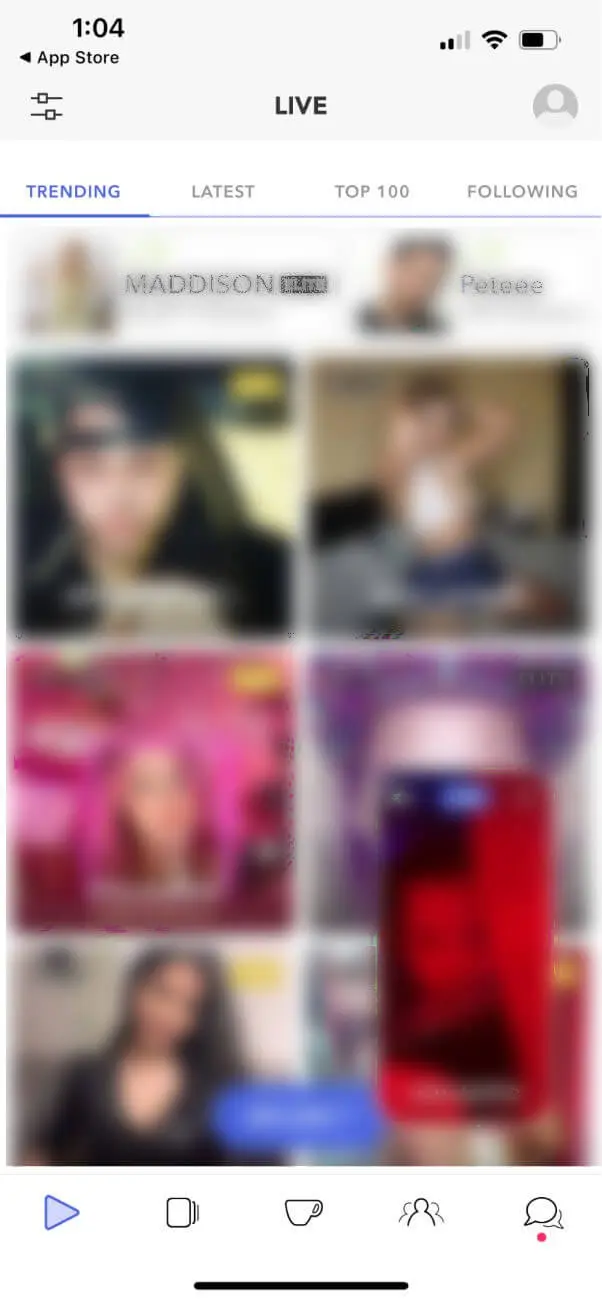 This is their home screen/page. Clover is focusing on Live streaming. Users can join various live streamings here.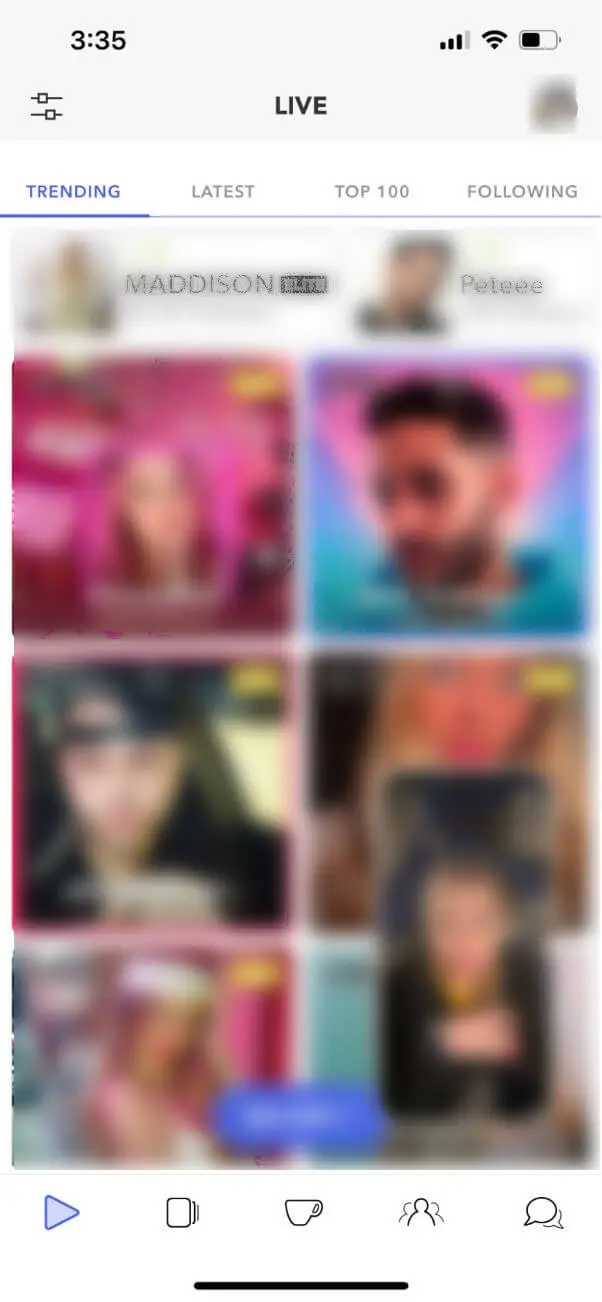 However, the view numbers can be very deceiving: the 4th top livestreamer was shown as having 100+ viewers.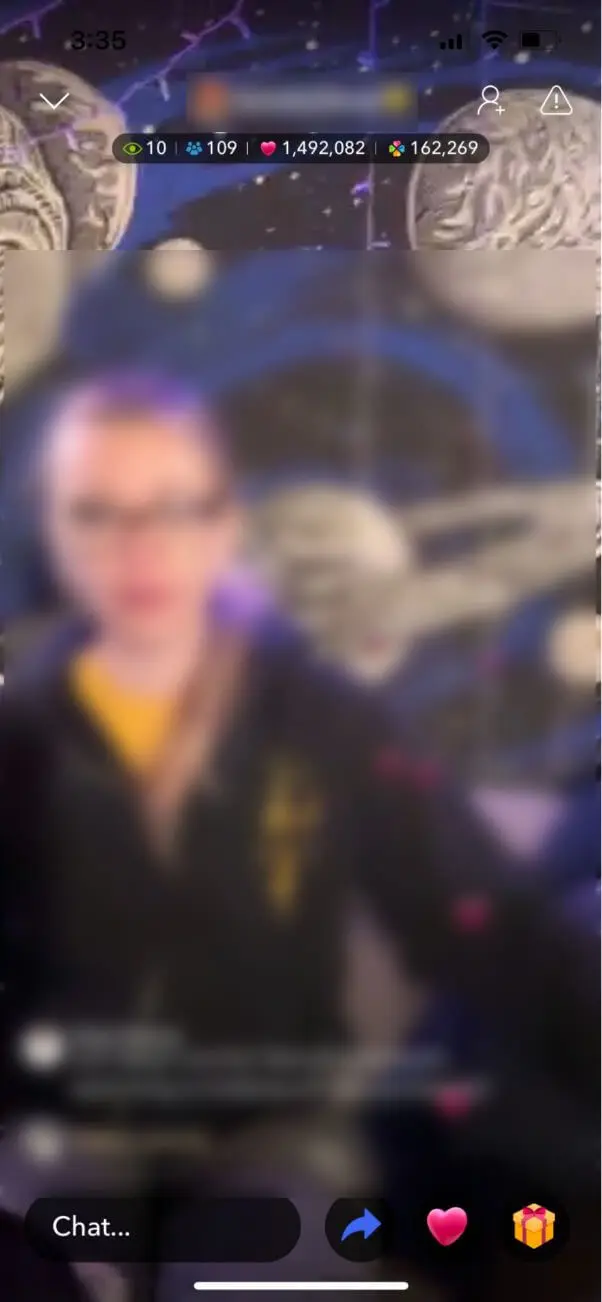 But once people joined, they could see the actual views. In this case, there were only 10 people watching her.
She did not do anything special. She showed her dog.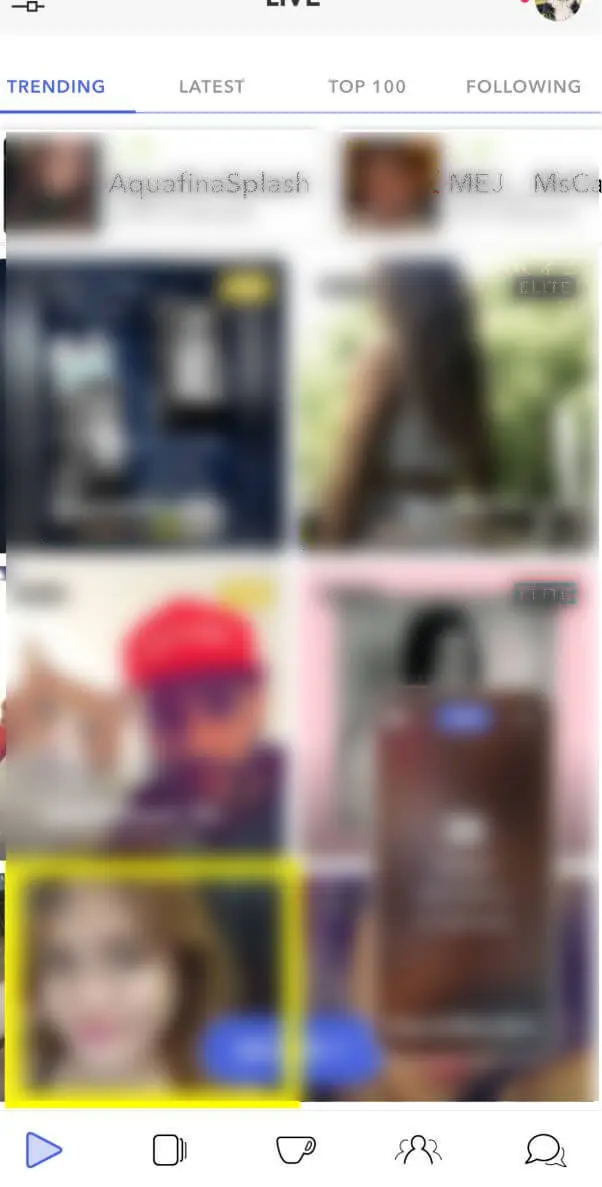 She had 189 viewers on this page.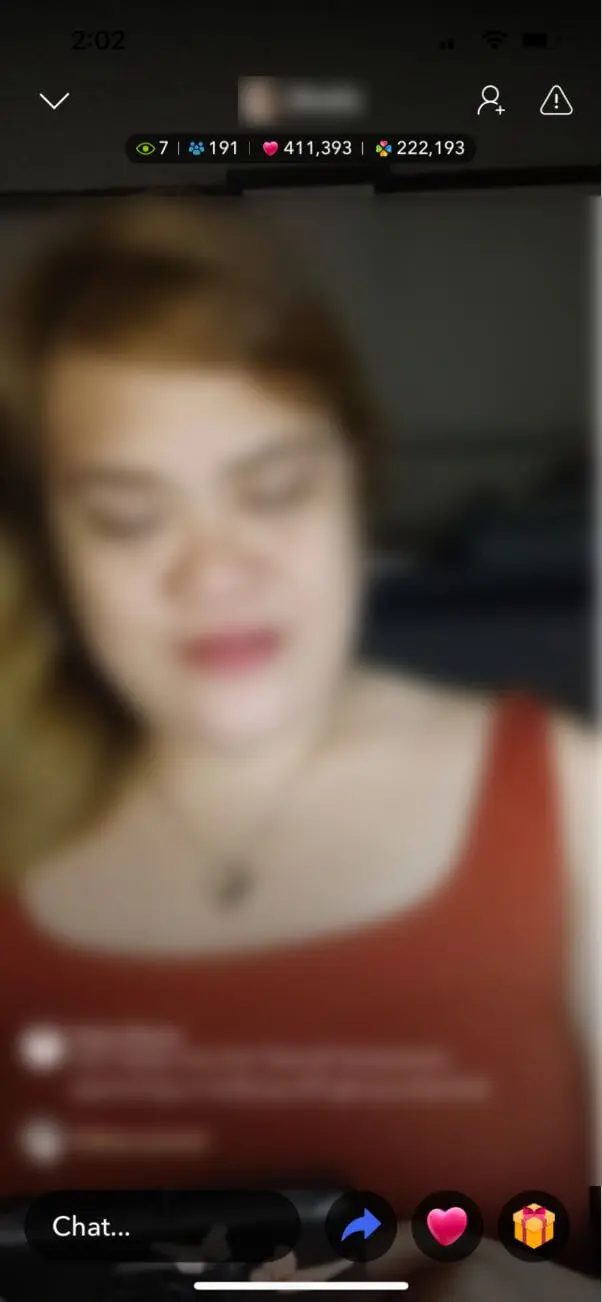 But she actually had only 7 viewers. Also she looks very different from the profile photo. She hardly put her makeup on. She did not give out any famous live streamer vibe at all. Her live stream was simply very weird.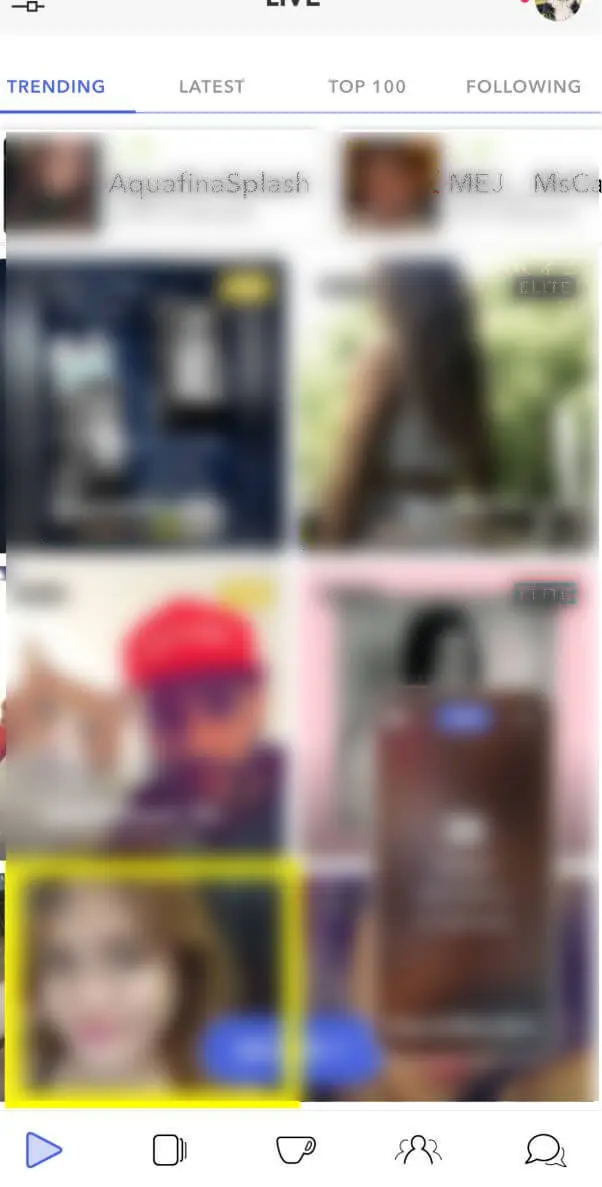 DAMNDanii actually had 3 viewers. He would notice when people join his livestream. By joining live streams with fewer viewers, people can meet others and interact with each other.
Clover.co android Apps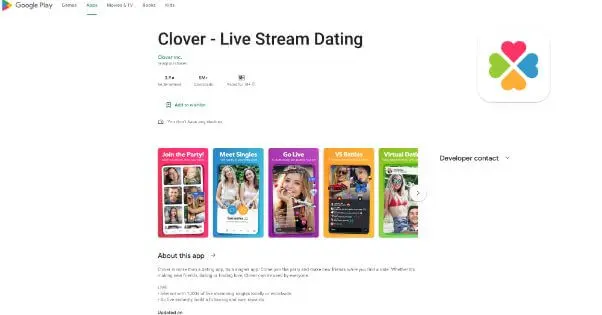 Android users can do exactly the same from Google App store.
How to use Clover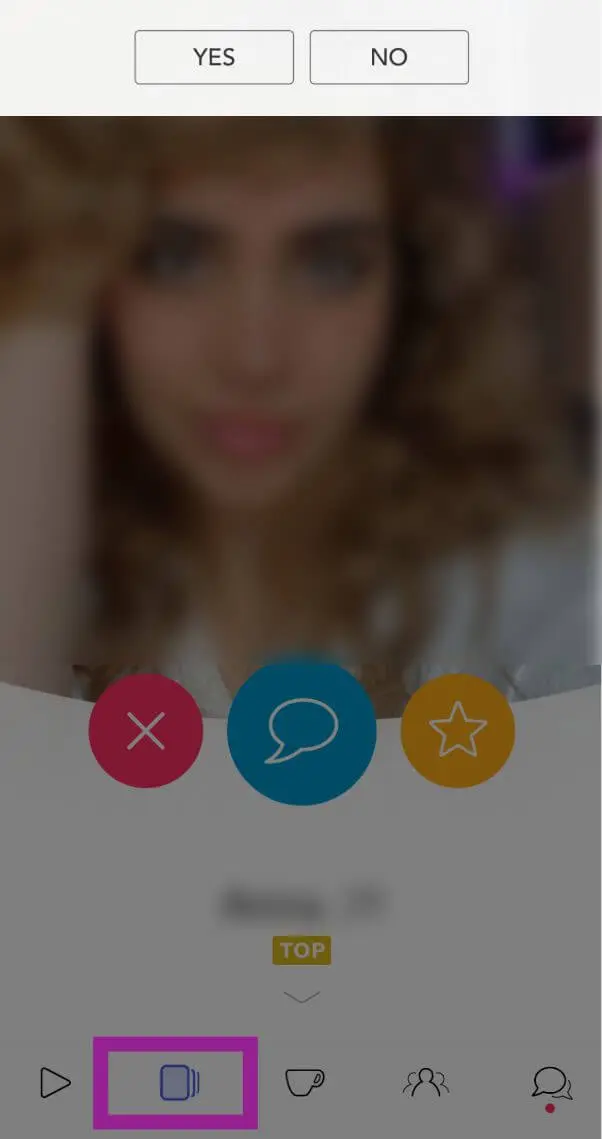 From the bottom menu, the Clover algorithm would suggest people based on location and preference. People can tap the icons: like, pass, or chat, accordingly.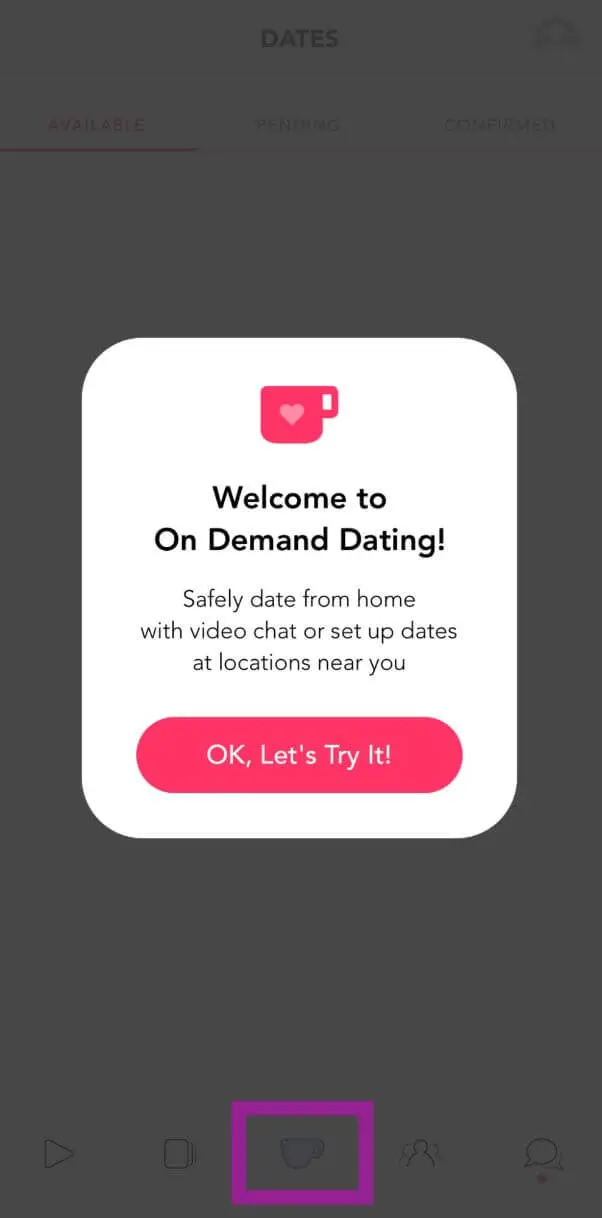 The bottom middle icon would take users to the Video chatting function. This is a popular function especially during the lockdown. However, it remains a must function for paying dating service because it is a much safer and convenient option for many users.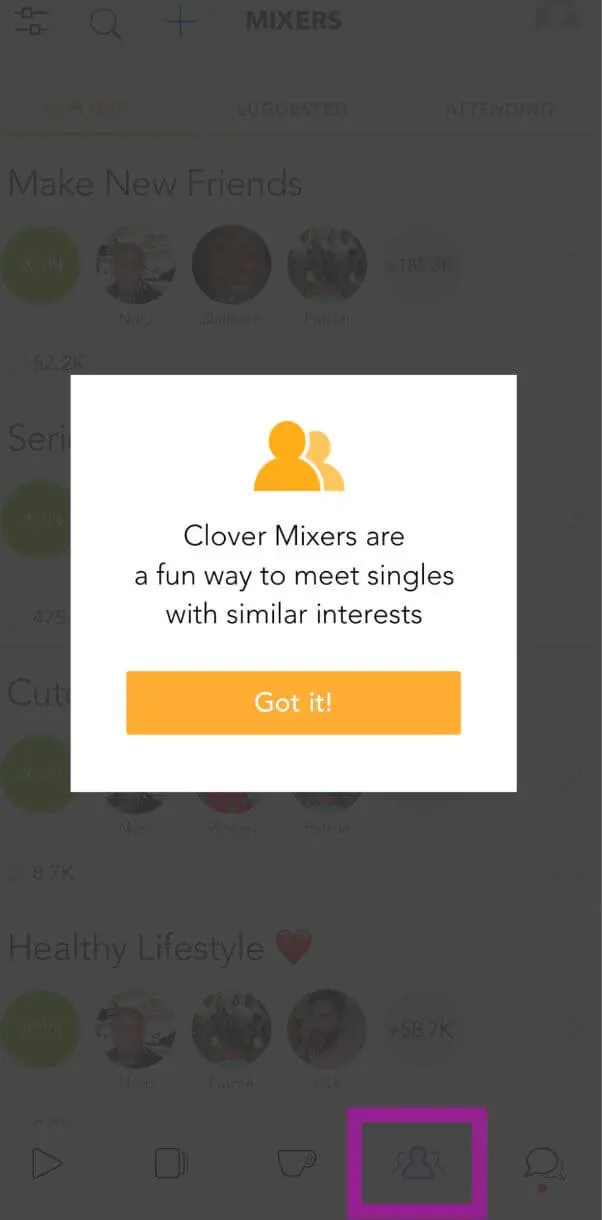 The people icon at the bottom would be for the Mixers function. People can join in different groups to meet different people.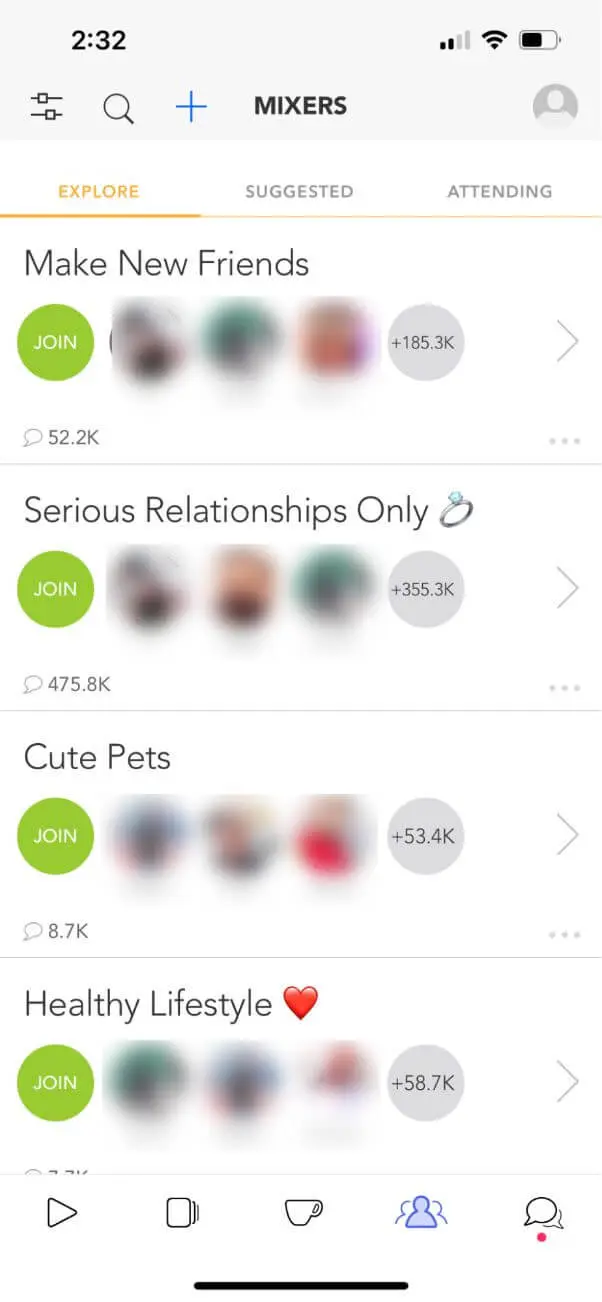 This works as a normal general social media feed page. People post random pictures and comments.
But warning! There are some very visual (somewhat super offensive) photos here.
Although the service states that people are not allowed to share nude pictures, it is clear that people would share these kinds of photos.
Also, there are some warnings to join the live stream, this could be because some live streamers would also take off their clothes for money. This was also reported on Google App Store reviews.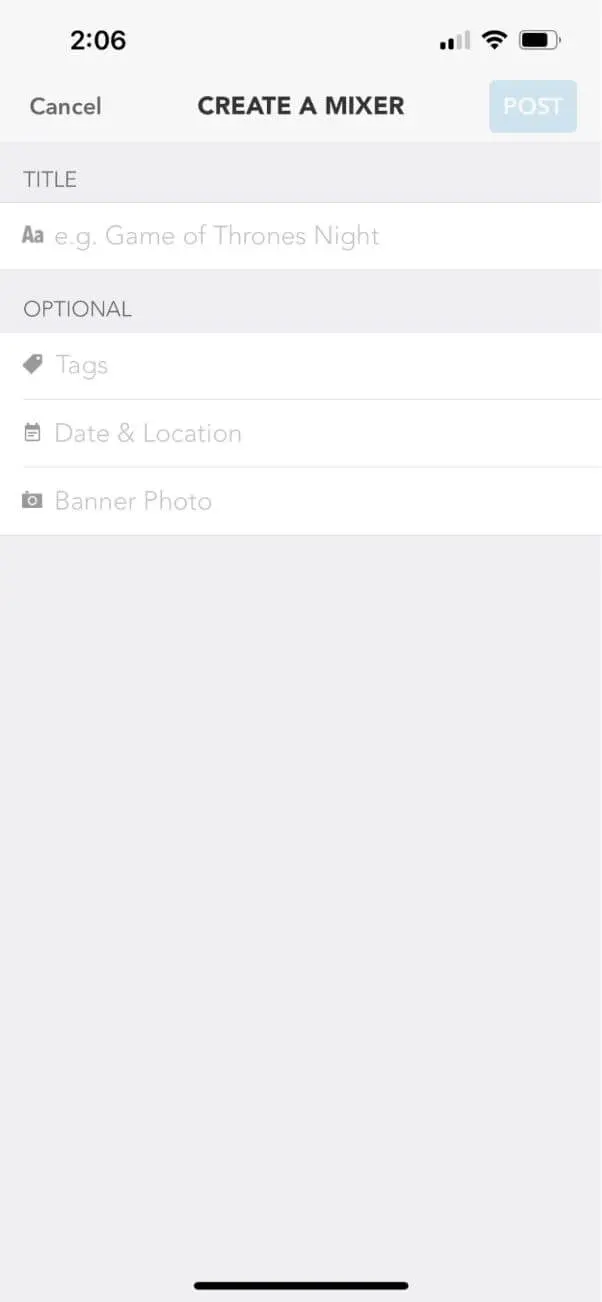 People can also create their own mixer.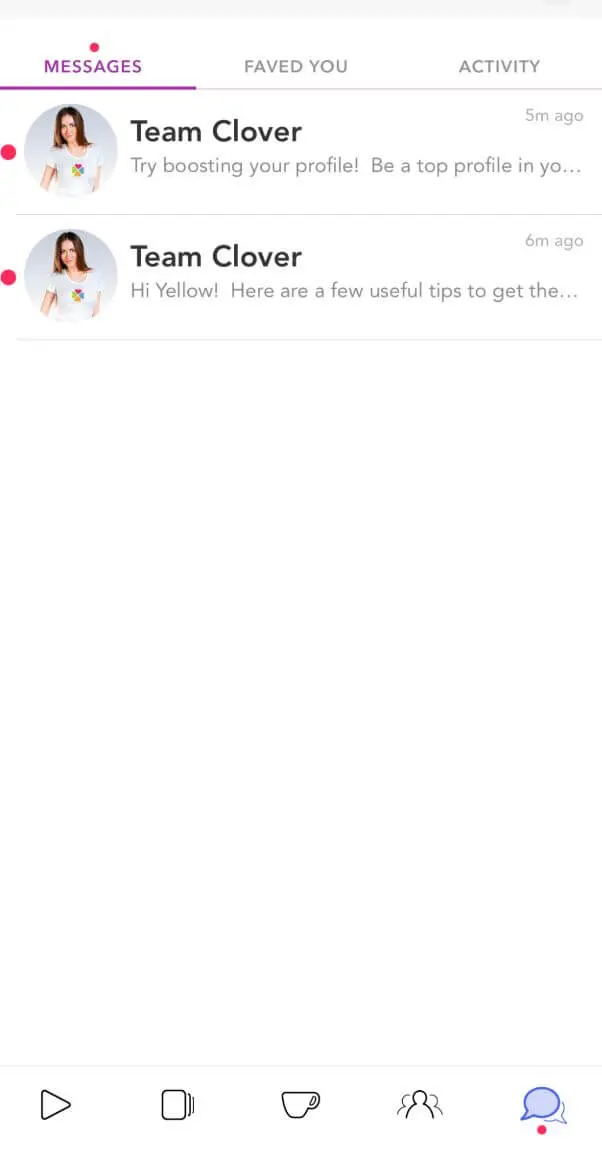 The speech bubble icon at the bottom menu would be the messaging function. As a free member, the chances of getting messages are very low, I personally got 0 messages. There are also some review posts stating the same.
Premium Subscription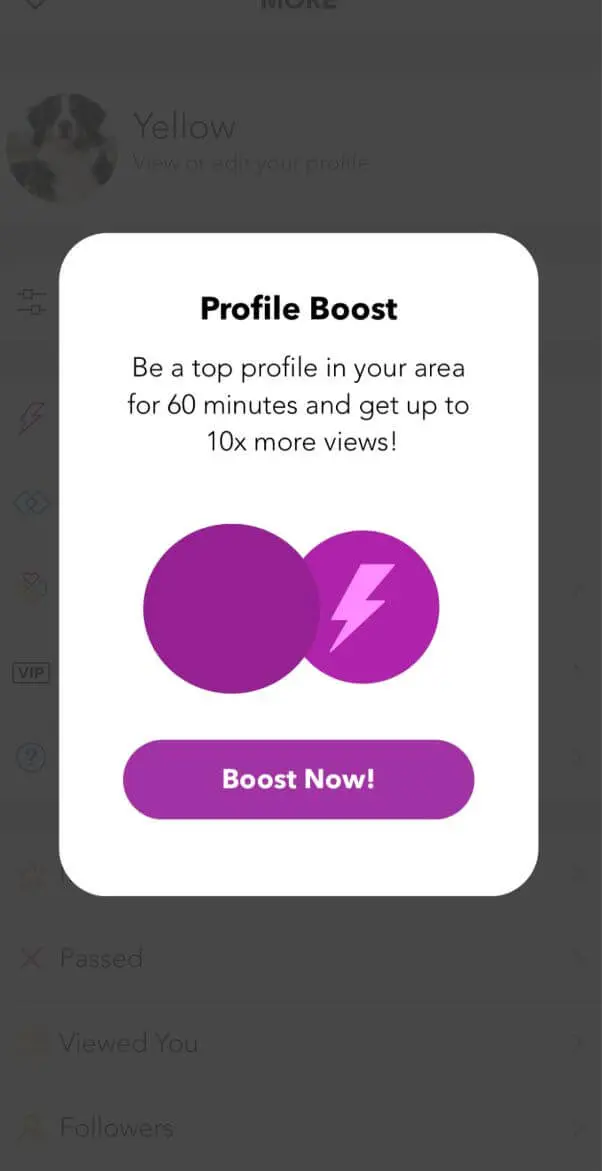 People can pay for the boost to get more attention from others.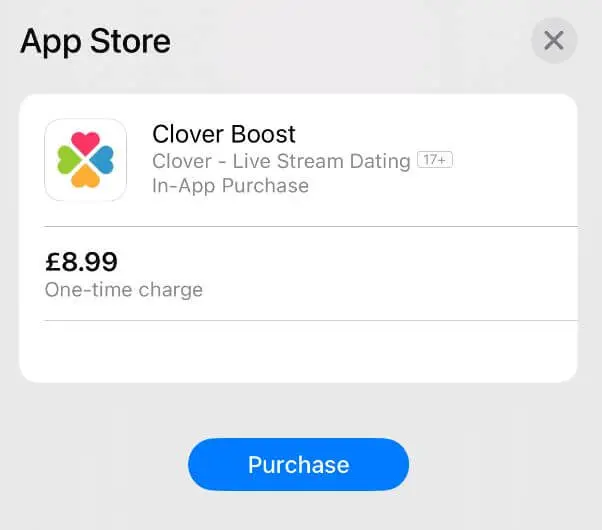 People can pay through an app store account.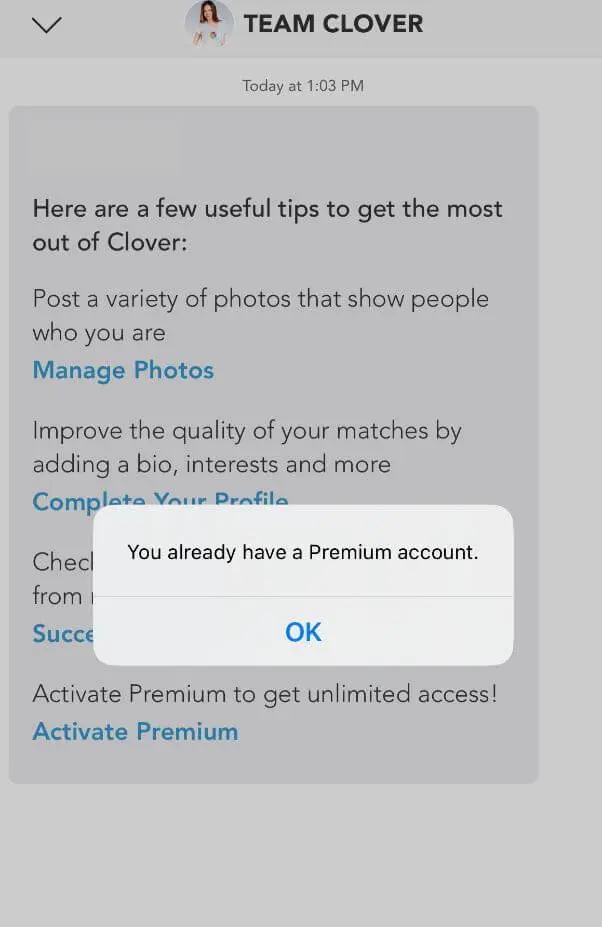 There is no charge for their premium plan. This is because the first 7 days are free. This could cause some concern. Personally, I did not agree with the 7 days free trial. It was automatic for my case, I did not get any pop ups saying so.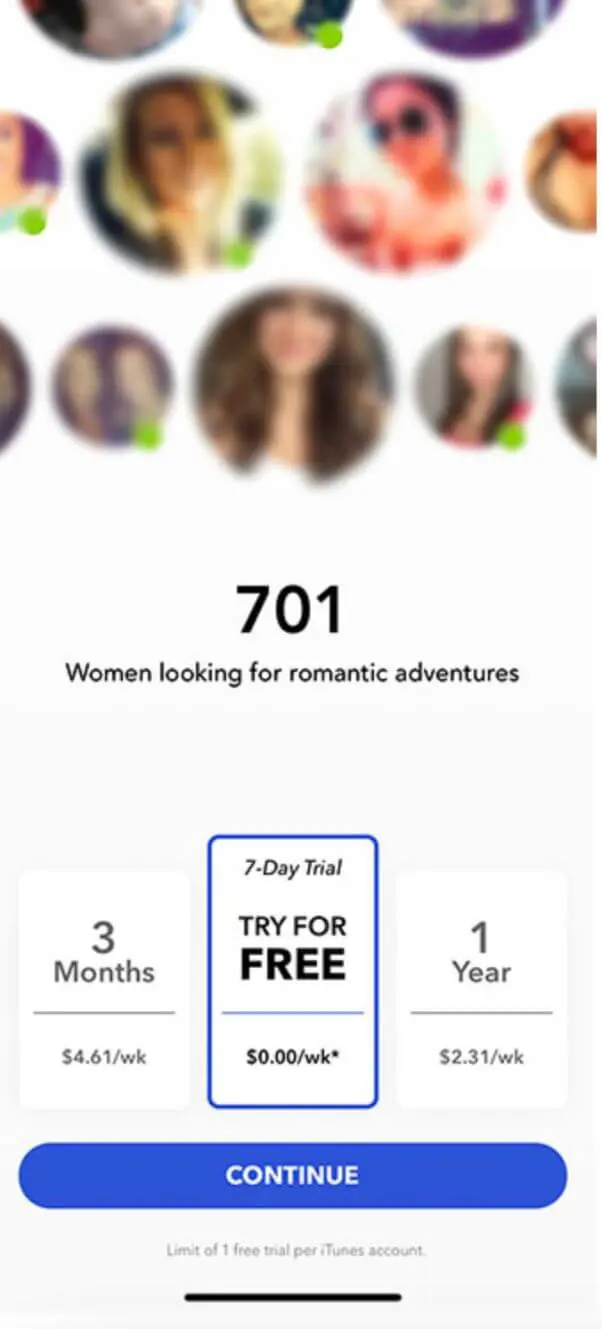 Afterwards, there are several options for their subscription packages.
How to delete an account Clover.co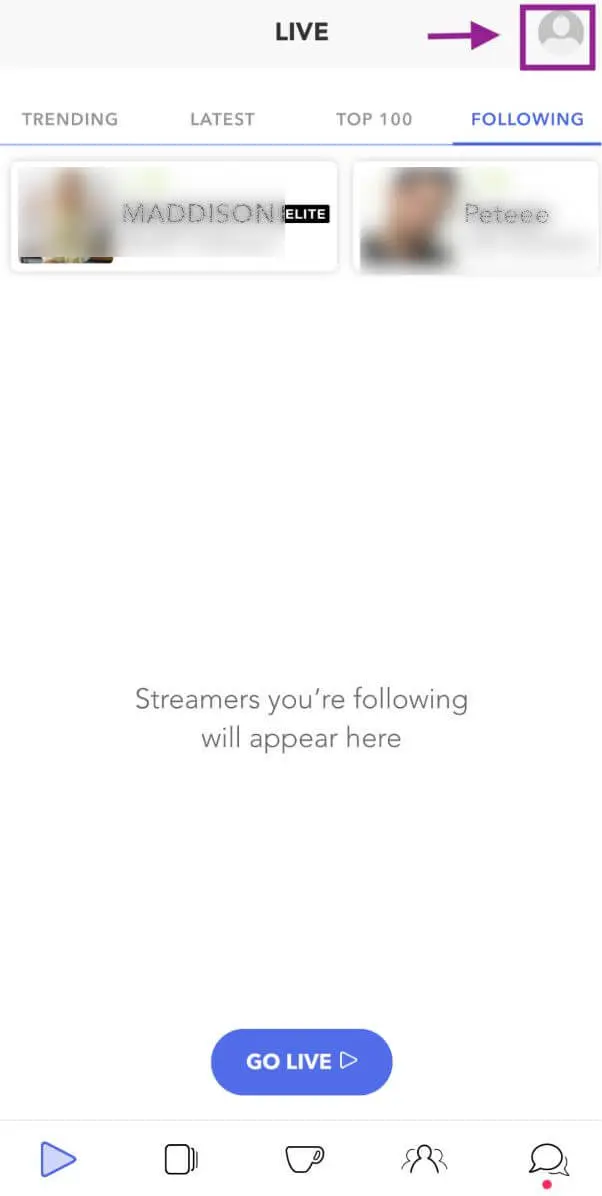 From the top right hand corner, people can see the profile photo icon.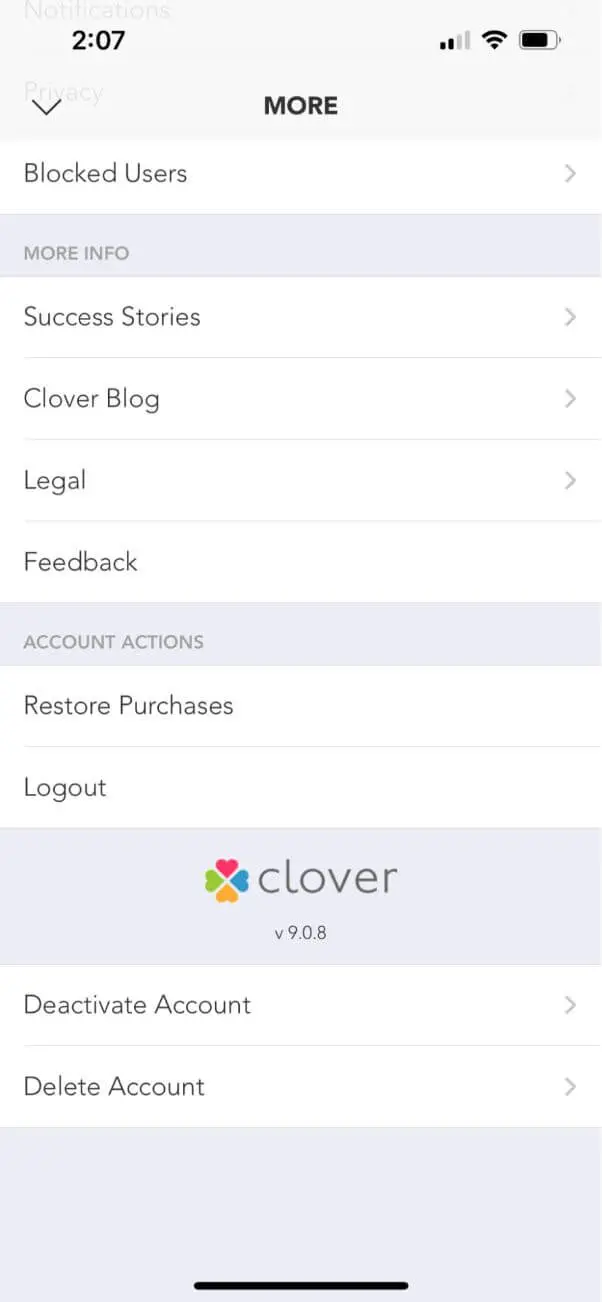 Users need to scroll down to the bottom to find the "Delete Account" sign.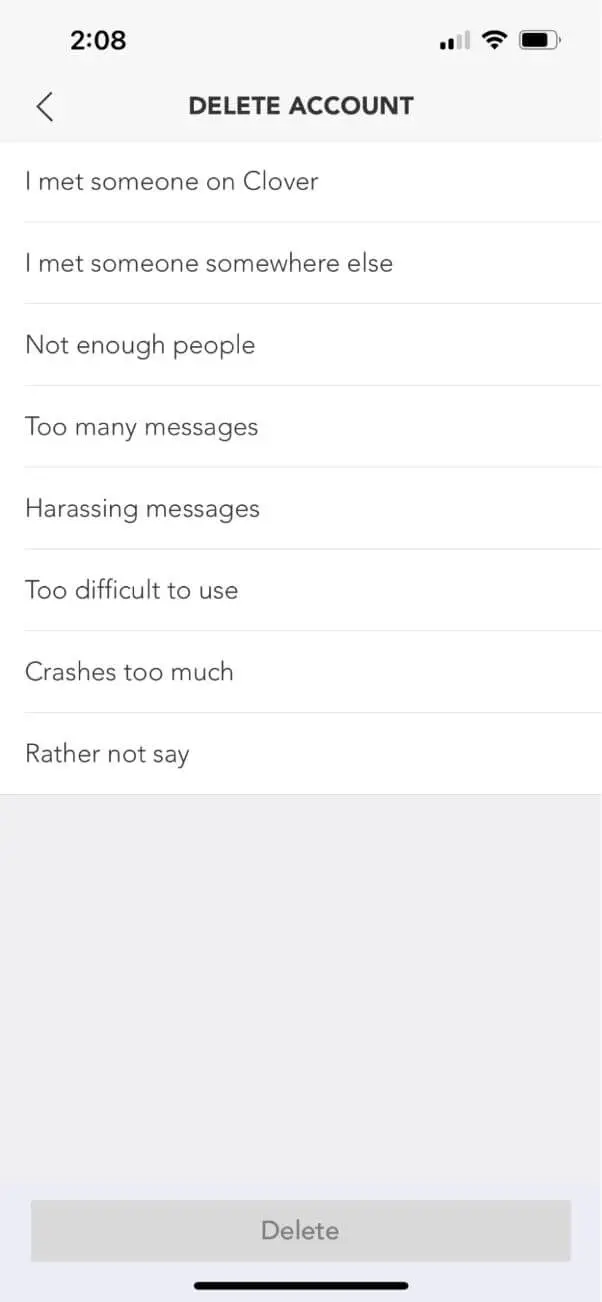 People need to pick the reason for the departure.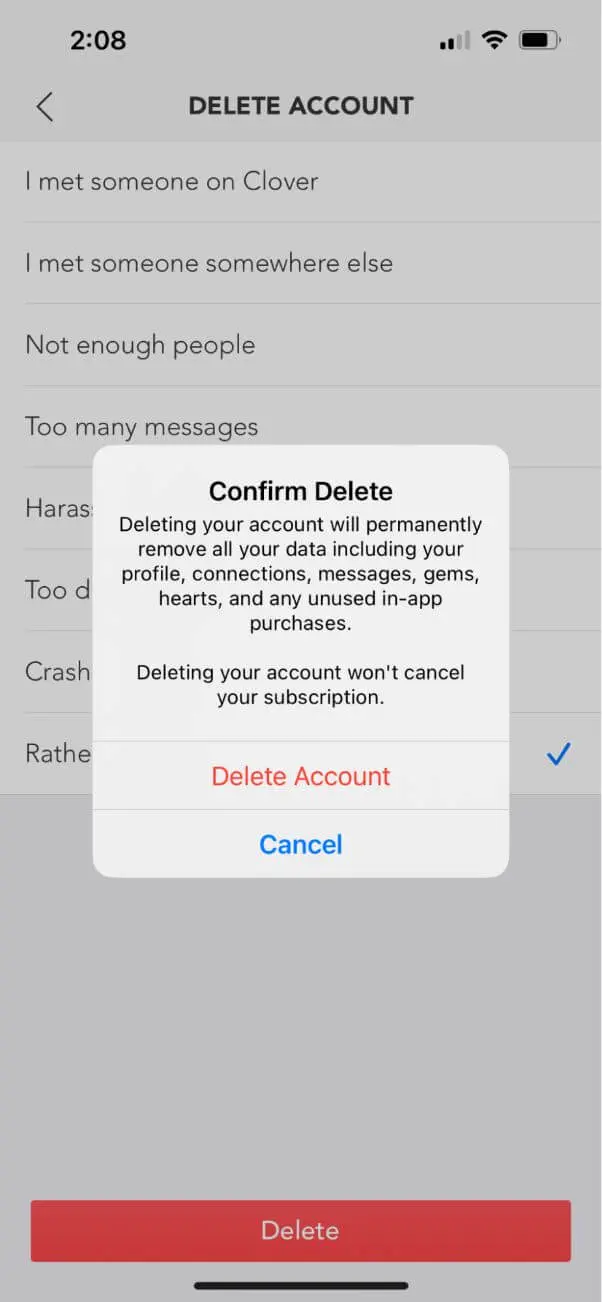 It is important to cancel any subscriptions before this process to make sure.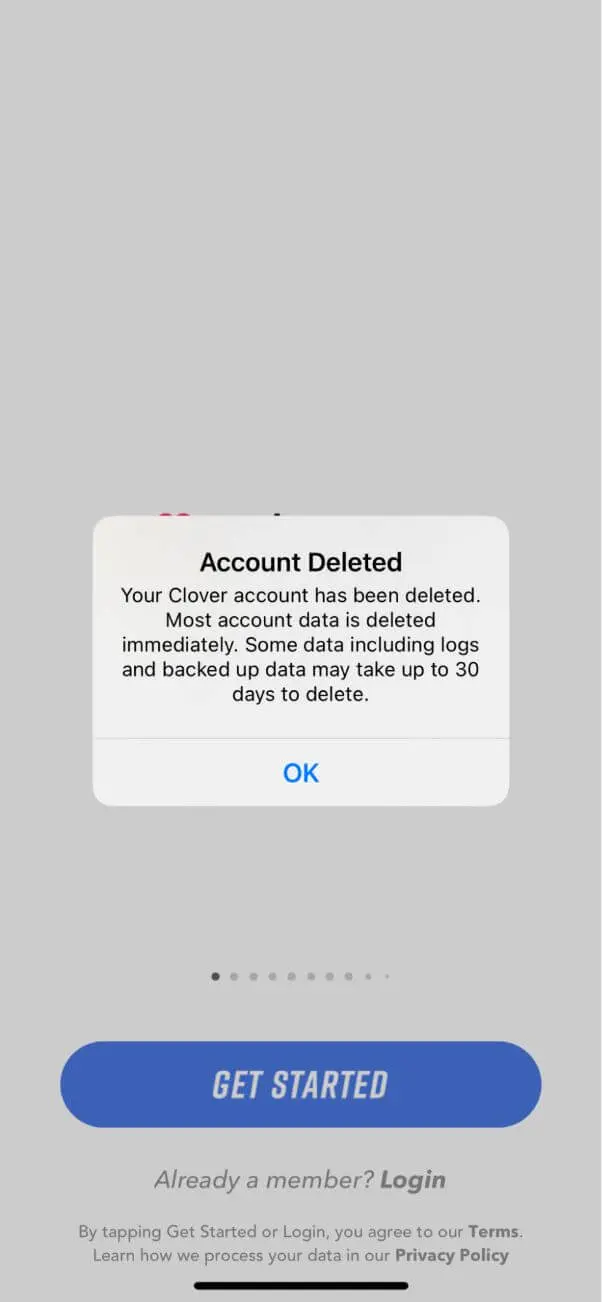 The account can be deleted in a few seconds. It is very simple and quick.
Clover.co on Main Media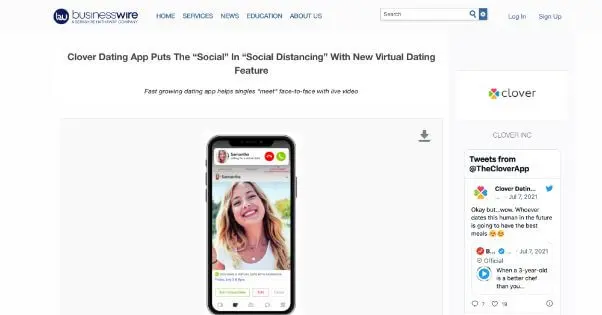 According to this 2020 article, Clover.co expanded its business during the pandemic.
"Even as lockdown restrictions are gradually lifted, 83% of people polled by Clover plan to continue some degree of social distancing while dating."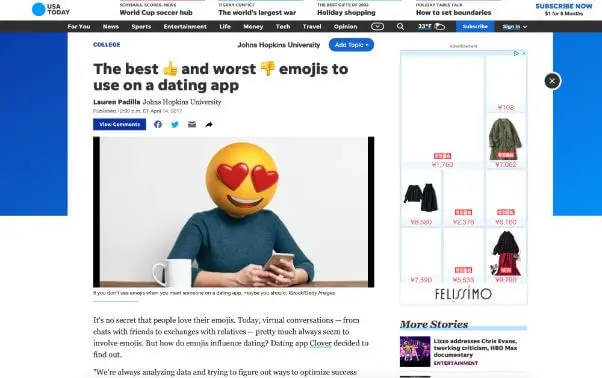 In this USA TODAY article in 2017, the CEO Isaac Raichyk advising that " Raichyk recommends not going overboard with emojis when flirting on a dating app."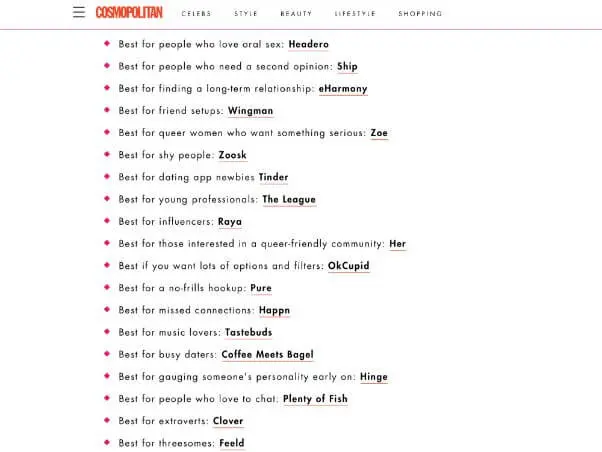 Cosmopolitan reports that Clover.co is one of the best dating apps for 2022. It is very surprising.
Social Media
Clover.co has a lot of social media accounts, however, their activities died down and now they have nearly zero recent postings. This is very strange because reading main media articles, Clover.co has been reported to be a popular service.
Facebook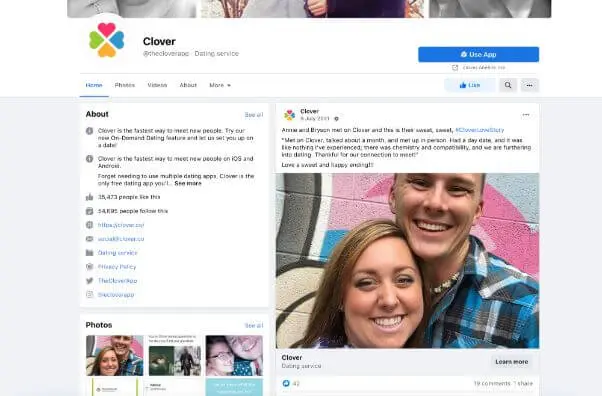 FACEBOOK
Although Clover.co has more than 54K followers on Facebook, they stopped their update on Facebook in 2021.
Twitter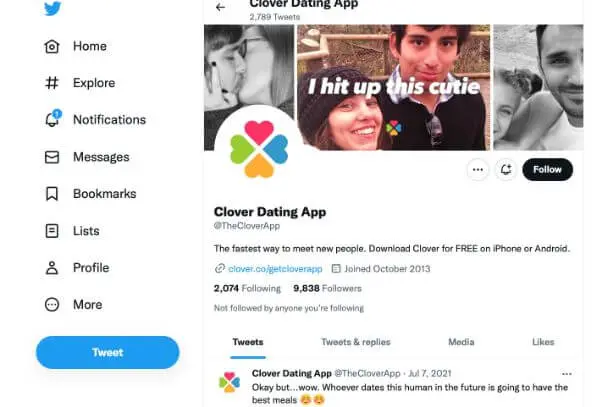 Twitter
The same here, Clover.co stopped posting on Twitter, their last post was in 2021.
Instagram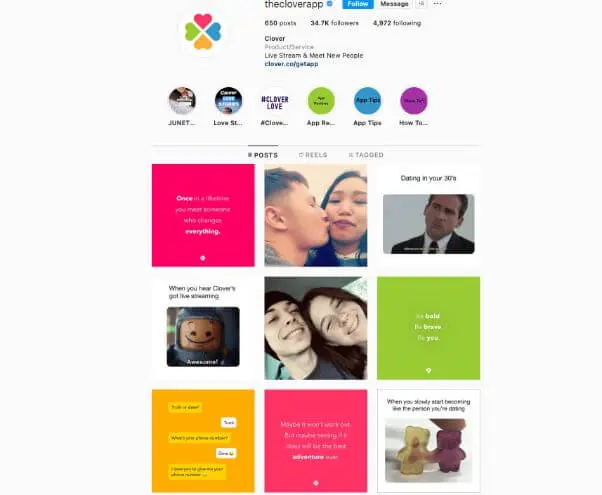 Their last post was in September 2022, it got only 55 likes. It is not a great number since they have about 34K followers and Clover.co is targeting users who are also the generation of Instagram.
Tik Tok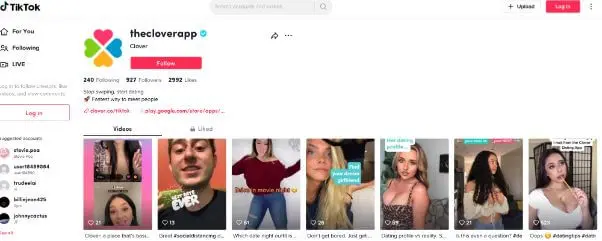 Clover.co has only 900+ followers on tik tok. Their last post is March 2021. This is also a very worrying number of followers as a dating service. This shows that Clover.co is not as famous as other dating services, especially ones that target young people.
Pinterest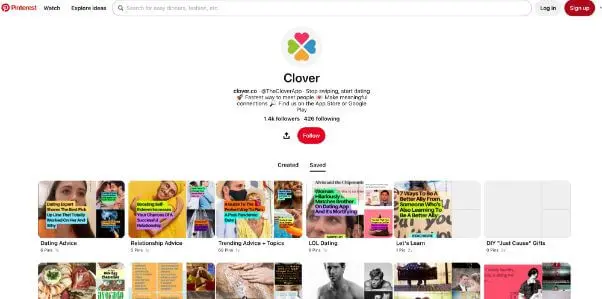 Clover.co stopped their posting about a year ago here as well.
YouTube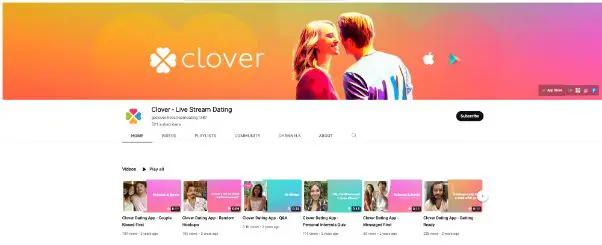 YouTube
They only have 540 subscribers on Youtube. Their last upload was 2 years ago.
Clover.co Blog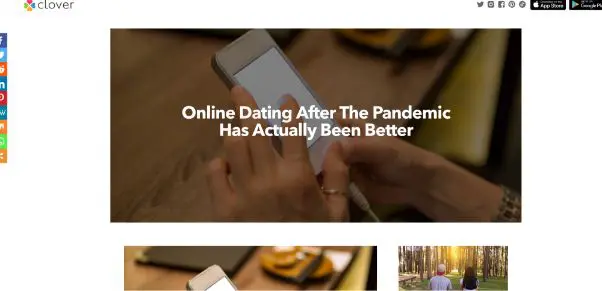 Their blog pages look inspirational, however, their last post here was also more than a year ago.
Online Review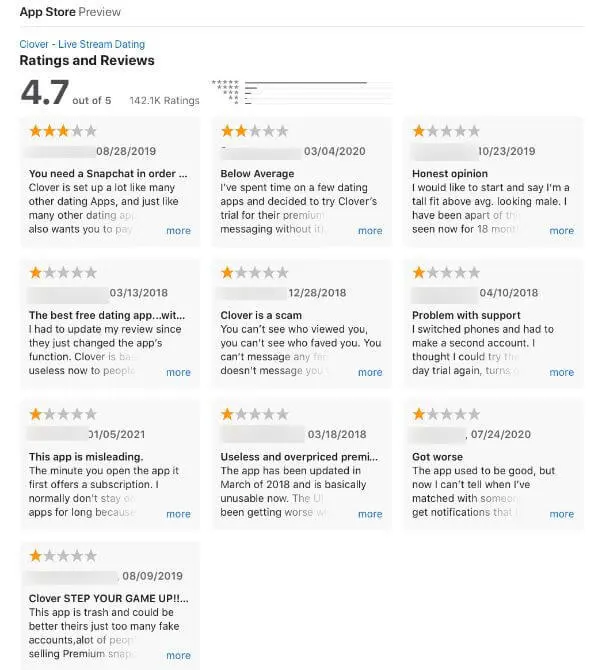 On the Apple App Store, Clover.co has a very high rate of 4.7. However, reviews here are not good ones. A lot of users are complaining about the service itself such as billing problems and lack of customer support.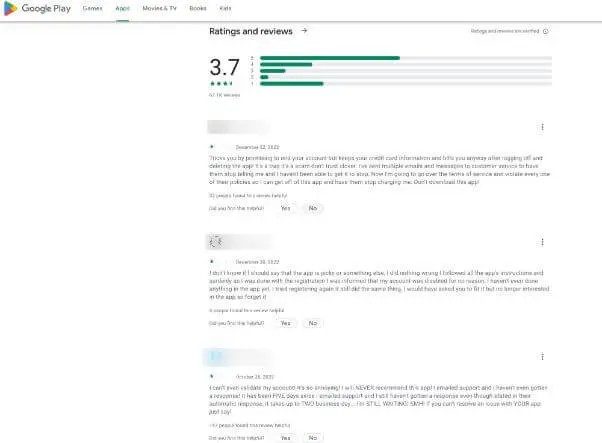 Google App store shows a bit different rate of 3.7. Some people are happy using this service stating that they've met some people.
Those negative reviews are about their system and support team not being there to help users, especially regarding their memberships.