Badoo Customer Support Review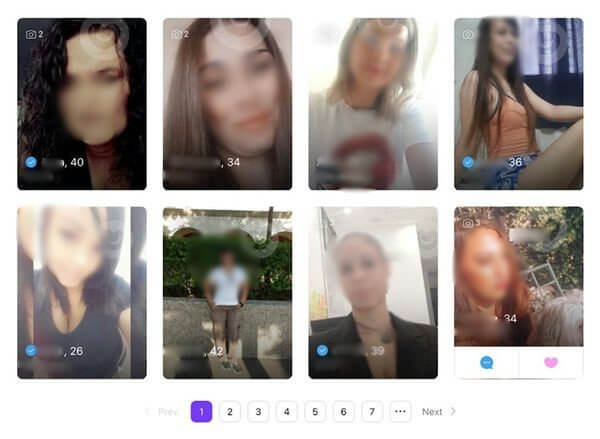 https://badoo.com/
Badoo is one of the largest global online dating social networking services. It has been operating since 2006. Its head office is in London and their customer service is based there as well.
In their headquarter office, a team of multilingual customer service representatives are working together to help their international customers.
How to reach Badoo customer service representatives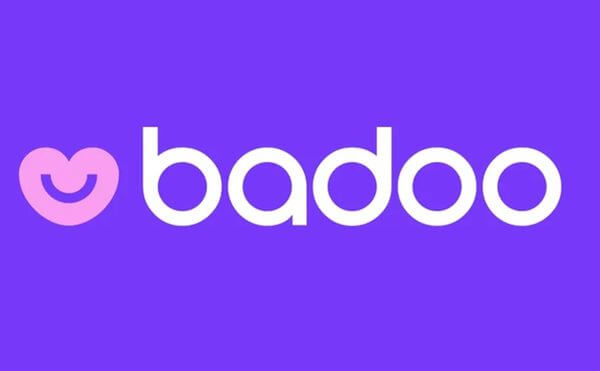 There are many ways to get in touch with their customer service representatives.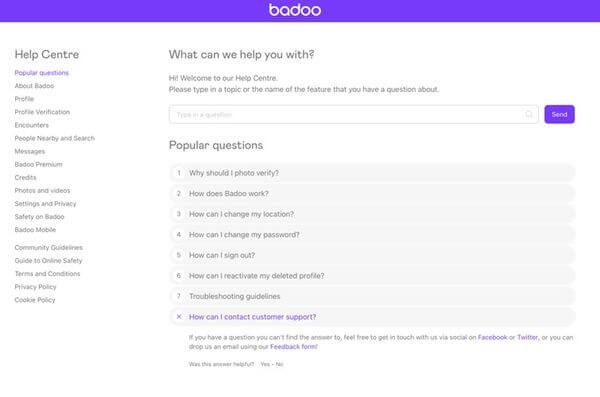 At the bottom of the page, there is their Help sign.
Users are able to write their messages by clicking the last section "How can I contact.."
Then this page would appear to fill in with any messages and questions.

Users with Facebook and Twitter accounts can also contact them via those social media platforms.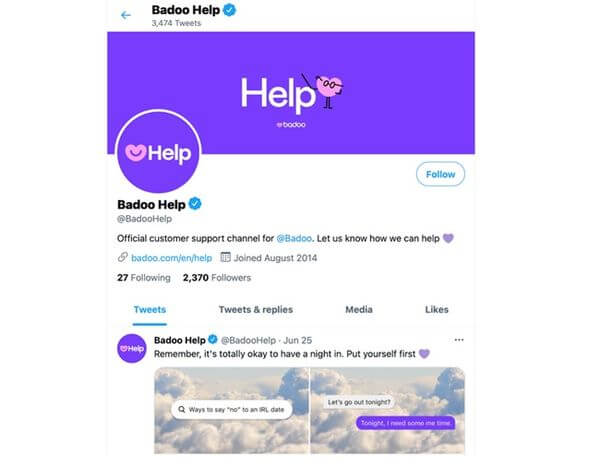 https://twitter.com/badoo
Twitter account of Badoo is very active. Some users are seeking help using this account.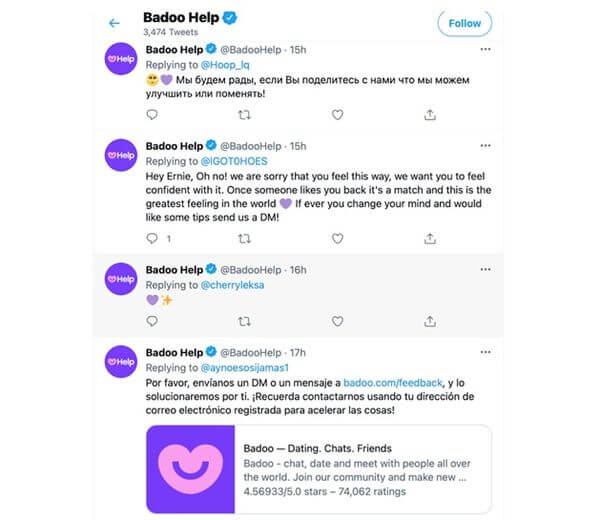 They are truly multilingual customer service representatives.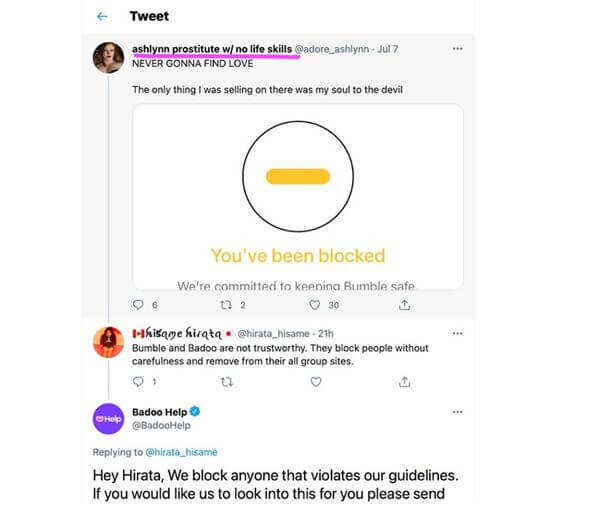 Those two account holders are openly stating that they are prostitutes. So they got banned from using the service. (Obviously, prostiution is illegal and not allowed on Badoo)
The customer service representatives are sincere because they are answering back to illegitimate users as well.
Badoo Customer Service Online Presence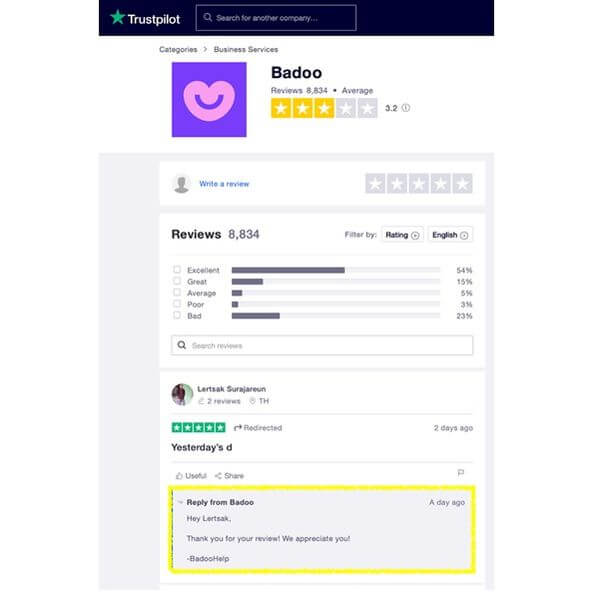 Trustpilot
Badoo Customer Service is very active online, replying to nearly all comments on reviews they received. This is very diligent work from their support team.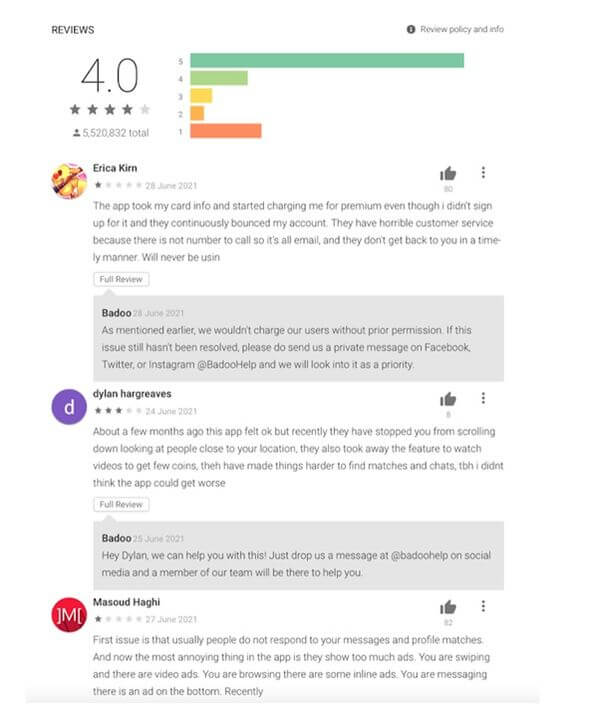 Google Play
On Google App Store, they are commenting back on all the posts! They are not using the bot system because their reply comments are very customized.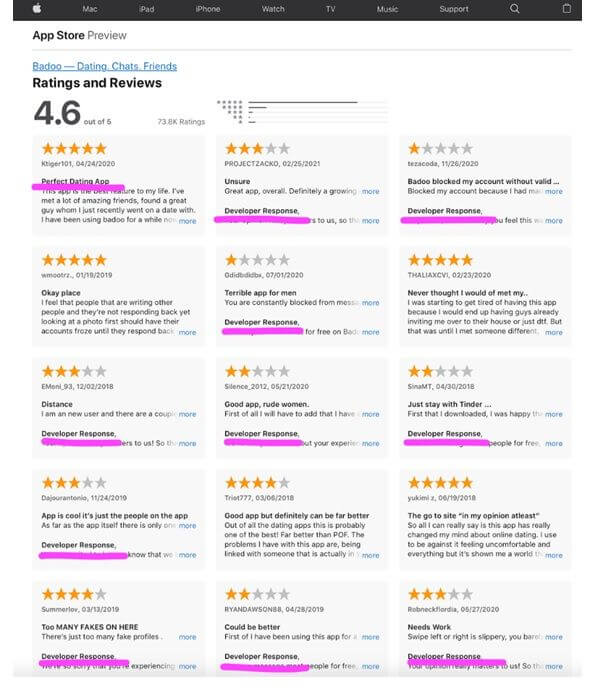 App Store
Customer service representatives are also very active on the Apple App Store. They are replying to most of their reviews.
Badoo Customer service representatives Verdict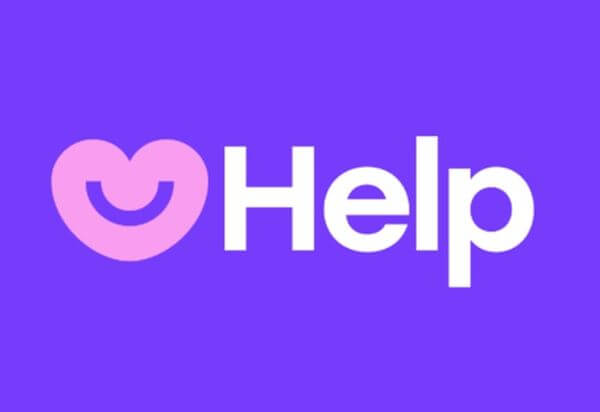 Badoo customer support is there to help its international customers. They are one of the most active customer support amongst online dating services. They seem to operate manually without a bot which is a normal operation for some other dating services.
They even have a delicate "help" social media account.

Also they are commenting back nearly all review posts online.
Thus, there are not a lot of negative reviews about their customer support naturally.
They were under spotlight due to its operational scandals a few years ago; thus, they would think that damage control is essential.
Users can get their attention quicker by posting a message openly on social media, they can also contact them privately using their online contact form.