Badoo Review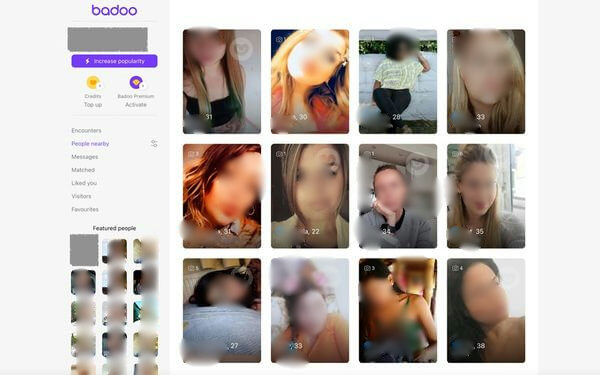 Badoo was developed and launched by Andrey Andreev in 2006. Now it has been expanding its service to 190 nations and 45 different languages. Born in Russia but currently holding multiple nationalities, entupineer Andreev was also involved in operating other online dating services such as Bumble, Chappy and Lumen.
Badoo has its headquarter office in London, UK, it was under a massive scandal. Now, Badoo is owned by the same company who operates Bumble, after the scandal forced them a reformation and Mr Andreev departure. He sold his share to Blackstone Group, an American investment management company.
Badoo has its most active members in Europe and Latin America.
According to Forbes,
"Badoo, meanwhile, had 28.4 million monthly active users, of which 4.6% were paying users"
Badoo Verdict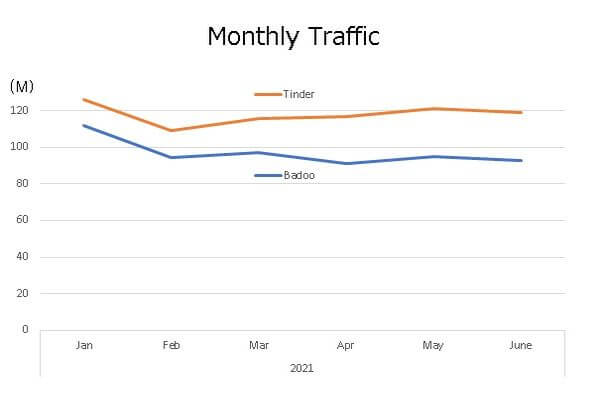 Badoo is a very well known freemium style dating service. It is not difficult to operate and there are a lot of active users from diverse backgrounds. It is also an international service thus, people can find users from all over the world.
On the other hand, it went through some rough patches of scandals. It has been under new management for a few years. This new management is focusing on social media campaigns and running a tight customer support team who is very active online.
This is LGBTQ inclusive service can connect people around the world for free, but a free service is easily targeted by scam operatives, con artists and criminals. People need to use this service with great caution.
Those who have time or have fun to surf or browse social media to look for someone to date, Badoo is a free tool to do so.
Badoo is equipped to this new covid 19 society by offering video chat facility inside the service; thus it is easier to set up a virtual first date which is a much needed tool for this current situation. This is also a good way to start meeting new people in a safe way.
User Variety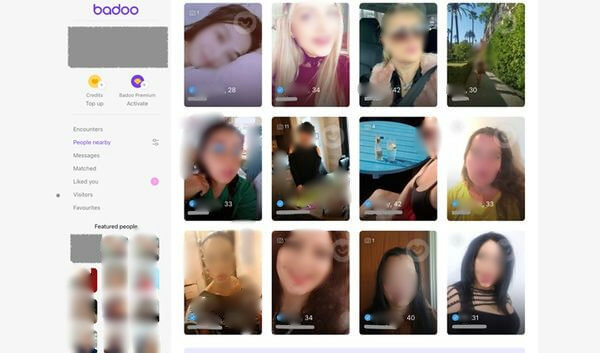 Badoo has great diversity. Again, larger cities would give more choices and activities.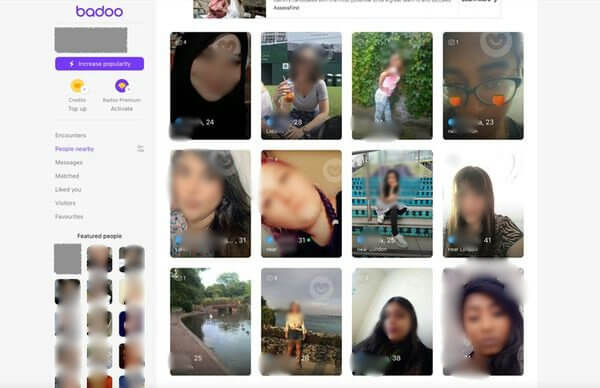 Since the service got famous through Facebook, a lot of users would be Facebook generation.
Users have a variety of jobs, and beliefs.
How to join Badoo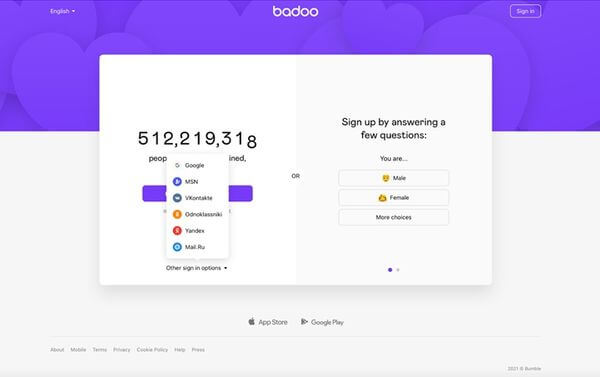 https://badoo.com/
Joining Badoo is extremely easy and quick with the above accounts.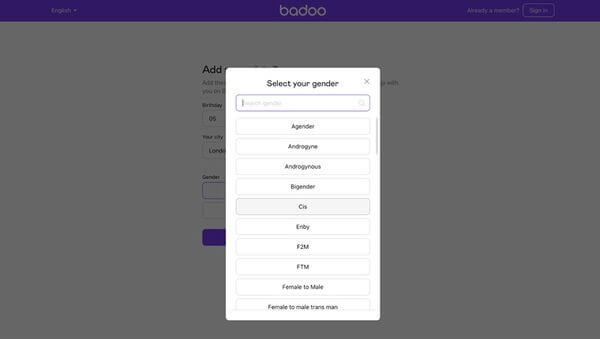 Baddo is very open to different genders and a strong LGBTQ supporter.
After choosing the gender, the third step is adding a photo.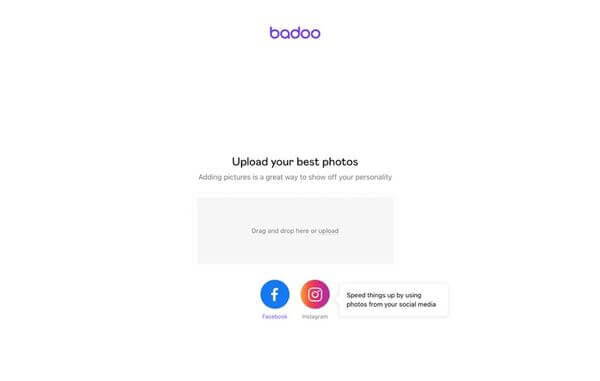 That is it. The whole process would take about a few min, this makes the easiest dating app to join.
How to Meet People on Badoo
Meeting people on Badoo is also very simple and easy. You would get a lot of profiles' feeds, you simply like or dislike by clicking.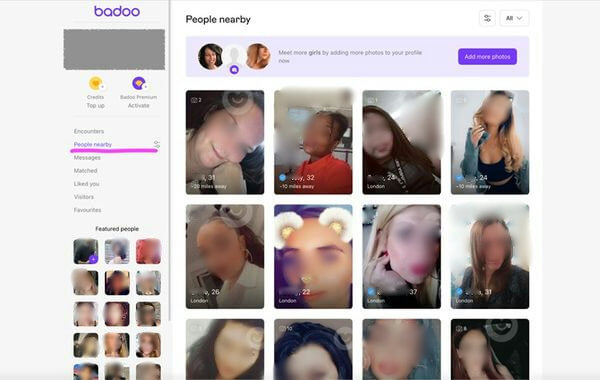 The service would suggest profiles by order of people who paid to be featured. Users can also search others by location.
Meeting people on Badoo service would hugely depend on appearance. It is important to have attractive photos.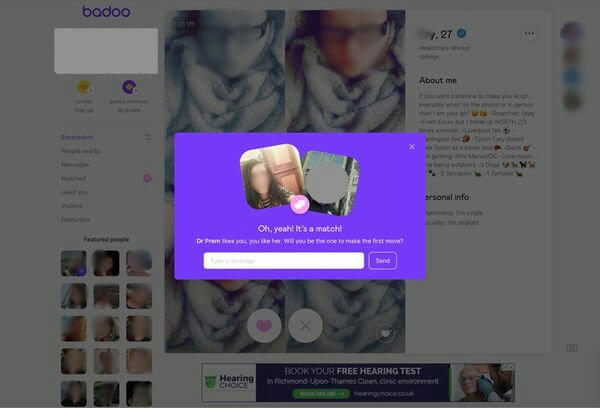 When the likes are mutual, you get this sign. You can get in touch via messaging and this is free.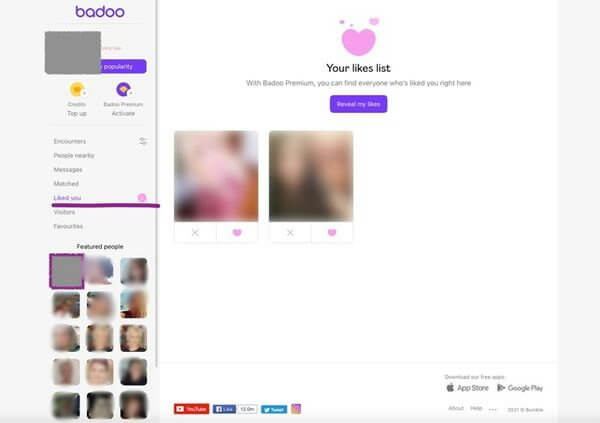 Free members can not see who gave them "like" but they would show up in your Encounters and they are not hard to guess.
It is not so hard to get matches on Badoo.
How to Leave Badoo
Users can find deleting their accounts by going to their profiles. Users can also edit their profile from this page.
Badoo's profile is very simple. This is because this service is hugely focusing on the first impression like some other competitors.
Photos are very important on Badoo.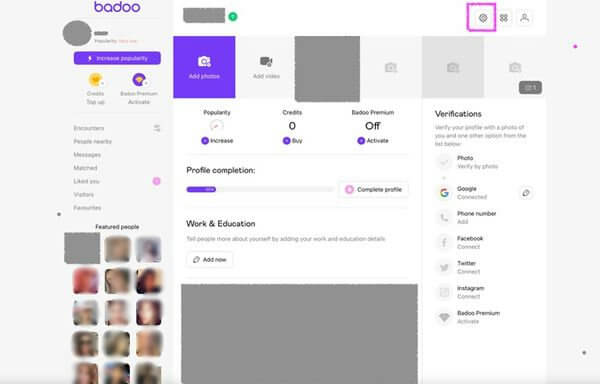 Users can click the wheel icon on the top right corner.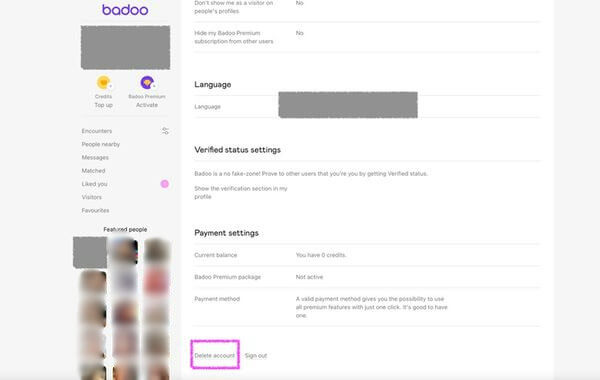 At the bottom of the page, there is a delete account sign. It is easy to find.
Premium Membership
Badoo has different types of paying memberships. One is for their premium subscription and the other is for boosting their profiles.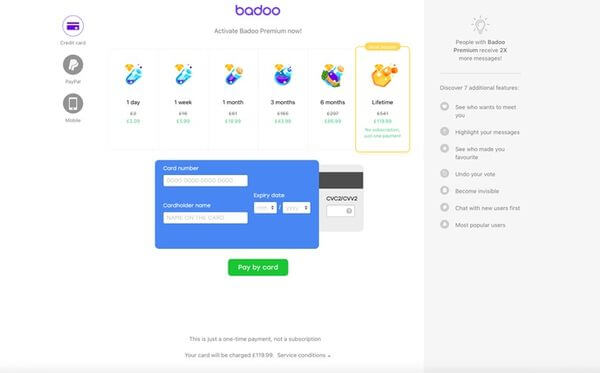 This is one off payment for a life subscription, this is unique!!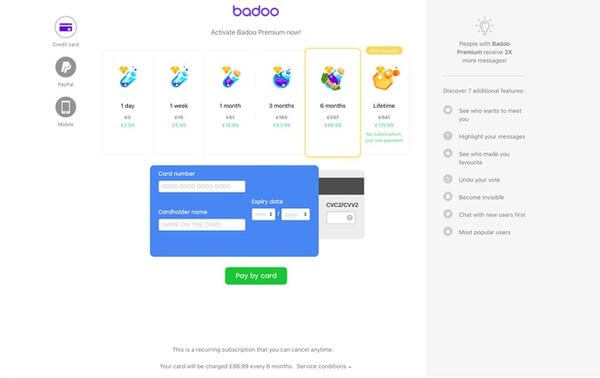 This is a monthly subscription, there are some different length options, but people need to cancel their membership mutually, otherwise, Badoo would keep charging.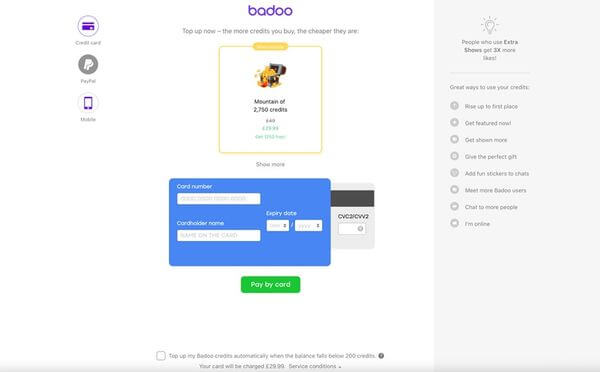 This credit is for boosting a profile and getting noticed from other users by sending some virtual gifts. You can also use these credits to chat with "popular" girls.
You can make this as automatic rolling payments as well by clicking the square at the bottom of the page.
People can use credit cards, Paypal and other mobile app payment services to pay for these fees.
Badoo Apps
 
Badoo offers both android and ios apps. They are regularly updated and popular.
Google Play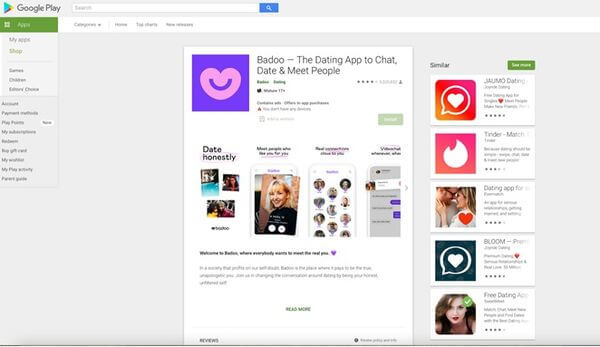 Badoo has eye popping 5million reviews on Google App Store, this is an outstanding number. It has been categorised as an under 17+ app.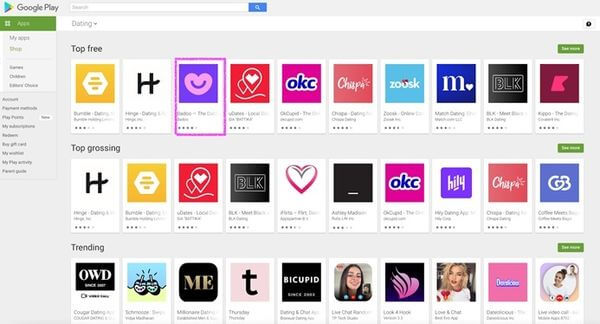 Badoo is also on the list of top free apps on the Google app store.
Apple Store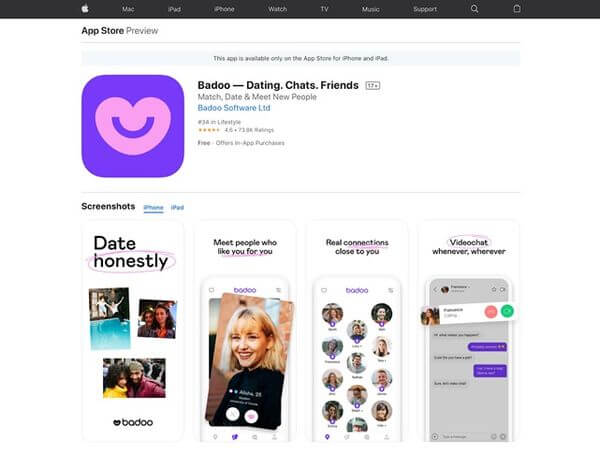 Badoo has about 73K reviews on Apple App store, this is also a good number to show that this app is very popular. They are placed 34th in the lifestyle category.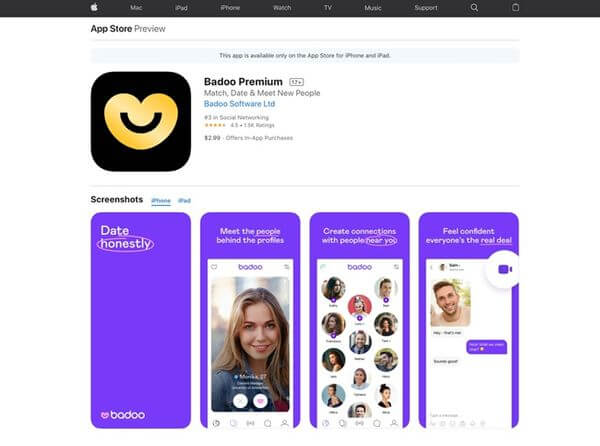 Badoo also has another separate app for its premium users! This is very different from other dating services. Although they are both the same service, two apps are in different categories for ranking, this app is placed on the 3rd for Social Networking.
This app is also regularly updated and has 1.5K reviews.
Social Media
Badoo came to be known to people via social media particularly through Facebook when it launched in 2006. Badoo has its marketing team who opeartates their social media accounts to attract new members as other dating services would do.
Facebook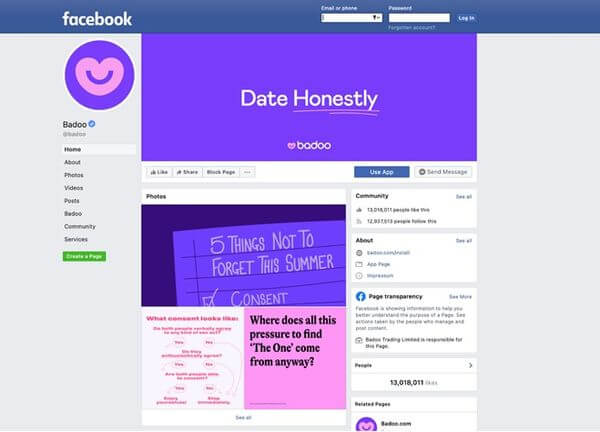 Facebook
Badoo has nearly 13millinon followers on Facebook, it would be one of the top number of followers amongst online dating services. Since the service has a long and strong tie with this social networking service, thus it is understandable.
Their posts are mainly about social trends such as International XXX day and Links for their blog articles.
Their posts regularly get about 100+ comments.
Instagram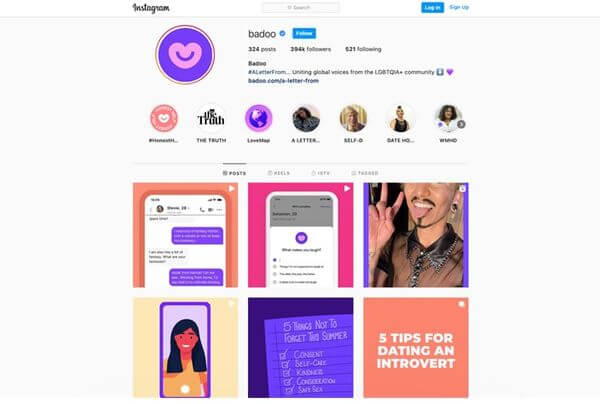 Badoo has about 394K followers, which is nowhere near the number of their Facebook followers. Their posts are similar to their facebook such as social trends and blog links.
Twitter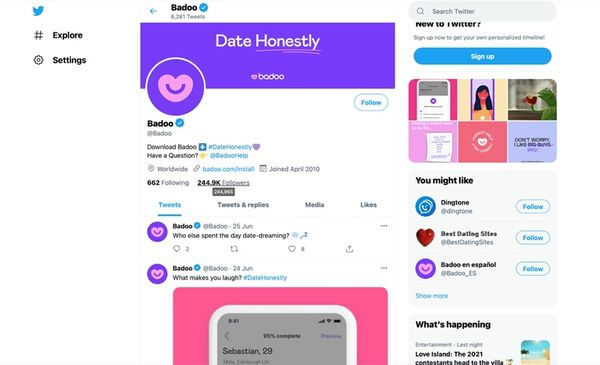 Badoo Twitter is mainly about their blog posts. They have about 245K followers. This is a very healthy number for an online dating service.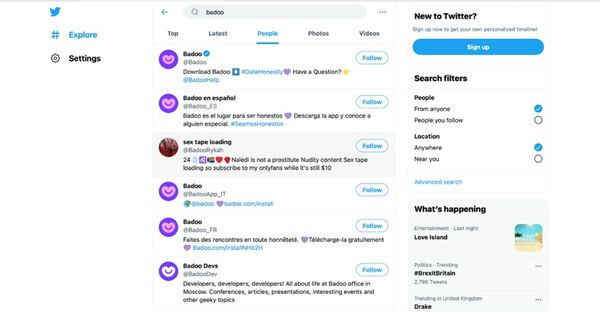 Struggling to get matches? Here are some top tips 👇 https://t.co/S9HeCU2Aff

— Badoo (@Badoo) July 15, 2021
Badoo also has a Help account, Spanish, Italian and French accounts on Twitter separately. They are all regularly updated; Badoo was reported to have a multilingual team. Their catch phrase #DateHonestly is everywhere.
Denunciar ataques a la comunidad LGTBIQA+ es más necesario que nunca. Corregid conductas homófobas, señalad y denunciad mensajes de odio, salid a la calle. No seamos cómplices. Teniendo esto presente, he aquí siete formas de apoyar a la comunidad: https://t.co/BjnFoJMARN

— Badoo en español (@Badoo_ES) July 5, 2021
Day off demain, l'occasion de passer du temps avec votre crush ! 💜#BadooFrance #OsezÊtreVous #14Juillet2021 #dating pic.twitter.com/h00qaR4DGB

— Badoo (@Badoo_FR) July 13, 2021
Blog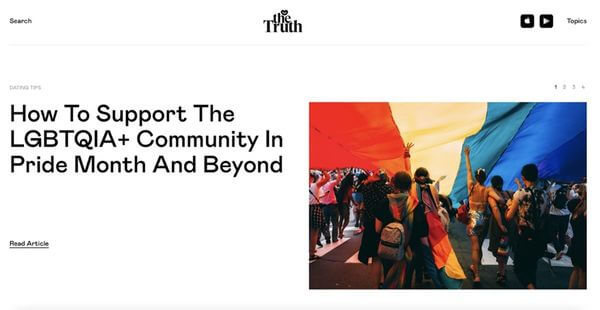 https://badoo.com/the-truth
Badoo has their blog page called the Truth, which is regularly updated. There are a lot of articles regarding a wide variety of topics from dating tips to social trends.
Users can find it from their main service page.
YouTube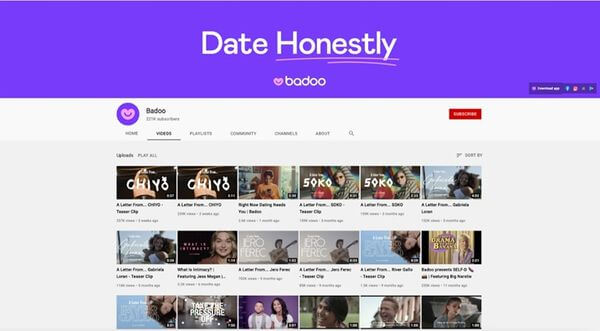 YouTube
Badoo has its own YouTube channel. It has 221K followers. Badoo has a lot of active users in Latin American community thus they have the same videos in two different languages: English and Spanish.
They do not have a lot of content and their videos are not really useful but they are for advertising and promotions.
Badoo Scandals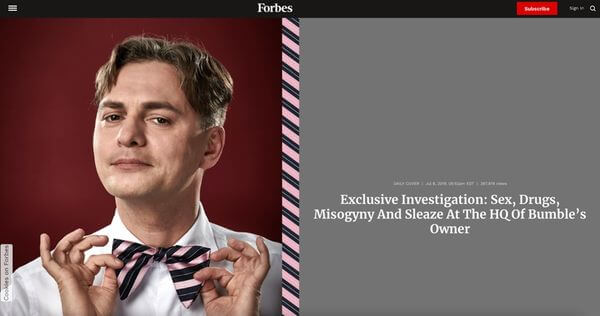 Forbes
In this article, Badoo London headquarter office was under an investigation after a few ex-employees revealed some shocking operations in the office, which included misogyny. This scandal surfaced during the "Metoo" movement in 2019.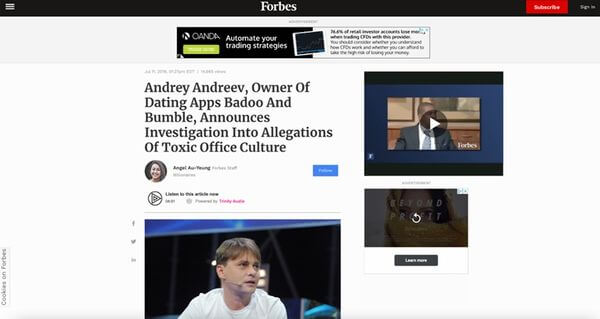 Forbes
Badoo owner Mr Andreev launched an investigation, after the initial Fobes article.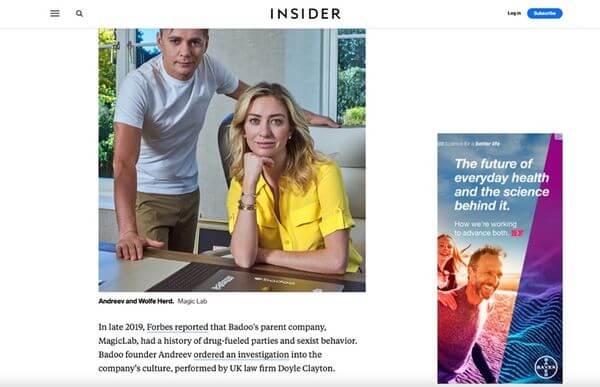 Business Insider
After the 6 months investigation, they concluded that they did not find enough evidence of the allegations which included Mr Andreev being racist and sexist ; however, after this scandal, he sold Badoo operation company Magic Lab.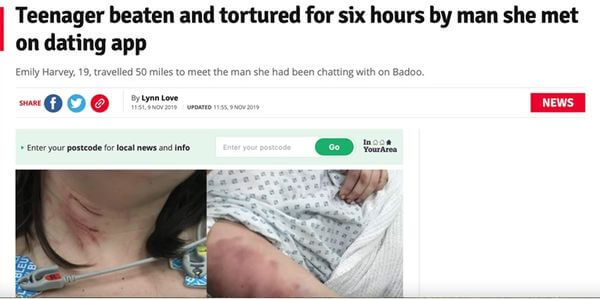 Daily Record
A teenage girl was assaulted by meeting up with a man who she met on Badoo. People need to remember online dating always has its risk. People need to be careful at all times.
Badoo Online Review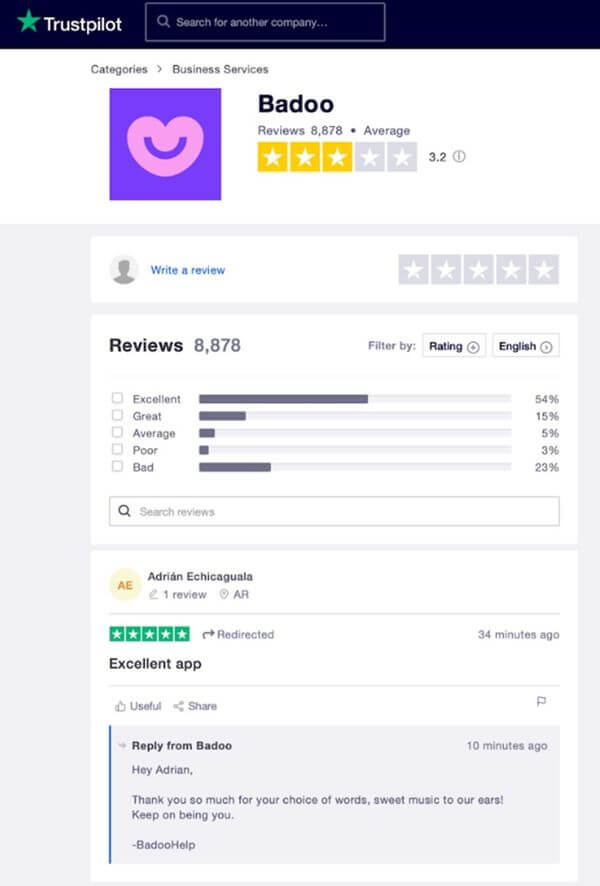 Trustpilot
Badoo 3.2 average points on Trustpilot. It has nearly 9K reviews. Recent reviews are surprisingly only positive ones. Amongst those, some reviewers were stating that Badoo is paying for 5 star reviews. Some were also saying that the new operation changed this service to a money making service with a lot of ads.