Ashley Madison Review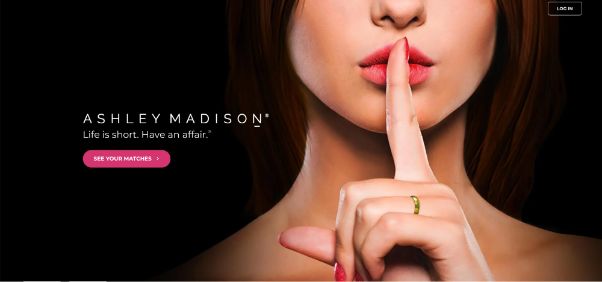 https://www.ashleymadison.com/
Ashley Madison was developed by Canadian creator Darren J. Morgenstern in 2002. Now the service is owned by Ruby Corp which is a media company.
Ashley Madison is a specialized dating service and a social networking service for matching married people to have affairs.
Nowadays, the service is expanded worldwide; offering its service in multiple languages: European, Middle Eastern and Asian.
During nearly 20 years of its operation, the service went through scandals such as being hacked and leakage of their member details in public. Amongst those details, there were details of members who paid Ashley Madison to delete their accounts. This made things worse.
Moreover, their bot operation to attract more male members was relieved by an ex-employee. They had to publicly announce to withdraw from their bot operation.
After those scandals, they rebrand themselves; however, now they are back to their original brand image and motto. "Life is short. Have an affair"
Post Covid 19, Ashley Madison is reported to gain more members by major newspapers.
Ashley Madison Verdict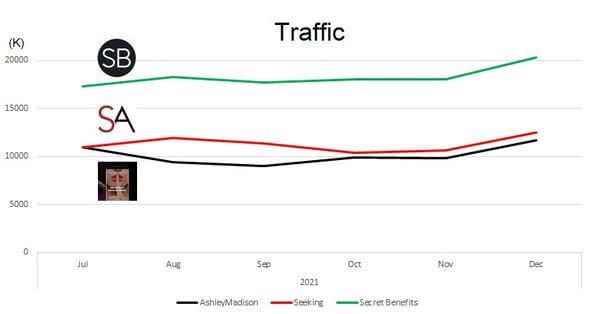 Ashley Madison is a no doubt questionable service; people need to be extra cautious when they sign up. It is wise to have a brand new email address to do so.
It is very interesting to see that there is a lot of media coverage about Ashley Madison even after the scandal in 2015. Even major newspapers are still writing about their service or mentioning their names in their articles in an almost positive way to promote the service.
For male members, this service is very costly. They can not do anything without buying credits. However, to buy credits, people need to put in their credit card's details. This is very risky due to the past hacking scandal.
Ashley Madison is still heavily linked with having affairs thus those people who would be looking for discreet affairs should not give credit card details to them because they could be hacked again. Again, female members can use this service free of charge.
However, it would be less risky for people who are single but looking for married people to have affairs or/and other single members to have a fling. There are some females who are looking for this. But there are a lot of negative reviews stating that there are a lot of fake (female) accounts on Ashley Madison.
Ashley Madison is promoting female sexuality and females to be in charge. This is a global trend.
Traffic by Countries
[Jan, 11th, 2022]

[Monthly Ave. Traffic Jul-Dec,2022]
| | |
| --- | --- |
| US | 7,429,800 |
| Canada | 774,445 |
| UK | 430,360 |
| Brazil | 286,230 |
| Australia | 249,690 |
| Others | 979,475 |
User Variety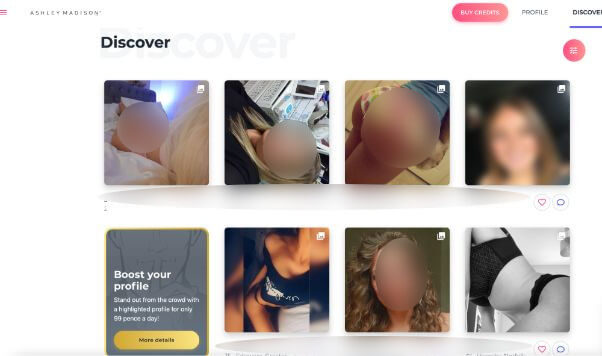 Ashley Madison has a wide range of user variety.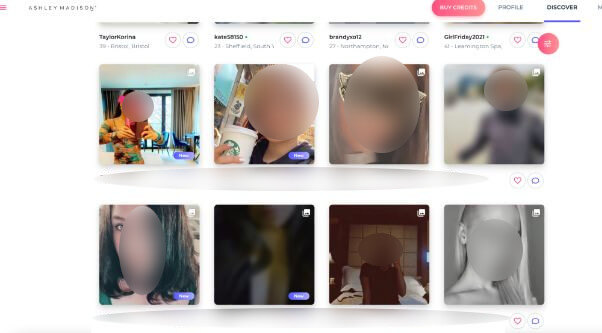 Some female users are very provocative, posting revealing profile photos and stating sexual preferences on their bios.
Premium Membership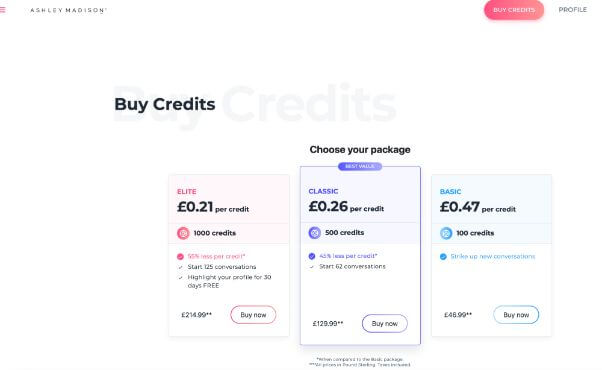 Ashley Madison does not offer any premium memberships or subscription services; users have to buy credits. This is mainly for male members.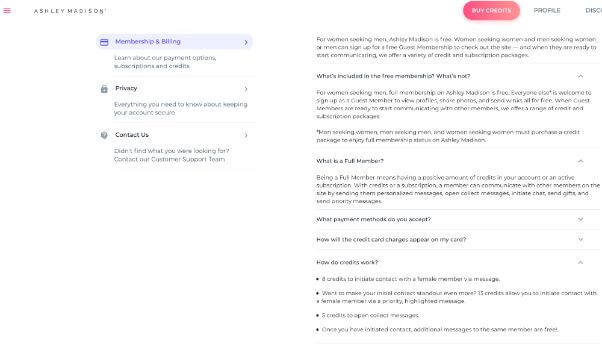 Ashley Madison is free for female members unless they are not looking for other female members to date.
Male members have to pay for everything.

How to join Ashley Madison
Joining Ashley Madison is very simple and easy. It would take only a few minutes.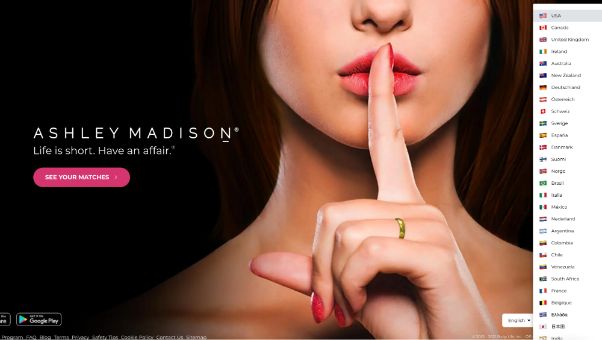 First people need to choose a location.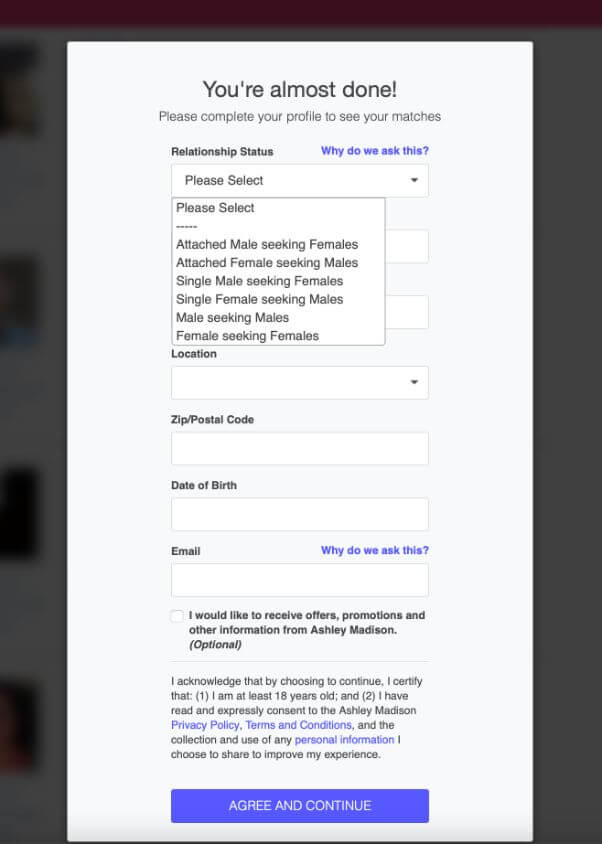 Although Ashley Madison is known for married people, there are some other options to choose.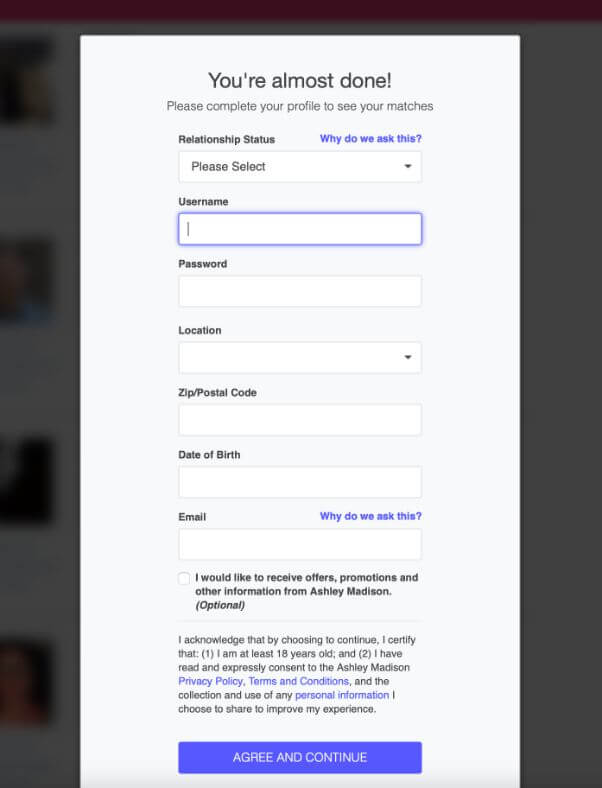 People need an email address to complete this stage. Ashley Madison is suggesting its users to use a brand new email address to join the service.
How to use Ashley Madison
Ashley Madison is extremely easy to operate.
Users can browse other members.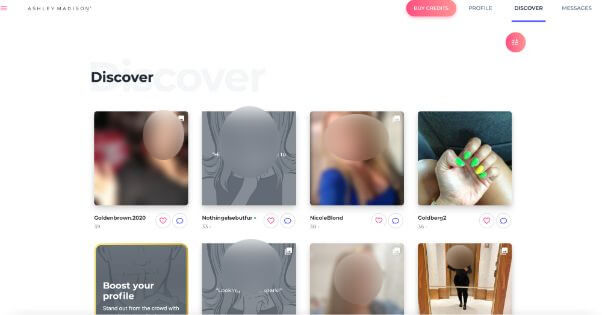 Then click a photo to open a profile.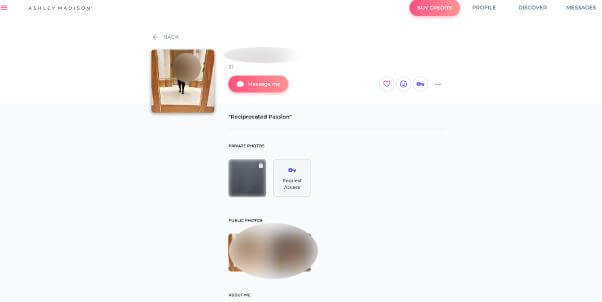 A profile page would open up. Users can like the profile by clicking the heart.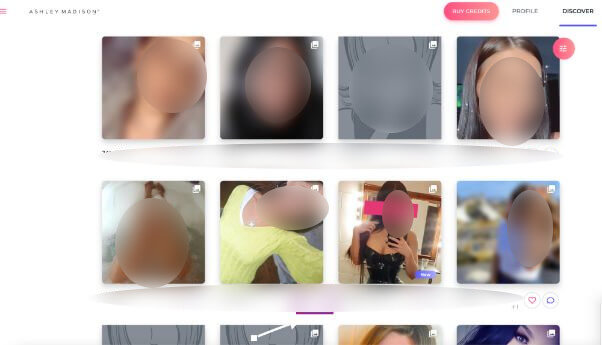 Or click the speech bubble to send a message.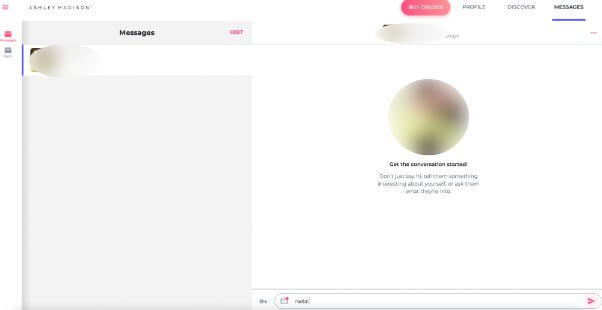 It would cost 8 credits. ( about $1.6-$3) to send an initiative message for male members.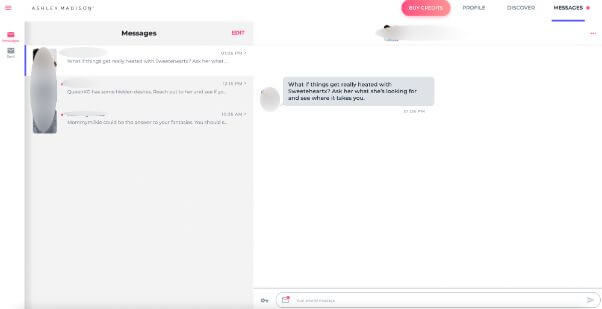 Also, users can receive messages from other users. Some even without photos. However, again male members have to pay to open and read them. ($1-$2.35 each sender)
How to delete Ashley Madison's account
Deleting Ashley Madison's account is also very simple and easy. They no longer charge its members to delete their accounts.
From the top left corner, users can click the menu.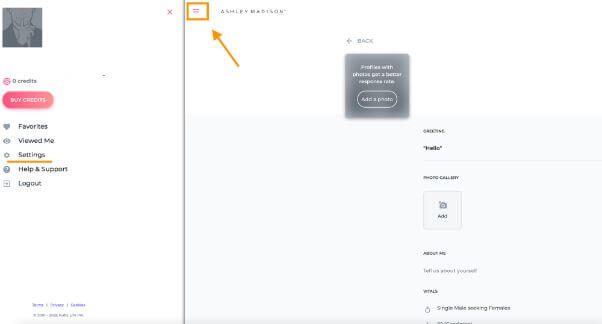 Another menu option would appear, users can select Setting.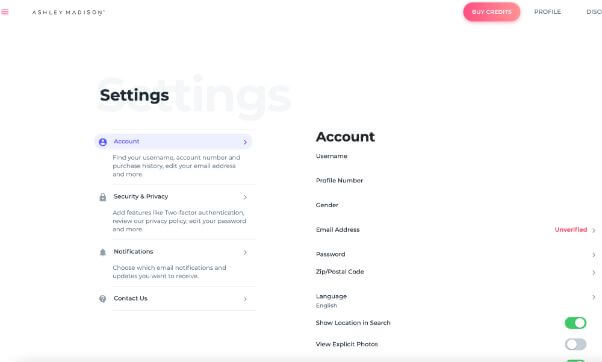 At the bottom of the Setting page, users can find delete and deactivate signs.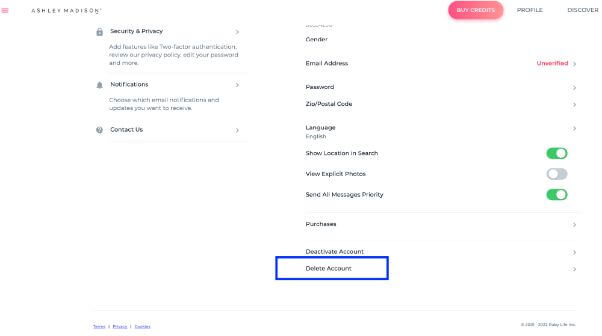 Users need to click Delete Account.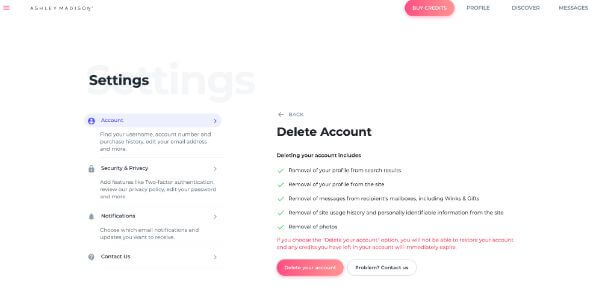 Then another page would appear to complete this process.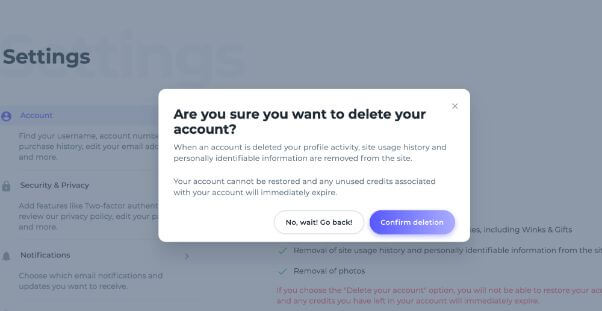 One more last warning.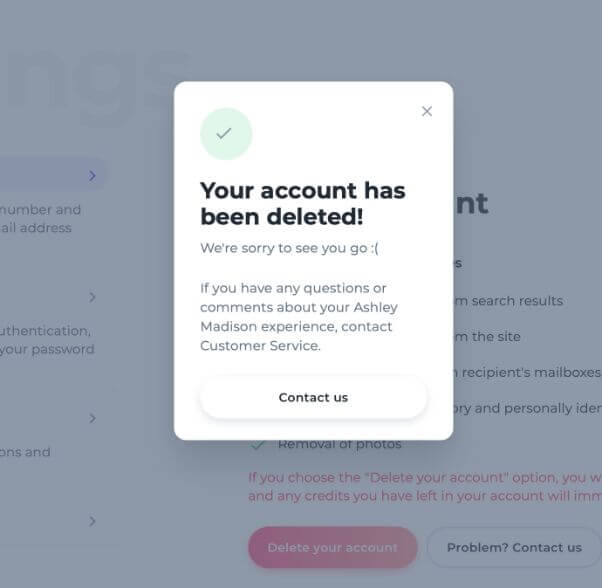 You would see this sign. It is very simple and fast.
Apps
Ashley Madison offers two standard versions of apps: iOS and android. They can be downloaded from their app stores.
Ashley Madison iOS app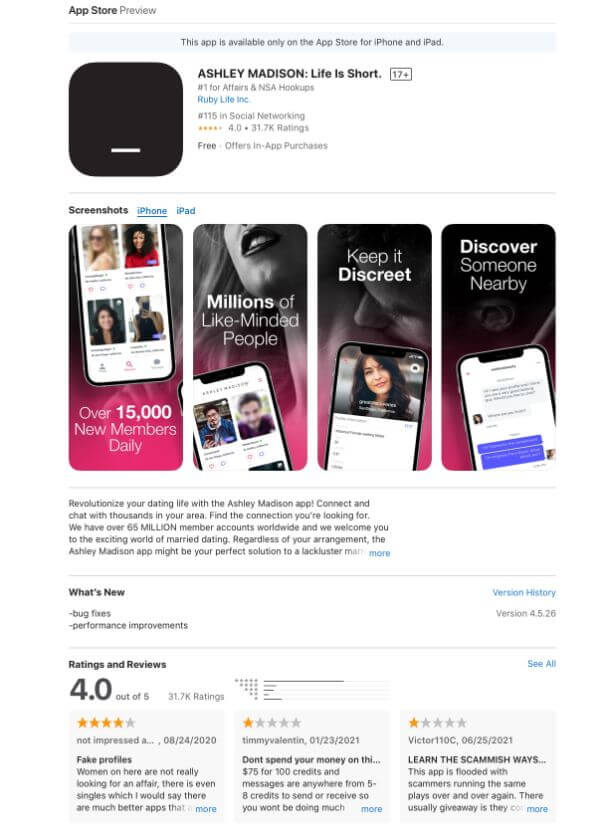 The app is 115th in the social networking category. They have a 4.0 average score out of 31K plus reviews. Unfortunately, their visible reviews are very negative. This has a 17+ restriction.
Ashley Madison Android app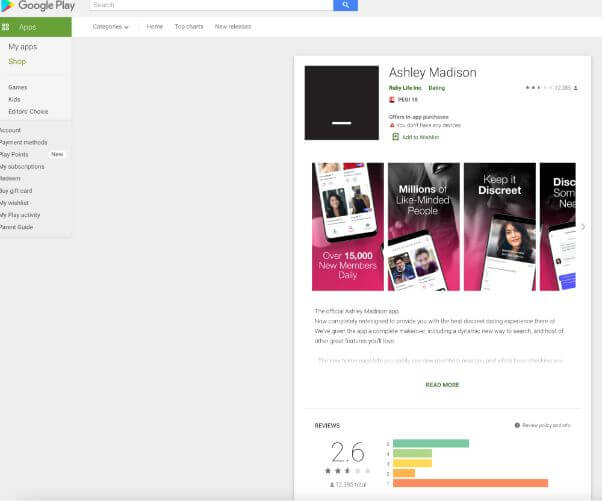 Ashley Madison android app has 18+ restriction in Google App store. This is understandable because this service is for married people.
From 12K plus reviews, the 2.6 average score shows that the android version is not as well received as the iOS version.
Social Media

Ashley Madison has their official accounts on major social media platforms: facebook, Twitter, Instagram and Youtube.
Ashley Madison Facebook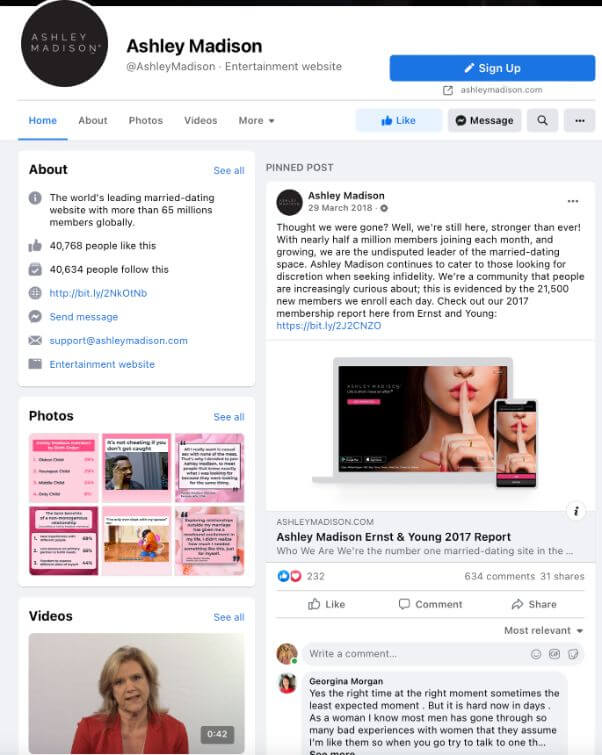 Their Facebook page has 40K followers. Their pinned nearly 4 years old post has 600+ comments.
However, they have not been active on Facebook, since Facebook itself is losing active users and going through renaming and restructuring.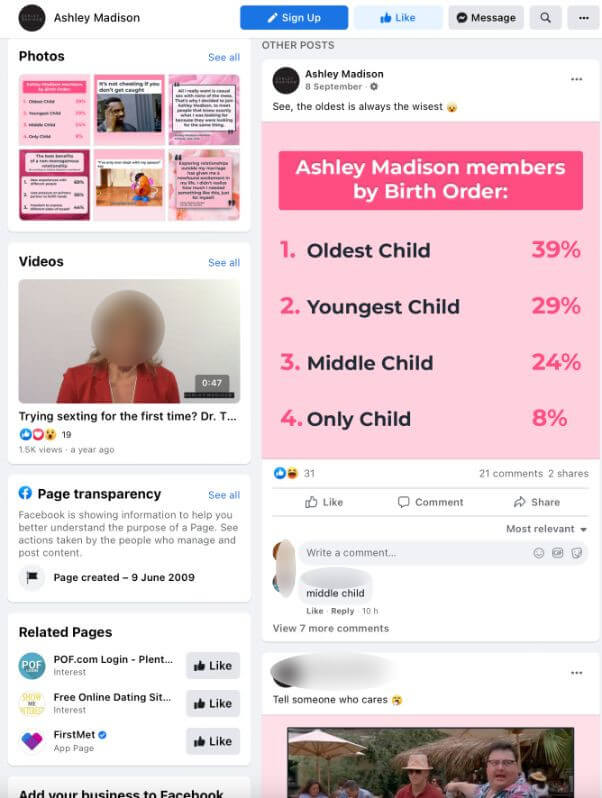 Their last post was about 3 months ago.
Ashley Madison Twitter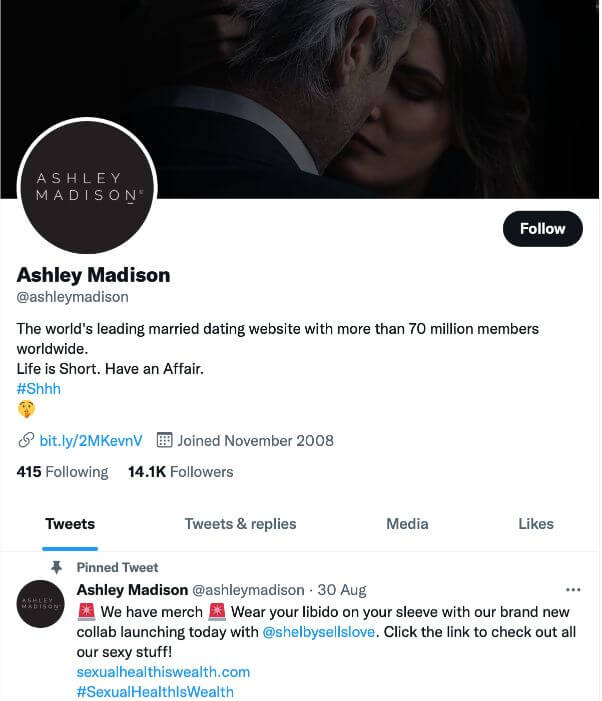 Ashley Madison has about 14K followers on Twitter.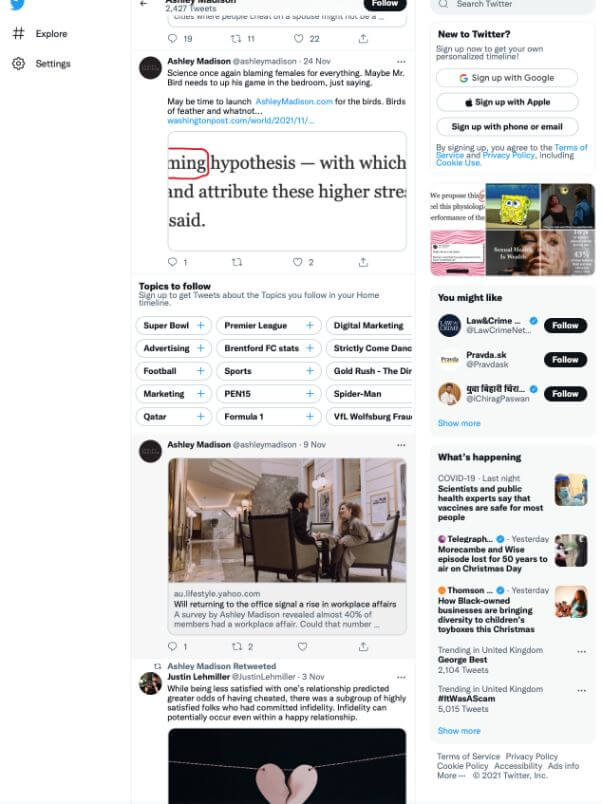 They do not post their original tweets but they retweet a lot. They also post about their major media articles and mentions. This account is much more active than their Facebook account.
They report having 70 million global users! About 5 million more than its Facebook's page.
— Ashley Madison (@ashleymadison) November 9, 2021
Instagram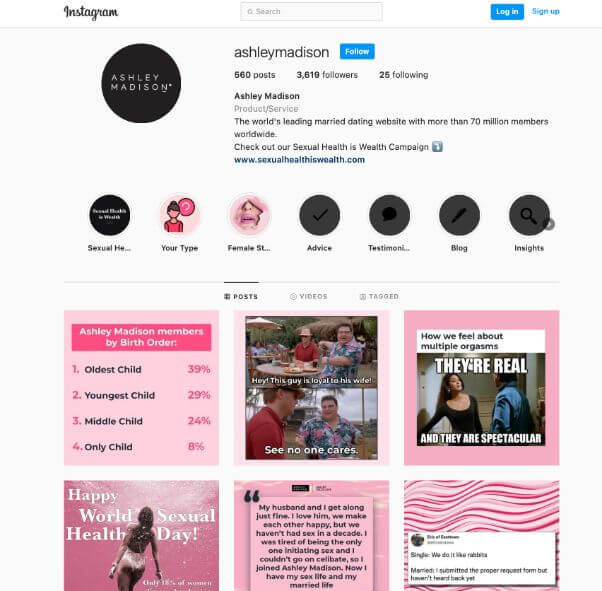 They only have 3K followers on Instagram, the number is understandable because their members are not really the generation of Instagram.
These posts are exactly the same as their facebook account.
YouTube
Their YouTube channel has 4K subscribers.
They have not been active because their last upload was more than a year ago, the video has only 300+ views.
Blog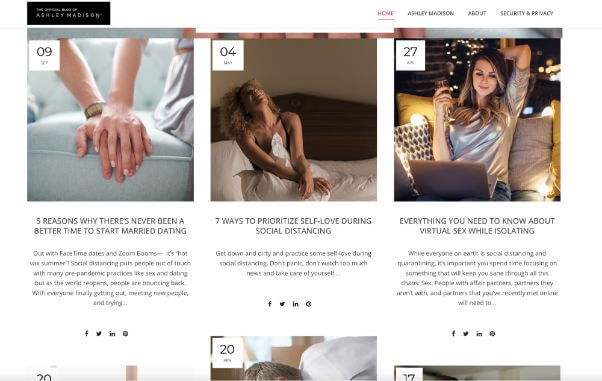 https://blog.ashleymadison.com
Ashley Madison has its own blog page. They obviously promote having affairs by sharing tips and advice. They often focus on sexual matters.
Ashley Madison Merchandise Site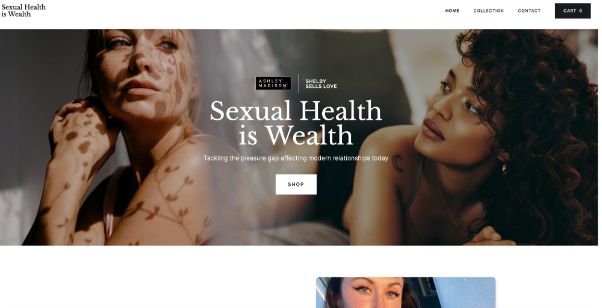 https://sexualhealthiswealth.com
Ashley Madison is teamed up with a Life coach from NYC to promote women's physical pleasure and awareness.
They are selling merchandise such as T-shirts and water bottles with their original slogans.

They also share some tips and advice regarding female sex life.
Ashley Madison on Main Media
There are a lot of articles about Ashley Madison online. This is because they had a major scandal in 2015. Aslo, the Covid Pandemic really gave a boost for the online dating industry. Ashley Madison is one of those who got positive outcomes.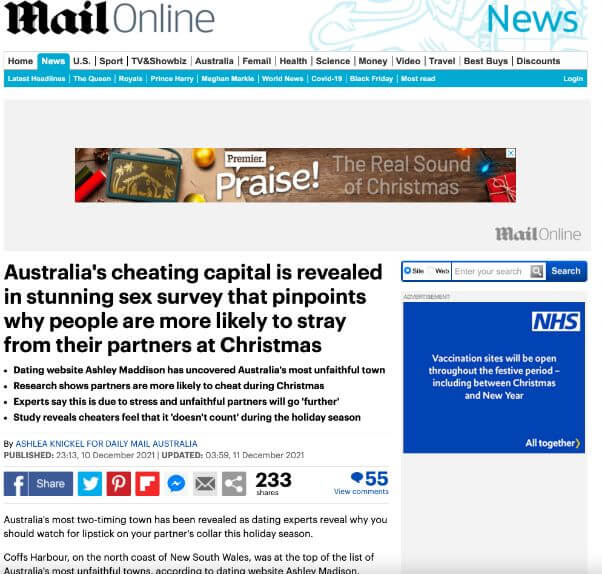 According to this article published in December 2021 , Ashley Madison is getting a positive outcome from Covid 19 pandemic.
'In the early days, we saw a significant jump in new members joining, going from a daily average of about 15,000 to more than 20,000.'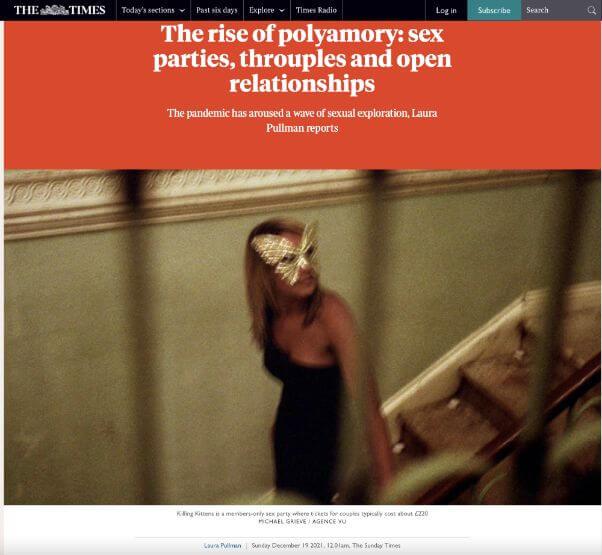 This December 2021 article reports that "there are a lot of single people" on Ashley Madison.
It is interesting to see The Times's article about sex party and Ashley Madison are connecting.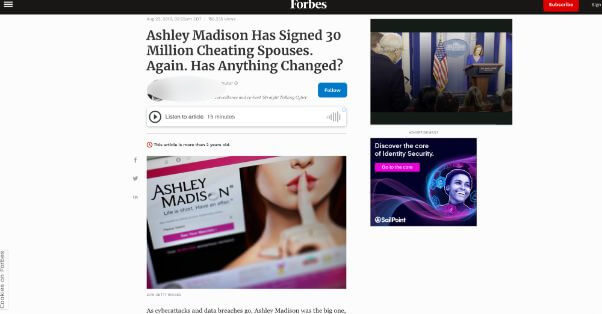 https://www.forbes.com/sites/zakdoffman/2019/08/23/ashley-madison-is-back-with-30-million-cheating-spouses-signed-since-the-hack/?sh=5162751a3878
According to this Forbes article, they have gained users' trust back in 2019 after the hacking scandal in 2015.