Zoosk Review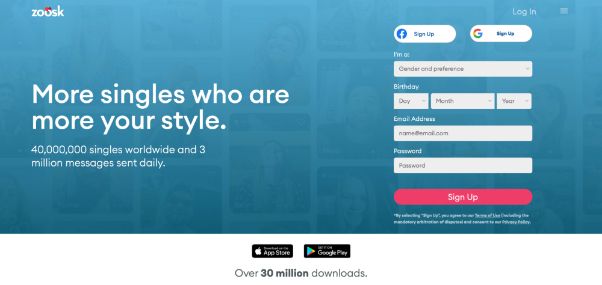 Zoosk was originally developed by two Iranian programmers and launched in 2007.
Since March 21, 2019, it has been a part of Spark Networks SE which made them the second largest online dating company. Spark Networks SE also runs several online dating services: SilverSingles, EliteSingles, Jdate, Christian Mingle, eDarling, JSwipe, AdventistSingles, LDSSingles, and Attractive World.
Zoosk offers a multi language service, on a web site and two app versions: iOS and Android.
Zoosk Verdict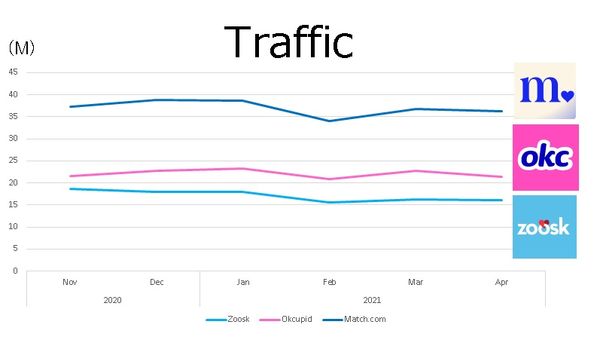 Zoosk is definitely one of well known online dating services; they have been in operation for a long time.
They have a very good marketing team to promote their services.
Potential users can do their research by reading their blogs and social media to find out how to successfully find your matches before paying their membership.
There are definitely some users (in their 30s +) who are genuinely looking for a partner.
In order to be successful on this site, people need to fill all the information, upload and verify photos, spend some money and time.
So their algorithm can start working properly.
However, Zoosk does not offer virtual dating tools such as a video calling function which a lot of other providers have adjusted for this world pandemic.
Traffic by Countries
[May, 7th, 2021]

Monthly Average Traffic by Countries
[Oct.2020-Apri.2021]
| | |
| --- | --- |
| US | 13,926,333 |
| Australia | 842,208 |
| Canada | 808,042 |
| UK | 553,500 |
| Germany | 114,458 |
| Others | 838,792 |
Users Variety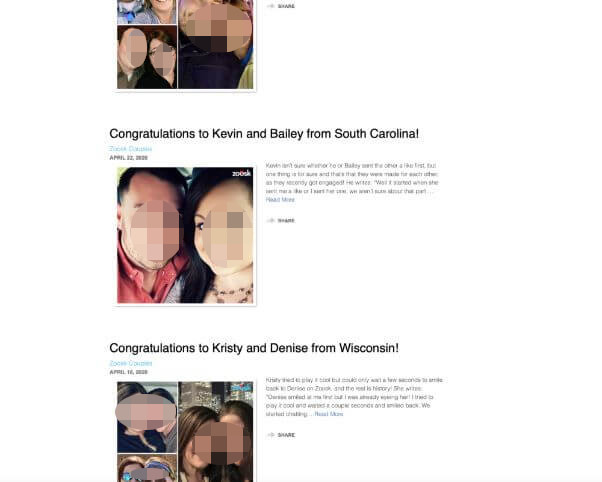 From their official blog posts and Instagram success stories, it is safe to say that Zoosk users are in their 30s and 40s.
Zoosk is not cheap to find casual dates and hookups because everyone has to pay to make contacts. Thus, middle aged people with some finance and time to look carefully and patiently for a partner, they could have a good chance to find someone.
Zoosk is also open for the same sex relationships, there are some success stories' posts about female couples. (more than male couples. )
Gender Ratio
[May, 7th, 2021]

How to join Zoosk

Joining Zoosk is very simple and easy. People can use Facebook accounts or emails. Zoosk is open to hetorsexia relationships as well as same sex rellaionships.

Afterwards, people need to answer some basic 6 questions, like a location and heights. People can choose whether to add photos or not. Also, people need to agree with T & C.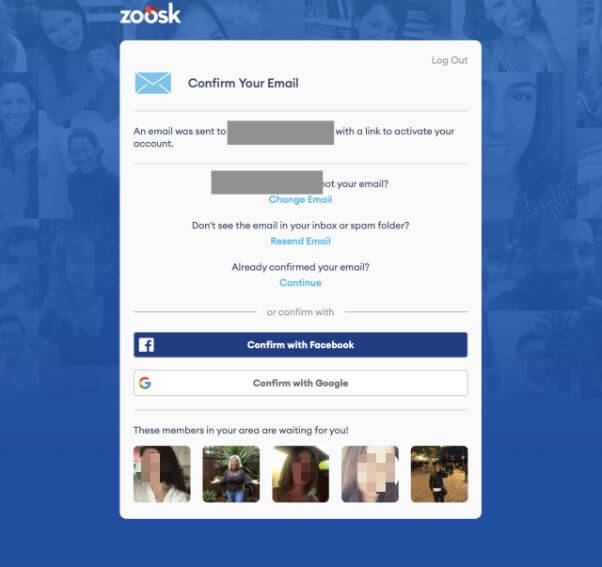 Lastly, people need to verify or confirm their emails or accounts.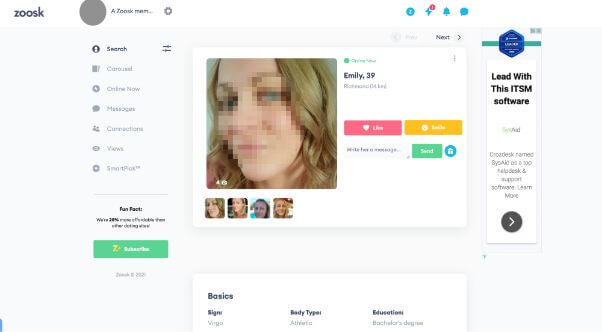 This would take only a few minutes, it is probably the easiest registration process amongst any online dating service.
They would just give a temporary user name as well.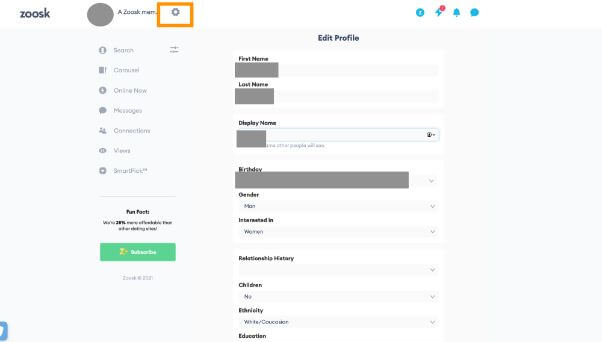 From the wheel sign which is next to the small photo on the top, people can access to their profile. They can add or/and change a lot of information.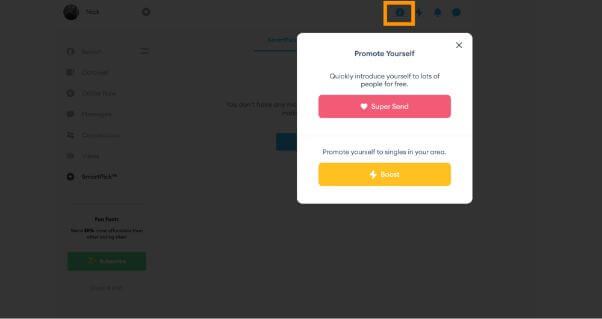 The top Z and thunder marks are for promotion. Users can access Super Send which is a function to send intro messages to multiple users. Users can use this function for free (There are some limitations) Users can also boost their profile by buying coins. One boot needs 150 coins.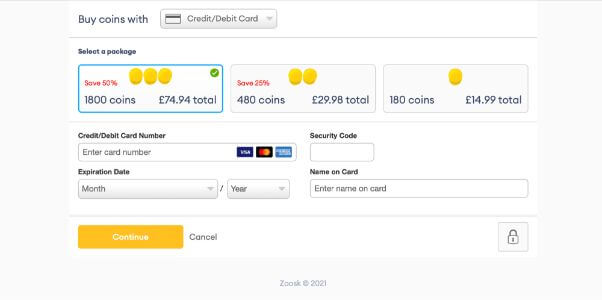 Coins can be purchased using a credit card. This is not a subscription service.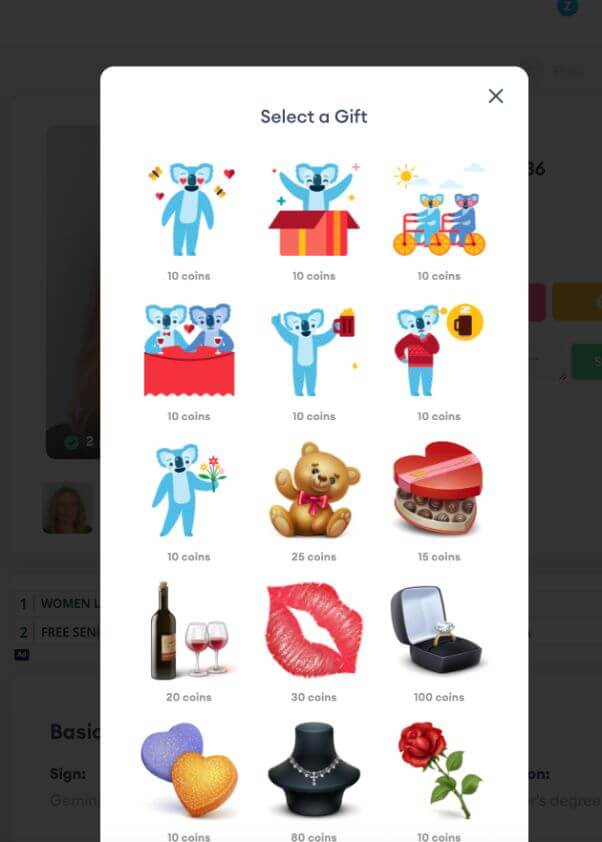 By using coins, people can also buy virtual gifts to other members and send them to get some attention.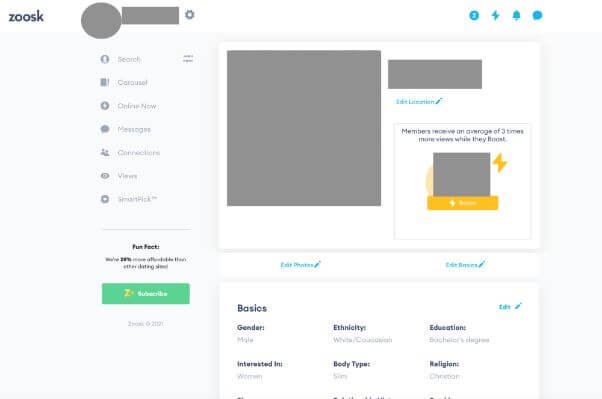 Zoosk offers a simple but sufficient profile page. There are a lot of things a user can share on the page including social media accounts.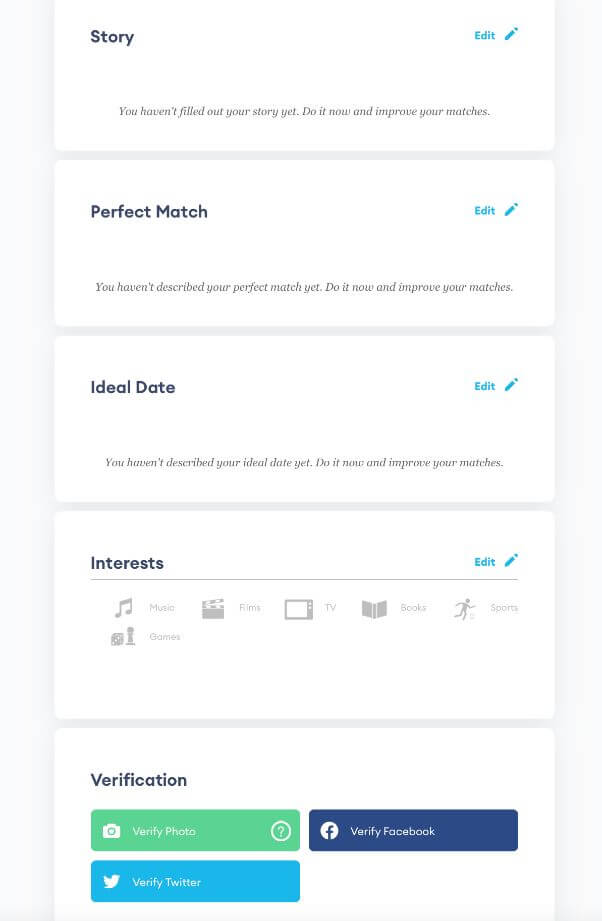 It is advisable to fill as much information as possible to attract some matches. More detailed a page is, the more chance to get attention from others.
Users can link their profile to their facebook and twitter accounts. However, users need to be careful linking those, personal information shall be handled with caution online.
People can verify their photos but this can only be done from their App.
How to make contact on Zoosk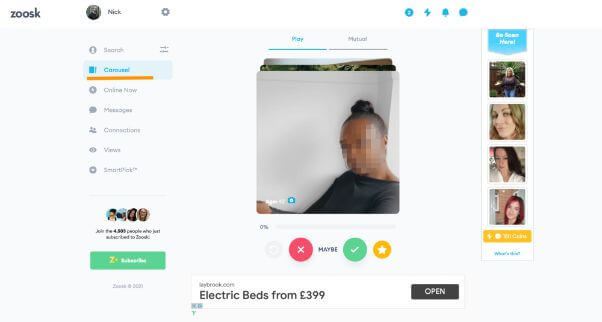 On Zoosk, contacting other members is not free. Without subscribing their membership, users can not access the messaging service.
People with premium memberships can make contact with others by sending messages or virtual gifts to others. This carousel section works like other dating sites, swip photos like or dislike.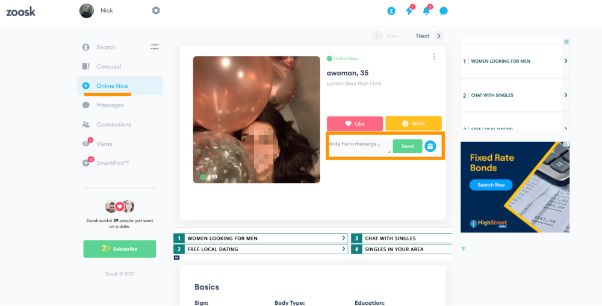 From Online Now, users can find out who is online and active. Users with premium memberships can send messages.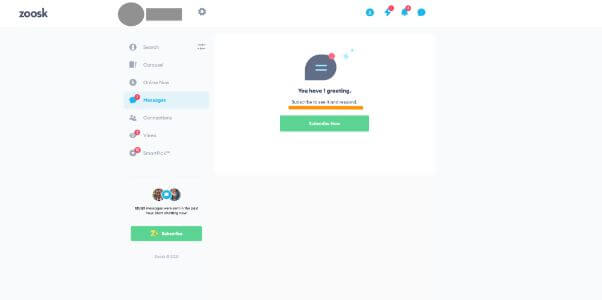 Subscribed users can see who liked you and send messages.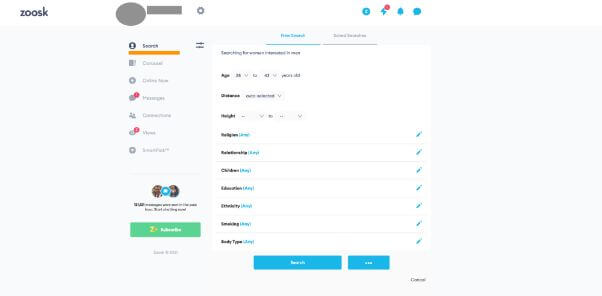 From the search section, users can use the filter to search other users.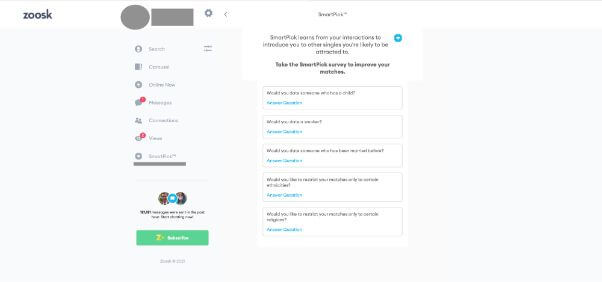 The SmartPick section allows their unique algorithm to search your matches based on your answers to those questions. Thus answering surveys is important. More accurate answers would lead to more accurate matches.
However, users need to sign up for their premium service to see and contact these matches.
Zoosk Subscription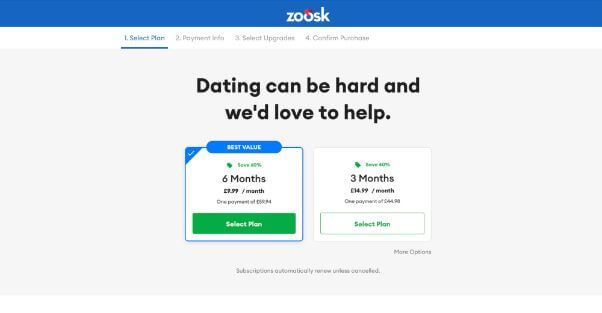 They are offering some discounted plans at this moment.
As other online dating services, users need to read T&C thoroughly before paying the subscription.
Mostly, if you do not want to continue, you need to physically cancel the subscription, otherwise, they would keep taking money out of your account.
Remember to cancel the subscription, before deleting an account.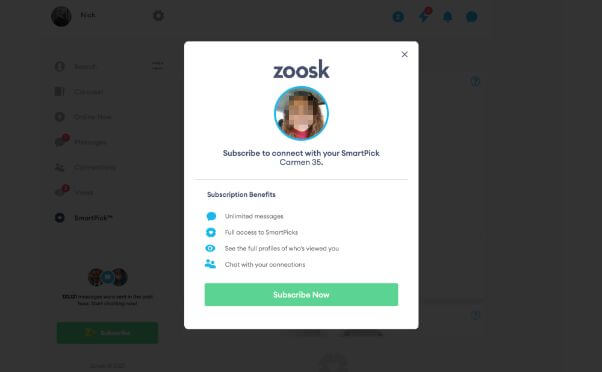 The subscription offers everything users need to connect with other users and matches: messaging, chat and viewing privileges.
Leaving Zoosk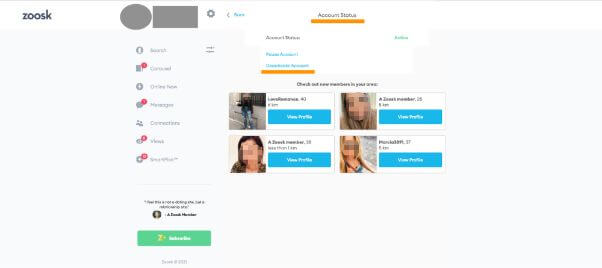 Leaving Zoosk is also simple as joining.
However, paying members need to cancel their membership first!! Otherwise, they can keep charging the fee.
Also, you are NOT entitled to get a refund. Thus it is wise to wait until the end of your contact to deactivate your account.
Users can click the Wheel sign on the top of the menu bar. Go to account setting, and see two options: Pause Account or Deactivate Account.
There is no sign to "delete" an account. Deleting an account can be done by emailing the customer service representative from the Help section or using their email address.
Online Review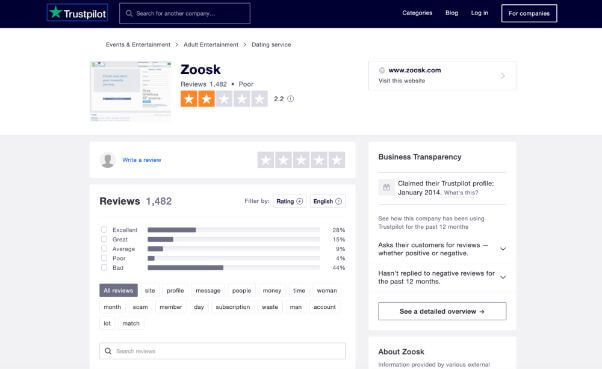 Trustpilot
On Trustpilot, Zoosk unfortunately has a lot of recent negative reviews.
Majority of reviews are stating that nowadays there are a lot of online dating services that offer better services and they are free, but Zoosk is charging so much money for just making contacts.
Moreover, there are some reports regarding fake accounts.
App Services
Zoosk offers two app versions: android and ios.
Google App Store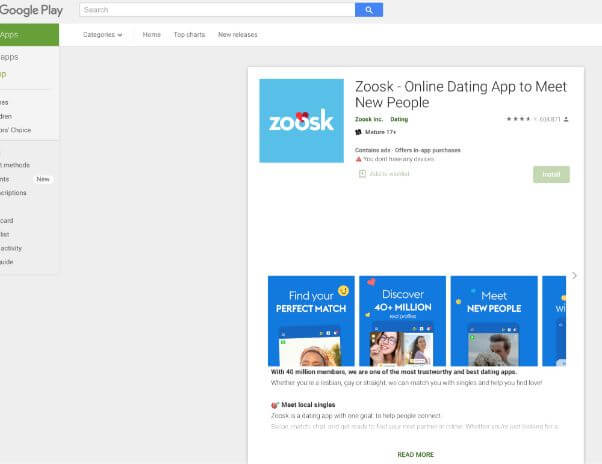 Zoosk android app is regularly updated and maintained well.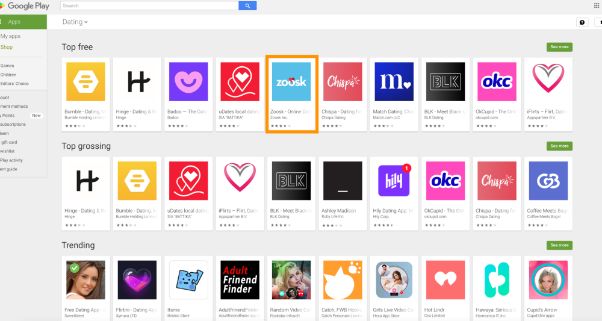 Also, surprisingly it is ranked on the top free dating apps. Although, you are only able to search other users for free.
Apple App Store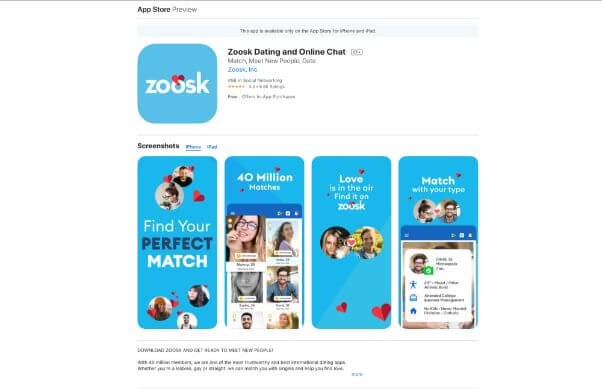 Zoosk ios app is also regularly updated for improvement and fixing bugs. It is ranked 96th on the Social Networking category.
Since Zoosk has been operating for a long time, it has a lot of reviews and ratings.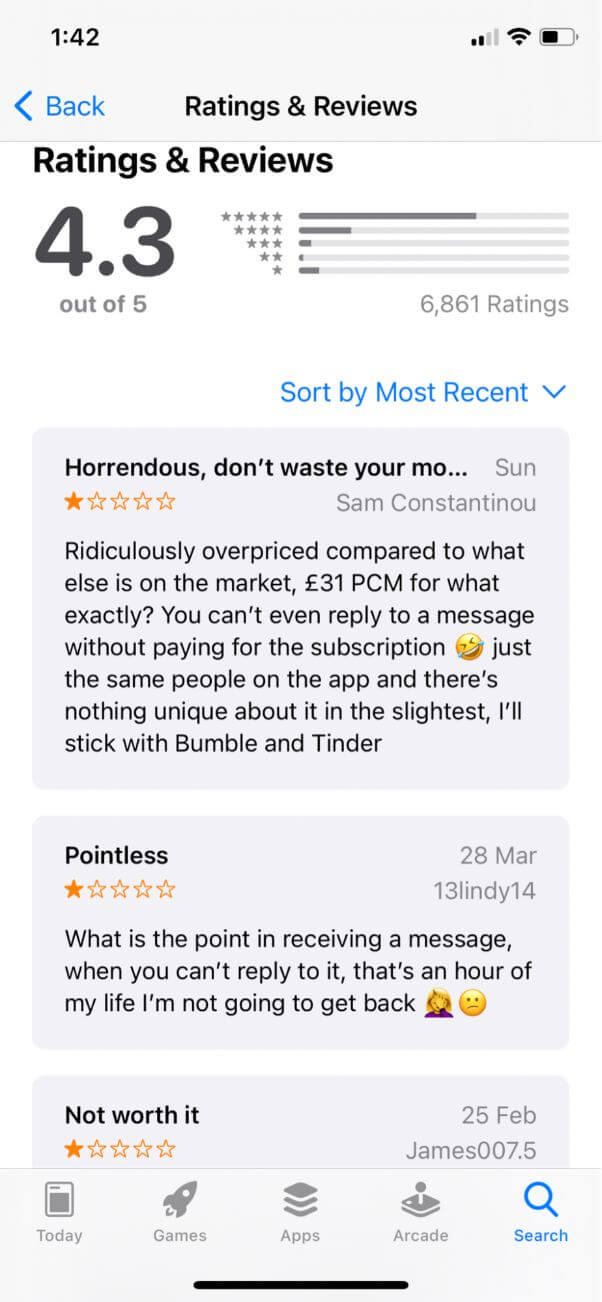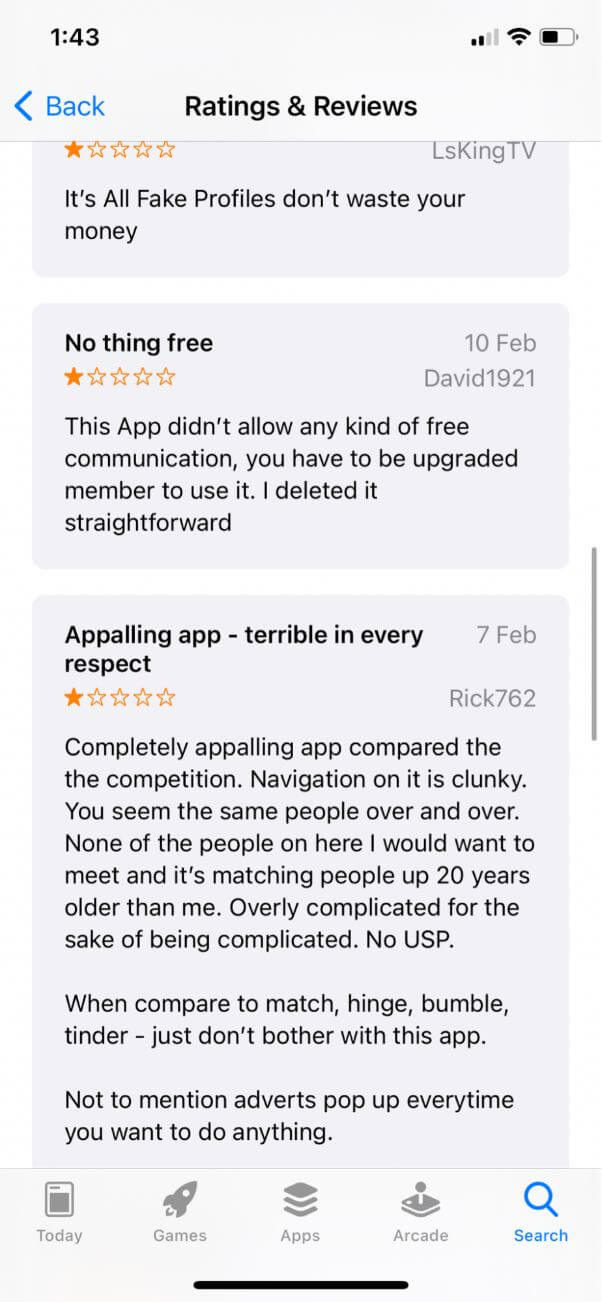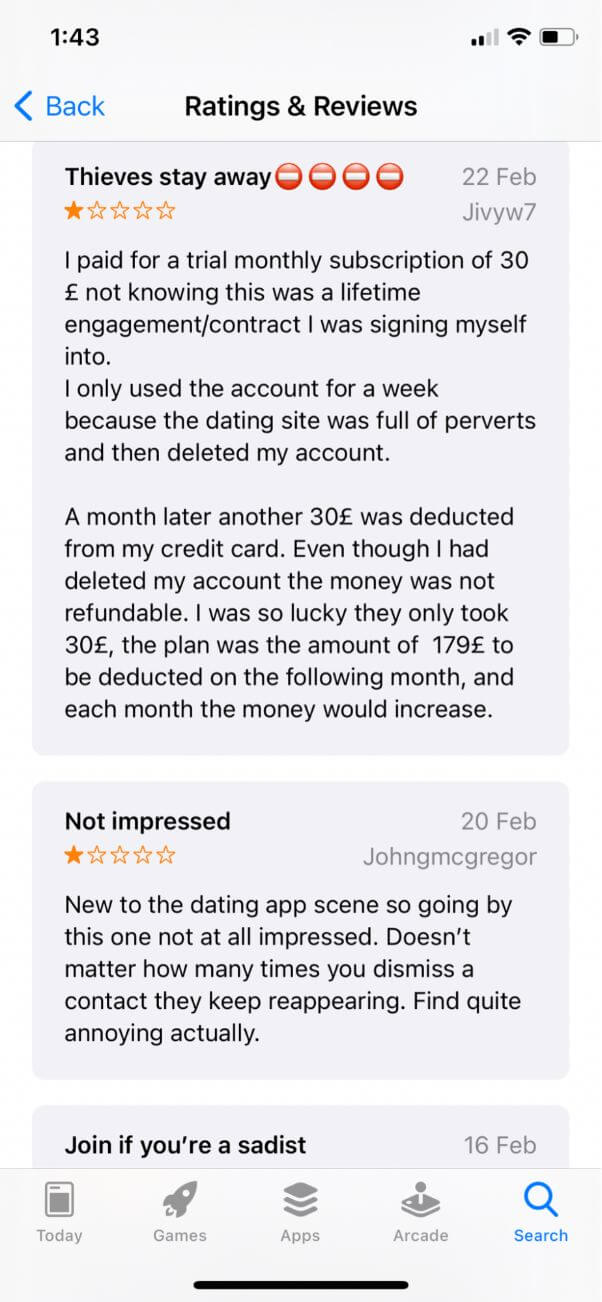 Sadly, the most recent reviews are 1 star reviews.
Zoosk Social Media Activities
Zoosk is very active on social media. They have all major social media accounts.
Zoosk Facebook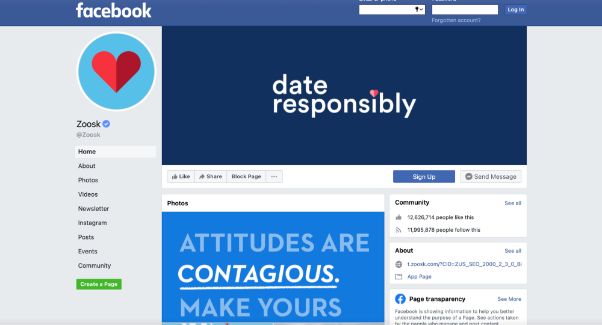 Facebook
Zoosk has a surprising amount of "like" and followers on Facebook.
Zoosk has been operating for a number of years and users can connect both accounts to gain more authenticity, thus these can be the factors.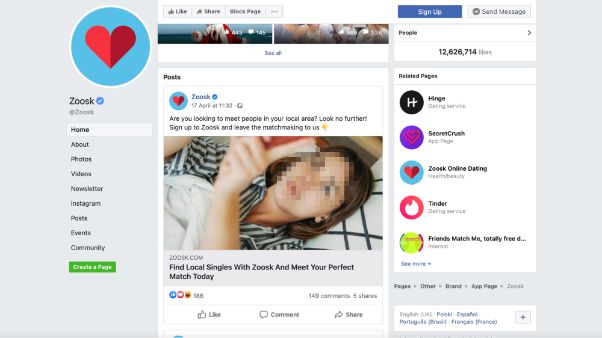 Zoosk regularly posts on Facebook and people are leaving comments and reactions.
Twitter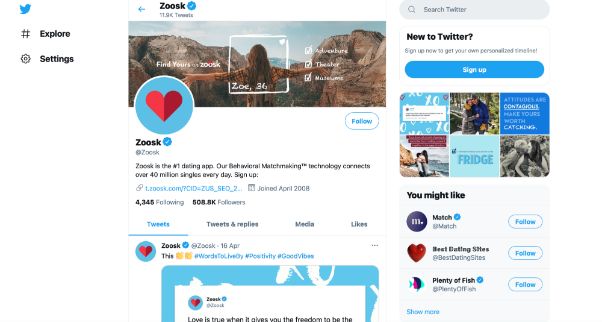 Zoosk also has a large number of followers on Twitter. This is very interesting because many other online dating services have much less followers on Twitter.
Zoosk also regularly posts social trends using hashtags.
Users also can link their profiles to their Twitter accounts.
Single and looking to meet someone locally? No problem! If you're new to #Zoosk or thinking of giving us a try, we offer many great ways to meet local singles! #Single #Dating https://t.co/dtfJdawEfX

— Zoosk (@Zoosk) May 1, 2021
Instagram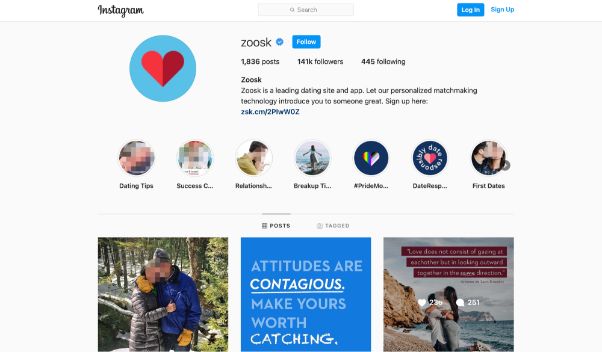 Instagram
Zoosk is also active on Instagram, they share various different kinds of posts. Some of them are very "real" success stories. There is no guarantee that they are true stories but photos look pretty authentic.
YouTube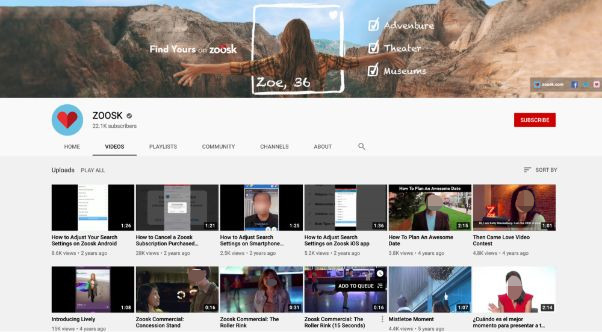 YouTube
Zoosk also has a YouTube Channel, which has 22K subscribers; however, their last upload was 2 years ago.
Some videos have very high numbers of reviews.
Zoosk Official Blog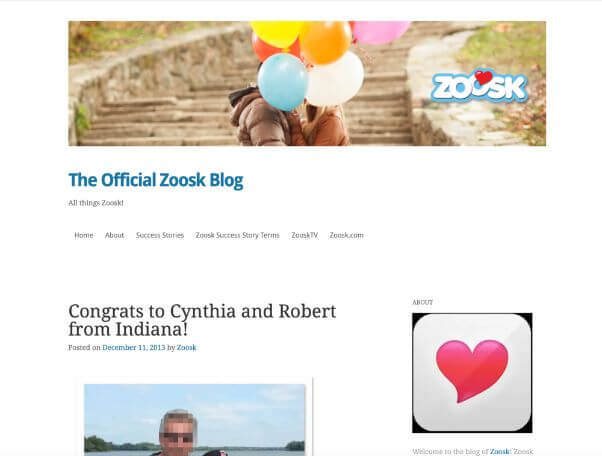 https://zoosk.wordpress.com is their old blog site. The last post was about 8 year ago.
Now they have a new and current blog site within their website https://about.zoosk.com/en/blog/.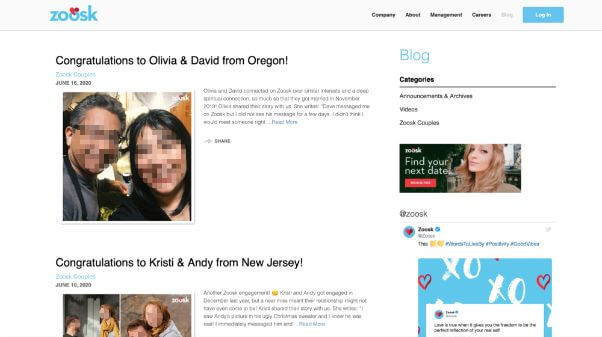 They share a lot of real success stories here with details.