Truly Asian – Asian Dating App supportive system Research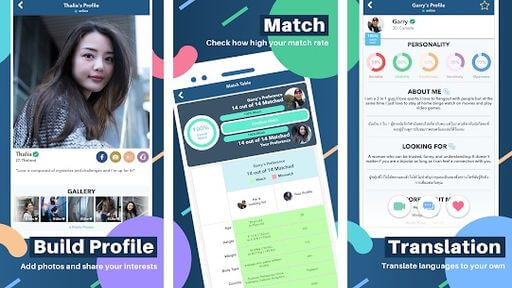 I am going to probe into customer center which is said that 24/7 available. I scrutinized whether the customer center works properly or not to send e-mail, Feedback, and check "CONTACT US" form on Truly Asian.
How to Contact Truly Asian Support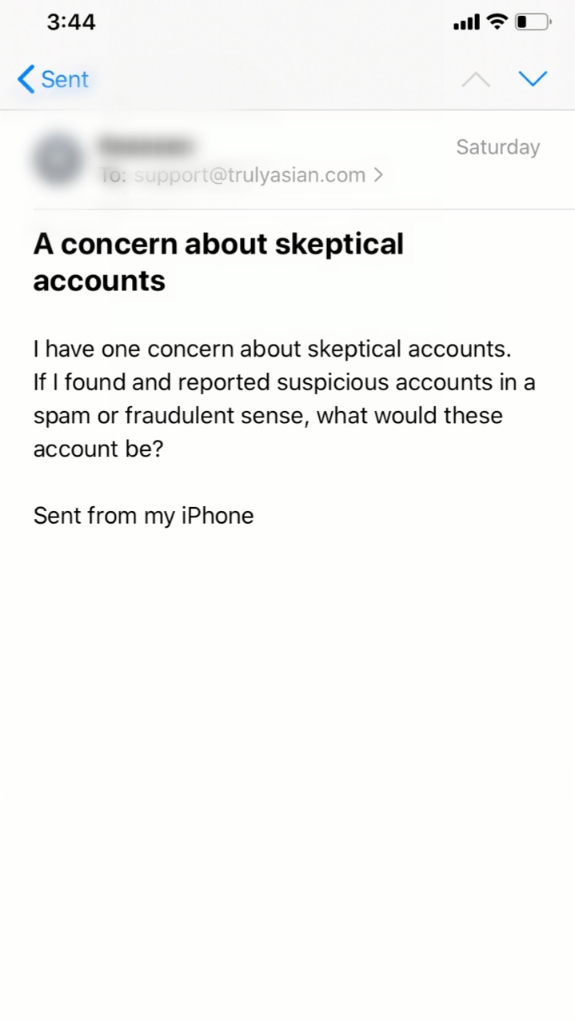 Firstly, I have researched to see if what should I do when I notice spam accounts and the like to ask to Truly Asian via e-mail, Feedback format and checked FAQs out.
I inquired Truly Asian on the e-mail format as I show above that I have concern about skeptical fake account.
The content: "I have one concern about skeptical accounts.If I found and reported suspicious accounts in a spam or fraudulent sense, what would these account be?".
Although it doesn't seem to be lots of fake accounts on Truly Asian, you would rather be better how to cope with the situation.
However, Truly Asian's customer service hasn't replied to me yet even though one week passed since I had sent the message, let alone it doesn't detail how many days it takes to respond. Therefore, I am skeptical that the customer center runs appropriately.
Doubtlessly the customer center doesn't work. It's too late. Although I mentioned that in negative, they seem to respond against reviews and questions on Google Play's review so if you had something of concern, you might be better to write down on the review site's format.
Truly Asian's Feedback
Secondly, I sent a Feedback to Truly Asian as I posted below.
The content: "This app is really slow. And I have a concern that in case I find skeptical spam accounts, what should I treat them?".
As for spam or fake accounts, I already explained but not the qualify of the function of Truly Asian. Therefore, I described that on the format to improve the issue. That being said, there are still some rooms for improvement on Truly Asian.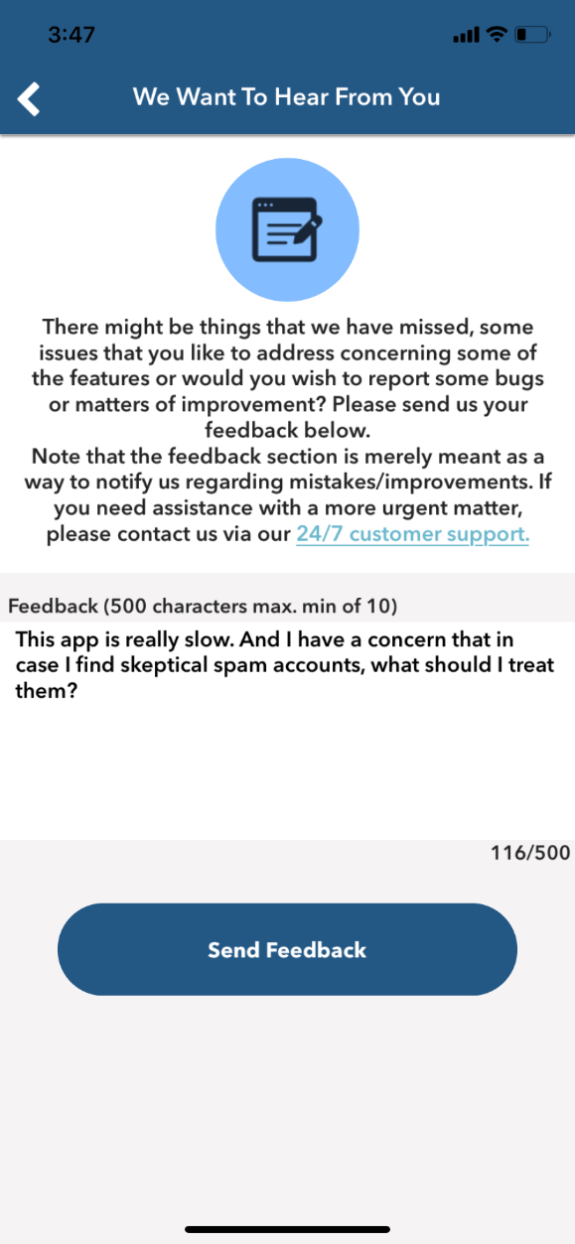 Check the "FAQs" form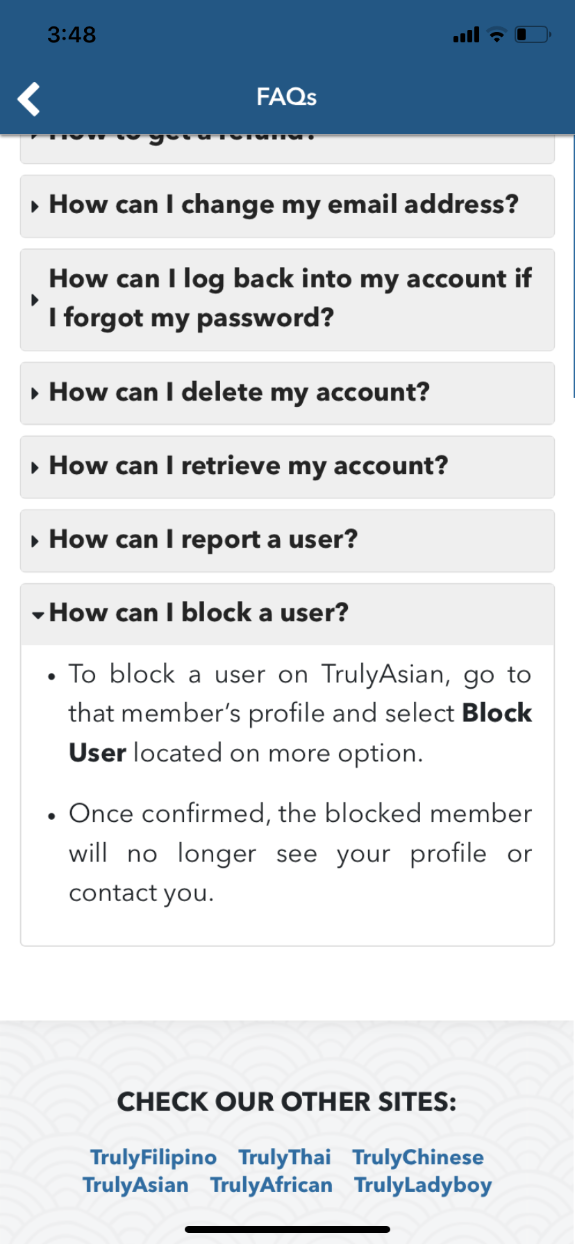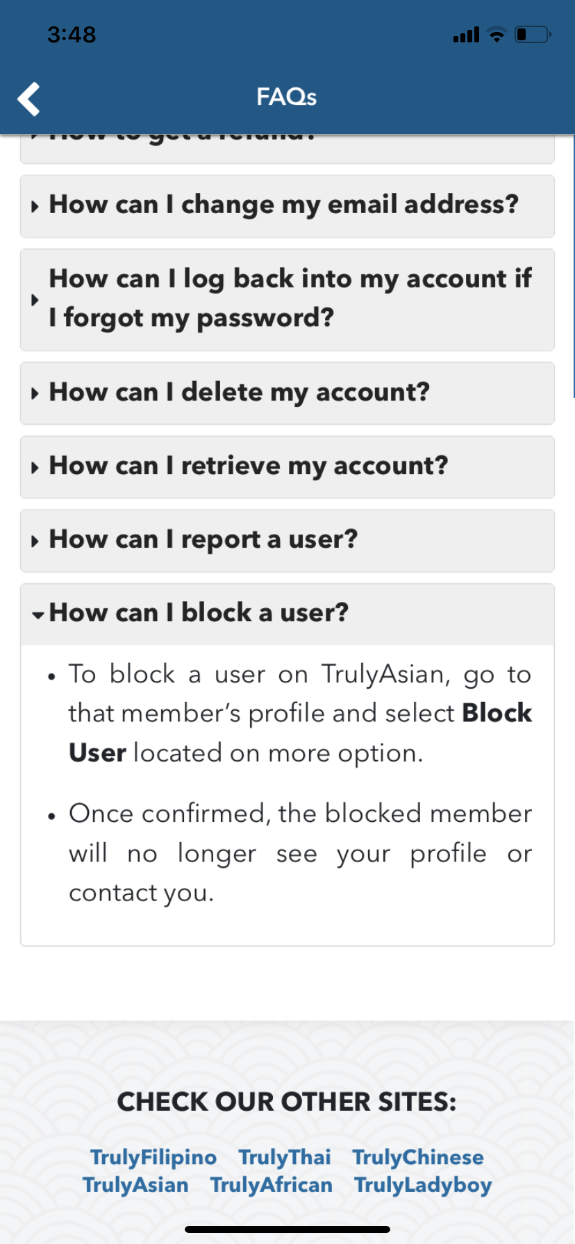 Thirdly, I checked FAQs of Truly Asian and I noticed the answer of how block and report accounts.
The section of how to block says,
"To block a user on TrulyAsian, go to that member's profile and select Block User located on more option.Once confirmed, the blocked member will no longer see your profile or contact you."
And the report one says,
"At TrulyAsian, we highly encourage members to report if they notice any dodgy activities from other members.
Go to the member's profile and select Report User located on more option.
State the reason for your report. You may add screenshots of their activities.
A member of our team will look into your case and apply the appropriate action."
Conclusion
No matter of you report or block accounts, firstly you go to the member's profile, then select two options which are Report User or Block User.
Plus, when you report accounts, you need to state reasons why you would like to report.
I recommend you check where these button are out beforehand just in case. In regard with the customer center which is equipped in Truly Asian, it should be doubt based on my experience.
It's waste of your time to ask something to the customer center. Instead of that, you would rather write down on Apple Store form or Google Play's form. I have confirmed that Rometic which is a company which founded Truly Asian responded on these forms.