Is Truly Asian safe dating app?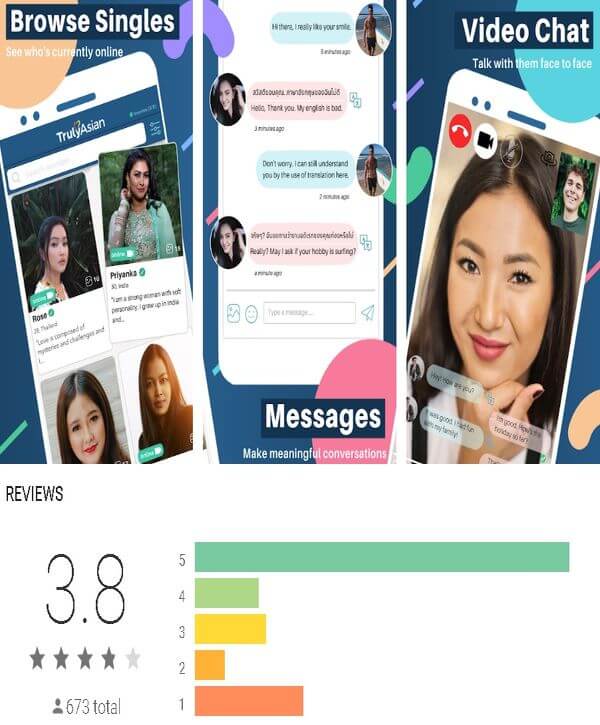 Google Play
Truly Asian is safe dating app. However, the management is not strict, because many female users are obviously lying about their profile such as ages.
There are quite a few users who are "prostitution purpose."
What is Truly Asian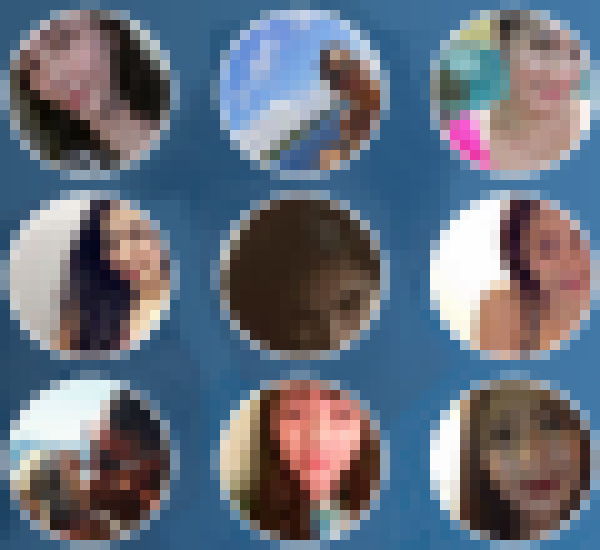 This is an official dating app for both of IOS and android. Truly Asian is clearly for those who seek for Asian girls / guys. You can search many Asian countries and Asian American, and squeeze your preference into a particular Asian country. As long as you are apt to like Asian people ( Actually, there are indeed people who are Asian geek around the world.), it is said that Truly Asian would be suitable for you to look for a serious relationship with Asians.
Is Truly Asian legitimate?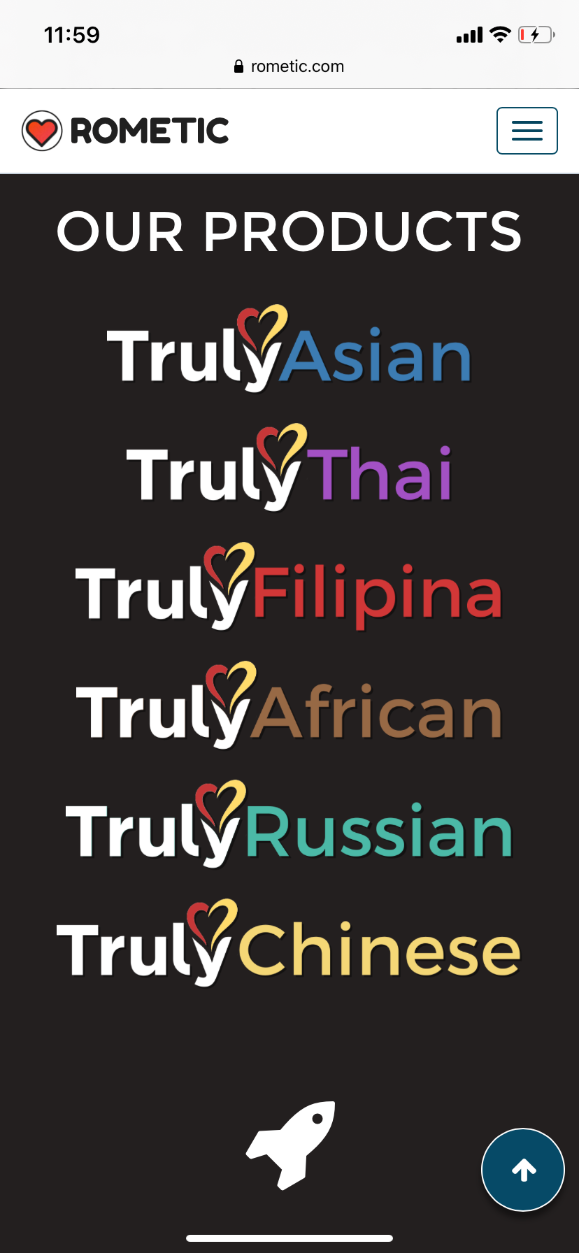 Truly Asian is founded and operated by Rometic, a reputable company, which has founded in 2014, that specializes in developing niche-specific dating sites and apps that connects single worldwide.
This company is based on Hong Kong. This has policies towards dating app that is to build applications that connects people and make communication easier across borders. This delivers stability, applications available for all devices, up-to-date technology, and a dedicated 24/7 in-house support staff.
This company has some cooperated apps: Truly Asian, Truly Thai, Truly Filipina, Truly African, Truly Russian and Truly Chinese. The company itself is neither suspicious nor counterfeit, therefore you can use Truly Asian legitimately and properly.
Is Truly Asian safe?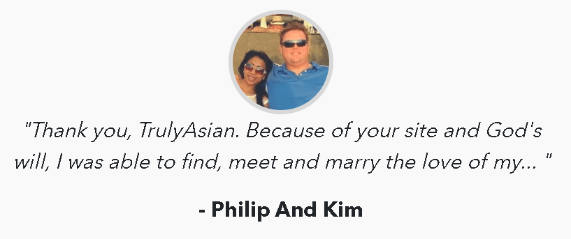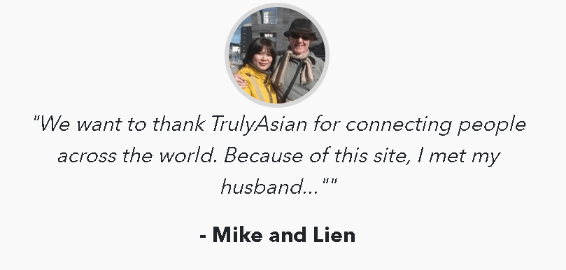 Are not there any fake accounts?
Basically, yes. Because this app has a function called verification system which is compatible with Facebook, using Camera, SMS, ID, and personality test which helps individuals aware of who you are, what kind of thing you like and the like.
Thus, Truly Asian has a system that can prevents notorious people from creating spam / fake accounts unambiguously. However, there are some suspicious accounts I have found while I was using Truly Asian such as dichotomy of ages they set up.
In case you find skeptical accounts, you tap FAQs section or "We Want To Hear From You" button that you can send Feedback or solicit help to solve any issues occurring on Truly Asian.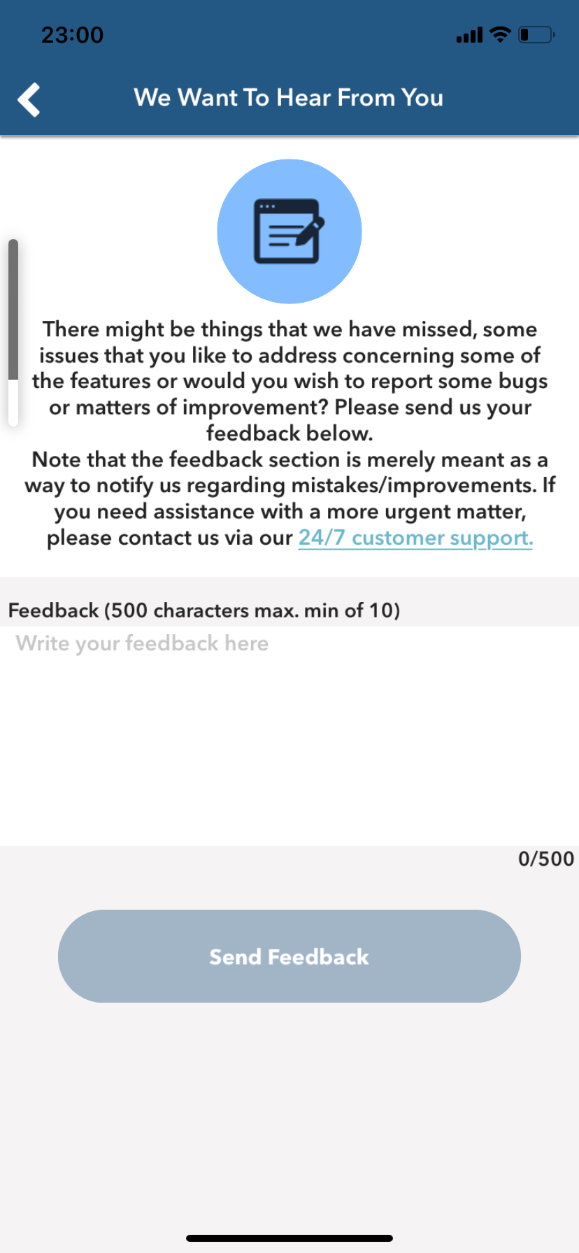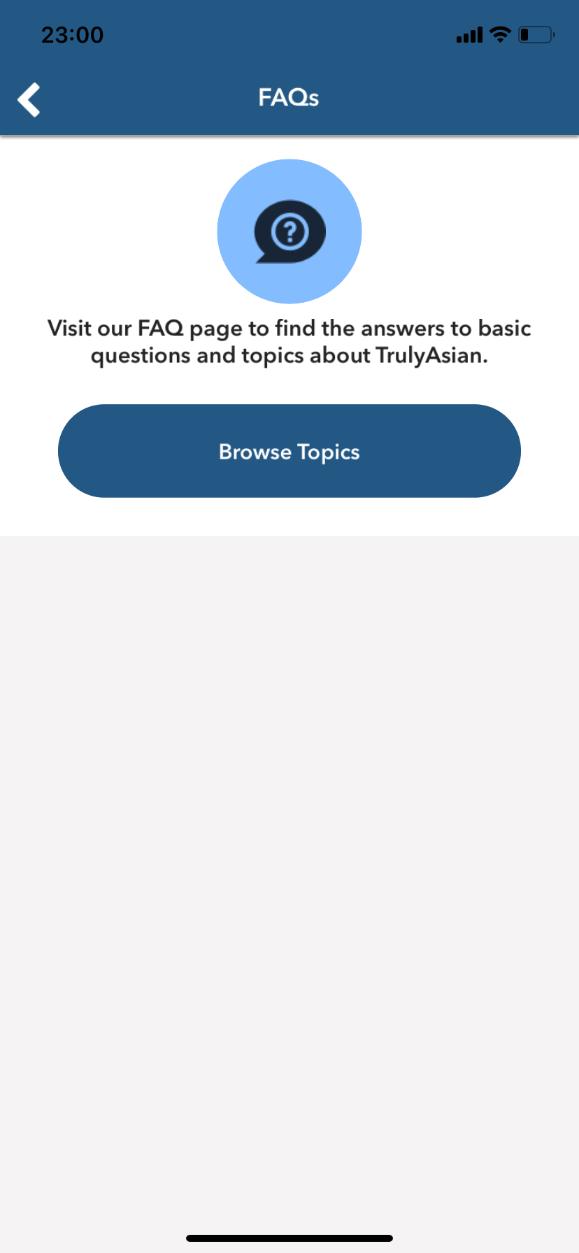 Will your privacy information be leaked?
Truly Asian collects users' personal data for just security reasons without any vulgar business interests. Although it forces us to write birthday, country where you are from, selfish and short biography about you, they don't abuse these information. Plus, you can change your e-mail address and password at any time, therefore you do not have to have a wary of getting hacked or cheated fraudulently.
However, there is no 100% guarantee that some unexpected errors or data loss engendered by fake accounts will not engender. In case this kind of shortcoming might occur, you need to restore the password or need to log out as soon as possible.
What is the dating pool like?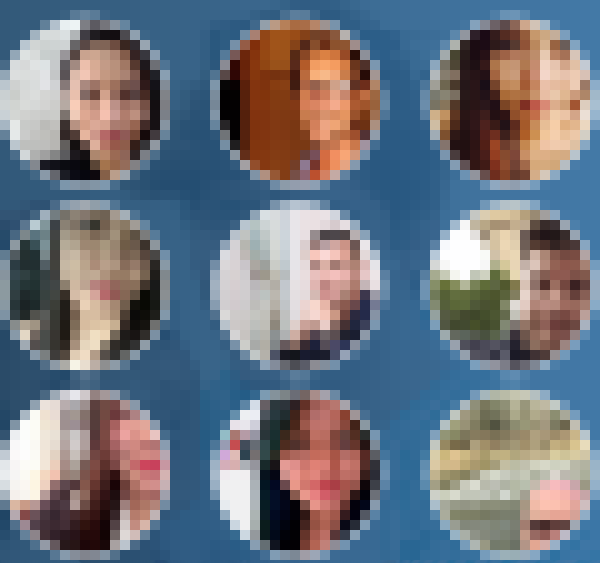 This is obviously for people who want to date with Asian girls / guys. Once you install and make an account, you would realize that lots of Filipinos and Asian American use Truly Asian. Based on my experience, I have often encountered middle-aged women on this app. There are few young people at least above 30 years old more or less. In short, there tends to be women from the U.S. or Philippine and they are apt to be above at least 30 years old.
【Mar.5.2020】
Gender Ratio

Women members are more than Men's, which is rare dating app.
User feedbacks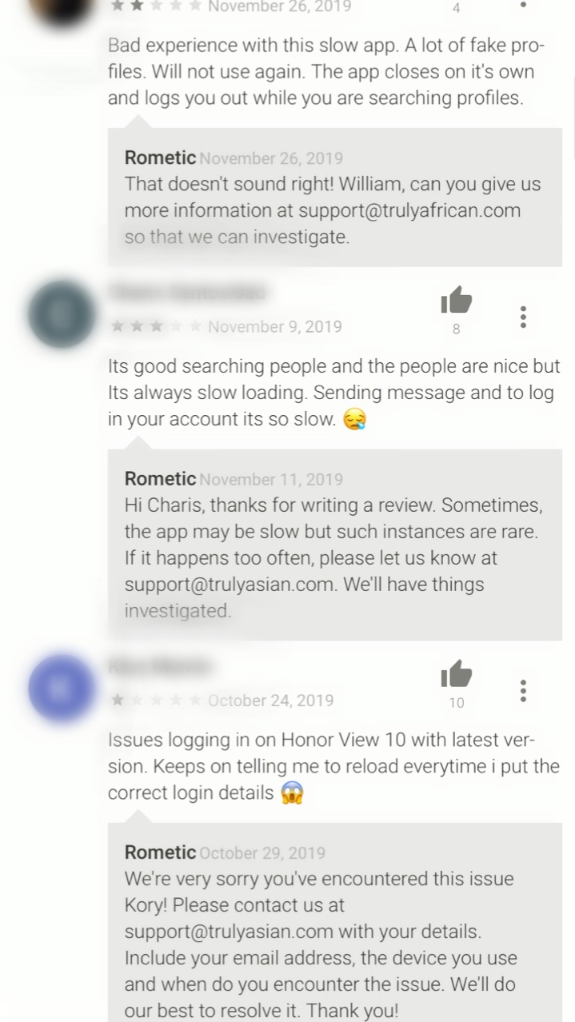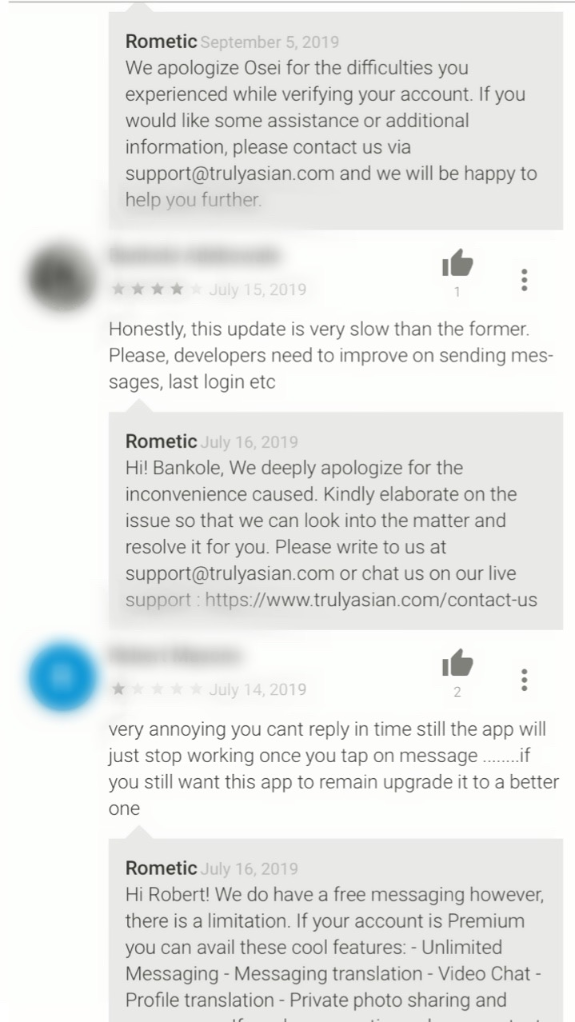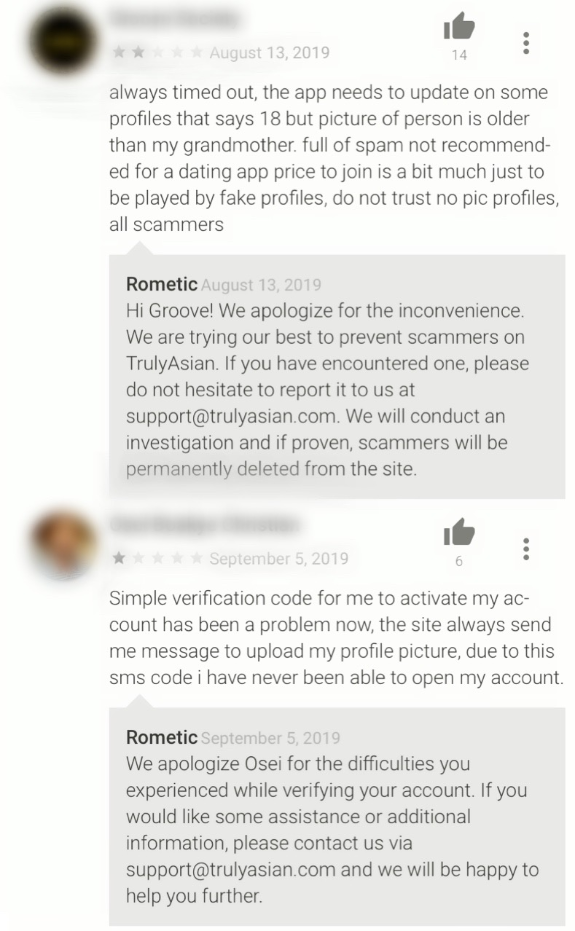 Google Play
I researched and collected reviews from Google Play. All people here complained that Truly Asian is so slow that they have not got replied or can't reply to woman / man. Some users also complained that there are people who are skeptical of spam or fake accounts because though they set their age as 18 or 19, their appearance is totally much older than normal 18 or 19 aged people are. I also found one skeptical account which has possibility to cheat us; a spam account.
How to reveal spam accounts
If Truly Asian was compared with Tinder, the population, the scale and the variety of Truly Asian is far smaller than Tinder's ones are. That means the variety of fake accounts' type isn't such wide but quite narrow, thereby you can distinguish whether the fake account or not easily. To be honest, the variety are the account which tries to induce you use money for themselves and the account which attempts to send unknown sites.
Sexual fraudulent deception
This former one is categorized as likely "Sexual fraudulent deception". In this case, the opponent, especially women side often offers to meet you in real or approach to you really aggressively in order to allure you or the profile which has distinction between their age and their visible outlook from pics they posted is supposedly obvious would also attract you to make you pay money into something of cum girl website and the like.
Thus, if you realized that she is greatly aggressive towards me, you might need to heed her successive utterance. This kind of deception includes people who set much younger than in reality on their profile. That's supposedly like to fake accounts or spam accounts. For example, the four pics
I show below are skeptical because although they set their ages as 18, 23, 18, 18subsequently, they don't look like 18, 23, 18, 18 at all at any case. Actually, some persons complained about this issue on Google Play's review.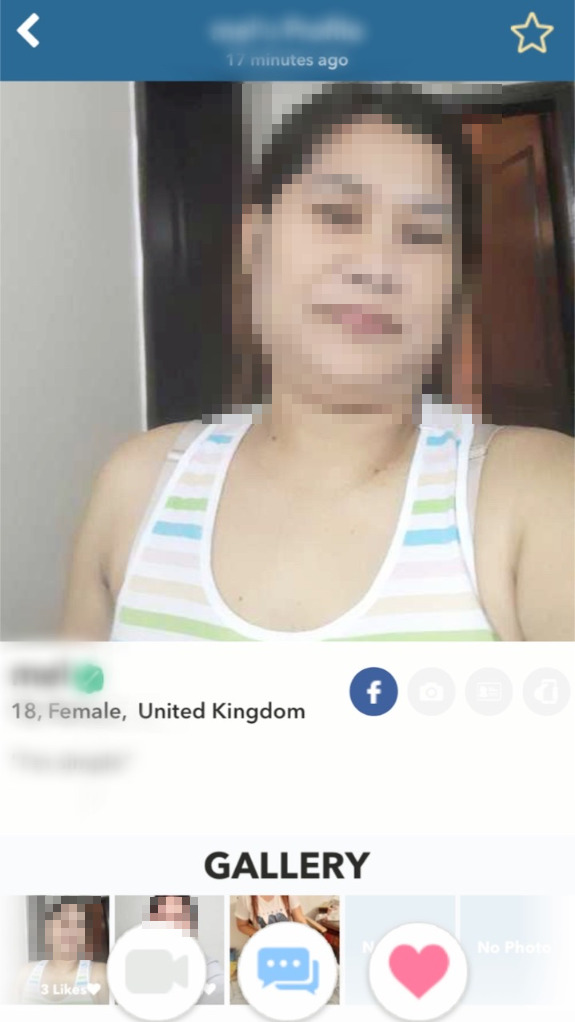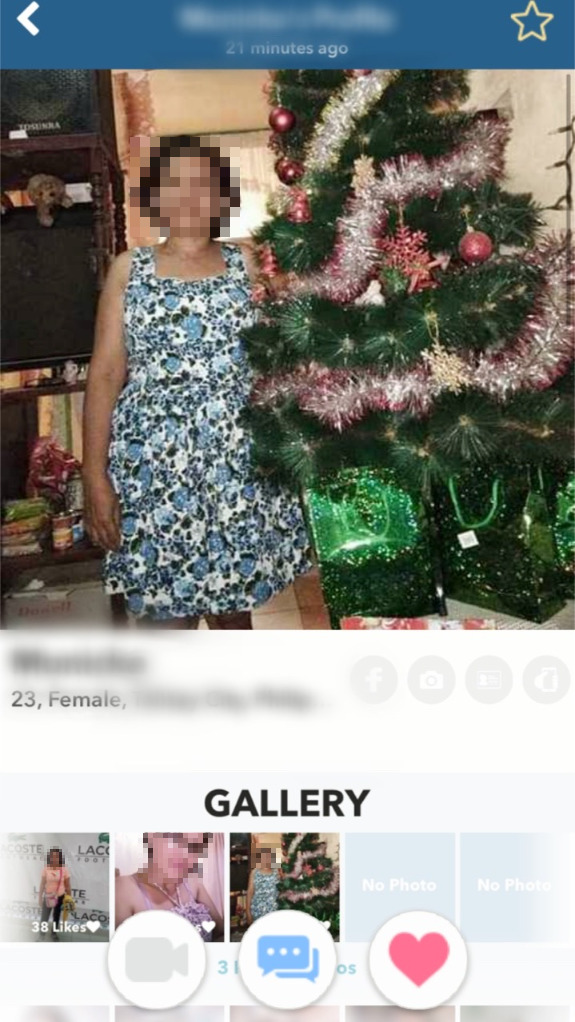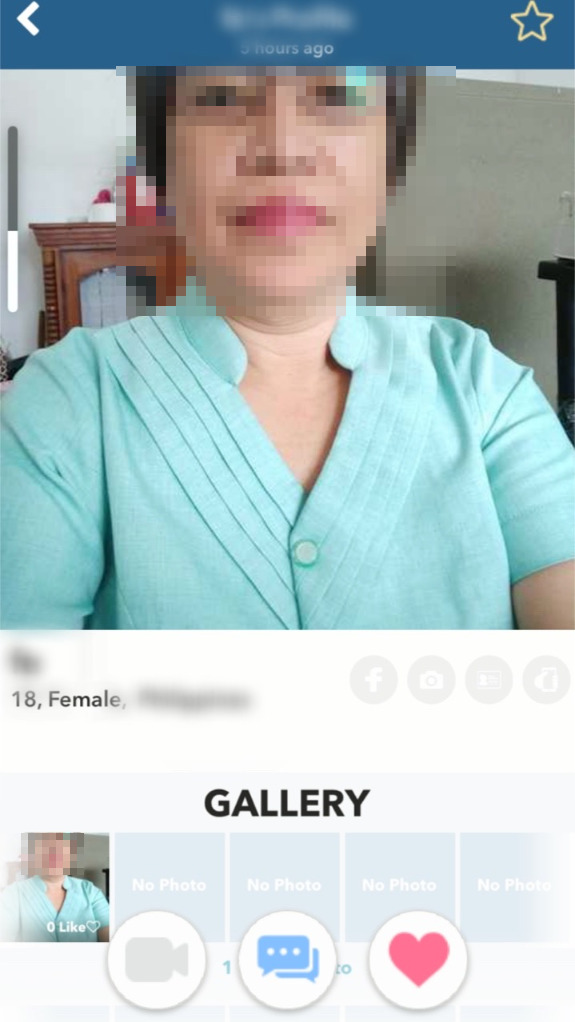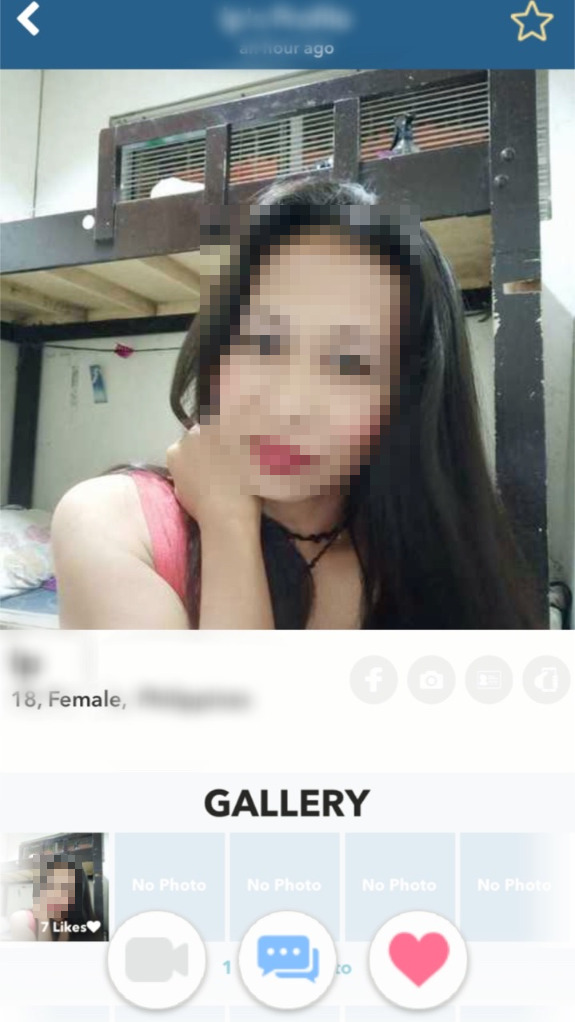 Unknown evil site
The latter one, although this type seems rare on Truly Asian, you should pay attention to "evil sites" that attempts to send bogus unknown sites which have feasibility to steal your personal information. In this case, they set up nothing of bio or pic on the profile as showing below. It is the worst case that people who set up only NAME, Age and Country approach to you. Because every one can type these information without photo / selfish validity. The treatment against this one is just to ignore the URL that they send. Once you even open the URL, you might get scanned your information and the site would transmit them to somewhere where people who scheme deceptive plans operate behind the scenes. Just ignore it.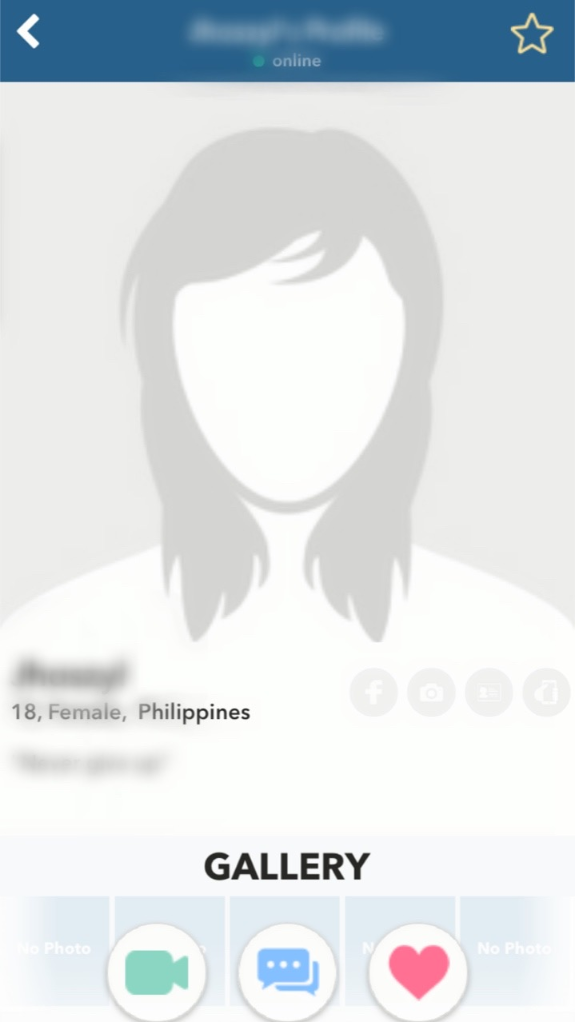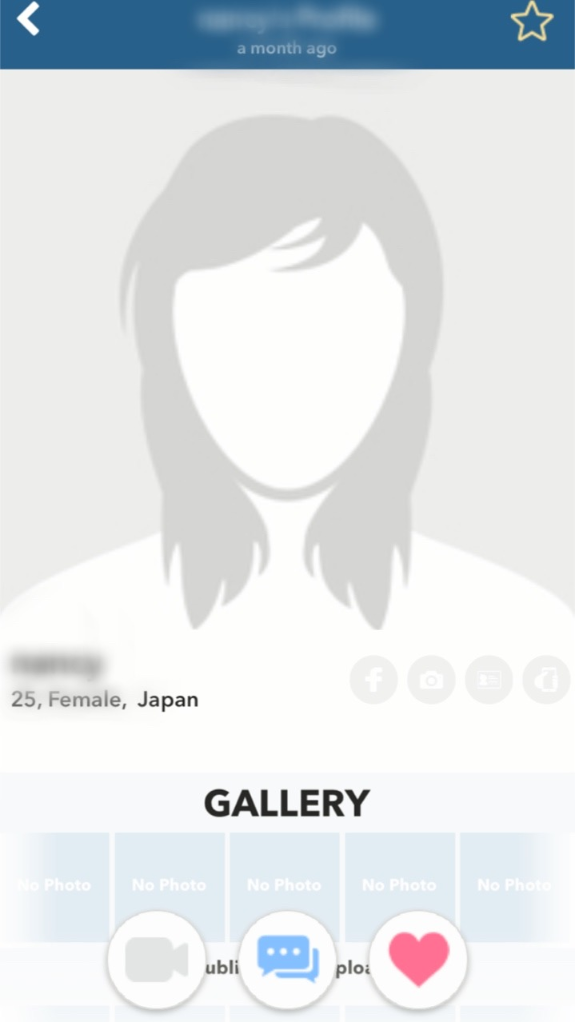 Conclusion

In terms of fake account, I don't think you need to heed this type of persons much. However, it appears that there are some drawbacks on Truly Asian.
First of all, it is quite slow as I introduced on the user feedbacks section. This is crucial paucity of capacity of Truly Asian's function.
Second of all, the countries where the users are from are not broad as the exposition mentions as you can search people from around Asia.
In addition, their age portion is on average higher than I anticipated. As long as you are the person who likes to middle-aged persons.
Last but not least, when it comes to a wary of fake account or so, it is not fundamentally problem but there are lots of problems other than that.