Tourbar Review
— TourBar.com (@TourBarCom) January 31, 2018
Tourbar is a niche meeting app which is especially designed for travelers to meet abroad as travel buddies or a travel partner. Travelers going abroad may also locate a native to act as their tour guide around the city.
Tourbar Verdict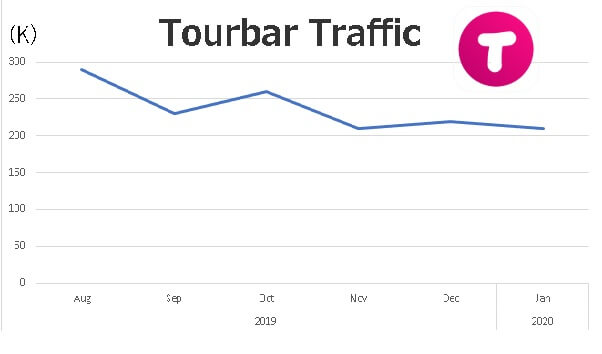 Tourbar is a great app for people around the world to connect and meet. Everything sounds good on paper but what's the catch?
Aspects
Comments
Pros

· App is available on both iOS and also Android. Sign up procedure is extremely easy with multiple options to choose from.

· Tourbar has users from all over the world, so it is suitable for frequent travellers to meet new people and form new bonds.

· Profiles on the app has to be verified via either ID verification, phone verification or photo verification.

· Complaints in regards to the app will be replied speedily within 24 hours. Customer service support is available in two languages, English and Russian.

Cons

· Limited amount of conversations with other users per day and users can only start a conversation with each other when both parties have mutually favourited each others profile besides premium users.

· There is a few number of fake accounts circulating on the website. Besides that, some users on the website are not looking to travel.

· Sketchy handling methods in regards to personal information and privacy, in which users have commented that their profiles have been meddled with.

· Premium membership is expensive.

· Customer service page on the website is only accessible to registered users.
In conclusion, Tourbar is an app that looks good on paper but is shown to be sketchy in regards to the user interface.
Though the original purpose was for travellers, the app has been misused as a method of scamming other people or for users to simply market themselves.
Personally I would not recommend this app as there are better options in the market.
How To Use
Sign up for an account via social media or e-mail.

Add things to your profile and verify your account.

Search for people who you have the same travel plans with and start chatting with them.

If plans do work out, you now have a travel buddy or a potential life partner!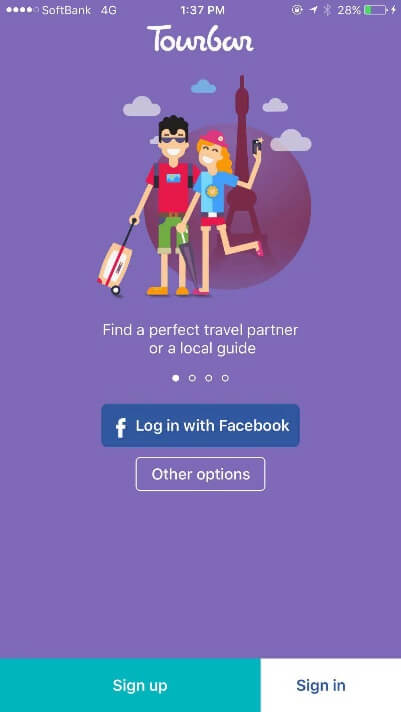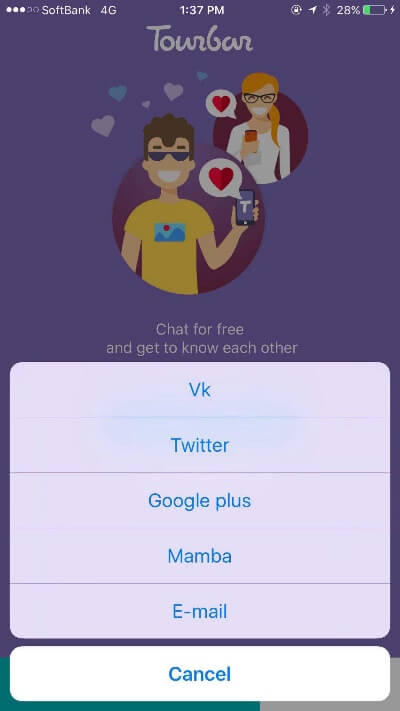 Signing up for Tourbar r is extremely easy to do so. The app allows users to register for an account via social medias such as Facebook, Vk, Twitter, Google Plus, Mamba, or simply by e-mail.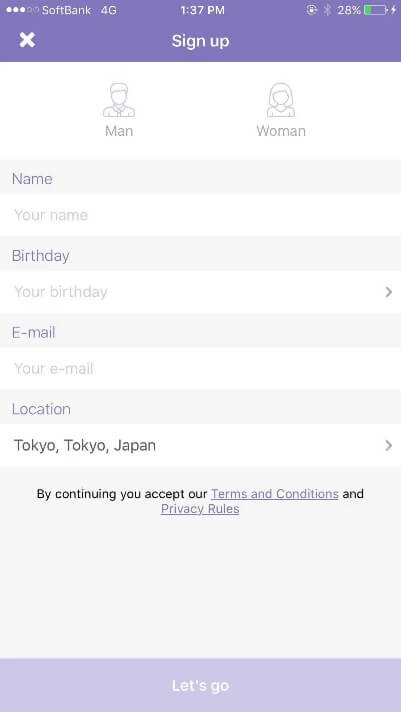 Next, users are asked to fill in basic details of themselves. Allowing access to location helps other users to know where you currently are.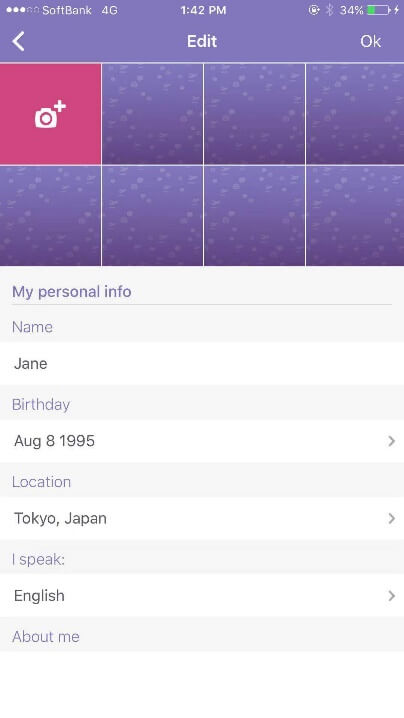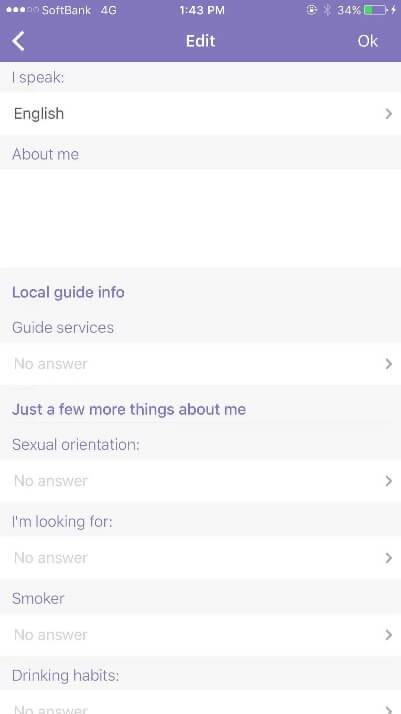 After that, users can click on the circle icon with a pencil on top. This allows you to curate your own profile for others to see.
Users are encouraged to upload more photos of themselves to appeal to other users.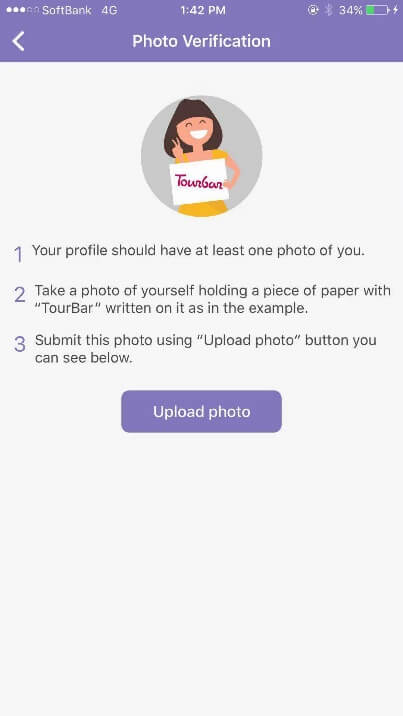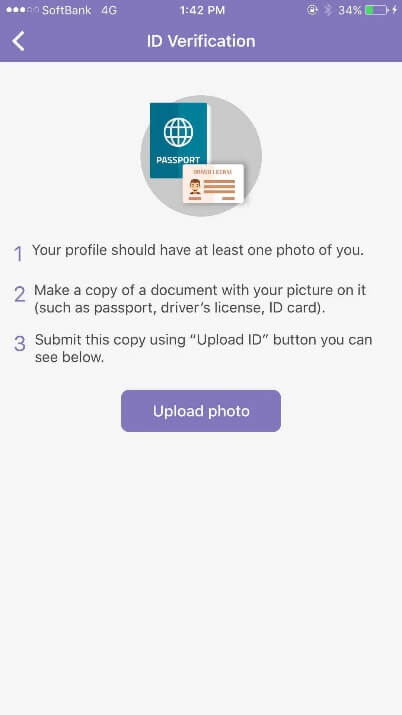 Users are required to verify their account via Photo Verification, ID Verification or Phone Verification. Information submitted will be sent to be reviewed, which will take approximately a few hours.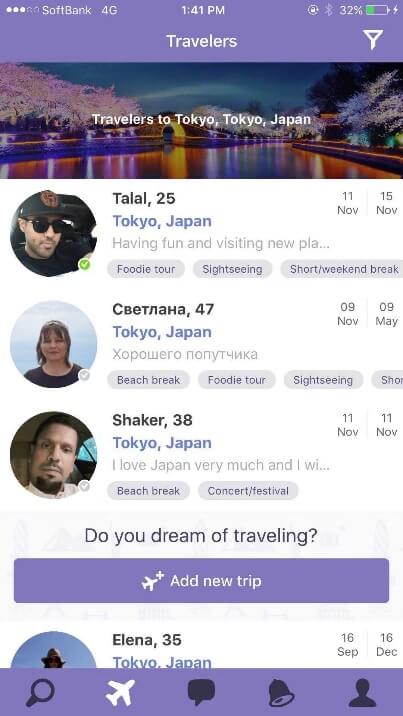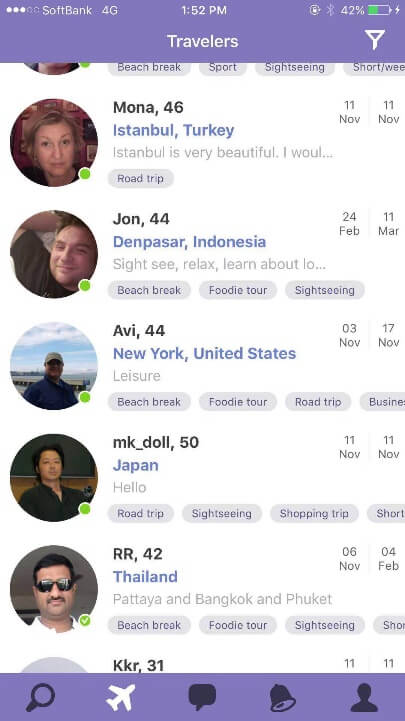 Based on location, travellers who have planned to come to your city will be shown at the top of the search.
The blue text indicates the location where they want to travel to, which you can view in detail when you click into their profile.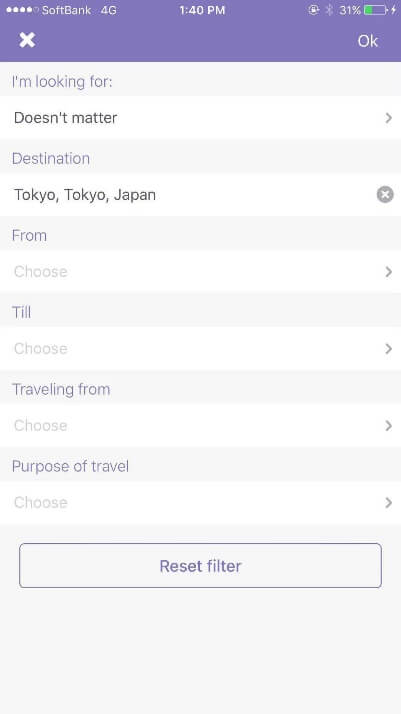 Profiles that appear on your feed can also be filtered.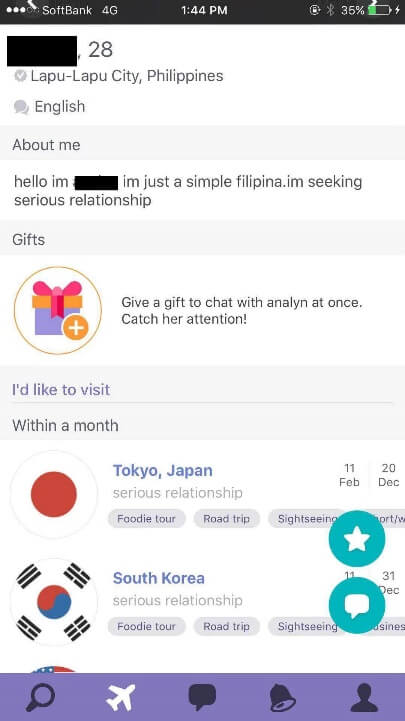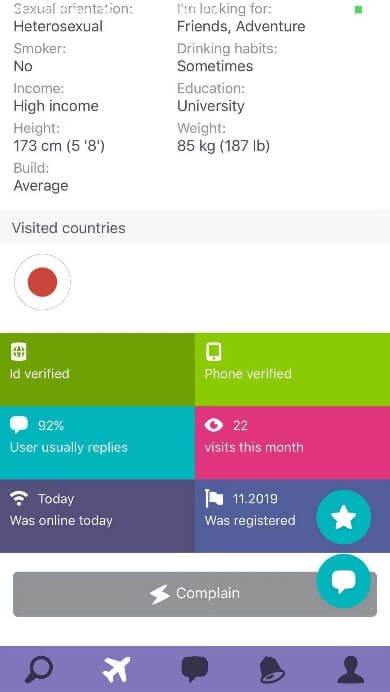 Users can view detailed information about Travellers that they are interested in and their respective travel plans.
At the bottom of a profile, you can decide if a profile is legitimate by whether or not their profile has been verified.
Besides that, you can also view how active a person is online and when they started using this app.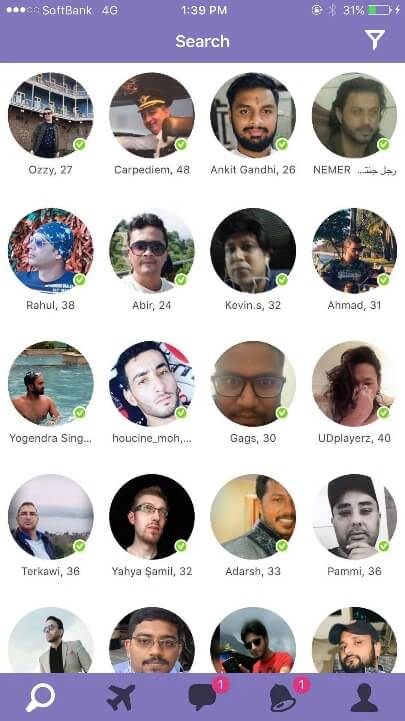 Besides the Travellers page, users can also search for more users from the Search page.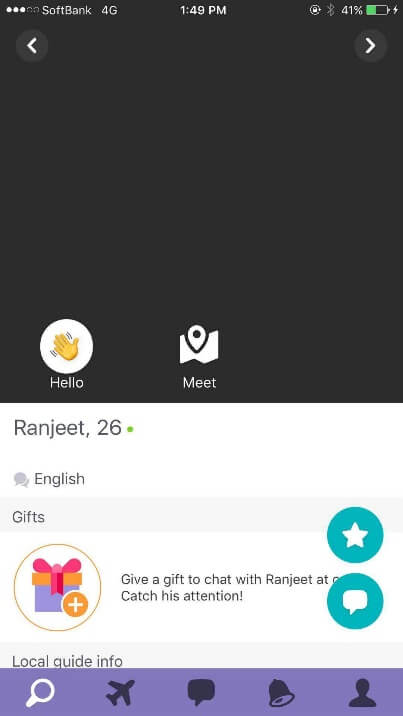 Users can like a person's account by adding them to their Favourites by pressing the star button. (Premium membership allows users to conceal their identity and only to be viewed by Favourited profiles.)
You can start a chat by pressing the chat bubble icon.
Tourbar Fee
Basic functions on TourBar is free but with some limitations imposed on users. When you first join the app, there is a 7-day free trial to try. But users should be careful and remember to cancel their membership as the app relies on an auto-payment system.
Fee
$29.99/month
Premium Plus $29.99
Special Features
· Communicate with an unlimited amount of users without any restrictions.

· Make your profile visible to only people you have liked on the app.
(Premium users are able to filter types of people who are allowed to view their profile.
For example: Registered Users, Verified Users or Favourited Users)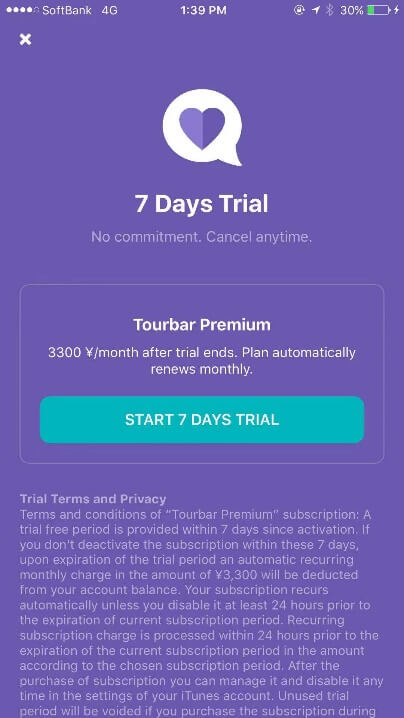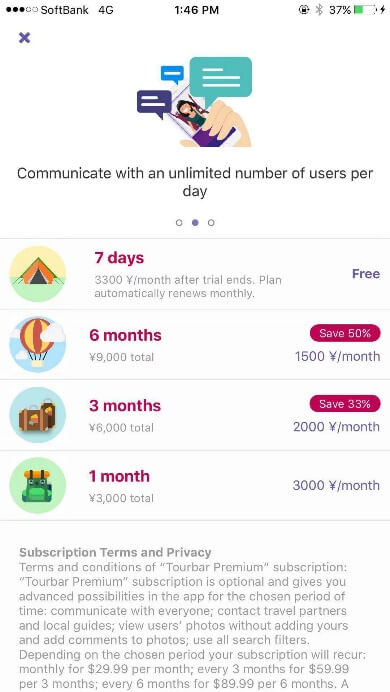 Tourbar User (Male to Female Ratio)
By 2016, TourBar has celebrated 1 Million users on its app. In 2018, the app now has 3.5 million users from all over the globe. Statistics have shown that 85% of the app's female population is under 35 years old coming from developing countries such as Brazil, Philippines and Russia.
On the other hand, 74% of the male users are over 30 years old. Most of them (60%) are from well-developed countries such as Europe, Northern America and the Middle East.
DatingNews.com
【Feb.24.2020】
Gender Ratio
Traffic by Countries
SimilarWeb
Tourbar Review
The average review on Site Jabber for TourBar is 5 out of 5 stars, whereas the rating for Android App Store and iTunes is 4 out of 5 stars. Albeit the high rating, when you scroll down the reviews are not as great.
sitejabber
Pros


Users have commented on the fact that customer support service is quick to reply when it comes to user complaints and resolves problems that they may have within a short amount of time.
Cons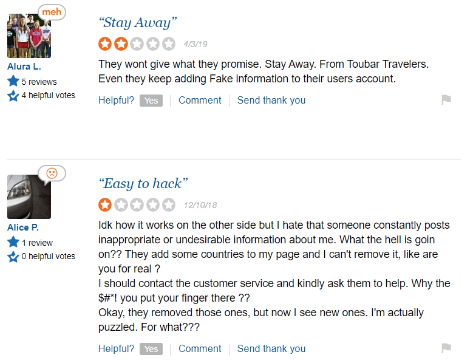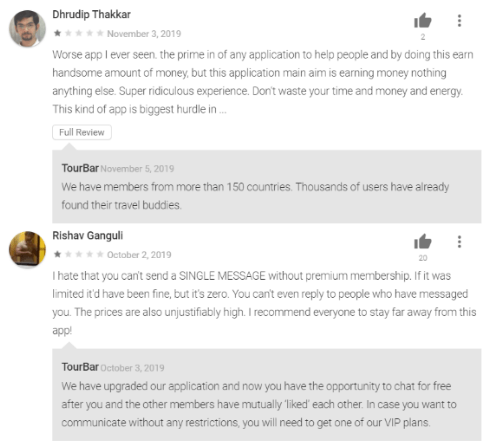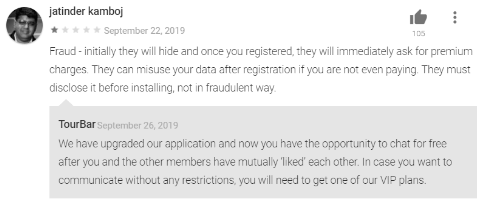 Some users have complaint that the app will meddle with your personal information, such as changing your profile information without any permission given. There have also been reports of fake accounts on the app, which luckily will be removed when reported to customer service.
Besides that, TourBar has been said to have minimal to no function if you do not pay for premium. For example, users have been unable to initiate a conversation without paying for premium. On top of that the fees for premium membership is said to be expensive, given that the users on the site are mostly from third world countries.
After searching through the app's user list, there is a vast majority of male users that are from Middle East and female users from Ukraine or Russia.
How to Sign Out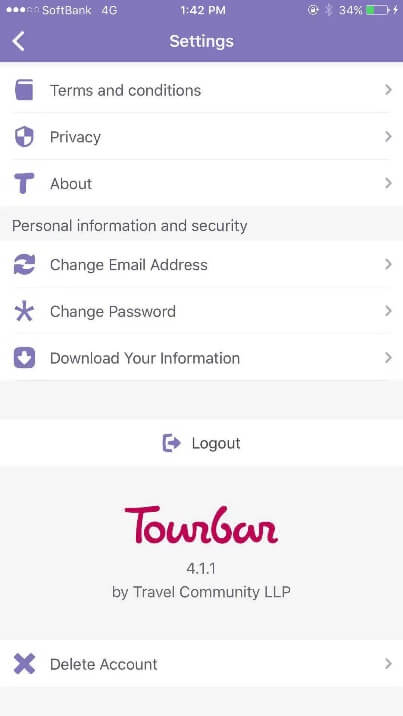 Users can simply log off from their account by going to the Settings option, scrolling to the bottom of the page and selecting Logout.