Tinder-The Comparison between Free Membership and Premier Membership
What I thought was love was really just the beginning.https://t.co/Dywh5TfBFa

— Tinder (@Tinder) May 21, 2019
@Tinder
The Distinction of Price with Perspectives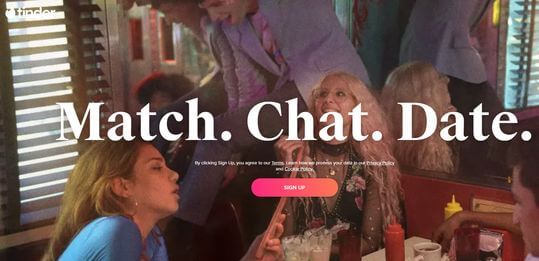 Tinder is a great app to look for casual relationships or friendships.

Tinder is basically for free. You can text countless messages and exchange other SNS such as Snapchat, Messenger, or Whatsapp.

You can make the most of basic functions in order to match and meet for real. Nevertheless, there are a lot of people who register for the premier membership.

What kind of privilege are you able to get if you registered for as a premier member and how do they work on Tinder as well.
Functions You can be Available for Free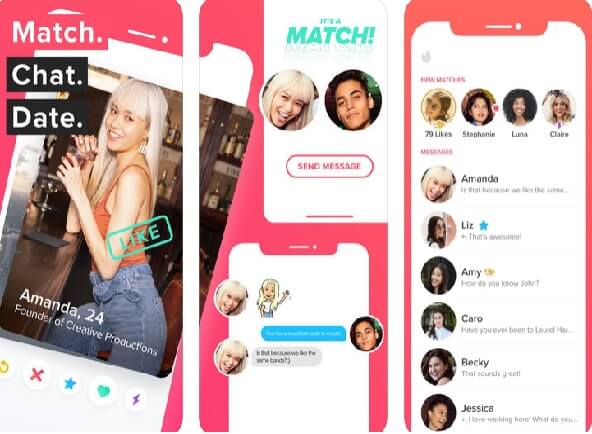 You can swipe opponents, whether you like or not and send messages countless only if you matched for completely free.

These advantages are really excellent as well as reasonable because if you were a student, you would not have enough money in order to put your own money in skeptical apps even though you are not sure whether you could succeed in meeting.

When it comes to swiping like / dislike, you can do that 120 times on half a day without any money.

Normally, a certain dating app allows us to swipe from 30 to 80 times on month, not on day much less on week. There are less opportunities to match someone and send messages than Tinder definitely, which means you would match much more to use Tinder than other apps.
What kind of Function does the Premier Membership have?
As long as you use the premier membership, you have to put money regardless of gender.

Under no circumstances should you put money as long as once you are determined to get the membership.

Tinder Plus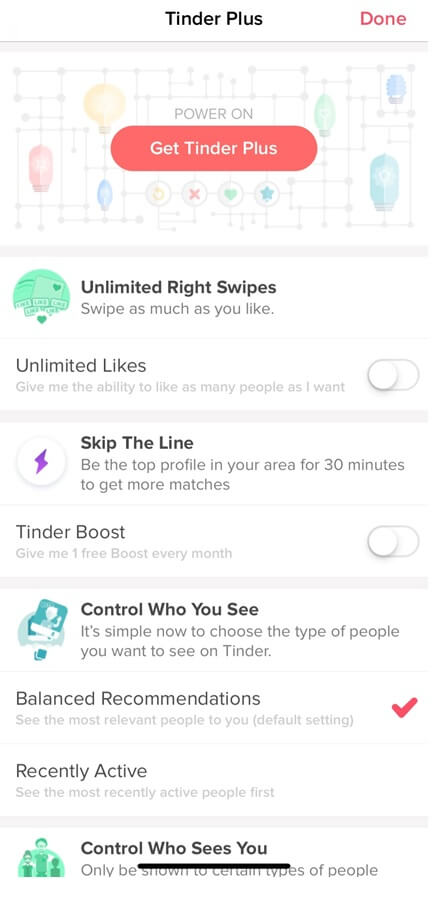 There are two plans for premier members. Tinder Plus is more reasonable than another one. You use it from $8.47 as the most reasonable plan.

Tinder Plus: You can swipe right in a limitless way and there are other privileges!
| | |
| --- | --- |
| One month | $20.32 |
| Six months | $12.71 per month |
| Twelve months | $8.47 per month |
Things you can with Tinder Plus
You can swipe countlessly
The increase of the ratio that you succeed in matching
Control of your privacy
Passport
You can "Super Like" five times on day
The setting of your profile
Rewind
You take away advertisements covering up on your screen
Tinder Plus Functions
1. You can swipe countless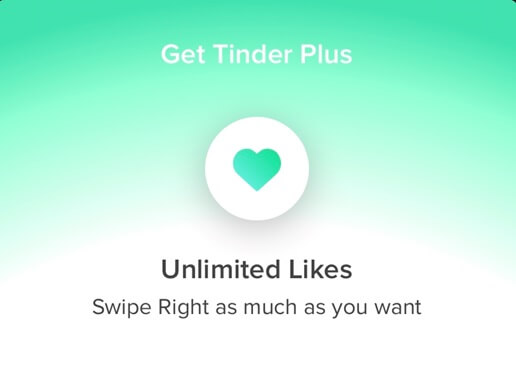 It is valid to swipe right countless times. It sets free to swipe right! You can swipe any times you want.

Beforehand you can swipe 120 times on half a day, which means 240 times on day without the registration of the premier membership.

If you get the membership, you should get privileged to swipe in a countless way.

That is a unique point of Tinder because Tinder has a bunch of users all over the world so the more you have chance to be able to swipe, the more the opportunity which might be able to meet for real comes to you.

Nonetheless I think 240 times is quite affluent and from time to time I feel "oh it's too much. I can't handle all them".

2. The increase of the ratio that you succeed in matching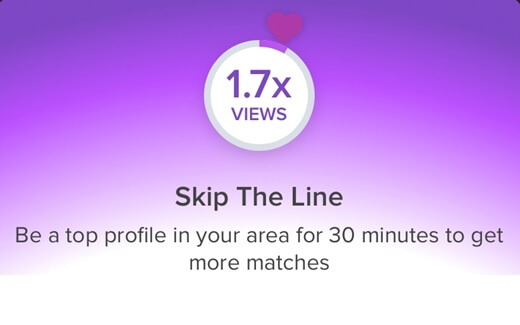 The spread of chance! You can enlarge the possibility to match to show your profile at the top of Tinder

As long as you get the privilege, it will allow you to use Boost function.

That function gives you much more chances to meet someone to show your profile as the most priority person around your area. It is like focusing on quality rather than quantity as the former feature states.

I personally think if you had confidence about your own profile, that would the most effective way to match girls. Naturally it would increase the opportunity.

3. Control of your privacy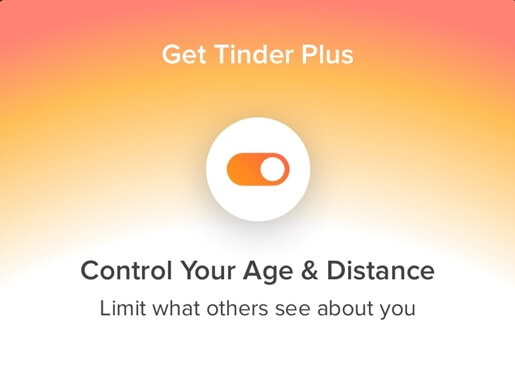 Order of the privacy: You can restrict your own profile in order to show your profile only those who match you.

That is a simple function for those who wants to keep your private data on your profile. It is recommendable for the people.

On the other hands, if you thought that you want someone to see if your profile, this function doesn't work because it protect your profile from seeing by someone. You need to consider to adapt this to your option.

4. Passport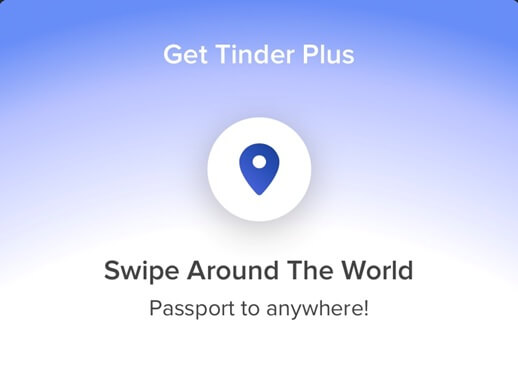 Swipe all over the world: You can set your location freely everywhere in the world. Just find the match even while you are on a trip!

You can set your address and change it as well depending on where you are at the moment. It could be useful when you are on trip or somewhere by work trip.

And unexpectedly, it tends to increase the ratio of the feasibility to succeed in meeting for real while you are on a trip or so rather than using it in your area because the more you use and "like" someone at the area, the less people who you could meet near your place, which is going to be saturated in terms of people.

In other words, this function works as a literal passport in order to look for someone who lives in the place where you are visiting.

5. You can "Super Like" five times on day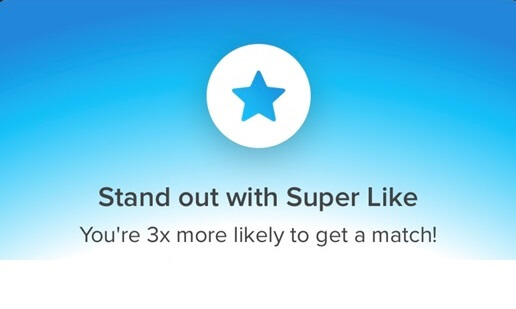 5 super like per day: You get five super likes each day, and it increases the possibility by triple to succeed in matching someone.

Without the premier membership, you only can do that once in a day. It enhances the feasibility to match someone by triple to get the privilege because it appeals your profile to other people's Tinder.

Besides, based on my experience, I have ever found that girls say "I only like the guy who super liked me."

It implies as long as you have much more possibility to match this type girls to make the use of this system even if you were not cool.

6. The setting of your profile
That is quite a handy function.

It sets your profile, especially your important private information conceal to everyone, and it shows only those who match you.

That prevents you from being revealed that you use Tinder by your friends or maybe your lover. Needless to say, it would be a big trouble and pull something of trigger to break out something of bad stuff.

7. Rewind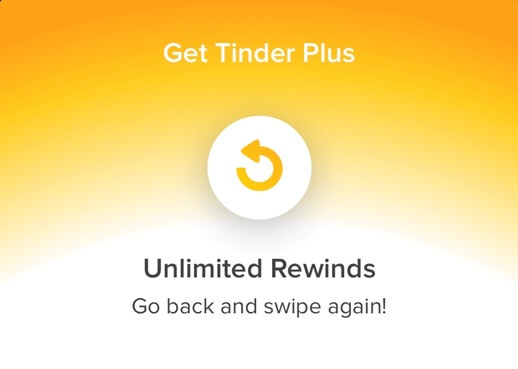 This is a function that you can re-swipe only once even if you misjudged to like / dislike. You can correct your decision only one time. It surely happens to everyone who once has used Tinder.

It makes me sort of irritated to misjudge. To make matters worse, it would make you feel disappointed in case the opponent you misjudged liked you.

8. You take away advertisements covering up on your screen
Originally, though Tinder doesn't have a lot of advertisements. It eliminates all of them completely.

Tinder has far less advertisements appearing on the screen while you are using the app than other matching apps.

At worst, every time I send a message or close the app, it appears to me so I feel distracted what it supposes to disturb me.

Tinder Gold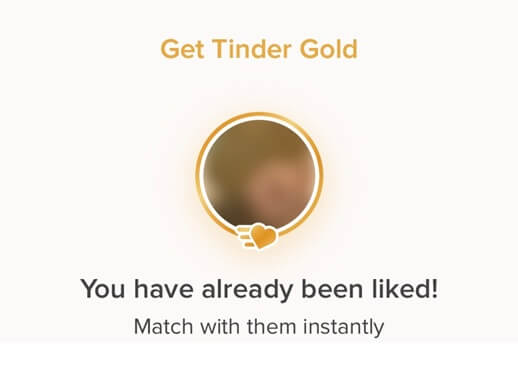 Tinder Gold: Be available for the best functions of Tinder!

This is the most premier plan which is called Tinder Gold. The price is inevitably a little more expensive than Tinder Plus. However, the variation of them is utterly abundant.

One month
$30.52
Six months
$19.26
per month
Twelve months
$12.91
per month
Things you can with Tinder Gold
The pic implies that if you were not a premier member, you neither could check who liked you nor visit the profile, much less see the face.

You are just going to be informed of how many people did like you. And the pics are foggy as the pic shows to us.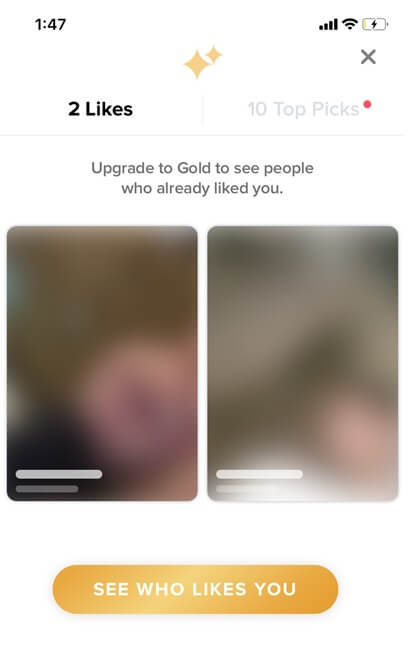 On the premise that you utilize the all Tinder Plus's functions, you can confirm someone who liked you additionally.

When you use Tinder for a moment, you get liked by someone from time to time. You couldn't confirm who liked me without adding this function.

Other premier items
Tinder has other privileges you make the use of increasing the feasibility, which are "Boost".

You can purchase this function separately. One boost costs $4.07. As long as you get Tinder Plus, it automatically adds to your plan as once on a month.

The other price table:
One boost
Five boosts
Ten boosts
$4.07
$3.04
per once
$2.54
per once
Super Like
That is also a function that you can purchase separately. This is kind of a unique one because you don't purchase it as one time, which means at least you have to purchase a pack of five times.

The other price table:
5 super like
25 super like
60 super like
$1.01
per once
$0.81
per once
$0.68
per once

However, that is also the stuff that you can take it on Tinder Plus.

In addition, as long as you get Tinder Plus, it gives 5 super likes and if it converted into on a monthly basis. It would be 150 super likes.

I really recommend you to get Tinder Plus or Tinder Golden because these functions that I introduced here already includes in Tinder Plus and Tinder Golden as well. Purchasing the plan itself is bound to be better.
Should You become a Premier Member?



GooglePlay

On the major premise that you either could match or meet someone for real without any money, as long as your profile is fashionable or notable.

Actually, though I am a free member, I have succeeded in meeting girls surely. I don't force you to get the privilege but never you have met someone once or if you perceived that you have not matched girls recently, it must be helpful to match them.

The price is far reasonable than other dating apps even if you made up your mind to get the privilege. They could be available from less than approximately $10 to less than $30 so it is an option to enroll in once.
It never happens what you can't quit it if you thought that is not suitable for you.

Although I am emphasizing on the variety of the functions, they have much such as reinforcement of the privacy, gain the items which fosters increment of the ratio of the feasibility, and confirmation people who liked you so by and large I don't think it's worthless to get the privileges.
Conclusion
Sometimes a blue checkmark works against you.https://t.co/jYFj9bUlFJ

— Tinder (@Tinder) May 18, 2019
@Tinder

As a matter of fact, Tinder is a totally rare app as well as is different from other apps because the fundamental function is basically for free. You can meet without any money.

It couldn't exaggerate this feature anymore that's why Tinder is the most popular matching app in the world.

Even if you got the privileges, they are not as high price as other stuff so you don't have to worry too much to utilize the premier functions.

I personally think it is absolutely up to you whether you are going to get the privilege or not, plus I also think whichever is fine.

If you were looking for friends or lover who live near the place you live in or you stay while you are on a trip casually, this app would be the most helpful for you I am sure.

Lastly, I really hope you have a good luck with your Tinder life.