Seeking Arrangement- SNS and News
What is Seeking Arrangement?
Seeking Arrangement is a Sugar Daddy/Sugar Mommy dating site, where an arrangement is made between two users or more who are looking for a mutually benefiting relationship.

Albeit the typical stereotype and escort lingos being used in forums privately by users for easier communication, Seeking Arrangement has an emphasis that it is not an escort site, and escorts/prostitutes are not allowed.

Mentions of sexual exchange or escort lingos are banned to be used on Seeking Arrangement.


Seeking Arrangement was established in 2006, by MIT graduate Brandon Wade who has also launched other meeting/dating apps such as WhatsYourPrice, MissTravel and OpenMinded.

Seeking Arrangement is currently available in 139 countries and only on Android and PC Website.

Based on Similar Web, the dating site has around 11 million plus monthly traffic into the Seeking Arrangement and an estimated revenue of $31.1M.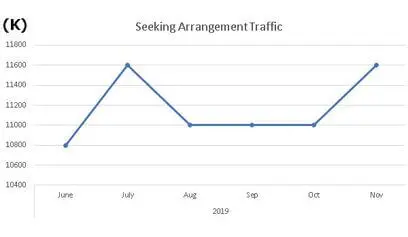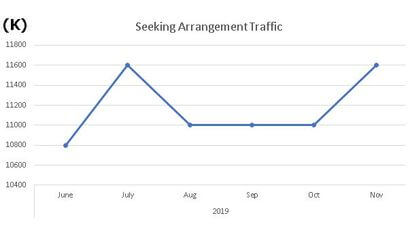 Seeking Arrangement Social Media
Seeking Arrangement is relatively active on social media to promote their dating site and to keep their users active and entertained. Seeking Arrangement is on social medias such as Facebook, Instagram, Youtube and Pinterest.
Facebook
Seeking Arrangement's Facebook is mostly posts about inspirations and press releases by news.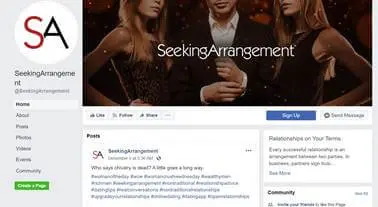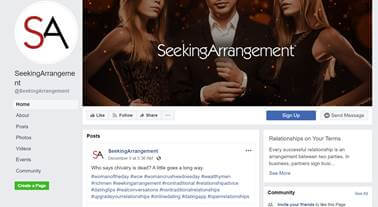 (SeekingArrangement facebook )
Besides that, the founder Brandon Wade also has his own Facebook page where he posts about his political stance, personal views on his creations and et cetera.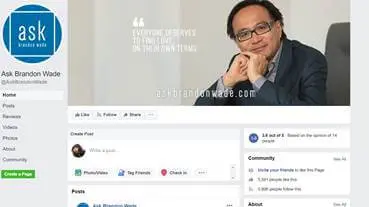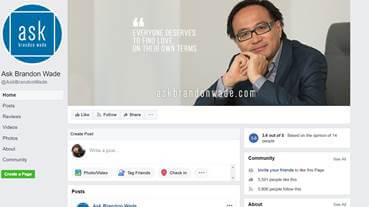 (Ask Brandon Wade)
Twitter
Sign up for Seeking Arrangement to meet real Sugar Daddies and Sugar Babies. https://t.co/nXqvU6rnP1

— Seeking (@seekarrangement) December 26, 2019
Their twitter account is also actively updated mostly to notify users about latest updates on blog posts/livestream events and also public safety announcement to users on how to navigate the site and communicate with users.
Youtube
Seeking Arrangement's Youtube channel has a mixture of gossip and also insight to what a Sugar Daddy/Sugar Baby's lifestyle is like.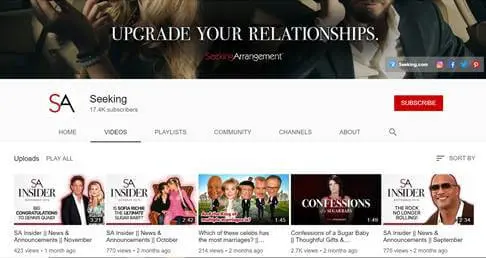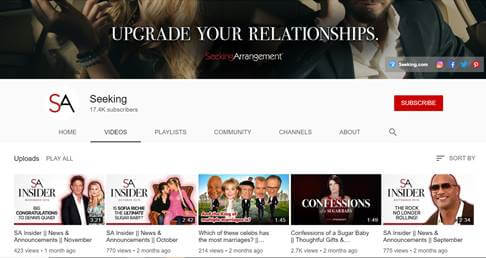 (Seeking Youtube)
Instagram and Pinterest
Seeking Arrangement's Instagram and Pinterest accounts and posts are well curated in order to feed users what the ideal lifestyle as a sugar baby is.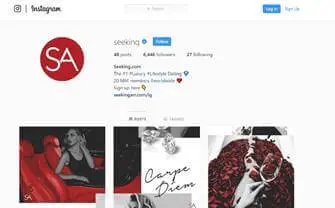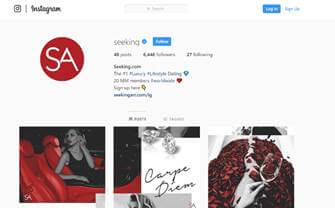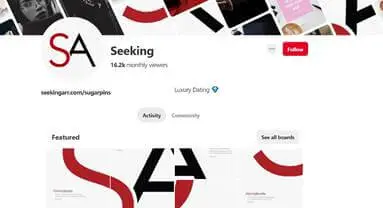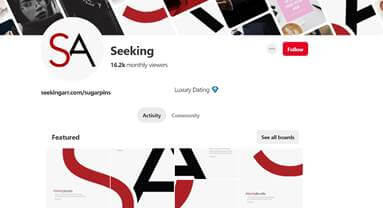 (Seeking Instagram)
When hoping for fast customer service, some users may spam Seeking Arrangement's social media accounts, usually Facebook and Twitter private messages or by commenting on account posts.
Latest News and Scandals
Though the gist of having a Sugar Daddy/Sugar Mommy does seem appealing, to have someone to pamper you and being spoiled by, things are not always as they seem to be. Albeit profiles of Sugar Daddy/Sugar Mommy's net worth being written on their profile and bios, not all profiles have been checked and background verified.
One of the dangers that Sugar Babies may face is, promising to meet up with a Sugar Daddy, only to know that he has a completely fake identity, and ending up losing money in the arrangement.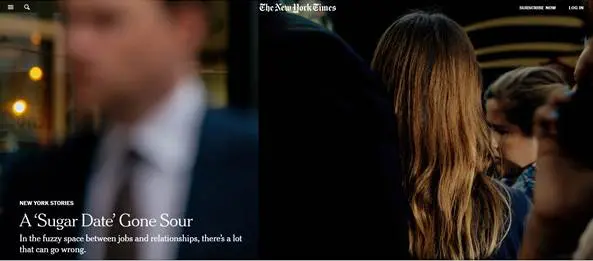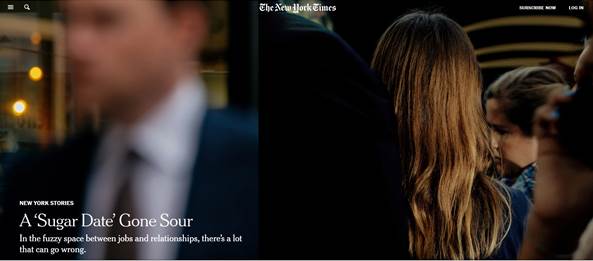 (Source: The New York Times)
For example, one of the Sugar Babies on Seeking Arrangement has exposed a man who has said that he is an investment broker and is willing to pay for in exchange to sexual services, but ends up being a student in Brooklyn who is working towards his Master's Degree. People on Seeking Arrangement may not be what they say they are.
The 'Sugar Daddy' said that he was willing to give $2500 to cover for hotel and makeover fees, asking for a smoky eye and nude lip. Yet, the Sugar Baby ends up paying for the hotel room, a makeover herself. In the end, she got scammed as her PayPal transaction request of $1700 got denied.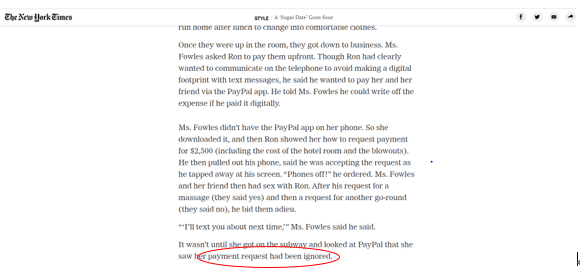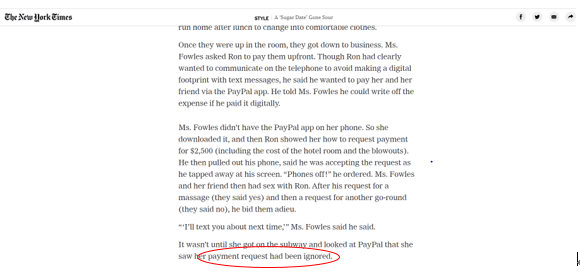 The Sugar Baby's case was more special as she was able to find out the true identity of the scammer, and exposed him on a podcast. When the truth was unfolded and the story was posted on news, there were a total of 5 Sugar Babies who got scammed by the same man with the same methods.
Seeking Arrangement's customer support responded by blocking and keeping track of the user's IP address. But this does not stop him from scamming other users on other sites.
Therefore, Sugar Babies should be more precautious when going to an arrangement and always ask for cash upfront in order to prevent scams.
But, it's not only Sugar Babies who are potentially getting scammed or harmed in an arrangement. Sugar Daddies/Sugar Mommies potentially get the short end of the stick as well.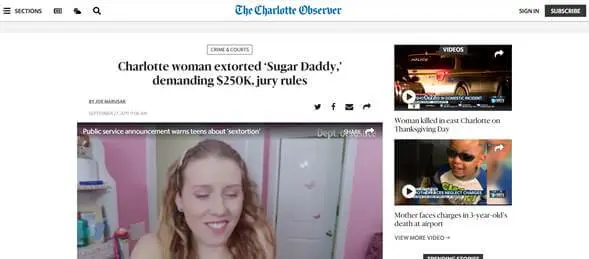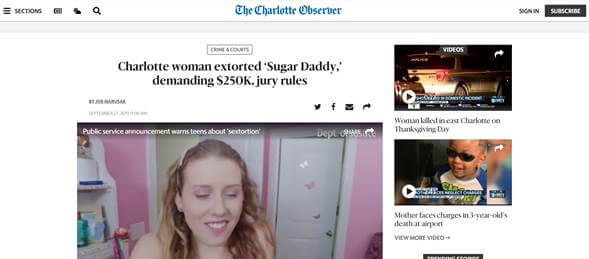 (The Charlotte Observer)
Seeking Arrangement is a mutually benefiting site for both high profile Sugar Daddy/Sugar Mommies and Sugar Babies who need a provider in their life. But, some of the users may have complicating relationship issues in their life, such as the fact that they may be looking for an affair out of their marriage.
Which in this case, the Sugar Baby has to withhold and keep confidential information in order to maintain privacy of the Sugar Daddy/Sugar Mommy.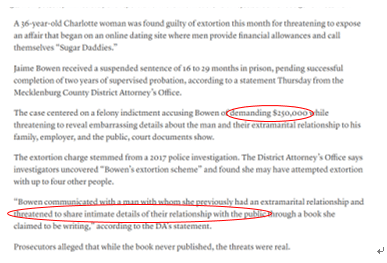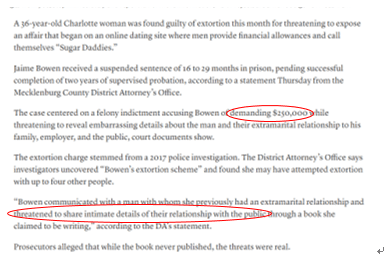 In this case, an arrangement has gone sour and the Sugar Baby is blackmailing the Sugar Daddy for money ($250,000), threatening to expose their relationships to his family, employer and et cetera, in order to defame him.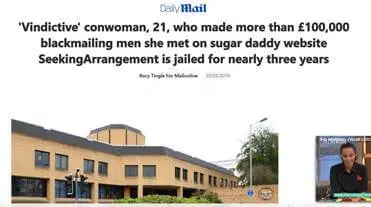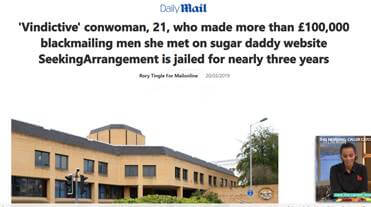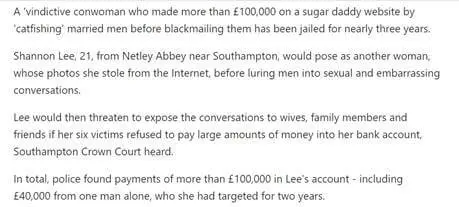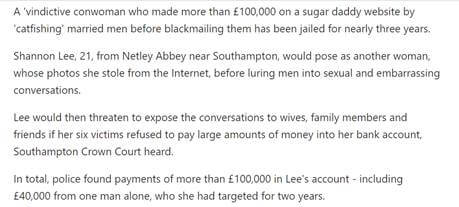 (MSN NEWS)
Sugar Daddies also often times get their money swindled by 'Sugar Babies', by catfishers, sob stories or black mailing. Often times a combination of them all.

(Source: Trustpilot)
To give further prove that not everyone on the site is as generous as it is marketed as, there has been reviews from TrustPilot stating that some 'Sugar Daddies' are looking for sexual services for cheap, or unwilling to give allowances/gifts.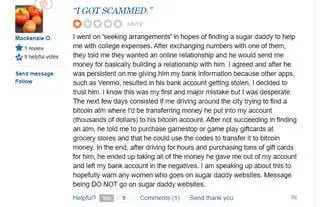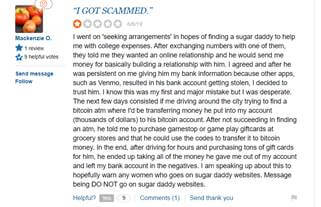 (sitejabber)
Users who pretend to be Sugar Daddies might also swindle innocent girls who are desperate for money and leaving them in more debt.


In conclusion, regardless of status, users should always be precautious when it comes to picking who to trust. Personal information should not be shared to strangers online or on first dates. It is always good to keep in mind that albeit their profile picture is real and that you have met them in person, this does not mean that you should let down your guard.
Privacy Policy of Seeking Arrangement
First of all, payments for Premium Membership is well regulated to prevent hacking or leak personal information online. Seeking Arrangement's online credit card transactions are processed by MultiCards.


Basic data and information is collected such as location, zip code, IP address and et cetera. These information are automatically recorded into the server. Additional information might be needed and obtained from third party sources in order for background checks and fraud prevention.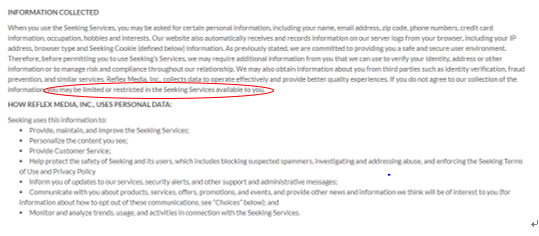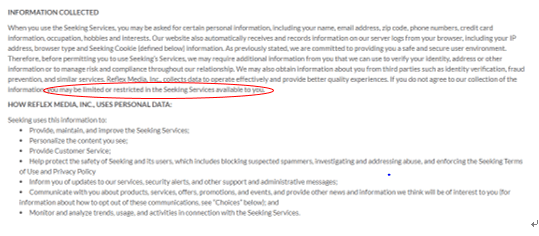 One thing to take note of is that, if a user does not agree with the data collection, the app may be limited or restricted to be used.


Information and data collected is used normally as other dating websites, for purposes such as marketing, data analysis and et cetera.