Sugar Daddy Meet Review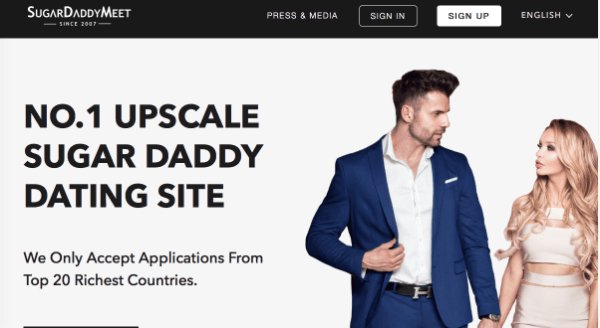 https://www.sugardaddymeet.com/
Sugar Daddy Meet is operated by Canadian registered company,  SuccessfulMatch.com. The company is also operating several online dating services.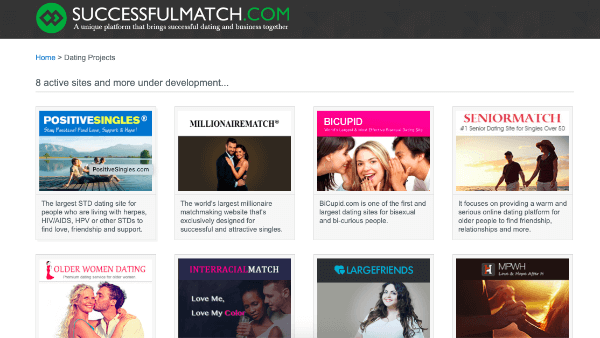 https://www.successfulmatch.com
For example, PositiveSingles is for people with STD to find a partner. MillionaireMatch is for sugar dating. Moreover, BiCupid.com is for bisexual and bi-curious people to find a match.
SuccessfulMatch.com also provides an online dating affiliate platform.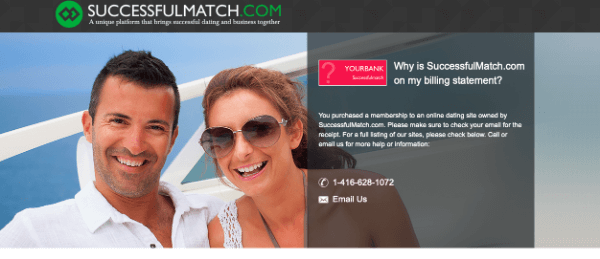 Sugar Daddy Meet was launched in 2007, their motto is "We Only Accept Applications From Top 20 Richest Countries." This clearly means that they only operate in countries such as the USA, the UK and other European countries.  
SugarDaddyMeet Verdict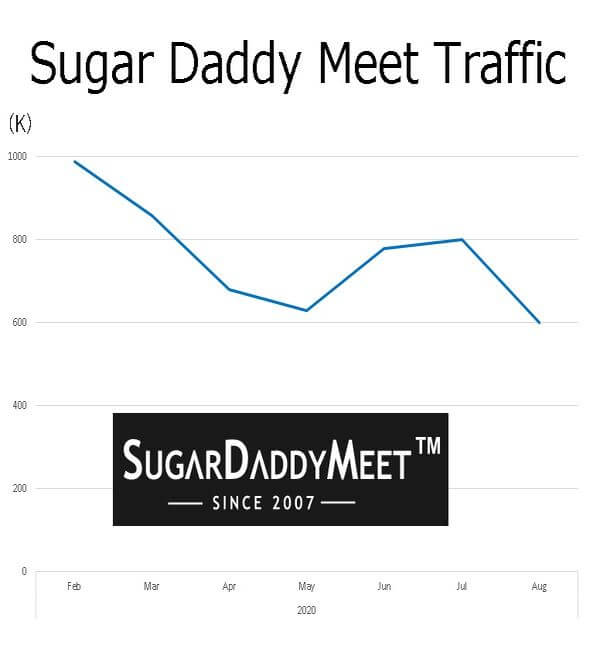 SugarDaddyMeet is a free sugar daddy search tool. It offers a basic sugar dating match service. It is not available worldwide. 
This is a decent app for people in a big city as they would get enough choices for every side: sugar daddies, mamas, and both sex sugar babies.
Currently, due to COVID-19 world pandemic, a lot of other dating apps have started to offer virtual dating options like video calling, however, SugarDaddyMeet does not offer this. Thus it is not convenient for those who are in lock-down or self isolation.
With detailed profiles and verified photos, it would not be so difficult to fish scammers. 
Traffic Keywords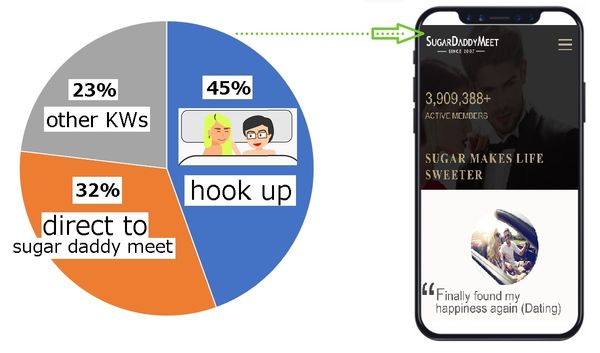 [Sep,1,2020]
ageless hookup 43.63%

sugar daddy meet 32.35%

local hookup sites 0.90%
44.53% of people come to the SugarDaddyMeet site by searching for 'hookup'.
They would be looking for young sex partner, not love.
32.35% of people come directly to SugarDaddyMeet.
Monthly average traffic of SugarDaddyMeet is about 890,000. SugarDaddyMeet's 'direct fan' is about 288,000 traffic. That's a quite popular sugar dating site.
How to Join Sugar Daddy Meet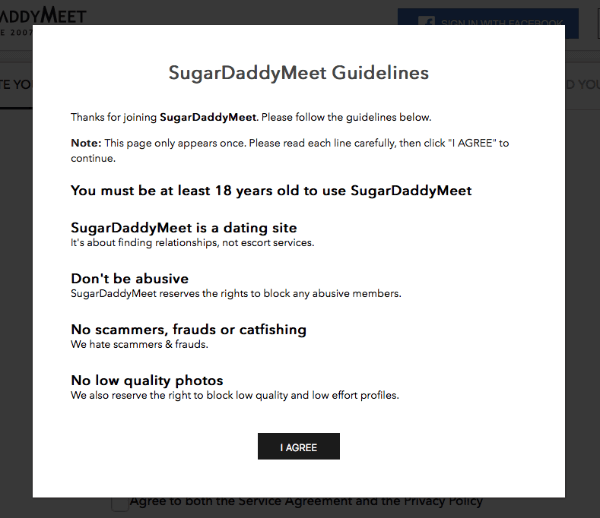 This is the first pop up, users need to read and agree.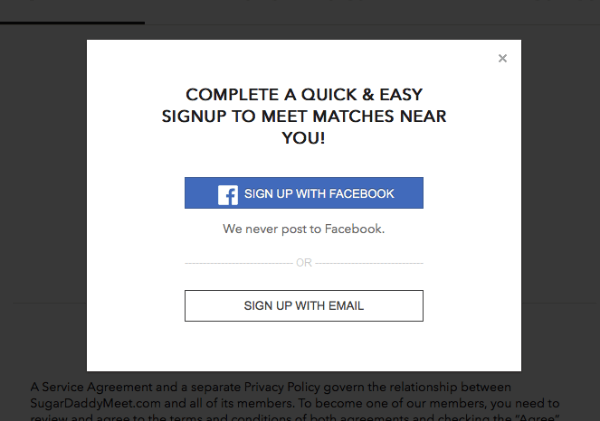 Then this is the second pop up. People can join using a facebook account or an email address.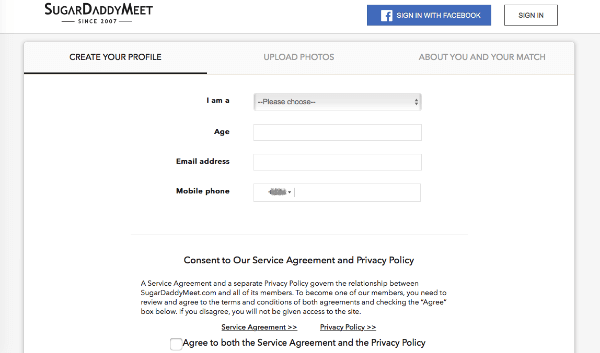 Then a user needs to enter basic information and agree with T&C.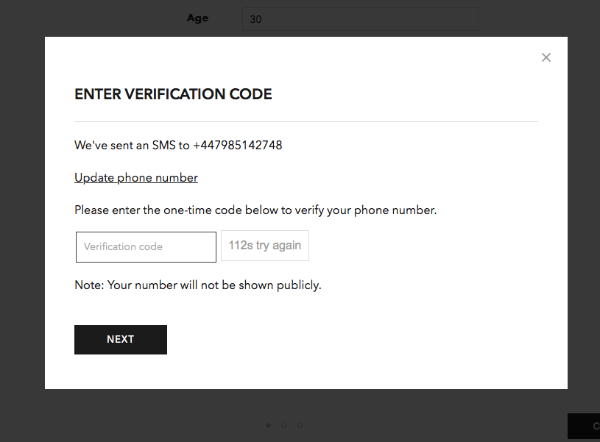 Then you need to verify a phone number.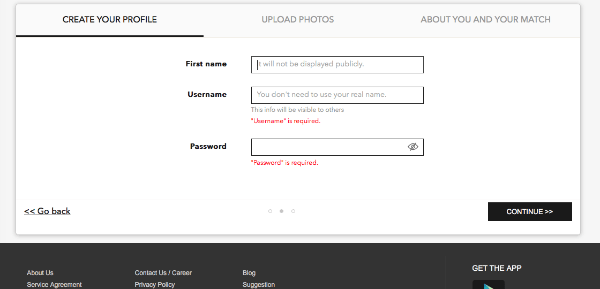 Then a user needs to put the first name and a username. Then the user needs to create a password.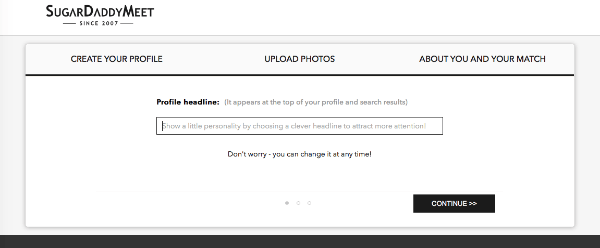 Then write about a headline for yourself.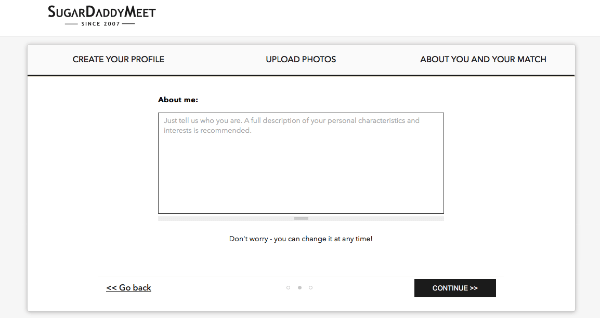 Then write about yourself!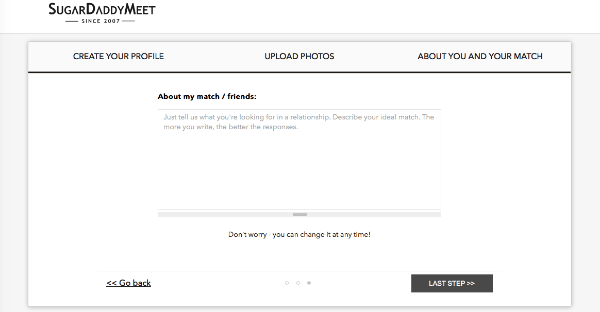 Finally, write about what you are looking for in your match.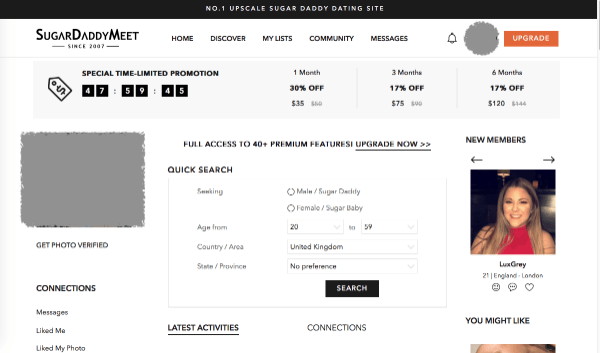 You are ready to start your search.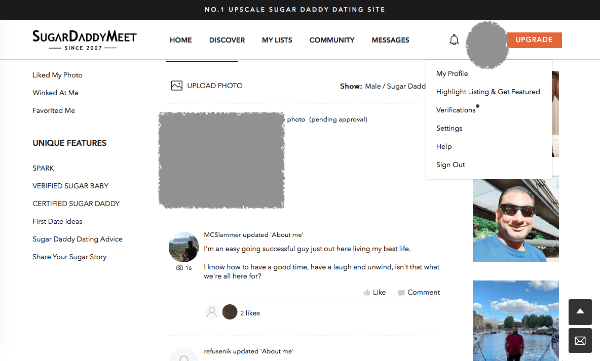 This is the bottom part of the Home section.
There is a message board where users can see the most recent activities such as who newly joined and uploaded their photos.
From your profile photo on the top bar, users can access your profile and setting.
People can verify your photo here.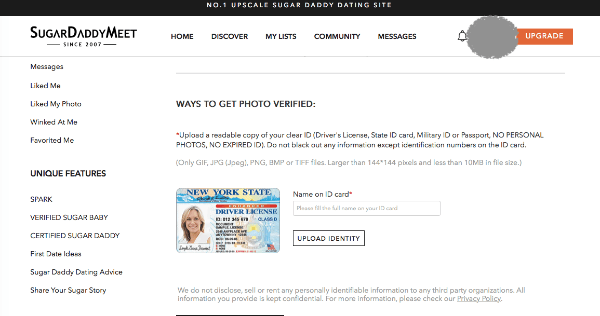 To verify your photo, people need to send a copy of an official ID such as valid drivers licence, passport.
You can hold a paper with your user name and your membership info to verify your photo as well.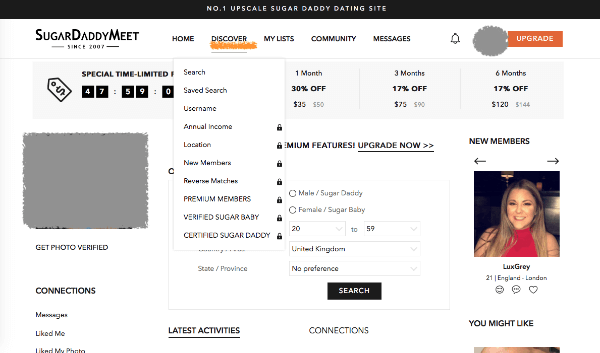 From the top bar, there is "DISCOVER"
Users can search for sugar daddies/sugar babies.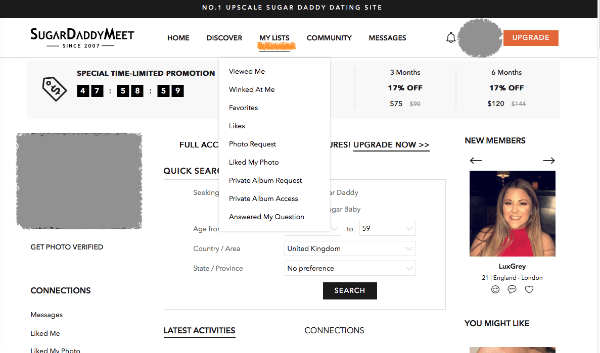 From the top bar, there is "MY LIST"
Users can access your profile and see your information.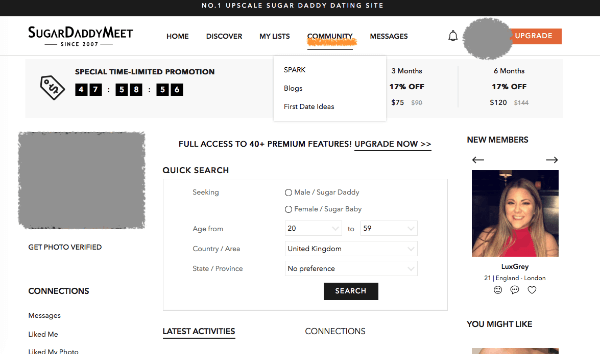 From the top bar, there is "COMMUNITY"
Users can access some information about sugar dating.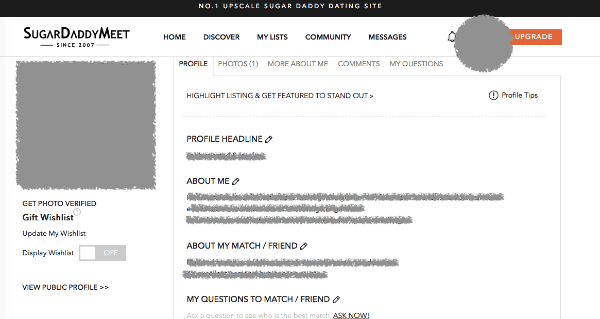 Users can edit their profiles anytime. Profiles are accessible by clicking the photo on the top right corner.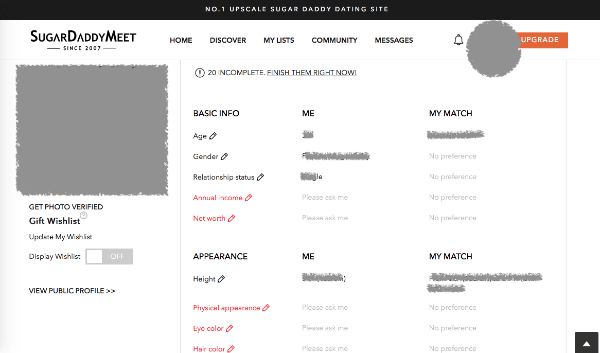 People can put up to 20+ information about themself and about things you look for in their matches.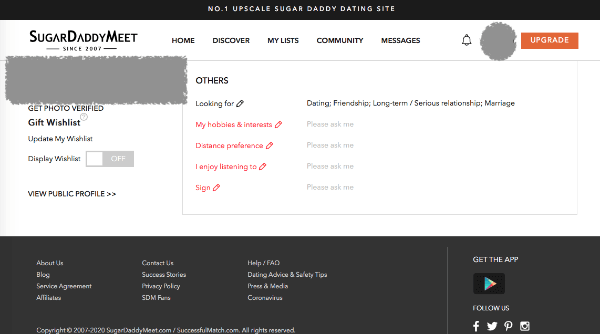 After completing those questions, profiles should be very detailed.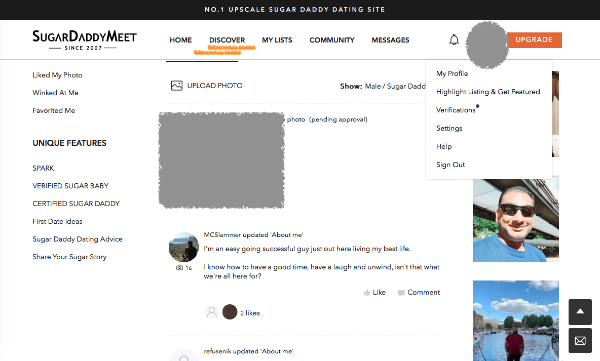 To find sugar daddies, sugar babies need to go to the "Discover" section to look.
Users can leave messages to sugar daddies on their comment sections. 
You are not able to send messages. But you can reply to messages you received for free.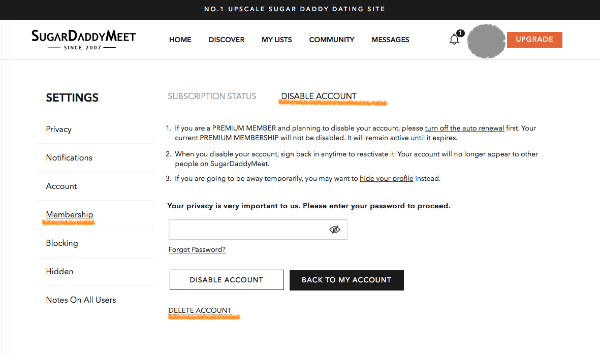 To delete an account and a profile, users can do so by going to your profile picture on the top right hand corner.
Select setting, select membership.
There is an icon for disable an account which is not the same as deleting. There is an icon for deleting an account.
Sugar Daddy Meet Membership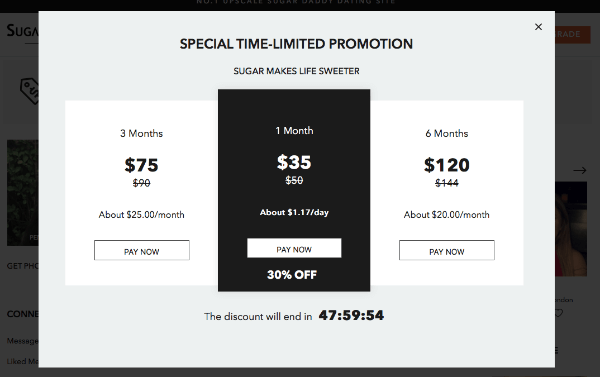 When a sugar baby signs up for an account, the site would show this limited offer.
However, one very good photo would attract enough sugar daddies rather than paying for a premium membership. 
Free membership would allow sugar babies to ask sugar daddies to view their profile, send "wink" and commnet sugar daddies' posts.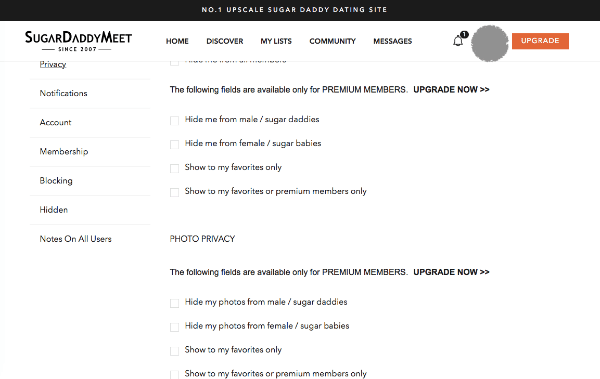 The upgrading offers more personally customized service.  
The paying membership also allows sugar babies to send messages and have more filter options. They can also see more details of sugar daddies, such as who viewed their profiles. There are also chat options available.
User Variety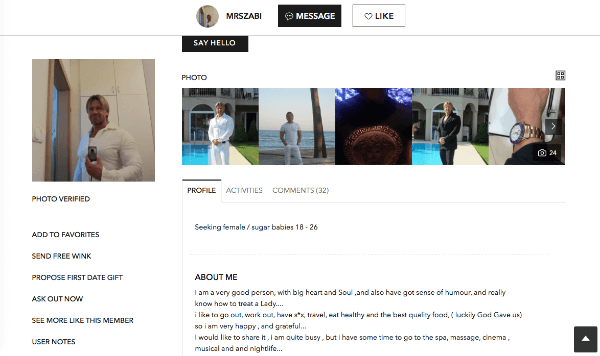 Sugar Daddy Meet member ratio is reported to be 70% women and 30% men. There might be sugar mamas and male sugar babies.
[Sep/1/2020]
Gender Ratio
Obviously, there are more sugar babies than sugar daddies; thus competitions are there as normal for sugar babies. 
There are multiraical profiles on this platform as well as a wide range of age for sugar daddies. The majority of sugar daddies seemed to be in their 40s.
Traffic by Countries
[Sep/1/2020]

Social Media Activities
SugarDaddyMeet Instagram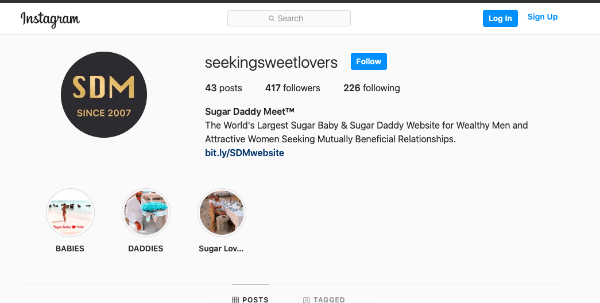 Instagram
Their Instagram account is very strange. 
First of all, it has a different name "seekingsweetlovers". However, this is their official account. It has only 417 followers, considering they are reported to have 1.8 million active members on their platform, this makes this reported members' number suspicious. 
Surely, proud sugar babies would love to show off their experiences on this social media site with hashtags.
Nowadays, having followers on instagram is essential for online services to promote their service. Their mother company SuccessfulMatch.com is also an affiliate company, thus they might not be successful to catch up with the shift of online advertisement from blogging (webpage) to Instagram.
Their posts are mainly modeling / stock photos. 
SugarDaddyMeet Facebook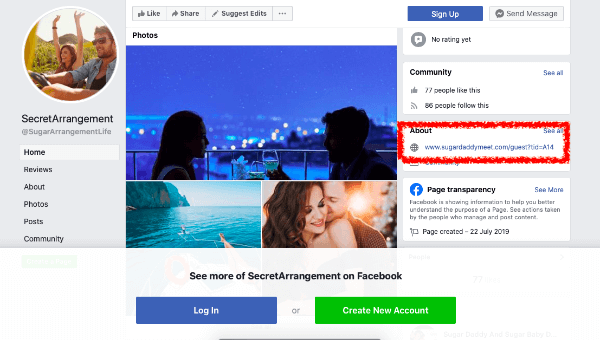 Facebook
This is their official Facebook page. This account also has surprisingly low numbers followers 88. 
SugarDaddyMeet encourages its members to link their Facebook profile. Thus this is another very strange number of followers.
It also has a different name?? "Secret Arrangement" It is very strange. 
There are a lot of stock photos.
SugarDaddyMeet Twitter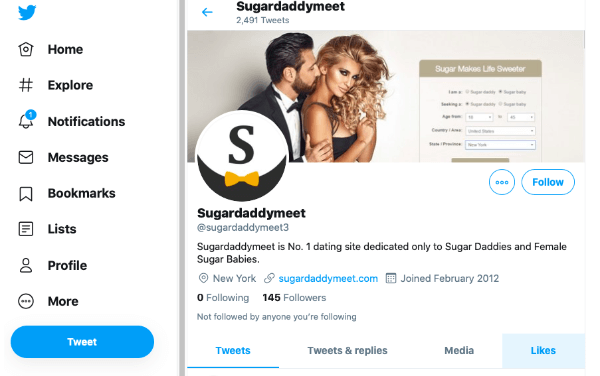 https://twitter.com/SDM_Dating
SugarDaddyMeet has 145 followers on Twitter. They have been active since 2012, however, they do not seem to be active on this social media platform. 
At least, this account has the same name as their service, which is much more creditalbe than Facebook and Instagram accounts.
They have over 2K plus tweets; however, they only have a very small number of followers for a big dating/sugar dating company.
The Blog for Sugar-World Beginners
They offer blog service for sugar dating beginners the same as other sugar dating sites.
https://www.sugardaddymeet.com/sugar-daddy-dating-blog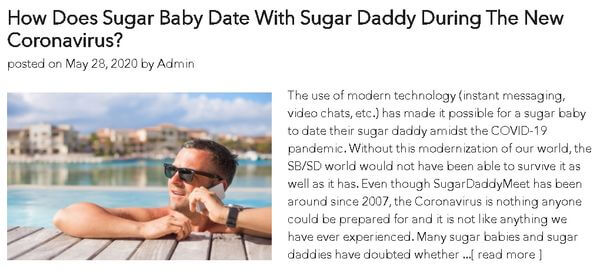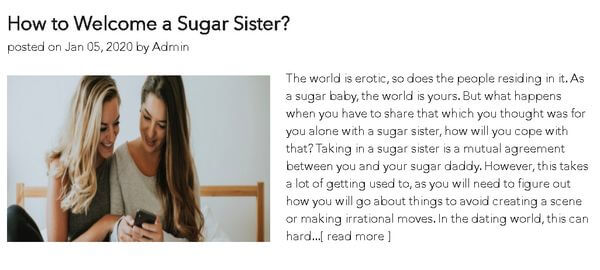 SugarDaddyMeet App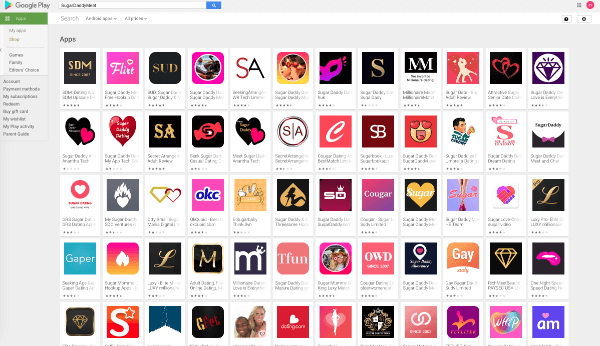 Google Play
SugarDaddyMeet app is available to download from Google App store only.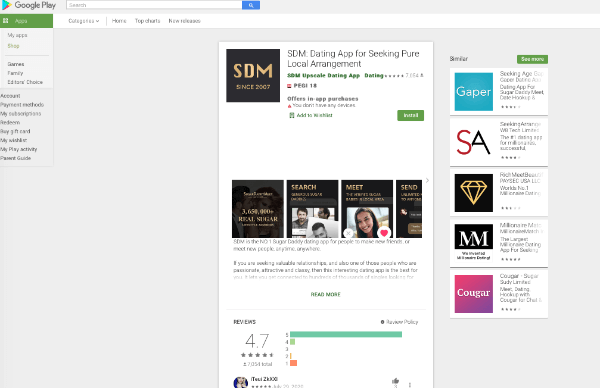 https://play.google.com/store/apps/details?id=com.sugardaddydating.sugardaddymeet&hl=en
Surprisingly, they have very positive reviews. SugarDaddyMeet app actually offers much less functions than the website, the current generation is loving it.
Their app has 500'000 + downloads and 7000+ reviews. 
Sugar Daddy Meet Online scammer reports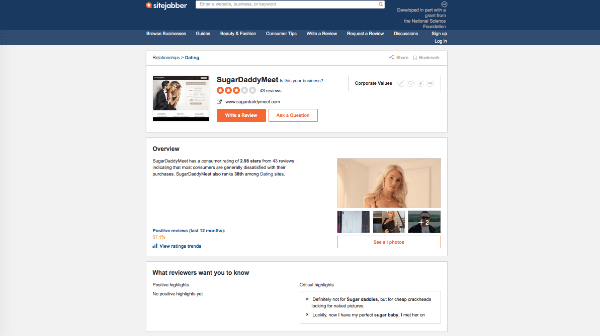 Sugar Daddy Meet  has 43 reviews on Sitejabber.com
https://www.sitejabber.com/reviews/sugardaddymeet.com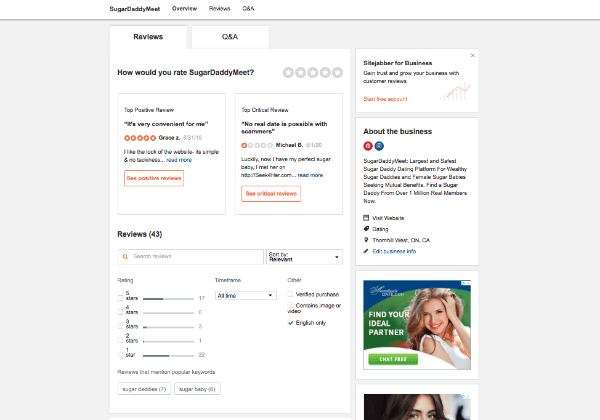 They have interestingly have mixed reviews; however, the recent posts are about scammers roaming around the site.
Sugar Daddy Meet  has  only 3 reviews on trustpilot.com
https://uk.trustpilot.com/review/sugardaddymeet.com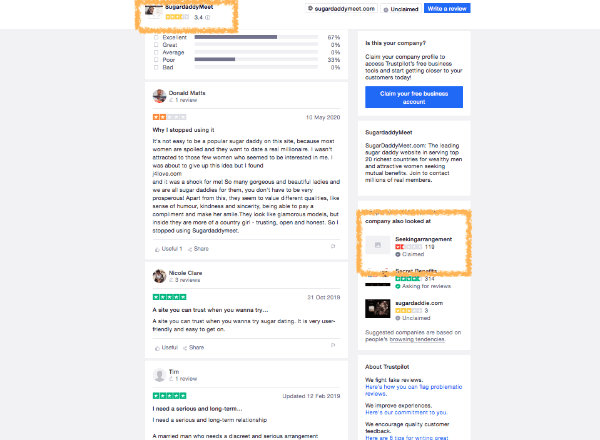 Their competitor Seeking Arrangement has about 109 reviews. This shows that  Sugar Daddy Meet might not have as many active members as  Seeking Arrangement. 
These reviews are very strange posts as well. Two are 5 star reviews but they are old posts.
Confusing Competitor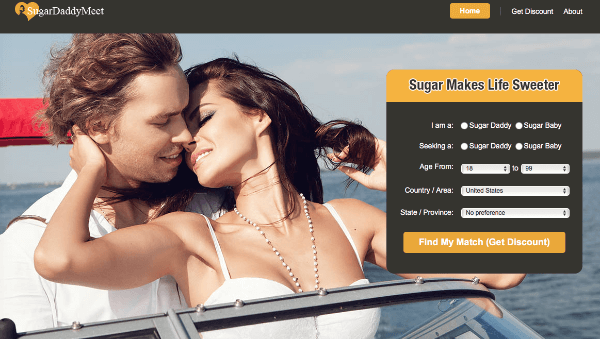 http://sugardaddymeetapp.com Sugar daddy meet app is a competitor and different service. It is very confusing and sometimes, this site comes up on the top of the search. 
Conclusion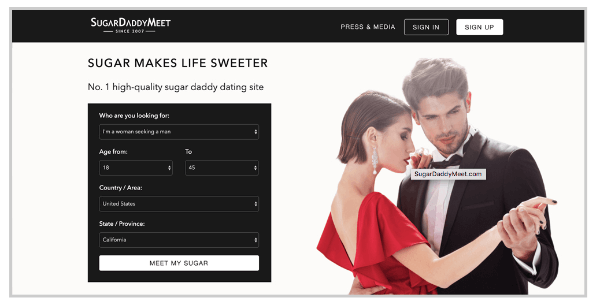 SugarDaddyMeet is Canadian based sugar dating service, it started its service in 2007.
They are owned by a company who runs multiple matching services; however, they have been facing some legal accusations regarding private information storage. 
Their social media presence is very very strange. Their social media accounts are under different names and their posts are very stock photo base.
They have strangely many positive reviews on their google app store however, online review sites show that there are way too few reviews. This is very puzzling. 
SugarDaddyMeet does have active users and it is an usable service for people who are in those 20 counties. Moreover, people in big cities have much more chances and choices for better matches.