Seeking Arrangement Review
What exactly is Seeking Arrangement?
Seeking Arrangement is a dating site established in 2006 and available in 139 countries. A dating site specifically for the rich Sugar Daddy/Sugar Mommies to find their perfect match, that is a Sugar Baby.
Albeit being a dating site, the mutual relationship between both ends is different to the conventional monogamous relationship. Usual relationships are such as companionship, mentorship or even long-term relationship.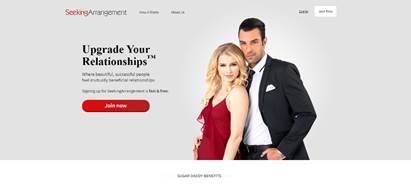 Users will state the type of relationship they are trying to find, and what kind of terms they are willing to negotiate/provide, as marketed by Seeking Arrangement, known as 'Relationship on Your Terms'.
The site allows users to find their perfect match for the type of relationship they may be seeking in a faster way. This is because everything is written clearly on the profile biography.
One thing to keep in mind is that Seeking Arrangement is not a site for prostitution and is used as a dating site. Therefore, there is a ban on mentions of Pay-Per-Meet (escort slang), sexual favours and et cetera.
Does Seeking Arrangement work?
Yes, Seeking Arrangement works as a website, but as any dating site, there are some flaws to it.
A few things that users should know is that the basic features are same for Sugar Daddy/Sugar Mommy users and Sugar Babies. But, the fees and are different. Sugar Daddy/Mommy will have a higher premium membership fee than Sugar Babies.
For example, Sugar Daddies/Sugar Mommies have a limit on the number of messages they can send and are often times required to sign up for a premium account. Sugar Babies can message freely as long as their profile has been verified.
Seeking Arrangement functions like any other dating site, with favourite options and messaging functions. As gifts and pampering/vacations are highly expected of, there are also a lot of cases of scamming. Therefore, users should be careful when it comes to exchanging personal information.
Accessibility
Seeking Arrangement is one of the most famous sites in the sugar dating realm. There is a wide accessibility and user variety on the site, on top of the fact that successful Sugar Daddies/Sugar Mommies are constantly travelling.

But, the downside to that is that Seeking Arrangement is not available on the Apple's iTunes Store, and can only be used on Android or on PC.
The reason as to why is the prevailing problem on Seeking Arrangement that are accounts providing escort services, or profiles asking for sexual favors in exchange for sexual services.
Apple has been doing a crackdown on apps which have been reported to be affiliated with prostitution and banning them. Seeking Arrangement is solely one of the few examples.
For example, in Indonesia, MiChat has been banned as it has potential misuse for prostitution.
User Safety
For sugar baby users, there is a verification time needed which is estimated around 24-48 hours or longer. Profile contents will be checked to ensure legitimacy in order to create a community with less scammers. This also allows sugar daddies/mommies to browse safely.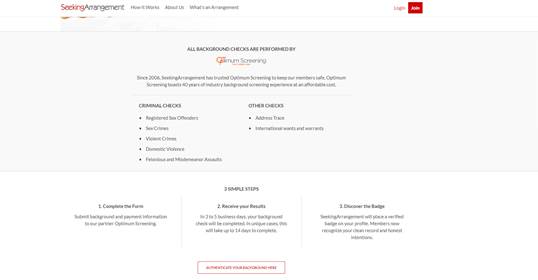 Seeking Arrangement offers a background checking service (limited to United States) that is optional for those who want to have a more convincing profile. This feature help to ensure that the user has no criminal records. This enables a safer and more faster arrangement process.
It is good to be warned that not every member has a background screening process, and that simply paying premium helps to skip through a lot of the mandatory steps. Therefore, like any other dating sites, it is recommended to thread with precaution.
It is recommended to users to not use any pictures that they have uploaded on social media, and to use a nickname/fake name instead of your real name. This prevents users from tracing back and avoids harassment.
Seeking Arrangement Reviews
Pros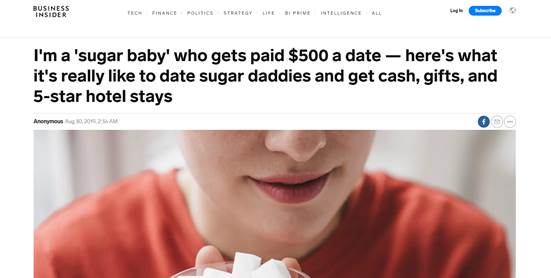 (Source: BUSINESSINSIDER)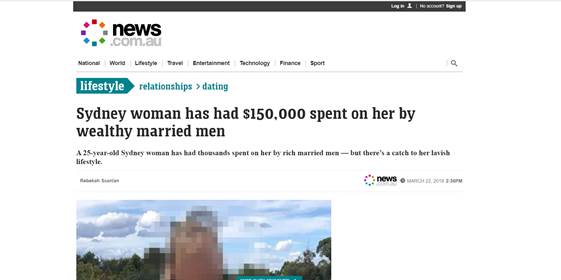 (Source: news.com.au)
One of the biggest perks as a sugar baby is being able to enjoy the generous allowance being given and once in the lifetime experiences that people of your age group may not be able to provide. There are also sugar babies who are struggling to make ends meet, so the extra cash in a short time of period serves as a big help to stay afloat.
But being a sugar baby is not being a prostitute. Some sugar babies are on the site in hopes of gaining mentorships and networking or finding long term relationships with someone successful. Not every relationship is romantic or sexual, as there are people seeking solely for companionship. Seeking Arrangement simply provides the service to do so.
Cons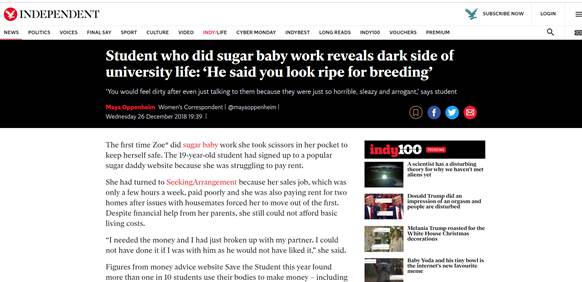 (Source: INDEPENDENT)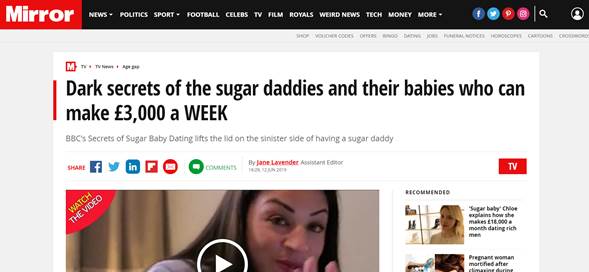 (Source: Mirror)
Though the glitz and glam is appealing to people who are seeking to be pampered by an older partner, there are dark sides to being a Sugar Baby. First of all, users have found themselves in situations where they feel humiliated. This is due to society's stereotypical norms and views that sugar babies are akin to prostitution.
There is also emotional manipulation such as gaslighting and abuse from Sugar Daddies/Sugar Mommies that Sugar Babies have faced. Which may lead to mental scarring in the future such as low self-esteem. On top of that, there needs to be a truthful talk on the arrangement and allowances, et cetera as not every relationship is exactly the same as what media talks about (eg: Platonic relationships).
On the other hand, as a Sugar Daddy/Sugar Mommy who is not looking for a prostitute, there has been issues of influx in numbers of escorts on the website. On both sides, users have also faced customer service issues with banning and issues in regards to scamming.
What is the Seeking Arrangement community like?
First of all, being a sugar baby is not exclusive to women only. There are sugar mommies on the website, but they are rare and often times hard to find.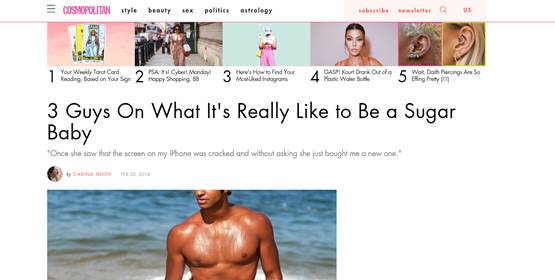 (Source: COSMOPOLITAN)
Male sugar babies who have found their sugar mommies on Seeking Arrangement have found their experiences to be relatively positive.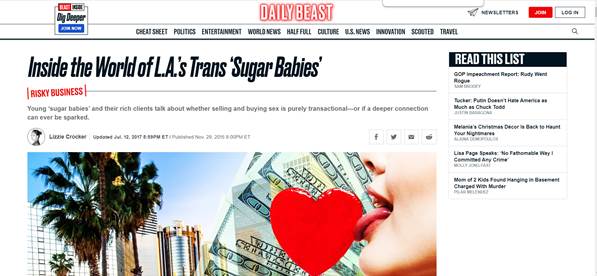 (Source: DAILYBEAST)
Seeking Arrangement can be seen making improvements to be more inclusive of the LGBTQ+ community. For examples, there are also options for users who are interested in Trans-gendered people or are friendly towards the prospect of being with one.
There are success stories surrounding users who have transitioned from male to female and the life of luxury that their sugar daddies are willing to spend for them.
Some of them are even able to finally undergo the transitional surgery while being funded by their sugar daddy/sugar mommy.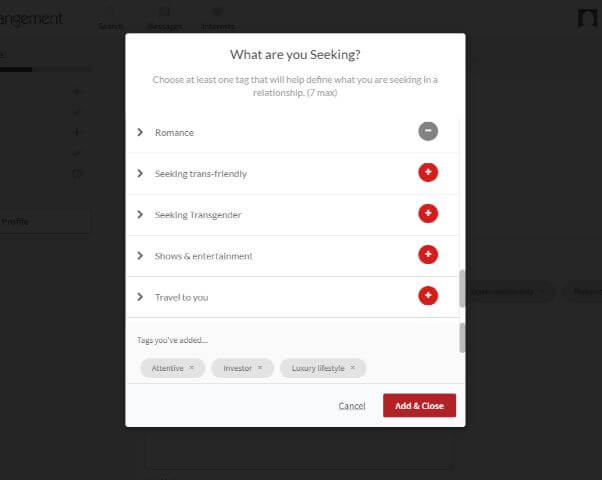 Seeking Arrangement Verdict
Should you use Seeking Arrangement? If you are curious, then yes, but users should be careful and aware of the current situation that they are in.
Seeking Arrangement is a well established site that has been leading the "Sugar Daddy/Baby Industry" since 2006 and used to be the best. Identity checking services, banking information through official website is heavily secured. But the truth is that Seeking Arrangement simply is a meeting spot for people to use.
The real thing that users should be aware of and is warned by Seeking Arrangement, is to be careful during conversations online and also meet-ups in real life.
Users should be aware of their environment and know fully what they are in for. For example, first dates with strangers are advised to be on daytime and users are not encouraged to use their real information or share personal information.
Certainly, for those who are hardcore poor looking for a way out, Sugar Babies should always be confident and aware that they may be people who are manipulating or emotional abusing to you.
On the other hand, users should be aware of the rules and regulations on the website and act accordingly.
Seeking Arrangement should be used as a site for meet-ups/arrangements and should not be seen as an escorting service.
Users should also be careful and think wisely before deciding to spend the extra money on signing up for premium as there are reports of users being banned after signing up for premium and being unable to get a refund.
Hopefully this issue will be resolved in the near future.