OnlyFans Changes Its Terms of Service; Is This The End for OnlyFans?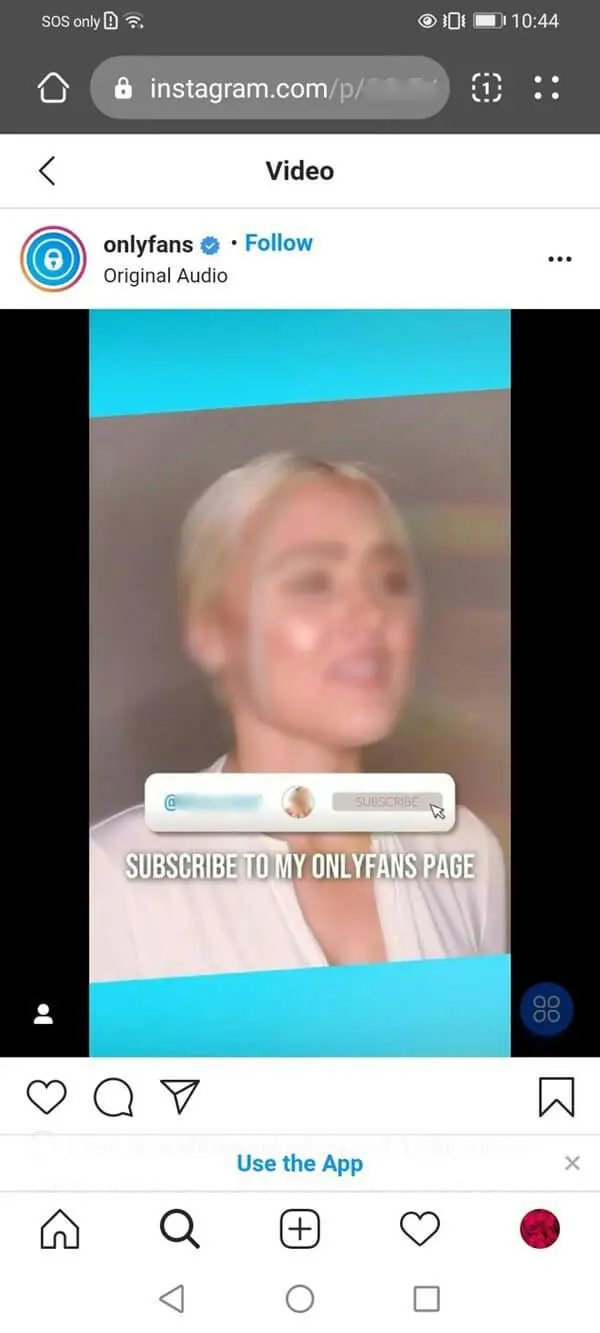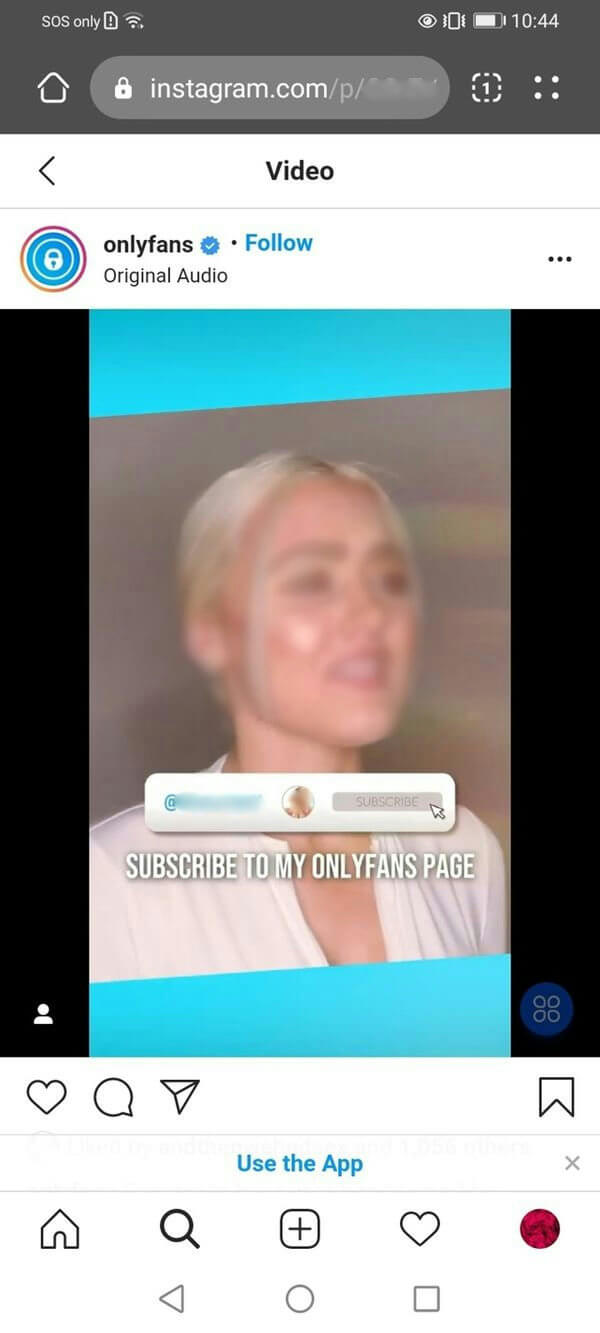 https://www.instagram.com/onlyfans/
What is OnlyFans?
OnlyFans, a subscription-based clip platform, is popular with and commonly associated with sex workers. Some of its users who post non-sexual content are cosplayers, artists and social media influencers to name a few.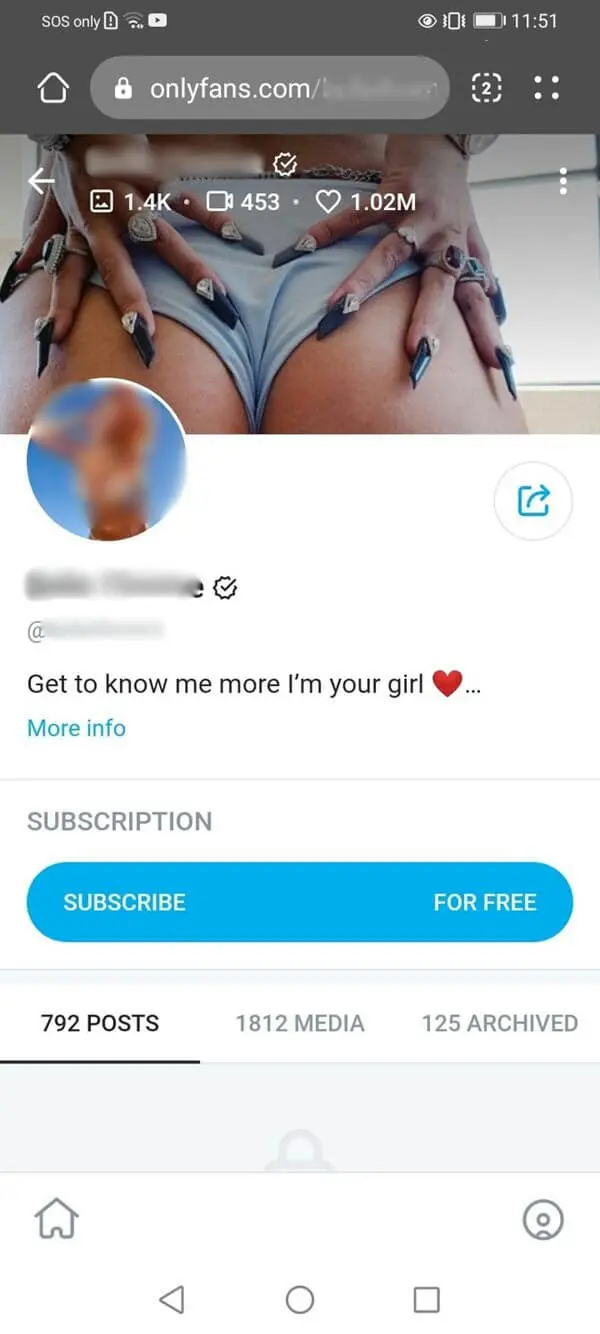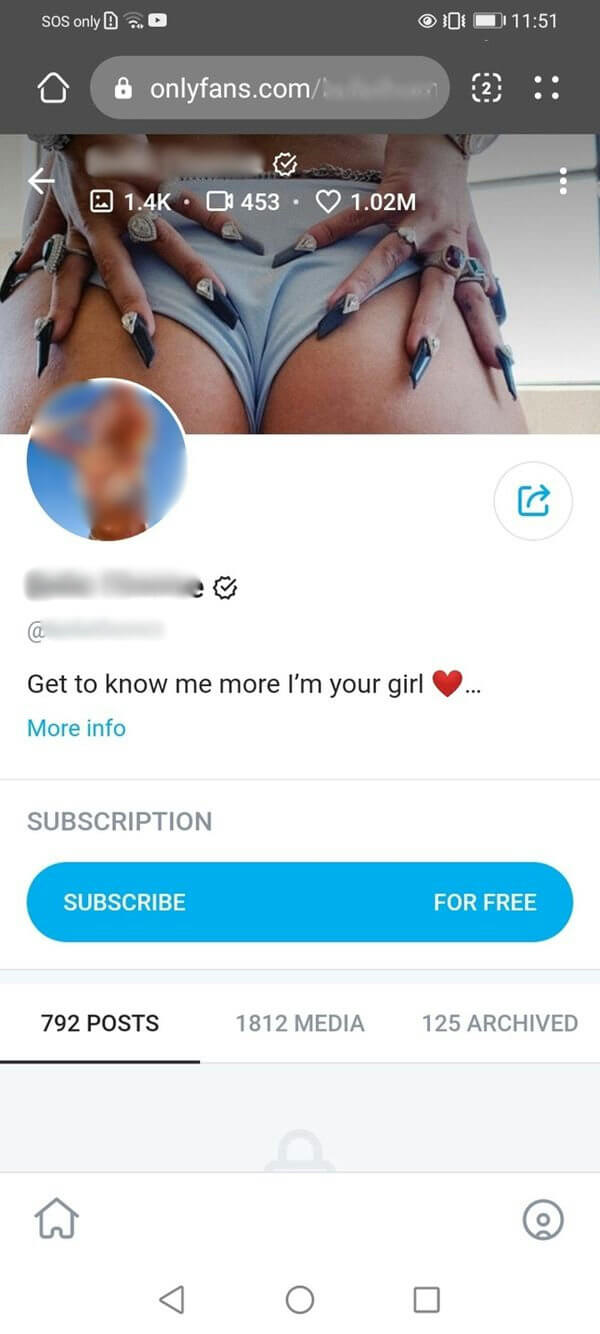 https://onlyfans.com/
OnlyFans is dominated by pornographic content. Adult content on the OnlyFans platform vary from semi-nude to hardcore pornography. OnlyFans has two worlds, adult content and non-adult content. It was like a big island where one side didn't compete with the other and a big reason why is that they are entirely different and almost independent of each other. It's like using Google for "everyday" regular things and going to a porn site if it's porn you are after. Even if adult content dominated OnlyFans, it can coexist with non-adult material and content because they don't compete for the same "fans".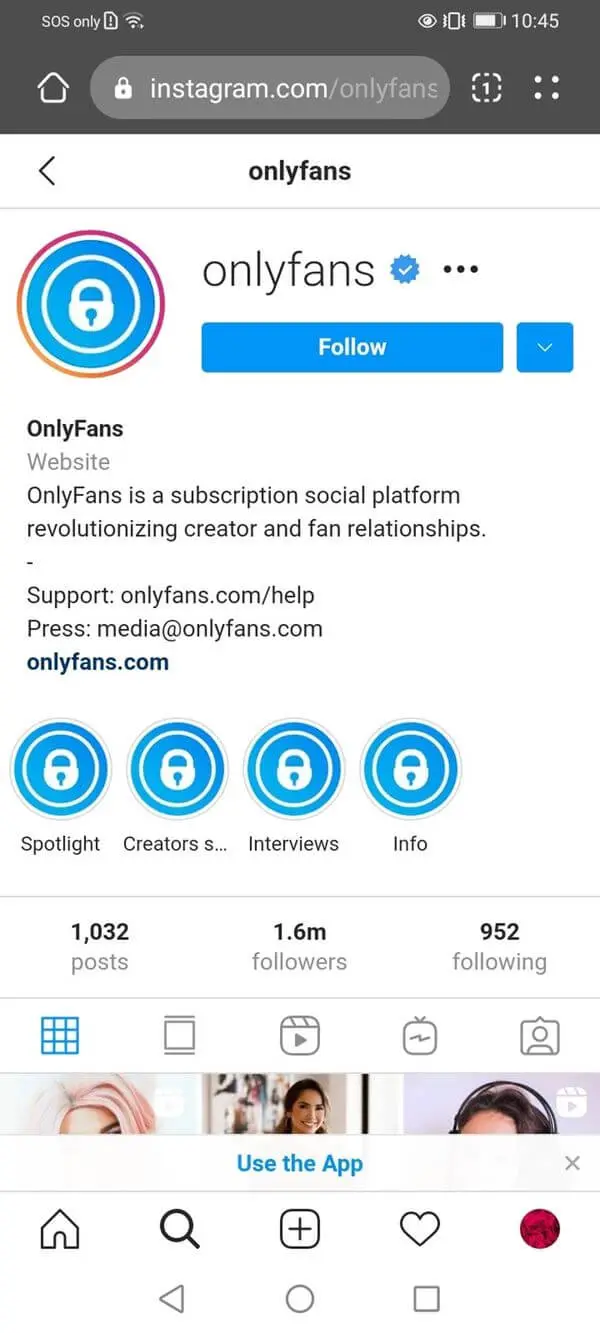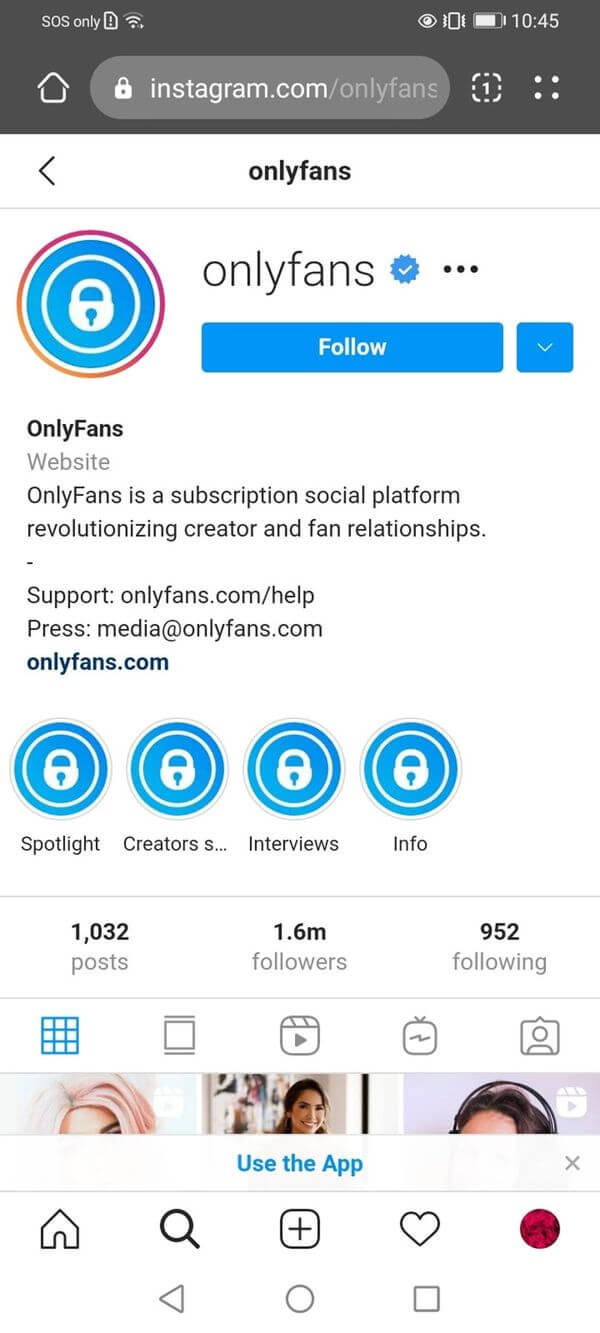 OnlyFans received mainstream attention when in March 2020, at the start of the COVID-19 pandemic, the number of OnlyFans content creators increased by 40%, and the number of users on the site increased from 7.5 million to 85 million. What YouTube was 10 years ago for video bloggers became what OnlyFans was for sex workers.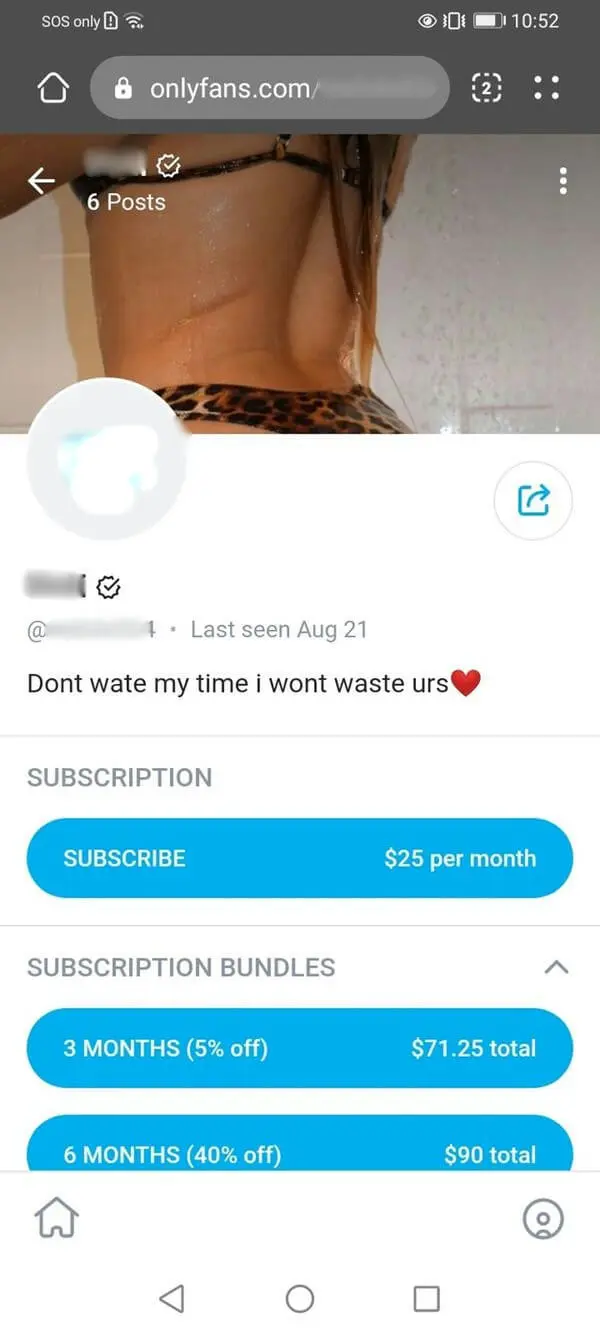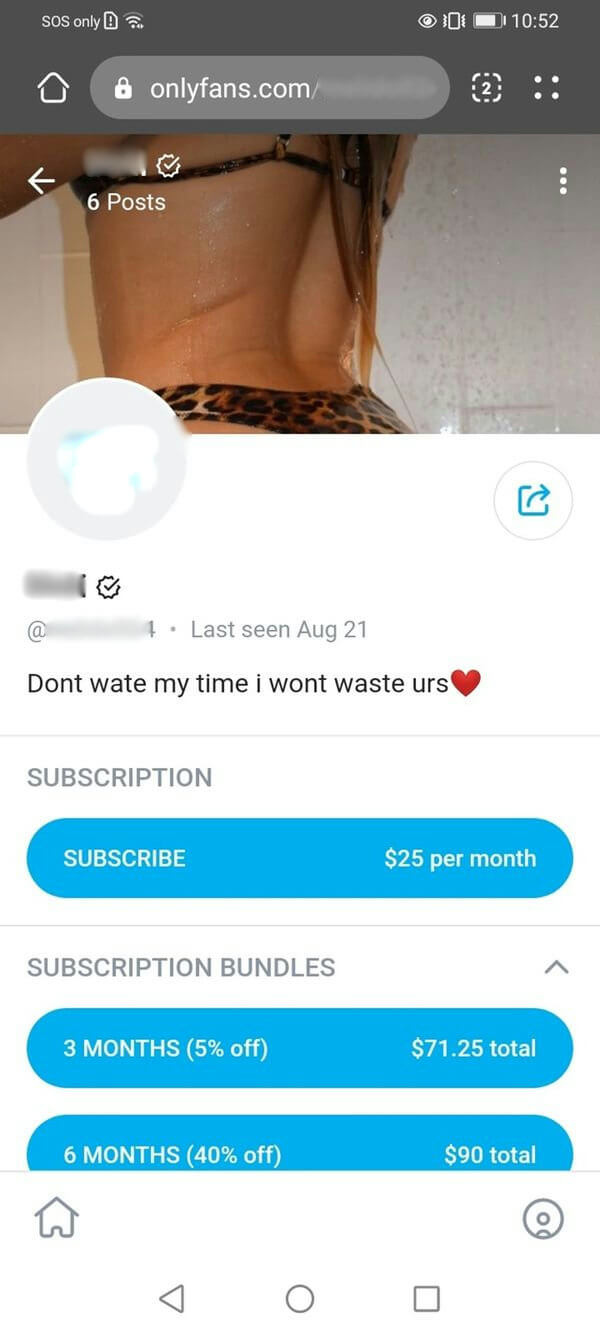 Actress and former child star Bella Thorne became the first person to supposedly earn $1 million in the first 24 hours of joining. They don't tell where the fact checking is but she supposedly earned $2 million in less than a week. Her activities on OnlyFans were deemed controversial, premium prices for non-nudes and an alleged documentary of her joining OnlyFans falling through. Onlyfans soon after added restrictions that limit how much creators can charge for adult content and reduced payouts to creators to monthly rather than weekly.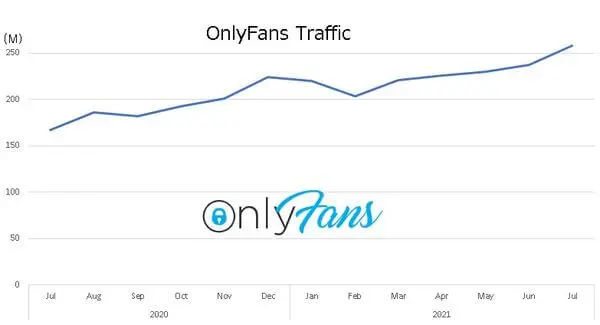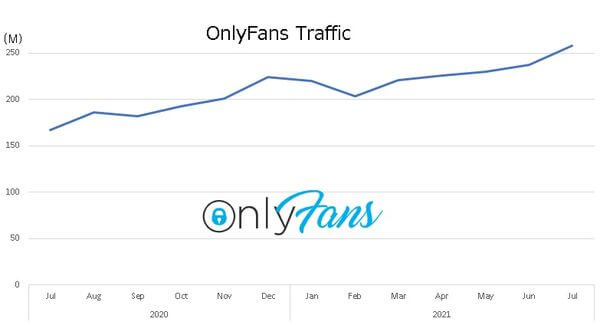 [8/29/2021]
Onlyfans Traffic by Countries
Traffic by Contry Monthly Ave.
[Jul,2020-Jul,2021]
| | |
| --- | --- |
| US | 95,101,938 |
| UK | 13,951,384 |
| Canada | 10,548,092 |
| Germany | 6,299,261 |
| Australia | 6,235,846 |
| Others | 79,248,092 |
OnlyFans Changes Its Terms of Service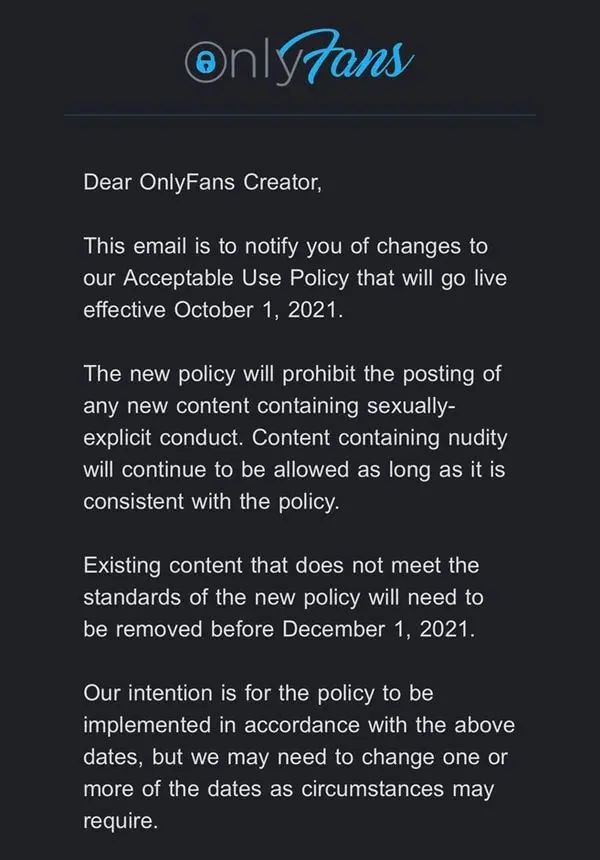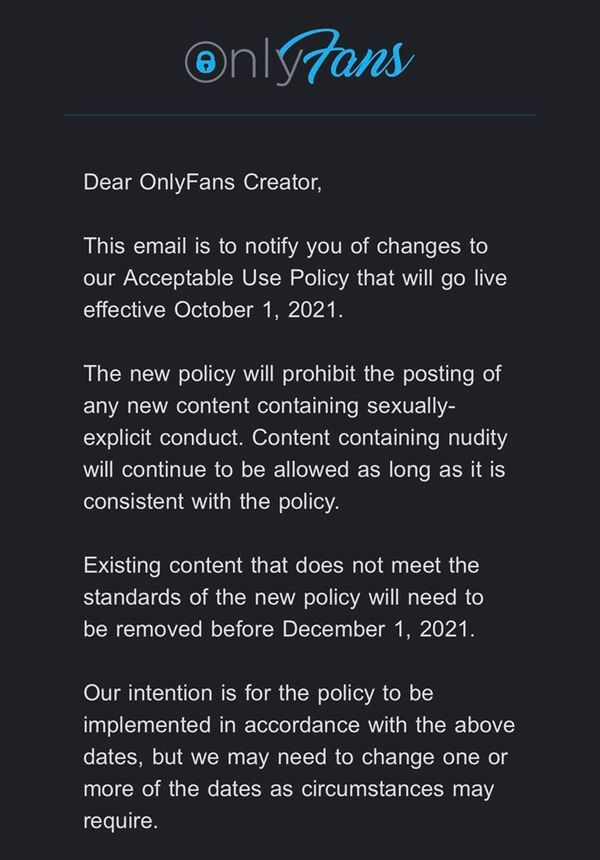 It was reported on August 19, 2021 that from October 2021 onward, OnlyFans will no longer allow sexually explicit material. The website, which hosts 2 million content creators and a user base of 130 million, said that this change was due to pressure from credit card companies. The company pushed the update through a new Terms of Service Policy.
The new Terms of Service Policy reads:
"Do not upload, post, display, or publish Content on OnlyFans that: Shows, promotes, advertises or refers to "sexually explicit conduct", which means: actual or simulated sexual intercourse, including genital-genital, oral-genital, anal-genital, or oral-anal, between persons of any sex; actual or simulated masturbation; any exhibition of the anus or genitals of any person which is extreme or offensive; actual or simulated material depicting bodily fluids commonly secreted during sexual conduct; All existing Content that shows, promotes, advertises or refers to "sexually explicit conduct" must be removed before December 1, 2021, or by any other date which we communicate to Users."
Another company statement reads that effective October 1, 2021,
"OnlyFans will prohibit the posting of any content containing sexually explicit conduct. In order to ensure the long-term sustainability of the platform, and to continue to host an inclusive community of creators and fans, we must evolve our content guidelines."
OnlyFans stated nudity will still be allowed "as long as it is consistent with our Acceptable Use Policy," adding, "We will be sharing more details in the coming days, and we will actively support and guide our creators through this change in content guidelines. OnlyFans remains committed to the highest level of safety and content moderation of any social platform. All creators are verified prior to being able to upload any content to OnlyFans, and all uploaded content is checked by automated systems and human moderators."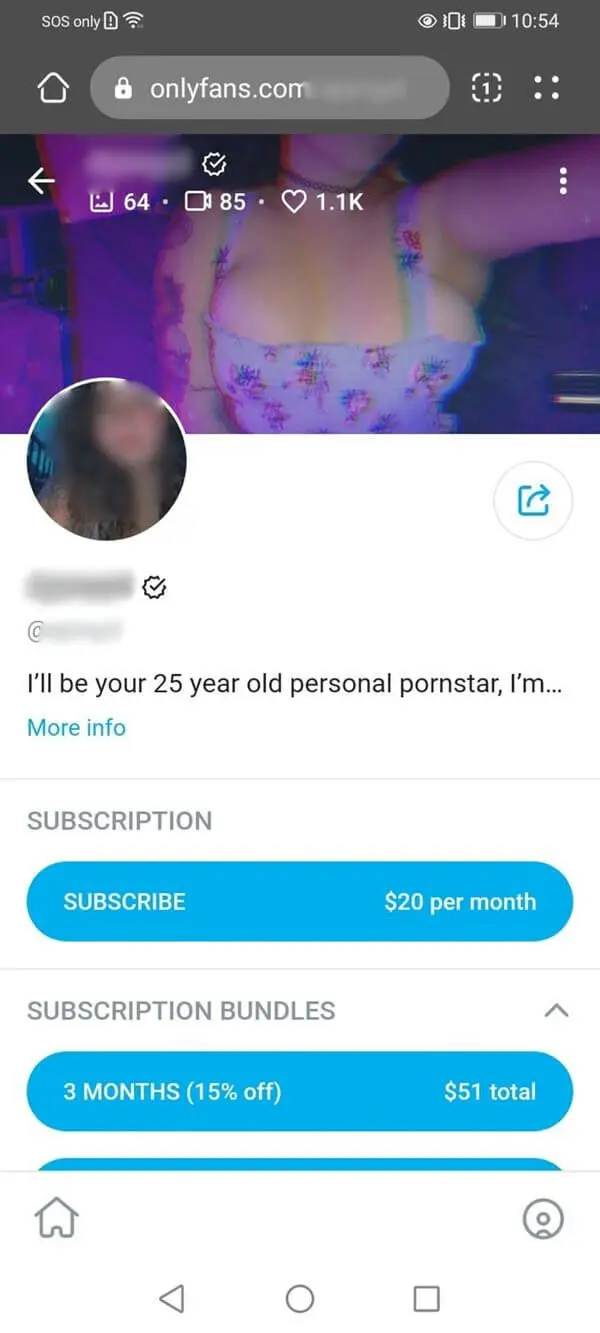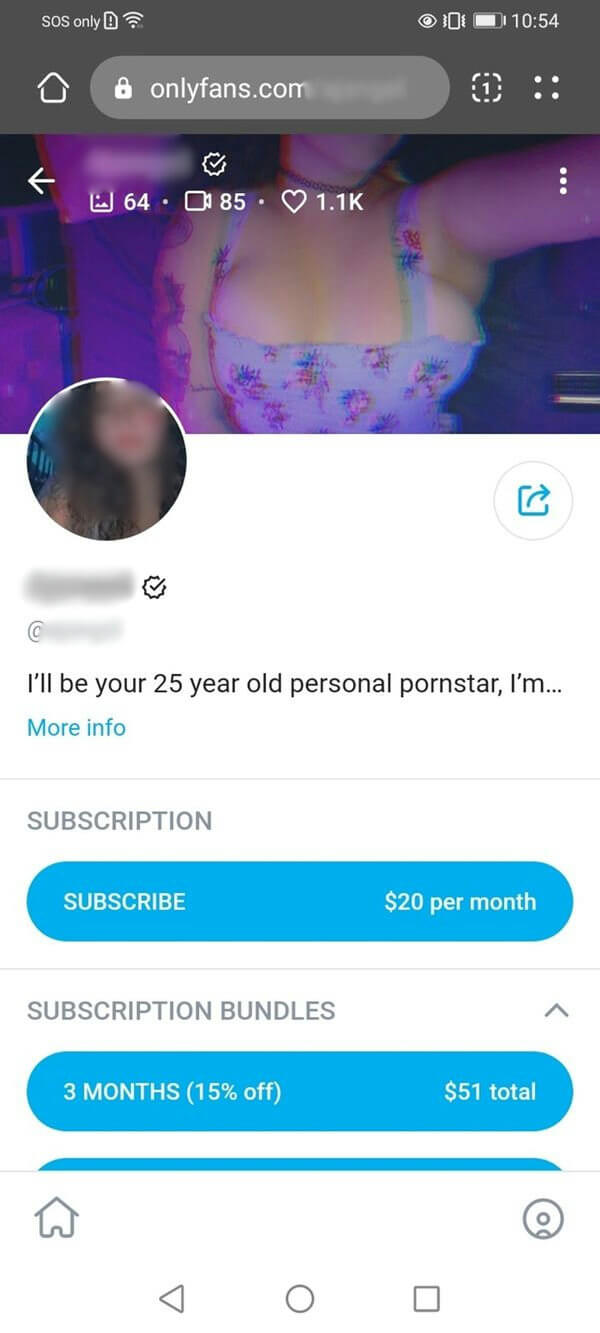 What led to all this is a combination of different factors coming together: American laws and politics, conservative groups in The U.S. who want to take down OnlyFans on grounds of sexual exploitation and the intense "cancel culture" happening in America at the moment. Bella Thorne's failed publicity stunt was the cherry on top. Who knows how much longer OnlyFans will be around? After the changes are made and all changes seem to be permanent, OnlyFans will turn into more of a YouTube-Instagram-Playboy(brand) hybrid. It will be a personalized non-pornographic clips-for-sale subscription service. They have cleaned up their public image and done rebranding, the new OnlyFans will be a mix of hobbyists and non-pornograhic nudes. Just the sound of this already makes it so boring and not any different from other for-pay online services.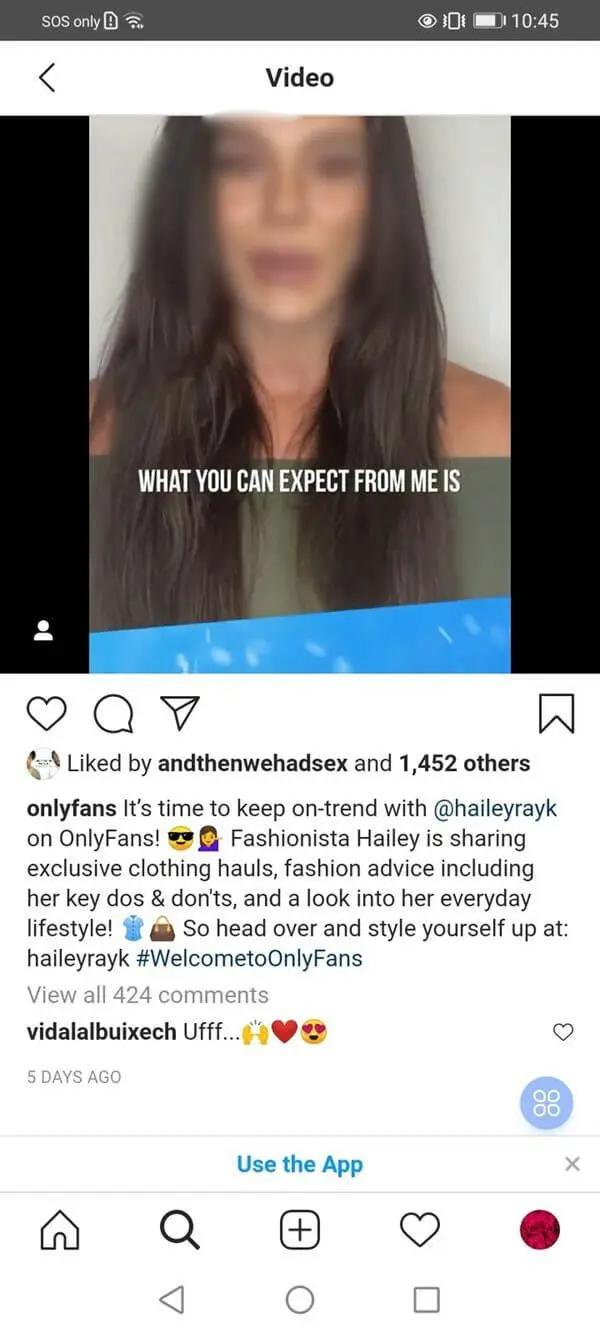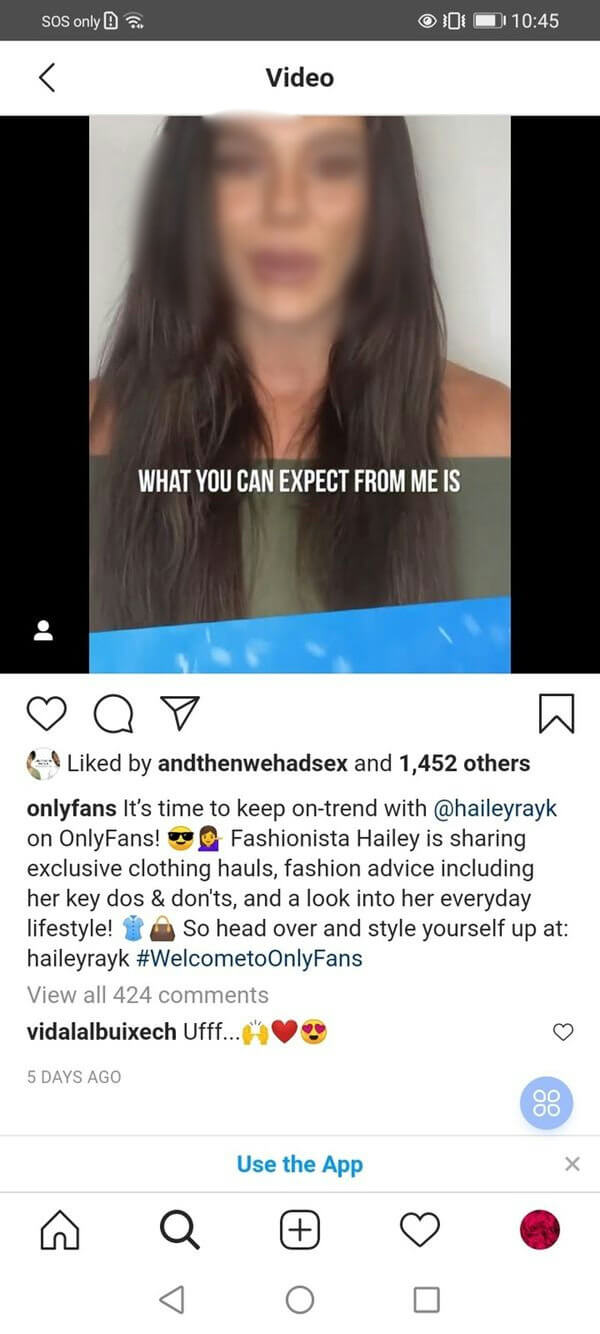 After this major change, it wouldn't be surprising if sex workers on OnlyFans do a mass exodus and leave for more adult oriented websites and apps. Back to live web cams and cam shows. These platforms have been around since the beginning of high speed internet (late 90's). It's not odd that something old once again replaces something new, like the saying goes… the more things change, the more things stay the same.
Summary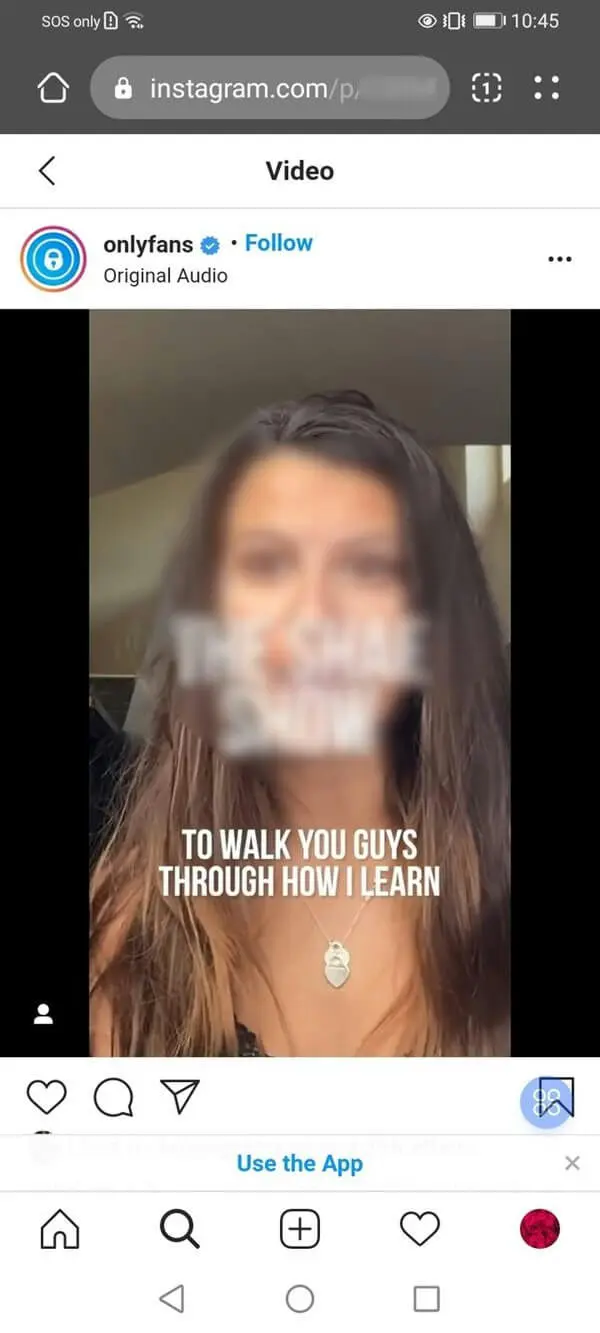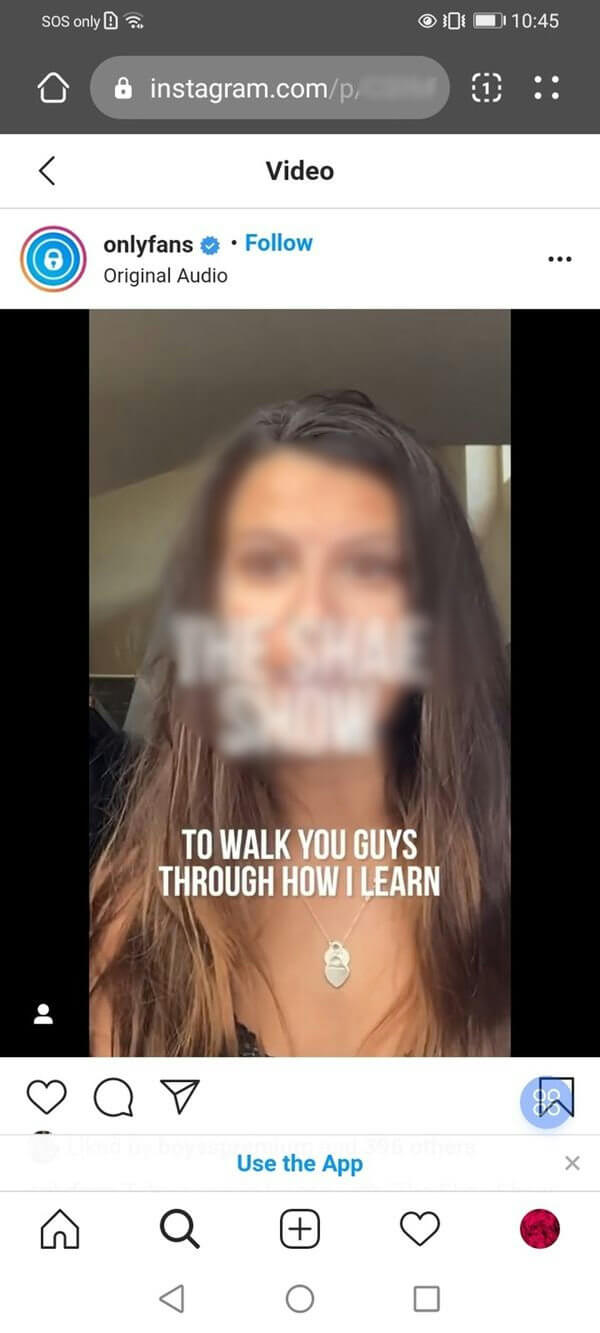 Allowed Adult Content
Non-Sexual nudity
Not Allowed Adult Content
Sexually explicit images and videos
Images and videos that depict sexual stimulation and activity
Simulation of such also not allowed
OnlyFans switching to more wholesome content creators. Pictured above is a user who specializes in fashion trends.