Olderwomendating.com Review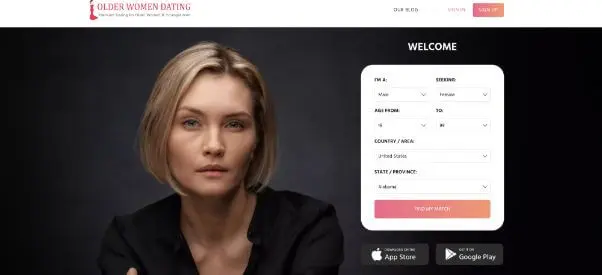 https://www.olderwomendating.com/
Olderwomendating.com is a dating website that caters to older women seeking younger men and vice versa. The site was founded in 2001 and it has been a part of SuccessfulMatch.com which is a company that operates a network of dating websites. The company was also founded in 2001 and is based in Canada.
SuccessfulMatch.com's dating websites are designed to cater to various niche markets, such as age gap dating, millionaire dating, and HIV-positive dating. Some of the other dating sites in the company's network include MillionaireMatch.com, PositiveSingles.com, and BiCupid.com.
The company has not disclosed the names of its founders or leadership team on its website or in public announcements.
In addition to its dating websites, SuccessfulMatch.com also offers a white-label dating platform for entrepreneurs and businesses looking to create their own dating websites. The platform provides a range of customizable features, including design templates, payment processing, and marketing tools.
SuccessfulMatch.com has received numerous awards and accolades for its dating websites, including recognition from Inc. Magazine as one of the fastest-growing companies in North America.
On the other hand, SuccessfulMatch.com was in trouble handling information for PositiveSingles.com which offers HIV-positive dating.
Olderwomendating.com Verdict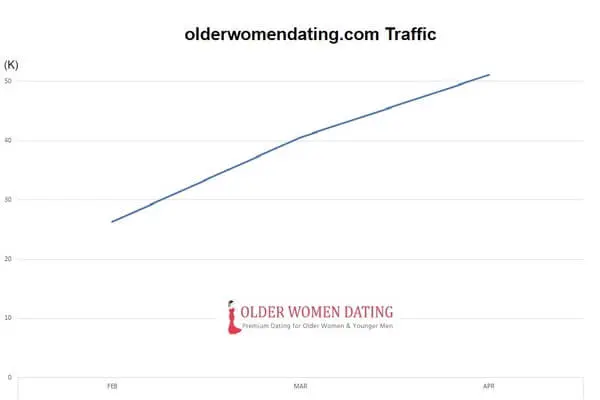 Olderwomendating.com is a well functioned cougar dating site. Although, without paying for their membership, there are not a lot of things you can do. However, there are surely no bot operations on this site or paid members who would send messages for more attention.
Olderwomendating.com is not a geo-location service thus, their suggestions are not ideal for local meet ups.
Olderwomendating.com offers an interesting set of users thus, with the right money and time, people would be able to use this service in their favor.
Although the number of users is increasing, still small users as a dating site. Traffic of Olderwomendating.com is less than 1/10th of Tinder, and about 1/5th of Match.com.
How to join Olderwomendating.com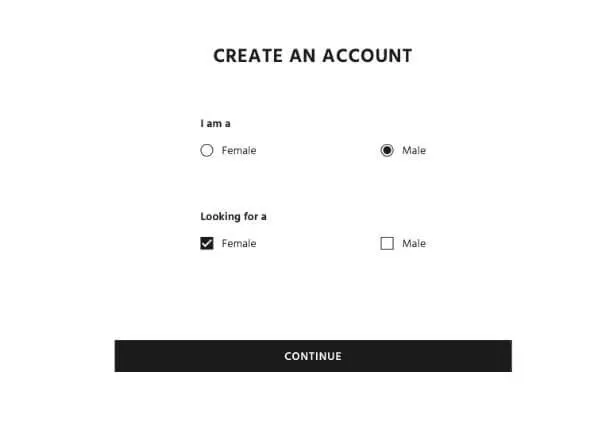 Joining Olderwomendating.com is very simple and easy.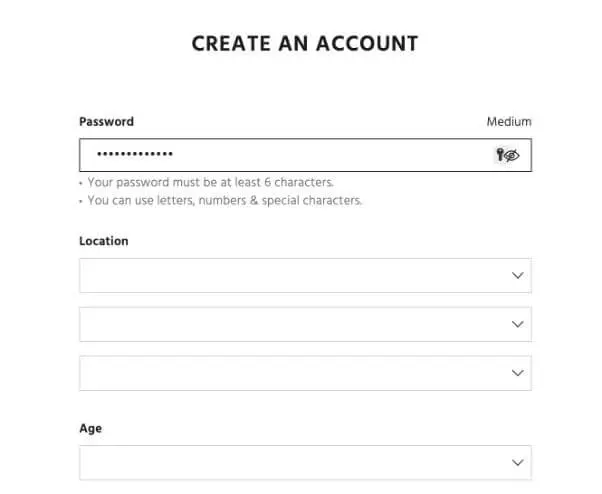 People need an email address, and set up a password.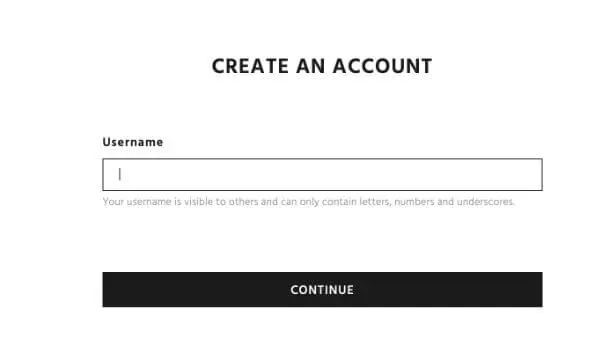 Then create a username.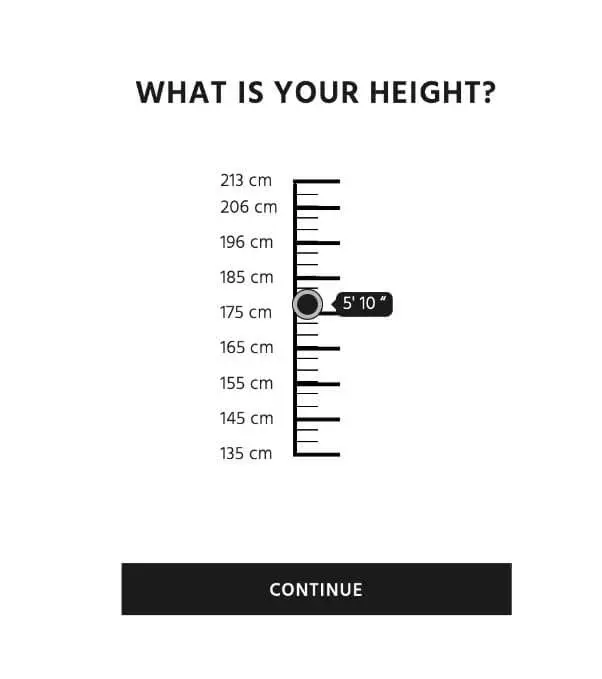 Put your height,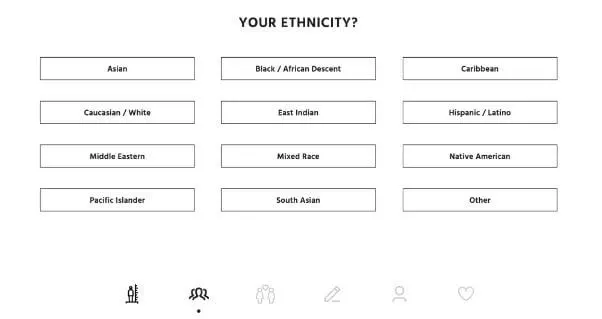 Pick your ethnicity,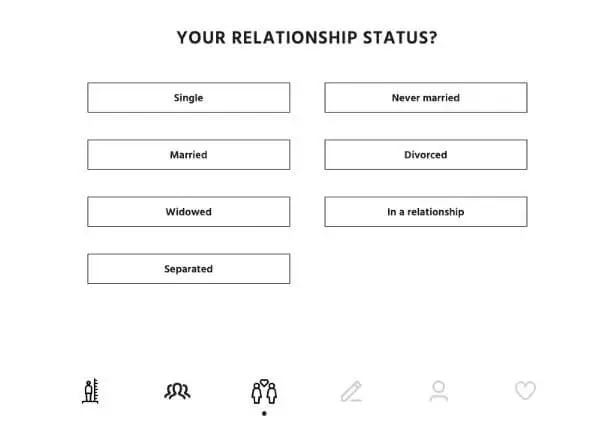 Put your relationship status,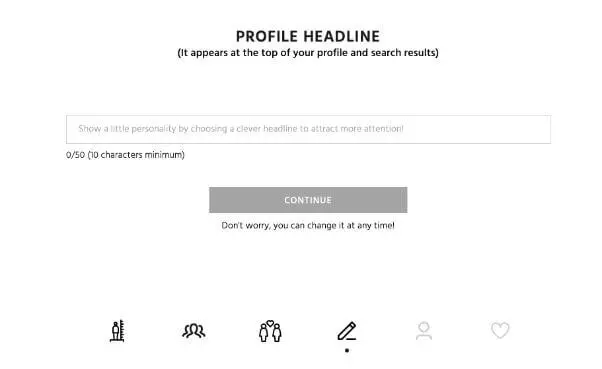 Type in a headline,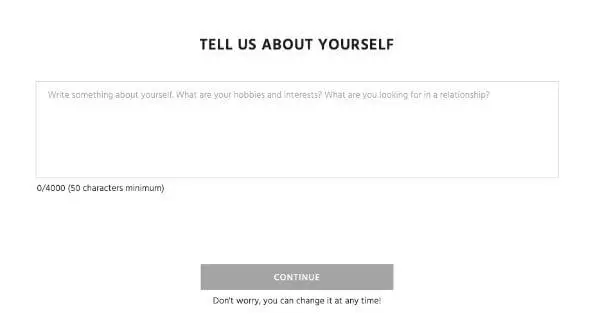 Type in some introduction,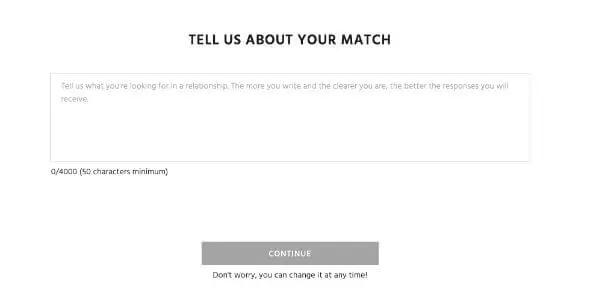 Type in what are you looking for in your matches,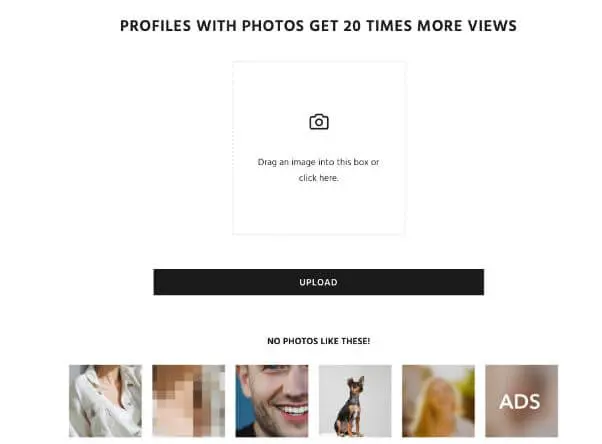 Mandatory photo upload, to finish.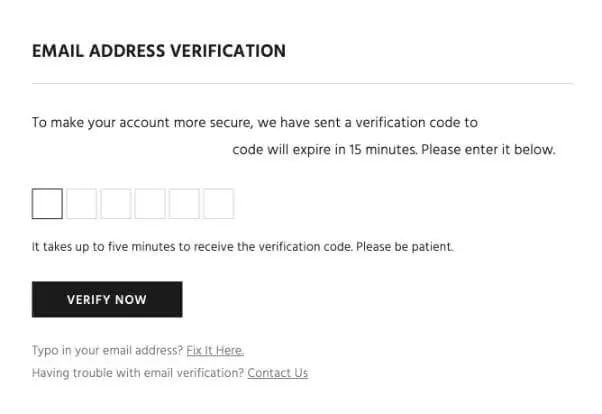 They would send a code to the email.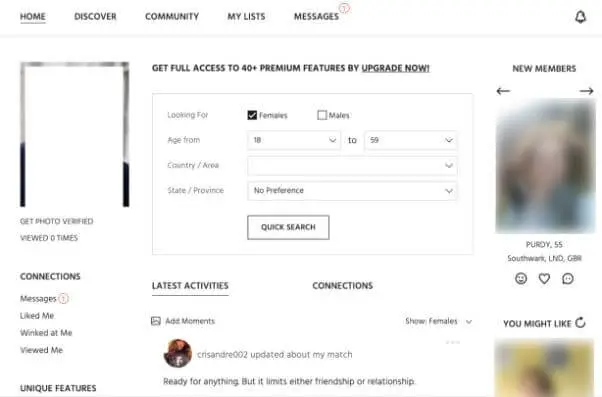 This is the main page.
Olderwomendating.com Premium Service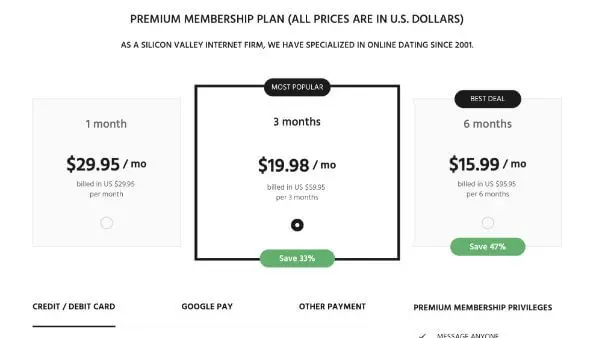 Olderwomendating.com offers premium membership to users who want to access additional features and benefits on the platform. Premium membership allows users to send unlimited messages and flirts, see who has viewed their profile, and access advanced search filters, among other perks.
There are several different premium membership options available, including a one-month, three-month, and six-month subscription. The longer the subscription period, the lower the monthly cost. Memberships can be paid for using credit card, PayPal, or bank transfer.
There are several ways to get a free trial,
Share dating advice and safety tips
Propose quality suggestions
Report abuse / scammer / problem profiles
Share/promote us on social media sites
Write promotional articles or press releases
Recommend us to partner with other related sites
They are according to their customer service.
Olderwomendating.com Apps
Olderwomendating.com offers both android and ios apps.
Olderwomendating.com iOS Apps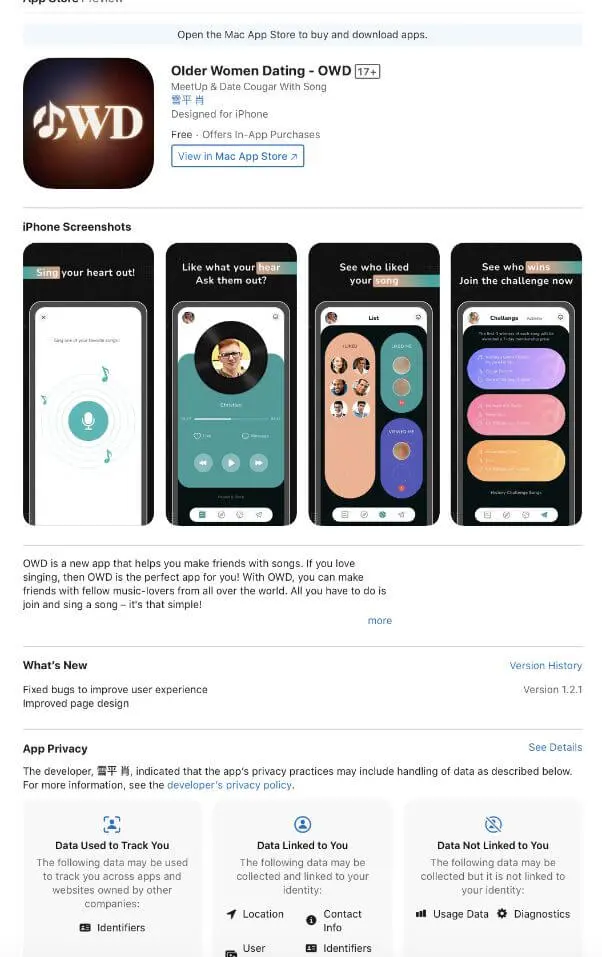 App Store
The OWD app has received only two reviews on the App Store, this must be a new version. The older version was reported that the app has been downloaded over 100,000 times on the App Store, which suggests that it has a moderate user base.
As for updates, the OWD app has received several updates, which have introduced new features and fixed bugs. The most recent update was in February 2023, which suggests that the app is still being maintained and updated by the developers.
Olderwomendating.com android Apps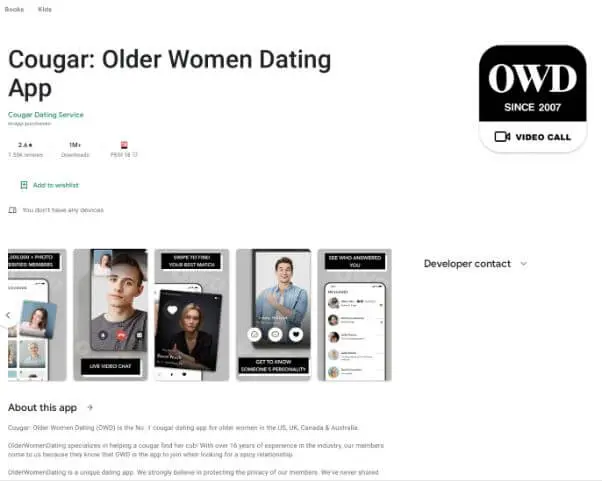 Google Play
The latest update for the Cougar app on the Google Play Store was April, 2023.
Regarding popularity and reviews, the Cougar: Older Women Dating App has been downloaded over 1 million times on the Google Play Store. The app has an average rating of 2.6 stars out of 5 based on over 10,000 reviews on the Google Play Store.
Some users have praised the app for its easy-to-use interface and helpful features, while others have criticized it for being buggy or not effective in finding matches. Overall, the reviews are mixed.
How to delete an account on Olderwomendating.com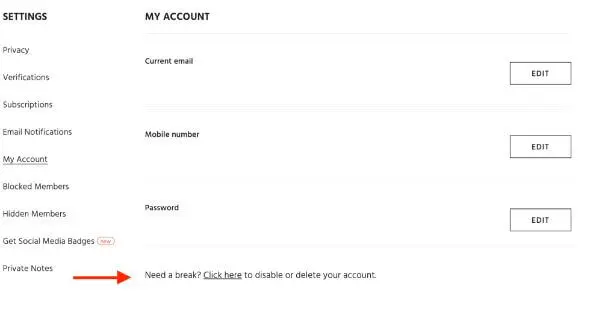 From the profile icon at the top right hand corner, people can access the Setting, then select My Account.
Then Click here sign to delete your account.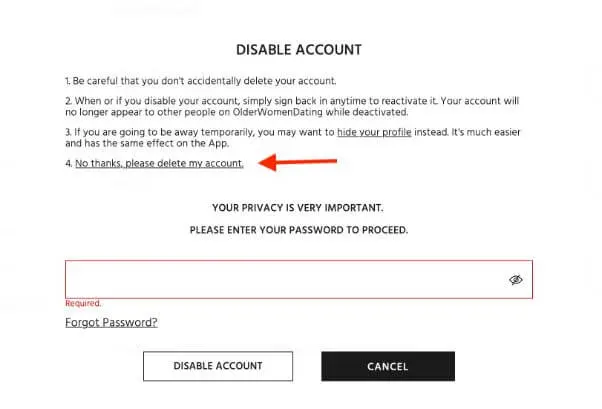 People need to put in their password, then click the No thanks sign.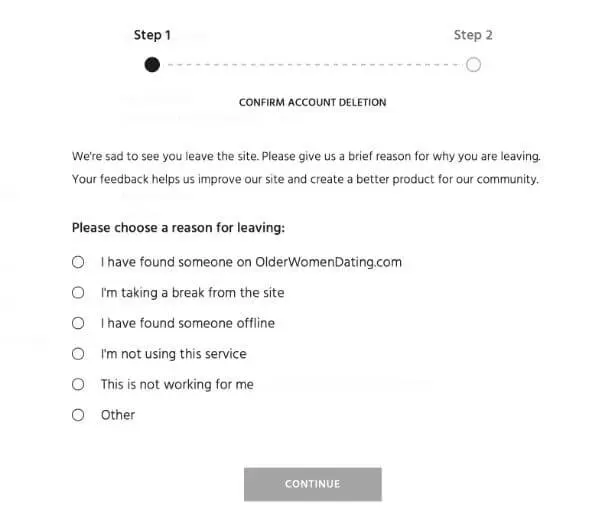 Then they would ask the reason for the departure.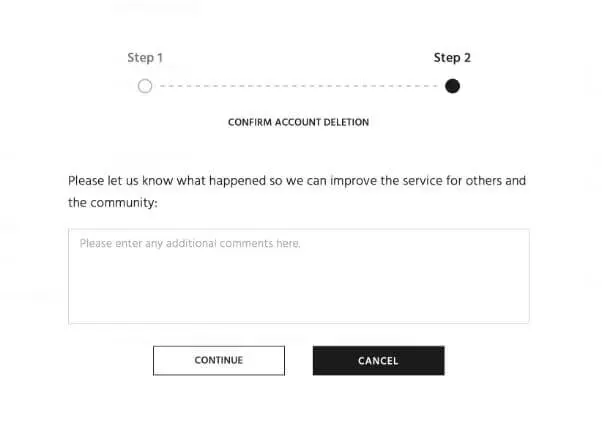 One more question,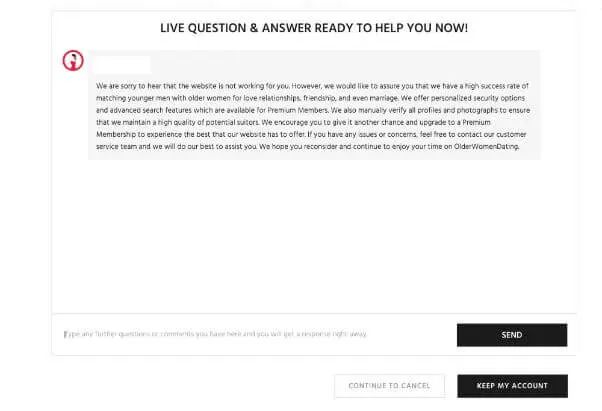 The live chat would ask the one last question.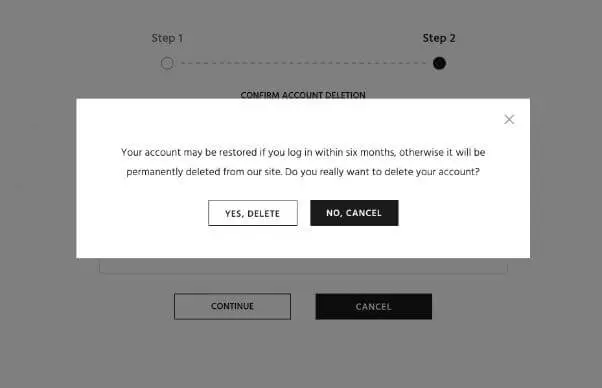 After clicking this, the account would be deleted.
Olderwomendating.com Social Media
Olderwomendating.com has their official pages on the major Social Media platforms.
Facebook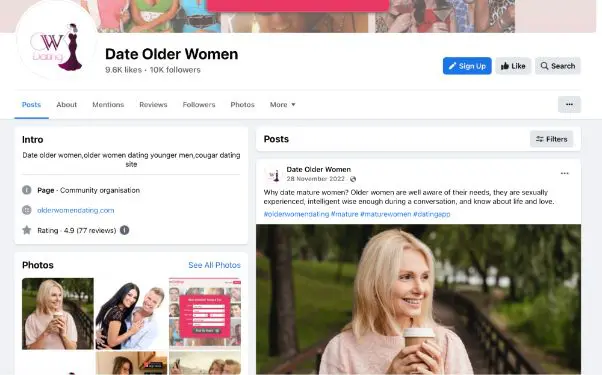 Olderwomendating.com has a Facebook page that serves as an additional platform for the site to connect with its members and potential users. The page can be found at
https://www.facebook.com/olderwomendates
The page features posts about the site's latest updates, success stories from members, dating tips, and other relevant content related to older women and younger men dating.
The page also includes links to the site's blog and other social media profiles, as well as promotions and discounts for new members.
Users can also connect with other members and potential matches through the Facebook page, as well as share their own experiences and stories about dating on the site.
However, their last post was in November 2022.
Twitter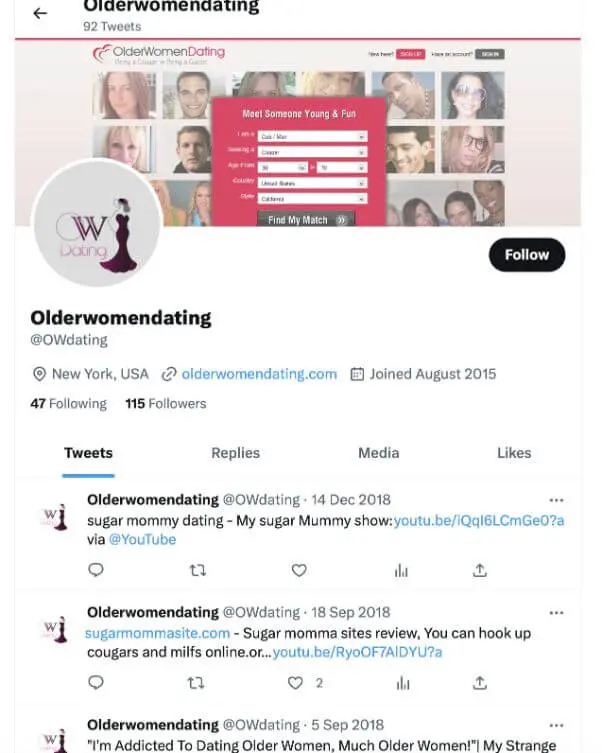 The Olderwomendating.com Twitter account can be found at https://twitter.com/OWdating.
The account shares similar content to the site's Facebook page, including updates about the site, success stories from members, dating tips, and other relevant content related to dating older women or younger men.
However, this account has not been updated since 2018.
Pinterest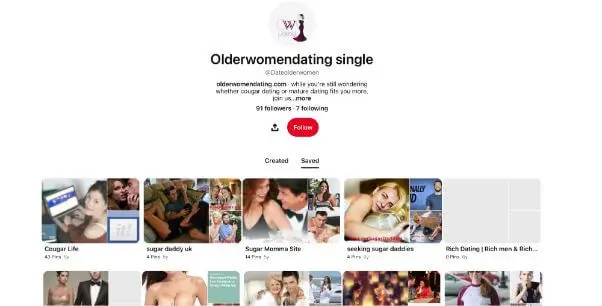 The Olderwomendating.com Pinterest account can be found at https://www.pinterest.co.uk/Dateolderwomen/. This account is used to showcase images related to older women and younger men dating, as well as to share dating tips and advice.
The Pinterest account features boards with titles such as "Age Gap Love," "Cougar Dating Tips," and "Relationship Advice," among others. The boards include a range of images related to dating, such as inspirational quotes, couples' photos, and fashion and beauty tips.
In addition to sharing images, the Pinterest account also features links to the site's blog and other social media profiles, as well as promotions and discounts for new members.
Blog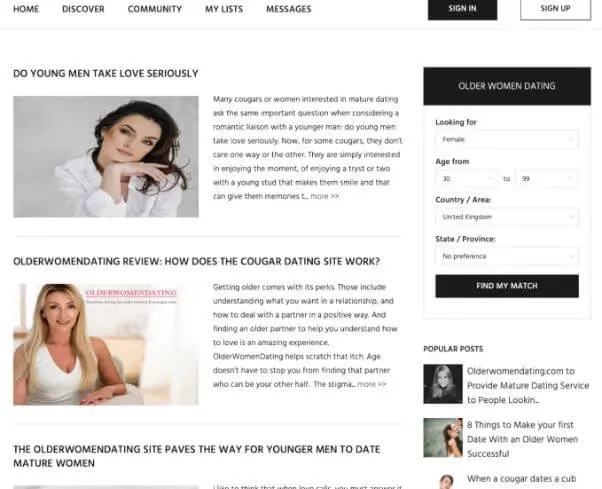 Olderwomendating.com has its own blog that can be accessed through the site's main page or at https://www.olderwomendating.com/blog/. The blog serves as a resource for members and potential users to stay up-to-date on the latest news and trends related to dating older women or younger men.
The blog features articles on a wide range of topics related to dating, including tips and advice on how to attract older women or younger men, success stories from members, and reviews of other dating websites and apps. The blog also includes articles on broader topics related to relationships and self-improvement, such as communication skills, confidence building, and self-care.
In addition to providing valuable content, the blog also offers a platform for users to engage with one another and share their own experiences and insights. Users can leave comments on blog posts, share their own stories, and ask questions related to dating on the site.
Olderwomendating.com Online Review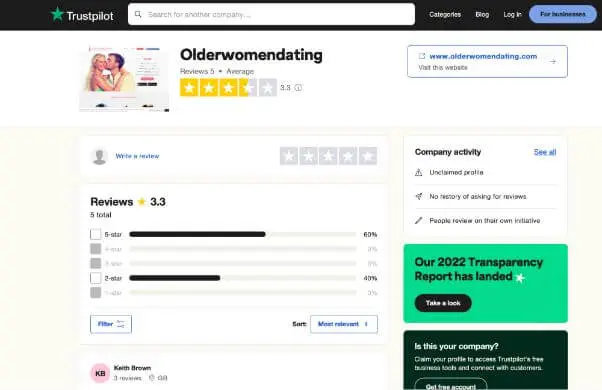 Trustpilot
On trustpilot, Olderwomendating.com has only 5 review posts. This is very strange for a dating service which started more than 10 years ago.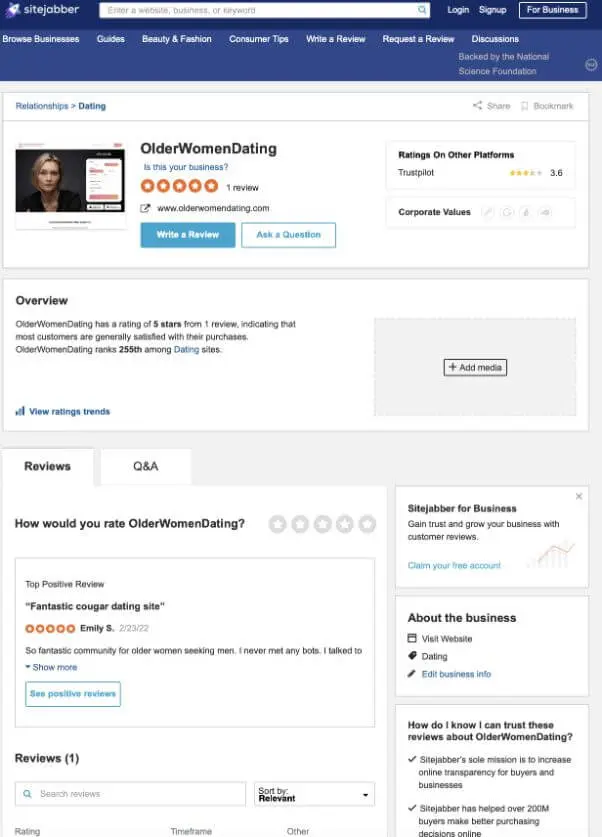 sitejabber
The one review is obviously a positive one.