OkCupid Review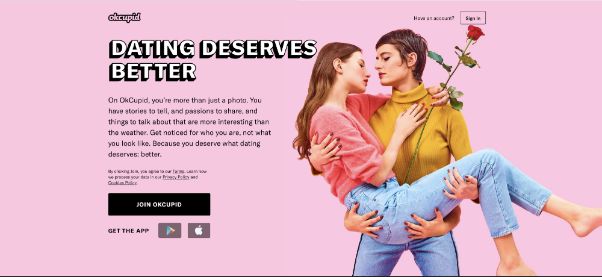 https://www.okcupid.com/
OkCupid is operated by Match Group, they are one of the biggest and the oldest online dating service providers, they also own successful and well known services such as Match.com, Tinder and Hinge. Their headquarter is in Dallas, Texas.
OkCupid started its service on January 19, 2004, it was created by Harvard University students and sold to Match Group.
Since its launching, OkCupid went through some rebranding and change of algorithm such as adding wider gender categories which also resulted in some negative reviews.
They were also criticised in the past because of some policy changes, a possible leakage of their data and conducting some experiments on its users.
However, OkCupid is still running its service after more than 17 years from its launch.
There are millions of active users on this service according to some reviews.
OkCupid Verdict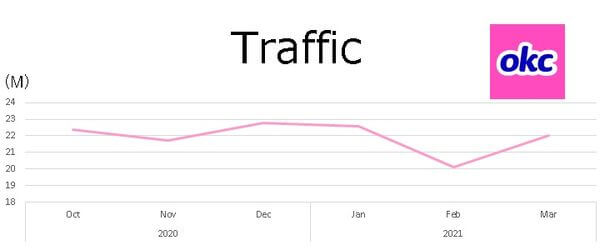 OkCupid is a well known dating service run by a well known company. Sadly, they have been receiving a lot of negative reviews. Thus it is wise to avoid paying for this subscribing service. However, people can still join for free and get in touch with others for free.
OkCupid is a well known site thus it still attracts many people joining everyday.
With being active on the service( by liking others and sending messages), users in a large city would be surely able to meet people.
Traffic by Countries
[April, 12th, 2021]

Monthly Traffic Average by Countries
[Monthly Ave. of Oct.2020-Mar.2021]
| | |
| --- | --- |
| US | 10,130,352 |
| Germany | 1,518,017 |
| UK | 1,182,386 |
| Israel | 1,048,573 |
| Canada | 949,858 |
| Others | 7,107,480 |
Currently, on OkCupid, there are more active users for the same sex relationships, it would be quite difficult to find female partner for heterosexuals' relationships on this service.
Memberships Fee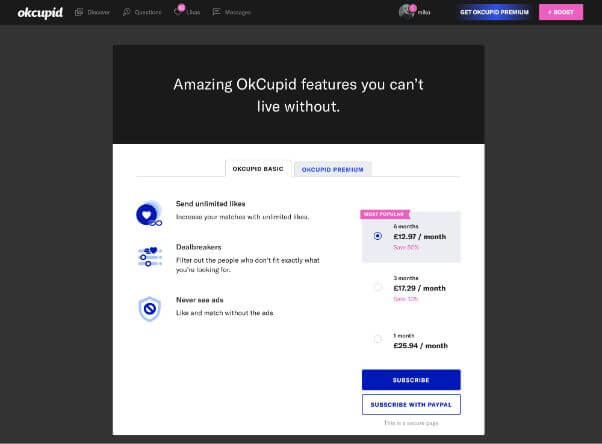 OkCupid has two different types of subscriptions: OkCupid Basic and OkCupid Premium.
OkCupid Basic is cheaper, its advantages are sending unlimited likes, advanced filtering and ads free.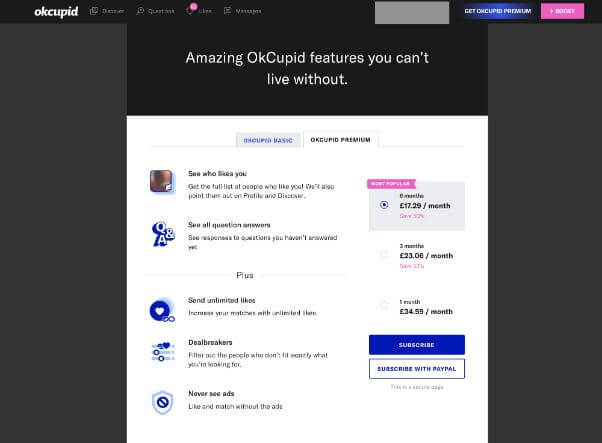 OkCupid Premium would be only a bit more money but users would be able to see who clicked "like" and all answers to questions.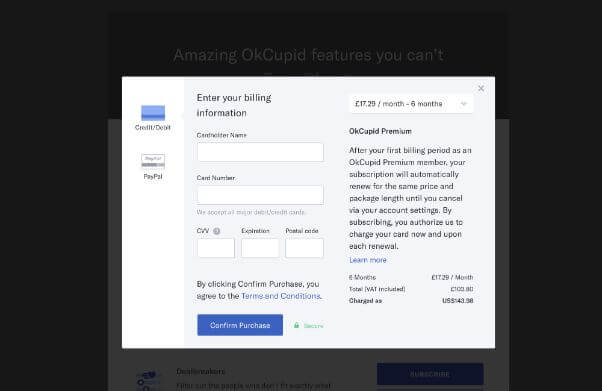 People are able to use credit or debit cards to pay, as well as there is an option to use PayPal. All fees are charged as US dollars thus, there might be an extra charge for a foreign transaction for people who live outside of the USA.
OkCupid offers a free messaging service; it is not difficult to get in touch with others.
User Variety
OkCupid has a great users' variety. Due to a wide range of sexuality options, OkCupid would attract many different users.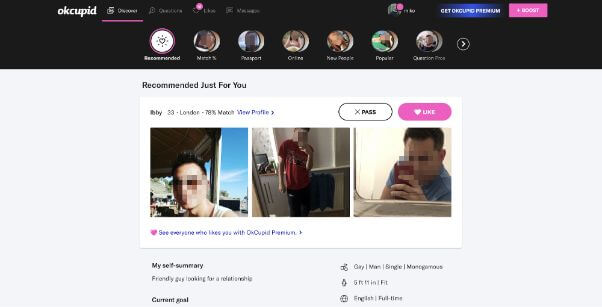 There are users from all racial backgrounds, professions, ages and genders. Users in populated areas naturally would get better chances for more diversity.
How to Join OkCupid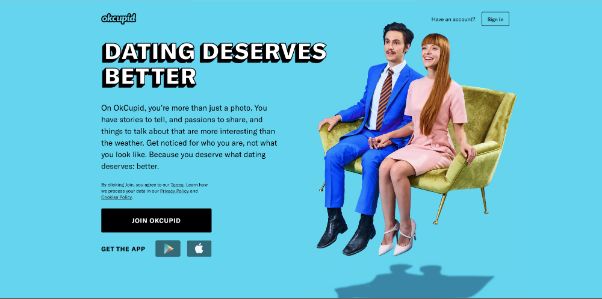 OkCupid is available on all devices such as PC, androids and ios devices. There are two available languages for the web version: English and Turkish. Joining OkCupid is free.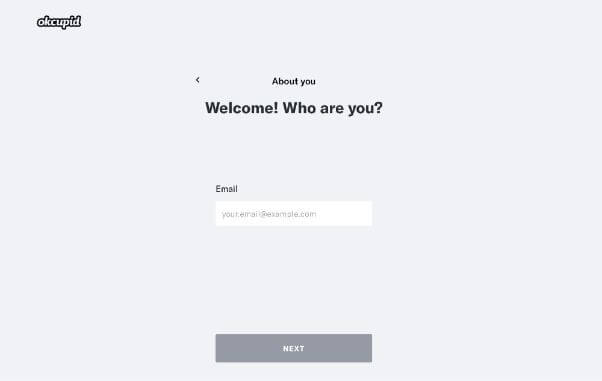 Frist, a user needs an email address.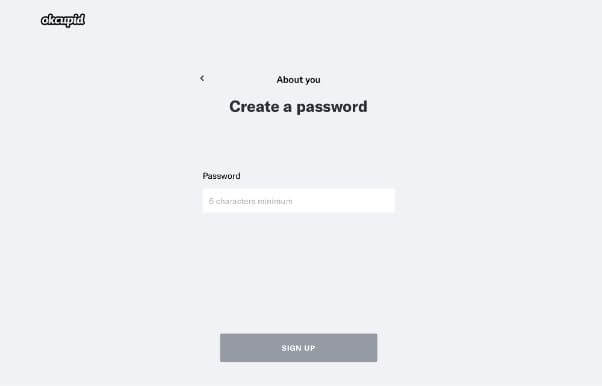 People also need to create a password.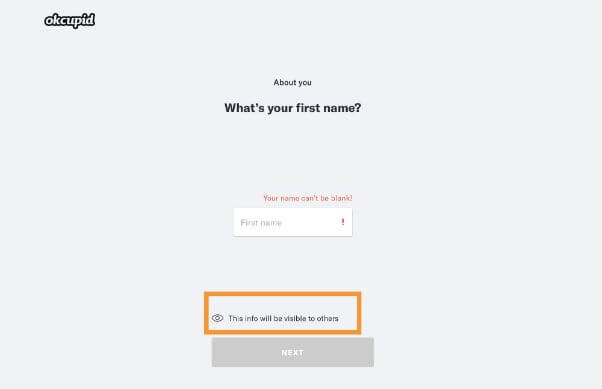 Then people need to start putting in some basic information. Some are visible on the profile and some are not.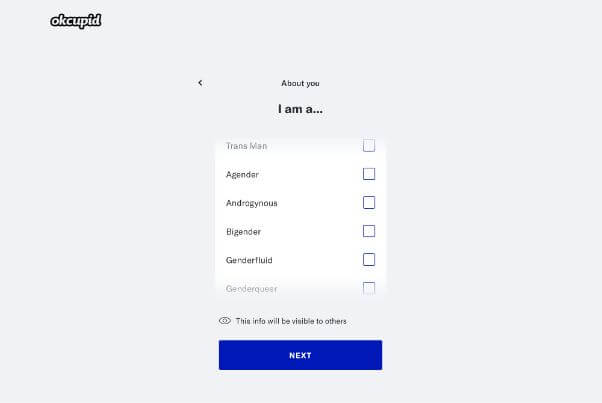 OkCupid promotes gender equality, there are an overwhelming amount of gender options to choose from. This goes to people who you are looking for as well.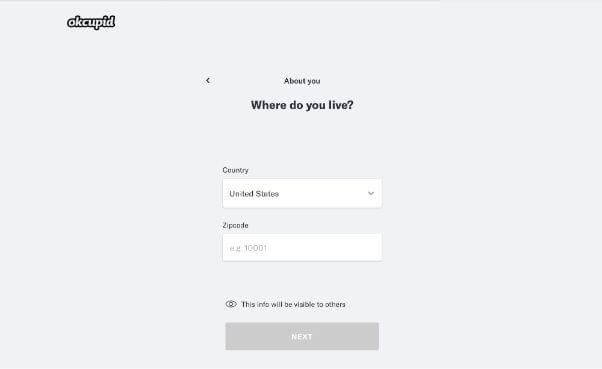 People need to put the location, this is because the feed/recommendations are going to be based on the location.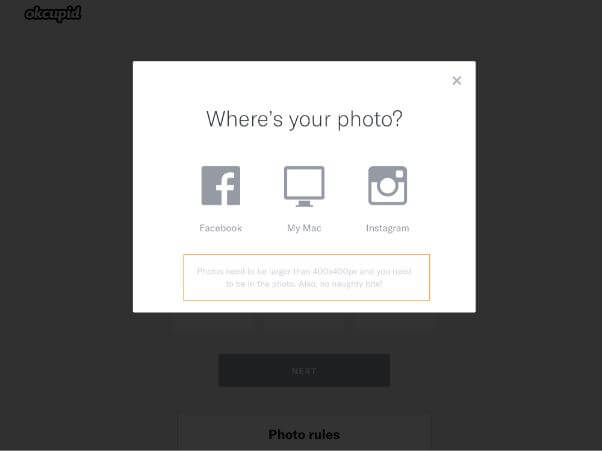 People need to have a photo. It has some requirements. They can use photos from other services such as social media.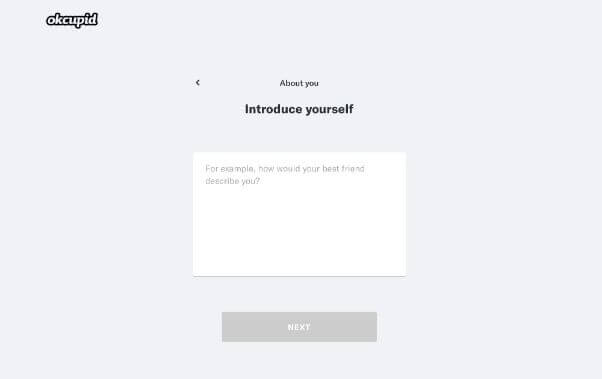 People need to have a line to attract other users. This will show next to the profile picture.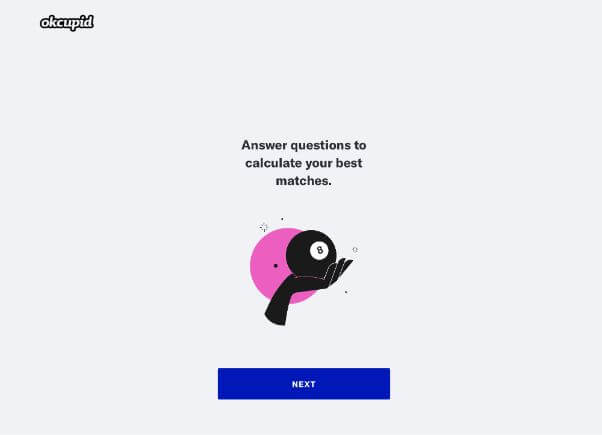 Now, people need to answer about 15 questions, some interesting and some very personal and political. However, people can skip them if they want.
OkCupid would give suggestions based on these questions Thus it may be important to answer them to get right suggestions.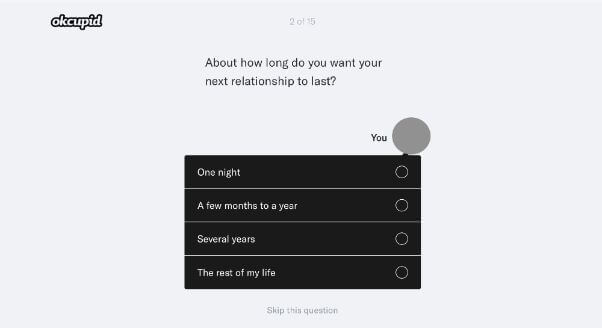 Some are basic like what are you looking for in the next relationship. (using OkCupid)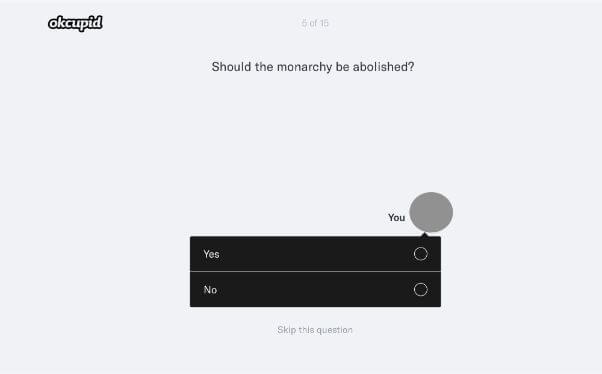 Some questions are very strange, random, personal and political.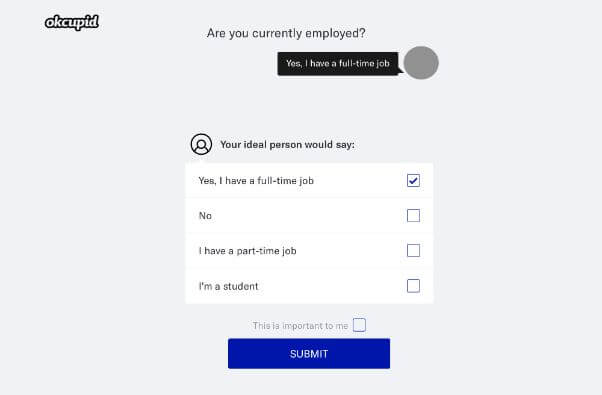 All questions, you need to tick answers for your partner to be!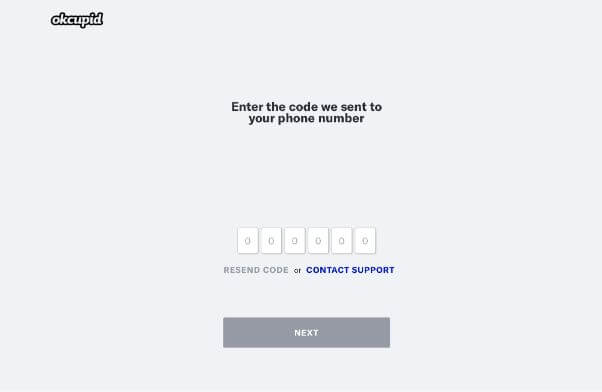 Finally, you need to give them a phone number so they can send you a code to verify.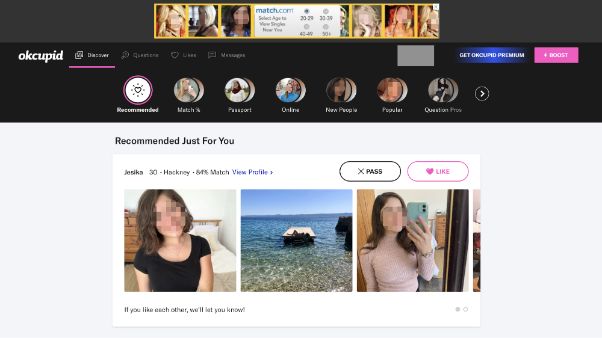 This is OkCupid's main page. Recommendations are based on location, and the user's answers to 15 questions.
Find & Meet People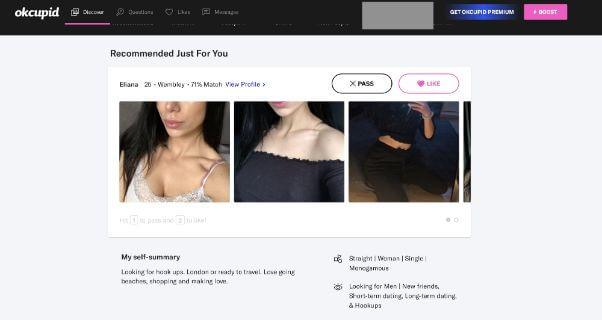 From the "Discover" section, users can click Pass or Like people who are recommended. This is a very common feature for modern day online dating service. Profile photos are very important here.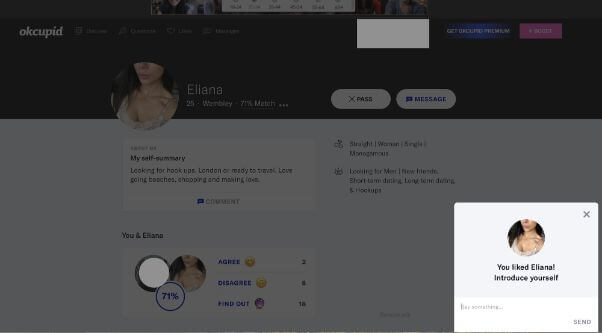 If you like a person, OkCupid would recommend you to contact the person by messaging. This is totally free. The profile page also shows how much percentage you and the person match, based on answers to questions.
OkCupid does not offer a video chat function which is not really ideal with this world pandemic situation. A lot of competitors are offering video chat services, some of them are even free of charge.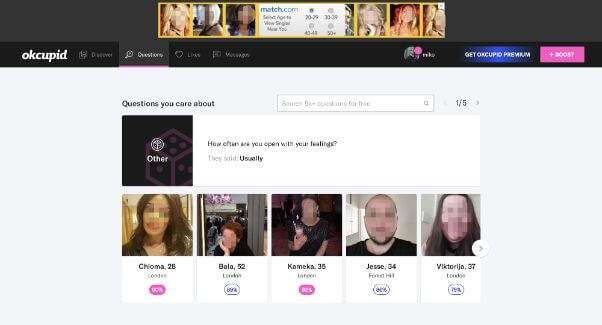 From the Question section, users can search for others based on initial questions, and see some more new suggestions based on answers.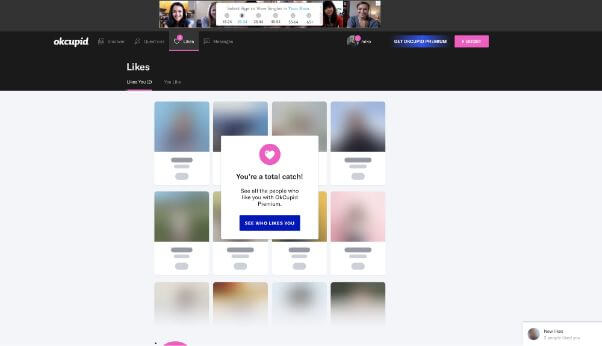 The Likes section is for premium members only.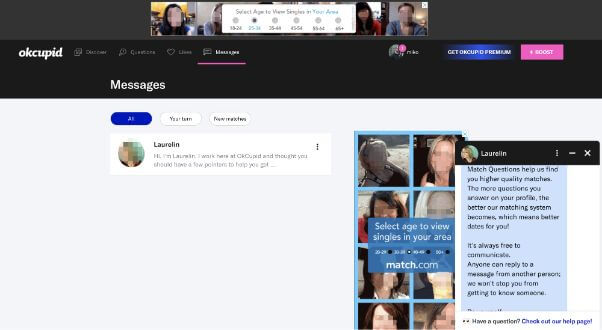 The message service is free to use on OkCupid. The customer representative would contact a new user. However, the user can not get in touch with the customer service using this message. Users need to use their email to do so.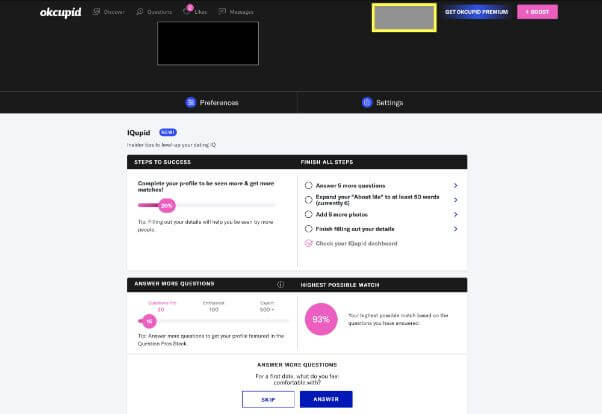 From the photo on the top of the page, users can access their profiles.
People can fill in more information, add photos and answer more questions to increase accuracy of recommendations.
How to Delete an Account and Leave OkCupid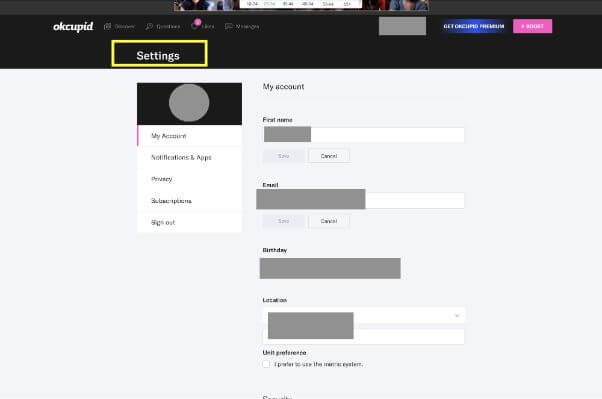 Users can access Settings from profiles. Users can find more options.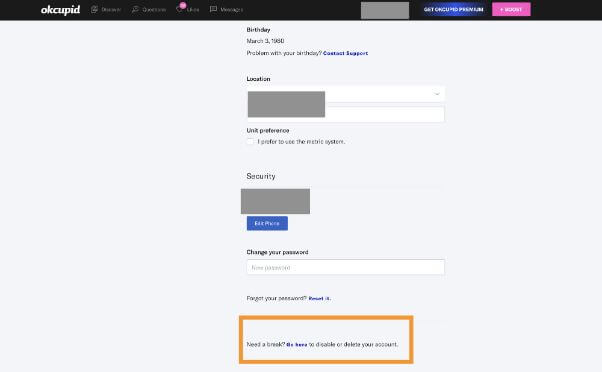 Users can see the Need a break sign at the bottom of the page where they can disable or delete accounts. This seems very easily done.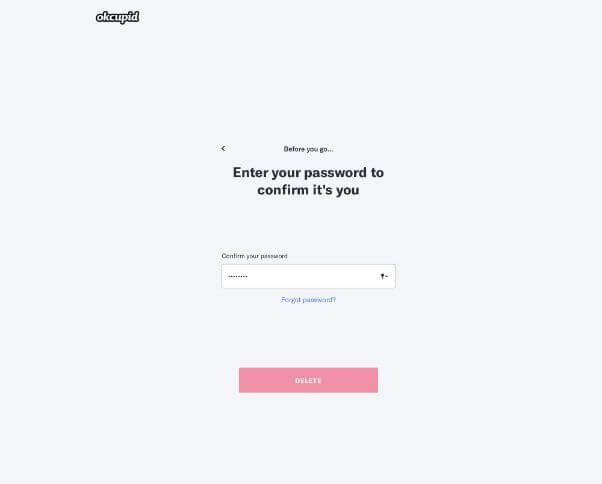 The last step is to type in the password. Thus make sure you have it.
OkCupid Social Media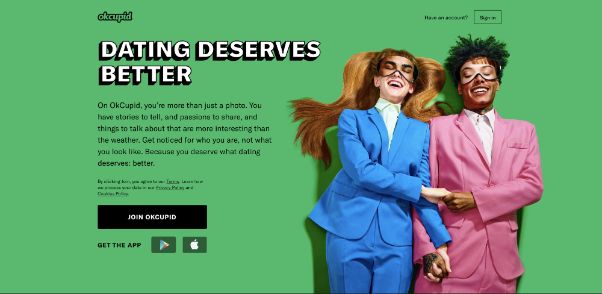 OkCupid has a lot of social media activities.
They even have their own blogs. One is for dating in general and another one for updating their site engineering which is very unique.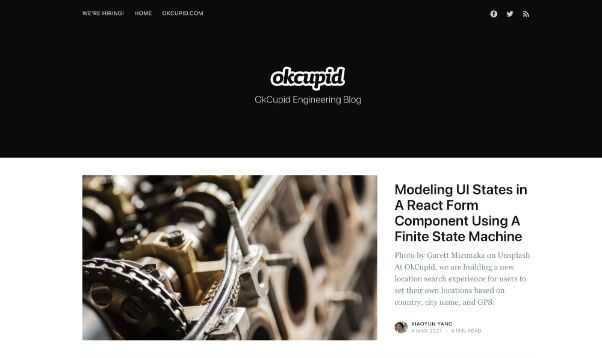 https://theblog.okcupid.com/
This blog shows readers how this service is operating from a technical point of view. They are also hiring!
Facebook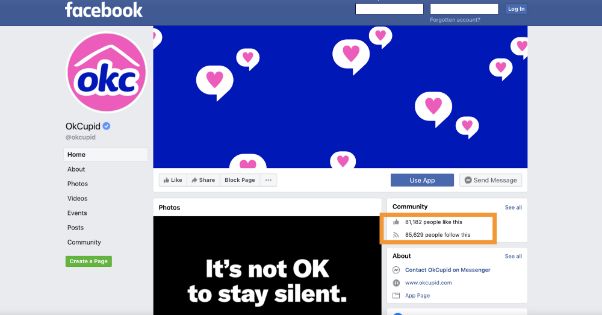 Facebook
OkCupid has a healthy number of activities and followers on Facebook. They post often and users are regularly leaving comments on their posts.
Instagram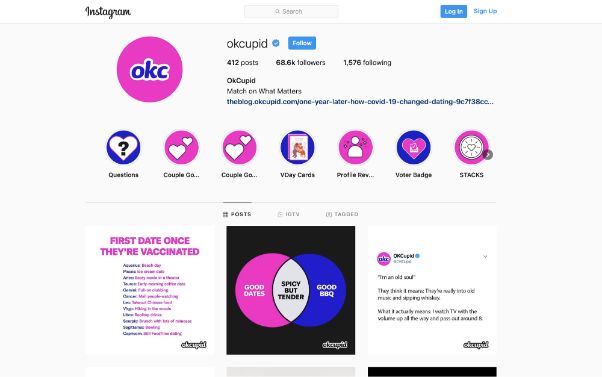 OkCupid is most active on Instagram. They post mainly about dating and they also post regarding social trends.
Twitter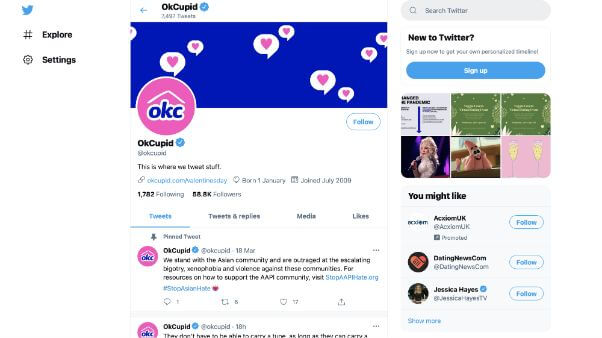 OkCupid is also active on twitter, they follow social trends and tweet about online dating.
Find your ❤️… who also ❤️s the 🌍.
For #EarthMonth, we're introducing a new badge for your profile that lets matches know you care about #climatechange. Read more about the badge at our blog https://t.co/BvAELIp7i8

— OkCupid (@okcupid) April 8, 2021
From OkCupid's social media activities, it is obvious that they have a wide range of users. They also seemed to have staff who are looking after their social media specifically such as creating their original posts.
Since they have the most followers on Facebook, they would have users who are Facebook generation rather than Instagram generation.
Online Reviews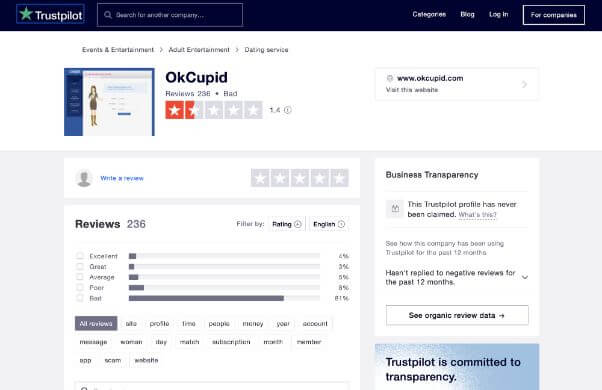 Trustpilot
On Trustpliot, OkCupid has mostly negative reviews. The majority of negative reviews were about the same issue that once users paid to subscribe to the premium service to see who liked their profiles, the number of "like" decreased. This is a very worrying issue. Since there were many people who experienced the same issue, it is hard to not believe.
Also, after paying for the premium service, a lot of users found out that their likes were from people who would be located in different countries.
OkCupid App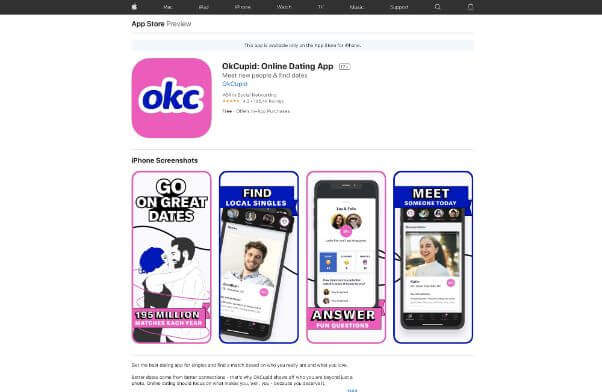 App Store
OkCupid offers an app version. It has 200K reviews thus there are a lot of people who at least tried this app. It's ranked 64th on social networking on Apple app store, but it has the age restriction of 17+.
Although it has a 4.3 review rate, most of the recent reviews were very negative.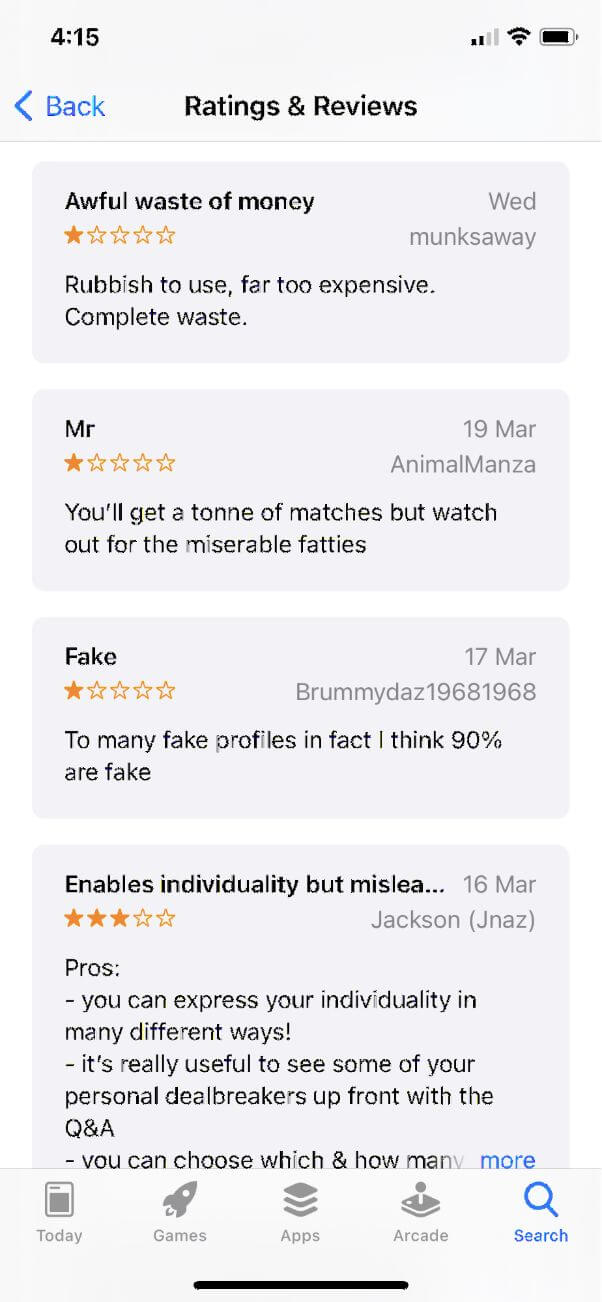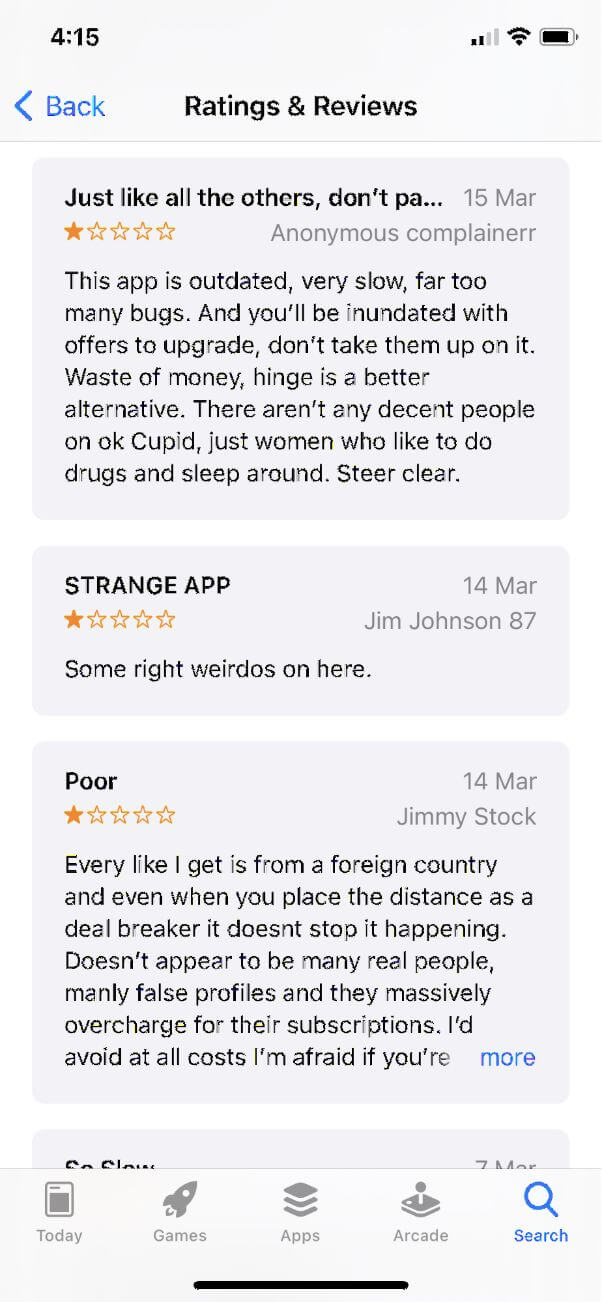 Some reviews were saying that the app was too slow and there were lots of glitches and bugs. Moreover, once they paid for the premium service, all "like"s were from users in foeign countries.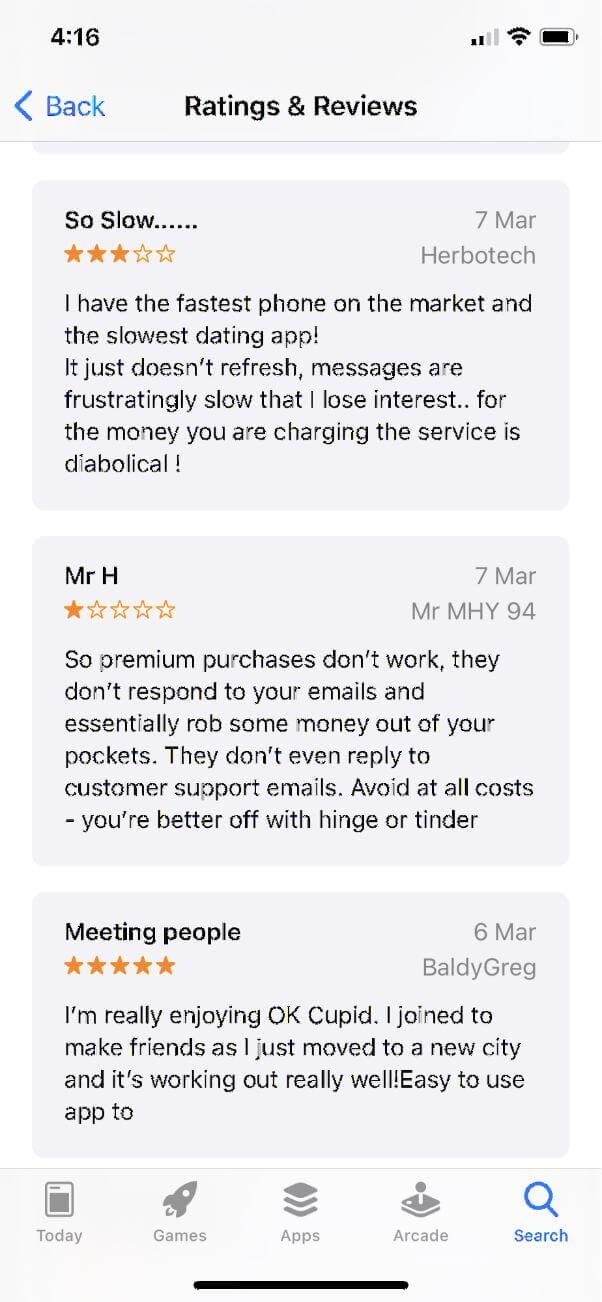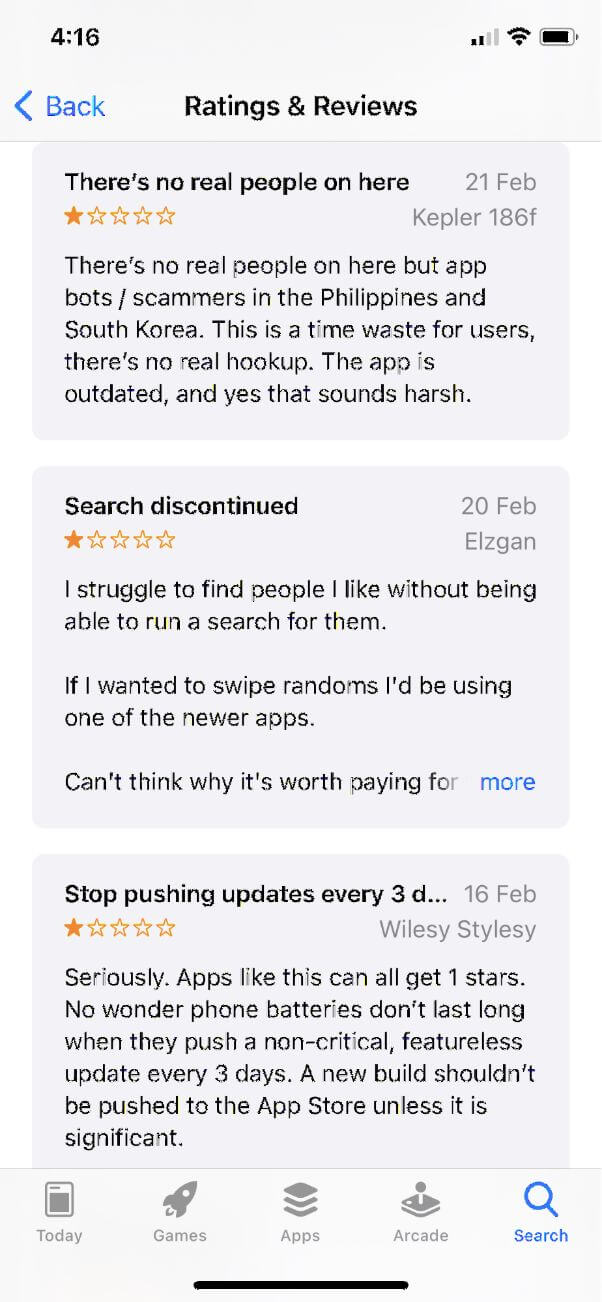 There are also some reports about scammers and fake profiles. There are also several posts about OkCupid being a go to app before but now it changed to focusing on charging people for profilts.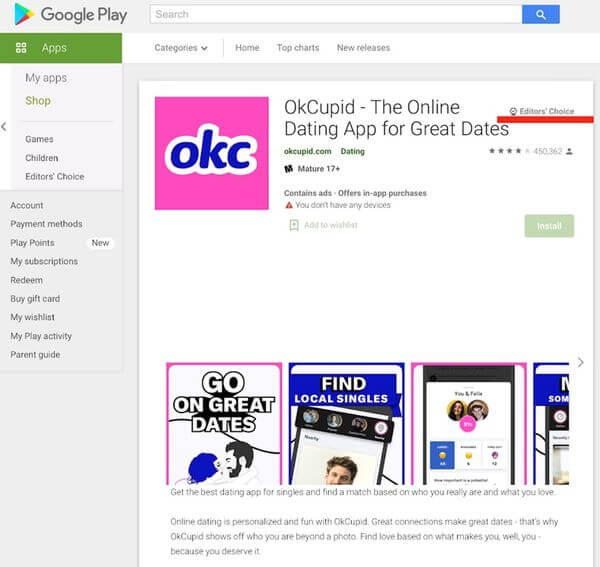 On the Google store, OkCupid is more popular. It even has an "Editor's choice" badge.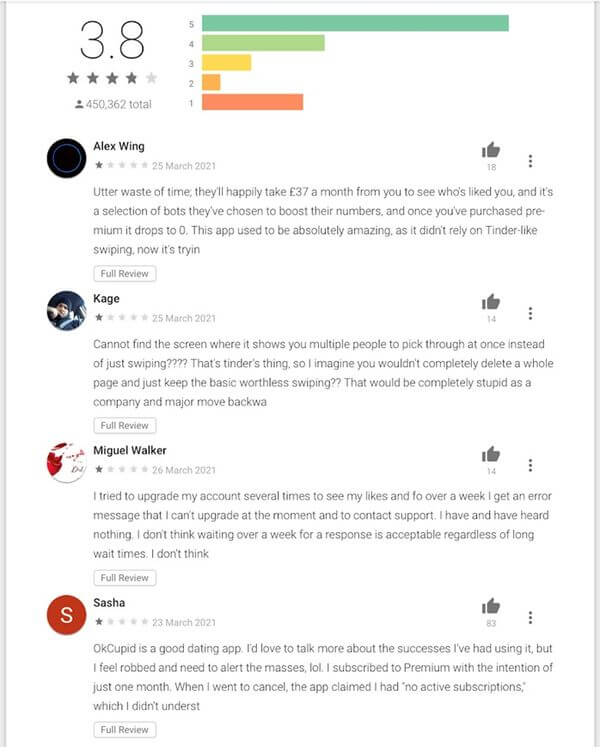 Google Play
It has 450K reviews, but the recent reviews are mostly negative. The most recent review also stated the same issue of "like"number dropping after purchasing the premium membership.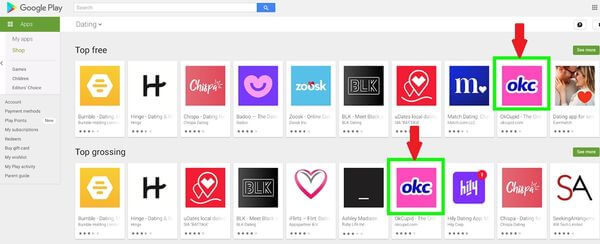 Despite all the negative reviews, OkCupid has ranked in both Top Free app and Top Grossing app in the dating category. This is very surprising.