Hily Review dating app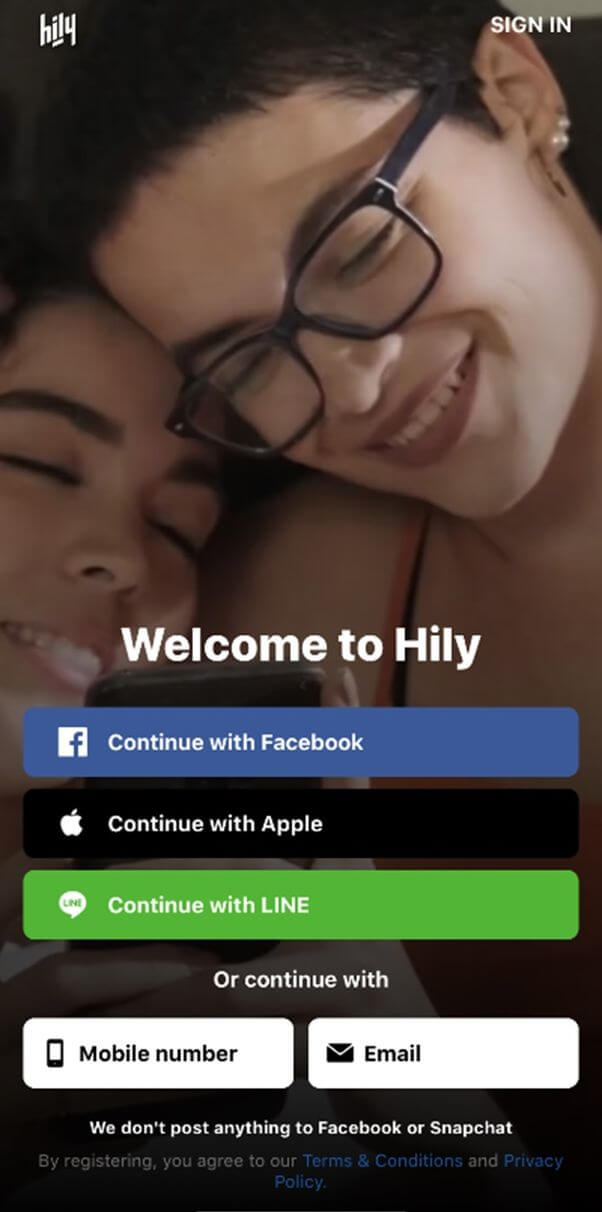 https://hily.com/

Hily, as in "Hey, I Like You", is a dating app with a modern twist to it. It implements the function of AI such as learning machine to match users with similar interests and ideals to each other.
Hily Verdict
Hily has heavy aspects of social media in it, being heavily advertised on Snapchat and online articles to be the up and coming modern dating app.

pros
• Hily isn't just a dating app, but it can also be used as a tool to find a new friend to chat with, finding someone who has common interests and values as you.

• Hily has a reputation of being a relatively safe app, having verification features such as face recognition, email, phone number or Facebook verification. (But it is not compulsory.)

• Functions such as compatibility quiz to find out compatibility with other users. Types of users and profiles that will be shown to you based on your swipes by using their analysing algorithm.

• "Story" feature that is similar to social medias such as Instagram and can be utilised to spot fake accounts. Snapchat stories can be integrated onto Hily.

• Utilising a 'risk score' to fish out bad users. Users who receive too many complaints or suspicious activity will be banned.

• Daily roulettes available for free users.
Cons
•

Beware of free trial.

Users should be careful when reading small print in order to avoid extra charges.

• Expensive premium fees.

• Advertisements and constant pushing for free users to sign up for premium.

• Exposing personal information online such as linking Snapchat, may expose users to outside dangers such as identity theft or scams.
In conclusion, Hily seems to be the new up and coming meet-up/dating app with an unique concept of prioritizing compatibility between users. Albeit the compatibility quizzes being a special feature in this industry, not many users will actually use this function. The app itself requires a lot of fixing and better security as it is still relatively new.

There is no harm to join this app if you are looking to use something to find friends or pass time. But if you do download the app, it would be ill-advised to join the free premium membership.
How To Use Hily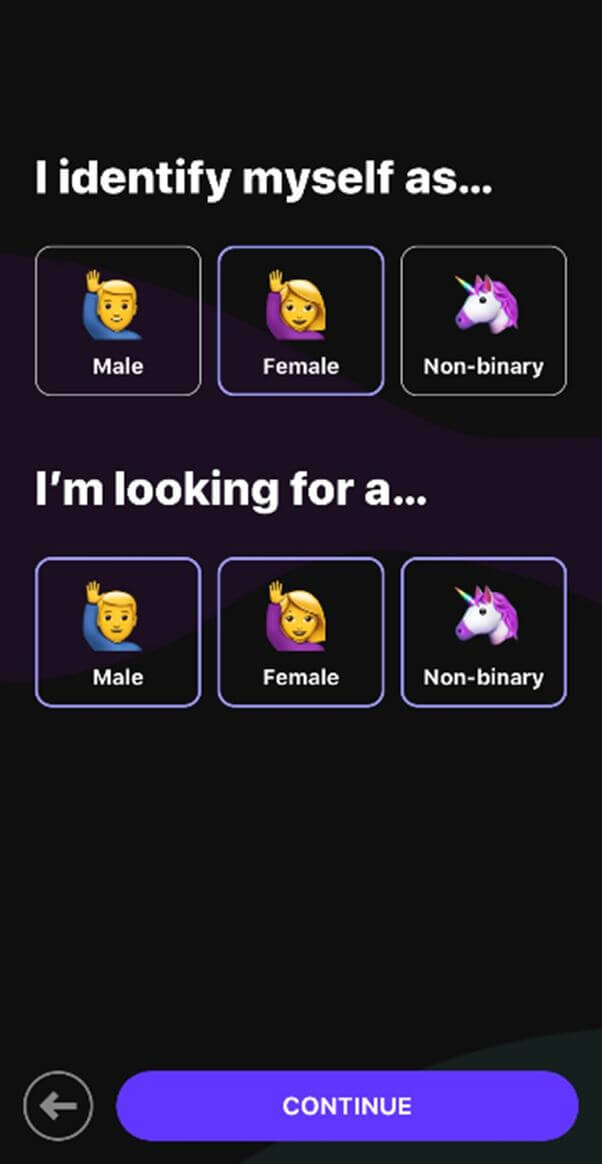 1. Create a detailed profile by filling in questions as given. Get your account verified to increase reliability.
2. Swipe on profiles, the algorithm will keep track of it and provide you with matches that are more suitable to your taste.
3. Talk to your matches and hopefully meet up with them to make a good friend or find a lover!
Users are able to register for their account easily via a plethora of methods. Right off the bat, Hily has a lot more options of signing up by using methods such as Facebook, Apple ID, LINE, Mobile Number or email.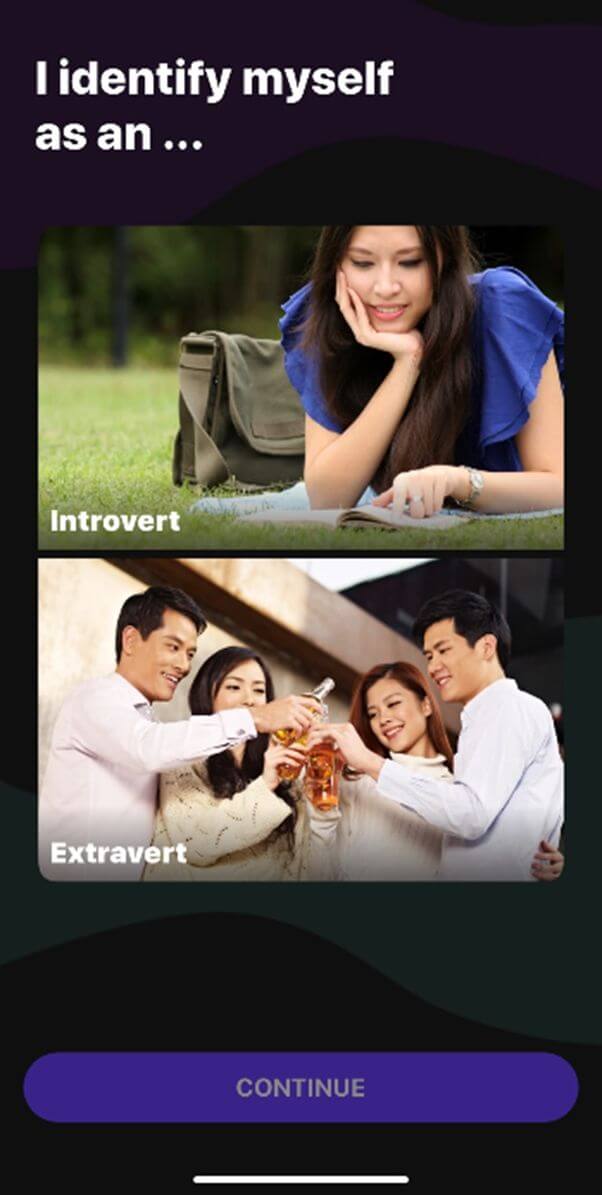 After signing up for an account users are prompted to fill in basic information about themselves such as name, age and et cetera.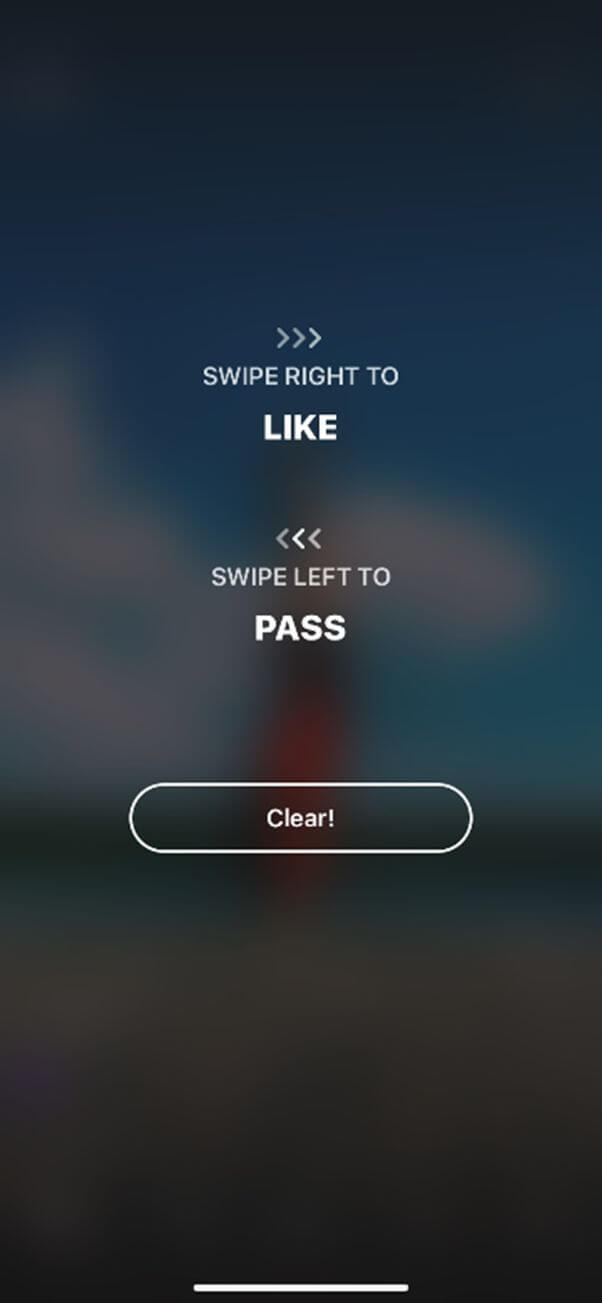 Two special features to note is that, Hily is has a non-binary option which is LGBTQ+ friendly.
The second feature is an algorithm that Hily uses to find compatible matches for users, based on their personal preferences and ideals.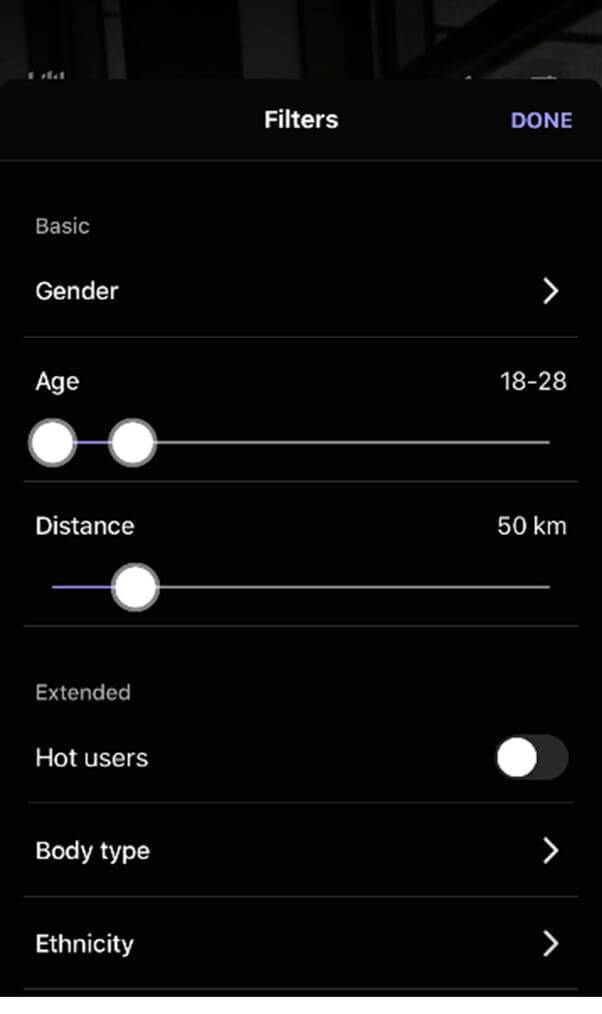 Manoeuvring the app is similar to popular apps such as Tinder, with the swipe left or right feature. Only premium users are allowed to rewind their swipes.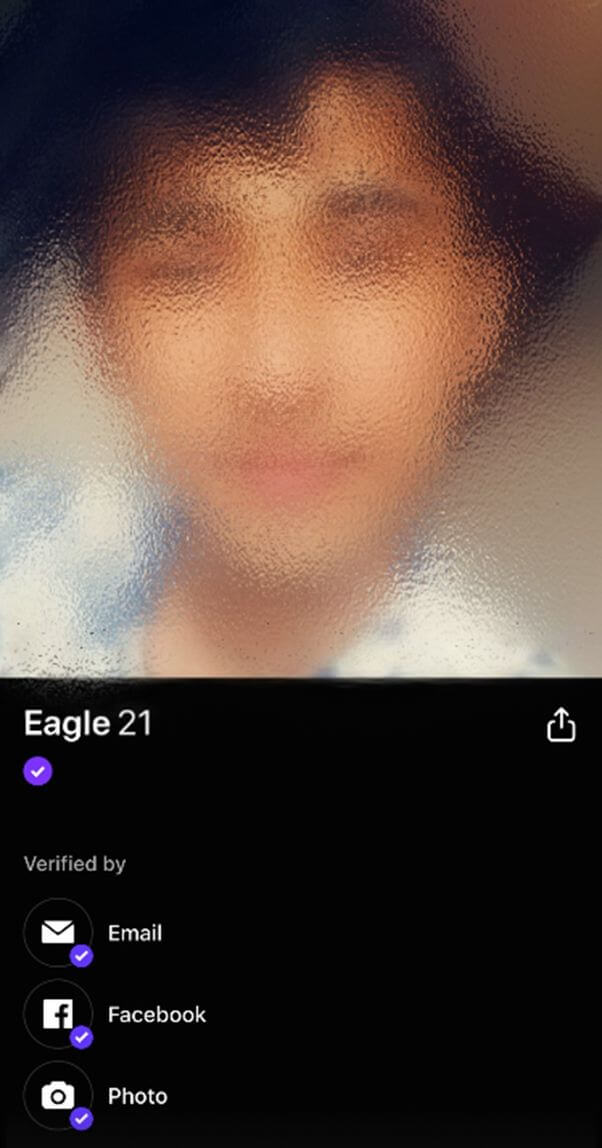 Users can filter the users that they want to see in their feed by choosing options such as gender, age and distance.
Premium features includes filters for ethnicity, body type and "Hot users."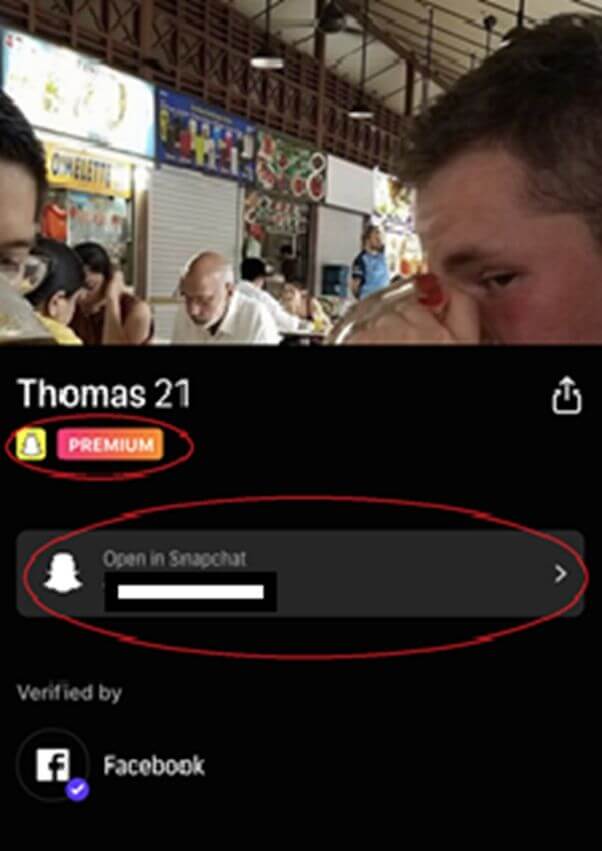 You can see if a user is verified or has their social media linked to their profile.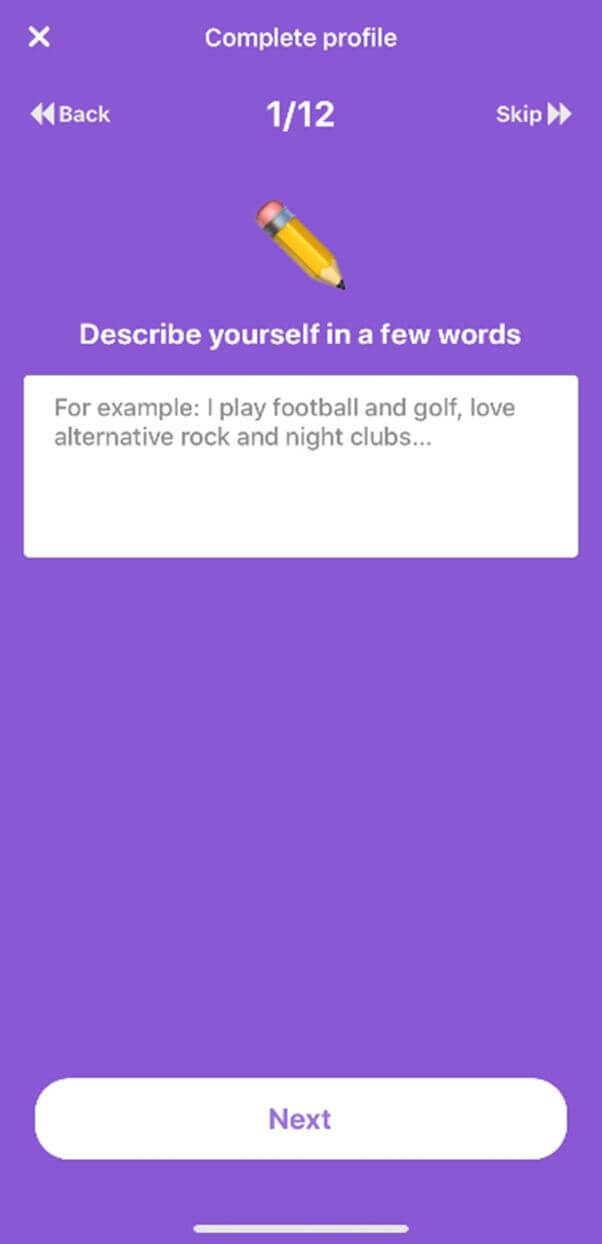 Users can fill in their profiles being guided and a free column to write about their bios.

Users can also link their Snapchat or Instagram to further chat with users.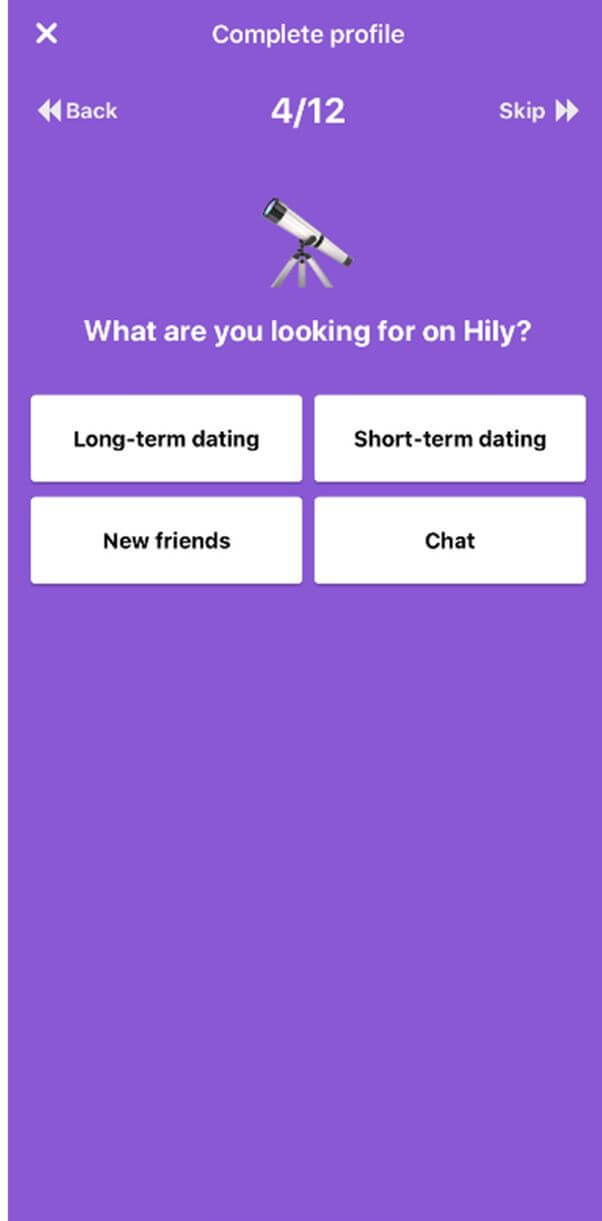 Even though it is not compulsory to do so, users can garner trust from other users by verifying their accounts. Users can also earn free consumables by doing so.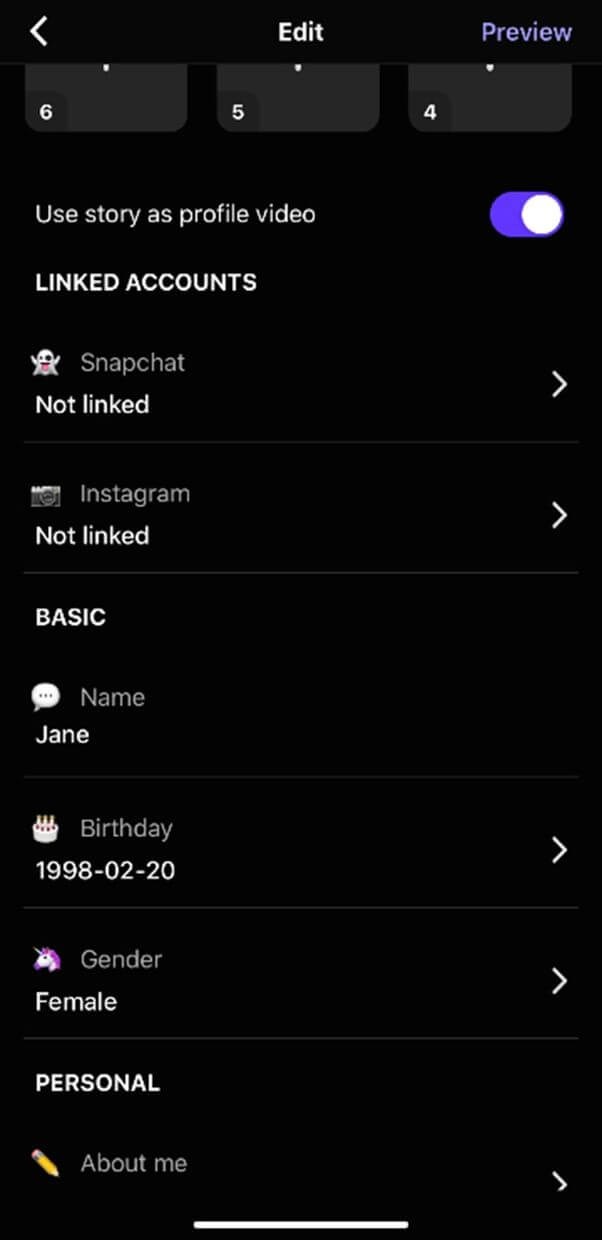 This can be done via photo recognition, mobile number, email or Facebook. (Other Users will not be able to view your Facebook profile.)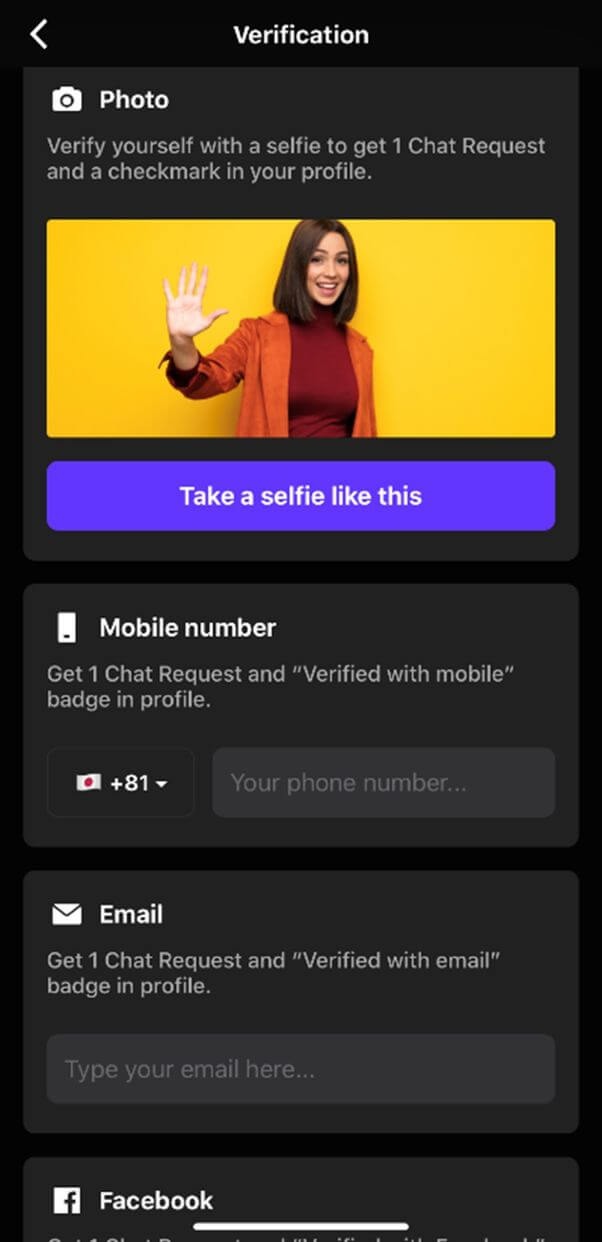 The "Stories" function allows users to view stories posted by other users from social medias such as Snapchat. This can also be utilised by users to weed out probabilities of fake accounts and scams.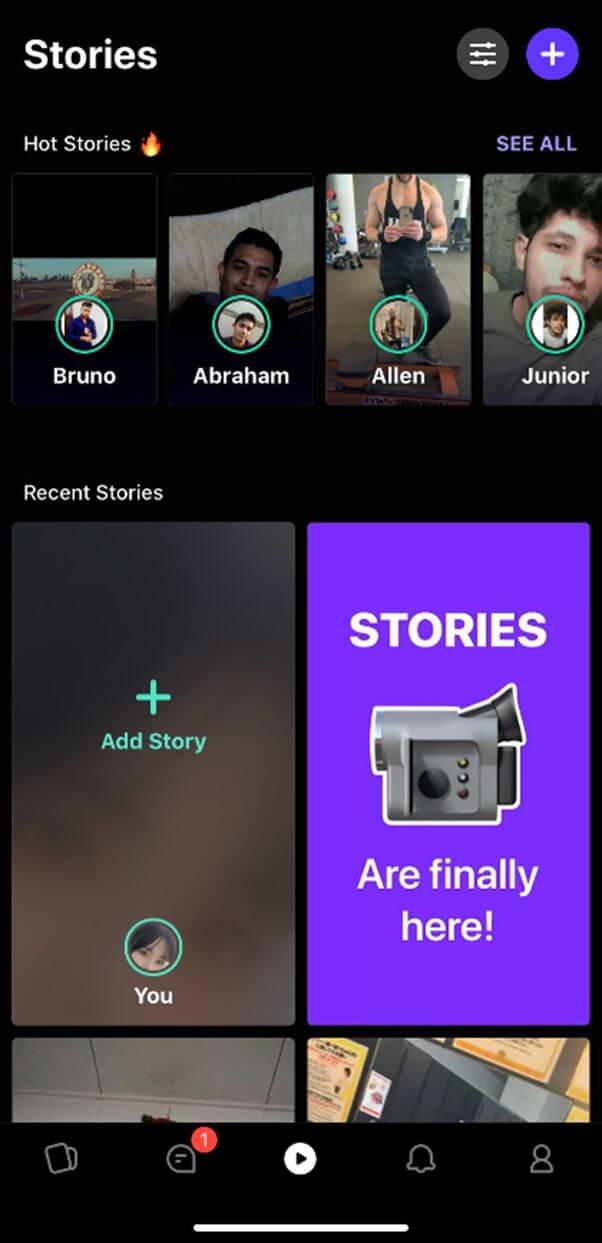 One special feature that Hily has for active users is a daily roulette game, where users can receive consumable features from logging in everyday.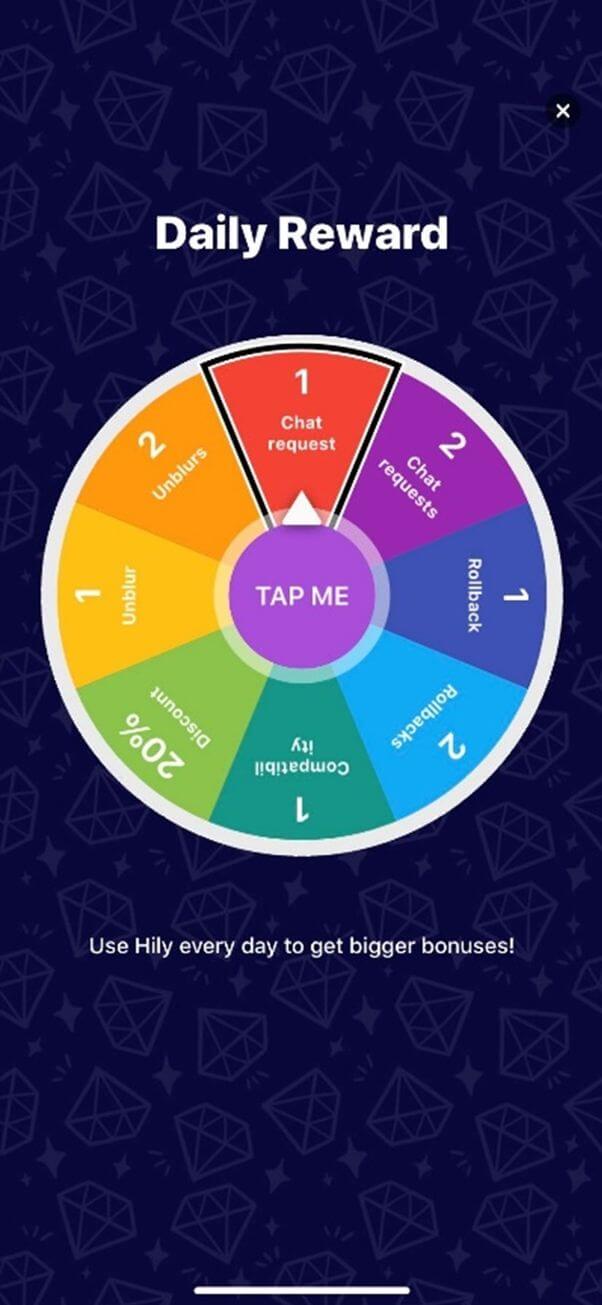 Hily also allows users to make suggestions on further feature updates, creating a more transparent user interface.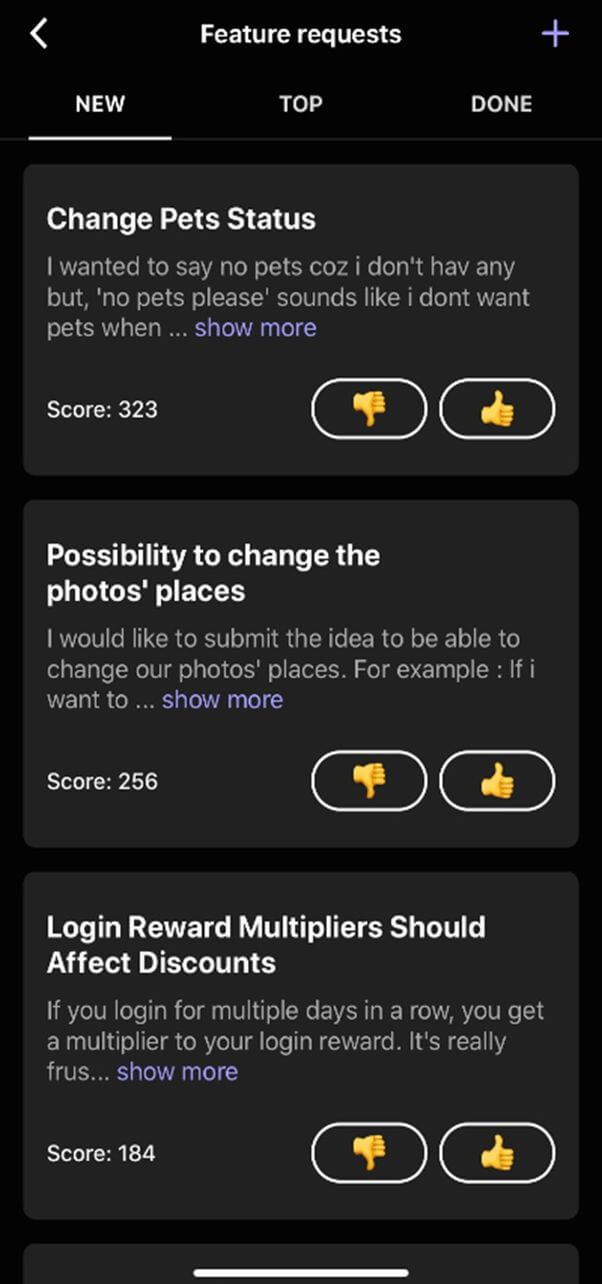 Hily Fee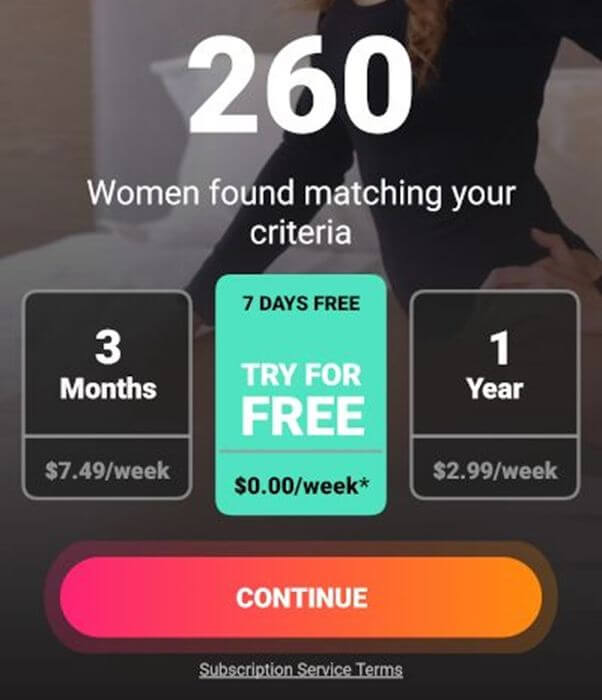 Hily is a free to use app available on both iTunes App Store and Google Play. The app offers additional features for users that purchase the premium membership. A free trial is offered for users, but I do not recommend subscribing to it.

Fee for Premium Membership
The membership for Hily can be

quite expensive.


• 7 days for $14.99
• 3 months for $53.99
• 12 months for $119.99 total

During the free trial or premium membership, consumables can also be purchased. Features such as Boosts, Chat Requests, and Rollbacks.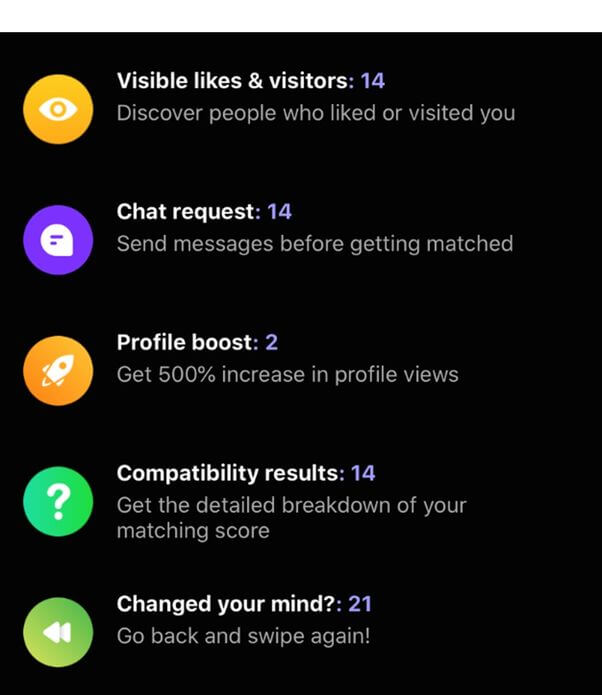 *Terms and Conditions to be aware of:
All fees and charges are non-refundable.

Your account will be charged for renewal within 24 hours prior to the end of the current subscription period.
Premium membership privileges
Extended filters
Premium subscription allows users to narrow down characteristics of users they want to see in their Finder, such as body type, ethnicity and "Hot Users".

Sending Messages Before Getting Matched
With Hily Premium, users can send messages to people they're interested in without having a mutual match with each other.

Profile Boosts
This feature helps users to get more visibility from other users.

Visible Likes And Visitors
Being able to see who liked and visited your profile without matching them.

Incognito Mode
Your online status will be visible only to those you liked.

Unlimited Rollbacks
Being able to rewind to find the user that you hastily swiped left on.
Hold your horses! Why is it not recommended to sign up for the 1-week free trial?

I would not recommend users to sign up for the free trial package as, users will be required to terminate the free trial 24 hours prior to the end of the subscription, or they will be automatically charged a fee to continue premium for 1 week. There are better deals for longer period of time, and other users have also commented on the confusing billing and refund process.
Users
【May.03.2020】
Gender Ratio
Hily is one of the most fastest growing dating app of App Store Ranking, but the monthly average active users are 110,000 around which is not so big as in popular dating apps.
Hily asked 1,500 of its single users from the U.S. and U.K. how their online dating game has changed due to the pandemic. Here's what they told 👇https://t.co/u0dhF0Lblz

— Hily (@hilyapp) April 29, 2020
Traffic
| (K) | 2019 | | 2020 | | | |
| --- | --- | --- | --- | --- | --- | --- |
| | Nov | Dec | Jan | Feb | Mar | Apr |
| Hily | 110 | 110 | 120 | 100 | 130 | 100 |
| Match.com | 29,300 | 31,500 | 32,900 | 27,500 | 28,300 | 28,900 |
| Tinder | 74,100 | 79,600 | 82,800 | 70,400 | 83,700 | 93,900 |
| OkCupid | 25,500 | 27,800 | 28,000 | 25,000 | 23,400 | 21,400 |
| Bumble | 5,350 | 6,250 | 6,700 | 6,150 | 6,750 | 7,150 |
Traffic by Countries
The app kick-started in United States in 2017. Hily expanded and was available in European countries, Australia and all of Latin America in 2019. Main users of Hily comes from the United States.
 
Review
Pros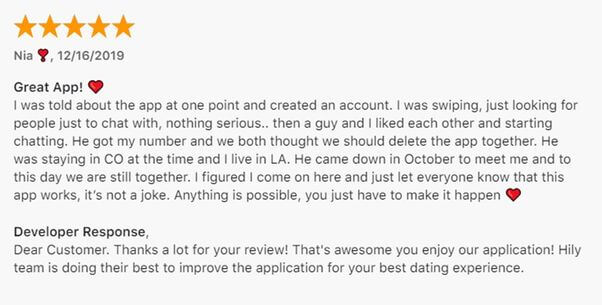 There are users who enjoy the user interface that Hily provides, the algorithm where people are matched together based off of their compatibility. Another fact to note is that Hily has shown its openness and appreciation towards the LGBT community, having the non-binary option open for those with another sexual orientation.

But it is suspicious that Hily is able to have a 4.2 out of 5 rating when the reviews written recently is littered with one star review. Undoubtedly, Hily is still an app that requires better monitoring and bug fixes aside from its flashy tech-features.
Cons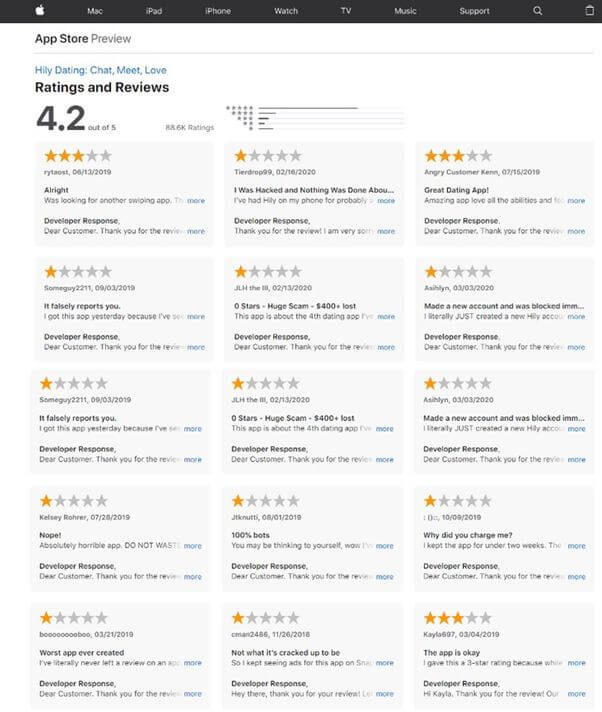 Albeit the 4 star ratings given on iTunes App Store and the Play Store, Hily has received overwhelmingly poor reviews from users. A few majors issues that should be fixed for this new dating app is the customer service protocol in regards to hacked accounts and leaked information and minor app bugs.

Bugs that should be fixed by Hily includes, being banned immediately when signing up for an account and the distance filters provided. The distance filter on Hily is too wide and should be narrowed down to a smaller distance.

Next, Hily's customer service would need a better protocol to fix issues such as accounts being hacked, especially when users have their social medias such as Instagram and Snapchat linked to their accounts.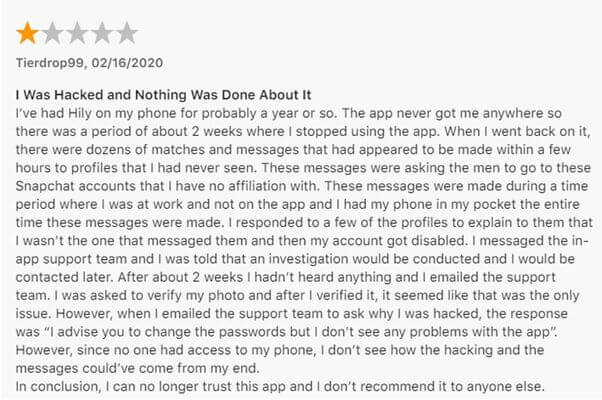 One thing that users should be careful of themselves, is to not sign up for the free trial. This is because it is written in fine print that the membership will be automatically continued for 1 week.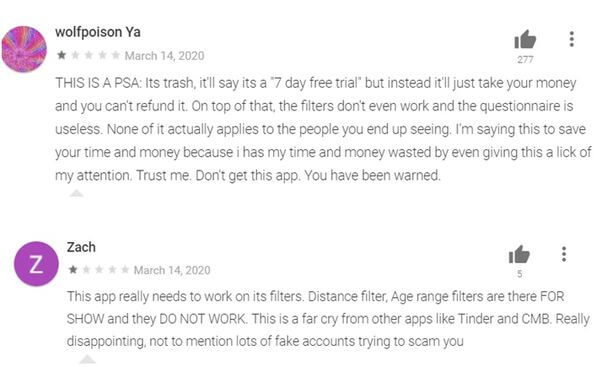 Users will have to cancel their free premium membership 24 hours prior to expiration in order to avoid being charged extra.
 
How to sign out Hily
Its extremely easy to sign out of your account. You can do so by:
Settings > Account > Logout.
Hily also has the function for users to hide their account temporarily if they plan on taking a break, or completely deleting their account.