Facebook Dating vs Tinder
1. What is Facebook Dating?
Facebook adapted a dating system on April 30th, 2019. That is an unprecedented project ever.
Facebook had never dedicated exclusively to dating. This is literally Facebook Dating.

This sensational notification announced at F8 Developer Conference (https://www.f8.com/) where it was held at San Jose 2018.

"At the time, Facebook CEO Mark Zuckerberg said the dating feature wouldn't suggest matchers between friends, but would show which other single people were attending events near the users."
Souce: news.com.au
1-1. Original Facebook
・It has over 2.38 billion daily active users. (Statista)
・It has over 200 million users who list themselves as single.
・It founded in 2004.
・It is available in 140 languages.
(June 2019)

1-2. Facebook Dating
Facebook Dating product manager Charmaine Hung tells me that "I have 2,000 Facebook friends. I'm not best friends with all 2,000 people, and there's a good chance that one of that could be a really good match with me. I trust them, I appreciate them and I know we're compatible. The only thing missing is knowing if we're both interested in being more than just friends without the fear of rejection if you were to do this in real life."
(TechCrunch )

It goes without saying, it is not a traditional dating app. This social network service allows you not only to search for other singles in a variety of ways, but also it allows you to connect with your friends and family.

Although this app is designed to allow you to connect with people you already know "in real life", this provides a great opportunity for singles to connect with friends of friends and with other people who share similar interests or hobby.

You can neither do "like" as Tinder nor search for someone who requires lovers.

That being said, you need to search for some groups or to contact with friends who have other friends and are willing to introduce them to you.

If you didn't have many friends, you could find some groups which you are interested in then you can join in.

in addition, once you participate in the activity which the group holds, you can definitely meet wonderful guys/girls. That is the most typical way to approach to other people who activate Facebook.
1-3. Discreet of the usage of this feature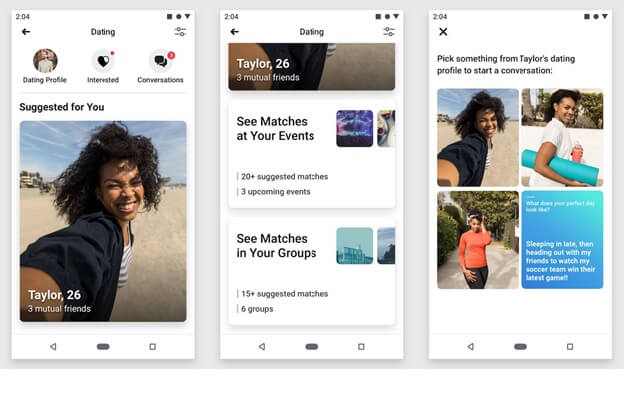 Facebook has much consideration for awkwardness if your specific profile for this feature were revealed by your family or friends, and will provide a splendid function which even if you liked someone, the persons wouldn't know unless the persons like you too, and the notification would show on your profile when first you liked one another.

Facebook built Dating to be privacy-safe, hoping to avoid the awkwardness of friends or family checking out your romance profile.

Now, Facebook has found a way to let you silently express your affection for a friend without them knowing unless they reciprocate.
(TechruCnch )

・Actually, there are three types of matching on Facebook Dating.

-1. "Open Matching"
This is what everyone except for exclusive areas, ages, and preferences are subject to be matched, which is the almost same as Tinder.
2. "Semi Closed Matching"
You can make some groups for which you are interested in. Then, you can find someone and attempt to match with these who you like on the groups.
3. "Closed Matching"
so-called "Secret Crush".

In detail, Facebook says we can send "Crush" instead of "Like" on Tinder to persons whom you are interested in.

Then the implication you sent Crush sends to the persons and if the persons liked you, it allows you to see the persons' data as well as it allows you to send messages on Messenger.

You can send only text and Emoji, plus you would receive messages on the mailbox specialized in the Dating.

You can send Crush to only 9 persons per day in order to prevent from occurring chaos situations being spam.

1-4. The unique features of Facebook Dating
You can traditionally activate Facebook by the laptop. But when this feature app will launch, this app is going to activate only via iOS or Android apps, which means you can't control it via the laptop.

Facebook created the heart icon in order not to make customers confused which is the dating one in case for people who don't need to date someone through Facebook.

They think this feature has to be separated and be an option rather than mandatory as well as having the heart icon displayed at the top will increase more traffic and spark curiosity about this new feature.

1-5. Pre-implementation over the world / Monetization
Facebook Dating has first been publicly examined in Colombia. It has just been released in Canada and Thailand. From then, it has released in a couple of countries in succession.

An article says that Facebook would take monetization into consideration if this hits the ground running.

"There's still no plan to monetize Dating, but that's not the point. After years of scandals, Facebook needs to prove it deserves to be your social network."
(TechCrunch)

Actually, I think so too. However, there is still no buzz currently prospective possible ads and premium subscriptions.
2. Countries / areas being available
・Colombia
・Canada
・Thailand
・Philippines
・Vietnam
・Singapore
・Malaysia
・Laos
・Brazil
・Peru
・Chile
・Bolivia
・Ecuador
・Paraguay
・Uruguay
・Guyana
・Suriname
(June 2019)
3. The feature compared to Tinder
3-1. Chat Box
This Dating feature has a separate chat box from Facebook. On security grounds, you can't send images or pics.

As long as you wish to send them, you can put the URL or links and share them to the person. Also, you can opt to transfer other messaging apps.

3-2. On Pause
That would help you cure of tiredness of Facebook world.

Nowadays people are being suffered from distraction caused by the internet or Smartphone, and of course you would feel the need to detoxify ourselves from SNS from time to time.

The level of noise and stimulates can be a bit too much so you opt for a healthy social media break from once in a while.

3-3. Second Look
This feature is located in Facebook Dating's settings. The Second Look displays people in a reverse chronological order for you too.

This feature allows you to go to through your suggested matches you might have missed out on.

3-4. Preemptive Block List
You can review your block list to make sure you don't get matched with people who are not your Facebook friends and yet you still don't want to see and check.

These people would be an ex-lover that you have unfriended but not blocked on Facebook, a family member, or simply acquaintances.

That being said, those people don't show up on your Facebook unless you unlock them, and you don't have to have anxiety of matching with them by mistake.

To further strengthen the people's trust in Facebook's latest project in the dating community, preemptive blocking is a cool way of ensuring that you won't be able to see unwelcome people in your matches; something that has been plaguing the online daters for a while now.

3-5. Profile Content
There are touchable entry points displayed on profiles which you can use to strike a conversation such as school and shared hometowns.

Since Facebook Dating values quality relationships over casual flings, it provides you with features, such as this interactive profile content, that guarantees to help you build a strong foundation with your potential match.

Facebook vs Tinder
Some features are unique ones, some are kind of similar to Tinder ones. The most obvious distinction is what you can swipe girls/men whether "Like" or not.
On Tinder you have to swipe when you select girls/men on the screen.

Also, only if the persons whom you liked once liked you too, Tinder congrats you to match each other.

Then for the first time, you can talk to the person. Now this style is the hot trend within this matching app's industry.

This one prevails other matching apps normally so even when I use the other matching apps, I often see this style. On the other hands, Facebook Dating adapts Crush system which is a bit more tricky than Tinder's one.

Tinder is a just matching app so it is completely dependent from other affiliative social network which is unlikely the same as Facebook Dating.

Facebook Dating embodies in Facebook which means the dating function is a part of Facebook functions.

The function is separated from an original function of Facebook. However, Facebook Dating has an original chat system named "Chat Box".

And, the function called "On pause" doesn't apply to Tinder. "Second Look" has little to do with Second Like on Tinder.

When it comes to "Preemptive Block List", this is a unique stuff ever.

On my experience I have never seen this type of the feature. So I think Facebook differentiates these functions from Tinder.

In details, a usual block list is going to implemented after you had already matched with someone then you can block them so that you felt disgusting against the persons.

On the other hand, you can block in pre-action because of this feature.

That would be effective, helpful for especially women later on I predict.

The last one which is "Profile Content".

Though I feel Tinder also has similar stuff, you have to get a premiere membership as to getting the function. However, this one is already embodied in Facebook Dating as for free.

The design looks more like a traditional dating website rather than a place to swipe through hundreds of potential romancers.

"The company looks to be going for a more mature vibe, designed to cater to those looking for a more serious relationship rather than a quick hook-up."
4. How to Sign Up
Beforehand only those who are over 18 years old are allowed to activate this. Users must opt-in to activate too.

You have to verify your city via phone's location services so that privacy about creating a Dating profile is discreet won't be exposed in public.

This is the procedure of signing up for Facebook Dating.

Install and open your Facebook app or go to the Official website of Facebook if you didn't have
Sign up / Log into your account and Go to your Facebook profile screen
Click on the Heart icon on the right top of the screen then this screen appears
Appearing this confirmation screen so that you won't mislead the function
Confirmation of privacy policy
Set your Dating profile by providing answers to the question asked on the website
Type your name, photo, gender, interest, location on the form showing on the site then click on the Confirm button once you get through with the setup
5. Fee
It is completely for free for now. Facebook will monetize if this feature hit the running ground.

So I would recommend that you had hardly signed up for this when this launched in your country before it will monetize.
6. Review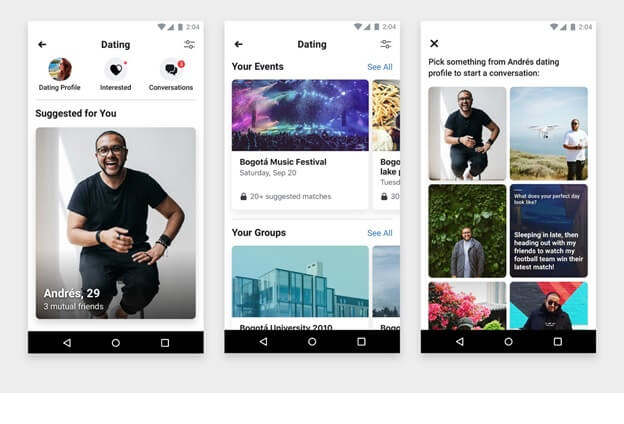 This feature doesn't launch not only in Japan but also in the US so there are not accurate reviews yet.

Some people who substitute the normal Facebook say,
"Facebook is not a good place to find a date especially if you are in your thirties and most of your friends are married. Facebook may be the most popular social network but if you do not have a lot of friends, good luck in finding someone single on the site that you can talk too."

And a certain guy says,
"Quality of men was very poor. Most didn't bother writing an intro. They need to make a change so that you have to put up at least a short intro so you can learn a bit about someone. Also, I saw a number of men with no photo or a photo of their dog instead of themselves. The app kept matching me with men that were significantly out of my preferred age group. Useless!."