EastMeetEast-Asian dating app review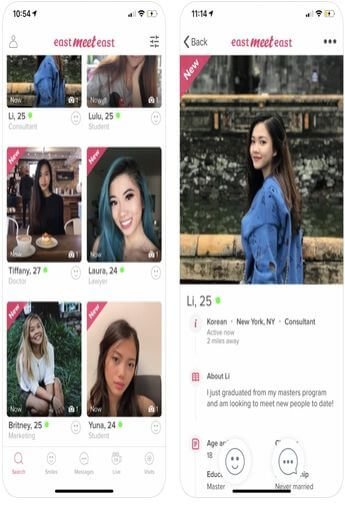 https://www.eastmeeteast.com/
EastMeetEast is an dating app that is exclusively dedicated to Asian dating. It was released in 2014, and today over 120 thousand individuals have found partners through the app. Having more similar backgrounds or environments you have a higher chance to match and find who you are truly looking for.
EastMeetEast Verdict
Although it is not well known and popular yet in Japan, EastMeetEast is quite a good dating app for Asian.
Functions are simple and easy to understand, but to be honest with you, there might be different opinions on this app by gender because basically it's quite expensive for men but it's free for women.

[11/12/2019]
Traffic by Countries
There are Philippines, Korea, China, Taiwan, Thailand, Vietnam, Laos users, but many of them lives in US. Japanese users are almost none, I don't even see Japanese American people.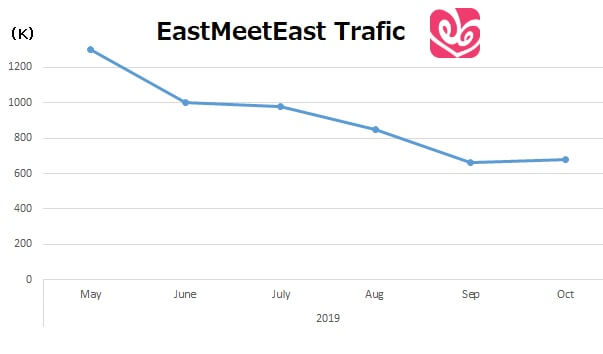 Traffic is down hill.
People prefer free apps such as Tinder which still there are many Asian users in there.

Users of EastMeetEast are more seriously looking for a "life-partner" than Tinder. Compare with many quick reply users of Tinder, the users are staying around 10 min average in the app for watch live streaming, and write comments.
How To Use EastMeetEast
First of all, you download the app, then let's sign up.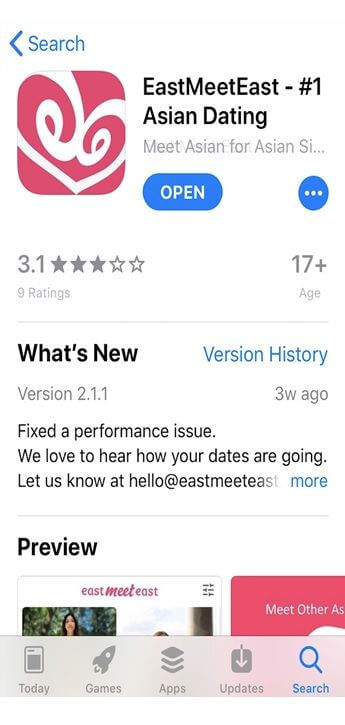 Signing up for an account in EastMeetEast is not complicated, you are presented with two options on how you want to create your account.
You can either register using your Facebook account, which makes for a two step registration, or you can provide basic details such as your email address.
After you successfully register for the app, you will be asked to upload your profile photo which you can skip and do later.

Next, set up your bio.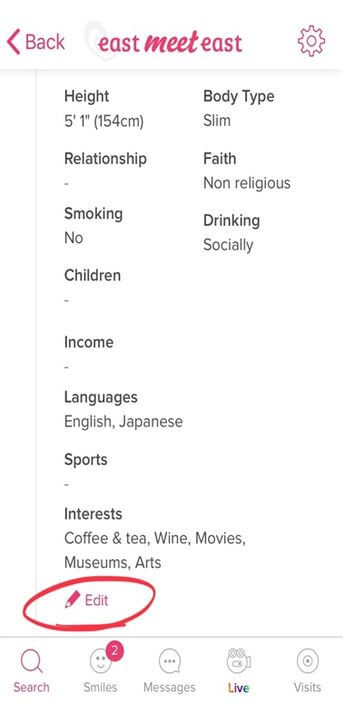 Download your pictures first, more than two pictures at least. If you only put one picture of yourself, you're likely to look like you're a catfish, and it doesn't give other people who see your profile a good impression. So if you want to get more matches, just put as many pictures as possible, and fill in the profile as much as you can. EastMeetEast will tell you what percentage you have completed your profile and it helps you to make a perfect profile.
See who's around you on EastMeetEast
Now let's get started!
You can see who's there if you go to the Search page from the bottom left mark.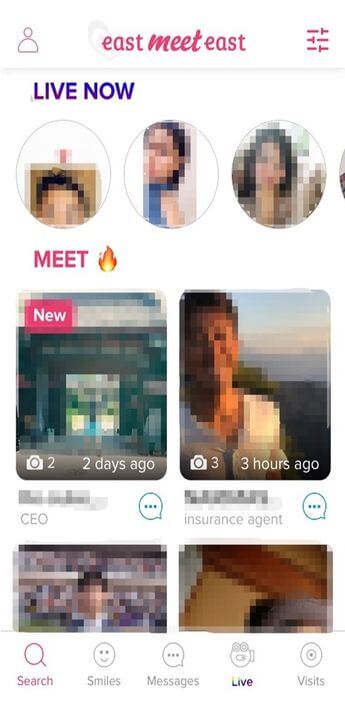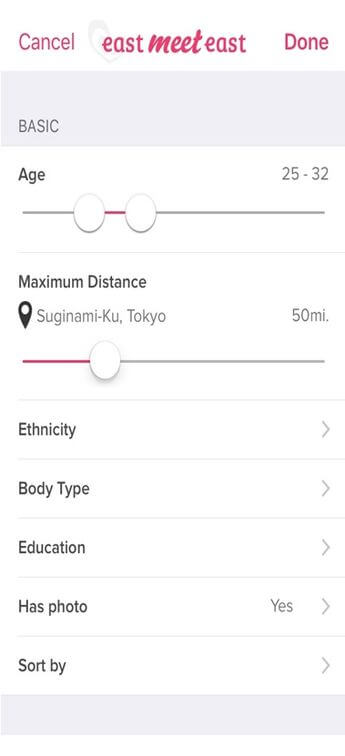 There are advanced search filters available which makes it easier for you to find specific kinds of people.
But members suggestions rarely change, which is a bit of disappointment.

On the top of the page you can see people Live streaming. Click if there's your type or someone who looks interesting to see their Streams.
You can not only just watch, but comment also. It is a good opportunity to talk with people out there!

When you find someone you're interested in, press his/her picture and see what kind of person they are.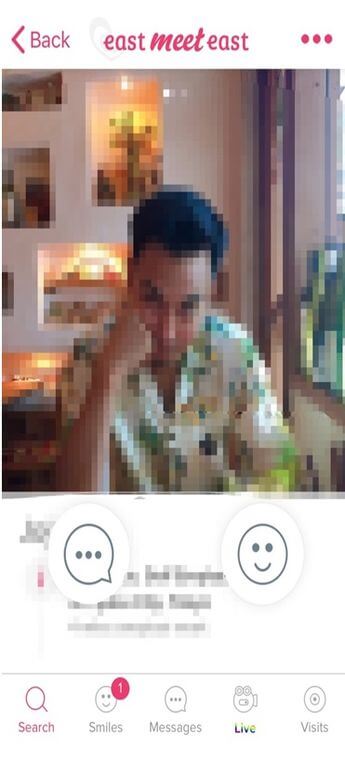 You can see more pictures, what they like, their appearance and so on. If you want to talk to them, you can either send them 'Smile' from the smile icon on right side of the middle screen or message directly.

About user base, it is diverse. I use this app in Japan, but I see so many Asians from around the world.
For instance, Asian people in America, Philippines, Korea, China, Taiwan, Thailand, Vietnam, Laos and so on.
It's quite a new app and because this app is in English, there are not so many Japanese.
I'd say 3:4=Japanese:Other asian people, so I recommend you to give it a try if you are seeking to meet new asian people from all over the world.

Also, what I have noticed is that more girls are on live streaming than other dating apps.
In my personal experience, there are always more guys are on live streaming than girls are on dating apps.
So I think, this reflects Asian girls' preference for taking selfies and videos of themselves.
Age wise, there are more users in their 20's than 30's. Most members use EastMeetEast for meeting new people, making friends, and for dating.

Age Distribution would be women:men = 6:4 as far as I've seen, I think it's to be fair since guys have to pay for all functions but not women so that the number of women is higher than the number of men.
Gender Ratio
EastMeetEast Fee
Women
–
Free
Men
– From
$11.66/month ~
Features For Free
Those are free services you can use on EastMeetEast if you are a woman.
-Account registration
-Send Smile
-See who have sent you a smile
-Browse and search
-Chat with other members
-See who viewed your profile
-Watch people's Live streams
Even if you don't pay anything, you can mostly enjoy EastMeetEast. The basic processes that you often need to start conversation are available for free, and also you can see who has sent you a smile and you can send back smile too so it's easy to see who is interested in you. But if you are a man, you have to pay to use most of functions.

On next content, I'm going to explain how it's different by gender, and how much you have to pay for this app at least.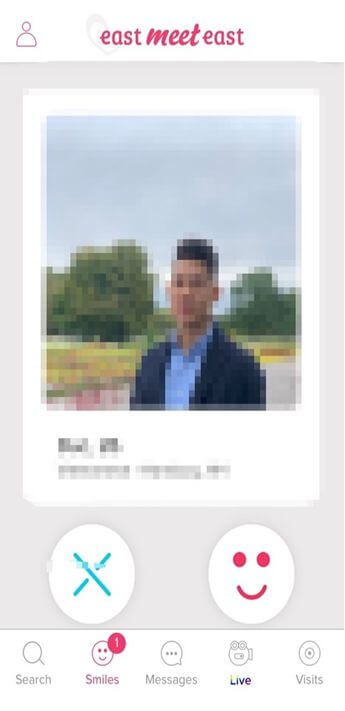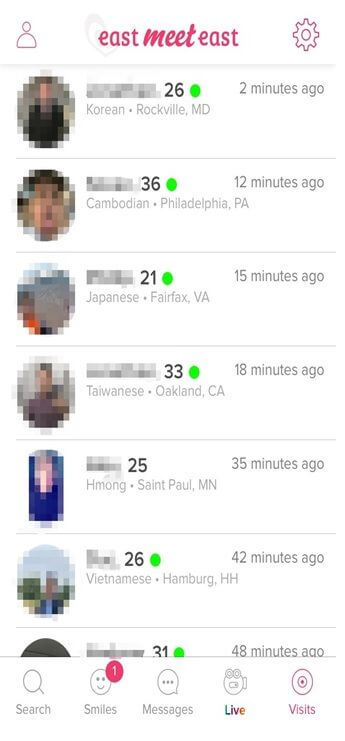 image of the list of members who have visited your profile
Fee Based Other Features
Firstly, those are features you have to pay to use if you are a women.
Women
–
$4.99
Men
– From
$11.66/month ~
-Sending Diamonds to your favorite Live streaming member
-Sending gifts to members you are interested in or like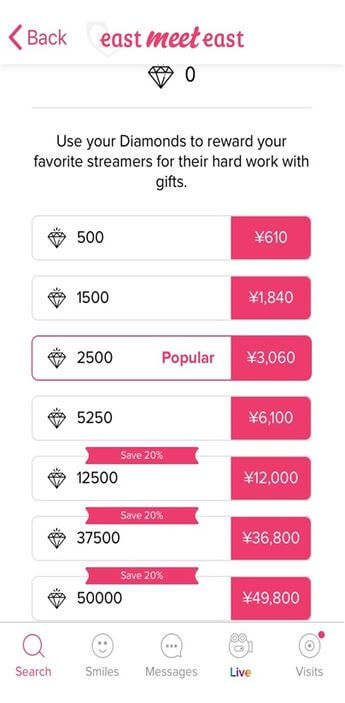 Women can enjoy for free, only those two features women have to pay to use but you can choose to buy it from $4.99 with 500 diamonds which is not so expensive. Still, there won't be any problems to interact with other people anyway even if you don't buy those.
But If you are a man and registered as a man, you have to pay fee to use most of features. Check down below.

The table below shows the differences between free membership,standard subscriptions, and premium subscriptions.
| | | | |
| --- | --- | --- | --- |
| | Free Membership | Standard Subscription | Premium Subscription |
| Pricing | Free | From $11.66/month | |
| Browse and Search | | | |
| Send Messages | | | |
| Read Message Replies | | | |
| Chat with Subscribers | | | |
| Chat with Free Membership | | | |
| Read Receipts | | | |
| Advanced Sort&Filter | | | |
Basically, if you register as a man, you'll automatically become a standard subscription member. So you have to pay at least $11.66/ month to use all features.
Eastmeeteast Review
Positive Reviews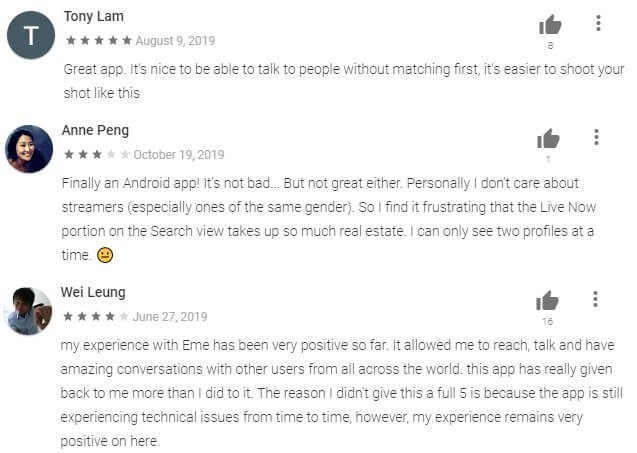 Google Play
Lots of people like the app because members are nice people and you can send messages without matching, and even if you are shy, you can send smile to let others know that you are interested in them, so that you don't have to be nervous so much when writing the first message.
Negative Reviews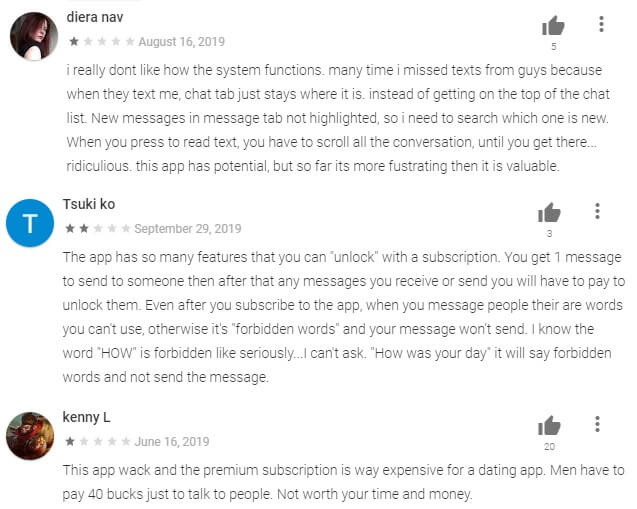 Google Play
Mainly, lots of men were complaining how expensive it is, and there are so many bugs on the app.
Also, even if you subscribe, lots of frustrating bugs appear and it's not as useful as other dating apps.
How to sign out EastMeetEast
Once you go to the settings page, you will see 'Deactivation Settings' on the bottom of the page.
If you click that, you'll be asked the reasons why you are quitting the app. Answer the reasons if possible, and press submit to sign out.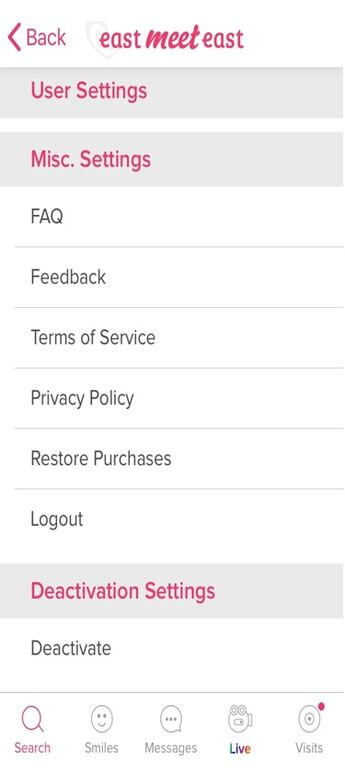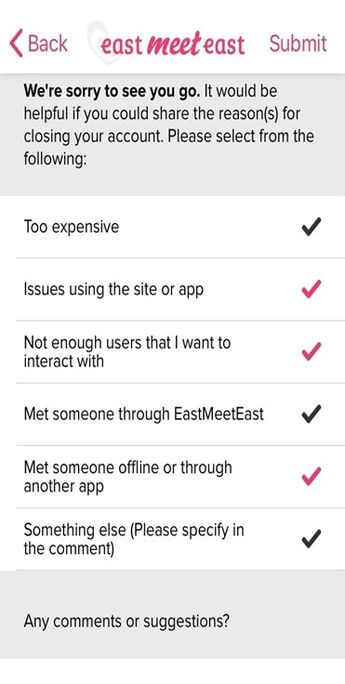 Summary
In the last decade, the popularity of dating apps' has significantly increased. Although it depends on countries, almost everyone has used dating apps these days. Once you open an app, there are so many people from all of the world – people who are visiting your country, people who have moved to your country, and so on.

EastMeetEast is good if you are an Asian, and looking for Asian partner who has your region.