Cougar: Dating Mature Women [Scammer Review]


App Store
Cougar: Dating Mature Women is an iOS app which started its service in 2018. The app is designed to match older females and younger males (or females) for sugar dating.
There is not a lot of information online regarding this service since they only offer iOS service which would limit its users to people who own iOS devices such as iphones and ipads.
Cougar: Dating Mature Women Scammer Verdict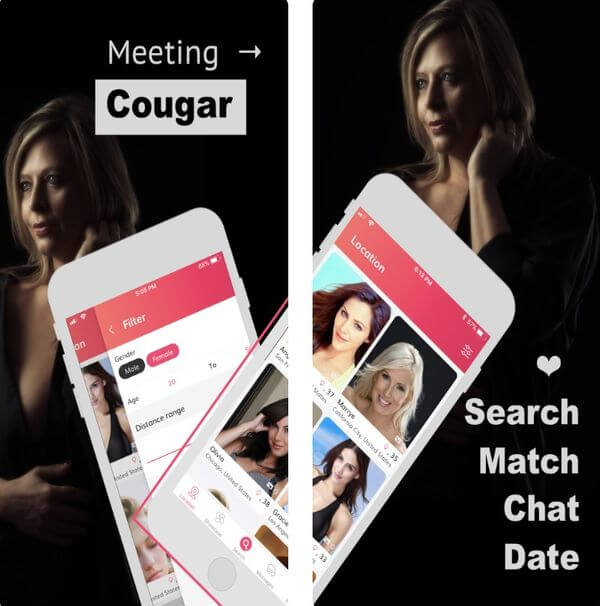 There are a lot of scammers on Cougar: Dating Mature Women, however, they seem to be dealt with quickly because suspicious messages get blocked swiftly by their system.
It is wise not to reply to those spam messages you would get. As a free member, you can only reply to messages you receive so you would not lose anything by just replying to genuine messages and browsing.
Popularity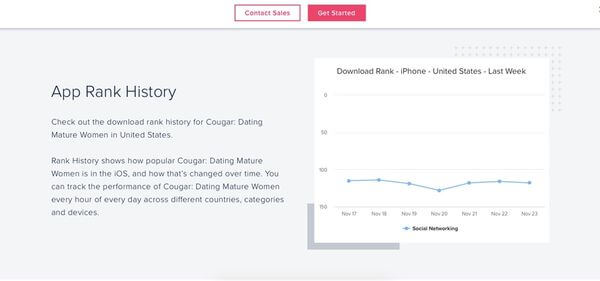 APP ANNIE
According to Appannie.com, Cougar: Dating Mature Women is ranking between 100 to 150th in the category of Social Networking.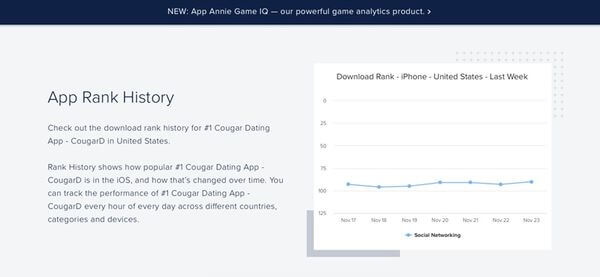 Their competitor #1 Cougar Dating App is placing just above 100th.

One of most well known Sugar dating matching sites, Seeking Arrangement is ranking between 18th to 23th in the Dating category.
Cougar: Dating Mature Women Users Check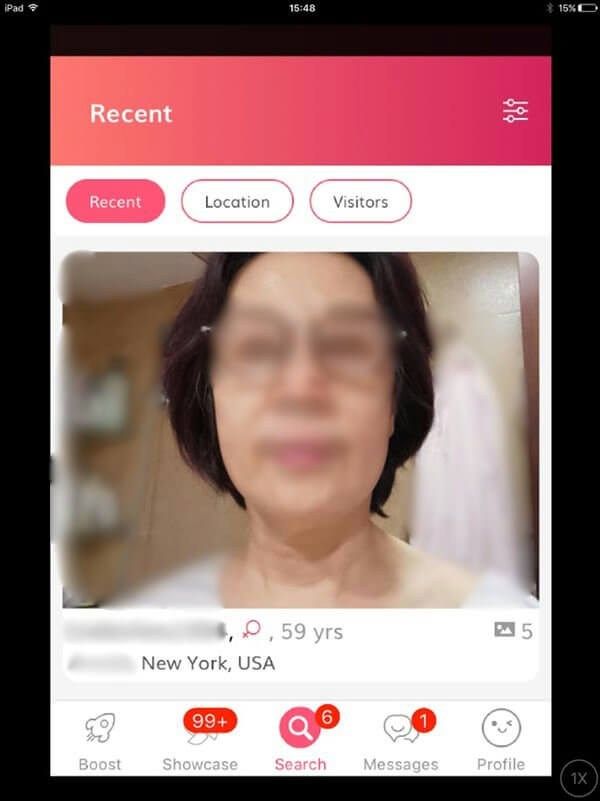 There are diverse users on this app.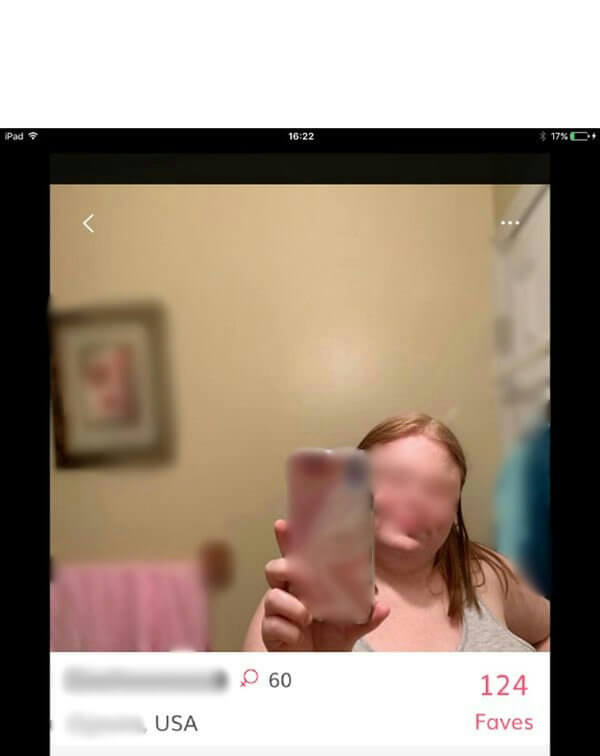 Some come across as genuine cougars.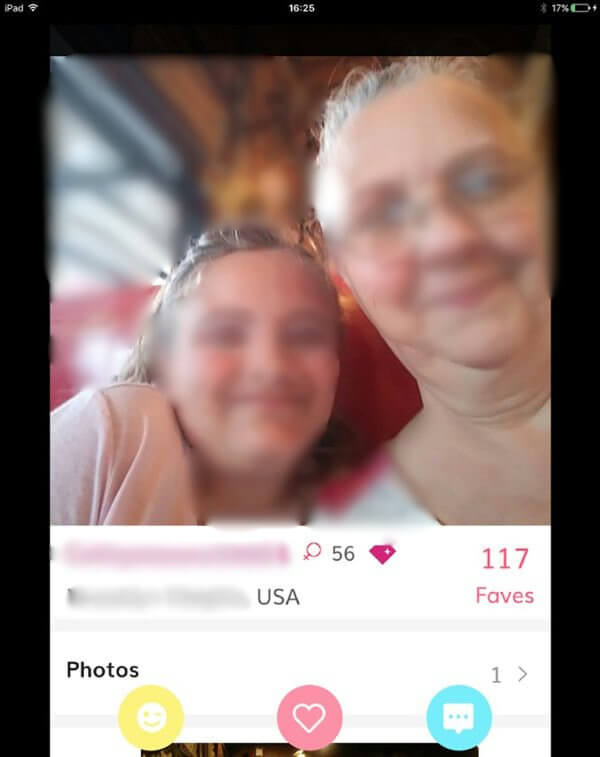 Some obviously misunderstand this app and put a minor's photo. This is very inappropriate.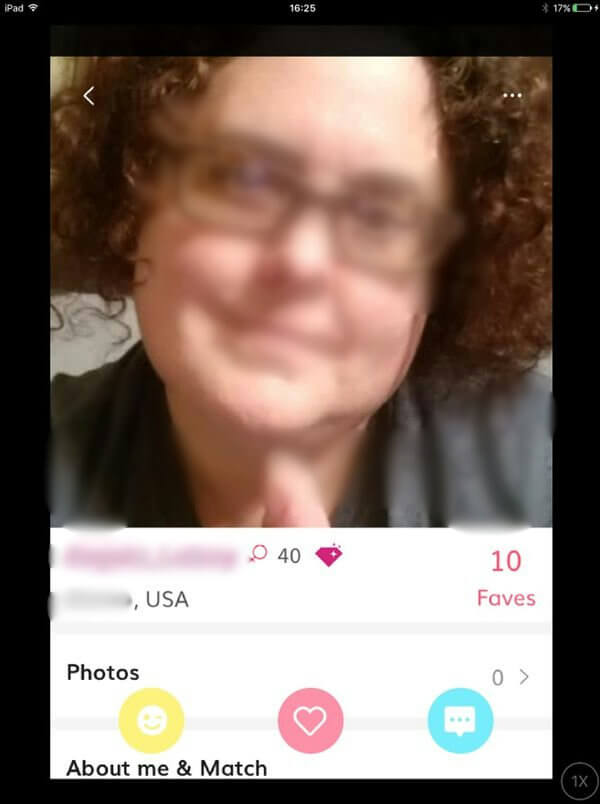 The initial feed would be very random and a mixture of locations and ages.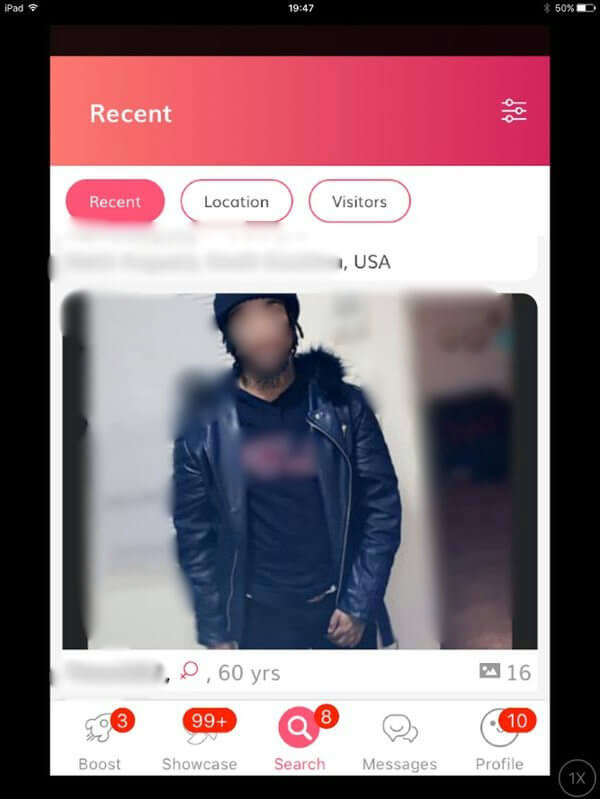 There are some men, the algorithm obviously does not flag men as sugar daddies.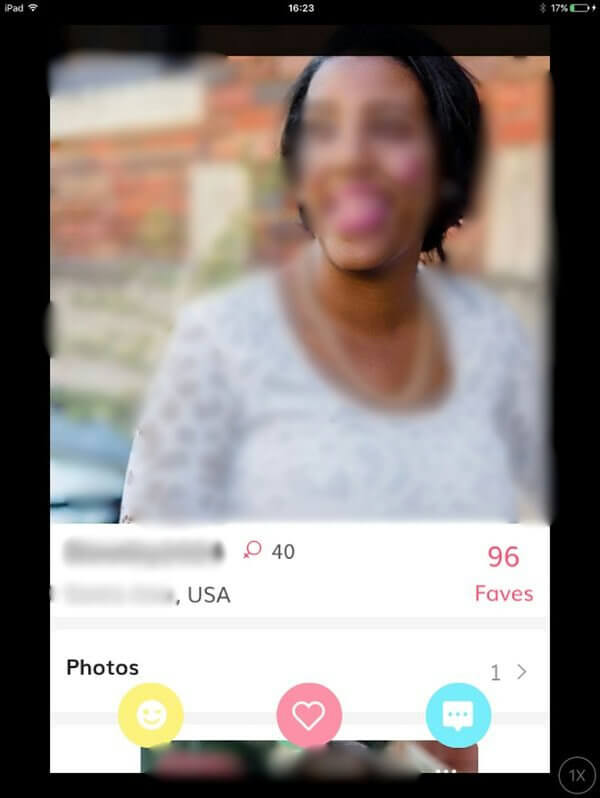 There are enough active members.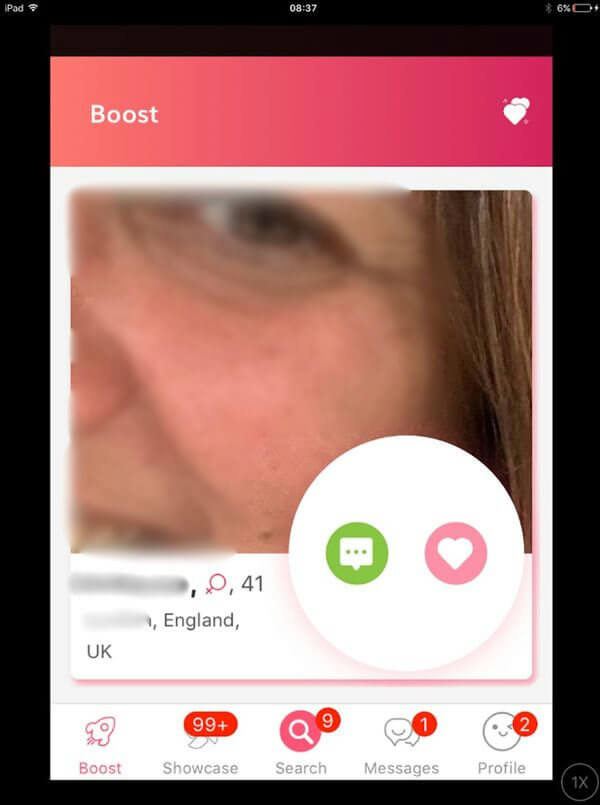 Some interesting photos.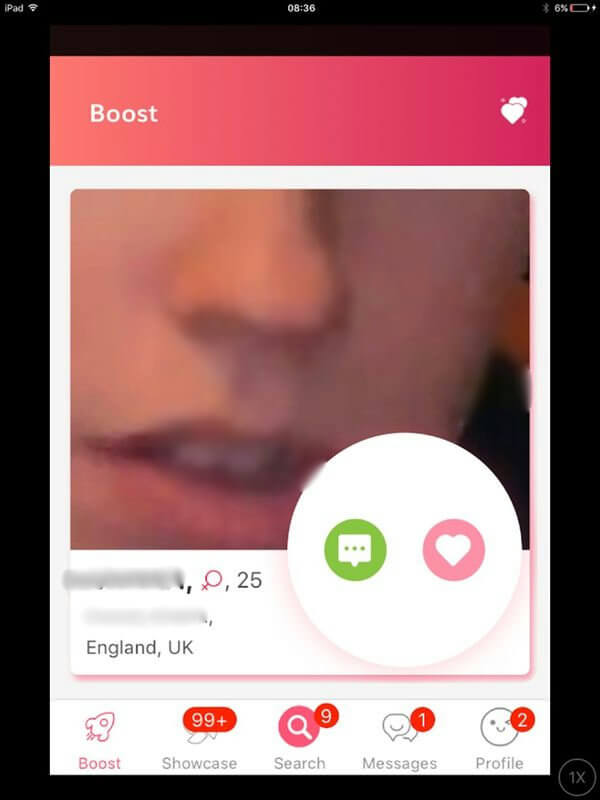 25 years old would be a bit young to be a cougar.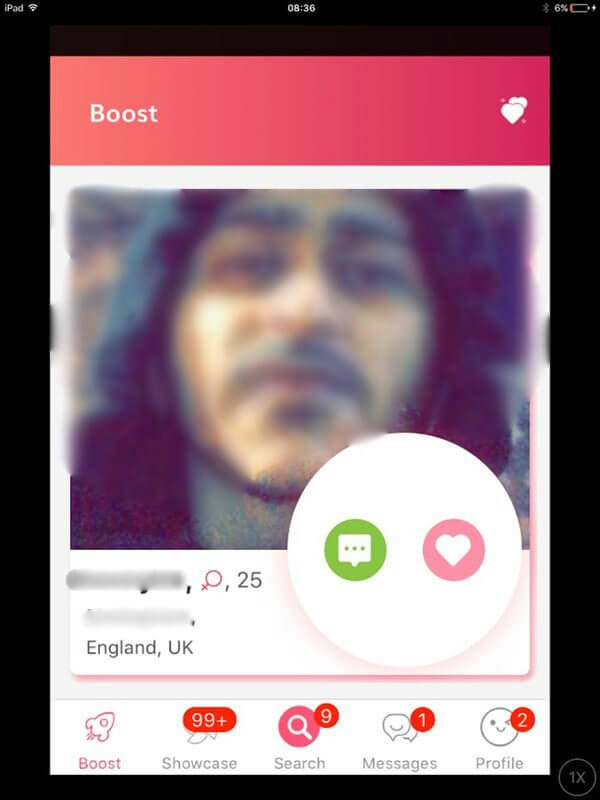 Another male profile, he is also very young to be a sugar daddy. He would be a sugar boy but he must be registered as a cougar.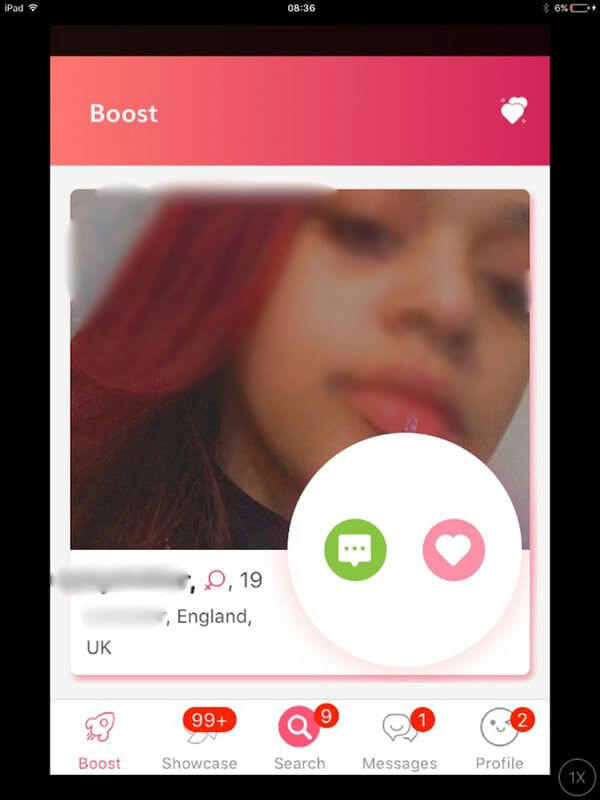 Another sugar baby, who must have made a mistake when she registered.
As this proves that about a half of profiles are not legit cougars.
Scammer Messages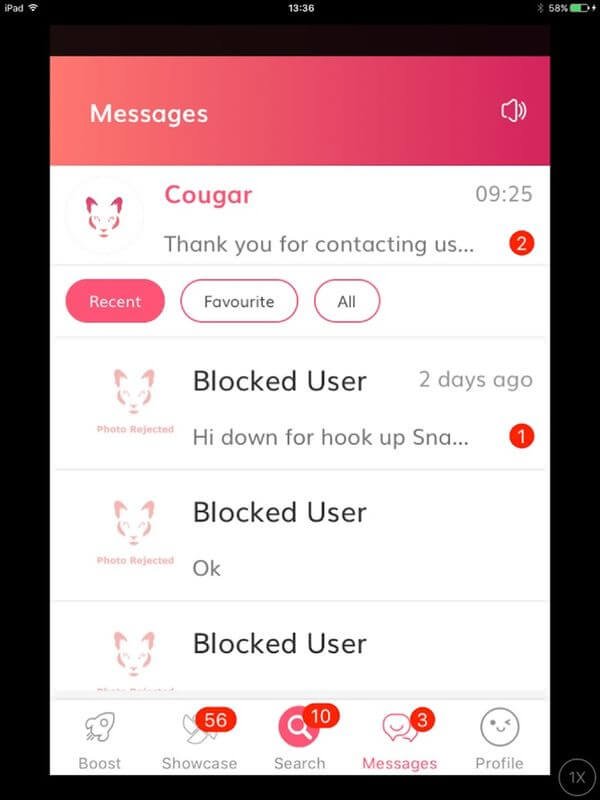 Users would get a lot of messages once they registered.
However, the system blocked them automatically.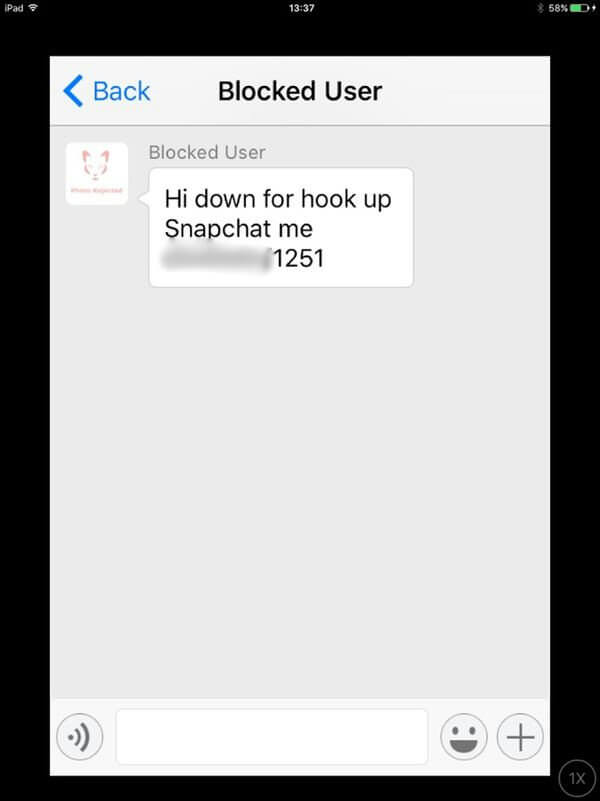 A lot of messages include snapchat details and some even share phone numbers.
However, it would be too obvious that they are scammers so it is better not to contact or rely on those messages.
The system detects them very quickly.
iOS app store reviews | Cougar: Dating Mature Women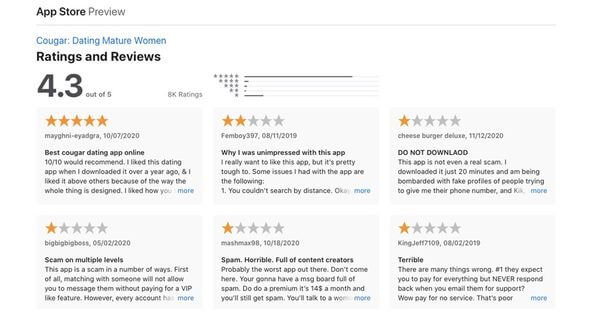 Cougar: Dating Mature Women has a surprisingly high number of positive reviews. Obviously, there are only 4 recent posts, however, there are more than 8000 reviews.
It is possible that the app company has been posting some positive ones but it would be very hard work to post 8K reviews thus this Cougar app is working for some people.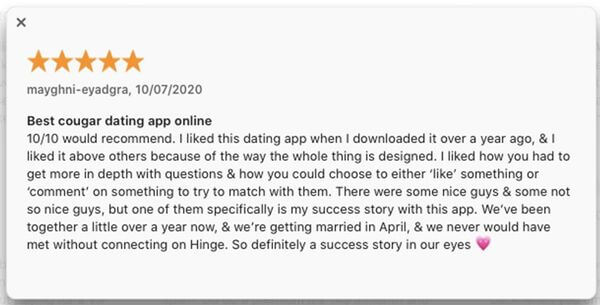 This is the latest 5 star review.
Alart!! This review is about another dating site, Hinge!!
This is completely buzzer.
It is very puzzling that this is happening. Surely, Cougar: Dating Mature Women is not a place to find a legit partner to get married.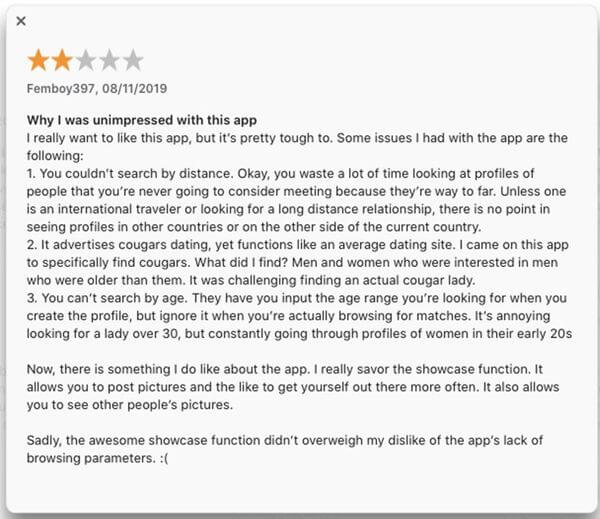 The second latest review is more authentic. It is by a sugar boy, According to this review, this Cougar app is not operating well. It would be hard to find older ladies because there are mixed users.
Their filter also is not working very well to find a right match, also this Cougar app does not have any video dating function. Thus it would not be updated as other dating / matching services that are constantly updating their services to fit this "new normal" society due to Covid 19 pandemic.
Chartoo.com | Cougar Scammer Review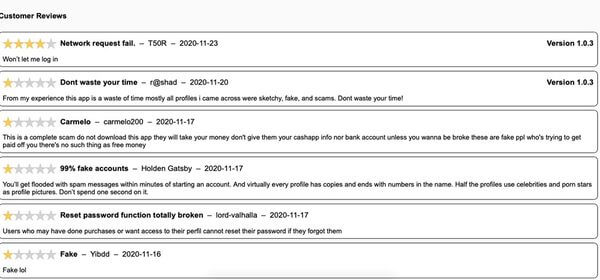 CHARTOO
Online app review site chartoo.com has interesting reviews about Cougar: Dating Mature Women.
There are some recent reviews about this service which shows some people download this app and register. Although, reviewers are expressing scammer excitance on this service; there are a lot of fake profiles.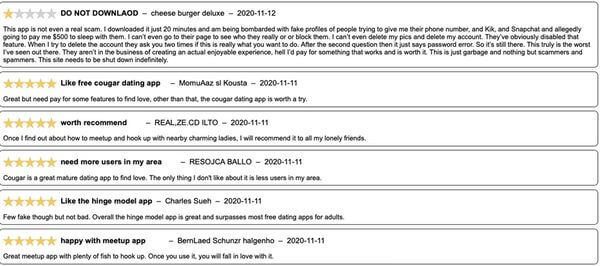 On the other hand, there are 5 star reviews from interesting usernames. However, there are possibilities that some reviewers might get confused about which Cougar app they are since there are many similar services.
Justuseapp.com | Cougar Scammer Review


Justuseapp.com
Cougar: Dating Mature Women has other interesting reviews on Justuseapp.com. Even though the 5/5 positive sign on the site, posted reviews are very negative.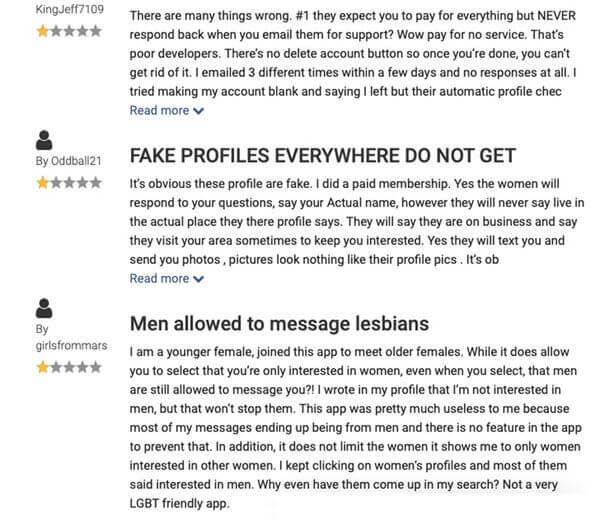 The last post is interesting, this app is not LCBT friendly, but this is understandable since this app is very low maintenanced.
Other popular online dating sites are adjusting their service to more open dating opportunities by adding more filters and options.
Appannie.com | Cougar Scammer Review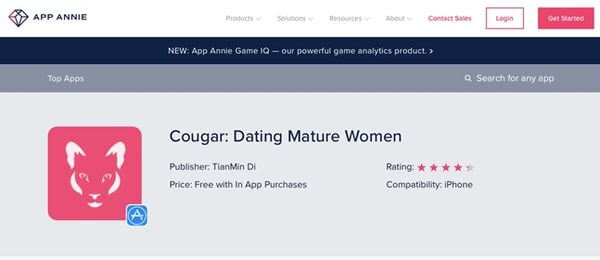 APP ANNIE
Appannie.com is reporting that this app is not functioning properly, this is believable since the last update was 2 years ago. They have not been fixing bugs or glitches in their system.