Academic Singles Review-a dating app for educated ones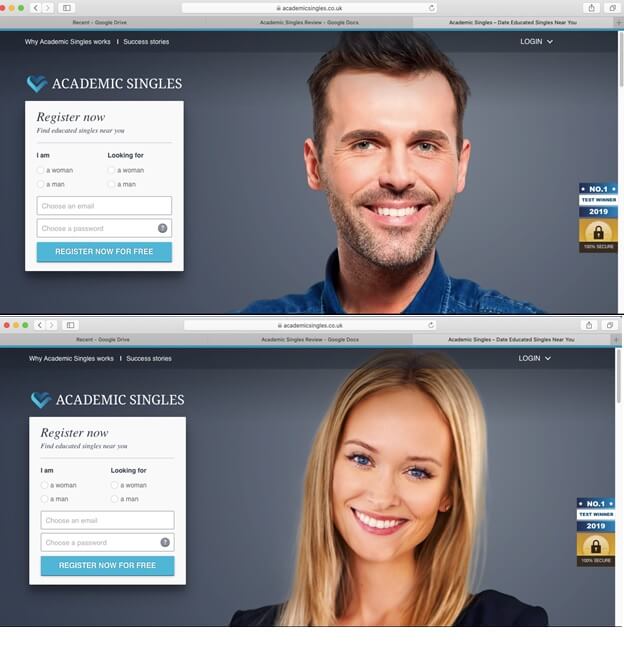 The latest matching App/site Academic Singles, released by an established German matchmaking sites/Apps developer Be2 S.à.r.l, is introducing a new service around the world, specifically targeting "academic" and educated people.

Be2 S.à.r.l. is the company behind be2. Their 15 years old signature matchmaking site/app has more than 700,000 users worldwide. They also operate two more sites: C-Date and Lisa18, targeting people who are interested in erotic encounters with no strings attached.

Academic Singles Verdict
If you are aged between 35 to 54, reasonably educated and looking for a partner in the same category, Academic Singles is for you!

Obviously, to be academic, people need to spend a fair amount of time in education; thus there aren't a lot of members under the age of 25.

Caution! Their subscription service has a noticeable problem! In this digital society, they are only offering cancellation of the memberships via over post or fax?? 14 days before your renewal date…

Some reviewers expressed their concerns that they signed on the subscription because they were offering discounted promotions; however, when they wanted to stop it, they got charged because they did not know how to cancel it. Moreover, even a reviewer wrote a letter to request of cancellation and posted it, the reviewer got a letter from them after 6 months saying that they would take the reviewer to court due to overdue fee.

Be2 S.à.r.l seemed to replying to all negative reviewers to urge them to contact their office.
How to Use Academic Singles
Academic Singles is a simple matching site/App, it is easy to join and navigate.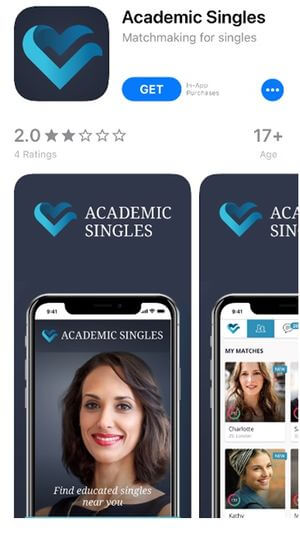 1, visit the site / download app from app store
There are different language options
English, Chinese, Czech, Danish, Dutch, Finnish, French, German, Italian, Japanese, Norwegian Bokmål, Polish, Portuguese, Spanish, Swedish
2, select your country
You can select your country but tapping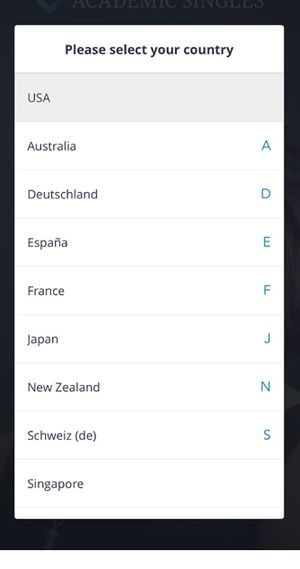 3, register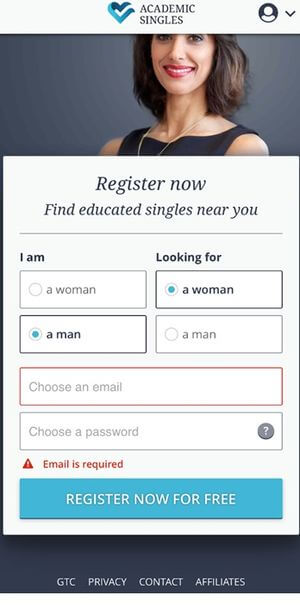 To register Academic Singles, You only need the following: your gender, a gender you are looking for, email address, and a password.
Very simple!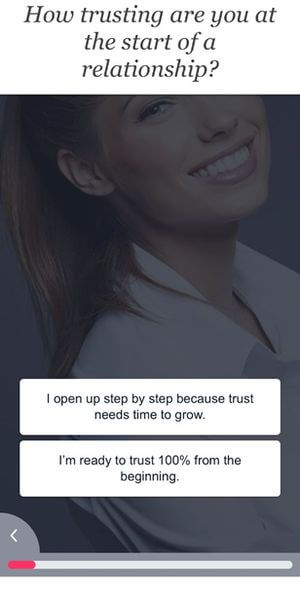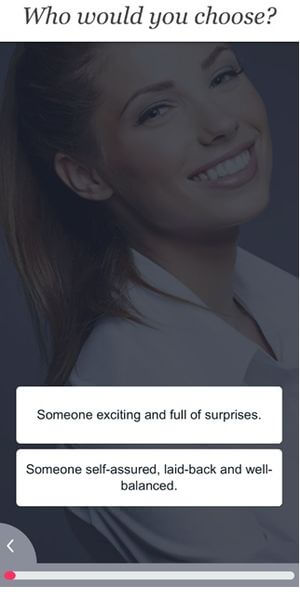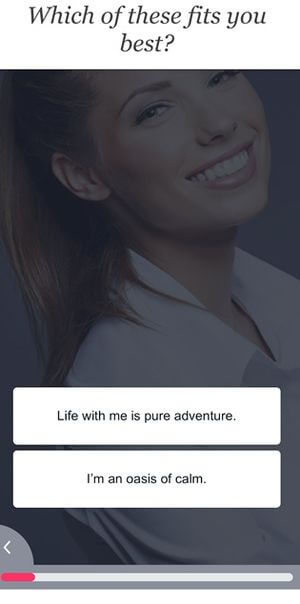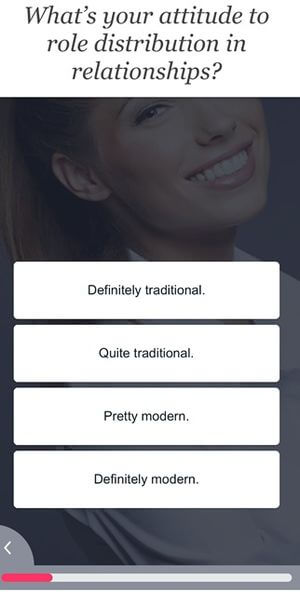 4, answer 34 questions
This is the unique part of this site/app; those questions are not academic questions. They are about your quality and qualities that you are looking for in your partner. Some of them are very difficult to answer because they are too direct.

Academic Singles are aiming to match people by personal quality rather than how academic they are.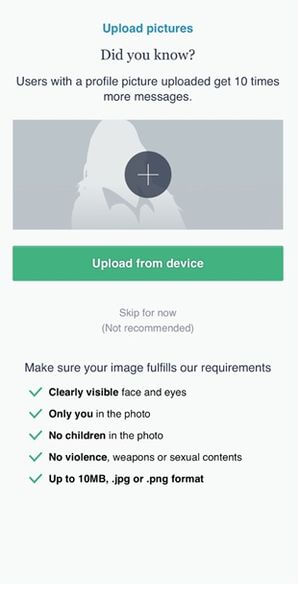 5, upload pictures (can skip)
The site/ app asks you to upload a picture but you can skip if you want. The profile picture can not be a landscape, a character or an animal. There is a report saying that stock pictures are frequently used for profile pictures.
6, select a pre-written message to your matches and send (can skip)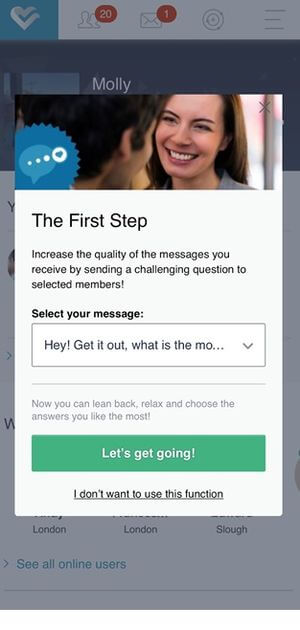 This is another unique feature of Academic Singles site/app. Academic Singles gives you 12 question types of message choices( some of them are very random), you can pick one to start chats with your "matched" people; it should work as an ice breaker. Receivers can answer your message or ignore it.
7, you can see your match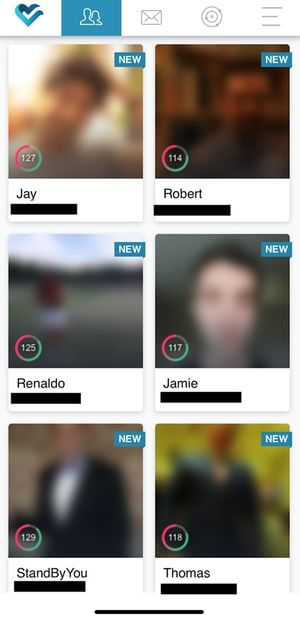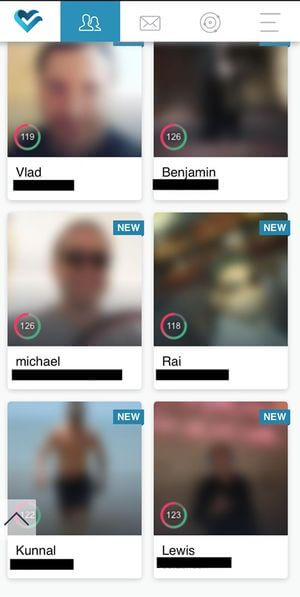 Then the next page, you can see your actual matches! Photos are blurred unless people tick to show them.
If you click the double circle, you can see who is online.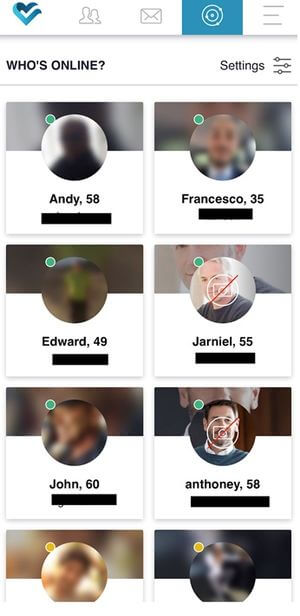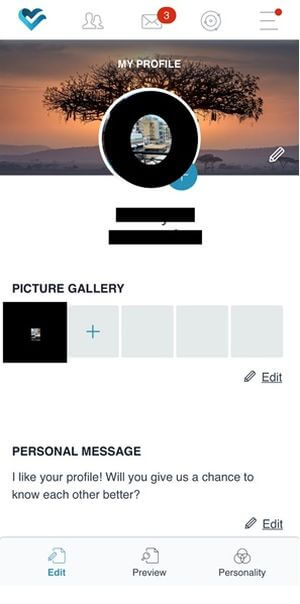 8, complete the profile
Academic Singles offers you a detailed profile page to complete. It is so detailed; therefore, only 10% of the members would have filled out the whole section according to a report.

You can also put 5 pictures of your choice.
9, one free message to send for each match
However, you can not see messages for free. All messages that you received would be blurred.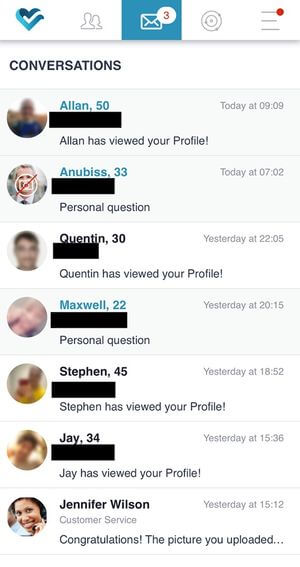 10, Pay and chat, set up meet, and so and so forth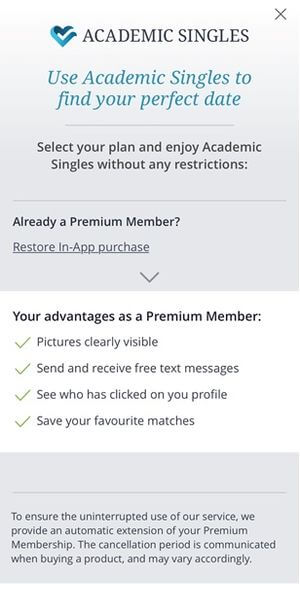 You can chat (message each other ) anonymously until you decided to show your photo.
11, new feature "love at first like"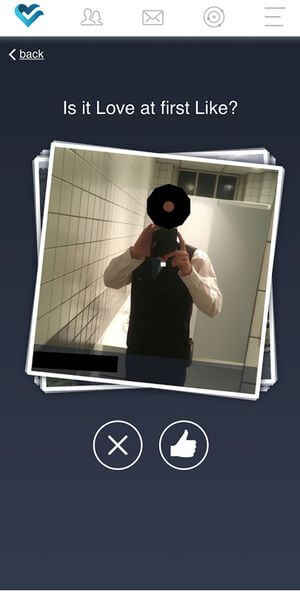 This feature is random selections of photos which did not make it to your "match" , you can tick, yes or no.
Academic Singles Fee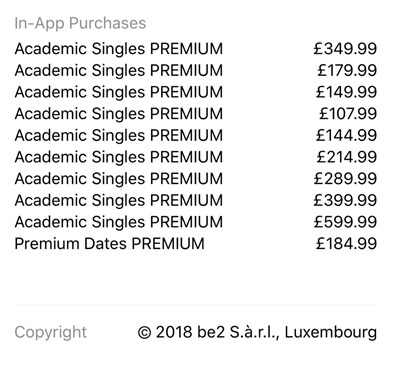 Free membership:
have a profile
Browse other profiles
View your match
Limited messaging
Subscribe membership: above plus:
you can see who visited your profile
Save your "favourite" people
Unlimited messaging
The app page fee list is not very clear!! We judge if the dating apps/sites can trustful or not by clear or not.
3 months – 32.95$/ £39.99 per month
6 months – 24.95$/ £29.99 per month
12 months – 19.95$ /£19.99 per month
There are different information on line.
You must remember!!
It's NOT POSSIBLE TO CANCEL the membership online. You must send a email to their headquarters.
After 14 days from registration, they aromatically charge you!!
Academic Singles Users
[10/16/2019]
Monthly traffic is over 120,000.



Average Weekly traffic 280,000. Many members access to Academic Singles 4 or 5 times in a day.

Many people complain about Academic Singles's auto charged system which they couldn't cancel by online, but still big popular dating site for most of people come directly to Academic Singles, search by "Academic Singles."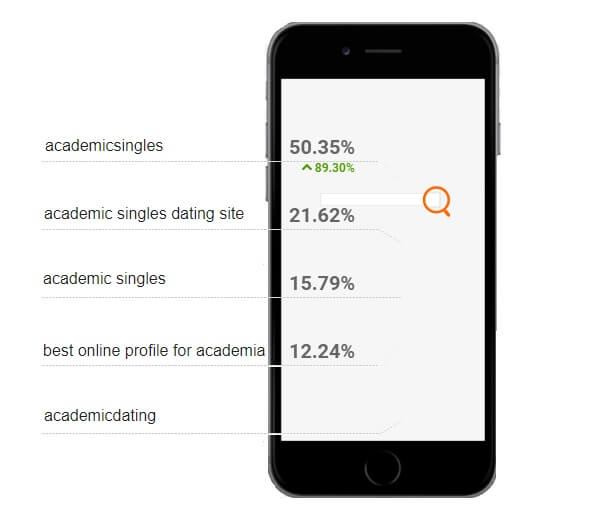 It also has 60,000 weekly active members. Members' occupations are vary from a philosophy professor to an engineer. However, members do not have to submit your diploma…so they can say anything.
Gender Ratio
51% of the members are male and 49% of the members are females.
Traffic by Countries
Academic Singles is running by a German Company. European users are majority. UK members are 190,000.
Academic Singles Reviews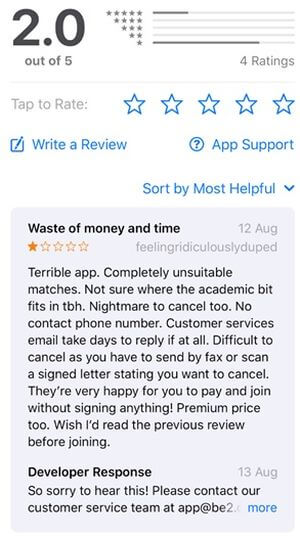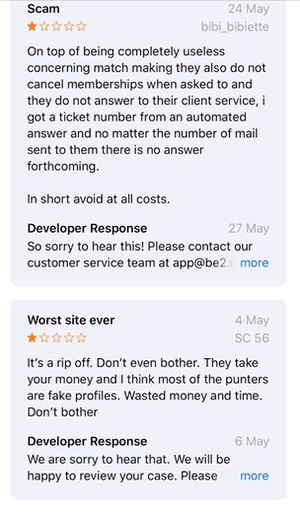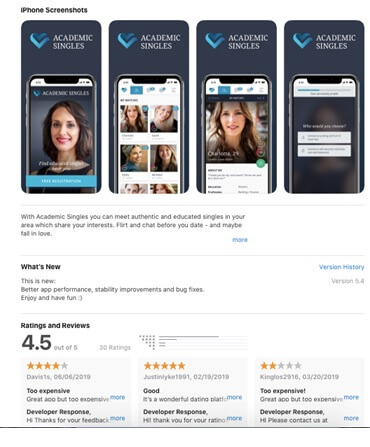 You may have noticed that there are several different reviews ..Why app store has two different versions of reviews?
Sadly, there are not many positive reviews for this service.
Ovisously, this service has a problem.
Free service would not get you any actual connection to others.
Postal cancelation to confuse customers.
How to sign out/delete Academic Singles account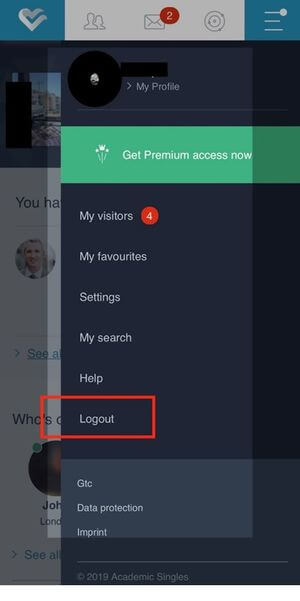 Logout is easy. Go to Setting and you will find Longout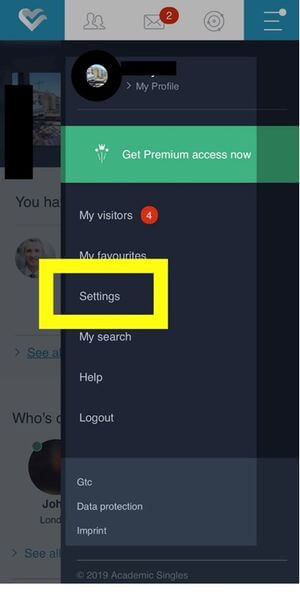 To deactivate your account, go to setting and you would see "Deactivate". It is very simple. (there is a report saying that you have to email to deactivate but the app seemed updated.)
Before, must not forget to cancel your premium membership first, if you subscribed.
Deactivating your account does not mean you cancel your subscription!!