8 Types of Potentially Shady Person on Tinder
every time i go on tinder it's all straight couples looking for a third pic.twitter.com/8FIa1Fw1ey

— emily (@vanderrwaals) July 15, 2019
Had you ever been available for Tinder, you would have already realized Tinder is easy to meet someone.

At least it is relatively easier than other matching apps. By contrast, there are various potential problems that it might be hard to recognize in general.

People who use Tinder aggressively or crazily tend to not get used to meet someone through the internet that's why it is said that Tinder set the people on as a main target.
1.What is Tinder?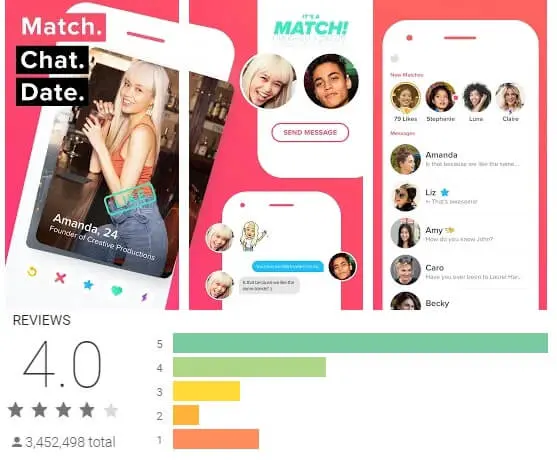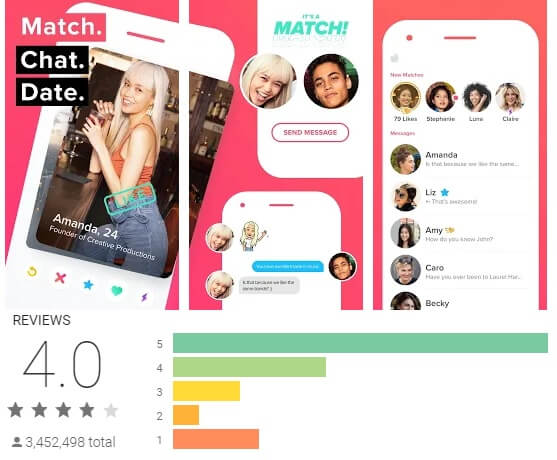 Tinder is the most famous and popular dating app all over the world, which has more than 50 million active users.

The best feature of Tinder is to be able to meet someone for free. Whereas among other dating apps, men have to get a premium membership in order to succeed in meeting women, on Tinder you do not have to get such membership even in order to match, much more send messages.

Besides, if you allowed Tinder to utilize your GPS system, you can search for women as using GPS, which means you have much more possibility to be able to meet girls who staying near you.

However, there are some crude people on Tinder.
2.Things that you have to heed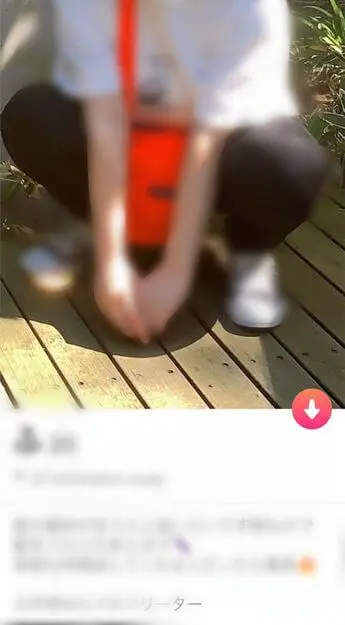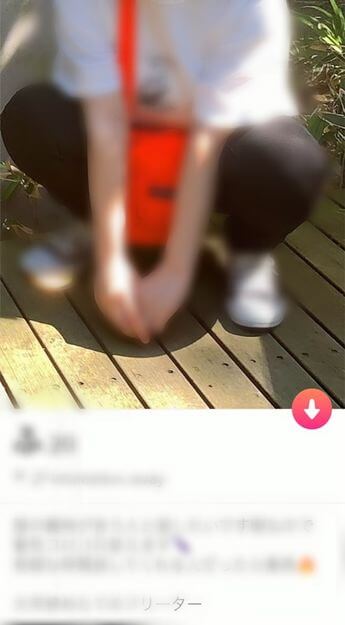 Basically, though Tinder is not a suspicious app, you have to have qualms at some points.
2-1. Many weird persons on Tinder
By and large, Tinder has more suspicious people than other dating apps due to not being qualified as a law of the matching app. Therefore, everyone can create an accounts no matter how age you are even if you were under 18 years old. (This restriction conforms to Japanese law though.)
2-2. The advertisement while you use Tinder
On Tinder, irritating advertisements come out to your screen while you are swiping. Some people actually have liked or disliked girls by mistake owing to the disturbance of the advertisement.

Although you might concern with notorious scamming website which coming out on the screen and attempting us to click the website by accident in order to charge on you fraudulently, such a sly deception usually won't occur to you.

Plus, if you were really obnoxious against the advertisements, you may be better to get the premium membership.
2-3. Non-English Speakers
It could be hard for those who have anxiety against foreign people to use Tinder.

Tinder has many foreign people regardless of your nationality because Tinder disseminates over the world. That's why you might feel constrained. Tinder doesn't equip with a function which you can prefer on various conditions.

Only functions you can change are the distance to opponents, gender and age.
A lot of various people appears on the swipe section regardless of race, appearance and nationality.

In addition, you need to avoid people say "hook up ok" or so on their profiles because once they match with you, they seduce you to register for an obscure website mostly called "cum site", then you need putting money in order to meet them.

I also have ever encountered these sort of people, let alone I have got cheated on by them once. I am describing the footage that I experienced that disgusting stuff.

That thing all happened when I matched the nasty girl (The girl honestly was my type though ). Hardly had she approached to me in a coarse way when I matched with her as if she were very into me.

As you predict, she suggested me a deal which is like if I put a little money on her website because she is yearning for being an actress as a cum girl, she should meet me and she would obey whatever I desire for her even having sex.
That was enough engaging to attract me, so I had no choice but do that at that moment at least I thought so.

As a result of that preposterous behavior, I got scammed, let alone I couldn't meet her. When you see the kind of girls, it is indispensable to avoid them for your safety.
3.What kind of shady person would harm you?
There are five types of dangerous people on Tinder you would have better to avoid. They are manipulative persons, hypocrite persons, people who want to hook up, sugar daddy, adolescence under 18, and acquaintance.

I am explaining each type of person one by one.
3-1. Manipulative person
This type of person has ubiquitous on Tinder owing to the easiness for people who activate to collect data or personal information. This type of person tend to seek those who have the low internet literacy because they are easy to get deceived and this app does not require us to confirm ID.

The purposes of them are to collect their data and to seduce you into other apps. If you encountered persons who trying to de these things, they are highly likely manipulative persons.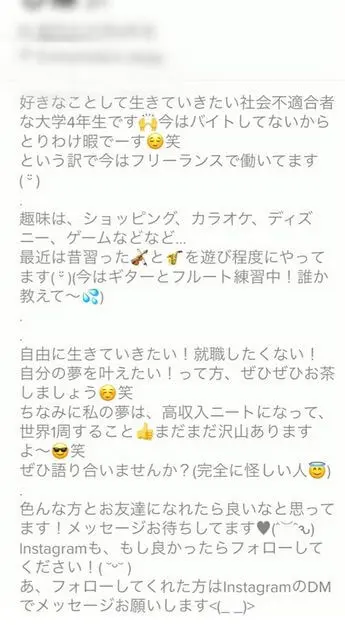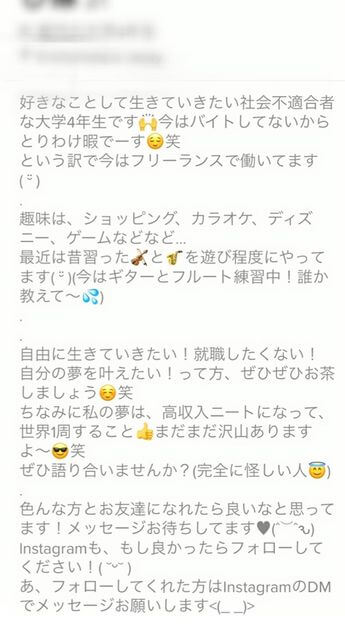 Above Profile is saying that;
I'm a senior student who is a social non-conforming person.
I'm wholly free because I'm not doing a part time job. That being said, I'm working as a freelancer.
My hobbies are shopping, karaoke, Disney, game…etc.
Recently, I'm restarting playing the violin and the trumpet that I used to learn before for just fun.
Now I'm practicing the guitar and the flute! Please teach me!
If you longed that I want to live freely, I don't want to work, and I want to fulfill my dream, why don't we take a drink to talk?
By the way, my dream is traveling around the world as a high salary "NEAT". There are many other dreams though.

Why don't talk about our dream?(I'm completely shady) I feel like making many friends. I'm waiting for a lot of messages. Please follow my instagram if you wanted. Well..I'd like those who follow me on Instagram to message me in DM on instagram.
3-2. Hypocrite person
This type of persons are kind of similar to manipulative persons. However, this type people activate on Tinder as an individual user too so it could be difficult to distinguish between hypocrite person or not.

They often try to sell extravagant things. It is said that the only way to judge them if they are the people or not is to meet for real. If they hesitated to meet face-to-face or they try to invite you BBQ or so, you should be careful because this type of person often do these actions when they attempt you.
3-3. Hookups
There are a bunch of this type of people on Tinder because it is easy for us to meet with whom is located in the nearby place you are in.

Although it is difficult to differentiate whether this person is for hook up or not, if they tried to meet you for real before we get known better each other or you feel they try to speak up to you in a sort of sexual way, you need to heed them. To avoid this prospect misery, it could be effective to write NO HOOK UP in your language as well as in English too in order not to attract this type of people nor contact with no matter of their nationality.
3-4 Sugar Daddy
This is for men. Men should be careful to this type of person. Indeed there are women for aiming for getting paid to have a sexual relationship through Tinder.

They are either personal users or people whom brothel force to register for Tinder in order to get clients. However, having the relationship with women to pay is outrageously prohibited. They also try to seduce you to just have dinner or so. Even though, it would have feasibility to cause sexual accusation against you.
3-5. Adolescence under 18 / 21
There are some people who use Tinder even though they are under 18 or 21 years old. (Most countries set up the legal age of adulthood as 18 or 21). Because we can register for Tinder without age confirmation.

To meet whom are adolescence via the internet is illegal. When you find the people obviously, you have to report. Plus, the people highly aim for sugar daddy or getting paid to have the sexual relationship so you must not contact with them.
3-6. Acquaintance
In this case, it depends on you whether revealing what you are using Tinder to your acquaintance would be a great damage to you or blemish you, or not. In case you don't want them to know what you are using Tinder, you need to leave Tinder or decorate your profile.
4.Three features of these types of people on Tinder
Indeed, it could be difficult to distinguish the kind of people from just normal users. However, there are some features which they tend to take on when they activate on Tinder. It should help you avoid them.
4-1. Described chat app's ID on their profiles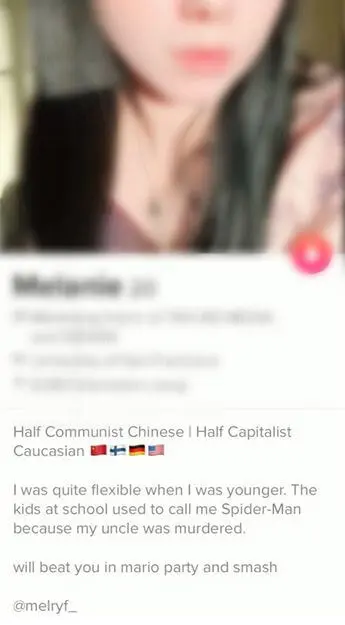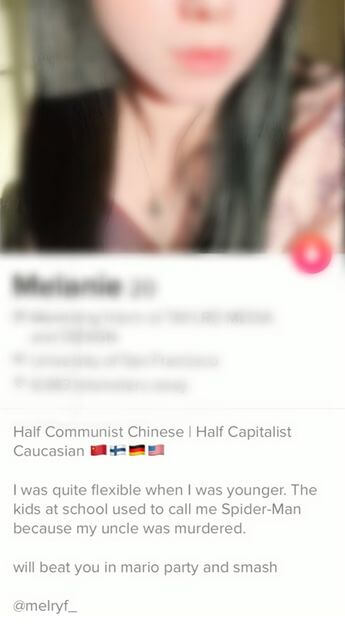 Usually we cannot describe our own communication app's ID such as LINE, messenger or so. However, there are sometimes people who imply the ID vaguely on their profiles or in the chat box.

Ostensibly, though it could work, it is really cautious as well as shady because they might try induce you into inviting to a specific chat or exchanging for ID in order to trap you thus you may be imposed to be charged fraudulent money on.
4-2. Sexual harassment / content
When you imagine the word "Sexual harassment", you might regard this word as for men. Of course, it is not incorrect but it could apply to women.
Specifically, for sugar daddy or kind of prostitution.

You quite need to heed these people even if they were utterly attractive to you.
As far as I am concerned, they undoubtedly try to approach toward you in a sexual way.

You need to have a sturdy mind on them. When I look through reviews of Tinder, I sometimes find someone who succeeded in meeting girls or even having sex. However, they are speechless and have no any evidences to prove the fact.

There are many women who want to have sex or aim to get paid in order to have the sexual relationship is really dangerous and coarse definitely.
4-3. Too photogenic on the selfish
If you have ever used Tinder and swiped whether you like women / men, you might have found or matched with persons who set too photogenic selfish on their profile.

They might rent really handsome guy's pics or really beautiful girls' one from Instagram, Twitter or Facebook.
Most of them are model, actor / actress or idol, which means their true faces are completely deceptive. Plus, if they did not expound themselves on their profiles, the possibility is going to be much higher.
5.How to cope with when you find them or match with them
When you find them or even match with them, you would highly rather cope with them cleverly otherwise they will perpetuate on Tinder, let alone on your list.

In a broad way, there are two ways to avoid them.
5-1. Report
This is the simplest way not to involve in a tangling stuff. It is no exaggeration to say that you have no choice but to report if you matched with them.

As long as the dangerous person got reported by some people to a certain extent, an administration of Tinder have no choice but to evict the person from Tinder.

The way to report is the following passage.

Open an opponent's profile

Tap the flag mark on the top right on the screen





You have choice either report or let the match off





Choose report and contents of violation





Complete
5-2. Let the match off
This is for what you might feel reluctant or averse to someone whom you matched with once. I recommend you to let the match off. Then, you can't talk to the opponent each other.

The way to do that, it is the same as the way to report.
6.Conclusion
Indeed, Tinder is really casual and convenient to meet women / men and a whole basic function is for complete free.
On the other hand, there are some shortcomings as I mentioned.

Just grabbing "What kind of feature they have?" or "Who are they like?" is profitable enough to avoid them.

Nevertheless when you run across into like these people, you should report or let the match off. As long as you have cautions about that, Tinder is really a great matching app undoubtedly.