7 Popular Dating Apps in Japan; Which One is the Best?
There are many apps for meeting someone in the present days. You don't get which one is better or worse.
Which is the most famous one?

If you ,especially for men, were interested in this article, you struggled with meeting girls, I would highly recommend you to watch this.
7 Popular Dating Apps in Japan
(March 2019)
App
Number of Memberships
(Year 2019)
Cost
Purpose of Female Members

Tinder
20 Million people worldwide
Free
Do Not Buy Option(unnecessary)
Casual

Pairs
10 M
73% Japanese
21%Taiwaneese
6% Others
JPY3,480/month
(roughly USD30-)
Serious Relationship
Marriage

Tapple Tanjo
4 M
Most of Them are Japanese
JPY3,900/month
(roughly USD35-)
Casual

Serious Relationship

with
3 M
Most of Them are Japanese
JPY2,800/month
(roughly USD25-)
Serious Relationship
Omiai
6 M
Most of Them are Japanese
JPY3,980/month
(roughly USD36-)
Marriage

Cross Me
2 M
Most of Them are Japanese
JPY3,800/month
(roughly USD34-)
Casual

Dine
2 M
Most of Them are Japanese
Free Matching

Setting up Dating Fee
JPY6,500/month
(roughly USD60-)
Expensive!

Casual
Free Meal for Women
What is originally matching apps?
First of all, I'd like to tell what the matching app is even though I already mentioned this is specific for matching apps. So the matching app is for making a girlfriend / boyfriend or getting married. It sounds the dating app and some guys might be misunderstanding it but it is not actually.
Surprisingly, the ratio of getting married with someone who met on the internet which is literally the matching app has been increasing recently. A certain famous matching app has approximately more than 100,000 people no matter of they are men or women. Besides, you can choose your type from a bunch of people who registering the app given that gender, age, occupation, height, salary and hobby…etc.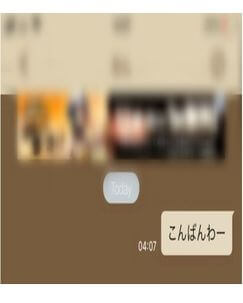 "How's it going?"
Matching app and Dating app
What is different between Matching app and Dating app?
The distinction between them is safety. The dating app is dangerous a little so that there are some fake accounts who do the identity fraud or lead you to put a lot of money in the app to seduce. Though I can't say the all apps are safe, there are many safe apps regarding matching apps because they usually set the identity recognition as using Facebook and the clarifying price system on a monthly basis.

In addition, the purpose is also different. When it comes to the matching app, the purpose is for looking for lovers or an engagement opponent. But as for the dating app, there are many guys looking for easy girls.
So actually, little there are women are 20s as well as 30s. Also if you were using the dating one, you basically have to search for by hobby or so, then you might struggle with none of "like" comes out or no one matches with me. Meanwhile, the matching one leads you to match with faster than the another because all you have to do is just swipe opponents right means like or left means dislike as opponents do. But on the matching one it tends to have girls who asking for a serious relationship. So only if you wanted to just hook up, you'd rather use the dating app.
How about Marriage hunting app?
Next, I am going to talk about the difference between the matching app and the marriage hunting app. Then, honestly, there may be some people who don't comprehend what the marriage hunting app is though.
Actually, there's no big distinction of them but when it comes to the marriage hunting one, which means you are on the situation looking for a serious relationship more than use the matching app. That's why the target age is a little different. They might be older especially women though. If you thought it is difficult to imagine what the marriage hunting one, I want you to imagine the meeting party on the internet.

Then, I am going to introduce some matching apps that you can use in Japan.
Tinder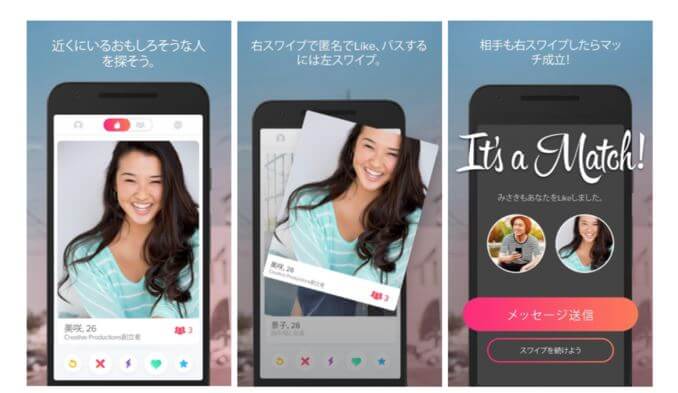 The first one is Tinder. As you know, this app is too famous not only Japan but also over the world regarding the matching apps. It has one of the most number of members. Though it doesn't show an exact statistics of it, it is said that it has more than 3,000 million people. The feature of this app is being able to chat with for free.
Actually, it exists as Tinder but it is only Tinder is applicable to men. But if you were going to impose of this app, you should be careful because this one has really bad cost performance, which means even though you put numerous money on this and swiped right, the feasibility of matching with them might only increase slightly because if women didn't swiped right on you, you couldn't match even you swiped right numerous times. That would be disaster and you will definitely feel that is extremely waste of time and countless money.
The manner of registration is you can use your number or your Facebook account. But once you registered it by your Facebook account, your real name shows as the name of the Tinder's account. so if you worried to be revealed your name, I would recommend you to register it as using your number and log in by it. In fact, I'm loving to use Tinder. And I actually have succeeded in meeting some girls on it. I feel like there are few fake accounts on it too.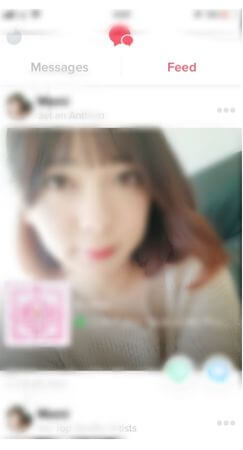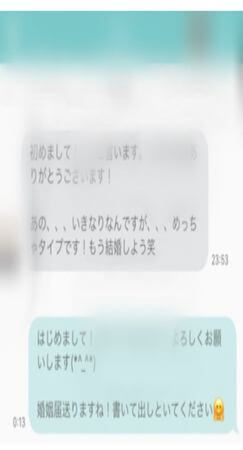 "Nice to meet you. I'm 〇〇. Thank you for adding me! Well I'm afraid of all of sudden, but you're really my type! Let's get married!"

"Nice to meet you too! I'm 〇〇. I'm going to send an official marriage certificate. I'm begging you to write it down and turn in it 🤗
Pairs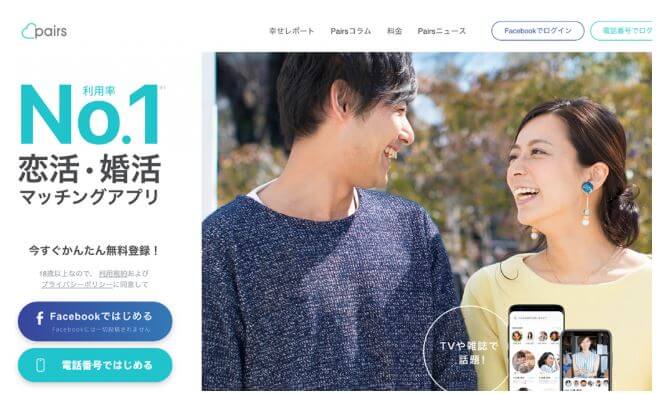 This app is really popular in Japan. In fact, I know some guys who met girls or made a girlfriends by using this one. Besides, this is the most available app of all the kind of apps. It has more than 8millions people on it and it is renowned by 20s as well as 30s. So it might be said that if you really want to have a girlfriend, you would better do that since you might as use this app as hit on some random girls I think. But there are some complaints that no one match with me or not feasible to meet women without imposing.
As for the former opinion, I think it has problems on the persons who complaining but when it comes to the latter one, I think it is a logical opinion because you only can do "Like" 17times on three days. It is surely far fewer than the other app which is able to do "Like" 120times on half a day. Besides, "Pairs point" is redeemable to one like costs JPY140(roughly USD1-), and its price is JPY20 more expensive than others.

This app's features are you can search for girls in light of hobby, perspective about any stuff and it has the function which compare with your nature and opponent's one by the cognition of selfies. In addition, it is held the saving campaign from every Friday to every Sunday so I recommend you to enroll in that as the timing. Honestly, you might hesitate to impose on this app though, I don't think it will waste of your time as well as your money.

How to Resist Pairs-Japanese Online Dating
Tapple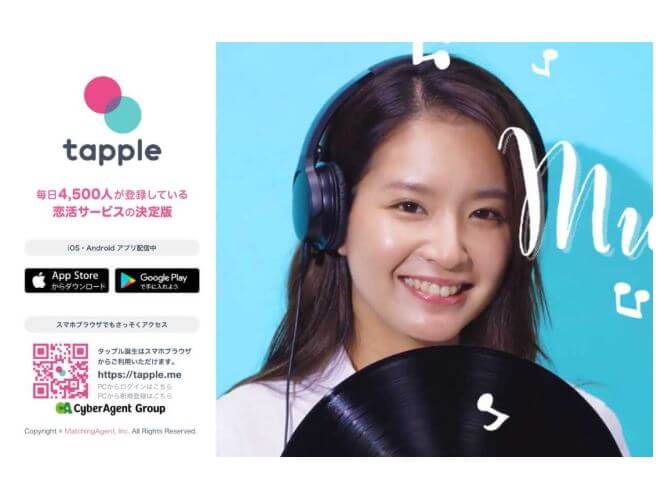 This is also a popular matching app in Japan. There is a fact that I want to emphasize on is approximately 5,500 people register for this every single day. Therefore if you thought that it is too late to register for it, don't have to worry about it. Fortunately, it has been easy to meet women so that the dating function called "excursion" had added at April, 2018.
Also as long as you match, you can ask a certain woman out and go on a date within 24hours. You can check women's posts anytime even you are a free membership.
Remarkably, you can use this app for free until you match with someone, which means you have to be a premier membership. But it never happen that you will be imposed of that automatically. Although apparently the system of imposing is innovating because on this app you substitute so-called card for just money, the system seems not to having established yet therefore what even if you don't swipe right meaning "Like", the cards reduce happens to users always. Actually, there are some complaints about this drawback. However I highly recommend you to attempt and I think it is worth of it.
With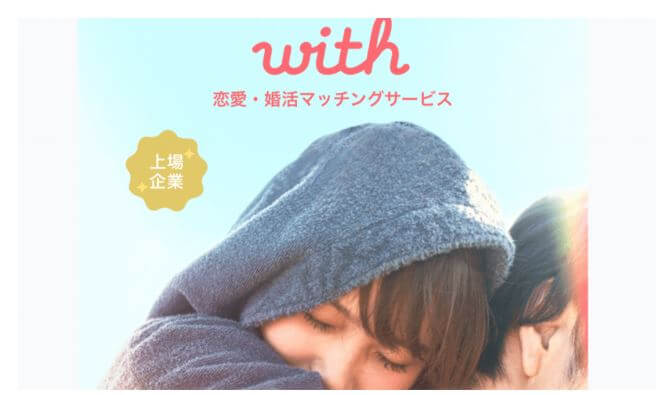 The most notable characteristic of this app is that this is overseen by DaiGo who is a famous mentalist. This app considers hobby or perspective based on phycology and statistics when you seek any ideal opponents thereby it has the prominently high rate of successful of matching as well as the accuracy. As a matter of fact, you can be available for DaiGo's advices showcasing to you, and those who succeeded in meeting women say that "The support of DaiGo was very helpful. I could meet them because of DaiGo. I really appreciate for that.
By the way, if you were initiative to use matching apps as finding any women, this With app would be the first choice. You can send the first message to women for free, therefore it's one hundred percent the best way to catch to impose of that. But you would rather attempt to enroll and arrange your selfish and your profile or biography because it is completely free only registering for. Actually, it has the solid tutorial and more women register for it than others. That would be helpful for you if you consider serious relationships. But what I notify you of is your Facebook account has to be compatible to this app, otherwise you are not able to even register for it. That's why I absolutely recommend you to get a Facebook account beforehand.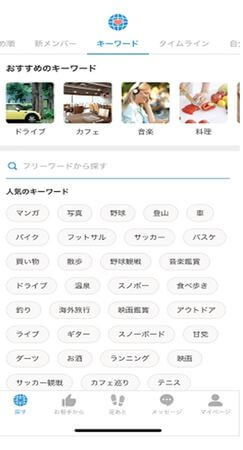 Omiai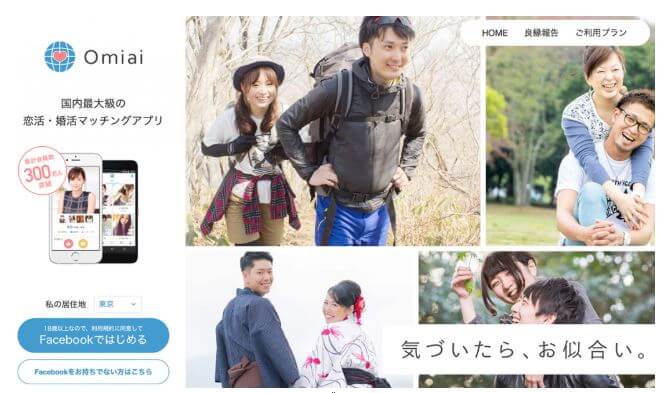 This is suitable for younger people who are struggling that there is nothing like sweet dramatic match for real. Especially for university students or so. I'd like to illustrate the meaning of Omiai. Strictly to say, that means the marriage interview. But this app is not rigorous as what I mentioned at all. The feature of this app is you can search for women by random search for free. It is typically not free on the other apps. This has good cost performance so that the price for premier memberships has currently decreasing.
Besides, it makes those who often leads you to any illegal website leave. Thus you can be available this one more safer than you anticipated. It has a accomplishment that 2,500people add this app on every month. Lastly, as long as you submit in your personal information as passport, driver license, you can get some gifts which you can use some specific pay functions on it for free. It may be clever to use the kind of gift whatever you can be available.
CROSS ME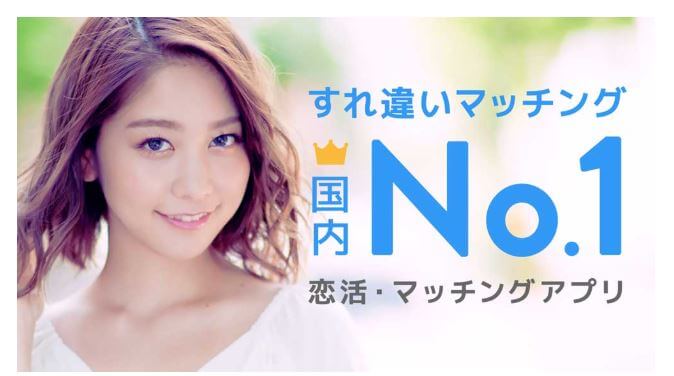 This app is a unique one. Because the concept is based on passing by. That's why the name of this called "CROSS ME". It vitalizes the GPS when looking for opponents. In addition, it is usually said that almost never happen not to meet for real. This app has the function of "Today is free" and as long as you use the function, you would be able to find women who passed by you.
Frankly to say, it might conduct this advantage at big cities where there are a bunch of people though, it is better to register for it even if you live in any rural areas. There are three ways to register for this, which are byFacebook, Twitter and SMS verification. As I mentioned before, if you considered revealing your real personal information, you should do by the rests. It has a lot of topics that you set up on this app as your information. They are your favorite place, your favorite restaurant, language you speak or so.

You can look for an ideal partners based on these detailed information. I feel there are many looking good women. What I am impressed with this is when a certain woman or I pass by each other, it shows on my account that someone has just passed by you. Indeed, you can find someone definitely much more you live in any big cities. It should be good to edit your profile in detail. For these reasons, I'd highly like to endorse this app for you.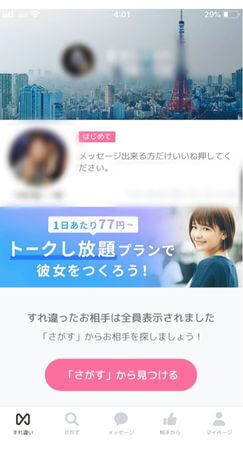 Dine

This app is a little unique too. That's why I want to introduce this one. The unique characteristic of this is you only select the schedule of the dating and your favorable restaurants then you can meet women. It focuses on just meeting. If you thought it doesn't matter what how long days we have been texting one another and I just want to meet for real anyway, it is totally recommendable for you. and it is said it is relatively speedy until meeting. But you should set you mind to meet firmly because the plan and the schedule might be determined faster than you thought.
As a matter of fact, most of people says that they succeeded in meeting in an expediting way. If you were skeptical like "is it truly fast?", it would be endorsed for you. Although it costs JPY6,500(roughly USD60-) on a monthly basis and this app is constrained to only at Tokyo, Osaka, Fukuoka or somewhere of large cities, the areas being accessible will expand from now on. Also you can register for it even if you were on exclusive areas. Therefore I recommend you to add this app too. In fact, it is quite attractive to me. I will be available for this app one of these days.
Which One is the Best?
In conclusion, I prefer to Tinder to the rests of them. But this is completely my cents. The reason why I feel is just the system of imposing. On Tinder, I can basically send messages how often I want. This is really attractive for me.

Of course I have ever attempted on the other apps and I occasionally succeeded in dating but it didn't sound much better than dated with persons who met on Tinder. But in my abridged opinion, there are fewer people who require serious relationships on Tinder than the other apps that I introduced here. Finally, I am privileged to introduce and explain them to you. I wish you will have good luck on these matching apps.
7 Apps Feature
App
Feature

Tinder
・You can basically use this app for

free

.
・The system is simple.

Pairs
・This app has the most available ratio of all the kind of apps in Japan.

Tapple Tanjo
・You can date with women within 24hours as long as your pic is great and succeed to match.

with
・You can get advices about the method of how to ask women out on a date from DaiGo.

Omiai
・You can search for an ideal partner by random search for free.

Cross Me
・It can find your best partner as using GPS and reflects when you pass by women who has this app.

Dine
・All you have to do on this app until dating for real is just set up your schedule and your favorable restaurant.