5 Tinder Tips to Make it Easy to Get Messages from Women
confusing bitches never gets old pic.twitter.com/mWGtPui3JV

— Best Tinder Messages (@FunniestTinder) 2014年6月13日
@FunniestTinder

When you use Tinder, sending messages is the most important thing definitely.

When you start to take any action to women, it must start through messages.

Tinder is different from the other apps that you usually use in daily life, let alone it would be useless if you use Tinder with the same way as what you use your favorite SNS.

It is quite important to grasp how to send messages on Tinder so that it is distinct from other ways you know.

I am going to introduce how to send messages as well as some cautions you have to care.
How Messages Work on Tinder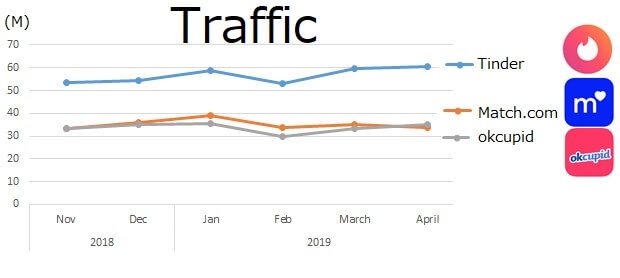 First of all, Tinder has approximately 60,000,000 users around the world, which is an extremely famous matching app in the world.

Tinder Top 5 Traffic by Countries
【May2019】
Countries

The reason why the app is such a famous in the world is basically all functions are for free, and you can meet those who site near you.

When you use Tinder, it shows you people who are near you within 160km automatically.

Besides as long as you match woman, it shows "New Match" on your screen and you tapped it, you can send messages to her for free completely.

There are some shortcomings on Tinder, which are what you can't send any pics let alone there is no any helpful options when you talk.

For these reasons, it is essential to get fundamental tips.
The Fundamentals of Messages on Tinder
The scope of users is different from domestic apps.

Sadly, on Tinder, there are fewer people who look for serious relationship than other matching apps.

You need to make use of some unique ways in order to draw her attentions as grasping some fundamental functions on Tinder.

1. You can Send Messages for Free
That is the most valuable function of Tinder. You don't have to get a premier membership.

You can send messages countless as well as you can exchange the other message apps such as LINE, Facebook Messenger, Whatsapp or Snapchat.

What I would like to warn you is, there are a bunch of rivals, let alone you can't arrange your profile, which means you have to make much of the content itself of your profile.

Also, you can't add your preferences on your profile.

Some people don't send any messages anymore because he is different in terms of nature from she anticipated which means he was sarcasm.

The thing happens time after time. For this reason, it had better to consider your profile.

2. Be able to Send Music and GIF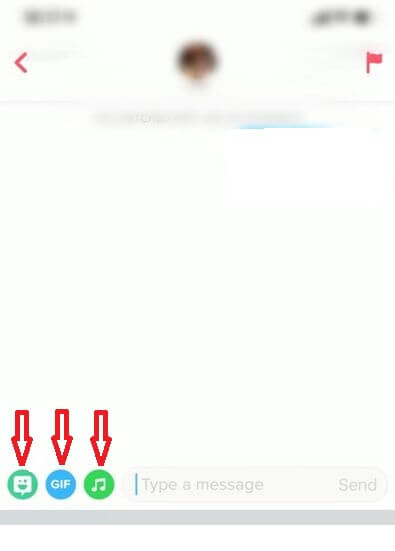 On Tinder, you can set your favorite music on your profile much more GIF.

There are many Japanese musicians on Spotify, which is one of music apps.

If you were willing to arrange your own profile or make yours unique, you can do whatever you want, and that might make your profile get interesting or any attentions.

When it comes to "Spotify", you neither have to register for nor become a premier member.

I highly recommend you to set any your favorite music on your profile aggressively in order to get you guys know more and more.

As for GIF, you can deem it as sticker of LINE or Snapchat.
You can decorate your messages as putting GIFs if you want.

Line Overview:

Luckily, Tinder can link to Snapchat. You can send them to put music mark and the mark written "GIF". That is either simple or easy.
Also as long as you set the music that a certain women likes or so, you might get messages from her or you may be able to make it possible to go to music festival.
You would rather make the use of them to communicate with women smoothly.
3. Unable to Send Pics and Videos
It is neither able to send any pics nor videos on Tinder.

If you wanted to send them desperately, you can adhere the URL os link to your message.
Or it might better to chat on the other messages apps that you can send pics and videos.
Pics and videos are really useful and integral to get know one another.

Sending them has effect to make women feel relief or "He opens his mind to me.

If you would like to use this tip, I utterly recommend you to move into the other apps. But moving into the other apps is a little hard for especially women because it means she tells her personal information to you even she has never met you ever since.

It's because you need to forge the great relationship with each other before moving into the other apps.
Some Tips to be Easy to Get Massages
As I mentioned, you can send any amounts of messages but there are plenty of rivals so you have to arrange your way of the messages.

1. Adjust Your Message's Length
Based on my experience, women tend to choose you instinctively, not considerately, which means it is really essential to consider the rhythm as to messages on Tinder.

The modest length of the message is the best, too short nor too much.

This is an example of that. You can take this preference.
2. Use Polite Ways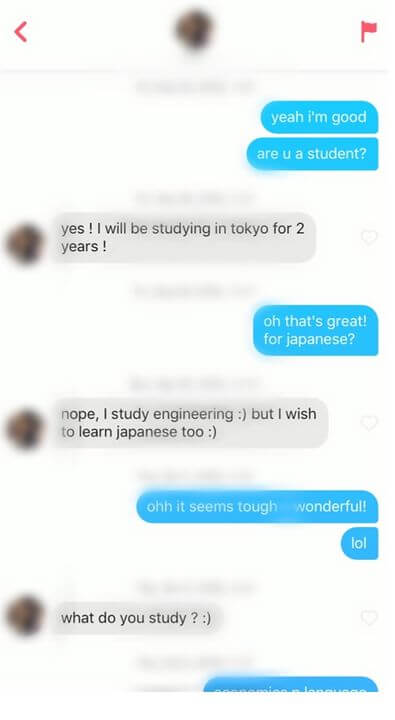 Whatever language you message to women, you need to use polite ways because it gives them moderate or humble impressions of you even though on Tinder.

I want you imagine a situation that you get quite casual messages from the opponent all of sudden. That would be upset as well as probably uncomfortable. You can shift your style of talking to women into a casual one little by little.

As far as I know, women also tend to open their minds as long as you conduct the way properly.

A tip for easing to comprehend what you are trying to imply. That is just make some blank on the line. And, you would rather judge whether women is a person who likes to get a packed messages within one script or get some messages by some installments.

It totally depends on person so you need to judge which type is the girl. Asking questions to women is the timing that you have got to take considerations about what kind of question you choose.
If you took a wrong choice, you must be ignored or blocked definitely. I normally recommend you to ask Yes/No questions, not ask "5W1H" questions from the first message.
3. Check Women's Profiles Firmly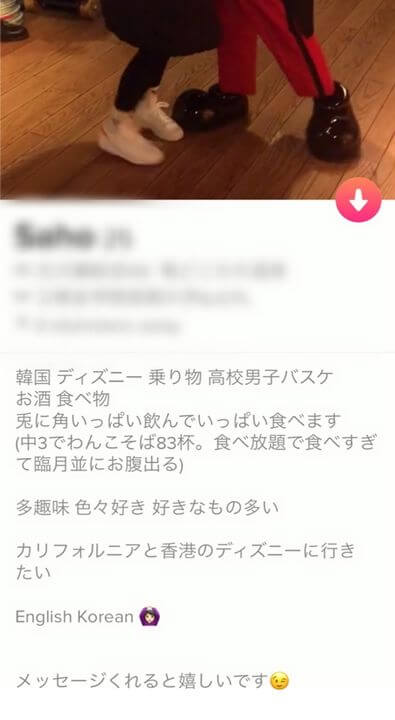 That is necessary thing that you have to do first and foremost if you wanted to get know her well and you wanted to be known by her as well.

Every time you try to know about whoever, it might check the person in advance as well as not do that.

In the event that nor any pics on profile and enough introduction on it, it had better to start to ask something of random questions casually. But it's not a good way to question too much as I mentioned.

This bio says
"Korea, Disney, Vehicle, High school guys, Basketball, Drinking alcohol, Food. If anything, I often eat and drink.
(I had 83 cups of Wanko soba when I was junior at junior high school. I usually can be chunky to eat too much.)

I have various hobbies, I have plenty of things that I like.

I would like to go to DSL in California and Hong Kong as well.

English Korean fine.

I'm pleased to get messages."

As you can see, this has a lot of information that you have to take a consideration.

Being said, you have many options and stuff that you are able to use to start to have a conversation with her or ask her on a date such as I'm also longing to go to DSL in California!
4. Coincides Yourself and Your Profile
You need to coincides with your profile absolutely. In case you have utterly different nature from what you mentioned on the profile, not only women but also not friends would feel confused also weird.

You need to set on an account carefully to thwart to happen absurdity of your nature.

5. Never Ask the Other Apps' Number in No Time
Asking the other apps' number all of sudden or to begin with is too impolite even if you were good man or rich man.

That would be the same as the way that fake accounts do.

You can use Tinder for completely free as long as you get a premier membership so you neither need to move into the other apps nor be rush as to your relationship.

It is because you would be misunderstood as extremely horny asses even if you weren't due to the problems.

In theory, it is ideal to send messages a couple of times and have got known you guys each other before meeting for real. This is a typical example.

Here is my tip. That is time you guys start to move into next step which you can chat in a casual way as you usually do with your real friends is literally when you can ask her out on a date or having dinner or so.
As a matter of fact, I have ever succeeded in meeting as using this way as well as restrict myself to obey this policy.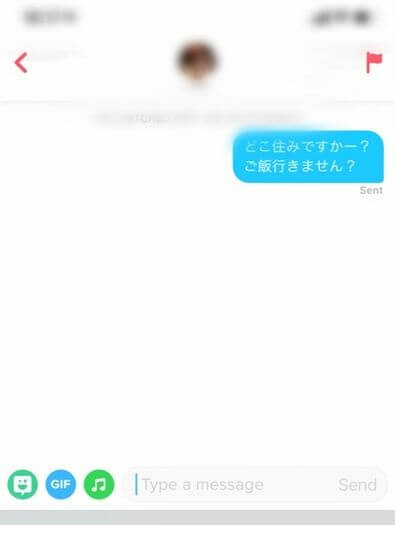 This message says "Where do you live? Why don't we have dinner?" all of sudden also soon after we matched. That's a typical bad example of the stuff I have warned here.
Conclusion
To grasp the distinction of functions that you can use on Tinder and you can't do.

As long as you grab it, you can take measures to get attentions from women well, much more to get more messages than ever since.

Send Polite Messages.

Not ask her on a date all of sudden like astonishing timing.

Rethink the message length right before you send the message.

Check women's profiles. Although there are many people who leave Tinder owing to a casual style of the app.

The most important thing is keep forfeiting the relationship with those who you have matched.

Therefore, I hope you have good luck with meeting superb woman on Tinder.