Flirt.com Review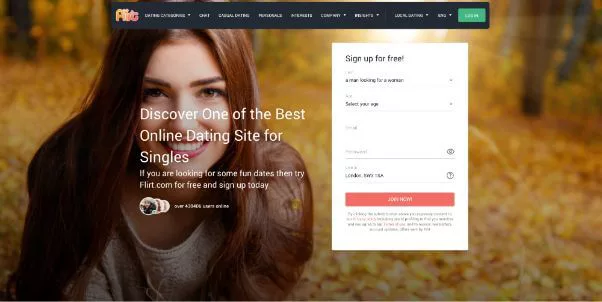 https://www.flirt.com/
Flirt.com is owned by SUB-QUOTE LTD and operated by Apricot Digitals LLC. From the main site information, they are based in Sofia Bulgaria. It is very hard to find who they really are.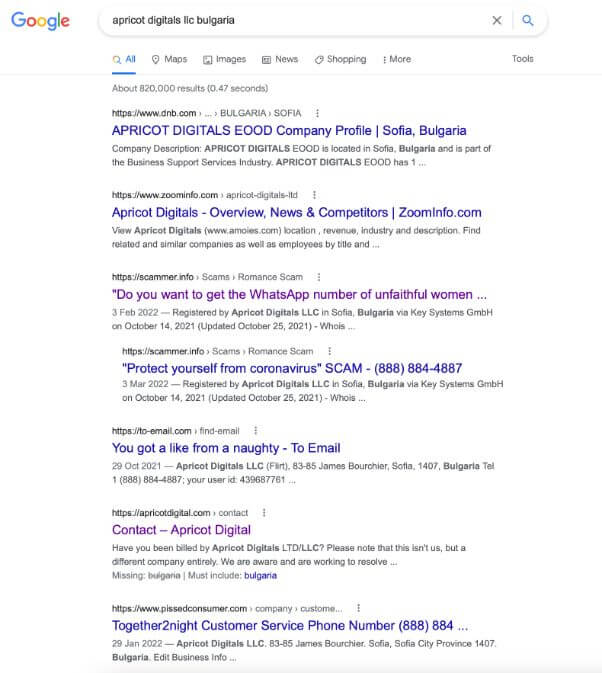 Worryingly, they already have some top search results with the word " SCAM".
Their owner SUB-QUOTE LTD does not have any online presence.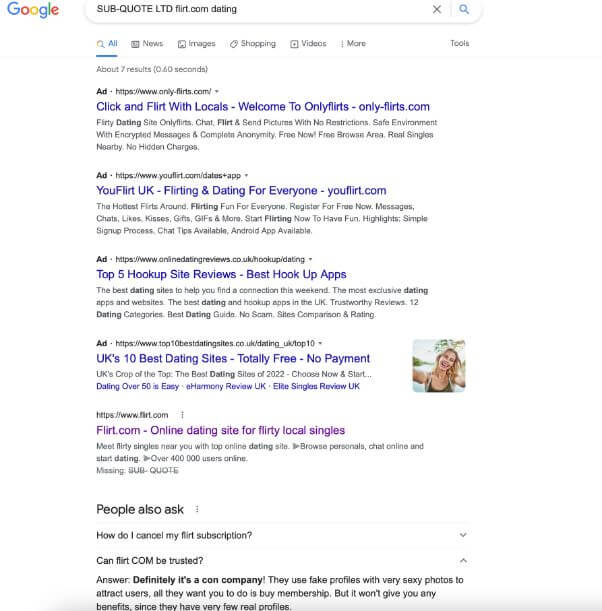 It is very unclear who SUB-QUOTE LTD is, but the search came out with flirt.com, itself as "a con company".

Although users can see only 15 languages on their main page, according to their site, "Flirt.com serves 45 countries in more than 20 languages, making us one of the world's leading online dating services. We've been helping singles to connect since back in 1997" .
Flirt.com Verdict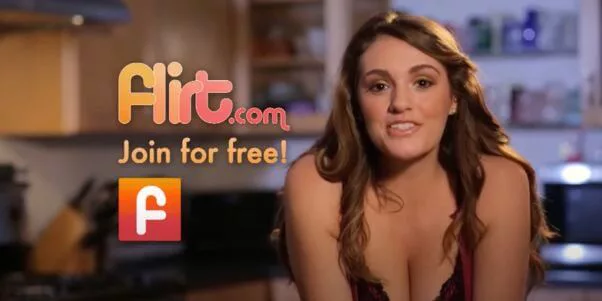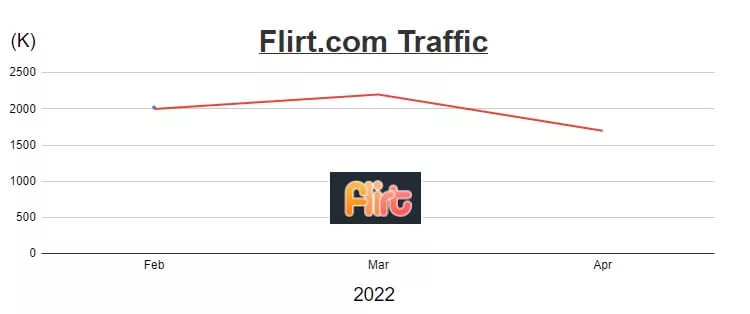 Flirt.com is a questionable dating site. They started their service with a full swing about 5 years ago but all their promotional marketing activities are stopped now. Their social media accounts are doment.
The site is still operational but without any app services.
There is not a lot of information about the operational company.
Once a person joins, she/he would get a lot of notifications from others; however, most of the messages are not accessible without paying the membership fee. Legitimacy of those senders are also not clear because they would even send a message to an empty profile.
Free members can send 5 messages a day. The rate to get a reply would be very low.
Flirt.com is reported to be a global site for hookups, not for serious relationships.
Traffic by Countries
[May,18,2022]

[Monthly Ave. Traffic Feb-Apr,2022]
| | |
| --- | --- |
| Brazil | 263,926 |
| Canada | 242,686 |
| Australia | 213,776 |
| USA | 212,006 |
| France | 152,416 |
| Others | 881,853 |
Flirt.com Premium Service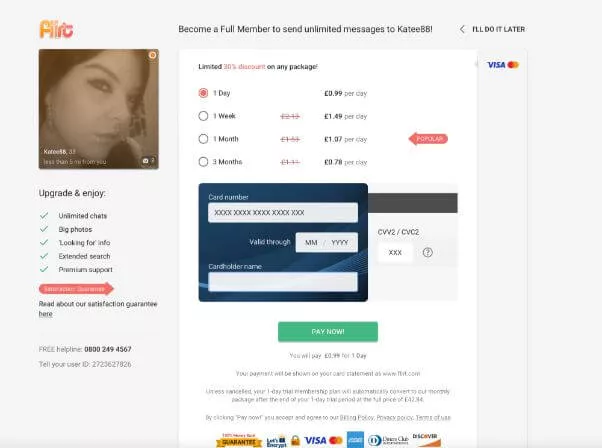 Flirt.com full members can use their message / chat service fully as well as access to full profiles and photos.
First they offer a 30% discount. However, a few minute after the joining,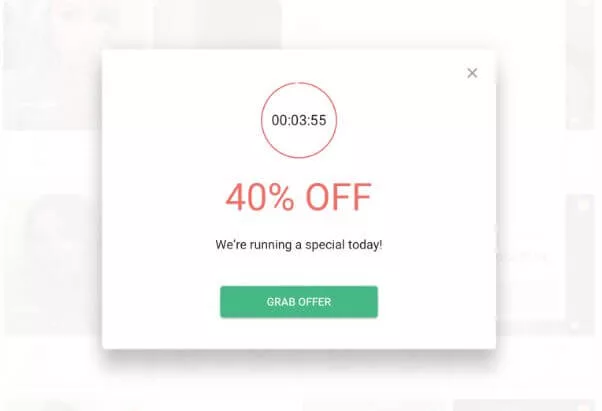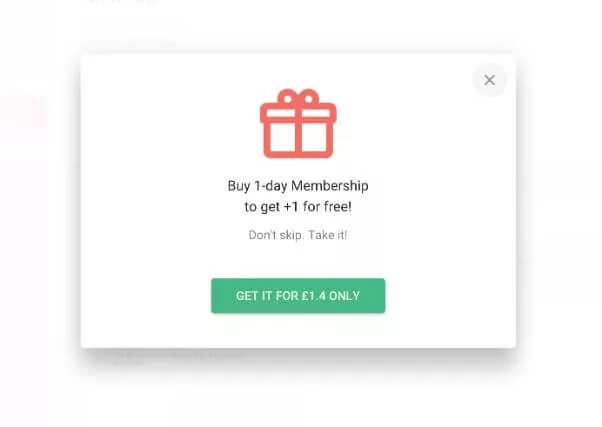 More discount offers would pop up. It is wise to wait for them, if you are willing to pay for this service.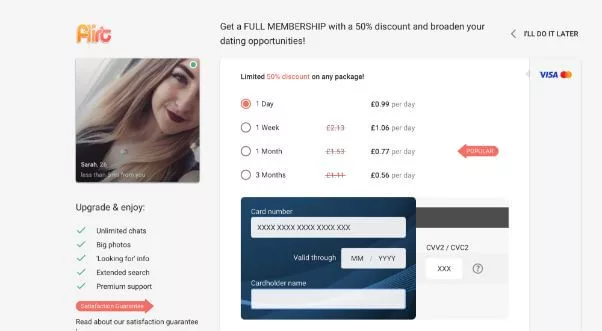 Finally, there is an offer for 50% off. This shows longer people wait to join, there would be better price deals to come.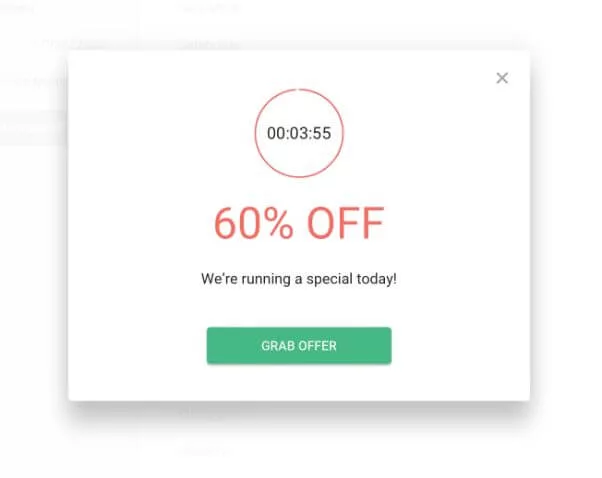 On top of that! When a user tries to leave the service, they would offer final 60% off,
So try to browse through the service for a few days, and try to grab this 60% offer; however, there are a lot of negative reviews regarding signing up for their subscription. Thus people need to read their T&C thoroughly before submitting their credit card information.
Flirt.com User Variety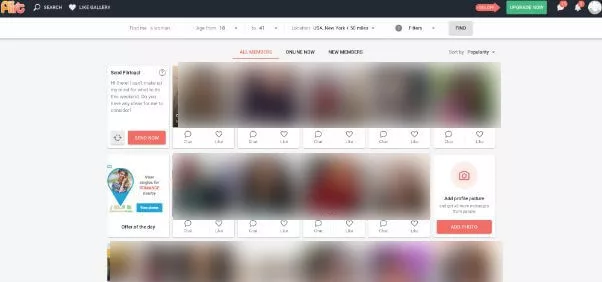 From the initial glance, there are a lot of young females on this service, even though the search was automatically set age 18 to 41.
Again, a large city would offer a better variety.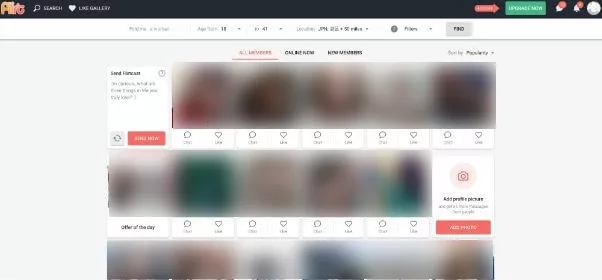 Users can look for others who are far away from their location even otherside of the world.
How to join Flirt.com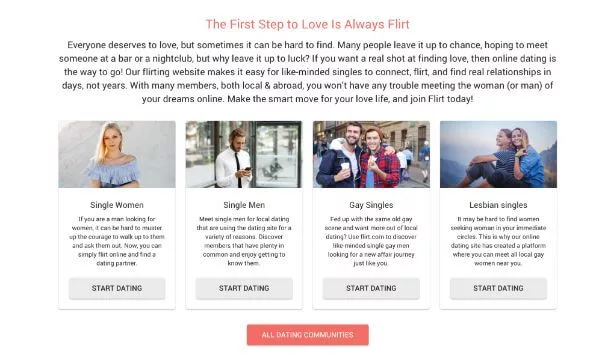 Flirt.com supports different kinds of relationships: opposite sex and the same sex.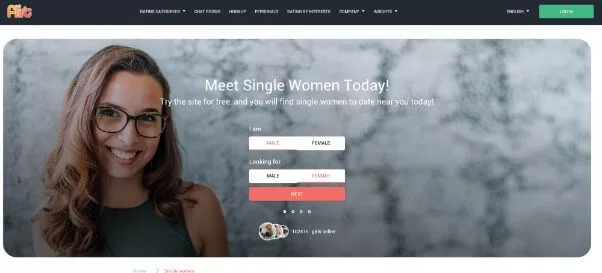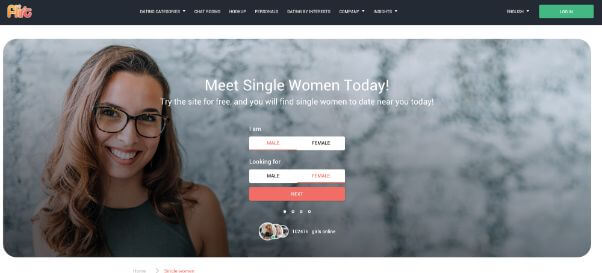 After clicking the right one, the new page would appear.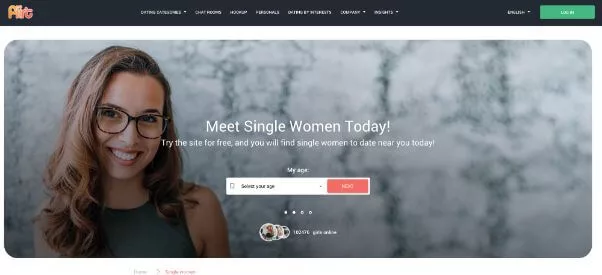 Users need to select their age.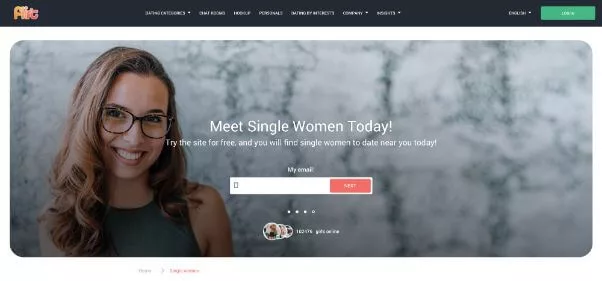 Then they need to put in an email address.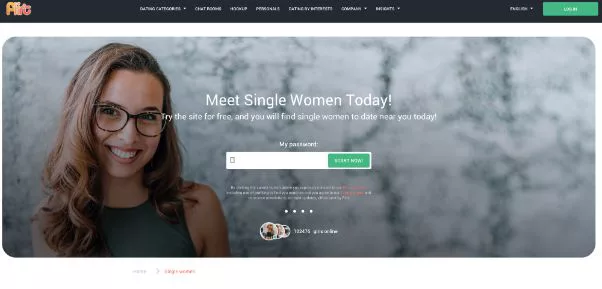 And create a password.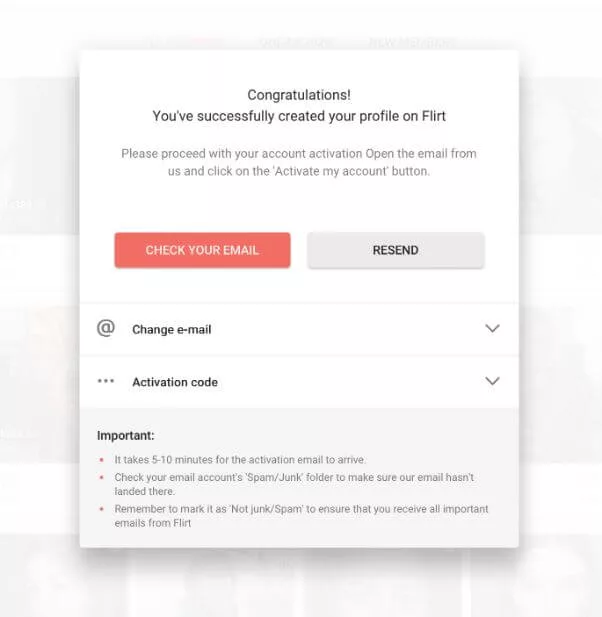 Then people need to verify their email.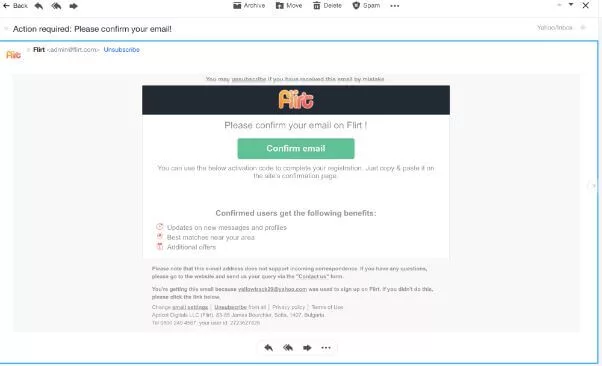 People would receive this email with the link. The link would lead users to the main site.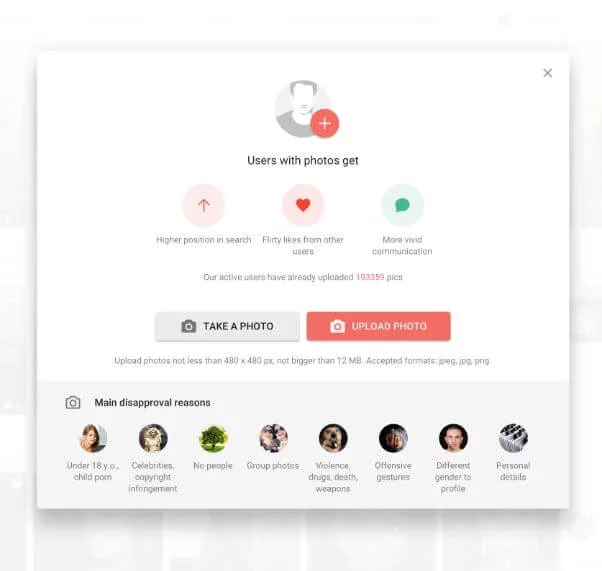 Now is the time to add a photo, however, people can skip this part.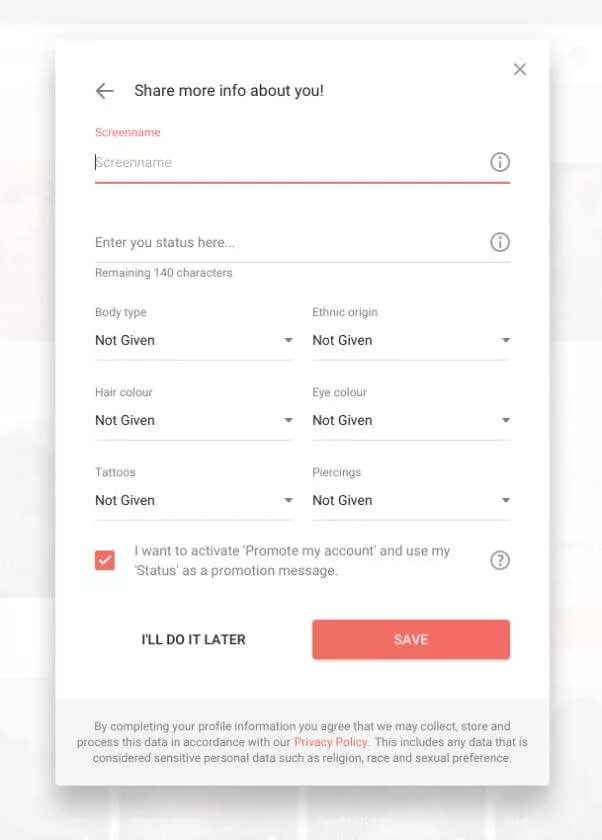 Then people can add more information for their profiles.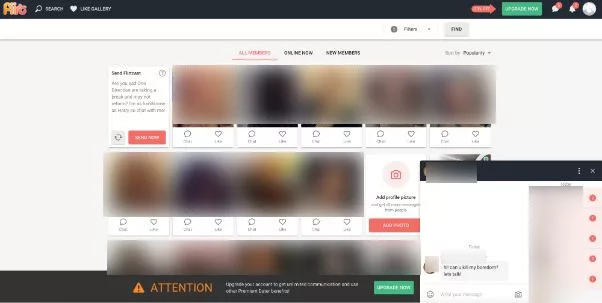 Without typing anything, the service would automatically show people who are nearby. Flirt.com is a geolocation service.
Also, predictably, a profile, even without a photo, would get so many interests from other users immediately after joining.
How to use Flirt.com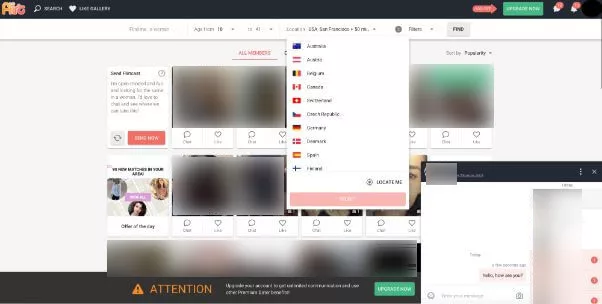 Free members have limited access to the service. They can browse others for free. By changing the search engine, users can look for other members all over the world.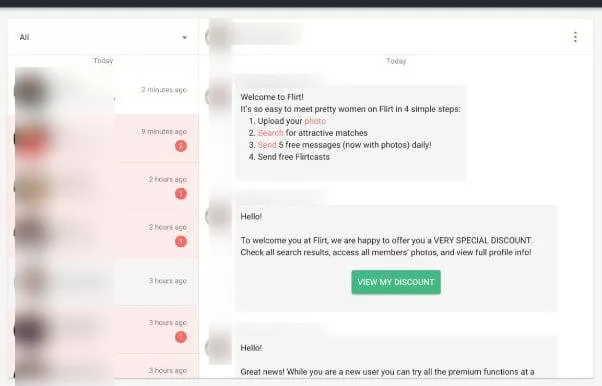 By adding a photo, a user can send 5 free messages a day to others.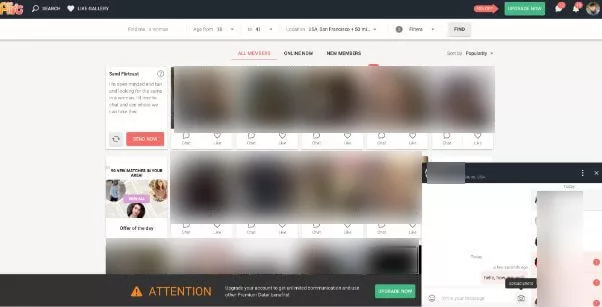 You can write a message by clicking the Chat mark on others' photos and a new pop up would appear.
Personally, my free messages did NOT get any replies.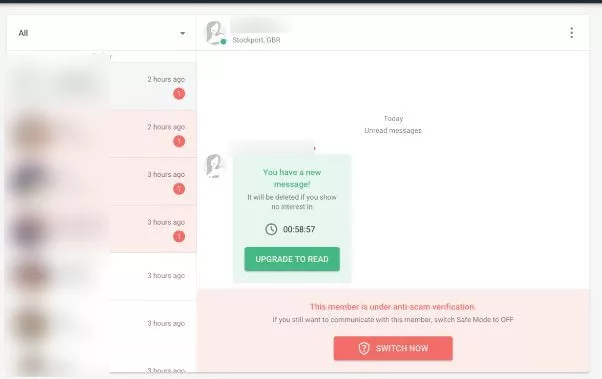 Moreover, free members can not reply to any incoming messages. Also, some of the messages are hidden as well.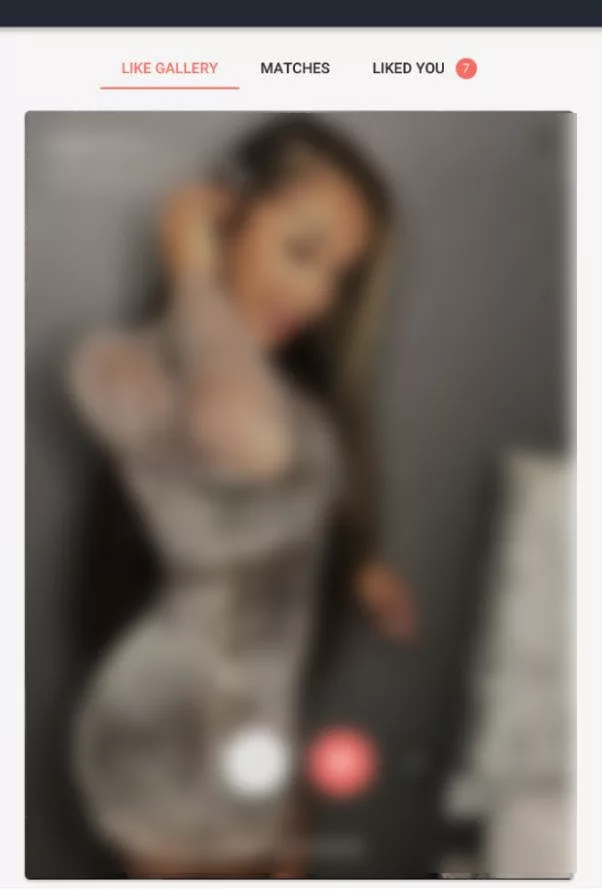 Gallery function works as other dating services' "swipe" likes or not, users can click yes or no, then they could hope for "matches". Likes would be sent to other members.
Flirt.com App service
On Flirt.com there is no sign about app service.
Google Play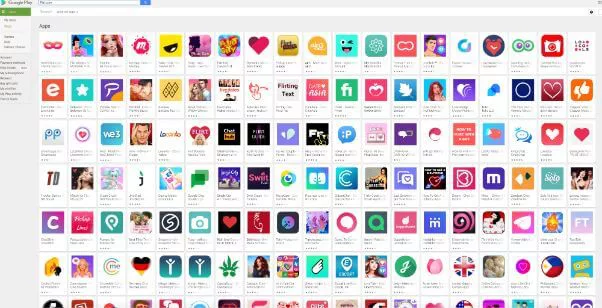 There are some similar name apps present here however, there is no actual hit.
Apple Store
Flirt.com used to have an ios app which is still on their Youtube page.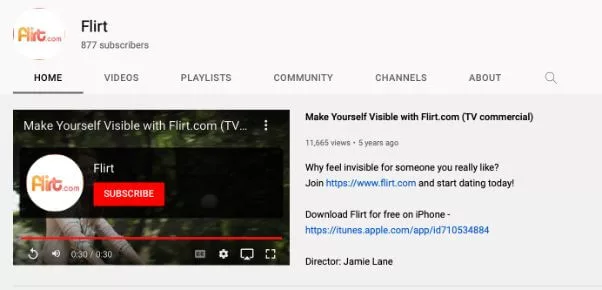 However, by clicking the link,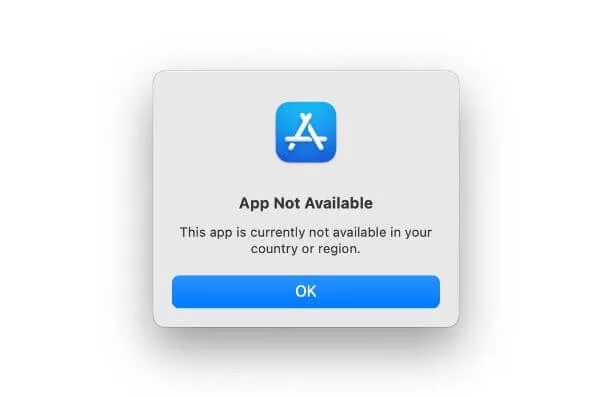 The page no longer exists. The link is about 5 years old. Thus it is clear that Flirt.com no longer offer ios app service.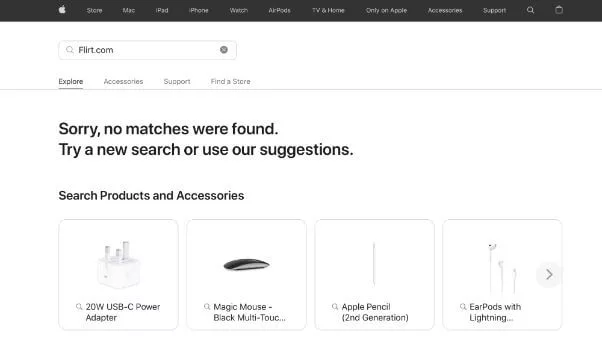 As expected, Flirt.com does not have any results.

According to their website, they offer "an optimized mobile browser version" of the service.
How to delete an account on Flirt.com

The first thing to do to delete an account would be to go to My Setting from the profile picture on the right top corner.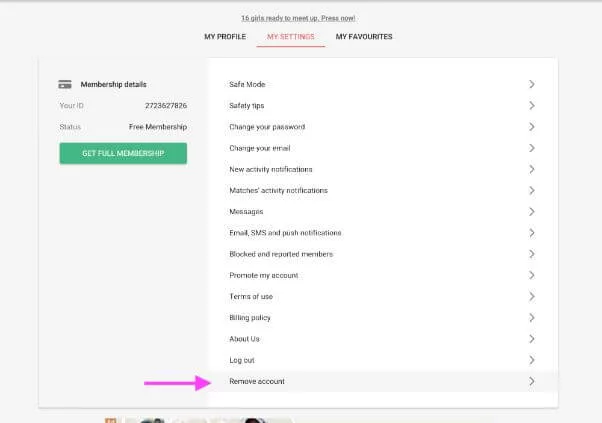 The next page would have this menu, at the bottom, there is a Remove account.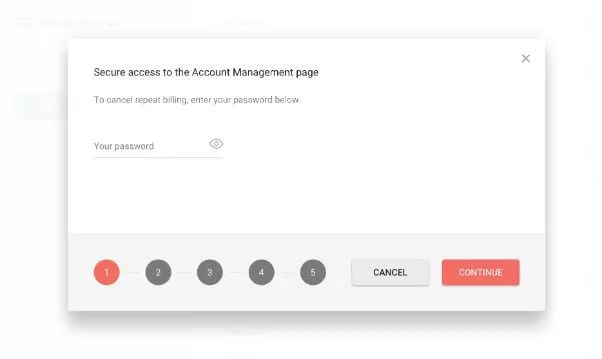 They would ask for the password.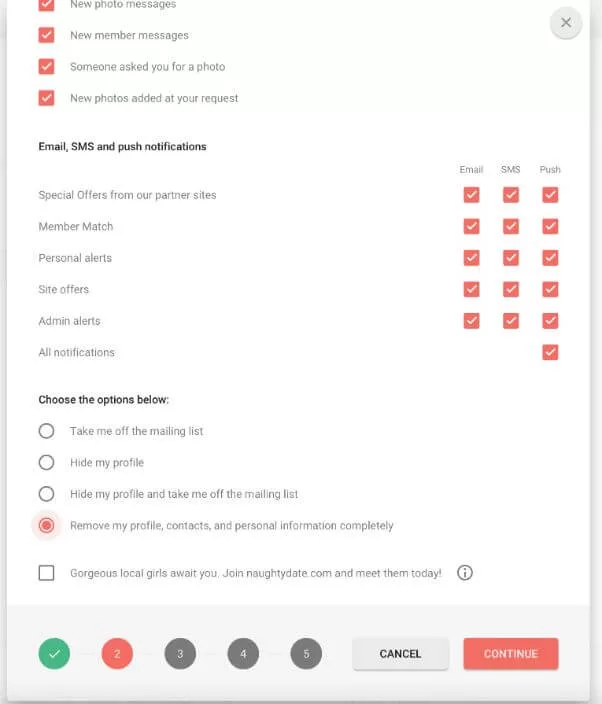 The next page, at the bottom, there is a sign for removing the account.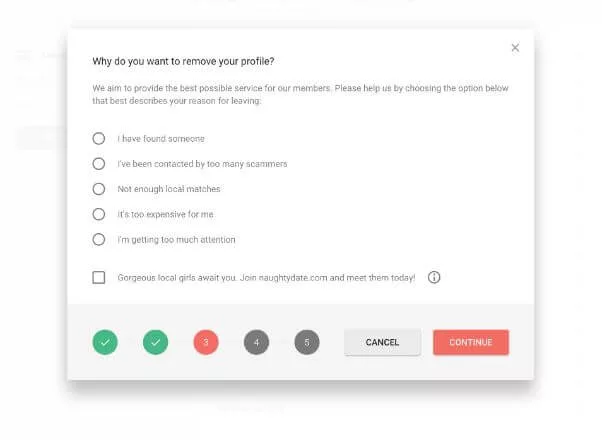 They would ask you the reason for your departure.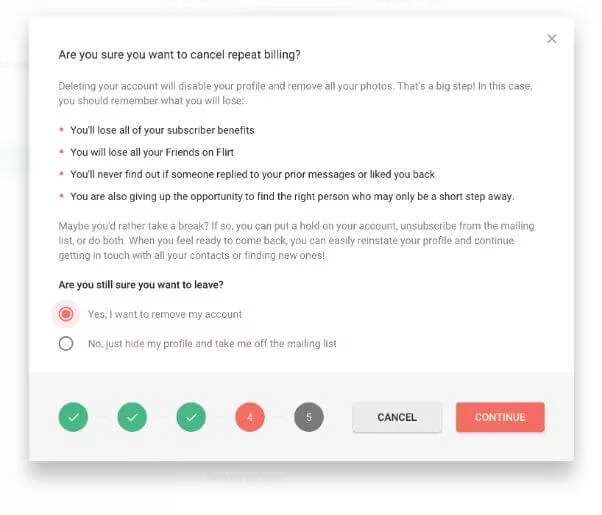 Now is the final confirmation process.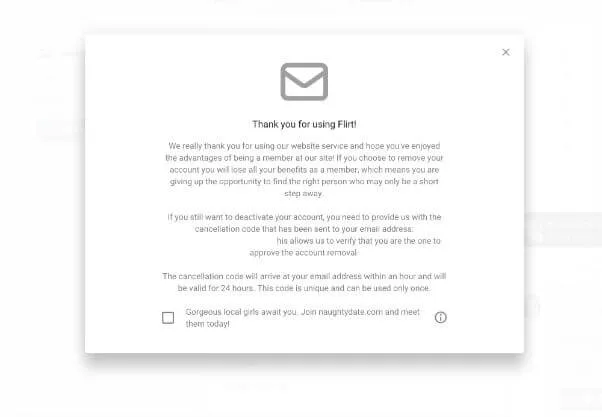 This new pop up would appear saying that a code to be sent to the registered email address.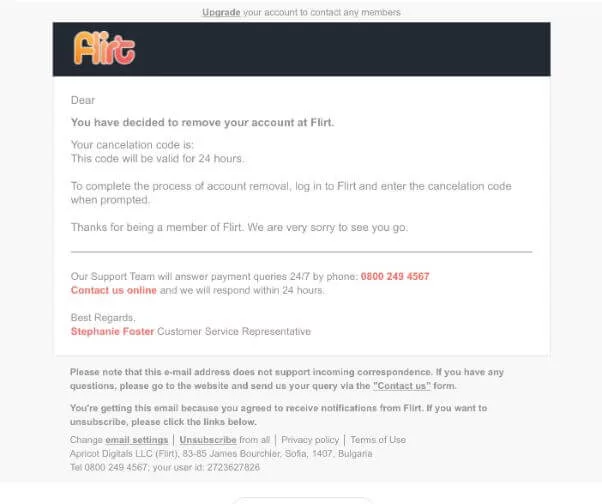 Users would get this email which would contain a code to finish the process
Then people need to go back to the site, go to the profile, go setting and repeat the above process once again.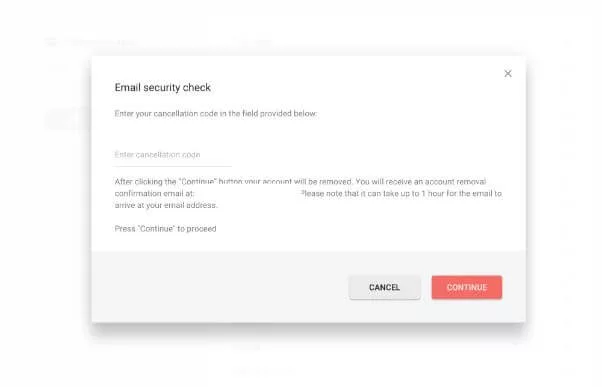 Then this new pop up would be shown.
Then users need to type in the code from the email.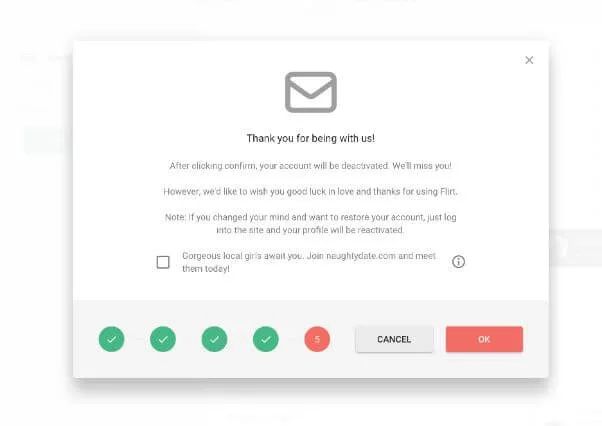 Now the confirmation of the compilation would appear.
It is done.
Flirt.com Social Media
Flirt.com interestingly has very limited major social media accounts: Twitter, Facebook and Youtube. They are all inactive for the last few years.
Flirt.com Twitter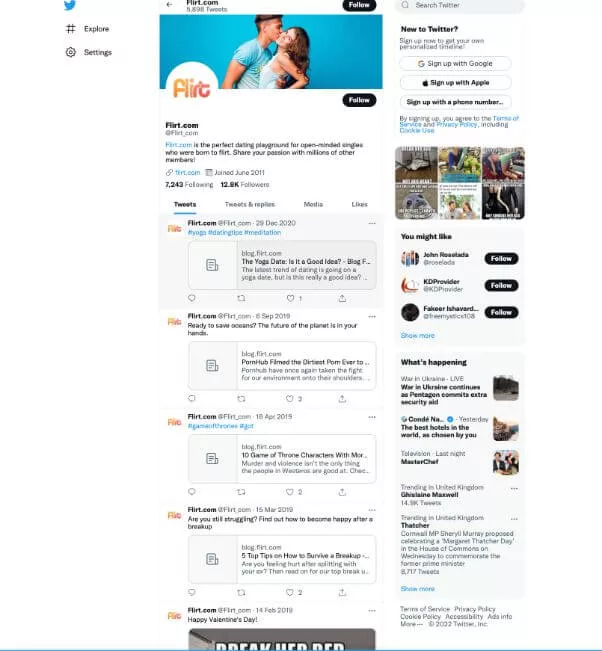 https://twitter.com/Flirt_com
Flirt.com's Twitter has a reasonable number of followers, 12K. Majority of posts are about their blog posts. However, their last post was about 1 year and 4 months ago.
Flirt.com Facebook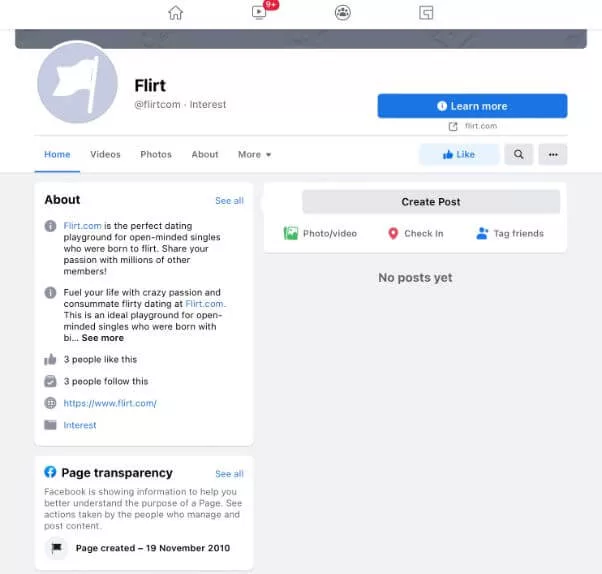 https://www.facebook.com/flirtcom
Flirt.com has an empty Facebook. They have zero posts. This is very unusual for an online dating service.
Youtube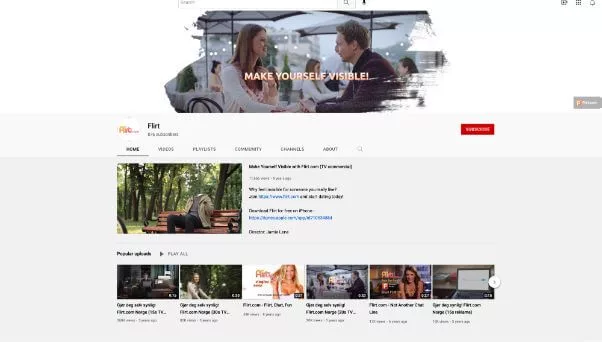 YouTube
Flirt.com has only 876 Youtube channel subscribers. This account has not been updated for the last 5 years.
vimeo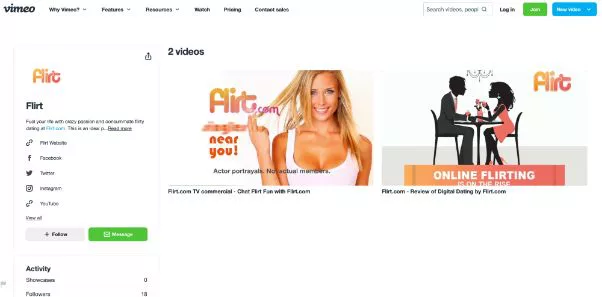 https://vimeo.com/flirtofficial
They also have a vimeo account, however, this account is dormant as well.
Instagram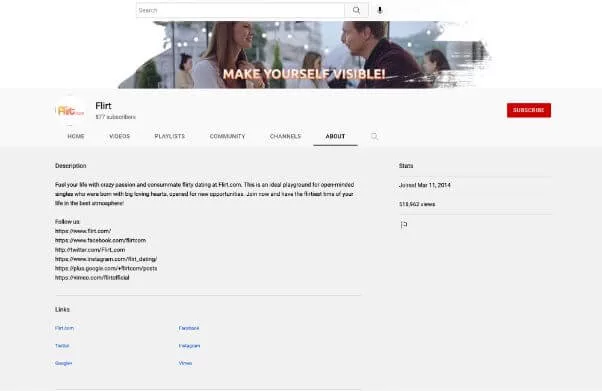 On their Youtube page, there is a link for their instagram account.

However, their Instagram account is gone.
Blog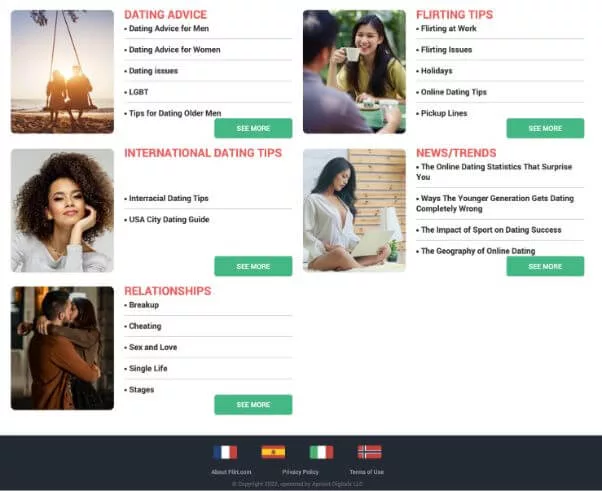 https://blog.flirt.com
Flirt.com offers a blog service, where users can get some advice about online dating. There are blogs in different languages: French, Spanish, Italian and Nowrisian.
Flirt.com Online Review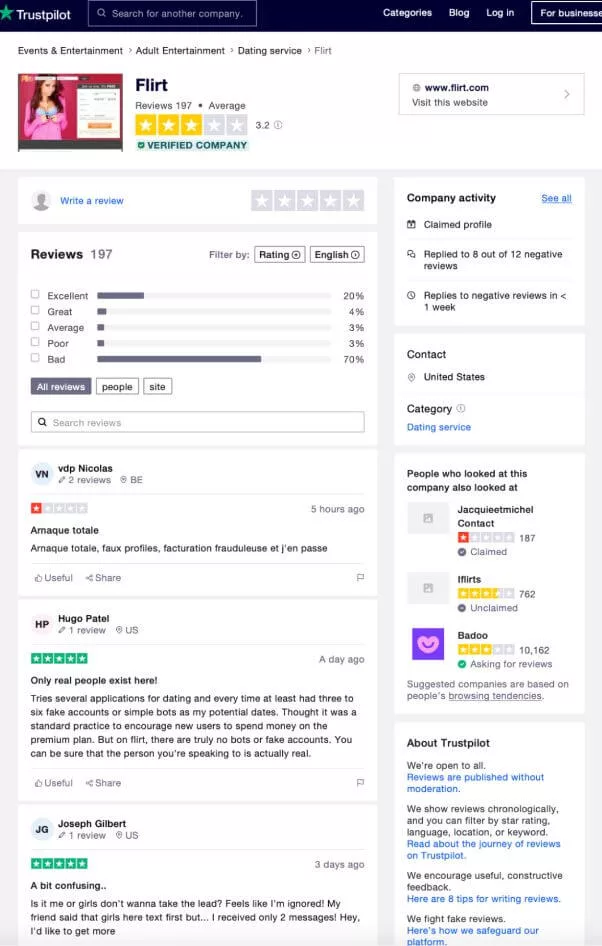 Trustpilot
On trustpilot, Flirt.com has 197 reviews and they are mainly negative reviews. Most of the negative posts are about bot operation and fake accounts.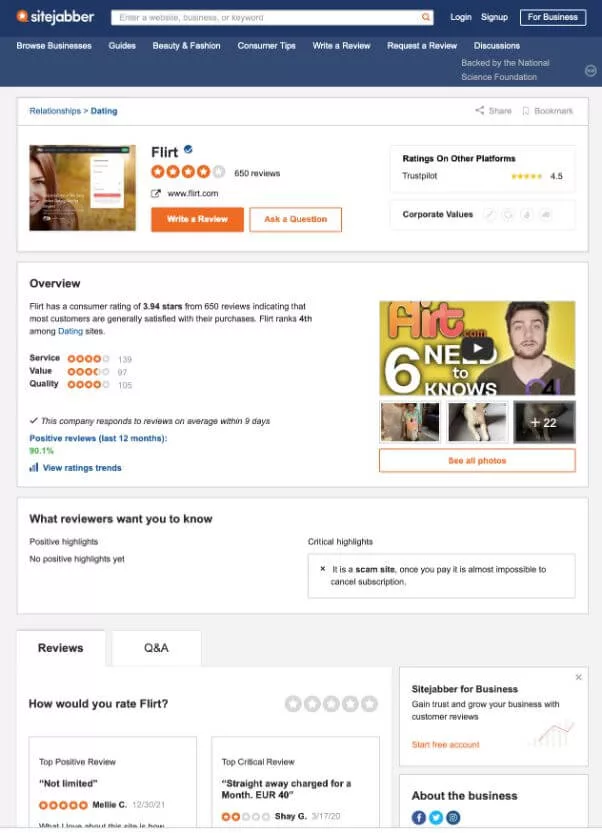 sitejabber
On sitejabber, surprisingly, Flirt.com has 650 reviews.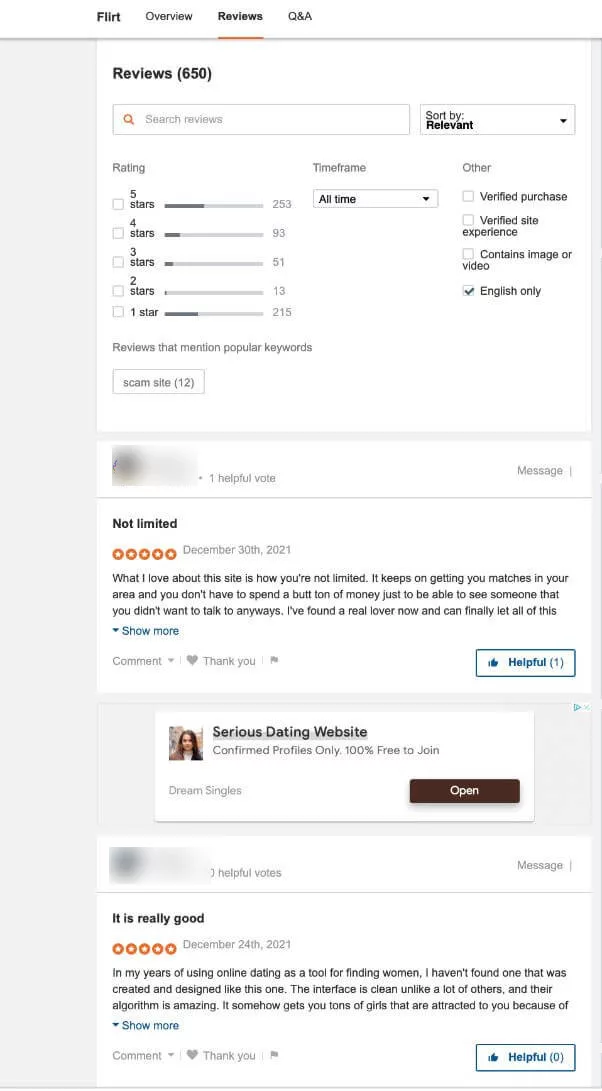 Reviews are 50/50. It is very hard to make a clear point of whether Flirt.com is a good dating site or not from this page. Some positive reviews are about successfully having hookups using this site.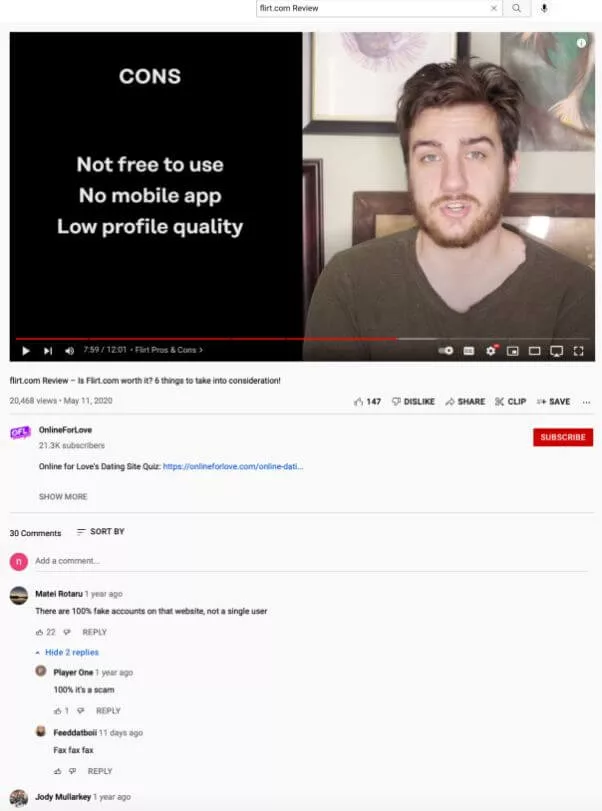 YouTube
This Online dating review Youtuber is saying that Flirt.com is a site to look for a fling or a hookup; but it is not a place to look for a serious relationship.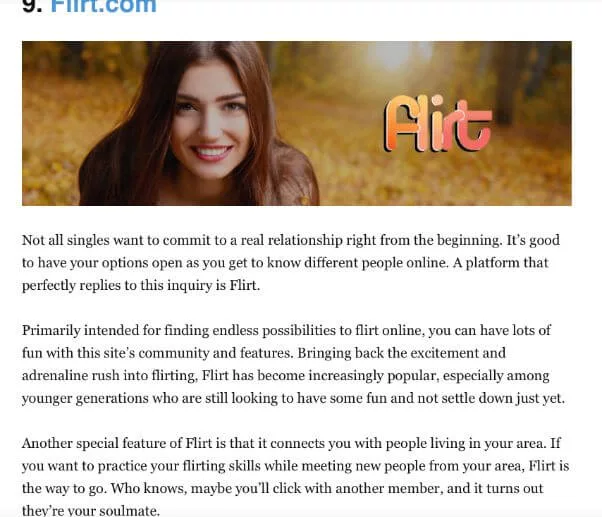 WAHINGTON CITY PAPER
According to Washingtoncitypaper.com, Flirt.com is one of "Top 20 Dating Sites and Apps with Free Trial for 2022"