CherryBlossoms Review-Asian Dating Site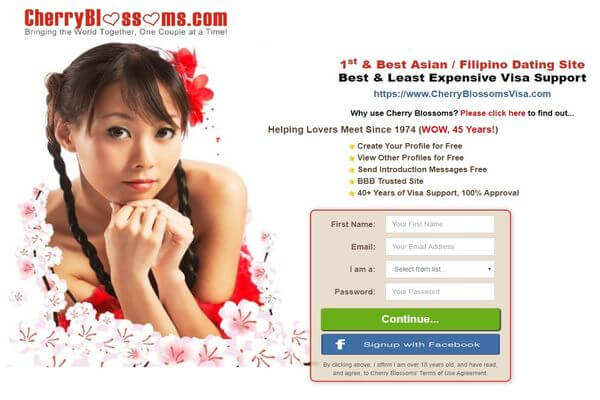 CherryBlossoms.com

According to the top page of the website, CherryBlossoms.com is 1st & Best Asian / Filipino Dating Site. It had been operating since 1974, and helped people find their friends, partners, etc for 45 years. Since 1995, this has been the leading Asian dating site. Because this website was created long ago, the looks is slightly out-of-dated. However, the design and way of use are pretty simple.
How to Use CherryBlossoms.com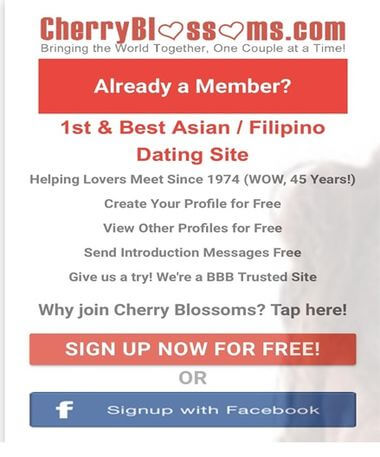 Step 1: Go to CherryBlossoms
https://www.blossoms.com

The first page looks like this. To start signing up, you can choose from either of sign up with either of typing personal information or using your facebook account.
Once you create the account, you will log in to the account using the top option saying "Already a Member?"
This time, I chose "SIGN UP NOW FOR FREE!" option to create a new account.
Step 2: Fill in personal information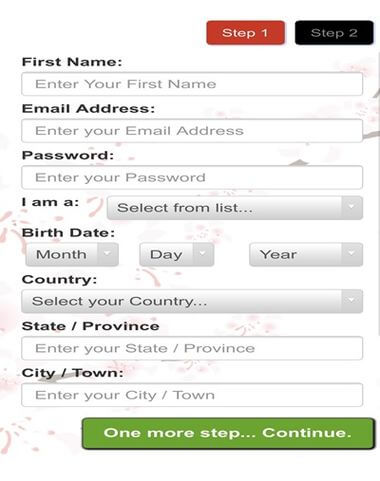 The picture above shows what you are required to fill in when you selected "SIGN UP NOW FOR FREE!" option in the previous page. This page asks for your general information such as name, email address, password, birth date, and place of residence.
In "I am a:" section, you are asked about your sexuality, and you choose from either of man seeking woman, woman seeking man, man seeking LGBT, and woman seeking LGBT.
Step 3: Answer more questions about you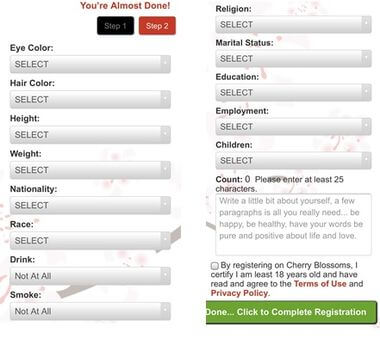 There are questions asking your appearance and lifestyle. For the detail of the questions, please see the picture above. These information are used when you and other users filter people showing on the list. Questions are quite straightforward, so it might not take much time to fill in.
Step 4: Sign up completed!!
After entering personal information and answering questions, you are ready to use the web site!!
*Users will be removed if they cannot pass the screeningby officials.
Step 5: Start seeking people to communicate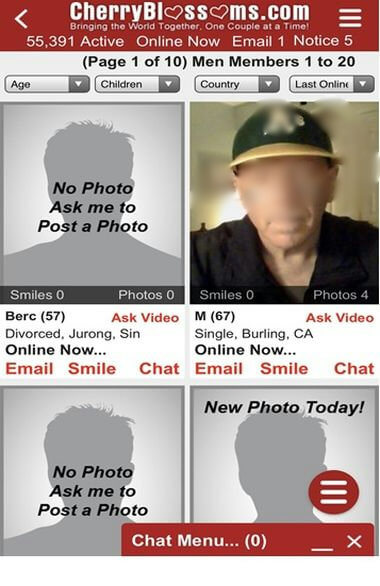 The homepage looks like this.
This is how the list of active users looks like. You can see their name, photo, star sign, and residential place. Also, from this page, you can email, send smile, and chat with people who you would like to communicate. To do so, please select options shown with red.
Also, you can filter down list of people by using 4 drop-down lists on top of the page. There are these options.

Age:
18 to 25 / 25 to 35 / 35 to 45 / 45 to 55 / 55 to 65 / 65 to 75

Children:
0 / 1 or less / 2 or less / 3 or less / 4 or less / 5 or less / 6 or less

Country:
Australia / Austria / Belgium / Canada / Finland / France / Germany / India / Ireland / Mexico / Netherlands
New Zealand / Philippines / Singapore / Spain / United Kingdom / United States

Sort by:
Age / Name / Country / Last Online
You can search certain people using searching engine. You tap the three lines icon on top right of the homepage, and this menu bar shows up.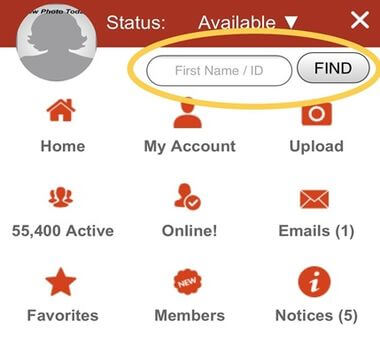 You can find someone in yellow-circled section using the person's first name or ID.
Step 6: Communicate with your favorite my men/women
If you find the person who you are interested in on the list, you can see the person's information more by clicking on the person's name on the listing. You can contact with the person by choosing either of chat or email options.
When someone send you a smile, you get email like this.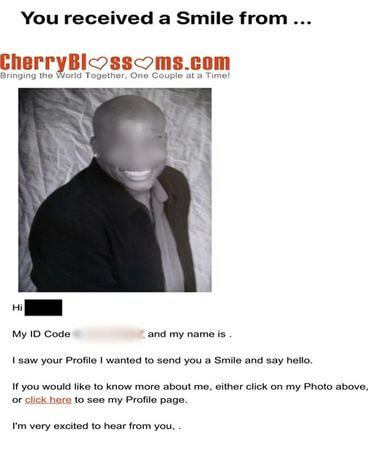 This is how you start communicating with someone using CheeryBlossoms.com.
CherryBlossoms.com Fee
Free
Free

Registration


Free

Profile Views


Free

Messages Send
Premium
1 month $29.95
3 months $49.95
6 months $79.95
12 months $11.95

You don't need to pay any money just for looking at pictures of other users.
However, you might need to pay fee to use certain functions if you are a man. Different from other dating site, CherryBlossoms don't need to pay to send email or chat.
In contrast, women can use this website for free by adding at least one picture to their profile.
CherryBlossoms.com Users

[9/16/2019]
Gender Ratio
Traffic by Countries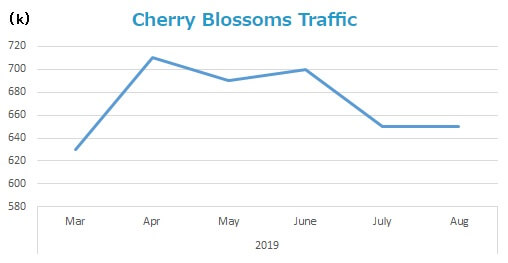 The top page of CherryBlossom.com shows over 50,000 active men and women using this website, and over 10,000 Filipino women are joining this website every month. Therefore, you a lot of chances to communicate with people.

Race of users:
Because this is an Asian/ Filipino dating site, main users seem to be Filipino, Thai, Vietnamese, and Chinese. If you are looking for people from those countries, this is a right place to do so!

Ages of users:
Since users shown on the list are filtered based on your sexuality, your list will show either of men or women. About men, most of them are over their 50s but you can find a few of them are in their 20s. So, this website is the best for those who are looking for people over their 50s.
CherryBlossoms.com Reviews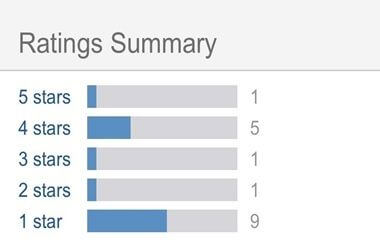 sitejabber

This is a rating of CherryBlossoms.com according to "sitejabber," and the average is about 2.3 out of 5. This looks quite low, and the only 5-star review is written by the owner of the website. There are 17 reviews on the rating site, and negative comments are standing out. A lot of them are calling our attention to be careful with scamming, and those users stolen huge amount of money by female users.Some of reviews from its users are excerpted below.

"I was on Cherry Blossoms for a short 3 weeks. In that time I did run across women who were out to scam men out of money. They are out there. But there are real women who really are sincere as well and you need to be able to tell the difference."
– james w.
"Took 3 months of time for me to meet someone that I felt I had a connection. Then I went to PI to meet her and her family. All is going well and there is only a 15 year age difference which feels great for me. Her family supports us and her moving to the US. CB has a visa side of their business which is priced right and they have been doing a long time. I am 4 months into the 8 month process and happy so far."
– John W.
"Typical dating site, we have to use it with caution but Cherry Blossoms billing system is not honest. Make sure that you verify the settings. They are set to rebill automatically and they are doing it before your present term is expired. In my case they charged me even after my account was closed. I wasn't happy when I received my card statement."
– Ricardo M.
How to sign out CherryBlossoms.com
It's very easy to sign out CherryBlossoms.com.

Step 1: Open menu options

Step 2: Select "My Account" option

Step 3: Select "Privacy Settings" option on the bottom

Step 4: Select the second "click here" option

Step 5: Select "Yes" for the question about removing the account

Step 6: You are done with signing out!!
*You can easily restore the account if you remember the mail address you used for CherryBlossoms.com