Dating App Ranking 2019
*Traffic (Monthly Average) Feb-July 2019
1. Tinder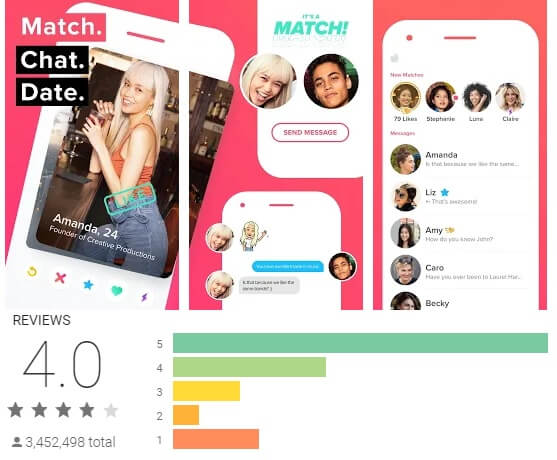 https://tinder.com/

Tinder has been around since 2012, they are pioneers in the dating app industry. The swipe left, swipe right feature of the app is revolutionary and the app's functionality is simplistic and easy to use.

Tinder successfully launched their brand and made a name for themselves thanks to its users and rise in popularity of online dating apps. It's in the forefront of everything dating app and one of the leaders in this industry.

It is savvy marketing and advertising, Tinder is featured and talked about on the news, TV and radio shows, on social media and print. All this exposure creates a buzz and makes the app popular, the more the public knows about it, the higher the chances of getting unique users who will check it out and subscribe for its services.

Idk who you are Zack7352 all I know is that you are the scum of the earth and I hope your gf finds this 🤷🏻‍♀️🤷🏻‍♀️ #tinder #tinderfail pic.twitter.com/KFEstuKuHp

— Elyse (@Elyse_Pagee) July 22, 2019

The tweet above is a screen capture from Tinder messaging. It's about how male users on Tinder use the app to find a female partner other than their wife or girlfriend. People should mind their own "business" and use the app for what they want it for. To create an account on Tinder you have to be over 18, this means you are an adult who is responsible for yourself.

Tinder Fee
Free to Send Messages
In-App Purchases
Tinder Gold $14.99
Tinder Plus $9.99
Tinder Review
Pros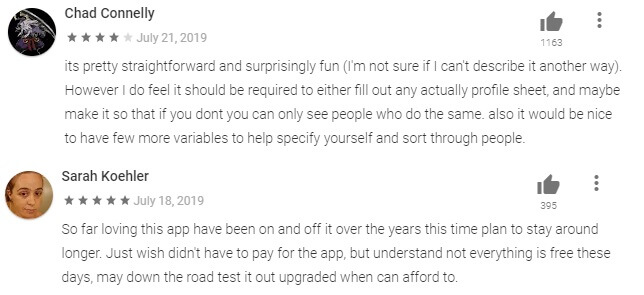 Google Play
Cons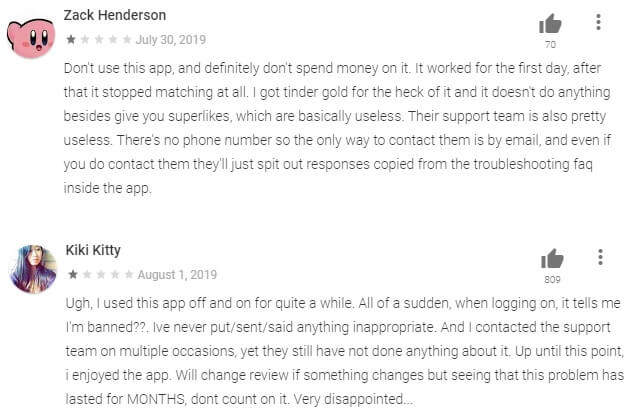 Google Play
【Aug.9.2019】
Gender
Age
Countries
Tinder Verdict
It tends to be safer to stick with the majority rule, meaning it is less risky to join something popular, with this being said, Tinder is the #1 dating app and they have been on top for several years.

I guess the negative that comes from this is, more users means more choices, which also means more competition and more distractions. Too many choices means it can be more difficult to keep it simple and it can be like work going through profile after profile and you end up just being more picky than you really are.

It's like on Facebook, users of the social media will ignore anyone they are not are not friends with and they will often not reply to messages even from friends and just browse page after page liking things they are not sure about.

Tinder is all about popularity. How many guys, girls turn down and how many girls, guys can connect or hook up with. It's like being in high school, many want to be good looking, popular, talented and recognized for these types of things. It is just the way it is.

I will also mention that if you know how to play the Tinder game then you will reap its benefits. If you are a guy player or a hot girl who knows how to play the field then Tinder is for you.
If you want to be a user of a popular dating app and be able to connect with someone on its platform, then you might find someone like you and if you match and you guys click then it's off to a first date.

Many popular things are overrated but they are overrated for a reason. Something like Tinder, has a massive amount of users so you will have a lot to choose from. The more, the better. This does not guarantee success because more users also means more competition.

It's easier to get lost in the mix this way. It can be overwhelming but if there's a dating app for starters, Tinder is the best choice. Just remember quality over quantity, it's not the number of left or right swipes you do but the quality of the connection you have when you match with someone.
2. Hinge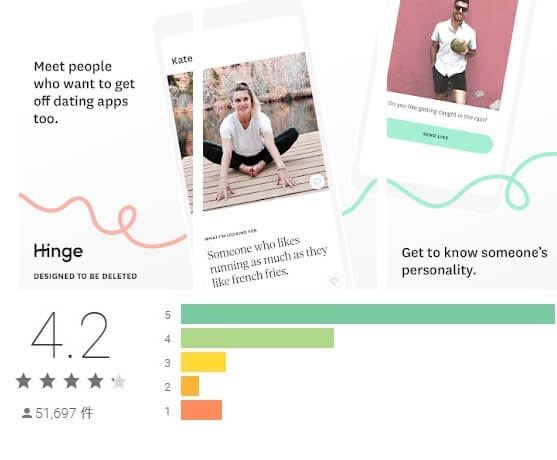 https://hinge.co/

Hinge uses connections to Facebook friends to facilitate connections. The app is more popular to the younger demographic. Their tag line is "the relationship app".





They have features like "Your Turn" which decreases users' from experiencing ghosting, which is when someone completely drops out of a conversation without warning. They would also like to promote a more "idealistic" dating app, one that will make you stop using one because you already found a partner after using their services.

Hi Hinge, I can't login to my account for some reason, while in paid subscription. I emailed your help desk a week ago, but no response. Help? pic.twitter.com/TGh4BZfe4c

— Will Walshe (@WJWalshe) 2019年7月27日
Seriously, their customer service is garbage. I haven't been able to login for three weeks and they don't respond on anything.

— FlightMike (@TheFlightMike) 2019年7月26日


Many users are unsatisfied with the customer service. Hinge is one of the top dating apps and they should know the importance of keeping the customers satisfied. Hinge has to work on this ASAP. Chop! Chop!

Hinge Fee
Free to Send Messages
(Limited Likes)
Hinge Reviews
Pros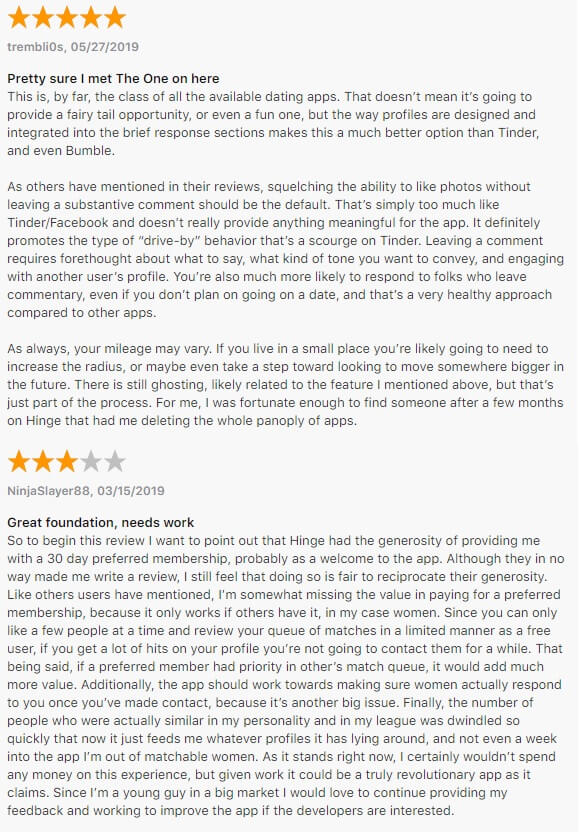 App Store
Cons


Google Play
Hinge Users
【Aug.9.2019】
Gender
Age
Countries
Hinge Verdict
Hinge is quite popular, the app is in the top 5 dating apps available in the market. It's for a younger audience, the vibe and crowd they market to are those in their 20's. You might feel out of place if you are over 30, so there are other dating apps for that.

The younger generation in this app can be quite alienting to communicate with specially if they are looking to communicate and date within their age. If you are looking for someone over 30, then Hinge might not be the best place to look for that.

It's also for users of Facebook, the app connects you to other users through the social media giant. Their idealistic approach is that will help you "stop using the dating app" because they help you find "the one" and also they try to prevent users from suddenly dropping out of conversations with you is quite refreshing.

With it's good rating, it's a great alternative to Tinder.
3. Bumble

https://bumble.com/

Bumble is a location-based social and dating application. In heterosexual matches, only female users can make the first contact with matched male users, while in same-sex matches either person can send a message first. The app is unique because of its unique way of pairing people up. You can find romantic matches or be in "BFF mode". Then there's Bumble Bizz for business connections and networking.

Bumble founder Whitney Wolfe Herd was a co-founder of Tinder, she left due to growing tensions with other company executives. She has described Bumble as a "feminist dating app".

The app had 22 million users in November 2017, and according to a June 2016 survey, 46.2% of its users are female. According to Forbes, the company is valued at more than $1 billion, and has over 55 million users.

Users swipe right to "like" a potential match and left to reject them. There are no options for users to identify as genderqueer or transgender, in contrast to competitors OkCupid and Tinder. Bumble has many unique features.

Photo above is from Twitter users commenting on the Bumble dating App. On this particular comment sections reviews are mixed. Bumble is a unique dating app, they know how to separate themselves from the competition.

I'm surprised they got Serena to do an ad for basically a slightly classier version of Tinder. It's basically a hook up app still. No matter how you paint it.

— Michelle (@Michelle556633) February 4, 2019
Bumble Fee
Bumble Reviews
Pros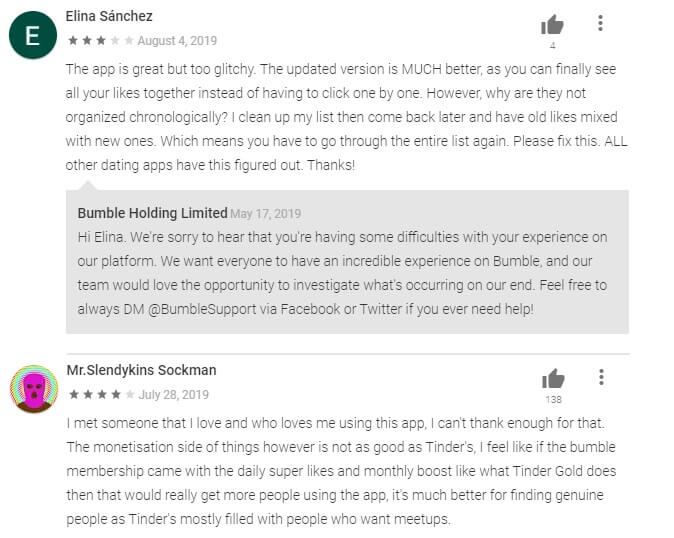 Google Play
Cons
Bumble Users
【Aug.9.2019】
Gender Ratio
↑
statista
(Year 2019)
Age
Countries
Bumble Verdict
Bumble is a kind of a pro-feminists dating app when it comes to heterosexual matching, the female makes the first move when she is matched with a male. I am not sure if this is supposed to be empowering but at least the females have this option and for feminists options are all that matters.

Bumble tries to be different and they are successful in doing so with their BFF mode and Bumble Bizz for aspiring entrepreneurs and business people.

Bumble app is the lower number of female users, 12.9%. Some reviews mention that users of this app appear more genuine and less superficial than the ones on Tinder and the quality of connections made are more on the serious relationship type, not just going on dates or hooking up as someone might claim is what Tinder is all about.

This app has generally good reviews. Some complaints are, the app has glitches and it is way too advantageous for the female users. Some reviews mention that Tinder is better overall. Try Bumble if Tinder doesn't work for you.
4. Coffee Meets Bagel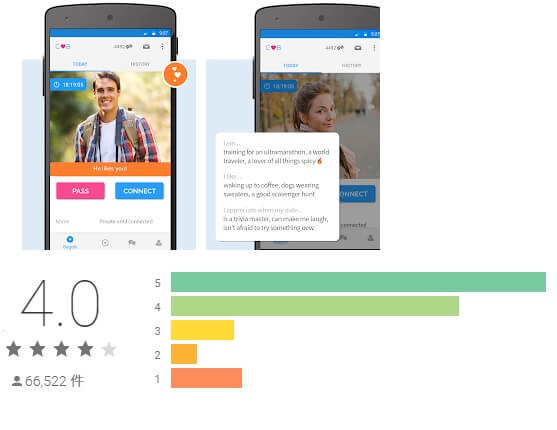 https://coffeemeetsbagel.com/

Coffee Meets Bagel is a San Francisco–based dating and social networking service created by sisters Arum, Dawoon, and Soo Kang. Features of the Coffee Meets Bagel app include limiting the number of profiles users can interact with each day and offering unique ice-breaker information for matches.

Photo from Twitter. Good reviews for Coffee Meets Bagel app. It's good for business when you get rave reviews from social media platforms such as Twitter. It keeps the company and brand in the public eye in a good way.

Try Coffee Meets Bagel! Less emotional labor because the app pairs you with people! Best dates I've had are through that app. You do you! Enjoy! Set boundaries because you're awesome and worth it!!! Your time and energy matters 💖

— Andrea M Reyes (@a_reyofsunshine) July 6, 2019
My cousins is marrying someone she met on coffee meets bagel lol

— j o c e l y n (@jjoc_lyn) 2019年7月8日
I use to use coffee meets bagel. I rave about it. That's how I met my boo. Almost 2 years strong.

— `Sophia Olazaba (@Sophia_1) July 17, 2019
"After nearly 10 miles of uphill hiking, we collapsed at the top and laid on some snow for an hour. As we were packing our belongings to head back down, he cleared his throat and I realized he was down on one knee." (4/4) – Karen & Dennis #CoffeeMetBagel pic.twitter.com/mWWPbRBuBr

— Coffee Meets Bagel (@coffeembagel) 2019年7月19日
Coffee Meets Bagel Fee
Free One Match Per Day
Premium Membership $35 per month
Coffee Meets Bagel Reviews
Pros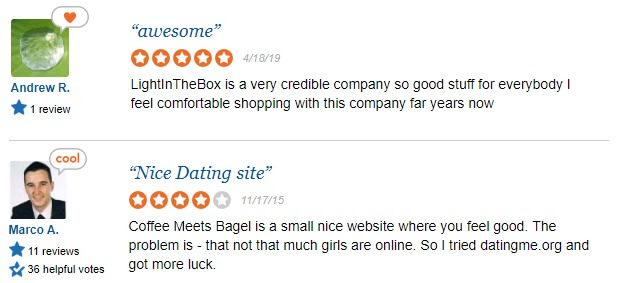 sitejabber
Cons
Coffee Meets Bagel Users
【Aug.9.2019】
Gender
Age
Countries
Coffee Meets Bagel Verdict
Coffee Meets Bagel tries to keep quality control by limiting the number of profiles users can interact with each day which is great as it prevents users from binge swiping, something that is quite common on Tinder.

Mix reviews for this dating app. Some reviews mention that there are not enough women who are on the app. While other reviews mention that the app provides a high success rate when it pairs users together. Of course, some complaints are about scammers and fake profiles but that's not a surprise anymore in all dating apps.

Coffee Meets Bagel is in the top 10 dating apps out there. It's Tinder with a feminine twist, provides limitations and more serious connections. If you are looking for a dating app that is female sensitive and allows females to have the option to connect first when matched then this app is for you.
5. Hily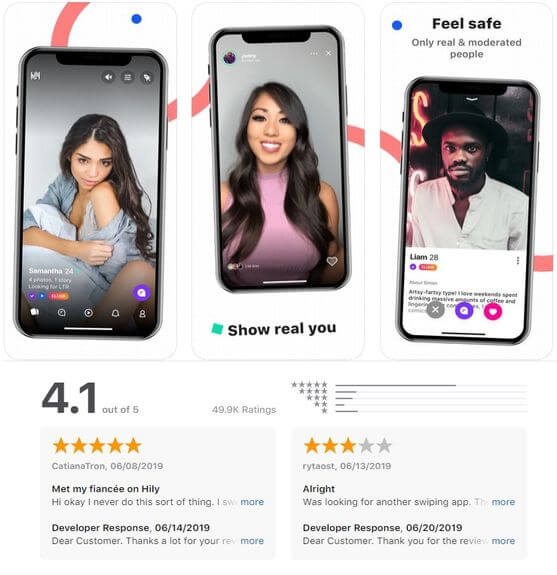 https://hily.com/

Only verified, moderated and hand-picked profiles on Hily based on your preferences. Features of this app include sending unlimited private photos to your matches and sending funny GIFs, share private photos & video and even location right from the chat. You can also know exactly when someone read your message for free

Sign up with your Facebook account. Hily works like Tinder, swipe right if you are interested and swipe left if you're not. You'll be able to chat when you have a mutual like. Hily's target audience is straight adult people, but same sex people can join.

Don't turn to 'Sex and the City' for romantic guidance!
🤥😉#hily #hilyapp #sexandthecity #carriebradshaw https://t.co/d2HerU5wRg

— Hily (@hilyapp) 2019年7月16日


Photo from Twitter. From the Hily Twitter account, they give you ideas about dating and make it fun by mixing it with pop culture like with this famous movie and series "Sex and The City". It's a good marketing strategy, many relate to characters from movies and TV and the actors and actresses that play them. It makes for a good tie in.
Hily Fee
Free Registration
1 week 14.99 USD

3 months 53.99 USD
(18 USD per Month)

1 year 119.99 USD
(10 USD per Month)
I don't recommend for 1 year. Check it out by free, then 3-6 months is max to use.
The numbers of new member's aren't so many. If you can't meet 3-6 months, better to change the service for more choices.
Hily Reviews
Pros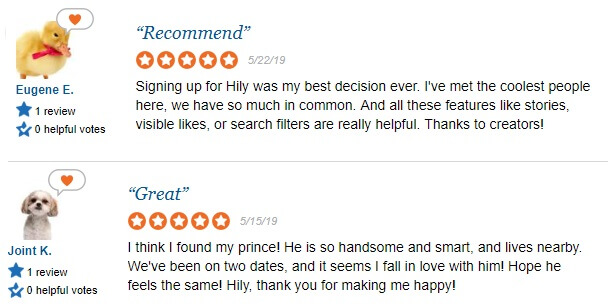 sitejabber
Cons
Hily Users
【Aug.9.2019】
Gender
Age
Countries
Hily Verdict
Hily is similar to Tinder. That's the thing that happened when dating apps like Tinder became huge, many copied and followed suit. It has similar features to Tinder like the swipe left, swipe right function. Hily is a completely unoriginal dating app, it's a good 5th option if dating apps like Tinder and Coffee Meets Bagel doesn't work for you.

Hily tries to be an edgy Tinder. Reviews for the app is mixed, it is not popular which means less users. Since it is similar to many other dating apps, it doesn't set itself apart from the competition, it might come in handy if you want to checkout a different dating app crowd but besides from that it might be only worth it if you have extra money to spend and want to try a different app. Stick to the more popular ones.
6. Clover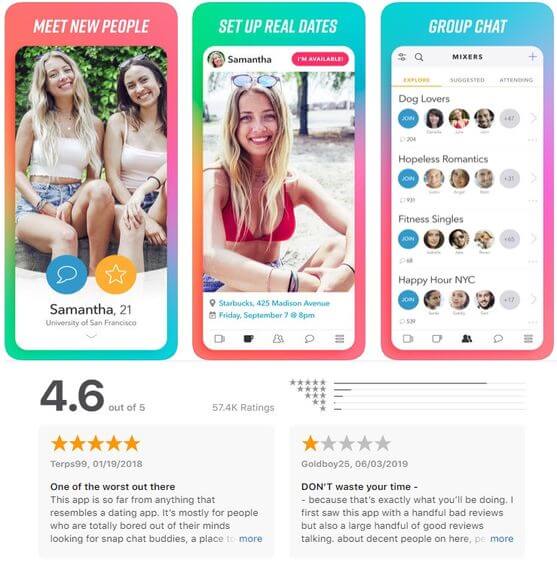 https://clover.co/

The app uses connections to Facebook friends to facilitate connections. It has sought to be identified as more attractive to a younger demographic than Match.com or eHarmony. It also was designed to be less superficial than Tinder, dispensing with Tinder-like swiping and using the slogan "the relationship app". The app has a "Your Turn" feature designed to remind a user to continue a conversation, decreasing ghosting. The company released Hinge Matchmaker in September 2017 to reinvent online dating "for people that missed out on the dating app craze".

someone made a fake "clover" account of me (which I guess is a dating app), & put my real snapchat on it- so people have been messaging me ALL morning saying they talked to me on Clover or some shit, i'm like nah…. why do people still do this 🤦🏼‍♀️

— ❥keℓℓi beℓℓi♛ (@supatkelli) February 18, 2018
Snapchat I don't care how many times you try to shove it in my face I'm not downloading "the clover dating app" lmao I'm lonely but not that lonely

— Derek (@hancockderek) February 20, 2019
CLOVER – A1119174 – TO BE DESTROYED 07/27/17 A volunteer writes: Clover is a free dating app available via …https://t.co/3P2k68gVjJ pic.twitter.com/Cq3pcJUeAd

— Urgent Death Row Dog (@UrgentPart2) July 26, 2017

Negative reviews online for the Clover dating app. Fake accounts are not a surprising issue on dating apps. They exist, scammers and other who want to annoy others by creating fake accounts. When finding a dating app to use, choose the one that you think will suit you best, be responsible when using the app and report any suspicious activity to the app customer service.
Clover Fee
7 days Free
9.99 USD per Month
Clover Reviews
Pros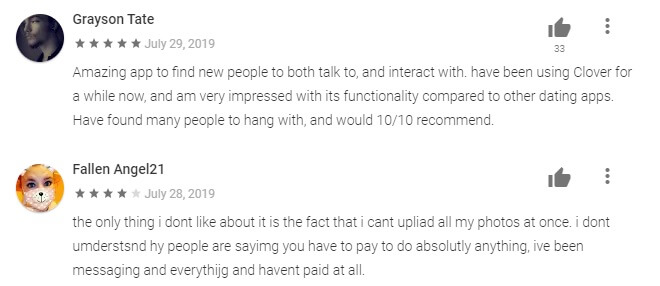 Google Play
Cons
Clover Users
【Aug.9.2019】
Gender
Age
Countries
Clover Verdict
Clover is a dating app that uses your connections on Facebook to match you with others on the app.

The app is for a younger demographic (20's). They promote themselves as "the relationship app" but most dating apps promote themselves that way, so that's not so original.

The Interesting keyword which none of above 5 ranking apps didn't have it.
Monthly average around 1,300 people search by the keywords¨black women who like white men¨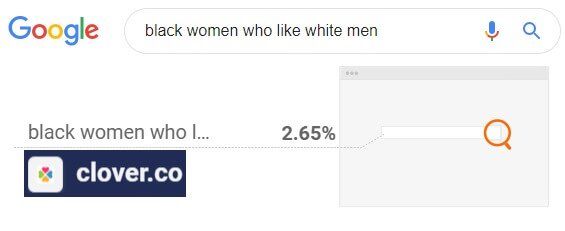 They have a "Your Turn" feature that prevents ghosting (people who do not reply and have no plans to reply after an initial interaction), other apps have a similar feature like this.

Clover has mixed reviews and is nowhere near as popular as Tinder. This app is more for people who stumble upon it and sign up to try a dating app for the first time.

I cannot recommend it to "Dating App Beginner" because its features does not standout and it really is just one of the other dating apps that followed after the Tinder craze. Stick to the more popular and reliable dating apps. Prices are not that different so it is better to use something proven and something that will most likely give better results.